At Picnic Tale, we offer practical, real-life tips, honest reviews, and inspiration to help thousands of people plan perfect outings.
We reach (organically) 20,000+ monthly picnic enthusiasts, and we'd love to engage them with your brand and bring in new customers to your business.
We are growing

Picnic Tale shows an 84% growth over the last 3 months, as of May 2021.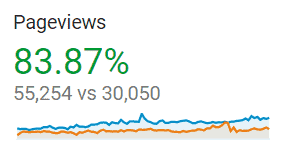 Monthly readers: 20,000+
Promotional Method: 95% organic traffic (SEO)
Site Age: 1-year-old
Geo:
USA: 64%
United Kingdom: 10%
Canada: 7%
Australia: 6%
Email subscribers: +100 (we just started building our email list)
OUR SERVICES
We offer:
Ad placement:
Sidebar Space
Header Space
Homepage Space
In-content
Sponsored Posts:
Product Reviews (post / video)
List / How-To / Ideas / Tips Articles
Product Announcements with Discount for our Readers
Giveaways
Have an idea? Share it with us!
Contact Us Directly For More Information. We'll Get Back To You With Our Media Kit and Rates.
Sponsorship Form
You can also write us directly at [email protected]