Focusing on good insulation, functionality, versatility, durability, and style, these insulated picnic cooler bags are sure to make your picnic adventures more enjoyable.
A well-insulated picnic bag keeps your food, beverages, fruits, and snacks chilled (or hot) and fresh all day long. For those hot days, you need a reliable cooler bag that will ensure all the food is safe to eat.
How to keep food cold for longer:
Chill the tote before packing
Pre-chill the food and drinks in the fridge or freezer (if possible)
Use ice blocs, ice cubes, or ice packs.
Best Picnic Cooler Bags
1. Best Overall: Picnic Time Malibu Aviano Collection
If you're looking for an attractive, deluxe, and well-insulated cooler bag that comes with everything you need for a picnic in two, the "Malibu" tote from Picnic Time is tough to beat.
If your picnic spot is a few miles away, this bag is easy to carry with its compact design and comfortable padded strap.
We like the premium table services that include melamine plates, shatter-resistant wine glasses, stainless steel cutlery, and 100% cotton napkins.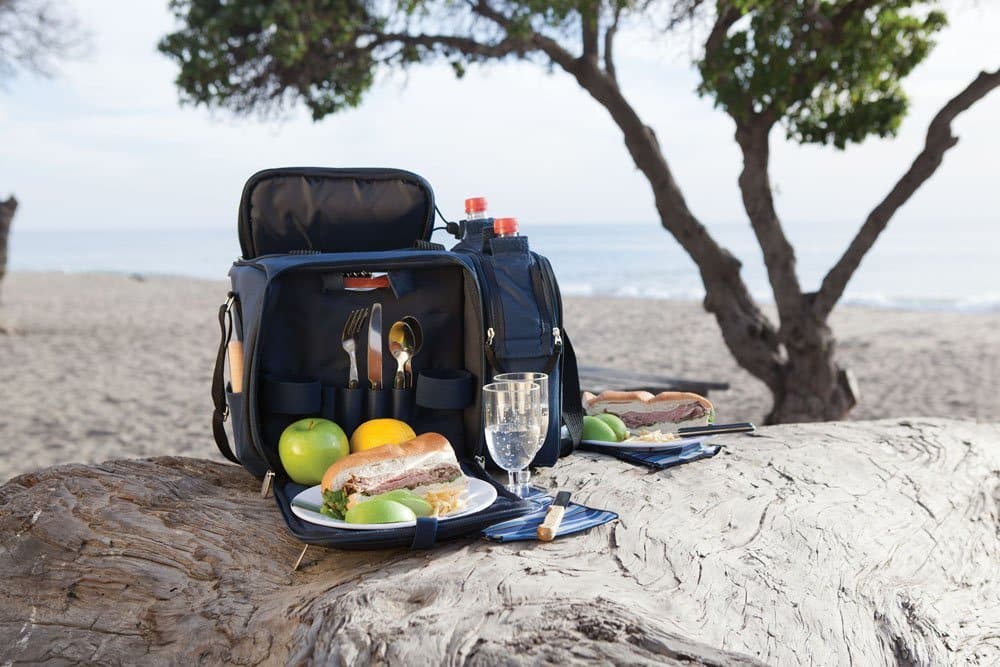 Plus, you get a cutting board, cheese knife, and corkscrew to open your wine bottle.
The "Malibu" picnic bag is designed with 2 separated compartments, one for food and the other one for two bottles. The beverage divider is collapsible, allowing for extra space for snacks, fruits, food.
Excellent for picnics, days at the beach, BBQ's and safe to say, this one makes a wonderful gift.
2. Best Budget: MIER 18L Cooler
The Mier soft cooler is a well-constructed, spacious, leakproof and insulated picnic bag that won't break your budget.
The inside compartment is large, able to hold food, snacks, and beverages for a very hungry person (maybe even for two persons). This model is available in multiple sizes, from very small to very large capacities.
The tote is made from a 600D strong fabric material, designed to withstand abuse and to last you a long time.
Designed with thick thermal walls, keeps the contents cool and fresh for an entire day. We recommend adding ice packs to increase the cooling time.
This "Mier" model collapses for easy and convenient storage, making it a fantastic space-saver. If you want to see more space-efficient options, check our latest article on the best collapsible picnic baskets of 2020.
We were pleasantly surprised by the huge amount of positive reviews considering it's such a cheap item.
3. Best Insulated Tote: Picnic at Ascot 30 Can Tote
If you're looking for an attractive, practical, and versatile picnic tote, the "Picnic at Ascot Tote" is an excellent choice.
Picnic at Ascot is a trusted name in the world of picnic products, and they design and manufacture high-quality, long-lasting, and attractive cooler bags, picnic baskets, and more.
The cooler bag is made from a sturdy yet comfortable material (600D canvas), is thick-insulated, leak-proof, easy to clean, and very spacious.
The oversized design is beautiful, chic, and modern. It's also very spacious, can fit meals and drinks for more than 2 people.
4. Best Luxury: Picnic Time Pranzo Insulated Lunch Tote
The "Pranzo" tote is all about superior quality, great functionality, and beautiful design. This tote is an ideal choice for small picnics, lunch breaks or day trips.
The front pocket is a nice surprise, inside you'll find all the essential picnicware for one person:
Stainless steel fork, knife, and spoon
Salt Pepper Shakers
A glass
100% cotton napkin
For optimal temperature control, it's smartly designed with 2-sections to separate cold and hot food and beverages.
The bag is larger than it looks, and can even hold lunch for two persons. It's is sturdy, well-built and made with high-quality materials, definitely made to last.
5. Best for Beach: Picnic Time Topanga Cooler Tote
With a classic tote design, the "Topanga" bag is an excellent choice for picnics at the beach, concerts, camping trips, day trips, and any other fun outings.
The outer design is sturdy, water-resistant, sand-proof, highly-durable and made to withstand abuse.
The bag is roomy enough to carry food and beverages for an entire family, plus it comes with an extra spacious pocket for accessories (wallet, sunscreen, keys).
This popular tote comes in 9 different colors.
It doesn't leak at all and if used with ice packs, keeps the contents fresh and chilled for an entire day.
The tote is a favorite for days at the pool and at the beach. The zipper is rugged and keeps sand, insects or dirt away.
6. Most Popular: Rachel Ray Jumbo Thermal Tote XL
Another extremely convenient insulated tote is the "Rachel Ray Jumbo" bag.
With a spacious 10-gallon capacity, this cooler tote is ideal for picnics, concerts, grocery shopping, camping trips, beach outings, and other outdoor activities.
It's a very popular bag, well insulated and easy to carry.
The interior lining is not only thermal insulated, but also leak-proof so you don't have to worry about melted ice. It's easy to clean and designed with an antimicrobial Microban for extra protection.
The exterior pocket is super handy for adding additional items like napkins, cutlery, corkscrew, or sunscreen, etc.
Another practical feature is the smart design of the carry handles, which allows you to carry the bag both vertically and horizontally. Very useful if you're bringing pizza, casserole, lasagna or cake.
7. Best Vlue: Happy Picnic 25-Can Waterproof Cooler Bag
The "Happy Picnic" tote is highly-insulated, 100% waterproof, easy to clean, sturdy, and roomy enough to hold items for an entire family.
The design overall is beautiful, stylish, and simple, and the bag comes in 4 different colors (red, blue, green, gray).
It will keep the contents cold (or hot) for an entire day, especially if you add in some extra ice packs or ice directly.
Being leakproof and waterproof, you don't have to worry about the melted ice ruining the bag.
We also appreciate that it meets all the FDA food standards: the tote is ECO-friendly, food-safe, non-toxic, etc.
The tote is quite versatile, can be used as a picnic bag, grocery bag, lunch bag, for traveling, camping, fishing, and many other activities. Plus, it's collapsible, it folds flat for easy storage.
Perfect gift for Mother's Day, birthdays and anniversaries.
Conclusion: We hope you like our choices. Before buying a new picnic tote, make sure it's well-insulated, highly-durable and spacious enough to hold items for all the picnickers attending the outing.
Any of the above choices are a great choice for your next picnic, or to give as gifts to your friends or loved ones.
Happy Picnicking!