If you're looking for the best picnic games for seniors, you are in the right place. We've spent dozens of hours researching and finally, we've picked the most popular & fun games and activities suitable for seniors.
No matter how old you are, having fun activities is good for everyone's well-being. Games are a great way to connect with your friends, and make social interaction easier and more enjoyable.
Playing games is not only a fun activity, but it also improves your overall physical and mental health.
Physical-, card-, board-, word-, puzzle-games keep your brain active, relieve stress, prevents diseases and besides these, they're super fun. Here is a list with our most favorite senior-friendly games to play at a picnic.
Picnic Games for Seniors and The Elderly: Our Top Picks
Outdoor Physical Games
According to Helpguide, physical games are not only fun, but also come with plenty of health benefits like:
Enhancing mobility, flexibility, posture, and balance
Improves sleep
Stress Relief
Keep your brain active
Improves Cognitive Function
Prevents diseases
Boosts self-confidence
We've put together a list with the most beloved and most popular outdoor games to play at picnics.
1. Horseshoes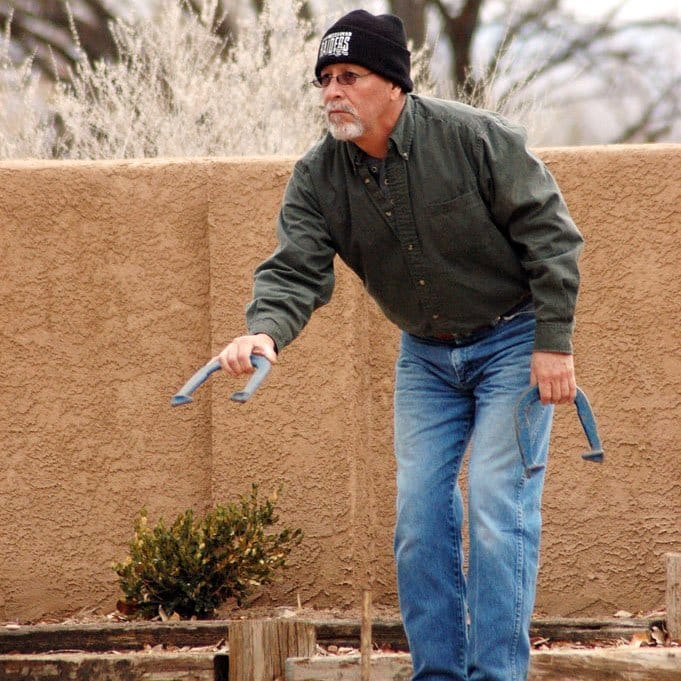 "Horsehoes" by sugarbear96 is licensed under CC BY-NC 2.0 
Outscore your opponent by tossing your horseshoes closer to the stake than your opponent's horseshoes.
A classic lawn game, easy to learn, and most importantly, fun.
You'll need a flat area, and a horseshoe set that includes two horseshoes for each player, and a stake.
We recommend the St. Pierre American Professional Series Horseshoes Set, which comes with everything you need to play the game. 
We like that both the horseshoes and stakes are high-quality, rugged, and highly durable. The set also includes a carry bag and a rulebook.
2. Ring Toss
Another entertaining tossing game, is this Elite Ring Toss game. A simple game, fun for all ages.
The goal is to outscore your competition, by tossing the rope rings to hit the pegs. Whoever gets the most points, wins.
3. Cornhole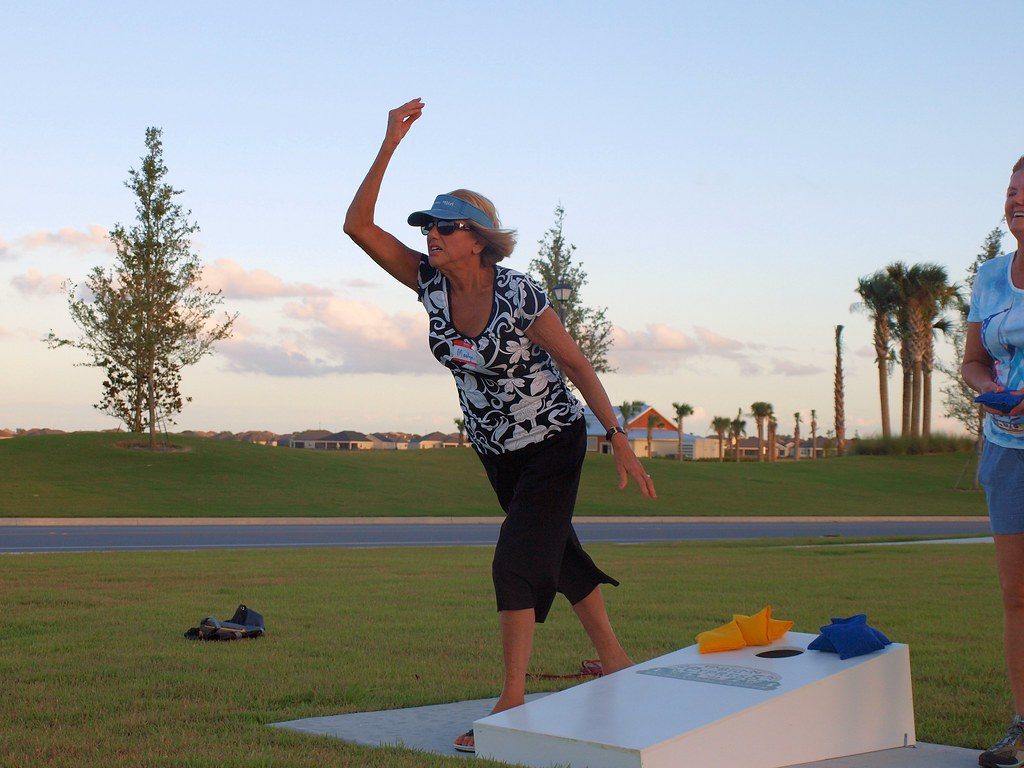 "Cornhole in The Villages" by Darryl Kenyon is licensed under CC BY-NC-ND 2.0 
A very popular and fun outdoor game is "Cornhole". Played in teams, the goal is to beat your competition by throwing the "bean bags" into the hole of the board, or on the board.
Whoever gets the bags into the hole of the board, gets the most points.
Cornhole is also called "bean bag", "sack toss" or "bags".
This "GoSports" portable cornhole set includes 8 all-weather bean bags and the frame is made of a high-strength, rugged yet lightweight aluminum frame.
The set includes carrying case so you could transport it easy to your picnic destination.
4. Croquet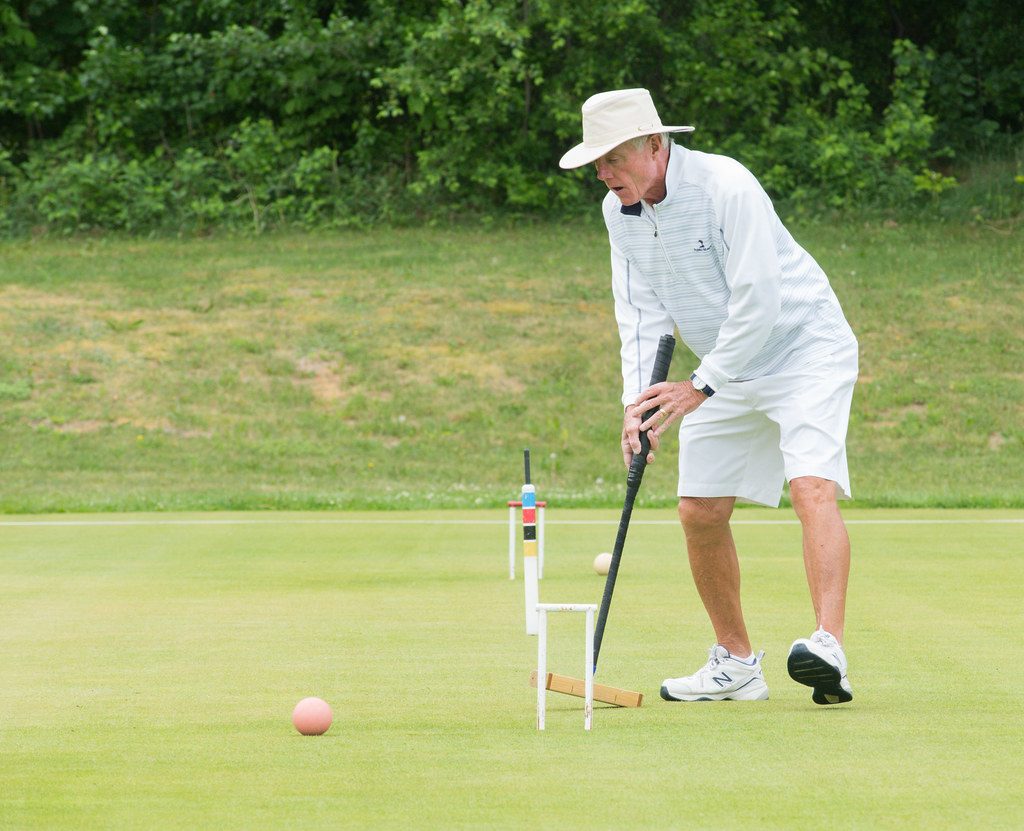 "BICC Saturday-4286.jpg" by Gary Lloyd-Rees is licensed under CC BY-NC 2.0 
Croquet is a classic lawn game excellent for all ages. A fun game to play at a picnic with your family, and friends.
Budget option: The "GoSports" Premium Croquet Set comes with 6 colored mallets, 6 balls, 9 wickets, 2 end posts, and a rulebook.
The mallets are rugged, made to withstand harsh conditions, designed for maximum durability.
The handles are comfortable to hold and long enough to be used by anyone. For easy transportation, the set also comes with a carrying case.
Best of the best (more expensive): Amish Toy Box deluxe pro set is definitely built to last. If you're looking for the best of the best, you'll love this croquet set.
With solid construction, the Amish set is made to last. The mallets and the balls are superior quality, beautiful and highly-durable. Definitely, a unique piece and a well-thought gift for anyone enjoying Croquet.
5. Bocceball
Bocceball is very popular among senior citizens, it's super fun and competitive. Beat your competition by rolling more of your balls closer to the target than your opponent's bocce balls. Simple rules and fun to play.
What we like about the St Pierre Bocce Ball Set: it's professional, durable and high-quality. Ideal for fun picnics, outings, backyard play, serious competitions and leagues.
6. Ladder Toss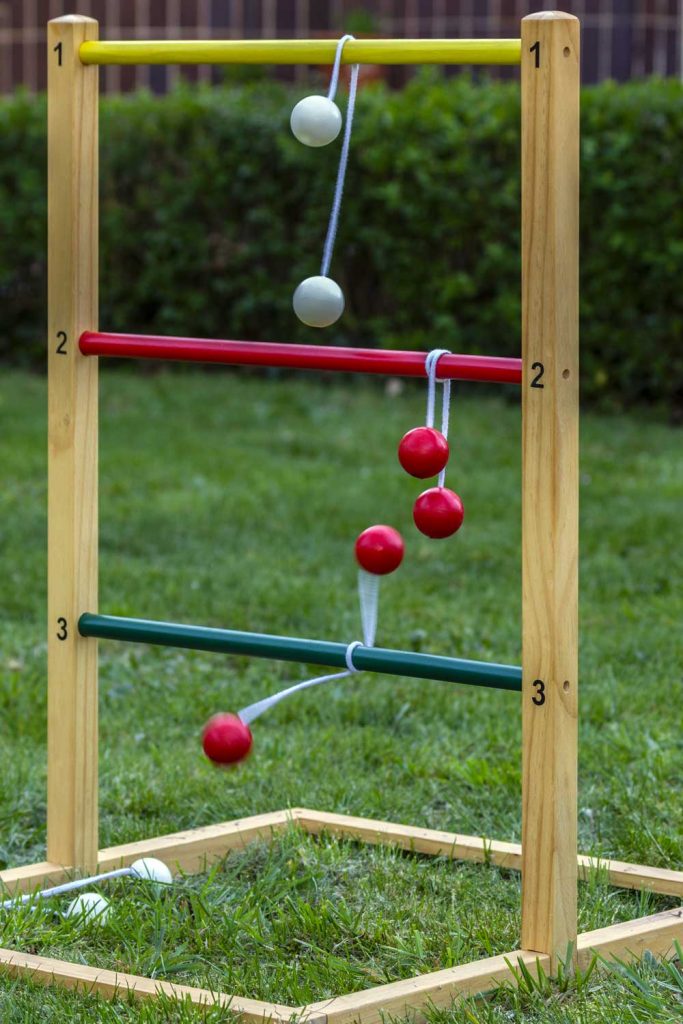 Usually played 1 on 1, or in teams of two, ladder toss is also known as "ladder ball" is a fun activity for all ages. 
Each team gets points by landing the bolas on the ladder rungs. You earn 3 points for the top rung, 2 points for the middle rung and 1 point for the bottom rung.
To win, you have to hit 21 points exactly.
The "GoSports" Ladder Toss is a sturdy game set that includes everything you need: 6 bolo balls, carrying case, score trackers, and of course the ladder.
Takes 2 minutes to assemble and it's made to last.
Card Games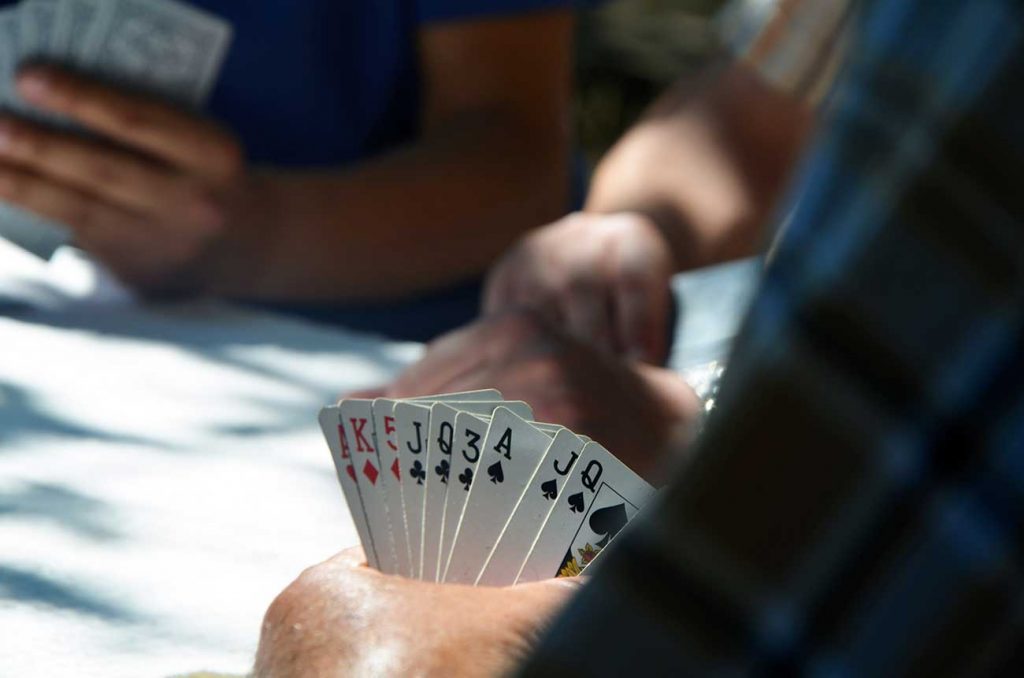 Sometimes all you need is a deck of cards to have the best time of your life. A deck of cards is super portable, fits in your pocket and you can take it anywhere with you.
There are tons of fun card games out there, and all you need is a deck of cards and a flat surface.
Here are some of the most popular card games fun to play at your next picnic outing:
1. Bridge
A classic and super fun card game that requires strategy thinking, enhances memory and challenges you to get solutions to problems.
2. Rummy
Popular, easy to learn, a game that combines tactical thinking with simple rules.
3. Gin Rummy
A variation of rummy, played in two players.
4. Cribbage
A traditional, and one of the oldest around, cribbage is very popular, brain-teasing and fun game.
Although it's a card game, it does require a board.
To win, you need to score 121 points and get your peg from the start to the finish line.
5. Pinochle
Pinochle is a very popular trick-taking card game played by 2 players or in 2 teams of 2.
6. Uno
A classic choice and so much fun to play, UNO is a very popular card game, that can be played by 2-10 people, and it's suitable for all ages.
To win, you have to get rid of all the cards in your hands.
7. Phase 10
"Phase 10" is a rummy-type card game, where you have to be the first to complete 10 varied phases.
Dice Games
Also, super portable and fun picnic activities are dice games. All you need are some dices, a pencil and paper.
1. Yahtzee
With simples rules, Yahtzee is a popular dice game where you have to beat your competition by scoring combos.
2. Mexico
Avoid low rolls, and win by remaining the last one in the game by scoring high rolls.
3. Liar's Dice
With strategic thinking and using intuition, deceive your opponents and recognize when they're lying.
Board Games
1. Qwirkle
Popular game that involves strategic thinking, tactical choices and a lot of fun.
The rules are easy to learn, the players need to match tiles with various shapes and colors.
Can be played by 2-4 players, and is ideal as a fun activity for a picnic outing.
2. Ticket to Ride
Reach more cities than your competition in North America by collecting and playing train cards.
A very popular and fun game played by 2-6 players.
3. Backgammon
A classic and old board game where you combine luck with strategic thinking to win.
4. Scrabble
Family and friends crossword game where you have to form words and win the most points.
5. Chess
Family and friends crossword game where you have to form words and win the most points.
6. Hive
Family and friends crossword game where you have to form words and win the most points.
7. Dixit
If you like art, stories and fun games, "Dixit" is what you're after. A creative board game where you combine illustrated cards, storytelling, imagination, and bluffing.
8. Rummykub
Rummykub is the original rummy game with tiles. Win by creating high-score sequences or tiles of the same number/color.