Wicker picnic baskets are beautiful, traditional, practical, and time-savers.
Definitely, a wonderful addition to your picnic gear, making picnic prepping, organization, and transportation easy.
We're going to take a look at the best wicker picnic baskets on the market. We've broken down our top picks, to help you choose the one that fits your needs best.
Best Wicker Picnic Baskets | Our Reviews
Country Basket Picnic Time
If you're looking for a traditional, vintage, hand-woven willow basket, you cannot go wrong with the "Country Basket" by Picnic Time.
Handcrafted beautifully with willow rods and a traditional white & red gingham liner, this wicker picnic basket with lid is everything you need for a cozy picnic with your family or friends.
The liner is removable and you can wash it easily.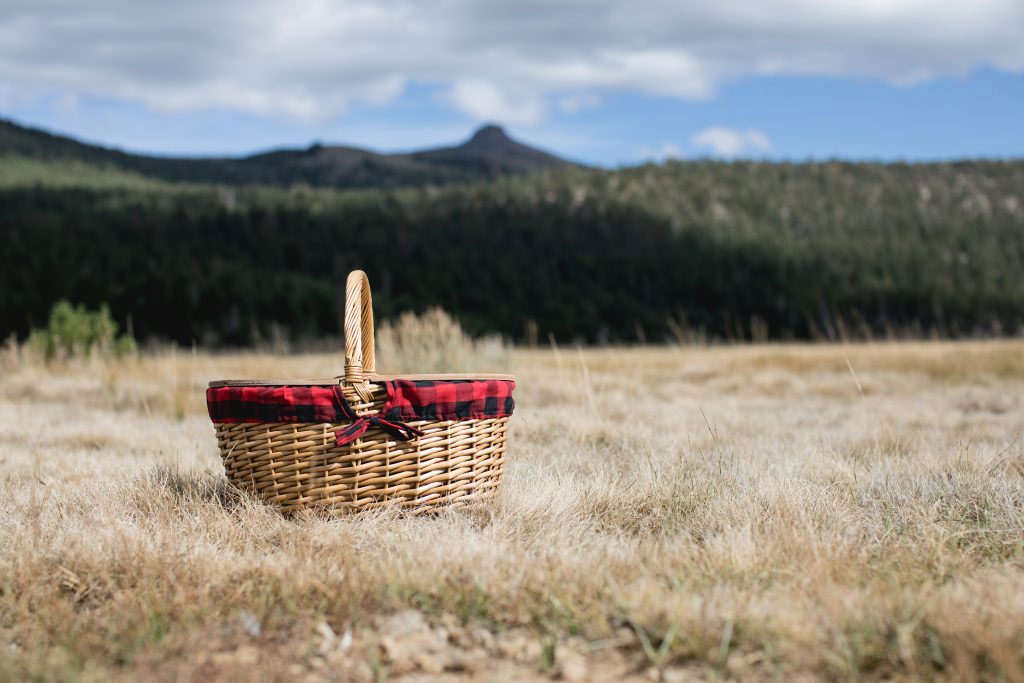 The dual-lid is robust, built from sturdy wood, and makes it super easy to access the goodies inside. Plus, it offers a reliable flat surface that can be used as a mini picnic table for food and beverages.
Another great feature is that the basket is backed by "Picnic Time Built to Last" Lifetime warranty.
California Picnic Wicker Picnic set for 4
You don't have to break the bank to be able afford a classic wicker basket for your next picnic adventure.
The "California Picnic" basket is budget-friendly, practical, traditional, good-looking and plus, it comes with plenty of picnic accessories, including a large blanket with waterproof backing.
For the price, the quality you receive is quite impressive. The basket is well-built and durable.
Inside you'll find :
Ceramic Durable Plates
Stainless Utensils (Forks, Knives, Spoons)
Plastic Wine Glasses
Cotton Napkins
Salt and Pepper Shakers
Corkscrew
Waterproof Blanket
Ideal as a wedding present and perfect for picnic dates or family trips.
What you might not like: the plates are a bit small, not insulated.
Kansas Handwoven Wood Basket by Picnic Time
With a classic old-fashioned, vintage design, this ash-woven wood picnic basket is a wonderful choice for a cozy picnic with your friends and loved ones.
Made in the USA, the Kansas basket is well-constructed, crafted from a unique Appalachian white ash wood, with brass nails and brass details.
The wooden plank lid is sturdy, practical and beautiful, and offers a flat surface to place your food and drinks.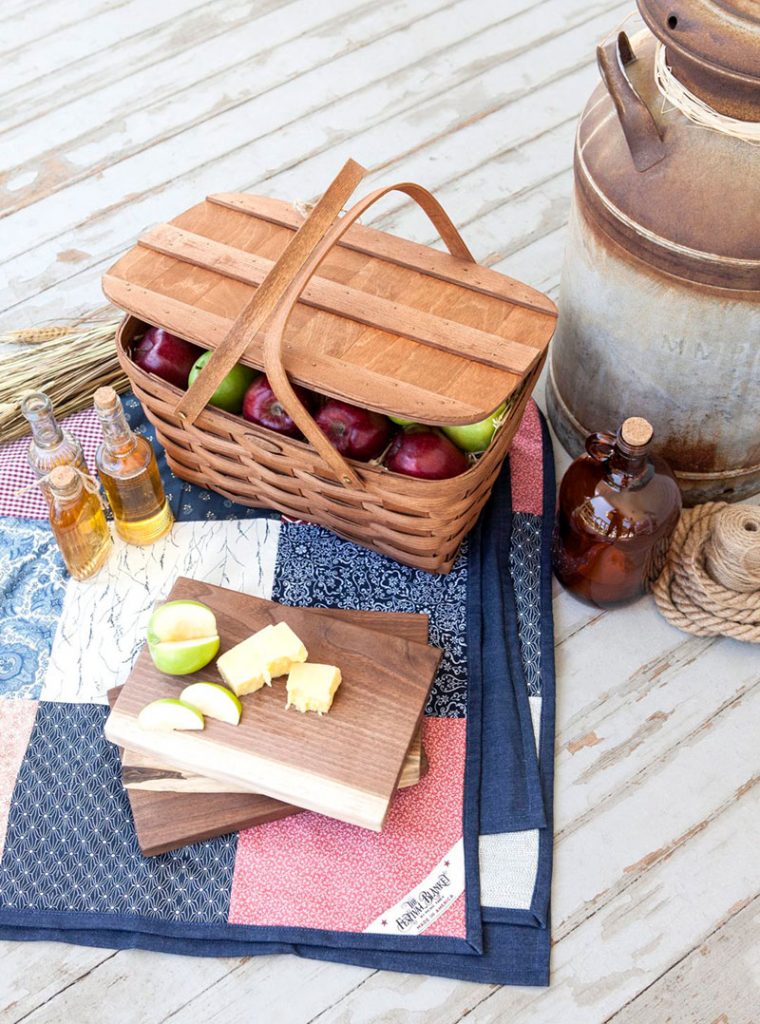 The basket is quite spacious and can hold food, drinks and snacks for an entire family of 4.
The folding dual handles are strong and makes the basket easy-to-carry. It is not insulated, so you'll have to toss in the basket some reusable ice packs to keep everything cold.
What we didn't like: it doesn't offer an insulated option
Juvale Picnic Set for 4
With an insulated cooler bag to keep your food and drinks cold or hot, this practical and beautiful wicker picnic hamper is a wonderful choice for a picnic in four.
Easy to carry and versatile, the Juvale basket is ideal for family picnics in parks or at the beach, double dates, for festivals, concerts, outdoor events and makes a thoughtful gift for weddings.
What we like most about this piece is that it combines beautiful, traditional and vintage design with convenience, versatility and functionality. 
The food cooler makes it possible for you to bring perishable meals like mayonnaise based salads (potato salad, chicken salad), eggs, dairy products, dips, lobster rolls, meringue pies, etc.
The Juvale is crafted from natural brown wicker material, making it strong and long-lasting.
This is a full set that includes accessories for 4:
1 Cooler Bag
4 Premium Ceramic Plates
4 Spoons, Knives, Forks
Salt and Pepper Shakers
4 Real Wine Glasses
Corkscrew
Cotton Napkins
People who bought this basket were pleasantly surprised by the superior quality of the accessories.
The plates are ceramic, the glasses are real glass and the utensils are stainless steel.
Plus, it's super spacious able to hold food, drinks and snacks for 4 hungry people.
Picnic Time Canterbury Basket
Traditional English design, sturdy, crafted with natural willow, plush corduroy interior and genuine leather details, this wicker picnic basket set is a wonderful piece for outdoor dining.
Definitely one of our favorite picnic baskets on the market.
It's truly incredible how much extra stuff this set includes, the designers practically thought about everything you would need for a picnic.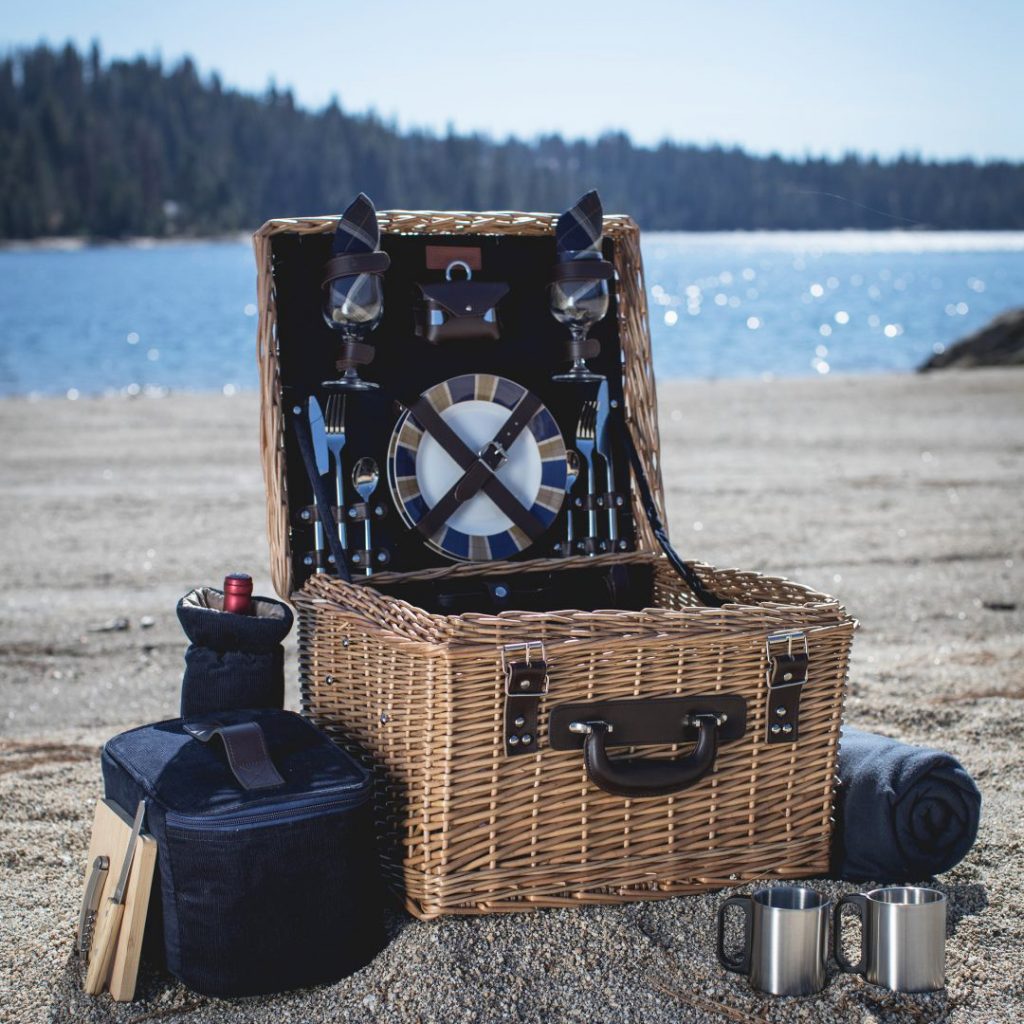 Unlike other models, this unique Canterbury basket includes the following extra pieces:
2-Person Deluxe Coffee/Tea Service: 30-ounce vacuum flask and 2 stainless steel mugs (insulated).
Dining Set for Two: porcelain plates, real wine glasses, stainless utensils, salt & pepper shakers, cotton napkins
Cheese Set: cheese knife with wooden handle, cutting board
Wine Service: insulated wine pouch, stainless waiter's screw, bottle stopper
Extra Kitchen Accessories: two food storage containers, zippered insulated food cooler
Seating: cozy fleece blanket
Although it's more expensive than others, we think it's well worth the money.
It's an absolutely wonderful piece of a superior quality, practical, and made to last. Definitely worth putting it on a wedding registry.
The Canterbury is often bought to be gifted on special occasions: weddings, birthdays, anniversaries etc.
What you might not like: it's expensive and gets heavy when is full. 
The "Dorset" Basket by Picnic at Ascot
Classy, elegant, practical, and attractive, this wicker picnic set is ideal for families and friends who love picnicking.
Unlike other picnic baskets, this set comes with everything you need from flatware, utensils, cooler bags, and blanket. 
We also like the basket's internal organization, definitely helps you organize better and it makes picnic planning easy.
With a sturdy natural reed willow construction, the basket is strong and made to last.
It also features genuine leather straps to secure the blanket, and the flatware accessories.
It's designed for 4 people and includes plenty of premium quality accessories:
Ceramic plates
Wine glasses
Stainless Steel Flatware
Cotton Napkins
Insulated Food Cooler
Insulated Wine Tote
Cutting Board
Salt & Pepper Shaker
Cheese Knife
Corkscrew
Blanket
Safe to say, makes a perfect gift for special occasions: Mother's Day, Father's Day, Weddings, Anniversaries, Housewarmings, Retirement, Holidays.
It was nice to see that the brand offers "Lifetime Warranty", which is a huge plus when faced with a buying decision.
Cons: gets quite heavy when it's filled up.
'Heart' Natural Willow Picnic Basket Picnic Time
What could be more romantic than a heart shaped willow picnic basket?
This set is a fantastic choice for romantic outings.
Comes with deluxe service for two including premium flatware, utensils and accessories:
Porcelain Plates
Glasses
Stainless Steel Flatware
Cheese Board
Cheese Knife
Salt and Pepper
Tablecloth
Cotton Napkins
Makes a beautiful gift for couples, Valentine's Day, anniversaries, weddings, engagements, bridal showers and birthdays.
It's well made, it features a strong woven willow construction, with leatherette details and reinforced folding handles, making it long-lasting and durable.
It's big enough to hold plenty of food goodies for a hungry couple.
What we don't like: it's not insulated, some people complained that the lid doesn't close properly
Corsica by Picnic Time
Attractive, sturdy, and practical, this insulated willow wicker basket is perfectly designed for wine and cheese outings.
The Corsica basket is everything you need for a spontaneous picnic trip with your fellow wine lovers.
Ideal for romantic dates but also for summer picnics with friends.
With an elegant, beautiful and stylish design, this basket makes a wonderful present for any special occasions (weddings, birthdays, Christmas gifts, housewarmings).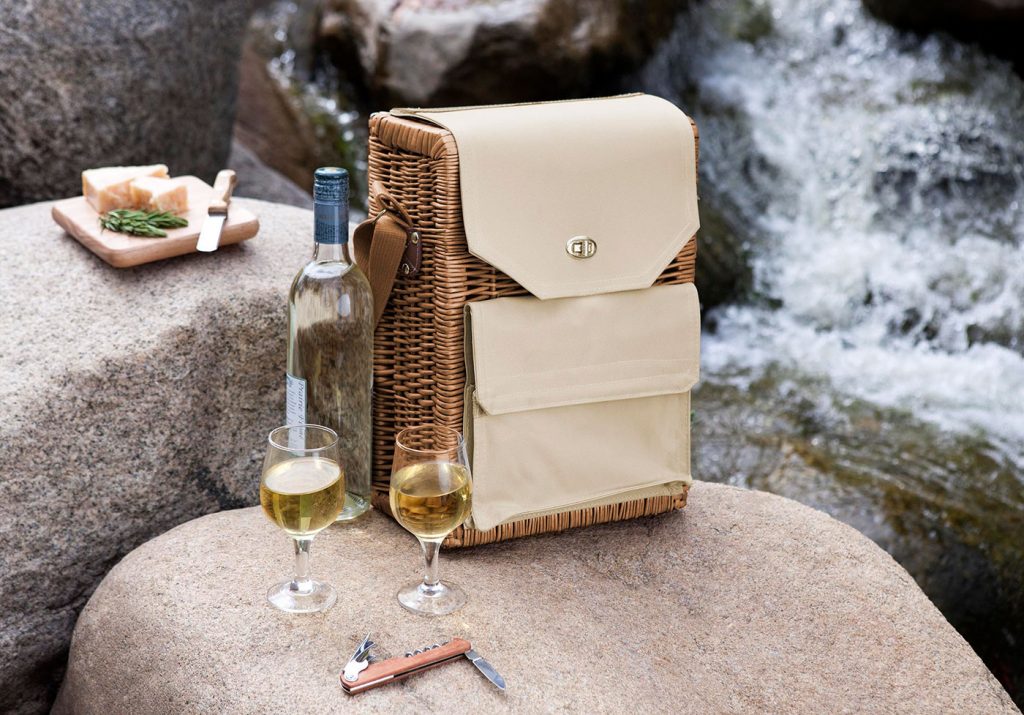 We like how convenient it is, the exterior canvas pocket holds wine & cheese accessories.
Inside the pocket, you'll get a 6-inch cheese cutting board, cheese knife, and stainless steel corkscrew.
Features a divided compartment able to hold 2 bottles of wine, cheese, and 2 small wine glasses.
As a quick tip: if you bring only 1 bottle of wine, you can take advantage of the extra space to fit cheese, snacks, some fruit, and glasses.
Crafted from willow with leatherette details and straps for easy carrying.
Cons: Doesn't come with wine glasses (you have to bring your own).
Summary of our findings:
When choosing a new picnic basket, it's important to look for practicality first and design after.
Choose a wicker picnic set that fits your needs best. Look for insulation, durability, capacity, and if it's easy to carry.
It's super helpful if you choose a set that includes flatware, cutlery, and accessories (blankets, thermoses, storage containers).
This will cut prepping time and help you with the organization so you won't forget anything.
Depending on the occasion, choose a family picnic set, a romantic couple set or a gift-worthy picnic basket.
Willow, bamboo, or rattan wicker baskets are all excellent choices, that are designed to last.
F.A.Q
How to clean a wicker picnic basket?
A gentle and dry method to clean the dust is by using a feather duster to remove debris, dust and some dried-out dirt. 
If the basket is really dirty, use the wet method and wipe the basket with a damp soft cloth (or a brush) and some soap. Spread out a towel and lay the basket on the towel, leaving it outside to air dry. Preferably, choose a sunny day and you'll have a completely dry wicker basket within 1 hour.
Where to buy wicker picnic baskets?
You can buy them online from your favorite online marketplaces: Amazon, Etsy, Houzz, Bed Bath & Beyond, Walmart, Homedepot, etc.
Of course, you can also find them in local stores.
What is wicker? It's not a material.
You might be surprised, but wicker is a weaving technique, not a material. The word "wicker" has a Scandinavian origin: "Vika" which means "to bend".
Wicker is a process that involves weaving natural materials into intricate patterns.
Examples of raw materials:
rattan
willow
reed
bamboo
wood
Synthetic fibers are also used today in crafting modern patio furniture, baskets, and pieces that usually go outdoors.
Wicker Baskets Origin: From Ancient Egypt to Now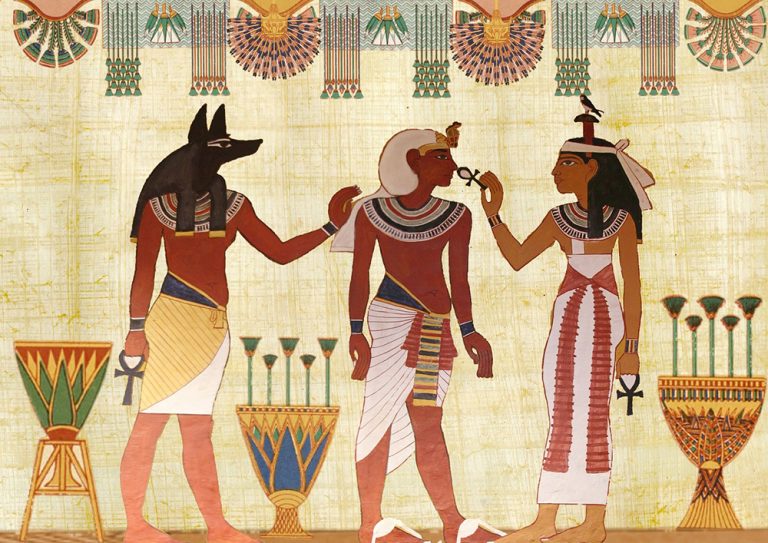 Wicker goes back a long way, ancient Egyptians being the firsts ever who made wicker furniture.
The primary materials they used were "reed and swamp grasses".
Back then, only the wealthiest pharaohs could afford wicker chests, baskets, tables, chairs, and other woven pieces of furniture. 
Average-class families could barely afford one or two pieces.
The Difference Between rattan, bamboo, willow & Wood
Rattan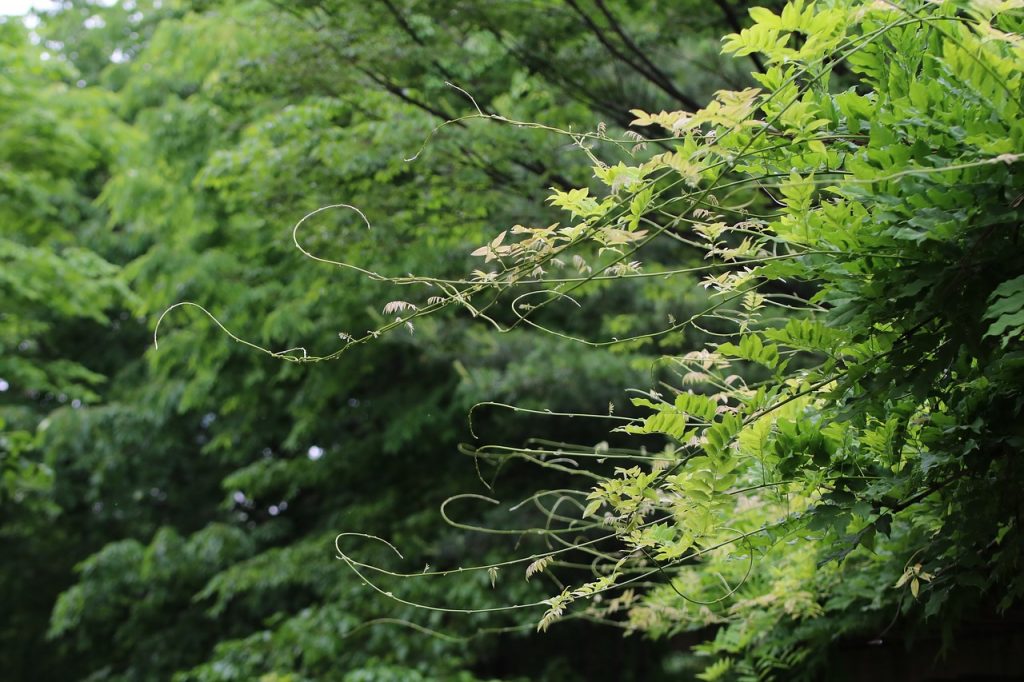 Rattan is a cousin with a tropic palm tree, growing in the rain forests.
Rattan wicker picnic baskets are very durable and can last a minimum of 100 years if the weaving technique is done properly.
Inside rattan vines, there are plenty of vertical fibers that offer extra strength and durability, while keeping the vine ultra-flexible.
Today, rattan is considered to be one of the strongest yet lightweight material, ideal to be weaved into attractive and sturdy wicker pieces.
Willow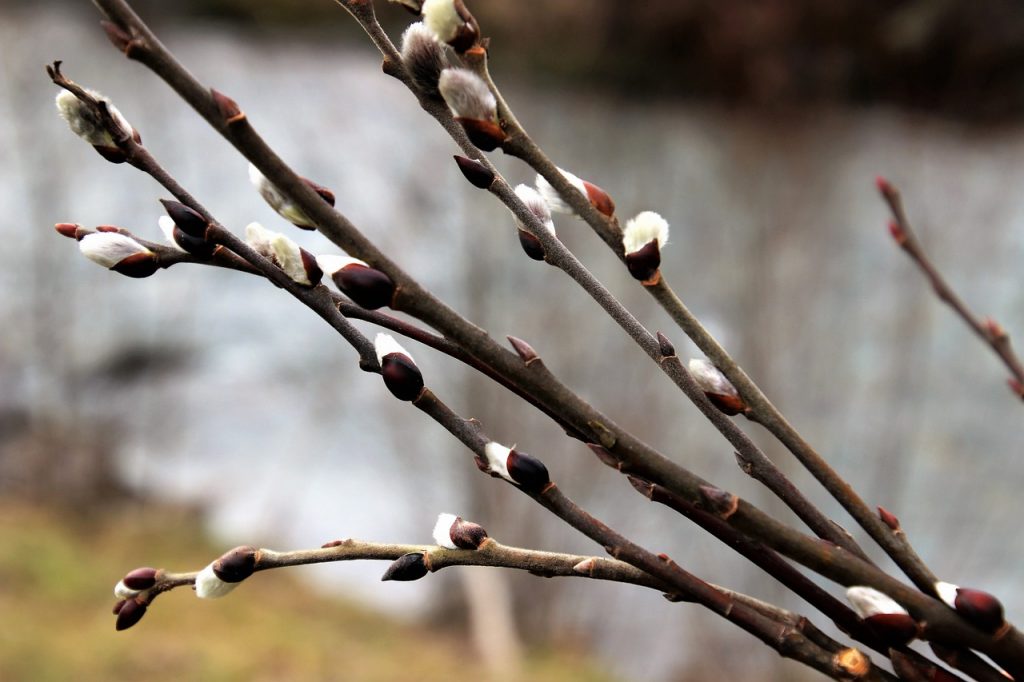 Willow is another durable and natural raw material used to craft wicker items.
To produce a high-quality final product, willow rods go through a labor-intensive process: from cutting, sorting, boiling, stripping, drying.
Willow vines are sturdy, tough, fibrous and durable.
To give extra flexibility to the rods, the willow needs to be soaked before starting the weaving process.
Natural willow is often used in the process of making luxurious and sturdy picnic baskets.
A bit heavier than rattan yet still lightweight, willow wicker pieces are reliable and made to last.
There is a wide variety of willow species out there, which makes it possible to get beautiful, unique colors, textures, and cuts. 
You'll see willow in brown chocolate, honey, black, white, yellow colors.
Bamboo
Unlike rattan or willow, which are solid, bamboo is hollow and cannot be bent.
This does not mean that is weak. Bamboo is very solid, durable, and even harder than mahogany.  
Aesthetically, it looks more attractive than other wicker items.
Plus, bamboo picnic baskets are usually much cheaper than others, considering that bamboo grows fast and the harvest process is easy.
The only disadvantage is that it cannot be bend, making it less versatile than rattan or willow.
WOOD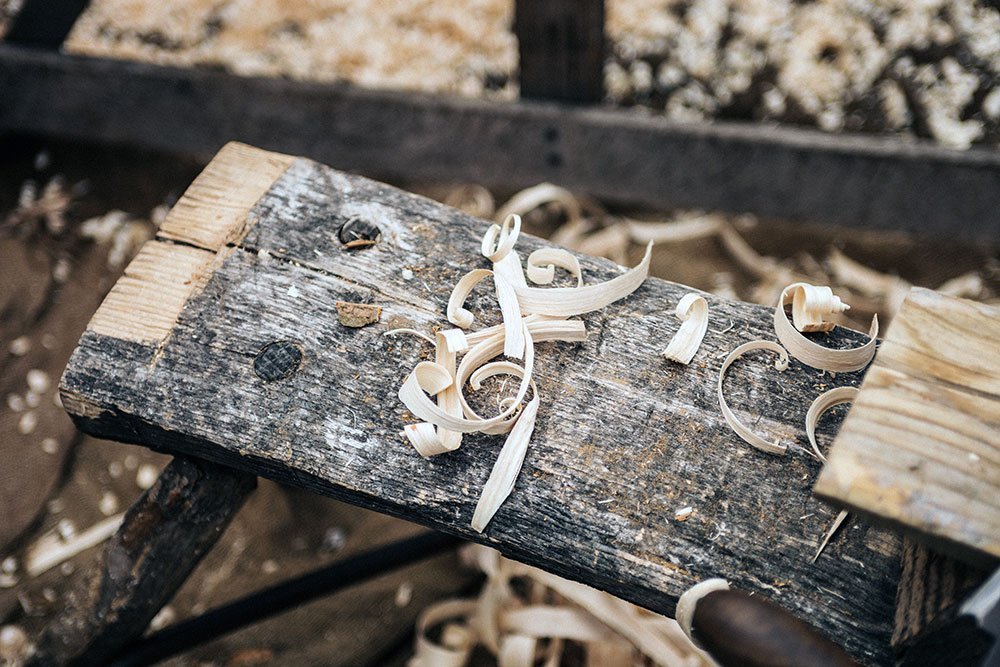 Wooden picnic baskets look beautiful, vintage, and are very sturdy. 
From luxury items to affordable ones, you can find a wide range of options.
Depending on the quality of the wood, the price can go up or down.
Luxury wooden baskets and tables are often treated with oils and sealants, to increase their lifespan and to prevent rotting.