This week we've made some thorough research and selected the best picnic baskets with blankets available on the market. 
We looked for practical, beautiful, space-efficient and roomy baskets perfect for your next outdoor dining experience. Any of the baskets below make as wonderful presents for special occasions: weddings, anniversaries, birthdays, Valentine's Day, Mother's day and others.
Here are our favorite picnic sets that come with blankets:
Best Picnic Baskets with Blanket
Best Overall: Picnic at Ascot Dorset for 4
Deluxe picnic set, practical and beautiful, handcrafted with natural full reed willow, genuine leather straps and premium service for 4, the "Dorset" is a wonderful choice for an outing with your friends or family.
On the side of the basket, secured with real leather straps, you'll find a quite large fleece blanket (60" x 50").
The vast majority of people who bought this basket found it to be robust, and were impressed by the high-quality of the accessories, plates, glasses and silverware.
What you find inside the basket:
Ceramic Plates
Glass Wine Glasses
Superior Quality Stainless Steel Flatware
S & P shakers
Wooden Cutting Board
Cheese Knife
Bottle Opener
Insulated Food Cooler
Insulated Wine Pouch
100% Cotton Napkins
To make sure you keep perishable food cold and safe-to-eat, this basket offers an insulated compartment.
Plus, the set comes with an insulated bag for drinks where you can keep a bottle of wine (or water, or champagne, ice-tea, or fresh juice).
Cons: a bit expensive

Best Value: California Picnic Basket Set for 2 with Blanket
If you're looking for a practical, reasonable priced, and beautiful picnic set that comes with everything you need for a picnic in two, then this "California" picnic basket is a wonderful option. 
We were pleasantly surprised to see that this model is well-constructed, long lasting and high-quality.
It comes with a quite large blanket with waterproof lined backing, which allows you to lay it on wet grass and protect against moisture.
Inside you'll find plenty of accessories for 2:
2Ceramic Plates
2Stainless Steel Knives, Forks and Spoons
2 Plastic Wine Glasses
2 Cotton Napkins
Salt & Pepper Shakers
Bottle Opener
Blanket
Definitely, it looks cute, a bit rustic and traditional, made of a rugged and natural wicker. 
The fashionable straps you'll see inside and outside are made of a strong faux leather.
Whether you'll be using it for yourself, or give it as a gift, this basket is a fantastic choice.
Makes as a thoughtful present for Mother's Day, birthdays, weddings.
What we don't like: it is not insulated, so you have to use ice packs and prechill your food and drinks. But considering the price, it's not something we should complain about. 
Picnic Expert Tip: Use reusable Ice Packs
To keep the food cool for the entire day, add ice packs. Use ice even though your basket is insulated, some extra ice is always a good idea – especially in a hot summer.
To extend cooling, put the packs in the freezer overnight, so the next day they'll be super cold to keep your food and drinks chilled and fresh for the entire day.
Best Backpack with Blanket: Sunflora 4 Person Set
The Sunflora Backpack is super practical, attractive, designed for 4 persons, and comes with a large blanket, and a wine pouch on the sides.
Available in five colors: beige, black, gray, blue, and navy stripe.
With the padded shoulder straps, this versatile backpack is an easy and comfortable way to transport your picnic goodies to your picnic spot.
Ideal for hikes, picnic in parks, and outdoor events. 
Features a large front zippered pocket where you can find:
stainless steel forks, knives, spoons
plates
glasses
napkins
knife
cutting board
and bottle opener
The inside compartment is fully insulated, and can hold plenty of food, snacks, and fruits for 4 persons.
On the sides you'll find:
 waterproof picnic blanket
 insulated waterproof pouch
Backpacks are more space-efficient than bulky wicker baskets and can be easily stored anywhere in your house without staying in your way. 
Best Deluxe: Picnic Time Somerset Willow Picnic Basket with Blanket
This "Somerset" basket is luxurious, with a superior quality sturdy woven wicker construction, real leather details, plush corduroy interior and premium "picnic kitchen" accessories. 
If you're looking to have the ultimate deluxe picnic experience, this set doesn't disappoint.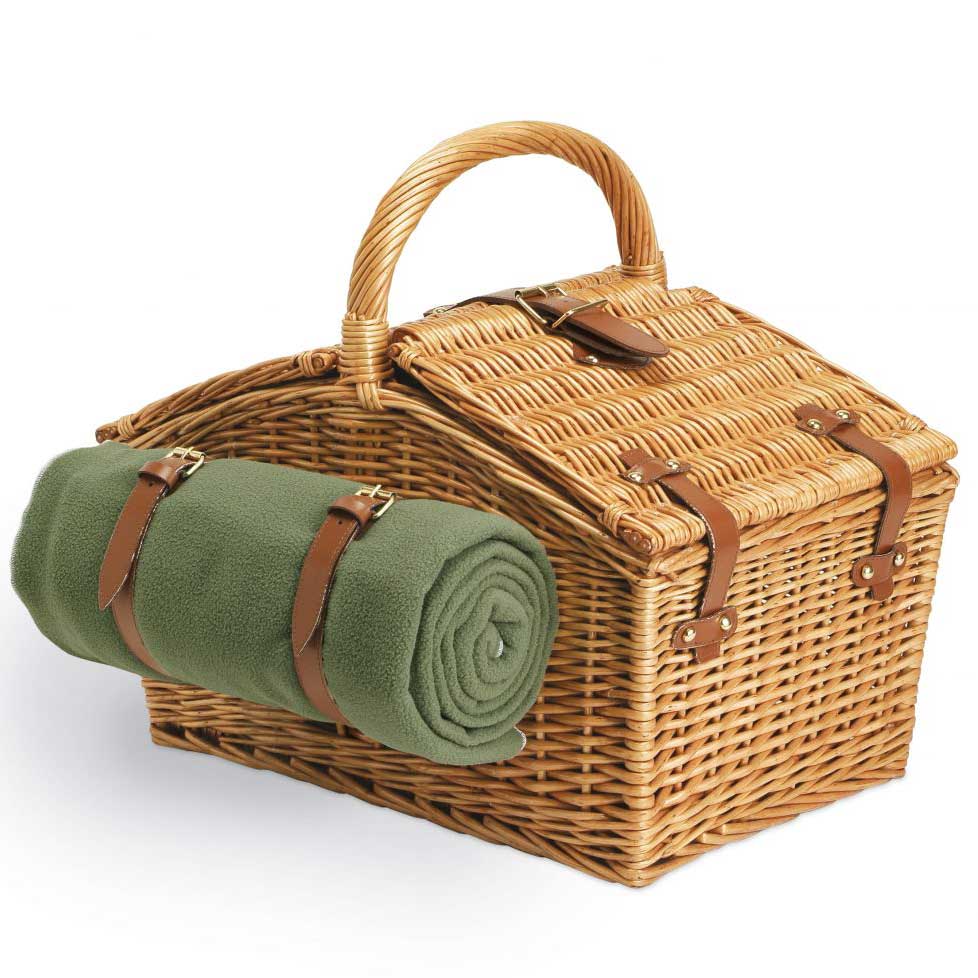 Image Source: Picnic Time
What we like most about this basket is that it's smartly designed to make picnic prepping easy.
It comes with everything you need, every piece has its own place and on top of that, all the accessories are super high-quality. 
Take a look at how many extra accessories comes with this set:
2 Porcelain Plates
2 Real Glass Wine Glasses
2 Food Containers
2 Stainless Steel Forks, Knives, Spoons
1 Cheese Knife
1 Hardwood Cutting Board
Corkscrew
Salt & Pepper Shakers
2 Napkins
Insulated Wine Pouch
Insulated Food Cooler
Fleece Blanket
That's a long list of helpful items you want to have at your next picnic.
The insulated coolers keep the food and beverages fresh and chilled for a long time. 
Cons: more expensive
Best Cooler Set with Blanket: Picnic at Ascot Modern Cooler Bag
Image Source: Picnic at Ascot
This "Picnic at Ascot" picnic basket is designed for maximum  functionality, durability and at the same time, it's stylish.
Easy to carry to your picnic destination with the adjustable shoulder strap. 
Made in USA, is well-built with a durable 600D canvas, made to last and withstand abuse. 
Inside you'll find 2 insulated compartments, easily accessible and smartly designed:
One for food (sandwiches, cheese, fruit, finger-foods, snacks)
One for drinks fitting two bottles of wine (or other preferred drinks)
A great feature about it is that the cooler is leak-proof, so you don't have to worry about melted ice ruining the bag. 
Features a roomy front pocket where you find: plates, napkins, glasses, cheese knife, corkscrew.
On the side, you'll find the fleece blanket large enough for 2 persons.
Picnic baskets vary in terms of size, capacity, design and practicality. 
No matter which brand you settle on, make sure to choose a basket that fits your needs best.  
If you're looking for something traditional and attractive, and storage space is not an issue for you, then you should consider a natural wicker picnic basket. 
If you want something more modern and designed to be super practical, a backpack or a cooler might be a better choice. 
If none of these options are your favorite, you can always have the option to buy the picnic blanket separately.
This Yodo picnic blanket (link to Amazon) is practical, waterproof and ultra portable.
A blanket with waterproof backing will make your life easier, and protect you from the moisture from the wet grass.
Happy Picnicking!