Picnics are an exceptional way to enjoy the summer and spend quality time with your friends or family. But sometimes, things don't go as planned.
Dark clouds, wind, moisture, and heavy rains can ruin your whole picnic adventure.
With our tips, you'll see that having picnics in the rain can still be quite fun if you're good at staying dry.
Because the weather is so unpredictable, it's always a good idea to be prepared and know what to do if it rains on a picnic. Let's get started, here are some innovative rainy day picnic ideas:
How to Have a Picnic in the Rain: Tips & Ideas
---
1. Embrace the Rain
Your initial reaction when you see the first drops of rain is what makes or breaks your whole picnic experience.
If you adopt the proper attitude, you can learn to love a little bit of rain and end up having the best time with your friends and loved ones.
Accept, adapt, and enjoy your time.
Who knows, maybe in 10 minutes the rain will go away, and the sunshine will win out.
---
2. Look for a Dry Area
The first thing you want to do is to inspect the surroundings and look for a dry spot. If you see one, great! Pack your gear, relocate and wait there until the rain stops.
Otherwise, you'll have to improvise a temporary rain shelter, which is quite easy if you have the proper gear.
---
3. Use Tarps to Improvise a Picnic Rain Shelter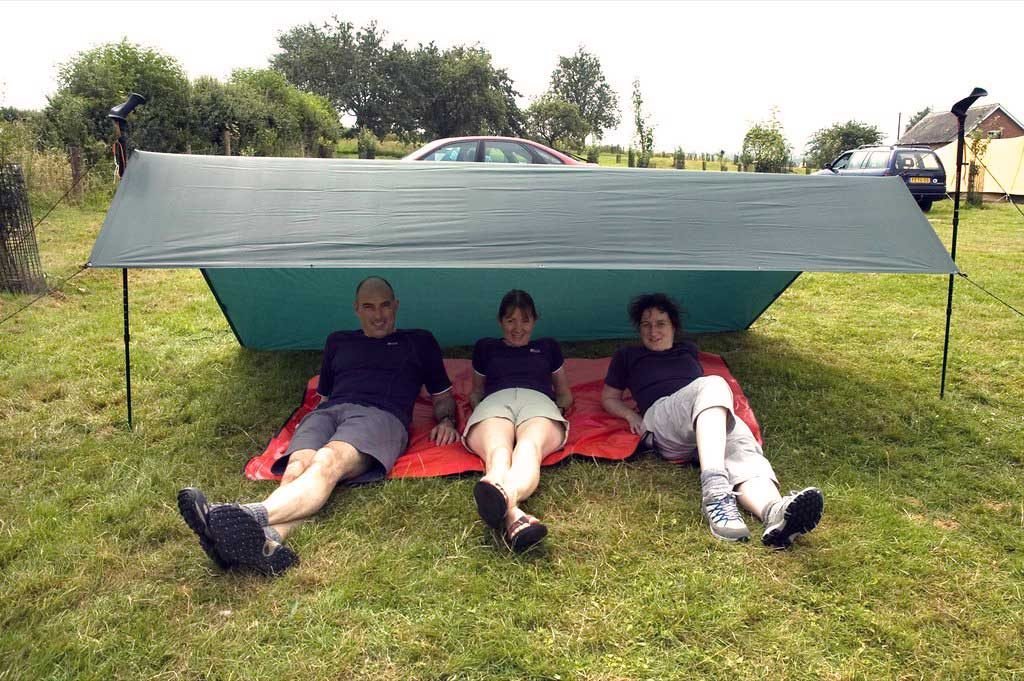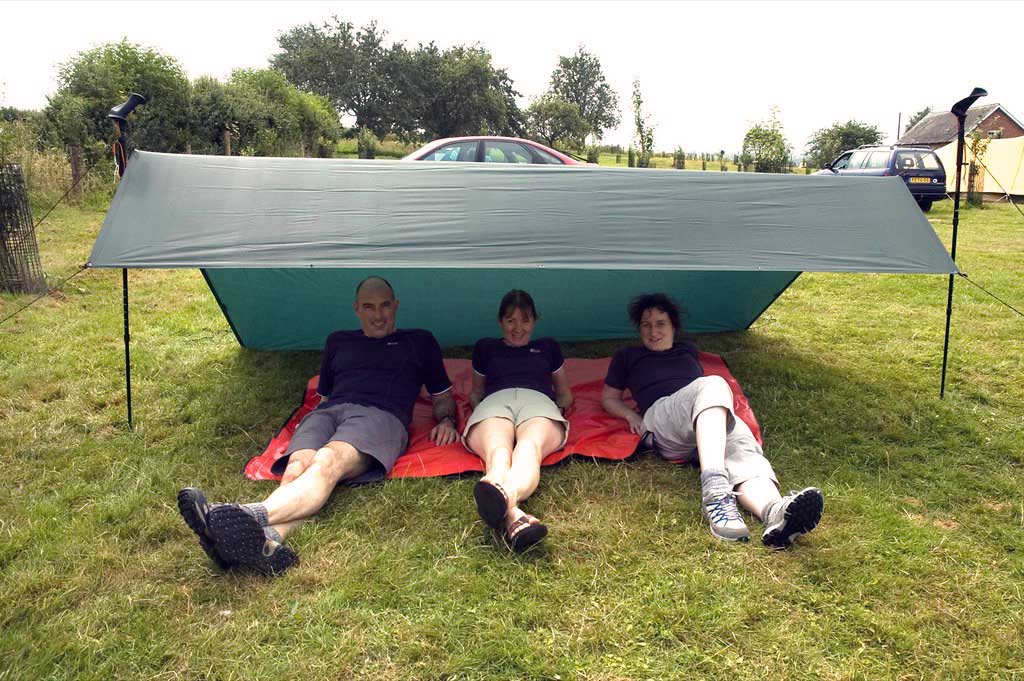 Regularly used by backpackers, hikers, and camping enthusiasts, waterproof tarps are great in the rain and will provide a cozy, large dry area.
Tarps are affordable, compact, portable, lightweight and practical. Tarp shelters are easy to set-up and will keep you completely dry.
We recommend the Aqua Quest Guide Tarp (link to Amazon) which is 100% waterproof, weighs only 0.9 lbs and you can rely on it even on extreme weather.
The great thing about it is that you don't need trees to set it up, you can simply peg into the ground and you're good to go.
---
4. Stay Dry with a Waterproof Jacket / Rain Suit / Poncho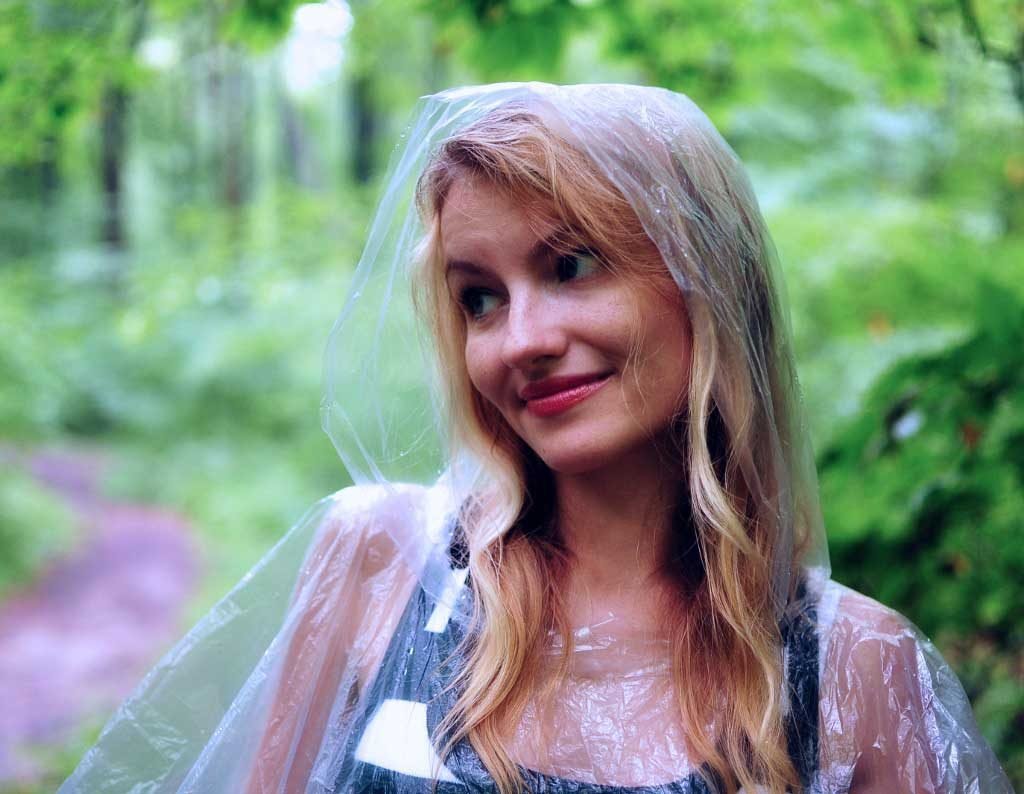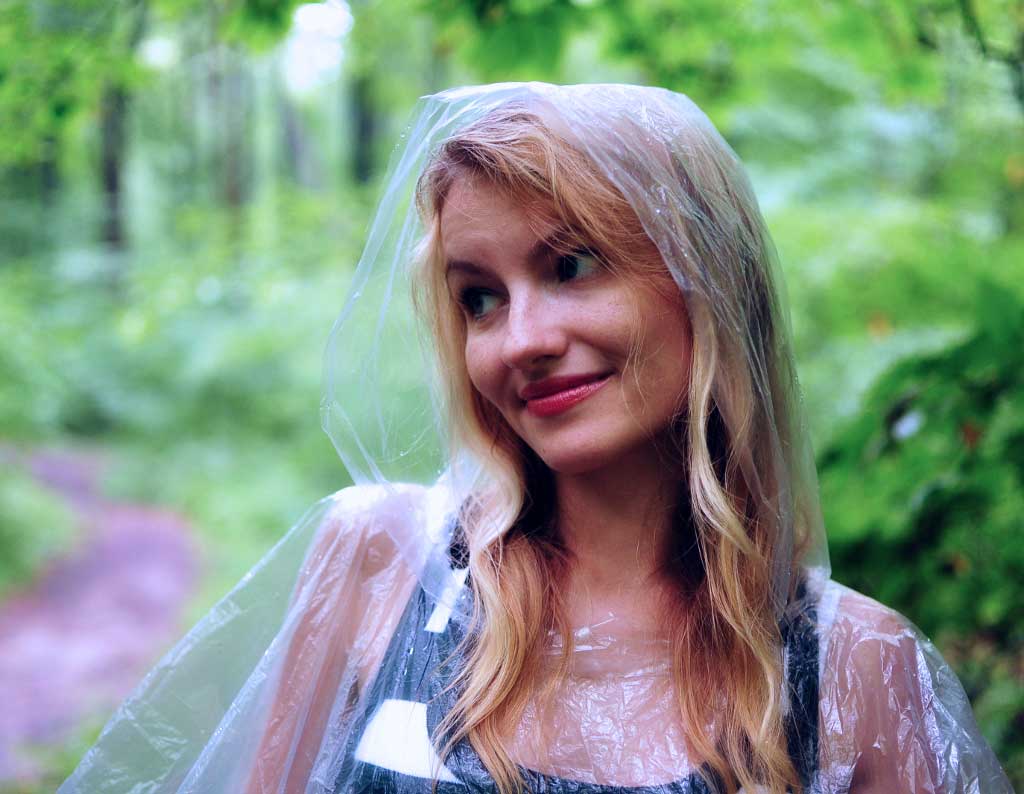 Always keep in mind that staying dry is easier than drying out after you got yourself wet.
A budget-friendly option is to wear a lightweight poncho (link to Amazon) or you to improvise a raincoat using trash bags to cover yourself up.
If you want to spend more on a high-quality, lightweight and breathable waterproof jacket, we like the "Outdoor Research Helium II Jacket" (link to Amazon) that will keep you dry and cozy.
---
5. Layer Up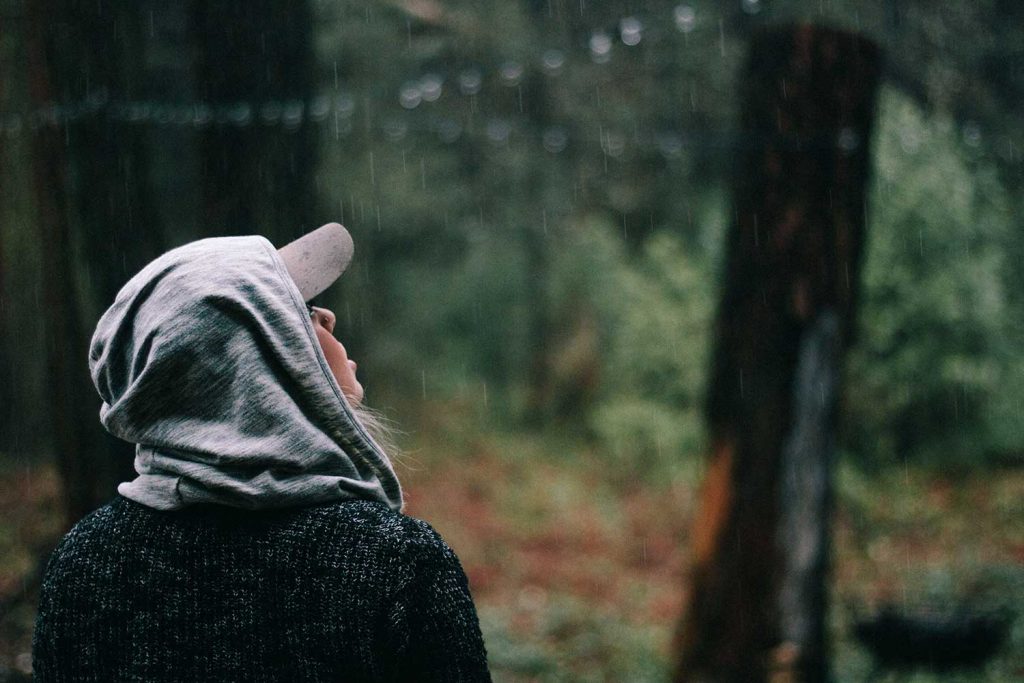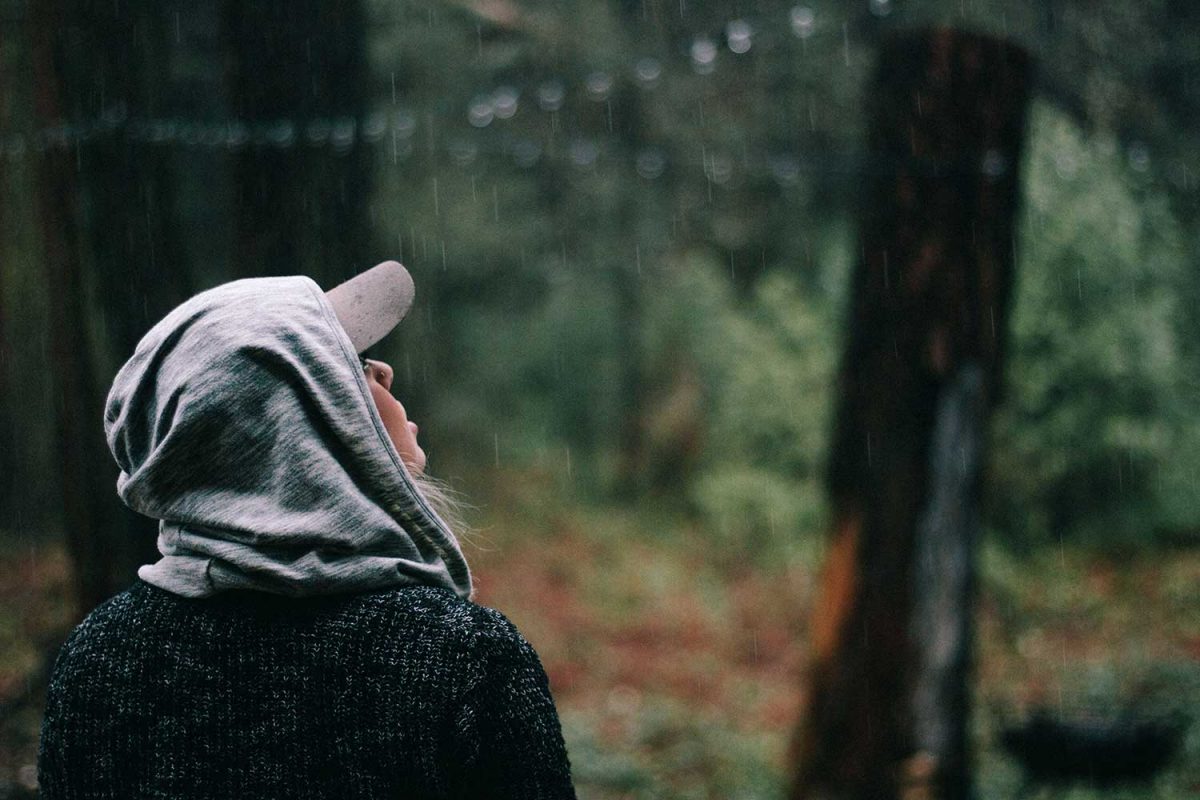 If it gets chilly, start layering up and put on tights, hats, long-sleeved shirts, socks and get cozy.
Stay away from 100% cotton clothes.
Cotton absorbs water, including your sweat. You need breathable clothing made from wicking materials like nylon, polyester or merino wool.
---
6. Power Food: Hot Cocoa & Snacks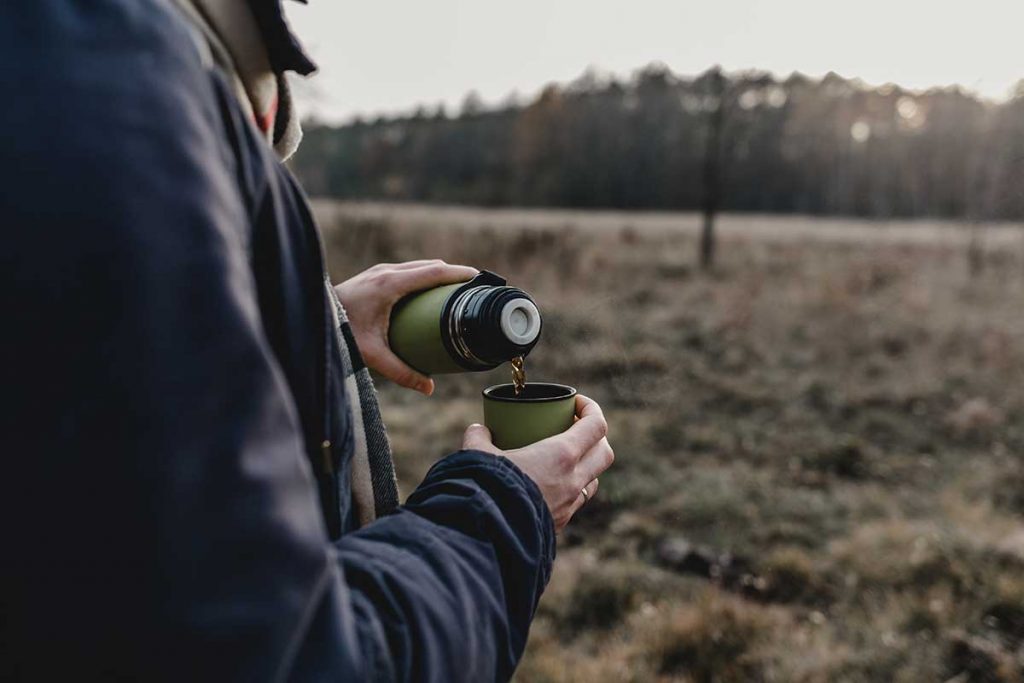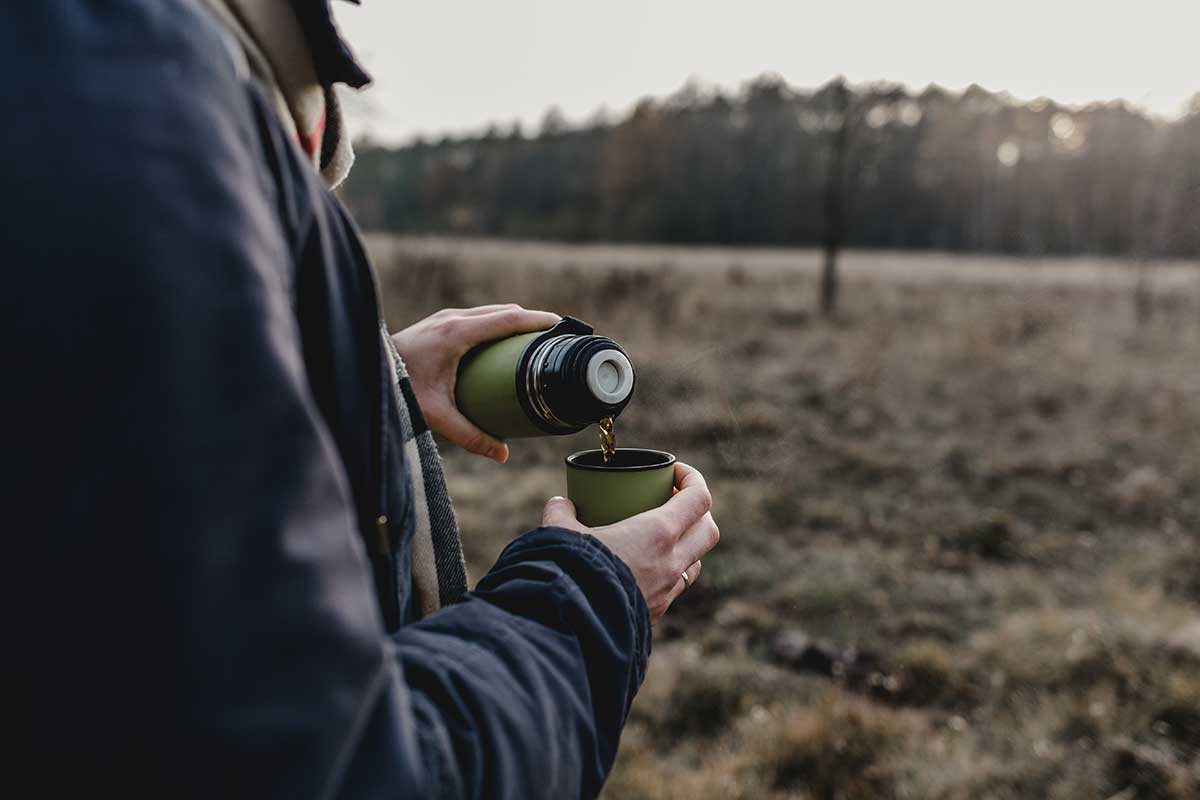 There's nothing better than hot tea and snacks on a rainy day! Enjoy the beautiful view with a hot beverage (cocoa, mulled wine, tea) and delicious snacks (granola bars, nuts, dark chocolate). Don't forget your thermos!
---
7. Keep your Picnic Gear Dry
Cover your picnic basket and all your exposed picnic items with plastic bags or trash bags. The cover will protect and keep them dry in wet weather.
---
8. Trash Bags
For rainy days, garbage bags are actually quite handy. You can make ponchos out of trash bags and keep yourself dry. You can waterproof your bags, clothes, food and any other vulnerable gear.
---
9. Backpack Rain Cover
If your backpacks aren't waterproof, it's a smart move to pack rain covers. Inexpensive, portable and helpful to include in your picnic gear list.
---
10. Zip-Lock Bags
This simple trick will protect your precious belongings from the rain. Place your keys, smartphones, wallets, cameras, and other sensitive items in zip-lock plastic bags – this way you'll keep them safe.
---
11. Hand Warmers
To keep your hands warm in cold rainy weather, use hand warmers. The HotHands hand warmers (link to Amazon) provide safe, natural heat and are activated simply by shaking them.
---
12. Umbrella
After hours of research, we've finally found a picnic umbrella that we really love. It's more than an umbrella, it's a tiny shelter!
The Sport-Brella (link to Amazon) is compact, easy to set up and will protect you from rain, wind, and sun (with SPF 50+). It provides an excellent rain shelter in a matter of minutes.
---
13. Waterproof Sacks
Another great way to keep your valuables completely dry is to toss them in a waterproof dry bag.
Often used for kayaking, beach, rafting, hiking or fishing, these sacks are designed to keep your items dry and safe.
---
14. Waterproof Blanket
Make sure the dampness of the ground doesn't penetrate the blanket you're laying on. If you didn't bring a blanket with waterproof backing, no worries, you can improvise.
Place plastic bags or trash bags underneath your blanket and that should protect you and keep you comfortable even on damp grass.
We recommend the MIU waterproof picnic blanket (link to Amazon) which is very comfortable, large, easy to fold, easy to clean and most importantly, will keep yourself completely dry.
---
15. Plastic Cooler
The best way to protect your food and snacks from the rain is by holding them in a securely insulated plastic cooler. Yeti coolers are reliable and one of the most popular on the market.
For picnics, we like the Yeti Tundra Haul model (link to Amazon). It's a rotomolded cooler, with big wheels easy to transport and virtually indestructible.