When you are preparing for the perfect picnic at the beach, it is key to think ahead. Today we share with you some clever and life-saving beach picnic ideas we love.
Make a list and check it twice so you don't end up on the beach… in the perfect spot… next to the water… only to kick back and realize you've forgotten the most important thing.
Very likely home is far away, and depending on your location, there may, or may not, be a stop-and-go around the corner.
Or, if list-writing isn't your thing, don't worry, we've got your back covered by writing down a few key ideas to give you the perfect day. 
Quick Picks
Beach Picnic Ideas
1. The Set Up
We love to get our toes in the sand… but we don't want sand anywhere else. Especially mixed in with our food! That gritty texture is a turn-off.
2. The Ultimate Beach Blanket
Instead of laying out a beach towel, that picks up about as much sand as it does water, we recommend a sand-proof beach blanket. This blanket repels sand and water to keep your area clean. 
If you don't have time to order one, you can use a fitted-sheet hack. Turn the sheet upside down and stick a cooler in each corner to create a sand-safe (although not water-proof) area.
RELATED: The 5 Best Beach Blankets
3. Baby Powder
Once you have your sand-safe area set up, it is imperative not to bring sand into that area on your wet, sea-drenched feet.
It's either a great idea to plan to eat your picnic before you hit the waves, or towel-down before you enter the picnic area. 
Baby powder is actually a life-saver with sticky wet sand. Shake some of that magic dust on your wet, sandy feet, and the sand will fall off leaving your feet much cleaner and drier.
4. Throwing Shade
When it comes to shade, we personally hate chasing a giant beach umbrella down the beach in front of all the sea-side on-lookers.
We recommend a lightweight canopy that is sand-weighted so that your shade is not going anywhere. And also, one that is big enough for everyone to get a shady spot.
If you just want the shade for yourself, you can opt-in for a canopy chair (link to our canopy reviews article).
5. Stage It
Another thing to think about is how you want to arrange the food. If you're a minimalist and pack light, you can let your boogie board or a surfboard double as a table.
If the boards are going to be in use, or you have an eye for design, you can bring pliable tables (some even come as charcuterie boards and hold wine glasses!) or trays.
The goal is to have something solid and stable under your food so that your drinks and sauces aren't spilling onto your water-proof outdoor blanket (link to our article). To create a boho look, you can even bring outdoor pillows to use as seats!
CHILL OUT
Next we want to think about what food to bring. Is this going to be a beach BBQ, a wine and cheese affair, simple sandwiches?
Almost any cuisine is doable if you plan ahead… yes, even ice cream!
6. TDZ (Temperature Danger Zone)
It's important to keep in mind that perishables enter the "danger zone" at 40 degrees Fahrenheit and food should be put back in the cooler in 2 hours' time. If you are grilling, keep food from becoming contaminated by ideally putting raw meat in a separate cooler.
If you have to pack all in one, make sure raw meat is tightly wrapped and put in the bottom of the cooler so the juices aren't dripping on other foods.
Also watch out for foods that spoil in the sun easily such as mayonnaise, eggs, and some dressings.
You can choose a large cooler, if you are planning a big affair, an insulated picnic basket for romance, or even an insulated picnic backpack for packing light.
7. Ice, Ice Baby
Growing up, we bought gas station ice, poured it indiscriminately over what we had in the cooler and hit the road. Now that I am packing my own picnic, I decided that soggy sandwiches are for the birds and it is much better to buy reusable ice packs to keep the cooler cold.
To save on cooler space, you can let your frozen water bottles double as 'ice' to keep food cold on the way. Freezing the water you plan to drink helps you have cold water all day… and it is amazing how fast they melt down in the heat!
Our favorite ice packs…
Fit & Fresh Cool Coolers Reusable Ice Packs
compact & slim
safe (BPA-free plastic)
reusable
long-lasting
8. Beach Snacks
It's great to bring lots of non-perishable items to the beach. Some ideal beach snacks are:
dried nuts or fruit
granola bars
chips
beef jerky
fruit or veggies with peanut butter spread
Bring snacks in a beach bag that also has a zipper to keep the sand out.
9. Sweet Stuff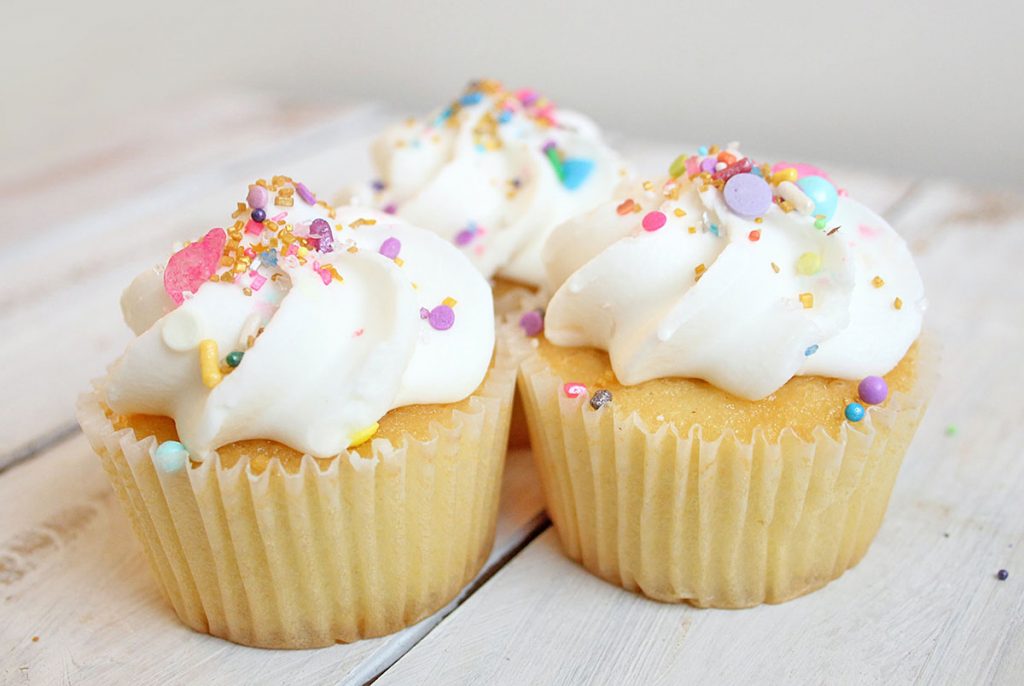 For dessert, things like cookies, brownies, or miniature cakes are a great idea.
These desserts stay nice longer on hot days and don't melt to leave sticky traces across faces, fingers, and blankets.
If you have to have ice-cream, and your beach doesn't have the little stands on every corner to buy it, you can pack dry ice in a cooler.
It is recommended that if you travel with dry ice longer than 15 min, to not seal it tightly and to let in fresh air.
Try a cupcake carrier…
Prepworks by Progressive Collapsible Cupcake and Cake Carrier
24 cupcakes OR 10" round cake OR 9" square cake
collabsabile
removable cupcake tray
ensures easy & safe transportation
Do NOT Forget the Wet-Wipes
When you're snacking down on your beach picnic, you're not going to want to keep running to the waves to clean up and then have salty fingers while trying to eat dessert! Wet-wipes are an essential for cleaning up spills, cleaning fingers, and cleaning dishes or utensils.
Good Times and Tan lines
You've set up, eaten up, and now it's time for fun and games…
10. Wading Pool
Depending on what time of day you get there, you may or may not find a spot next to the waves. To plan for every eventuality, it's a great idea to bring a mini-wading pool and bury it halfway in the sand.
Then fill it with sea water and it can be a great place to keep your eyes on the kids while they have hours of fun. Or, if you are kid-free, you can use it to cool your toes off and keep sandy feet off your blanket.
11. Games
Everyone loves a picnic game to get the party started. For kids, you can do water-relay games. For this they should fill a shovel with water from the sea and bring it successfully back to their bucket. Whoever fills their bucket first, wins
Frisbee golf is a fun game for kids of all ages. Using items you have brought to the beach (beach bags, flip-flops, towel, or empty water bottles filled with rocks) set up targets and throw your Frisbee. Whoever gets closest to the target is the winner!
Also kites, volleyball, sand angels, elaborate sand castles, and burying whoever volunteers (or whoever lost the last game) up to their head in sand are also fun ways to spend time bonding on the beach.
Stay Safe, Have Fun
A day at the beach is an excellent way to fill all the senses with fresh air, sand on your feet, and the soothing sound of the waves in your ears… while you get a tan to make all your neighbours jealous!
We've let you in on our list of must-have things for the ultimate beach picnic. All you need now is to lather yourself in sunscreen, and hit the waves!