Comfortable, soft, spacious, portable, waterproof, and durable, a picnic blanket is always a trusty companion.
Whether you're headed to the beach, to the park or you just want to lounge in your own backyard, we've picked the best picnic blankets available on the market.
A proper outdoor blanket should be comfortable, durable, easy to clean, and versatile. The top fabric should be soft and comfy, and the backing material should be sturdy and block all the moisture.
If you want to see what makes a good picnic blanket, check our comprehensive buying guide below our picks.
Quick Picks
Best Picnic Blankets in 2022
1. Best Overall: YETI Lowlands Blanket
This splurge-worthy outdoor blanket is our favorite! We also rated it as the best waterproof outdoor blanket on the market.
It's one of the softest, and at the same time, sturdiest blanket we reviewed. 100% waterproof, spill-proof on the outside, and padded on the inside, this YETI blanket can be machine washed and dried.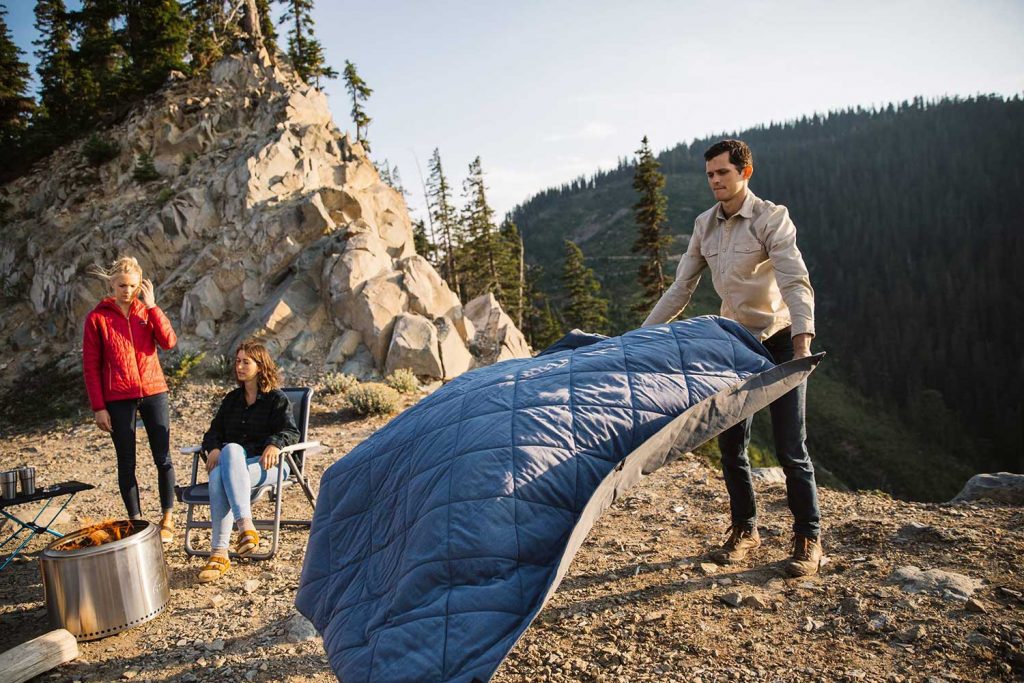 But due to its wipeable surface, you probably won't need to wash it too often. It can tolerate any spills and dirt – everything just wipes off in seconds and the hydrobarrier technology will not allow any messy liquids to be sinking into its surface.
It features six stake loops so you could secure it in the ground to make sure it stays put on windy picnic days.
For all the serious picnickers out there, this is the ultimate outdoor blanket.
Heavy-duty, superior comfort, compact, pet friendly, and easy to maintain – this blanket is perfect for any outing adventure.
It can handle any stains, including oil, curry stains, dirty muddy paws – just throw it in the washing machine and it's like new.

What is also great is that it can handle any type of weather, from hot scorching temperatures to below-freezing temps.
Ideal for both cold winters or hot summers, the Lowlands can handle anything while providing superior comfort.
People use it everywhere: at the beach, on the boat, at the lake, at concerts, and football games, while camping, tailgating, hiking, or picnicking in the park.
Last but not least, the YETI Lowlands is the perfect picnic blanket for dogs. The fur easily shakes off in seconds, you can also put it in the back of your car to protect the interior from muddy paws.
2. Best Value: Scuddles Extra Large
Elegant, stylish, and practical – the Scuddles blanket is one of the most popular blankets available on Amazon.
It's easy to clean and even if you spill something on it, the blanket doesn't absorb liquids and washes off quickly.
Ideal for outdoor concerts, beach trips, picnics in the park or sports events. It folds itself into a small little bag, easy to carry to your outing spot. The compact size allows you to easily place the blanket at the bottom of your picnic basket.
The top fabric is soft and comfy, while the backing is waterproof and sturdy. It does a great job blocking heat and water from the ground. So even you're placing it on wet grass, the blanket will keep you safe and dry.
At the same time, the backing provides extra protection and added cushion to soften the ground in case it's rocky or hard.
The top fabric is soft and made from fleece, which is comfortable and cozy. The material feels nice and any crumbs left are easy to brush off.
On a hot day, the material doesn't retain heat and stays cool under the sun – perfect for picnics on the beach.
You can take it to the beach without any worries. The Scuddles blanket is also sandproof – sand doesn't stick to it. Just simply shake it off and this will make sure you won't be bringing any sand back home with you.
Although the brand says it's machine-washable, some people observed threads unraveling after washing it in the machine. Make sure to wash it on a delicate cycle and air dry it after.
Another negative point, is that people found the "extra-large" branding misleading. It's great for 2 persons, but it's not "oversized" to fit 4 adults.
3. Best All-Weather: L.L. Bean Blanket
The L.L. Bean waterproof outdoor blanket exceeded our expectations. It's an excellent choice perfect for all year long.
Great for windy, cold, rainy days, as well as for hot sunny days.
The fleece on the top is soft and comfortable, and the nylon backing keeps the moisture from the ground away.
The blanket is machine washable, easy to maintain, and easy to transport. It rolls up easily, doesn't take too much space, and when it's folded out is large to fit 4 people.
You can even wrap yourself in it, to keep you warm on chilly evening days.
4. Best for Beach: Wekapo Sand-Free Blanket
If you're looking for the best waterproof blanket for the beach, we highly recommend the Wekapo blanket. People who bought it are extremely satisfied with it even after years of using it.
The sand does not stick to it, it simply rolls right off. The corner pockets can be filled with sand so the blanket stays put even in windy conditions.
The blanket is huge in size, can fit 4 persons with ease. It's lightweight, easy to carry and although it is so thin – this thing is extremely durable.
Very easy to clean, everything just washes off and wipes off in seconds.
5. Best for Kids and Babies: JJ Cole Essentials
If you're picnicking with kids, then you might fall in love with the JJ Cole outdoor padded blanket. Designed for babies, this blanket is cushioned, water-resistant, layered, easy to transport and super easy to clean.
No worries about food crumbs or juice spills – you can easily wipe it off clean in a few seconds. Parents who bought this love to use it for trips to the park, beach days or for playdates in the backyard.
It quickly folds into itself into a compact carry bag with a pocket and removable shoulder strap for easy transportation.
JJ Cole designed this blanket with 3 layers which add thickness, durability, and extra comfort. The outside material is 100% polyurethane – water-resistant, protective, rugged and durable, which acts as a barrier between you and the ground.
The middle and top layer is 100% polyester and 100% polyester foam, adding cushion, thickness, and softness.
This baby blanket is 100% water-resistant. It repels liquids and it's very easy to wipe off clean. The cute blanket is available in various beautiful colors and folds into a small and portable tote for easy transport.
The "bag" closes with a velcro strap and comes with a handle. You also have room to place your keys, phone, wipes in the exterior pocket.
This baby picnic blanket is machine washable and dries off very fast. Available in various pretty colors and partners, and in a larger size 5' x 7'.
Read full review: JJ Cole Outdoor Baby Blanket Review
6. Best Bang for the Buck: MIUCOLOR Extra Large
This beautiful MIU COLOR blanket is waterproof on both the top and the bottom. The brand combines an attractive design with functionality.
Very popular on Amazon, this blanket has 3 thick layers, making the blanket comfortable, durable and waterproof.
The three layers are:
top layer: polyester fabric
middle layer: soft sponge
bottom layer: PVC waterproof and heat resistant
The surface on the top is soft, and feels nice to the skin. The water-repellent material doesn't absorb liquids, making it super easy to wipe it clean.
The middle layer adds cushioning and thickens the blanket for added comfort.
You can lay the blanket on wet ground without any worries. The raincoat-like backing doesn't allow water or moisture to seep through. This keeps you and your loved ones completely dry.
It's large at 80" x 60" inches, can fit 4 persons. It folds into itself into a small and compact-sized handbag, easy to carry with a handle.
7. Best Boho Blanket: Roebury Beach Blanket
With a 3 layer design, the Roebury blanket is comfy, thick, and ultra water-resistant. Perfect for beach outings, camping trips, concerts, festivals, and picnics in the park.
The top and bottom layers repel water and don't collect mud, leaves, dirt, or sand. The sand simply shakes off the blanket. It folds into a compact, zipped, and thin tote with a pocket and a strap for easy carrying.
Some innovative people found another use for the zipped-up tote, and use it as a seat cushion. Others also use it as seat cover if you travel with dogs or other pets.
The lining is machine-washable which makes any picnic experience hassle-free. Simply throw it in the washer and air dry it to get a brand new-looking Roebury blanket.
You can safely lay it on wet or damp grass. The backing will protect against moisture and not allow water or dampness to seep through.
Size is ideal for 2 adults and 2 kids.
READ NEXT: 5 Best Picnic Basket Sets with Blanket
8. Best Rustic: Vonshef Folding Blanket
Stylish and super practical, the Vonshef blanket is a great choice if you're looking for superior comfort with waterproof backing.
The first thing you notice is the premium look, stylish, and rustic design. Safe to say, it makes a great addition to a classic wicker picnic basket. Due to the lovely design, it's a perfect blanket for romantic dates.
The fleece top layer is soft and feels smooth, while the bottom is durable and water-resistant.
The Vonshef picnic blanket is quite large, it fits 4 people sitting and dining, or 2 people lounging comfortably.
What we also like about this blanket, is that it can be washed and air-dried easily without any issues. Because of the plastic waterproof backing, don't iron it.
It rolls up nicely and has faux leather straps and metal buckles for easy transport. You can easily store it anywhere without taking too much space,
Cons: the fleece material absorbs heat, making the blanket not ideal in very-hot temperatures.
9. Best for Two: YODO Outdoor Blanket
Next up, we have the Yodo picnic mat, which is lightweight, water-resistant with a soft fleece top surface, and reasonably priced.
It comes in 4 color options with cute patterns. It collapses in a portable small-sized carry bag, easy to take anywhere with you. Some people always keep it in the car for spontaneous outings. The carry handle is strong and reliable.
Perfect for 2-3 adults to lay on it comfortably. The bottom layer is waterproof, preventing dampness to penetrate the mat. So you can safely use it on wet grass.
Another great feature is that it doesn't pick up grass, leaves, sand or dirt. It shakes clean with ease.
People who bought the Yodo blanket, also use it on rocky ground with success. Although the blanket is rather thin, is strong enough to withstand some abuse from a rougher terrain.
The price/value ratio is excellent.
Perfect blanket for tailgating, backpacking, hiking, picnics, beach or festivals.
What you might not like: not windproof (in windy weather you should place some rocks in the corners to weigh it down).
10. Best for Cold Weather: OCEAS Waterproof
The All-Weather Oceas blanket might be your next favorite choice for chilly camping days, cozy morning and sunset picnics. Designed with the latest premium materials, the Oceas is 100% waterproof, durable, lightweight and very comfortable.
We love this blanket, mostly because it's ideal for any weather. Perfect for windy days, chilly autumns, rainy picnic days, cold winter times, but also for summer days.
Unlike other brands, Oceas comes with a double-coated waterproof backing to ensure that no water can seep through. The thick bottom also adds protection and durability.
It's spacious, and can fit up to 3 adults comfortably, when unfolded measuring 79'' x 58''.
The top fabric is plush fleece, soft, smooth, comfortable and provides insulation to keep you dry and cozy all day long.
It's designed to be ultra-portable, fits into a carrying bag with handle strap, easy to transport and to travel with.
Multipurpose and versatile, ideal for camping, hiking, festivals, concerts, picnics, and sports events.
11. Best Wool Luxury Blanket: Wild in Bloom
A luxury picnic blanket we love is the Wild in Bloom outdoor blanket. If you're looking for something stylish, elegant, thick, cozy and practical, this one might be the perfect choice for you.
This one makes an ideal and well-thought gift for outdoor lovers. Perfect for luxurious picnics at the beach, lake outings, boatings or yacht outdoor dining trips. But also, ideal for concerts, football games, picnics or stargazing.
Designed with attention to details, the superior stitching, and leather straps make this item unique.
It has 3 layers of fabrics that offer protection from rocky, wet, muddy or rough ground. The waterproof backing doesn't allow water to seep through.
The insulation is thick and makes the blanket ideal for colder temperatures too.
It rolls into a convenient size, and it fastens with leather straps for easy storage and quick transportation.
12. Best Budget: Camco Classic Checkered
This red and white checkered picnic blanket looks classic and traditional. The gingham design stands out and gives the blanket a vintage vibe. The Camco mat is the cheapest blanket on this list and comes with decent quality.
It's waterproof, portable and lightweight. The backing is water-resistant and will keep you dry and comfy, plus it doesn't pick up grass or dirt.
The top material is not as comfortable or durable as other higher priced blankets, but for the price, it is quite nice.
People love to use it at music festivals or outdoor events. This picnic mat is large enough to fit 2 people. We recommend the Camco picnic mat if you're on a budget and looking for a cute picnic blanket that's great for a few outings.
13. Best Sand Free Blanket: Wildhorn Sand Escape
Ideal for beach days, the Wilhorn Outfitters is designed to give you the ultimate sand-free experience.
Made from high-quality 100% parachute nylon, this beach blanket is durable, tear-resistant, and puncture-resistant.
The nylon fabric is very lightweight, making the blanket easy to carry. It can be packed to fit into a very small-sized tote bag.
The WildHorn Outfitters is huge in size offering 63 square feet, large enough for your whole family.
As the name says, "Sand Escape", the blanket is crafted so the sand won't stick to it. The sand simply shakes off and you have a clean surface.
To perform great during windy beach days, it comes with 4 anchor pockets that you can fill with sand to secure the blanket down and enjoy the sun comfortably.
You also have access to plenty of pockets to put your keys, sunglasses, sunscreen or phone.
14. Best Compact: BEARZ Compact Travel
Compact, portable and travel-ready, the BEARZ outdoor pocket blanket is ideal for any outdoor adventures.
Versatile and multi-functional, this one is perfect for sandy beaches, camping trips, traveling and picnics everywhere.
As the name suggests, the BEARZ fits into your pocket making it one of the most convenient options from this list. You can throw it in your backpack, in your basket or keep it in the car – you won't even know it's there.
Unfolded, it measures 55'' x 60'', offering more than enough space for 2-4 persons to lay comfortable.
Due to its water-resistance, some campers use it as a rain tarp. The Bearz is also puncture resistant and sand-proof, perfect for beach picnics.
It comes in 6 colors, green, red, pink, camouflage, blue and yellow.
15. Best Large: ONIVA by Picnic Time
Made from 100 % polyester fleece with water-resistant backing, the ONIVA XL outdoor picnic blanket is extra large and very comfortable.
It packs down into itself, in a compact-sized tote with zippered pocket and shoulder strap.
The bottom layer protects the blanket from any ground dampness, making it ideal for any outdoor occasion. Big enough for 4 adults, offering 38 square feet space.
It's well-built, durable and priced reasonably.
Some people complained that it doesn't provide enough cushion when placed on rocky terrain. Best used on soft grass or directly on the sand.
How to choose the best picnic blanket
Buying Guide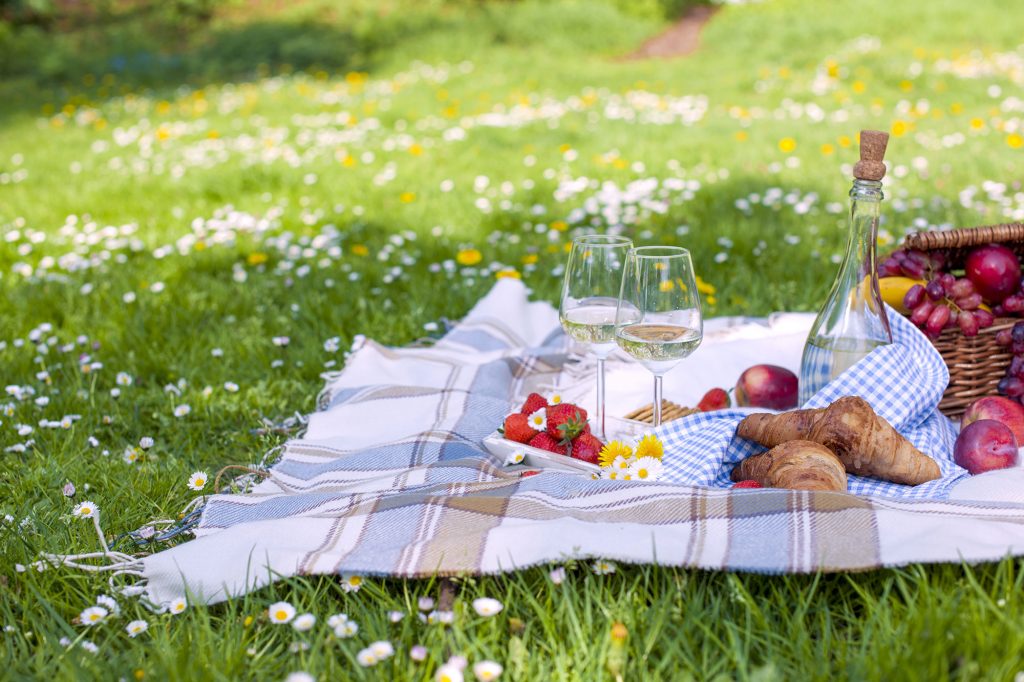 The top fabric should be soft, cozy and comfortable
We recommend you to opt for a soft blanket, that provides cushioning to allow you to lay on it comfortably. Comfy blankets come with 3 layers of materials, making the blanket thicker and super comfortable. The top should also feel nice and smooth to the skin. A proper top fabric should be delicate enough for a baby to sit and crawl on.
The backing should be durable, tearproof and water-resistant
At the same time, durability plays a huge role when choosing an outdoor blanket. Ideally, the bottom should be sturdy, reliable, waterproof and designed to withstand rough terrain. Plastic-backings are popular and good choices. They're impermeable and act as a barrier between you and the ground.
The linings should be waterproof
Sometimes the ground/grass/sand is wet, damp or dirty. Choose a waterproof blanket that doesn't allow moisture or water to seep through. This will keep you dry and comfortable. If you want the best of the best, go with a blanket that's waterproofed on both sides.
For beach outings, choose blankets with weighted corners
If you're looking for a beach blanket, make sure it comes with pocket corners built to be filled with sand to weigh the blanket down. Perfect for windy days and keeping your thin blanket in place.
It should be lightweight
Choose a lightweight picnic blanket, that won't take much effort to carry it to your destination
It should fold easily for easy to transport
Portability is one of the most important features to consider in a picnic blanket. You need a compact-sized blanket, foldable and easy to carry. When folded, it should fit into a small carry bag or should roll into itself, with a handy handle.
It should be machine washable & easy to clean
When you're picnicking and eating on your blanket, it's likely you'll spill something on it. Go with a material that repels liquids and doesn't absorb them, and can be wiped clean easily with dry tissues. Dirty paws or wet sandy feet can be a problem if the blanket is not machine washable.
Make sure the size is right
Blankets come in all sizes. Choose a size that can fit comfortably at least 2 adults. Usually the larger, the better. It should provide enough space for you and your friends to lay on your backs without touching the grass/sand.
---
Can you wash picnic blankets?
It depends, but most of them can be washed safely. Make sure to read the manufacturer's instructions and choose a blanket that can be safely washed in a machine without risking ruining the fabrics.
How do you make a water resistant picnic blanket?
If you want to DIY your own impermeable blanket, the team from HGTV did a great job explaining step-by-step how to do it.https://www.youtube.com/embed/qTtoEviI0zs?controls=1&rel=0&playsinline=0&modestbranding=0&autoplay=0&enablejsapi=1&origin=https%3A%2F%2Fpicnictale.com&widgetid=1