The weather is nice, the sun is shining, birds are chirping – it's the perfect time to go on fun outdoor adventures with your friends, family, or coworkers.
Whether you're organizing birthday parties, family reunions, a day at the beach, camping trips, tailgating adventures or just a picnic in your own backyard, we gathered the best, most fun, and popular picnic games in the world, according to the internet.
While we've written about plenty of games you can play at picnics – from romantic picnic date games to the best picnic games for senior citizens – in this article we cover activities and games for everyone no matter the age or occasion. This includes physical games, card games, and board games.
All you need to know is that they are fun! Let's dive in.
BEST SELLERS
Capture the Flag
Kan Jam
Talk, Flirt, Dare
17 Best Picnic Games
1. Kan Jam Original Disc Toss Game
Fun, popular, and competitive, Kan Jam is considered to be the No.1 outdoor party game.
It's played in two teams of two players, and the goal is to score 21 points. You can earn 1,2, or 3 points by throwing the flying disc is inside the bin.
Perfect for beach, camping, parks, picnics, tailgating, and pretty much any outdoor activity.
2. Potato Sack Race Bags
What could be more fun than watching people sack racing? Fun for all ages and a classic, this game is perfect for parties, family reunions, school, or church activities.
Take it with you at picnics anywhere on the grass or sand. The sacks are reinforced, 100% biodegradable and on top of that, are also great to be used as a grow bag for plants & trees.
3. GIGGLE N GO Kids Giant Bowling Set
This hilarious game is ideal for kids who want to have fun knocking down giant inflatable bowling pins with a giant ball.
The pins are huge and cute, lightweight to carry – and come with weighted sand bottoms to keep the pins standing even in windy conditions.
4. 3 in 1 Board Game Rug
Great for families, kids, and couples, this super-portable double-sided rug offers you the possibility to play 3 games: Classic Tic-Tac-Toe, Checkers, and Super Tic-Tac-Toe. Fun to play outdoors and indoors.
It's also made of woven fabric, and the colored design won't fade easily.
5. Amazon Basics Ladder Toss Outdoor Lawn Game Set
Easy to set up, lightweight, and with a soft-case transport bag included, this lawn toss game is extremely fun and popular among everyone.
Played in 2 teams of 2-4 players, the goal is to throw bolas onto the ladder-shaped target. Kids, Adults, and Seniors enjoy playing this game at picnics, at the beach, in their own backyard.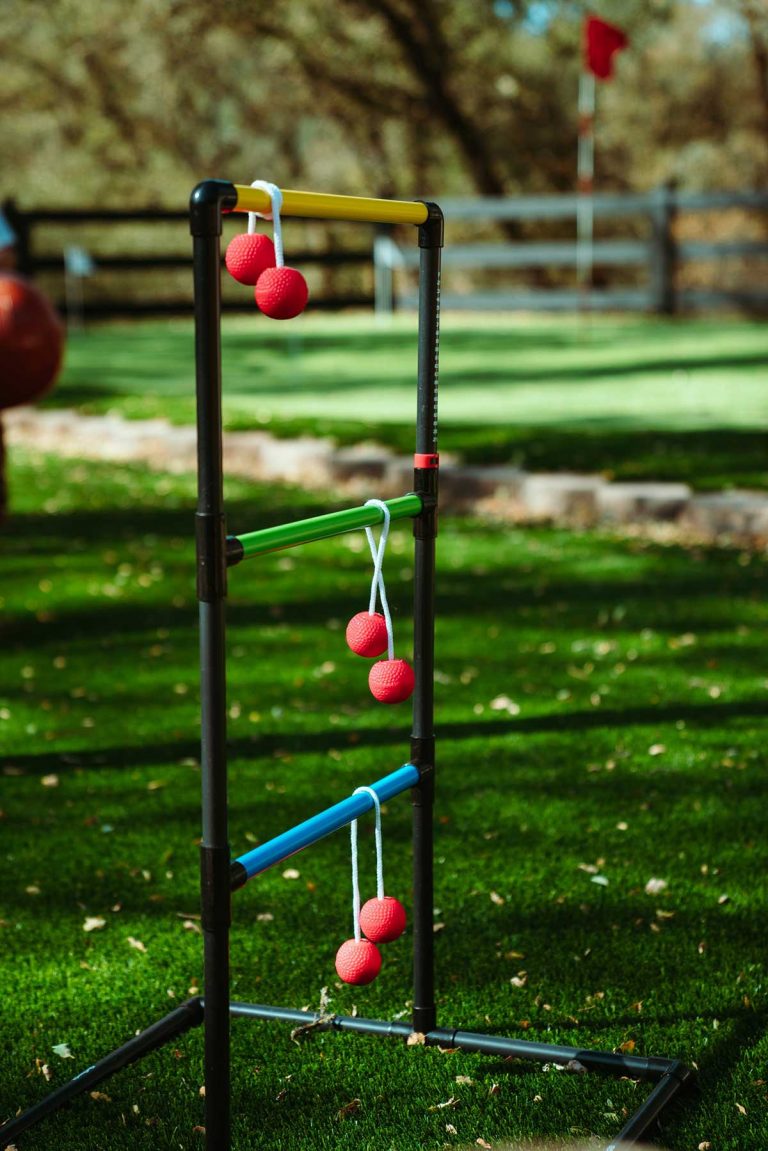 6. GoSports Cornhole Set
A premium version of the classic bean bag toss game, cornhole is hella fun to play, easy to learn and perfect for parties, weddings, tailgating, backyard fun, BBQs, picnic and more.
This premium set comes with 8 all-weather bean bags, carrying case and 2 rugged boards that can be personalized as you like.
7. Giant Jenga Tumbling Timbers
If you want to keep the adults entertained at your backyard BBQs, this giant Jenga is the perfect choice. The large size makes it even more fun than the regular game, and it's great for all ages.
Includes a rugged carrying case, which makes the transportation and storage very easy.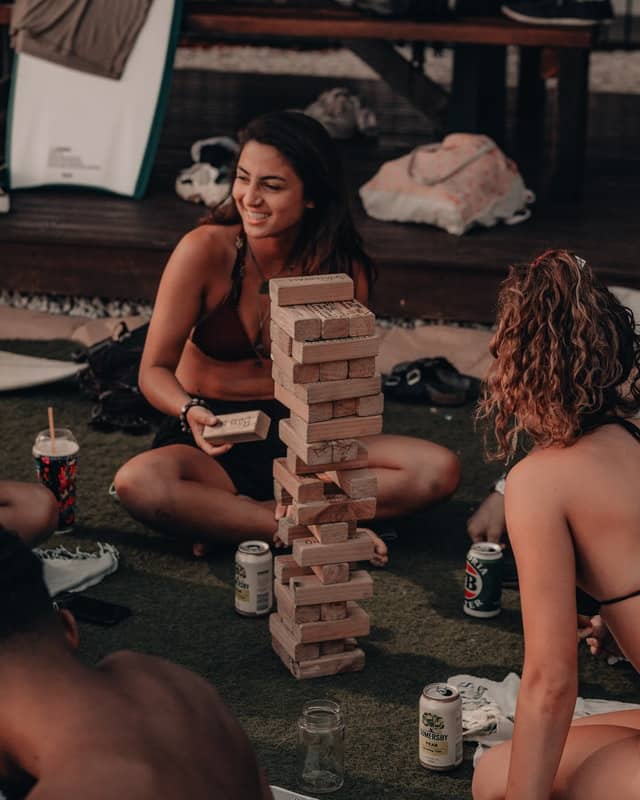 8. Spikeball Standard
Spikeball is played in 4 people, in two teams of 2, and it's a favorite among active people who love competitive games.
Its rules are similar to volleyball, overall it's easy to learn and can be played anywhere you have some open space – on the beach, in your own yard, in the parks, etc.
9. Giant Pong Game Set
Known as "lawn pong", this game is perfect for all ages and guaranteed to bring lots of outdoor fun.
The set is made of sturdy material, built to last, and due to its sturdy carrying case, you can bring it along to picnics, the beach, or your friend's homes. Ideal for parties, friends getaways, and pool fun.
10. Throw Throw Burrito Outdoor Edition
A game that took over the world, now in an outdoor giant edition. Is the first dodgeball card game, which involves throwing 3 feet tall inflatable "Burritos", ducking, dodging, while playing with oversized cards.
Extremely hilarious – fun to play with your friends or family, plus it's appropriate for all ages.
11. Giant Wooden Dice Set
This set comes with a nice carrying case and includes a huge dice set with Rollzee (Yahtzee) and Farkle scoreboard.
But basically, you can play any dice game you want. People take them on family vacations, camping trips, and any other fun outdoor activity with dear ones.
12. Horseshoes Game
Horseshoes is a popular and fun backyard toss game, ideal for picnics, camping trips, tailgating, or BBQs.
This set is a "professional" one having heavier steel horseshoes, but the same brand offers a rubber set which is perfect for beginners.
13. Giant Bubble Wands Kit
If you want to have a tremendous amount of fun making the biggest bubbles ever, you'll love this kit.
Thanks to its 2-handle design, you can wow your friends and make enormous bubbles. This kit even comes with an instructions manual that teaches you how to create and sustain large bubbles.
This is super fun to take to the beach, to picnics, and have the best fun of your life – perfect for all ages.
14. Croquet Set for Six Players
Croquet is the perfect activity to bring to your next picnic, and a wonderful way to spend some fun time outdoors with your friends.
The goal of the game is to advance the balls using mallets through hoops and be the first one to score six points. Ideal for 2, 4 or even 6 players.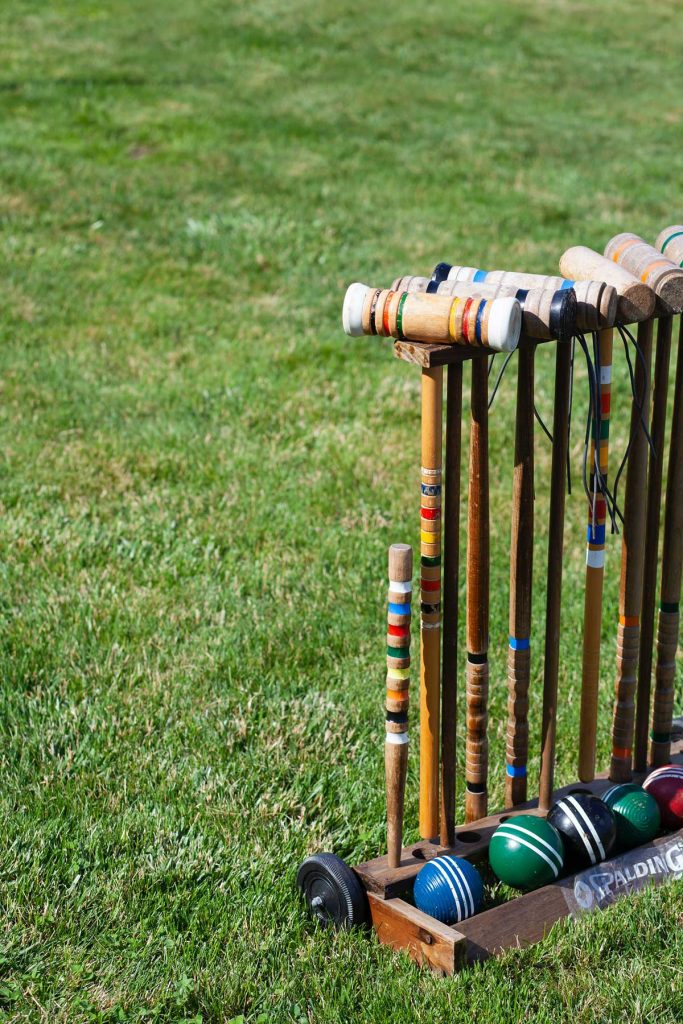 15. Capture The Flag Redux
This game is loved by kids, teens, and adults all over the world. This is considered to be the ultimate outdoor game, similar to laser tag or paintball.
The second you start playing, you can hear everyone giggling and loving it already. Can be played outdoors in the dark, now that it comes with blinking wristbands, territory lights, and glowing flags.
Perfect for large groups, as it can be played by up to 20 players. Perfect for team events, family reunions, summer camps, birthdays, and more.
Conversation Starters Card Games
16. Our Moments: Families
This game is ideal to help families connect using fun, engaging and sometimes though-provoking topics.
While this is designed to be a fun game, it's also an educational one where you can strengthen your relationships and get to know each other better.
Card example: "What is your favorite childhood memory?"
17. Our Moments: Couples
The "Our Moments" Couple Edition focuses on thought-provoking conversation starters for couples, with interesting topics that will make you connect better, improve your relationships, and have meaningful conversations with your loved one.
Card Example: "What's something you've tried, that you'll never, ever try again?".
18. Talk, Flirt, Dare!
This is our favorite game for couples: it's fun, flirty, and helps start deep conversations with your partner. No matter if you're at the first date, or have 10 years of marriage – this game is ideal for all relationships.
Spend a romantic evening together, get to know each other better, reconnect, flirt, and have the best time. Perfect to bring to a picnic with your boyfriend/girlfriend 🙂
19. What do you MEME?
This game is hilarious and great for large groups. The goal is to create the funniest memes! There is a rotating judge who decides which caption is the funniest. It's designed for 17+, some of the cards containing adult content.
20. Cards Against Humanity
Cards Against Humanity is the best-selling party game in the world. There are black cards (with questions) and white cards (with possible answers).
The goal is to create the funniest combinations. Be aware that this game contains ADULT Content – definitely not for kids.
21. UNO Family Card Game
UNO is one of the most popular family games that is very easy to learn (in a few minutes) and so much fun to play. It's perfect for adults, teens, and kids over 7 years.
The game comes in a travel-friendly metal storing box which makes it perfect to take it anywhere you go.
Conclusion
Getting outside to play some games and spend quality time with your dear ones is a wonderful way to disconnect from all the city noise and get recharged with happiness. We hope our game recommendations will help you have the best time of your life. Leave a comment below and share with us your favorite games.