Whether you want to have your kids' friends come over and enjoy lunch, playtime, or crafting outside so they don't make the mess inside, or you want to have picnics in the parks, you need a reliable kids picnic table to make your life easier.
Kids love having their own dedicated spot to play together, whether it's inside or outside.
There are hundreds of products out there, and choosing the best outdoor table for your kids can be challenging. We're here to help.
We've reviewed the best on the market based on strict criteria: safety, assembly time, storage space, portability, comfort, umbrella hole, and more.
Here are our favorite picks.
Best Kids Picnic Tables 2021
1. Best Overall: Lifetime Kids Picnic Table
Not only is this picnic table cute, but it's also one of the most practical, highly durable, and easy-to-clean kids' tables out there. By far, this is our favorite pick, and all the mommies who bought it are extremely satisfied with their purchase.
The Lifetime table seats four kids comfortably, giving them a dedicated spot for arts & crafts, lunch, snacking, and playtime.
Even if the manufacturer designed it for Ages 3-8, from reviews we saw that it fits children from 1 – 11 years old.
The tabletop and benches are both stain-resistant so they clean up easily even when your little ones draw on it – even blueberry juice completely rinses off.
The durability is simply impressive – it's well made, heavy-duty and you can rely on it both indoors or outdoors. It's designed with weather-resistant finishing that protects the entire unit from rusting, making sure it will last you for years.
Some mommies left it outdoors for weeks, but even then it cleans up as new.
The table is also UV protected and won't fade in the sun no matter how long you keep it in the sunlight – it'll still look as new.
Last but not least, it won't take up much room because it folds completely flat and can be stored anywhere you have a little extra space (e.g. under the bed, up to a wall, etc).
It comes with a one-hand adjustment mechanism, making it very easy to put up and take down – by you or one of your toddlers.
We also like that the brand offers a 2-year limited manufacturer warranty to give you peace of mind.
2. Best Budget: Merry Garden Kids Wooden Picnic Bench
If you're looking for an affordable and classic kid's wooden picnic table, then you'll love the "Merry Garden" one.
Made of natural kiln-dried fir wood, this adorable table is sturdy and durable, perfect for the backyard, patio, and picnic activities. Some even use it indoors as it comes in a beautiful versatile design.
The table is much cheaper than other wooden tables, but the quality is surprisingly good. Some people used it for years with the table looking as good as new.
We loved that the table itself comes in an "unfinished" look so you could paint it yourself whatever color you love most.
The bench is lightweight enough to be moved from place to place but sturdy enough not to slide when your kid is getting on and off the bench or leaning under.
It's simple to set up and it comes with pre-drilled holes to make the setup straightforward. It will probably take about 1 hour tops to get it done.
If you have children under 5, then the table can fit even 6 kids at the same time, so it's larger than it looks.
RELATED: 9 BEST PORTABLE PICNIC TABLES
3. Best with Umbrella: Little Tikes Easy Store with Umbrella
The little tikes picnic table is a classic.
The little tikes picnic table can fit three small kids on each side so no one feels left out. They all can fit comfortably and enjoy each other's company while playing, drawing, or snacking.
The edges are rounded and lifted so their crayons/snacks won't tall off.
The table is your typical little tikes plastic, so when they do spill it makes for easy cleaning. Just wipe it up with a rag or use a Clorox wipe to disinfect.
The material is sturdy but lightweight enough to move the kid's picnic table anywhere it needs to be. Just pick it up and move it, easy as that.
A couple of the awesome features of this table are the umbrella, the ability to move it, and also storage capability. The umbrella is a pretty big deal.
On those hot and sunny summer days, you can pop that umbrella up and feel confident that your kids will be nice and cool under!
The umbrella protects them from the heat and the potential of a sunburn while they are snacking, eating, or just taking a break from playing.
However, it would have been nice to be a little wider.
The last feature is the fold-up and storage capability. It makes it so nice, that you can just fold it in seconds and either set it aside or bring it inside and hide it along a wall.
This saves it from being worn out when your little ones are not using it.
4. Best High-End: KidKraft Outdoor Table with Chair Set
The Kidkraft picnic table is sure to earn compliments from all your guests, and it looks like a miniature version of an adult patio table. Both kids and adults love that.
It is a beautiful one-of-a-kind piece, made of real cedar wood – that smells wonderful -, with a removable sun umbrella and comfy bench cushions.
This furniture set is perfect for the backyard play area, spontaneous picnics, outdoor lunchtime in the warm summers, and can even be brought indoors.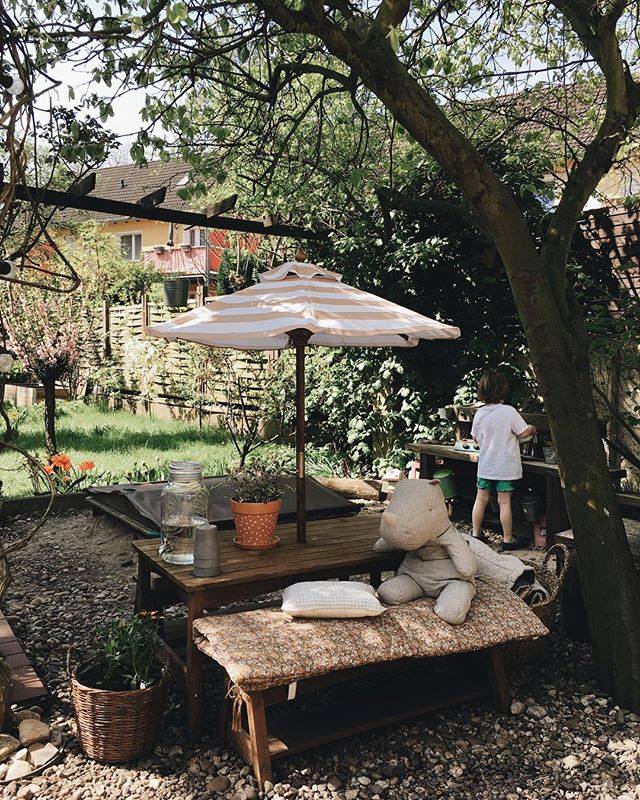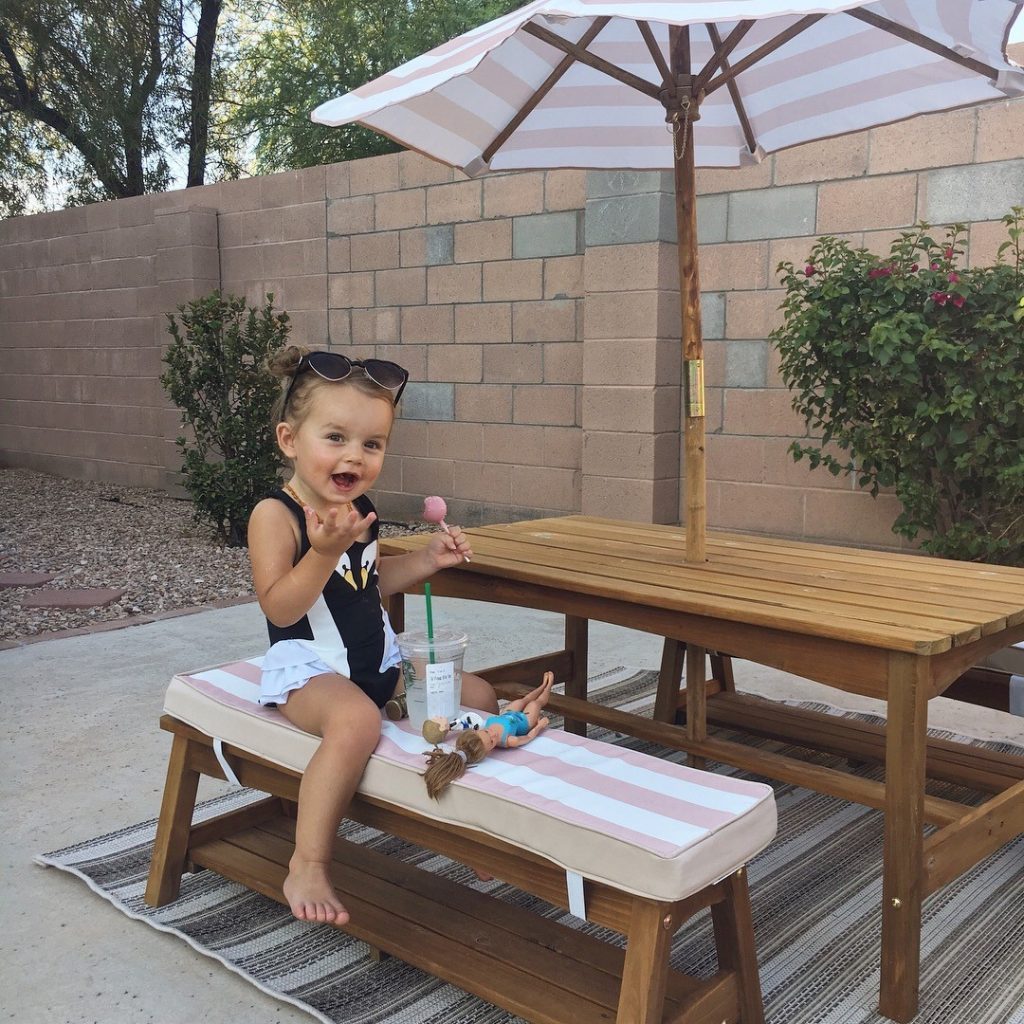 It is easy to put together, in less than 45 minutes you can assemble it into a sturdy and stable piece, without any help needed.
The umbrella is made of tough fabric, easy to put up and down with its foldable design.
The whole table is built with "growing children" in mind, being able to fit children for 2 to 8 years old.
The only downside is that over time, the fabric color can fade if left in hot temperatures. You should bring the cushions indoors when not in use.
5. Best Large: Little Tikes Fold 'n Store with Market Umbrella
What's unique about this Picnic Table is its design – four-sided with a big umbrella in the middle.
Perfect to accommodate up to 8 kids, makes it a good choice for playdates, birthdays, and family picnic outings.
With its spacious design, each child will have plenty of space of their own to play, snack, or craft.
Although it's advertised as "Fold 'n Store", the table requires some extra steps before you can fold it up – you need to take your tools and take some bolts outs before you can make it flat.
So, unfortunately, we can't really call it "foldable" since it requires tools and a few minutes to fold.
The umbrella is a great addition, offering UV protection and a nice shade. Plus, the quality is higher than expected and it's quite sturdy made from a heavy canvas.
The assembly can get a bit challenging, so it's best to have an extra person around to help you out.
The picnic table cleans up well and can handle hard stains. A simple mix of vinegar and lemon will remove any stains with ease.
6. Best for Toddlers: Step2 Sun & Shade Picnic Table with Umbrella
Super cute, reasonably-priced, durable, easy to store & assemble, this table checks all the boxes you can think of. Perfect for kids under 4 years, it can seat up to 4 little kids, up to 40 lbs per seat.
The table is smaller than it looks in the pictures, mommies who bought it said it fits great for children under 3 years old.
The reviews are overwhelmingly positive. Kids absolutely love this, perfect for snacks, eating, crafting, painting, and playtime. It's designed with rounded edges, so you won't have to worry about kids injuring themselves.
It comes with a removable umbrella that provides shade and protects your little ones from the sun. It's also large enough to cover the whole table.
Unlike the "Little Tikes" table, this one is very easy to set up, in less than 3 minutes you can put it up without needing any extra tools. The pieces snap together and you can quickly fold it completely flat for easy storage.
It's also very easy to clean, the tabletop and benches are stain-resistant, making the cleaning a breeze – the mess just wipes off easily.
Related: Best Picnic Baby Blanket (JJ Cole Review)
7. Best Design: Step2 Naturally Playful Picnic Table with Umbrella
With one of the most adorable designs, this Step2 plastic picnic table for kids is one of the best on the market. It's a one-piece set that features a large tabletop and two spacious benches able to hold a maximum weight of 300lbs.
The design is unique, imitating realistic sandstone and it's a beautiful addition to your backyard or patio.
Another top feature is its large umbrella that not only looks good, but it's also protective blocking 97.5% of UVA and UVB rays.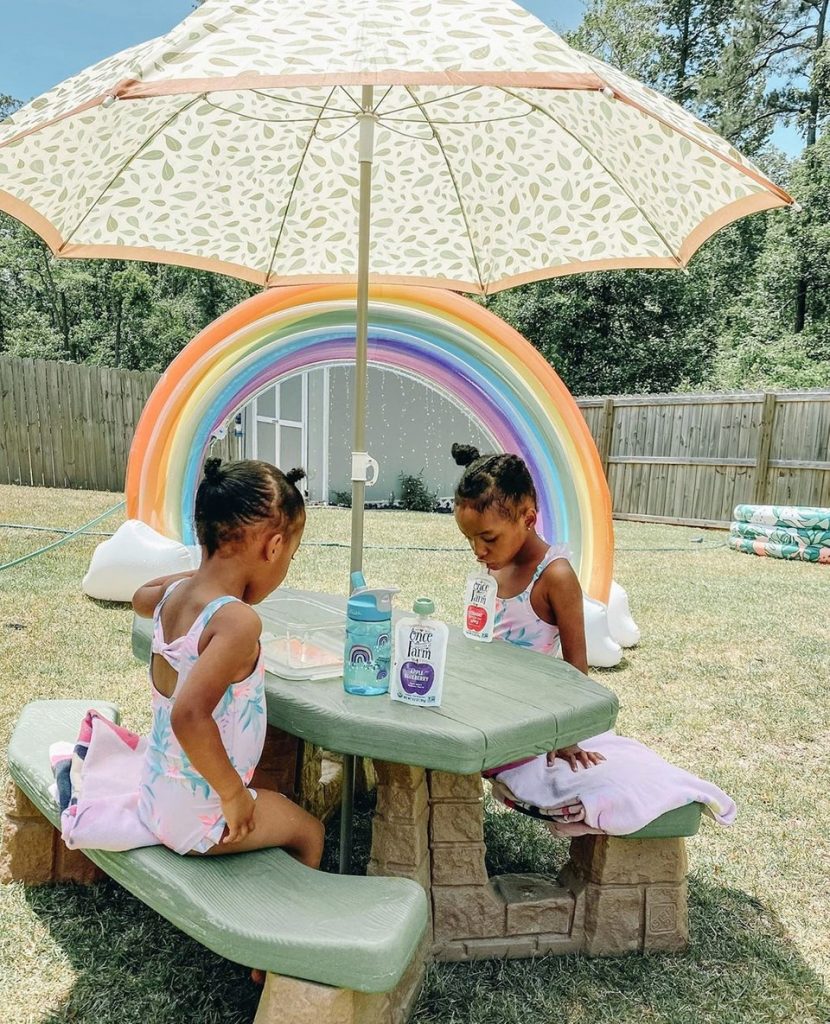 Although it is easy to assemble, an extra person will make the entire setup process easier – in less than 15 minutes the table can be set up.
It's perfect for any kind of family party: birthdays, play-dates, family reunions. You can use it anywhere, including on sand making it the best picnic table for beach days.
What you should look for in a kids picnic table
Age limit
Check the manufacturer's recommendations regarding the age limit, to see if your kids will fit comfortably.
Some tables are designed for toddlers, some for older children. If you buy the wrong size, the tabletop can be too high/low for your child. The pictures can also be deceiving in terms of size, so make sure you read the reviews before purchasing.
Weight Limit
Each bench comes with a recommended weight limit to make sure nothing breaks. Some brands offer guidance of weight limit per child or bench. It's best to look at the weight limit rather than how many kids can the table fit because sometimes you can sit more children than recommended if they are younger and smaller.
Portability
If you know you'll be using the table for picnics, camping trips, or beach outings far away from home, you need to make sure that the picnic table folds flat and is easy to transport from place to place.
The best ones will fold flat in seconds without the need for any tools. Plus, it also needs to be lightweight for easy transportation.
Material
The material and fabrics the table was made of are very important.
Wooden tables are natural materials safe for children, also stainless steel, aluminum, PP, and HDPE plastics are safe.
One of the safest plastics for children is polypropylene. Avoid ones that contain PVC or phthalates.
Maintenance
What's also important is to have an easy-to-clean surface and get those food/coloring stains out easily. Usually, all the kids' products are built with this in mind making the cleaning hassle-free.
Related: Best Beach Wagons for Kids