Wondering how much it costs to make a picnic table?
This is one of the first questions we get from homeowners and event planners who want to be able to enjoy and plan barbecues, dinners, cocktail parties, and tons of other outdoor fun and recreational activities in their own yard.
Frankly, it's not as easy to name a particular price because that depends on your budget, the designs, the materials, the tools, and the goals you set for yourself.
However, this article will show you the costs for building a picnic table from scratch and the different options that are best for you.
We've broken this article into simple, easy-to-understand, small sections so you can jump right in!
Picnic tables are an excellent addition to any outdoor space, and they can be either handcrafted or bought.
---
How much does it cost to buy a picnic table?
Depending on your needs, you can buy a kids picnic table for as little as $70, or a portable picnic table that can seat up to 6 people from $300 – $500.
---
How much does it cost to build a picnic table?
The costs depends on the type of wood, the design and the size you choose.
After researching DIY forums all over the web, we found out that cheapest you can go for a DIY project is just a bit under $100 for a traditional table.
That, assuming you already have the right tools at home.
Someone mentioned that using a guide from Construction 101, they were able to build a 6-foot picnic table in around 3 hours and for about $90 overall (amount excluding the tools).
If one wants to build a picnic table, the prices of materials will vary somewhat less or more based on the size, material, style, and required seating capacity.
The design plans should specify exactly the amount of wood that will be required.
Also one will need to consider the tools you will need to assemble the picnic table, which includes
Carriage bolts
Screws
Saws
Drills
Screwdrivers, and
Wrenches.
Most people already have them at home, or can decide to buy them or can borrow from a neighbor or a family member.
---
How much wood is needed for a picnic table?
Rectangular picnic tables are typically:
72″ wide (183 cm)
58.75″ deep (149 cm)
with an overall table height of 30.5″ (78 cm)
and a bench height of 17″ (43 cm).
A typical table requires fifteen 72-inch-long 2 x 6 boards and seven 30-inch-long 2 x 4 boards.
With these measurements, you may go to a side shop and receive an accurate cost estimate based on where you are and the current price rates.
---
What is the best wood to build a picnic table out of? (Cheap vs Expensive)
Our recommendations for which wood species to choose may vary depending on where you reside, how the table will be used and kept, and what kind of finish you intend to apply.
The most economical option is fir, while the most durable one, and more expensive option is composite or treated wood.
Picnic tables can be made from this robust and sturdy hardwood.
Douglas fir is native to the Pacific Northwest and Eastern Asia.
If you want to keep the natural look of the wood, you can paint it or apply a finish because it takes paint nicely.
Because this wood is inexpensive, you'll have a long-lasting, low-cost option.
A 2 in. x 6 in. Construction Premium Douglas Fir Board Stud Wood Lumber with a Custom Length of 4FT can be found on Amazon. The Price and other details may vary based on product dimension and color.
---
Is it easy to build a picnic table?
How long does it take to build a picnic table?
When the essential tools are available, it takes less time and energy to make anything.
Most individuals report they were able to build their picnic table in around 3 hours from start to finish with the appropriate guidance and tools.
It could take up to 3 to 5 hours if you don't have an electric saw, and if you are not in a rush.
---
How Much Does A Lifetime Picnic Table Cost?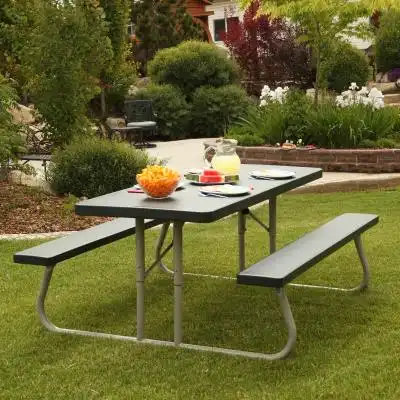 On HomeDepot, the Hunter Green Rectangular 72″ Long Picnic Table costs around $250. It has a seating capacity of 6 to 8 persons.
The stain-resistant, easy-to-clean surface is made of high-density polyethylene, is lightweight, and folds flat for storage.
You might also be interested to know that the table measures:
29″ H x 30″ W x 72″ L when open
4″ H x 57″ W x 72″ L when closed
with an overall product weight of 73.9 lb.
---
How long does a wooden picnic table last?
Most individuals have seen a hardwood picnic table live up to ten years with proper upkeep.
While picnic tables are normally designed and treated to resist the outdoors, the sealants used to protect the wood deteriorate with time.
A picnic table's ideal finish is one that can withstand fatty liquids from meals, as well as paint and glue from home renovation or kid's craft projects.
Wood picnic tables may be made to endure eternally by sealing the surface at least once a year.
This means you need to invest some money into a good sealant, that starts at around $10.
You might also consider choosing a paint or stain for your picnic table that is appropriate for the weather in your area.
---
What Maintenance Costs Exist
There are a few additional costs associated with having a picnic table, but what matters most is what you do with the resources you have to maintain it.
When not in use, we recommend covering your table with a heavy-duty, tight-fitting table cover.
Covering your table will help to keep the sealant from deteriorating prematurely due to weather or excessive sun exposure.
Your picnic table should mostly be covered with a tablecloth, this may help prevent accumulated dirt from food pieces, dents, created by tableware, or natural wear and tear. You should also take all the precautionary measures to prevent it from rotting.
Depending on the size and regularity of use of the picnic table, the total cost of care could initially range from $80 to $110.
Once you have the necessary materials, you can continue to use them without having to buy new ones every so often, lowering your annual maintenance costs.
Here's a list of the supplies you'll need to keep your picnic table in good working order, the majority of which are already in your home.
---
Basically, once your lumber has been bought and cut to the correct sizes for the following pieces:
tabletop boards
seat boards
leg support
sear cleat
brace
and batten,
you can build from start to finish in a few hours using a planning guide (Etsy offers a very easy guide), we would like to know what it cost you to build yours!