Today we'll share with you our favourite picnic planners in Atlanta, Georgia.
We've analyzed their reviews, professionalism, and prices and looked over their social media accounts to make sure all the companies we recommend are legit and put their clients first.
Best Picnic Companies in Atlanta
1. Gather Picnics Co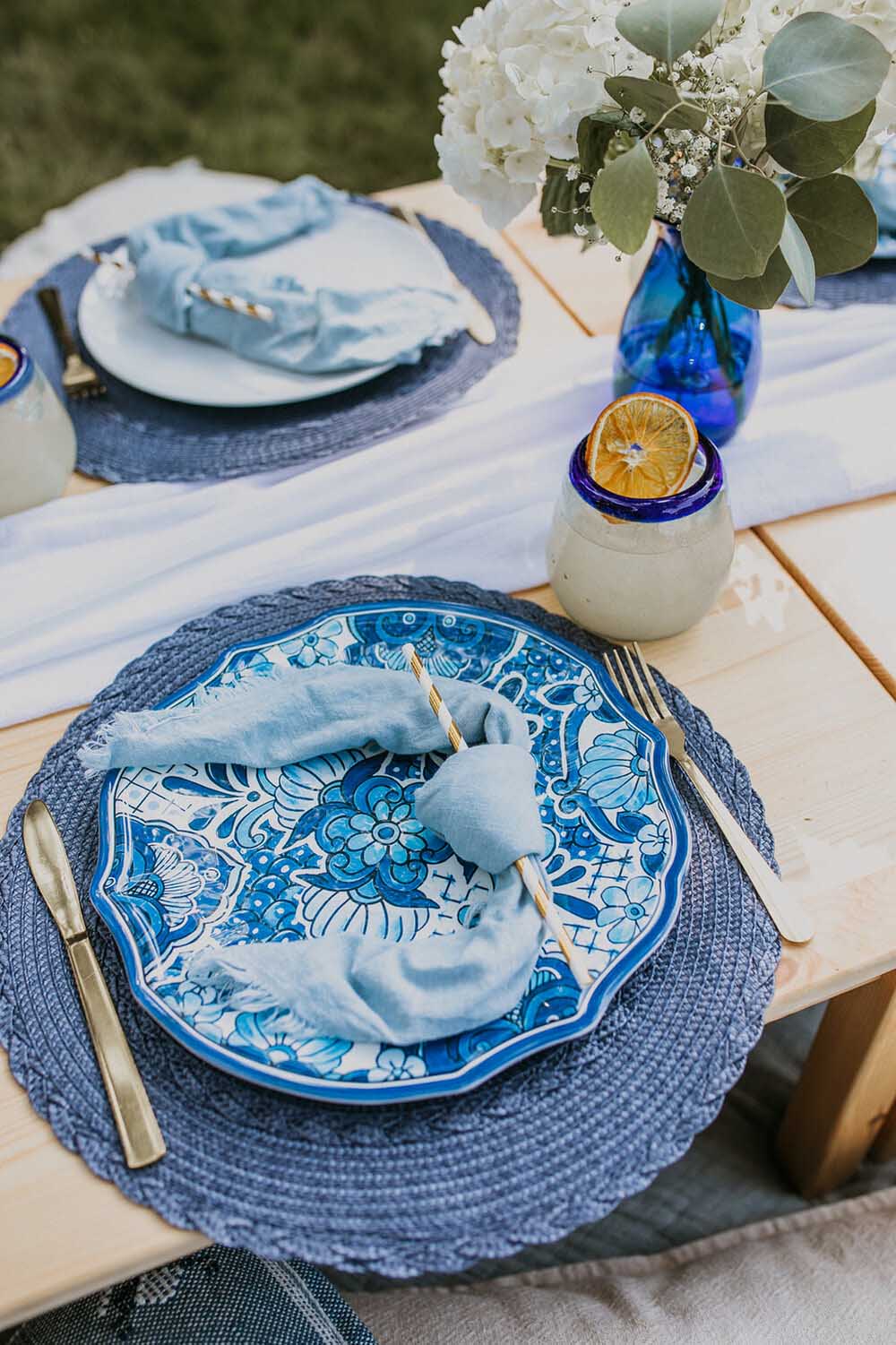 Price: from $350
Instagram: @gatherpicnico
Followers: 6469
Featured in popular magazines such as New York Times, Atlanta Magazine, House Beautiful and Eater, Gather Picnics is the go-to company when it comes to outstanding perfect picnics.
All you have to do is to pick a theme that you like, pick a spot from their recommended locations and they do the rest.
The founders, Emily and Drew, offer themes inspired by places they traveled or lived in.
Gorgeous themes like:
Venice, California (neutrals and light pinks with boho details)
Milos, Greece (ocean-like blues and whites with Mediterranean vibes
Santa Fe, New Mexico (earthy shades of red and yellows with woven details)
With dozens of 5 stars reviews on Google, you can really see that the founders are very responsive, professional, helpful, and overall very kind people who will make sure to provide spectacular service to their clients.
Ideal for birthdays, baby showers, special brunches, bridal showers, and small parties.
Pricing
They price their services by the number of tables:
1 table (up to 5 ppl): $350
2 tables (up to 10 ppl): $575
3 tables (up to 14 ppl): $750
For more people, you'd need to ask for a custom quote.
2. Pretty Luxe Picnics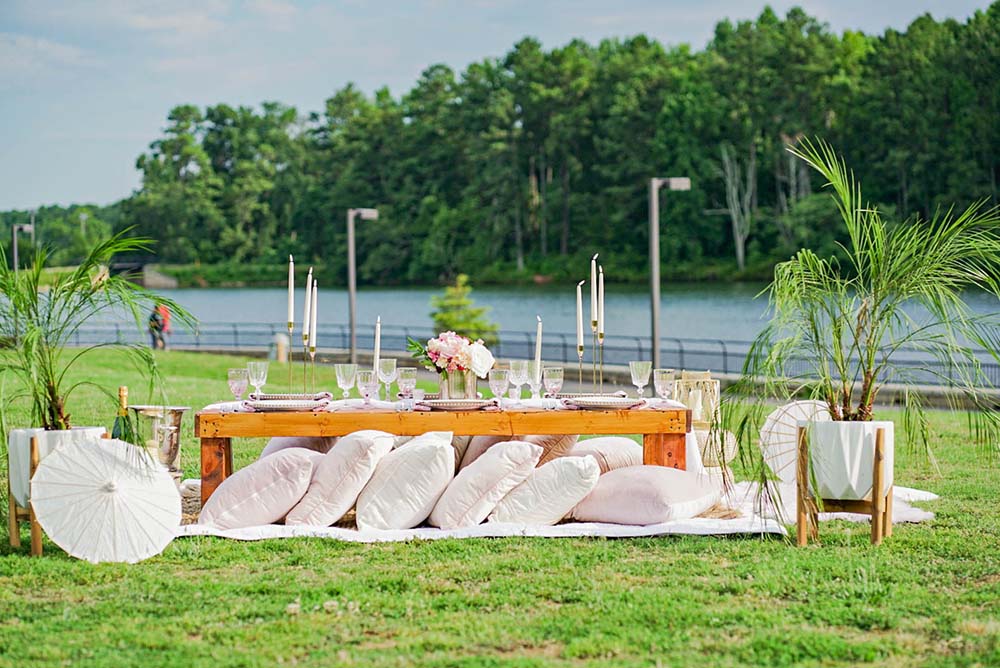 Price: from $259
Instagram: @prettyluxepicnics
Followers: 7,680
Pretty Luxe Picnics is one of the most popular picnic companies in Atlanta, specialised in creating unique and intimate luxurious picnics.
Everything is taken care of by them: from choosing a magical location, decorating everything, taking care of food to cleaning up. You just have to invite your guests, show up and enjoy the experience.
Mo'nique, the founder of the company, loves to bring people together and create for them wonderful experiences.
STANDARD PACKAGES
Pretty Little Picnics (from $259 for 2 to $1499 for 20 people): Ideal for anniversaries, dates, birthdays, bridal showers
Forever Love Proposals: ideal for proposals with an intimate and romantic decor
Pop-up Dinner Party Affair: luxe table scape and setting for small parties + catering vendors
PREMIUM PACKAGES
Overnight Romantic Picnic ($950)
They even provide romantic overnight experiences with bubble tents and fully made beds.
Boating Experience ($1199)
With this package, you can onboard the Elite Luxury 2021 Bentley Boat and enjoy your boating picnic there with champagne and delicious treats.
3. Elevated Picnics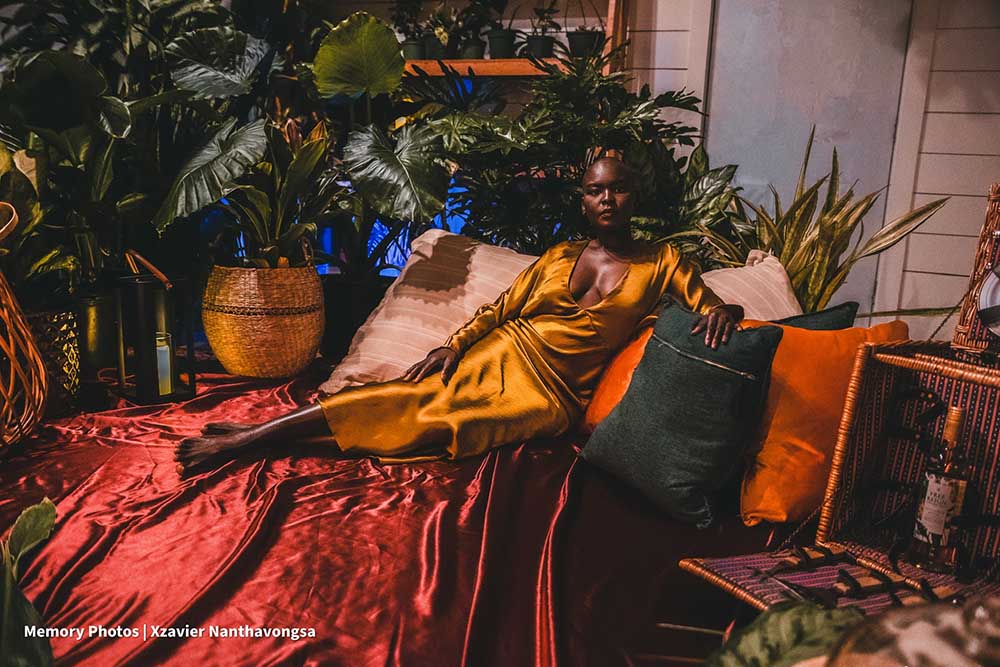 Price: from $192
Instagram: @elevatepicnics
Followers: 8,803
One of our favorite picnic planners in Atlanta, Kaneisha & Saaghir from Elevated Picnics, promises to bring Pinterest-inspired picnics to you. 
Their standard packages are designed for parties of 2-6 persons, but if you have a larger crowd make sure to contact them and they'll arrange accordingly. You don't have to bring anything, you just show up and enjoy your picnic.
In addition to their packages, you can add specific add-ons like games, charcuterie boards, photoshoots, champagne and more.
Bad weather? No problem.
With the unpredictable weather in Atlanta, we simply love that Elevated Picnics got you covered even if the weather is not the best. They offer a fully-covered picnic tent with insulated and waterproof walls. For high winds, you can choose their igloo picnic.
Of course, you also have the option to reschedule.
4. Lavish Little Picnics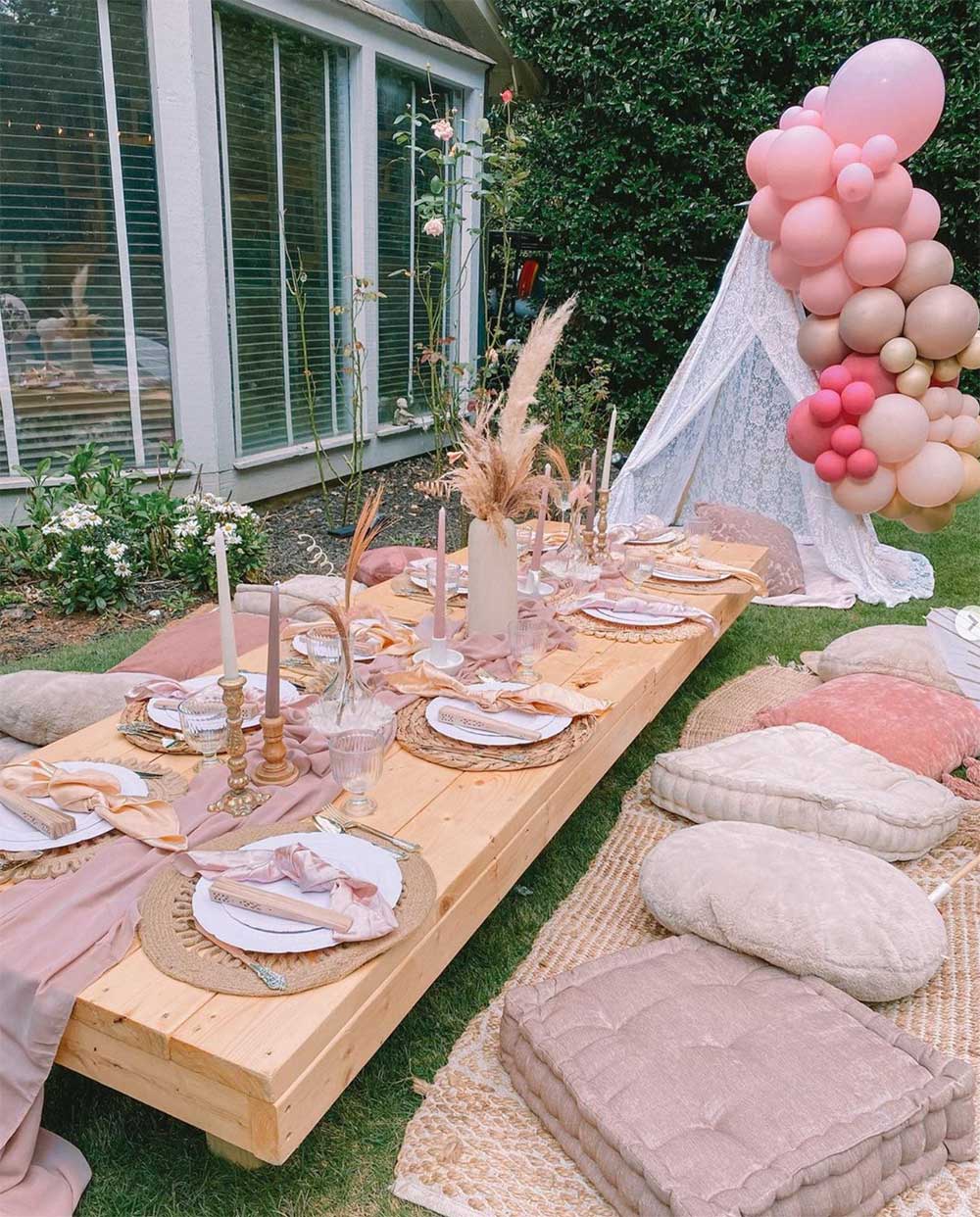 Price: from $225
Instagram: @lavishlittlepicnics
Followers: 3,119
Lavish Little Picnics organizes trendy instagrammable set-ups in any location you want (parks, backyard, or in your living room). 
You can also order the delicious food add-ons with desserts, sandwiches, and finger foods.
They specialize in setting up beautiful picnics for special occasions like engagements, birthdays, anniversaries, girls' night out, etc.
5. Pop Up Picnics ATL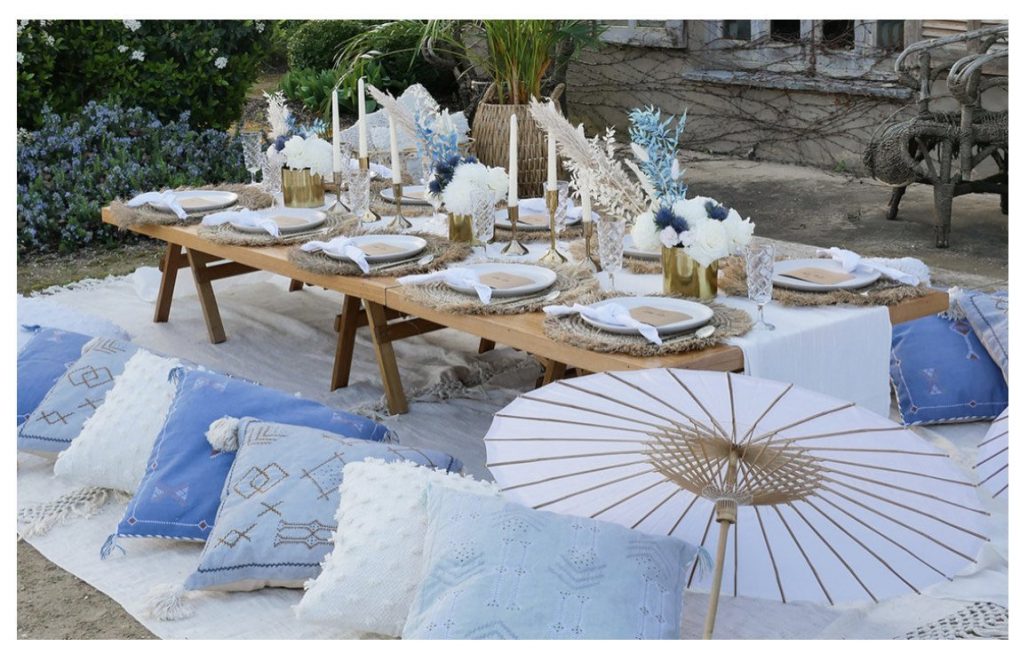 Price: from $290
Instagram: @pop_up_picnics_atl
Followers: 3,474
In 5th place are Pop Up Picnics ATL with breathtaking themes like:
The Moroccan Collection (sky or sand colors with raffia details)
Pretty in Pink (perfect for High Tea in the park or Girl's Party)
The Elegant Boho
The Sahara Desert
Besides their standard packages, they also offer interesting premium extras.
We love their cinema package, where you can also opt in for a private outdoor screen for a movie night with your friends (up to six people). That costs $600 for 1 movie.
For every additional person you invite, you need to pay extra $45.
Final thoughts
This is it, hope you liked our recommendations. If you're a picnic planner in Atlanta and want to get featured, feel free to contact us.