One of my favorite outdoor activities is laying out an incredible brunch spread for my loved ones and enjoying the sunshine while munching mouth-watering treats.
If you're planning a special picnic soon with family or friends but aren't sure what to make, then you've come to the right place! This article will cover various recipes that are ideal for an outdoor brunch.
As you're perusing our list of recipes, remember to keep all perishable food cold and fresh during travel, so your family can enjoy every delicious dish without worry.
Picnic Brunch Ideas
This section will cover a few classics with some adventurous dishes too!
Homemade Cinnamon Rolls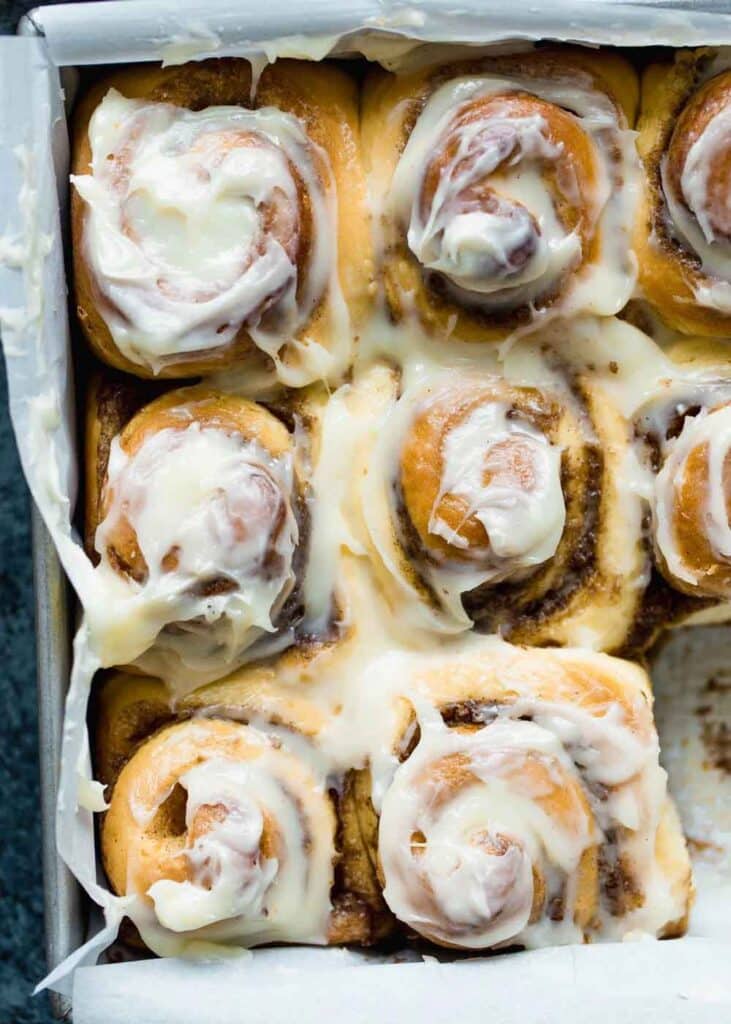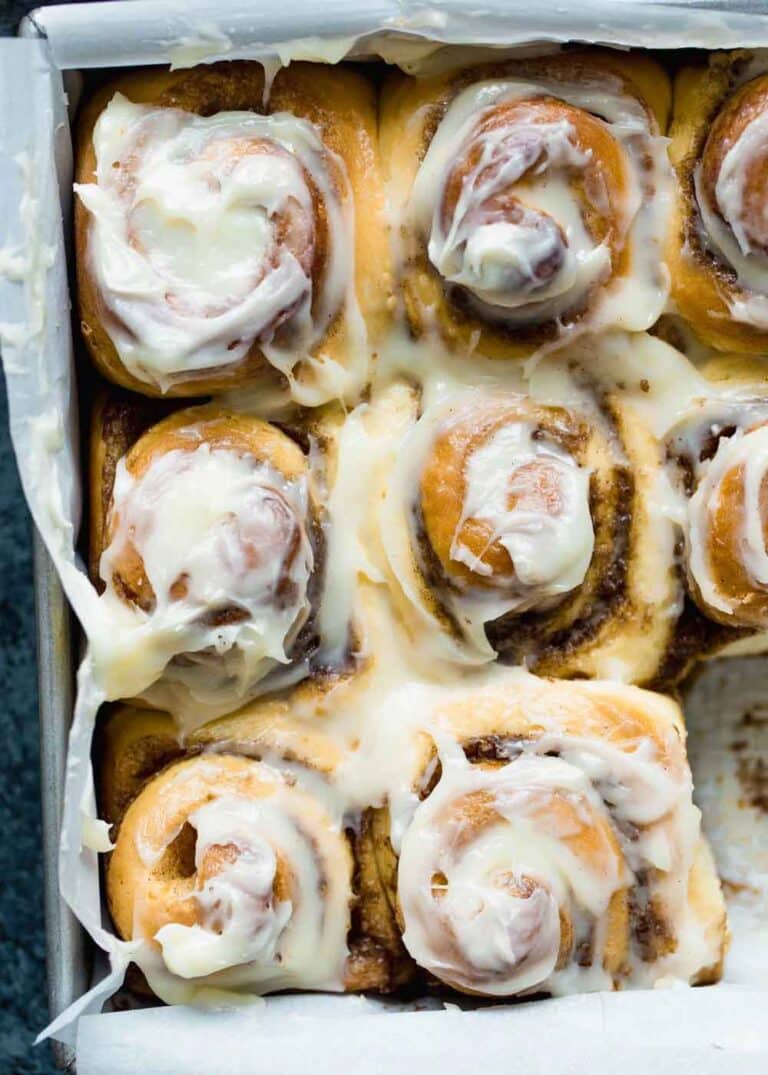 These cinnamon rolls are huge, soft, and scrumptious. Best of all, you can make them the previous night or freeze them to keep them from spoiling. You can also substitute some of the ingredients to make them dairy-free! 
Each cinnamon roll has loads of brown sugar filling, and cream cheese glaze coats the top, making for a rich and creamy bite. Be sure to invest in a bag of bread flour to achieve that unique cinnamon roll texture.
Once combined, baked, and assembled, you're guaranteed warm rolls that will satisfy everyone at your picnic!
Banana Pancakes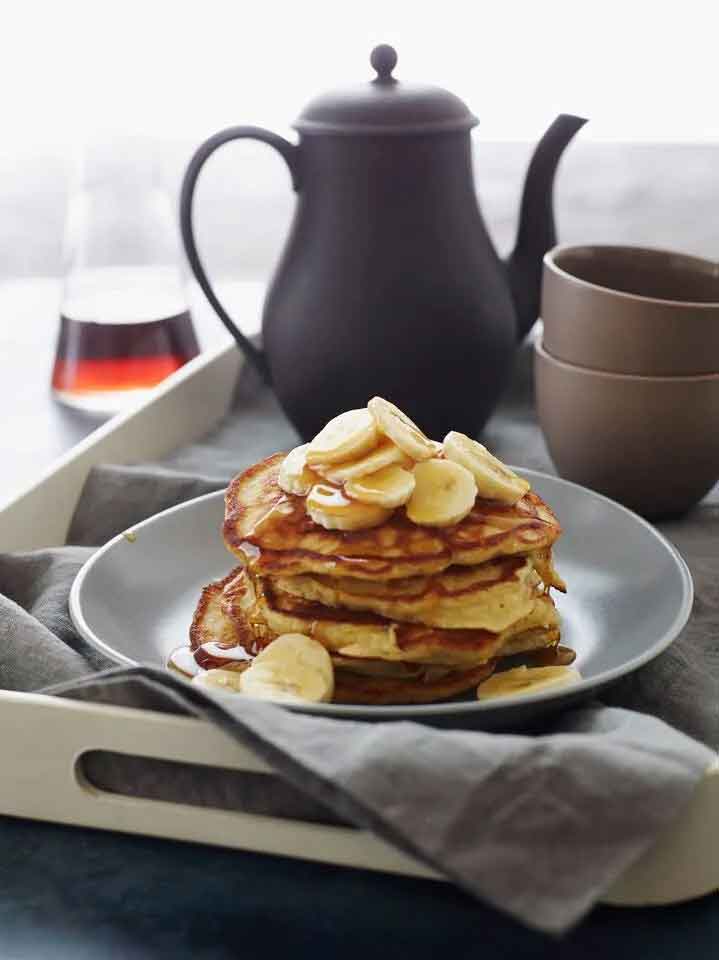 Banana pancakes are a tropical variation of the popular blueberry and chocolate chip variations. They're crispy on the outside and flavored with bananas and vanilla for an easy recipe that anyone can whip up. 
You can drizzle maple syrup on top or sprinkle powdered sugar to customize these pancakes to whatever your taste buds prefer. The best part is you cook them just like regular pancakes.
Frittata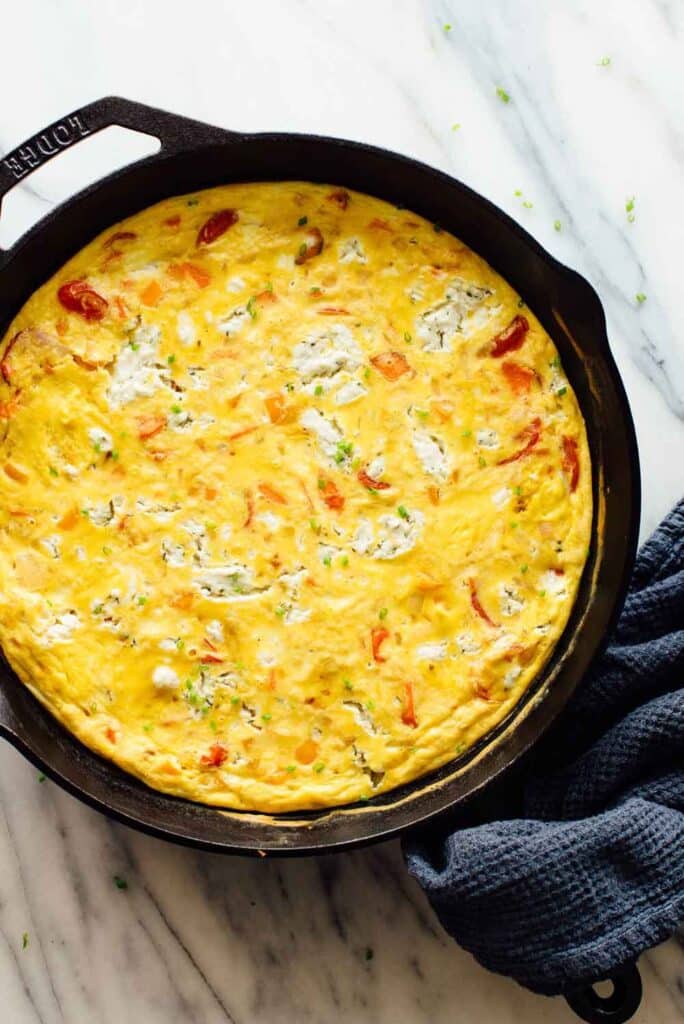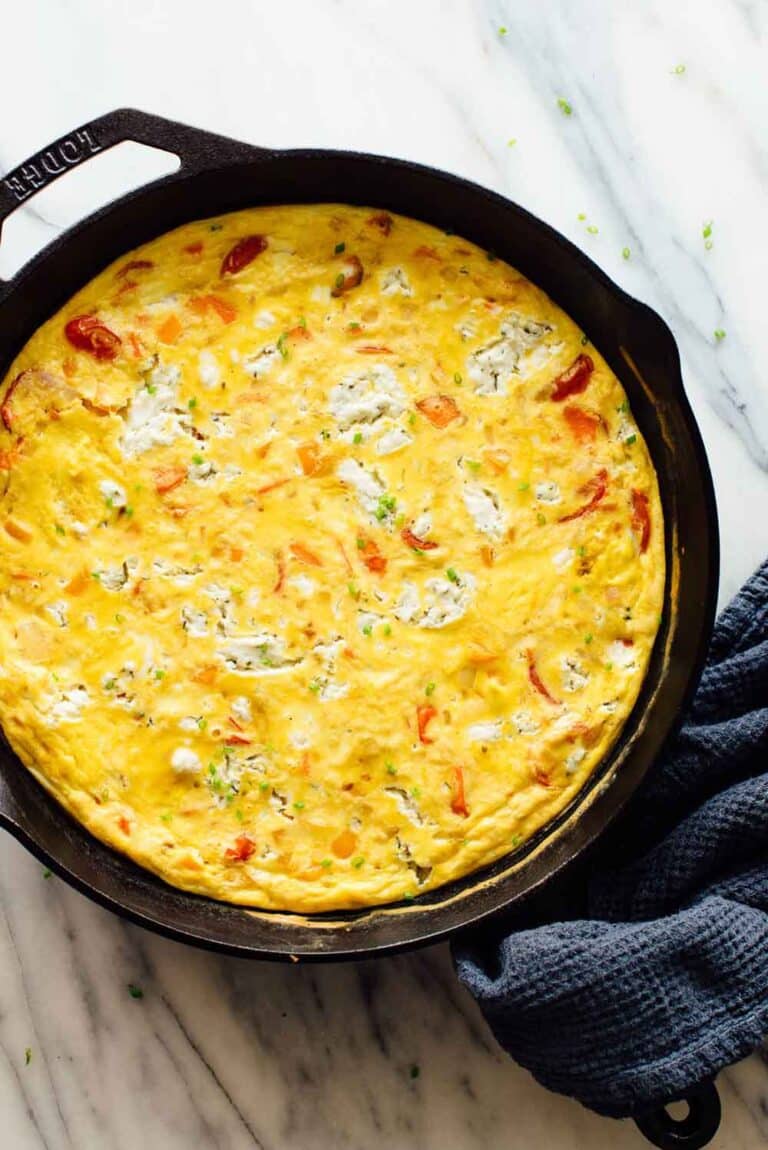 A frittata is easy to transport, making it an ideal option for a morning picnic brunch.
Once baked or cooked on the stovetop, a frittata is creamy and packed with flavorful veggies. The biggest concern with a frittata is not to overbake it, or you'll dry out the texture.
A frittata requires eggs, vegetables, cheese, and dairy. A few recommended flavor options include:
Spinach and artichoke
Broccoli and cheddar
Tomato, zucchini, and mozzarella
Top the frittata with basil, parsley, chopped chives, or cilantro. After combining all the ingredients, you'll have a warm, eggy dish that's great for any season.
Breakfast Casserole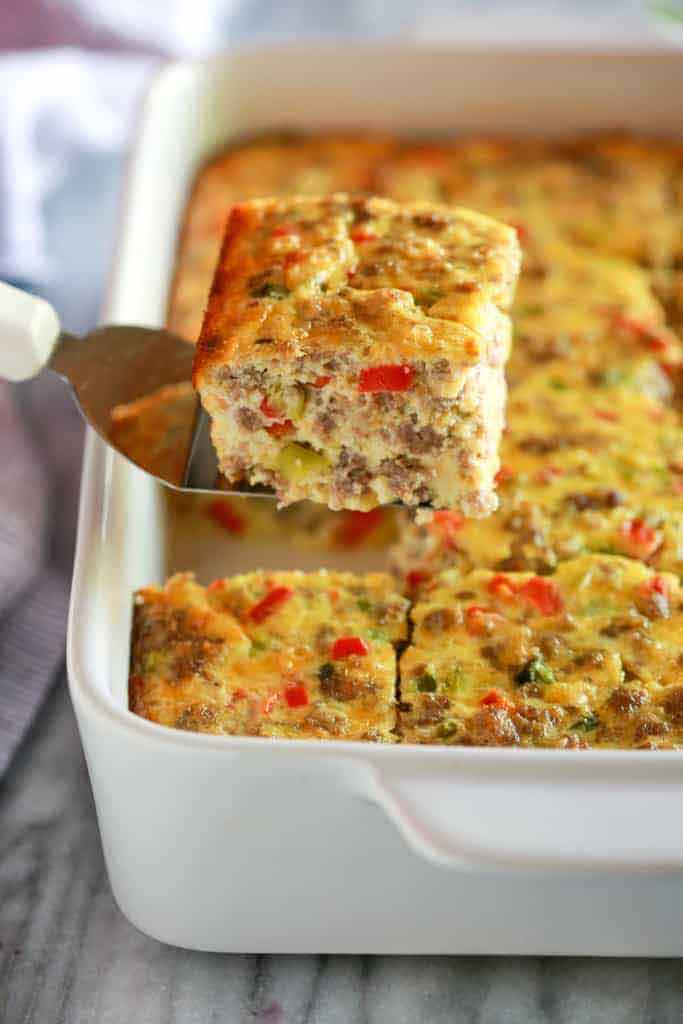 A breakfast casserole has eggs, sausage, and cheese, making it a quick and easy meal for all of your family adventures. 
You can customize the goodies inside, adding your favorite cheese varieties or fresh, seasonal vegetables. Sour cream and milk make the texture creamy, light, and airy.
If you're short on time, you can make this breakfast casserole a day in advance.
Avocado On Rye Toast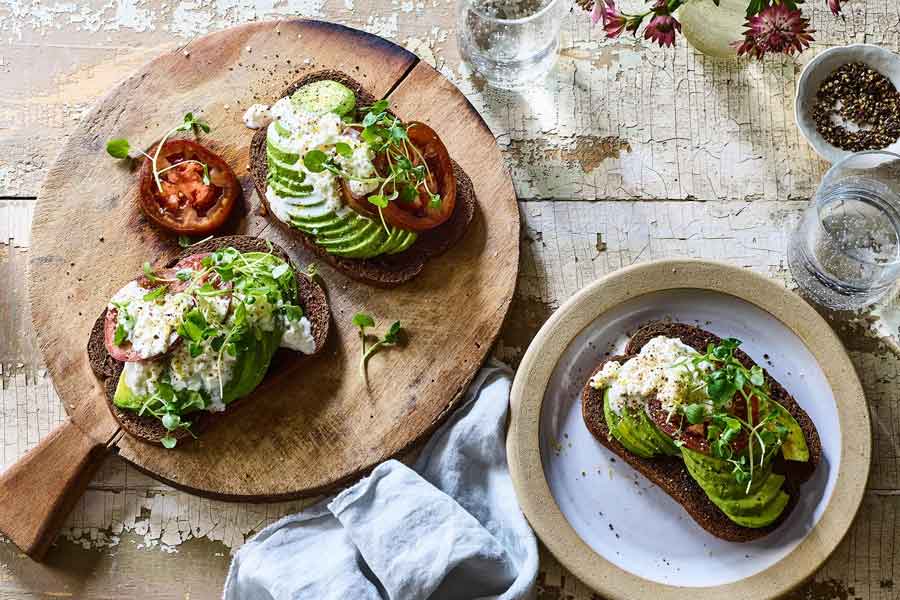 Avocado toast is a versatile and creative dish that you can top to your heart's content. This recipe combines rye bread with tomatoes, avocados, cottage cheese, lemon zest, and seasonings for a summery and tasty brunch item. 
We recommend preparing and packing all the ingredients separately, then welcoming your guests to assemble their toast to their taste. Doing so ensures that you don't wind up with soggy bread.
Breakfast Tart with Bacon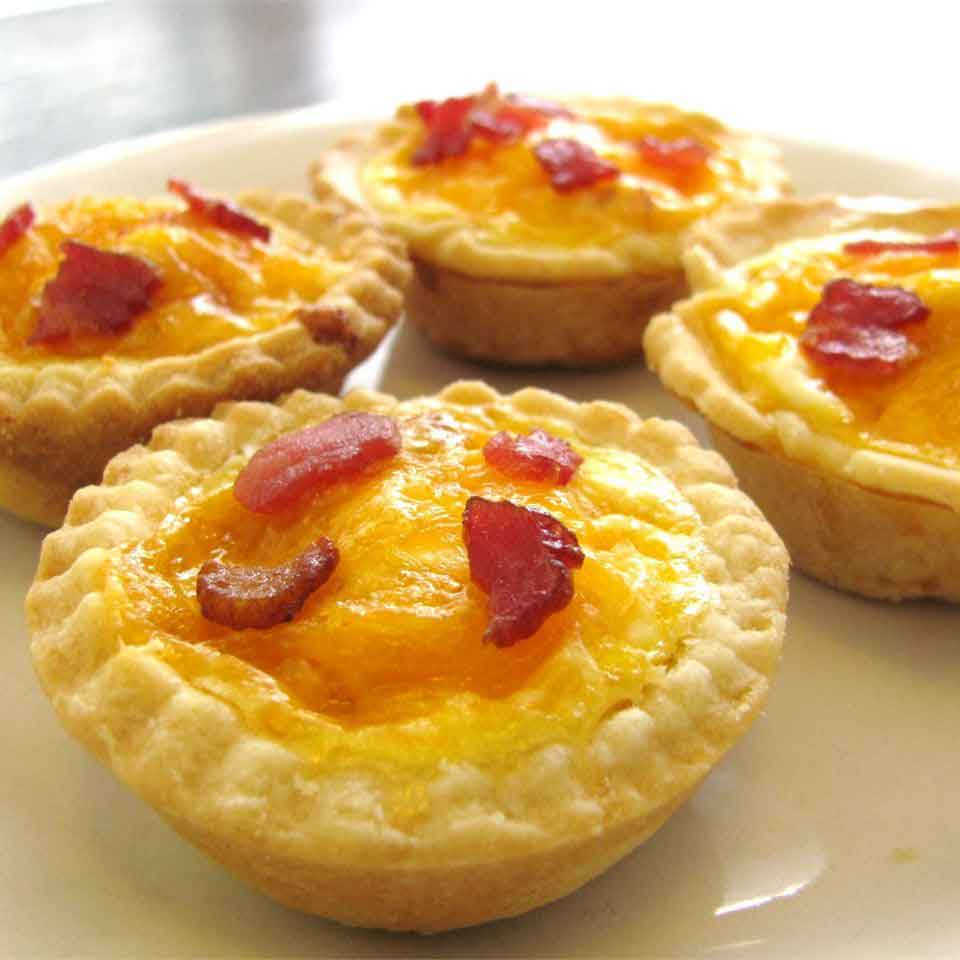 Don't worry; you don't have to make a tart crust from scratch unless you feel ambitious.
This recipe calls for Canadian-style bacon, cheddar cheese, eggs, milk, spices like nutmeg, and seasonings like black pepper.
What's incredible about this recipe is that you divide the pastry into equal parts for individual, convenient tarts. That way, you don't have to worry about the hassle of cutting a pie on the picnic!
The baking time is only about a half-hour total, and once complete, you'll have delicious golden-brown and flaky breakfast tarts that will impress even the most exacting palettes. 
Chicken and Waffles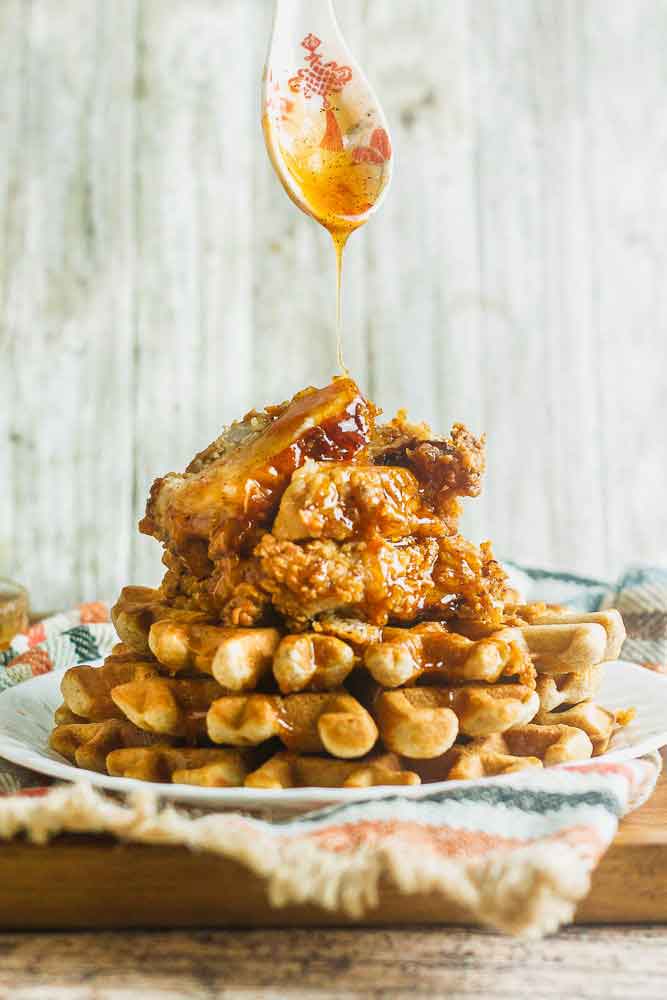 Even if you're not Southern, there's a certain comfort about chicken and waffles. 
This recipe includes crispy, juicy fried chicken and Belgian waffles, which are thick enough to hold up against the syrup with crisp outsides and fluffy insides.
Depending on your preferences, you can use chicken breast or thigh, but you want to make sure that the buttermilk-brined protein doesn't dry out.
The fried chicken packs a punch with various spices like garlic and onion powder. You can opt to make a complementing sauce from honey, chili powder, butter, and salt.
Sweet Potato Pancakes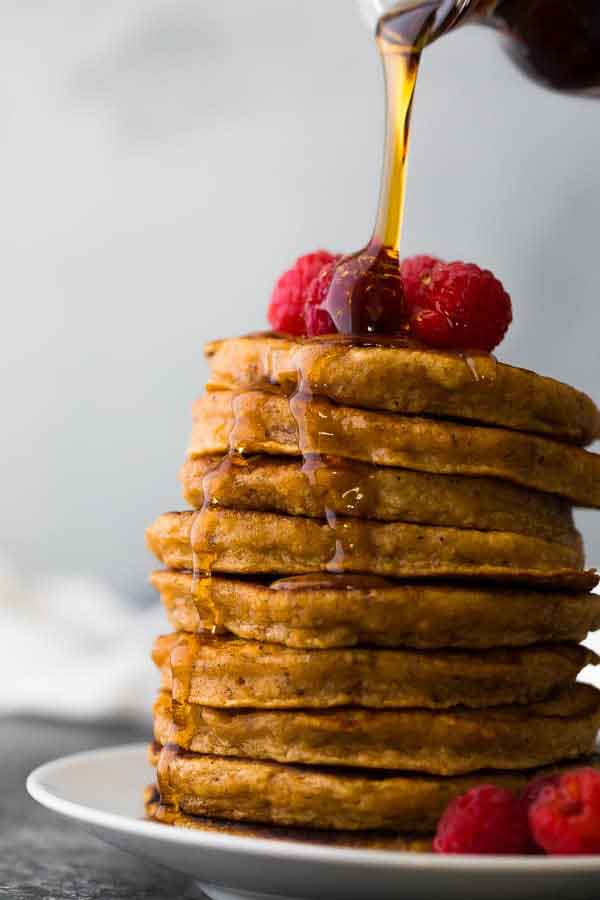 Sweet potato pancakes are lightly sweet, fluffy, and spicy with a pinch of cinnamon and nutmeg. All you need is one bowl to mix up a batch.
Similar to the previous pancake recipe, you need a handful of ingredients to make sweet potato pancakes, then you can top them with your favorite fruits, yogurt, or other breakfast items like bacon.
Both kids and adults are sure to love these!
French Toast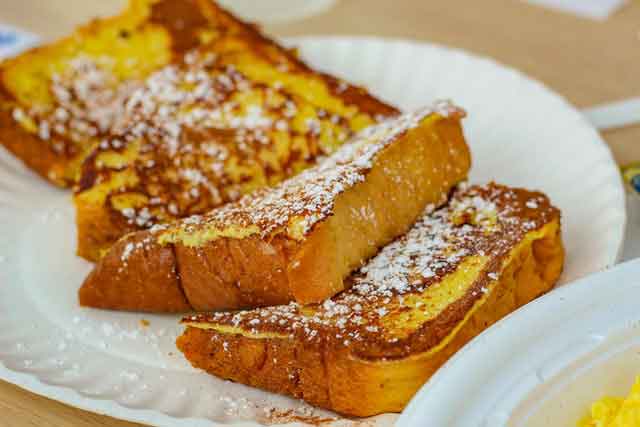 French toast is a breakfast essential and relatively easy to make, but you need good bread to stand out! This recipe uses a Brioche loaf because once dipped and grilled, the bread becomes custardy on the inside. 
Cinnamon, nutmeg, and vanilla add warmth. Pair the fried slices with syrup, and you're looking at a sweet, rich, and memorable brunch item!
Quiche Lorraine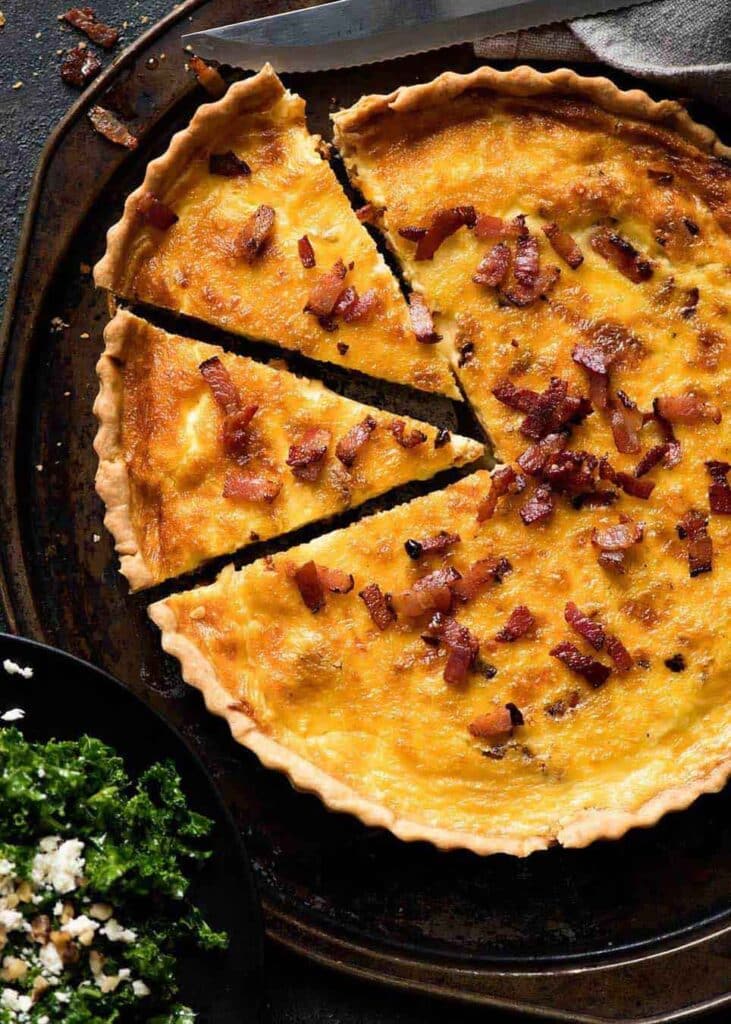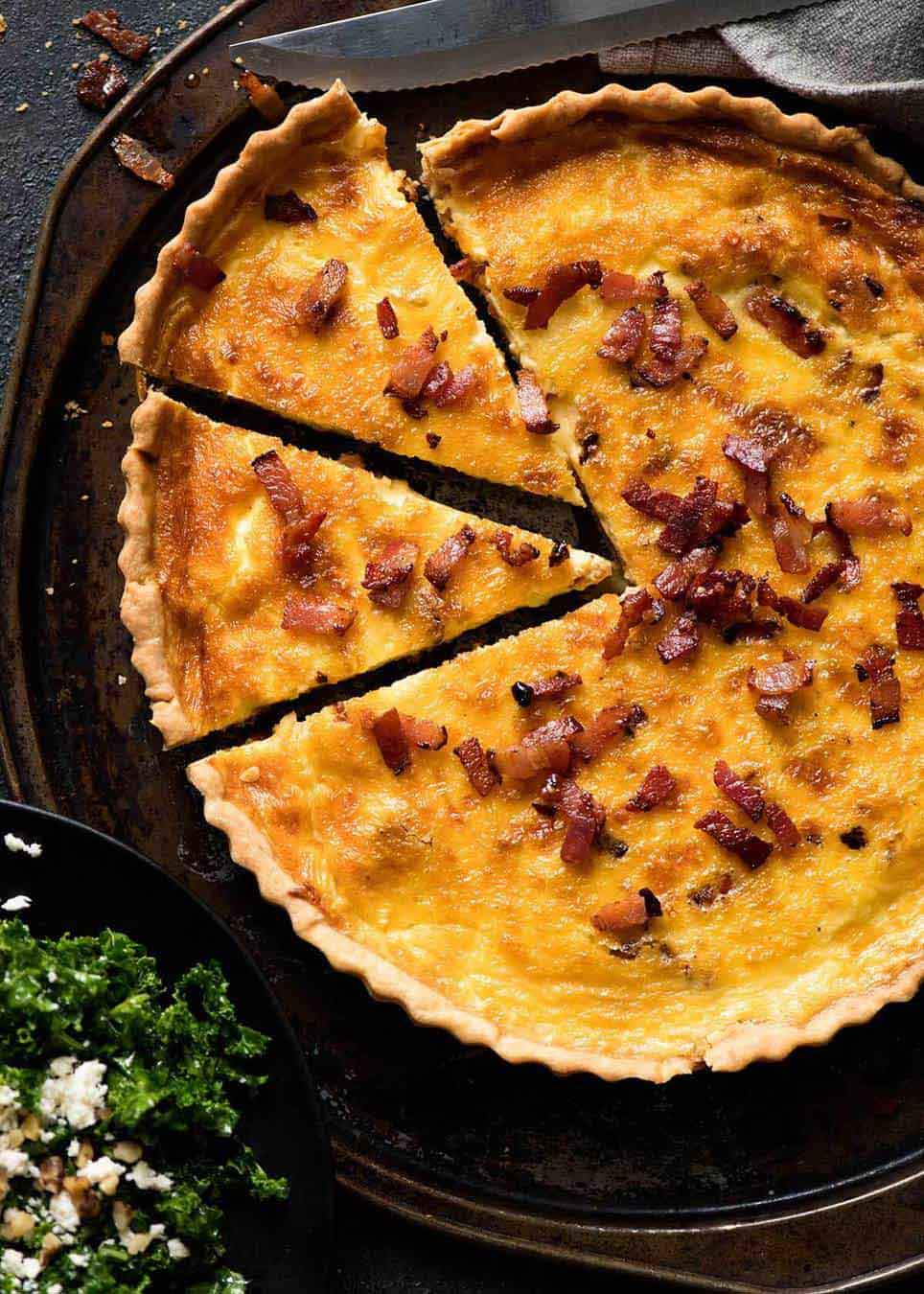 A quiche Lorraine is perfect for special get-togethers, and you can easily make a quiche crust on your own or snag a prepared pie crust from the store. 
Traditionally, a quiche Lorraine only has eggs, cream, and bacon. However, you can spice up the flavor by incorporating onions for savoriness and garlic for a kick.
What's a quiche without cheese? You can throw in your favorite, although this recipe recommends Gruyere. You can garnish or incorporate bacon into the recipe if you can't get enough of that crispy pork.
Smoothie Bowl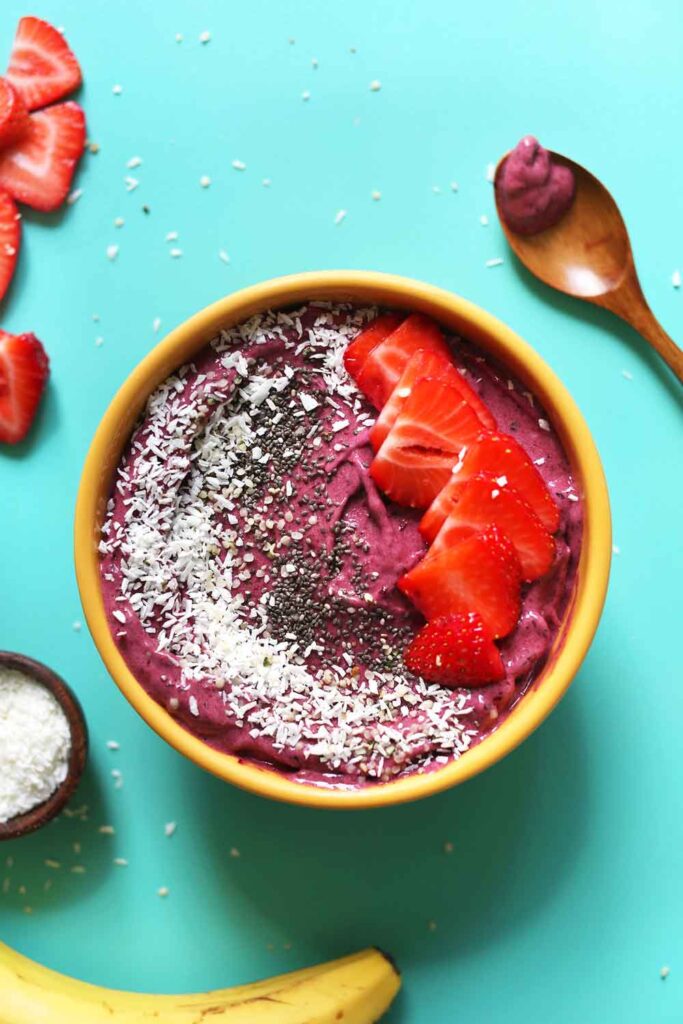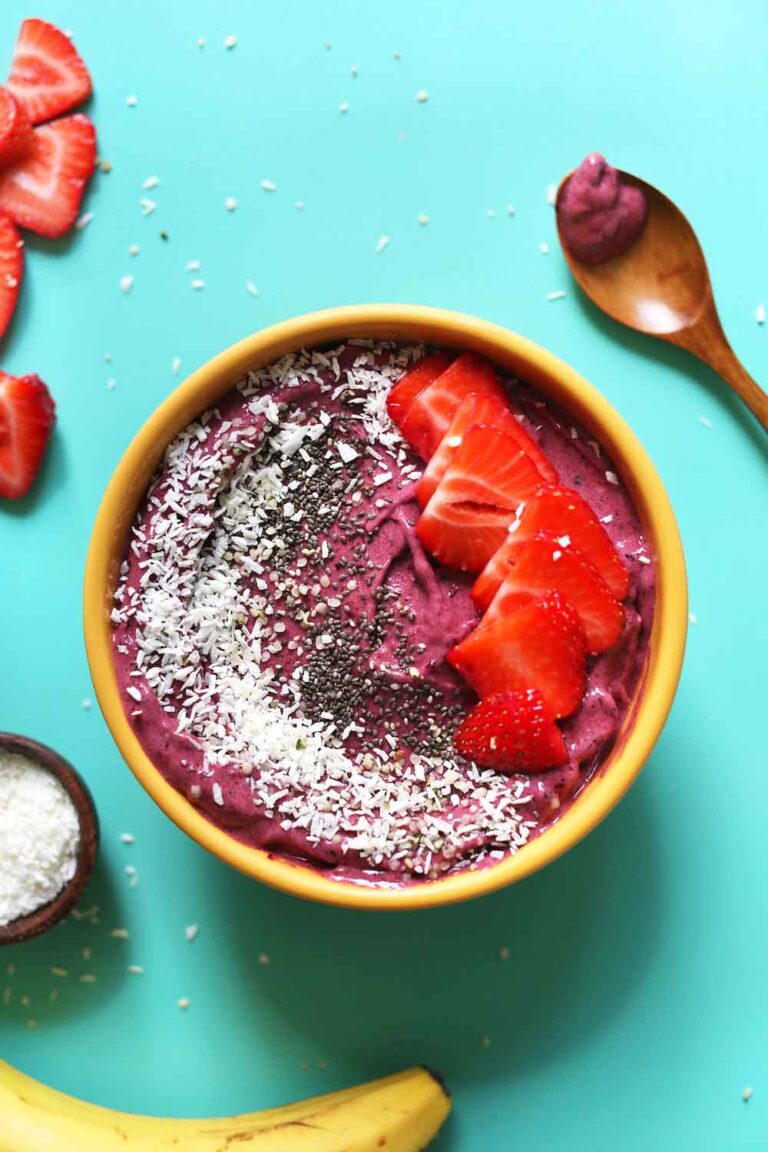 A smoothie bowl is a go-to for its fresh taste and bright color. The bowls only take a few minutes to make and use some of the best summer fruits like raspberries, strawberries, coconuts, and bananas combined with toppings like hemp or chia seeds for additional dietary benefits.
If you eat a plant-based diet, a smoothie bowl is a great way to cool off during the summer on the beach and eat a healthy breakfast item that will help you power through your day. 
Brunch Platter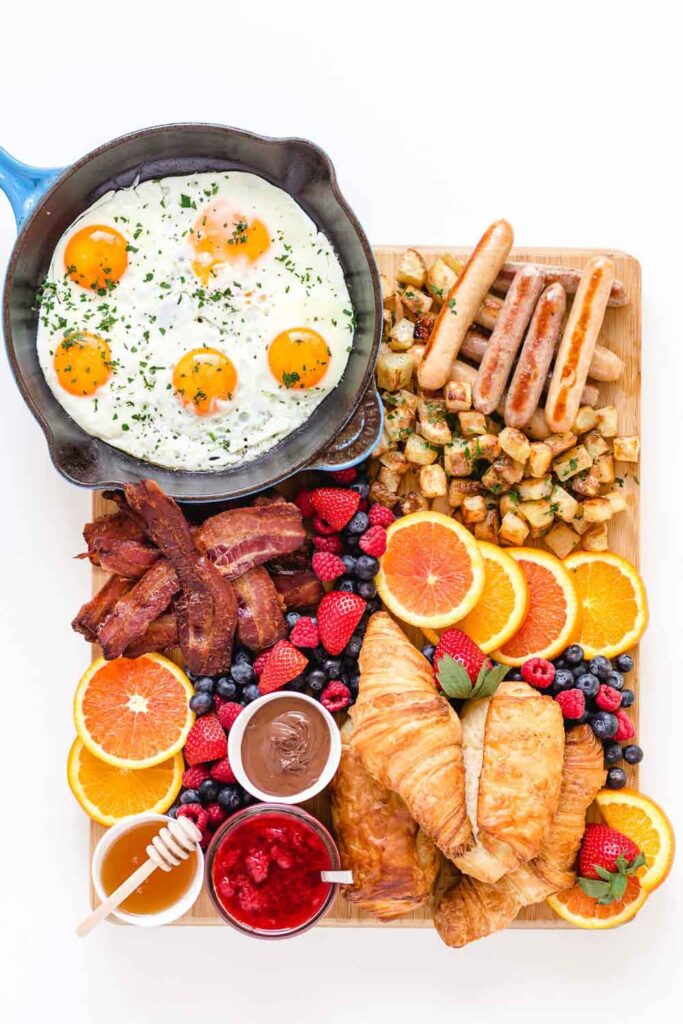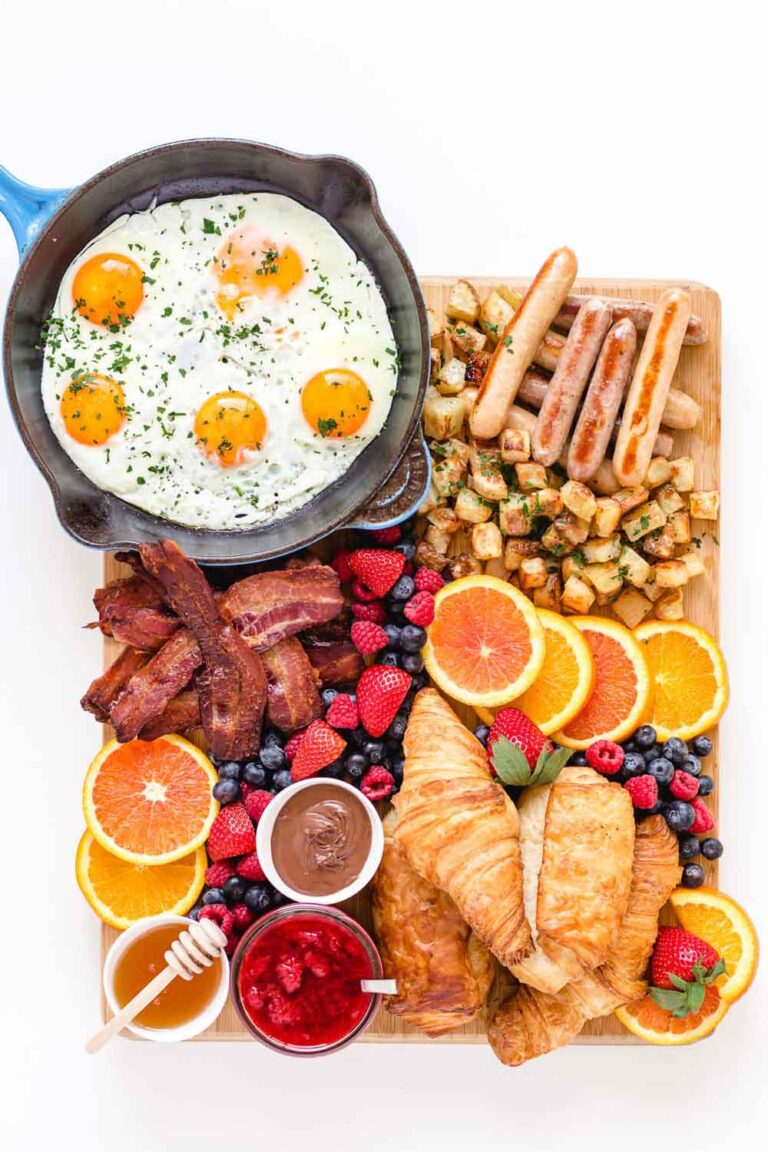 Can't decide on a specific brunch item? A brunch platter is a great way to beautifully organize a variety of foods. You can choose the size of the board and make them as simple or complex as you want. 
Brunch platters are perfect for when you want to celebrate a special occasion, are entertaining plenty of guests, or just want to get a little creative with your picnic brunch. 
Choose your favorites, like waffles, bagels, french toast, or pancakes, and plenty of topping options.
Hash Browns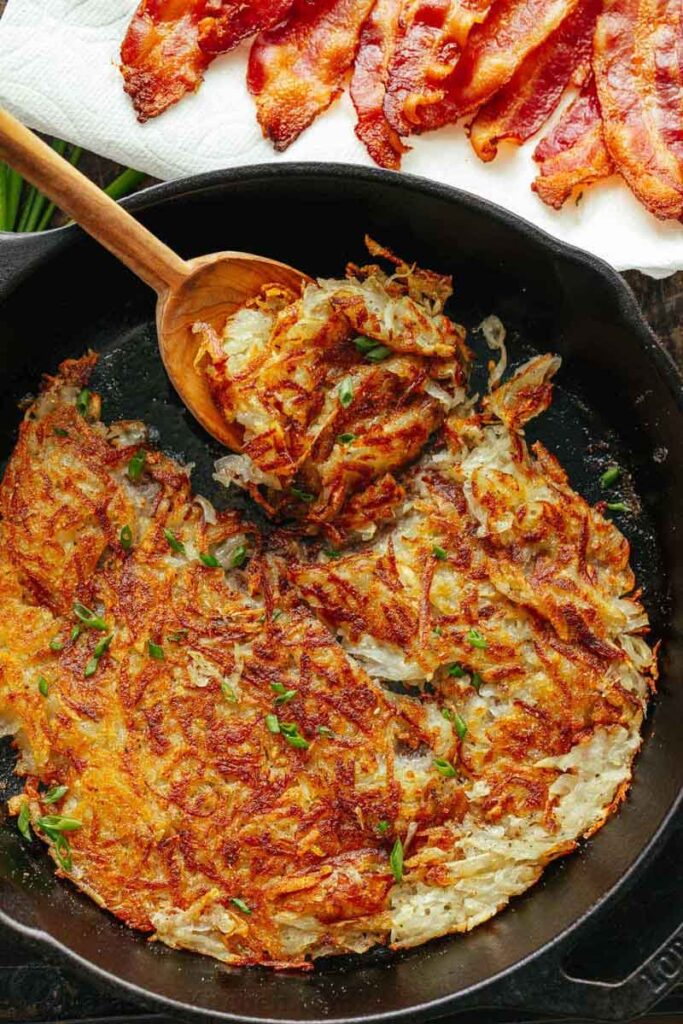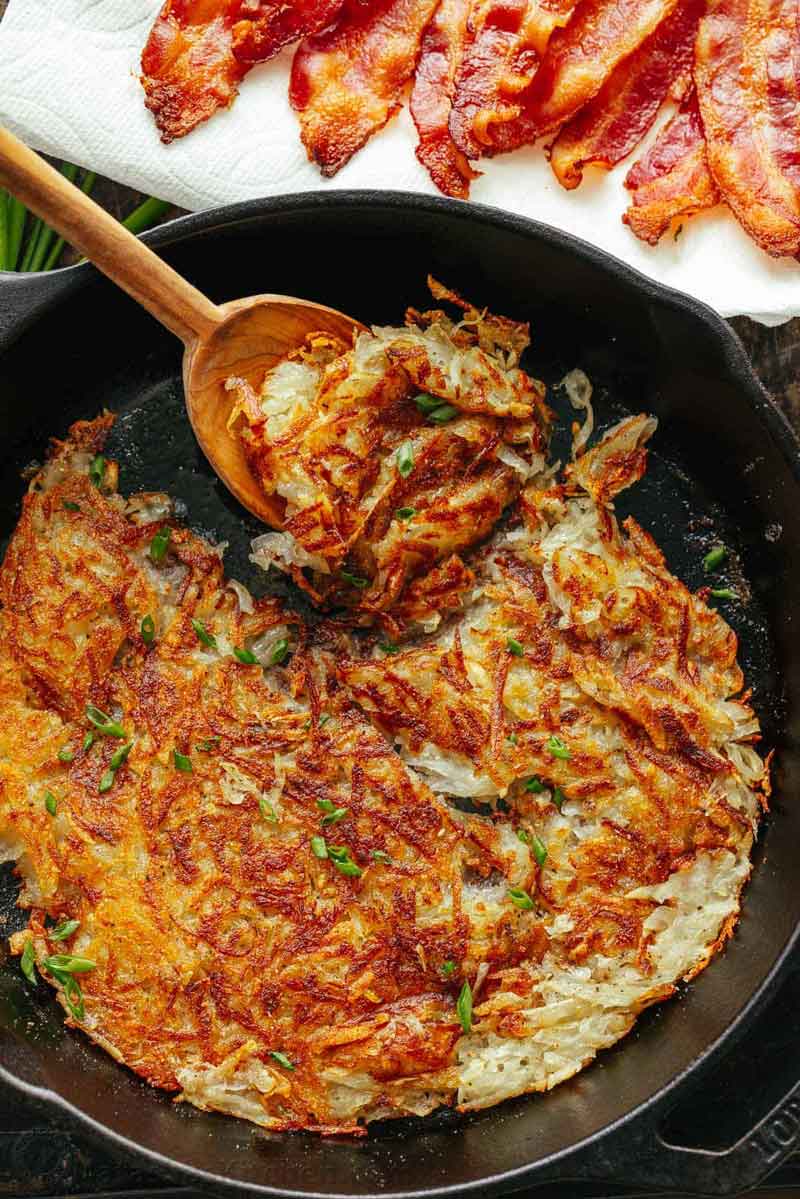 Hash browns are addictive, with a crispy, golden outside and tender potatoes inside. Hash browns are a great side dish to pair with nearly anything. 
What's the secret? Lots of butter. The fat adds flavor and forms that recognizable crust on hash browns that we all love.
Russet potatoes are the best choice because they crisp up well, and you could pump up the flavor with some leftover bacon grease.
Brunch Chia Pudding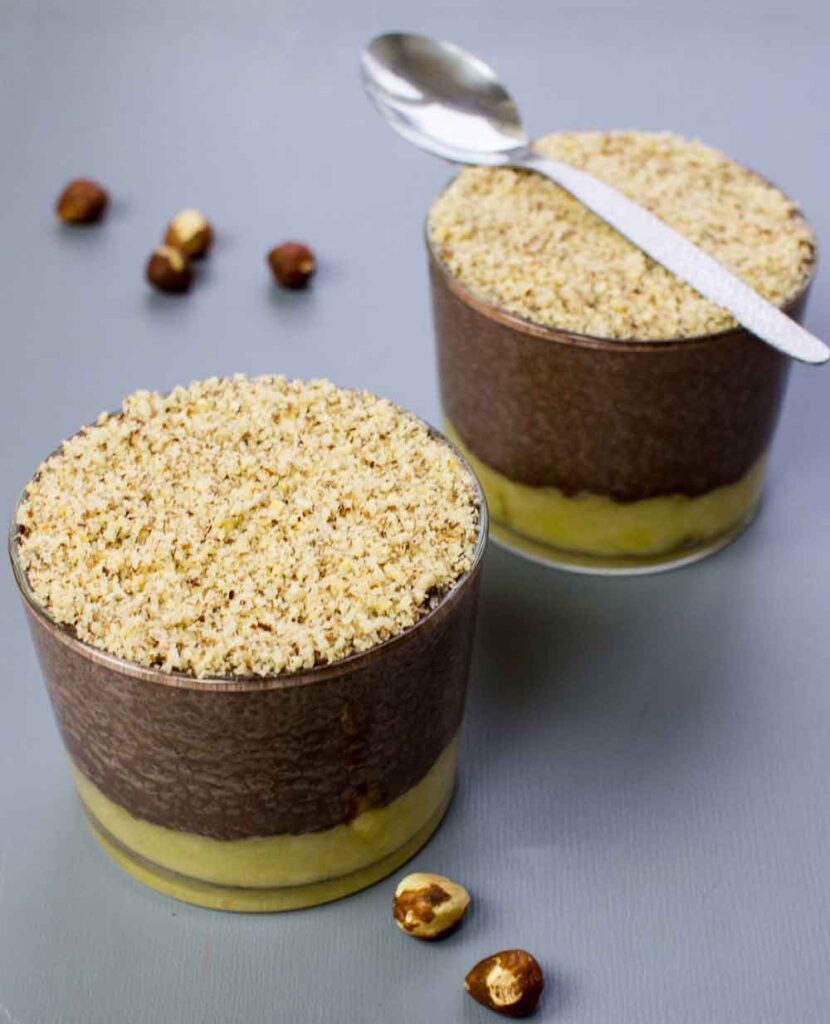 Chia seeds have tons of energy and nutrients like protein and fiber without weighing you down. This dish refreshes you after all the rich items at a picnic brunch.
Mix the ingredients and leave them in the fridge overnight so the chia seeds change in texture, making a jelly-like mixture that you can top with whatever you fancy.
This brunch chia pudding finishes with some ground hazelnuts, and you can add a splash of honey if the flavor isn't as sweet as you'd like. 
Oatmeal Bars
Oatmeal might not be the most practical breakfast food to lug with you on a picnic, but oatmeal bars are a great, healthy, and filling alternative.
You can customize specific ingredients by swapping out nuts, chocolates, and seeds.
Oatmeal bars last up to five days, and you can enjoy the bars warm, cold, or at room temperature. These bars are nutritious, delicious, and an excellent option for a busy picnic day.      
Blueberry Muffins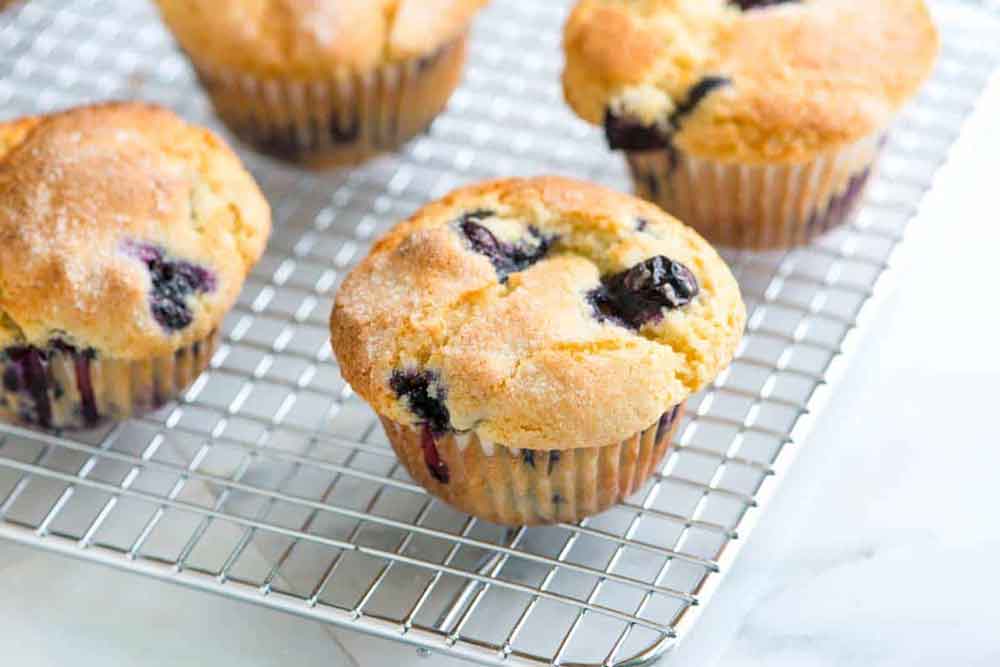 If you have blueberries, flour, sugar, vanilla, and oil on hand, you can whip a batch of these tasty muffins. They come out moist, tender, and golden brown with yummy juicy blueberries on the inside.
You can use fresh or frozen blueberries, and you can change the flour from all-purpose to gluten-free, but be mindful that it changes the texture.
Also, you can make various-sized blueberry muffins if you want larger or smaller portions to share, depending on the number of guests at the picnic brunch. 
Healthy Picnic Brunch Ideas
Here are a few healthier picnic brunch ideas if you want to watch your waistline while enjoying yourself!
Quiche with Sweet Potato Crust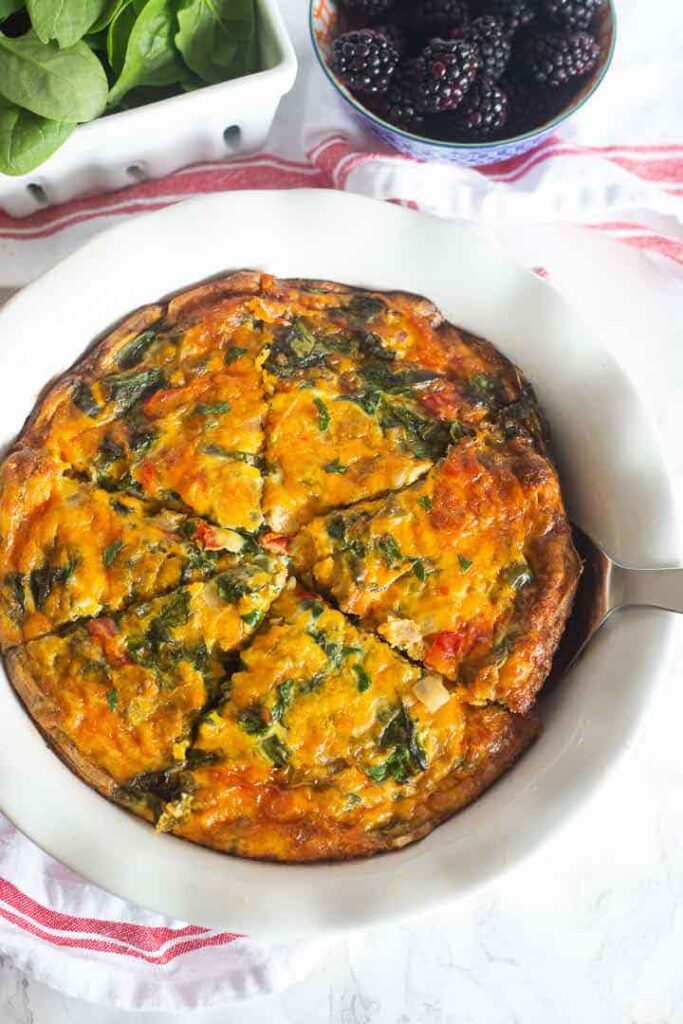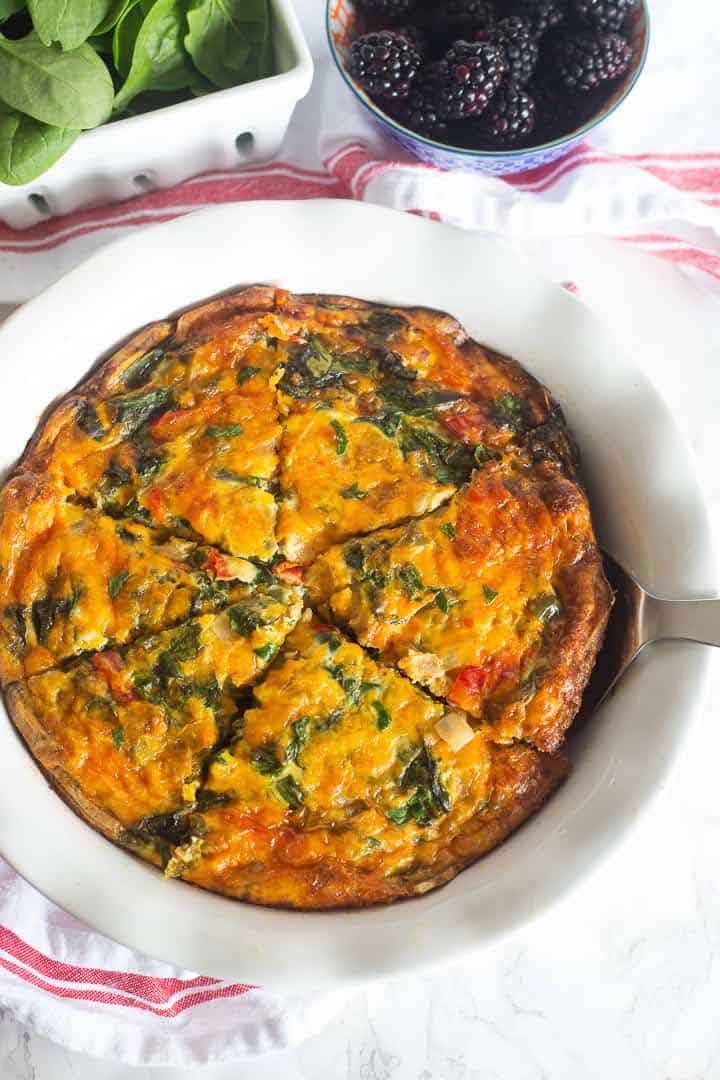 Swap out the fattening pastry, and the quiche remains just as delicious. The thinly-sliced sweet potatoes create a fantastic base that you can fill with eggs and veggies.
It's mouth-watering, healthy, and loaded with protein. The sweet potato crust becomes crispy, and you can easily interchange ingredients that you prefer in the quiche itself.  
Gluten-Free Buckwheat Waffles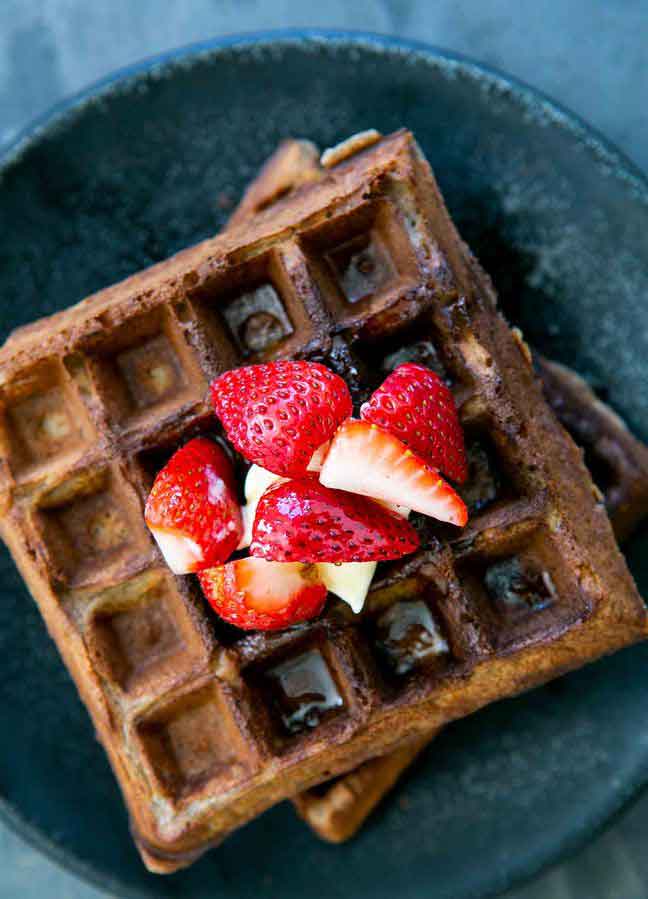 Gluten-free buckwheat waffles are great for those who need to follow a strict gluten-free diet or simply want variety in their brunch items. 
Baking powder, baking soda, and a touch of yogurt help with the structure. Additionally, whipping up egg whites creates a fluffy interior and a crispy outside.
Fig and Honey Toast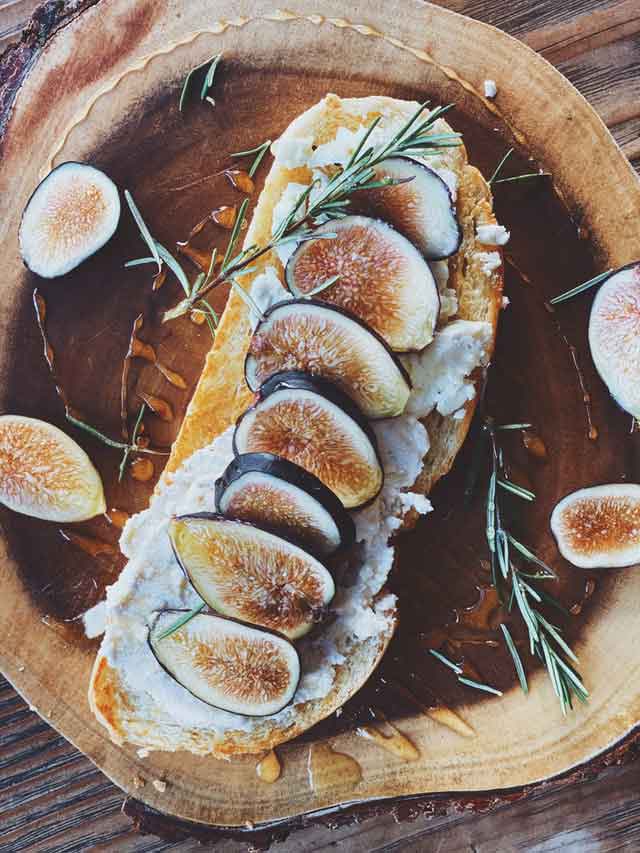 Sourdough bread, ricotta cheese, figs, honey, and a touch of salt make up this fig and honey toast recipe. 
It's perfect for pairing with
Vegan Picnic Brunch Ideas
For those with vegan diets, this section is for you. We'll go over a few good vegan picnic brunch recipes that you can enjoy without animal products.
Vegan Baked Donuts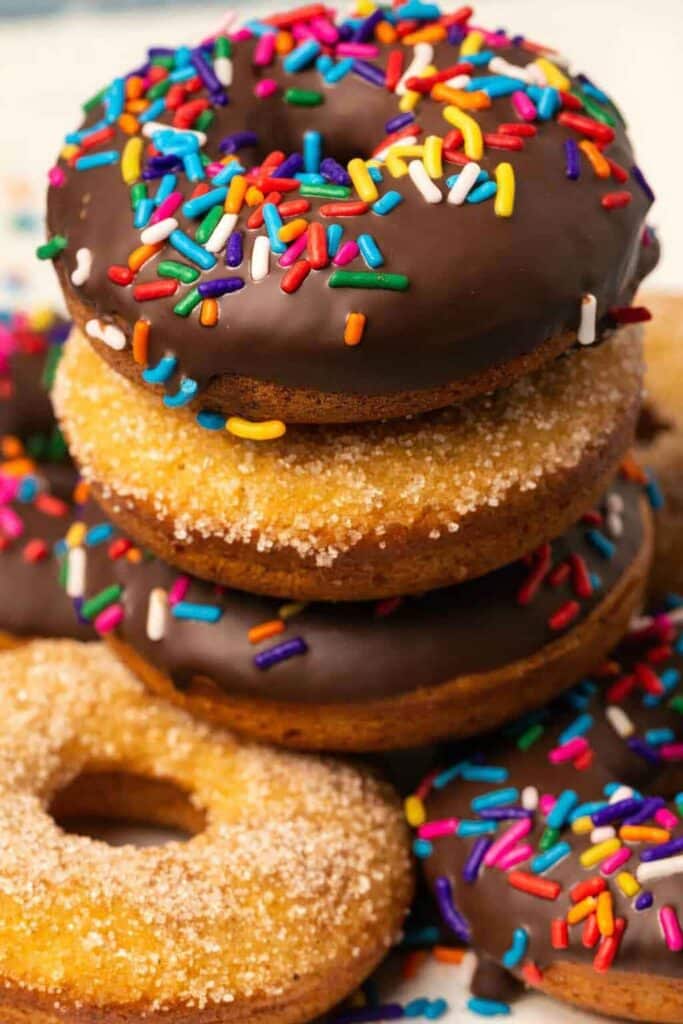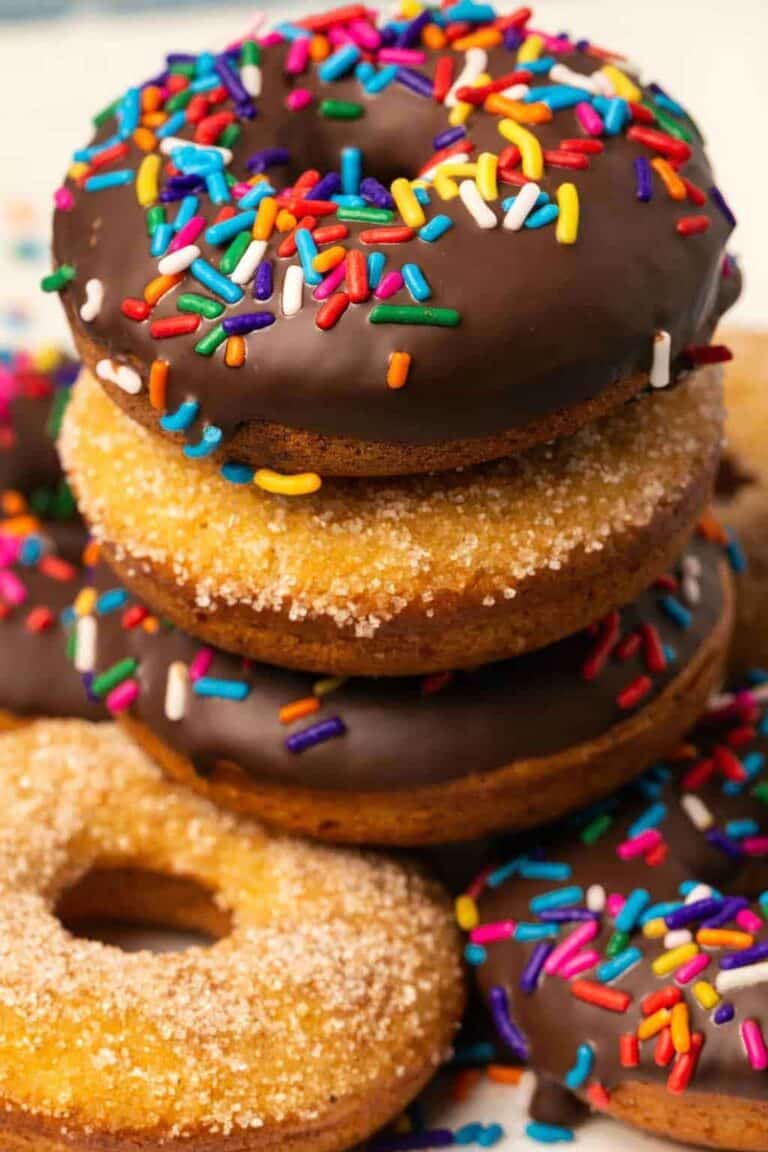 Vegan donuts are light, fluffy, and easy to make. You can serve them coated in vegan chocolate, covered in sprinkles, or dusted with cinnamon sugar. 
Flour, sugar, baking powder, salt, spices, soy milk, and vanilla combine with applesauce and vegan butter for a diet-safe donut.
Vegan Broccoli Quiche
This cheesy broccoli quiche is entirely vegan and easily gluten-free, depending on the crust you choose. The broccoli complements the onion and tofu, making it a great alternative to prepare for brunch. 
The other vegan ingredients combine for a savory pie that your guests can enjoy without worrying about checking ingredients labels.
Vegan Blueberry Lemon Muffins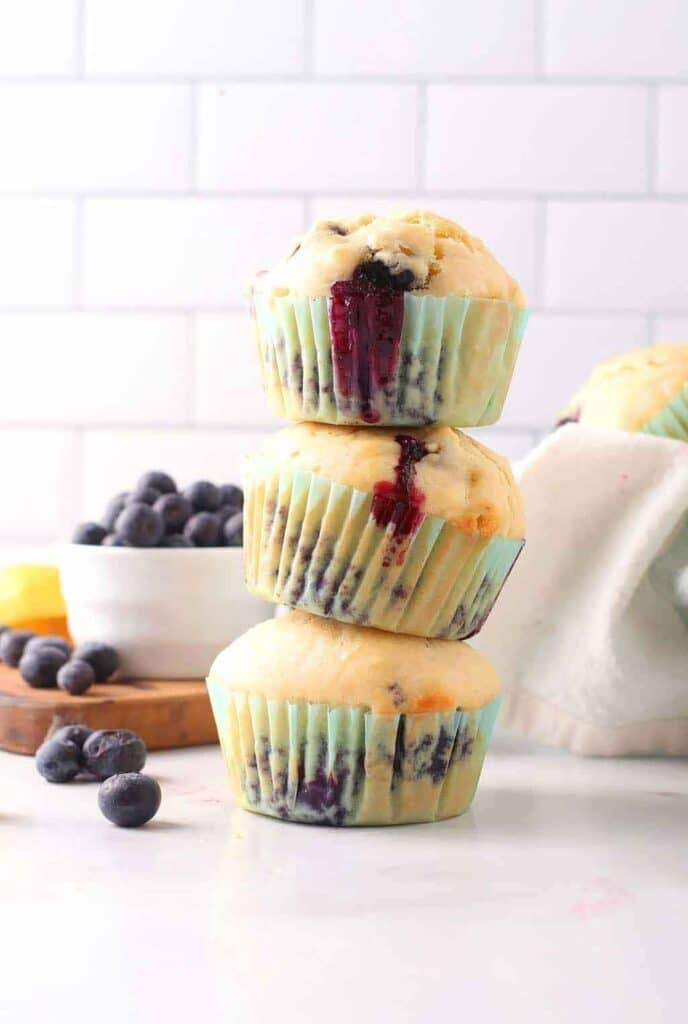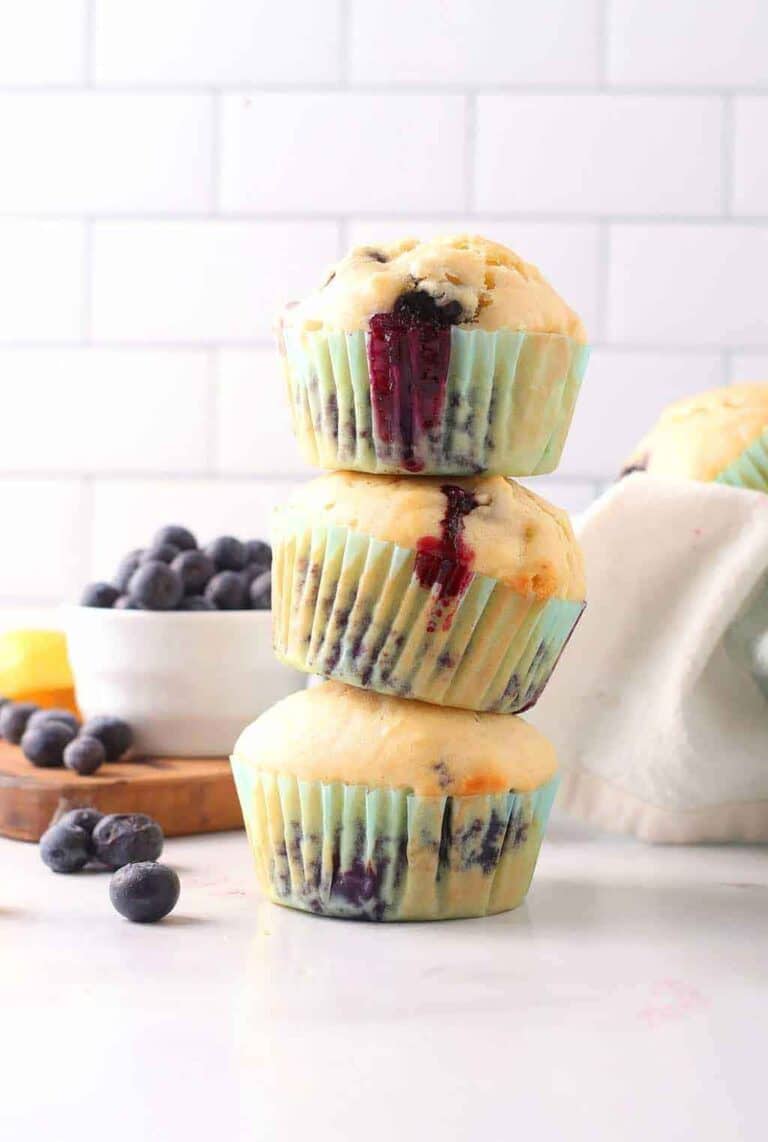 Even though these muffins are vegan, that doesn't take away from their texture. They're soft, sweet, moist, and stuffed with fresh blueberries. The lemon pairs well with the other fruit, contrasting with sweet and tart flavors.
There aren't any crazy alternative ingredients in these vegan blueberry lemon muffins apart from swapping out regular milk for soy milk. Be sure to let the muffins cool a bit before digging in!
Christmas Picnic Brunch Ideas
If you're going to a picnic brunch during the holidays, what better way to attend than bringing some seasonal dishes that highlight wintertime flavors?
Maple Bacon Scones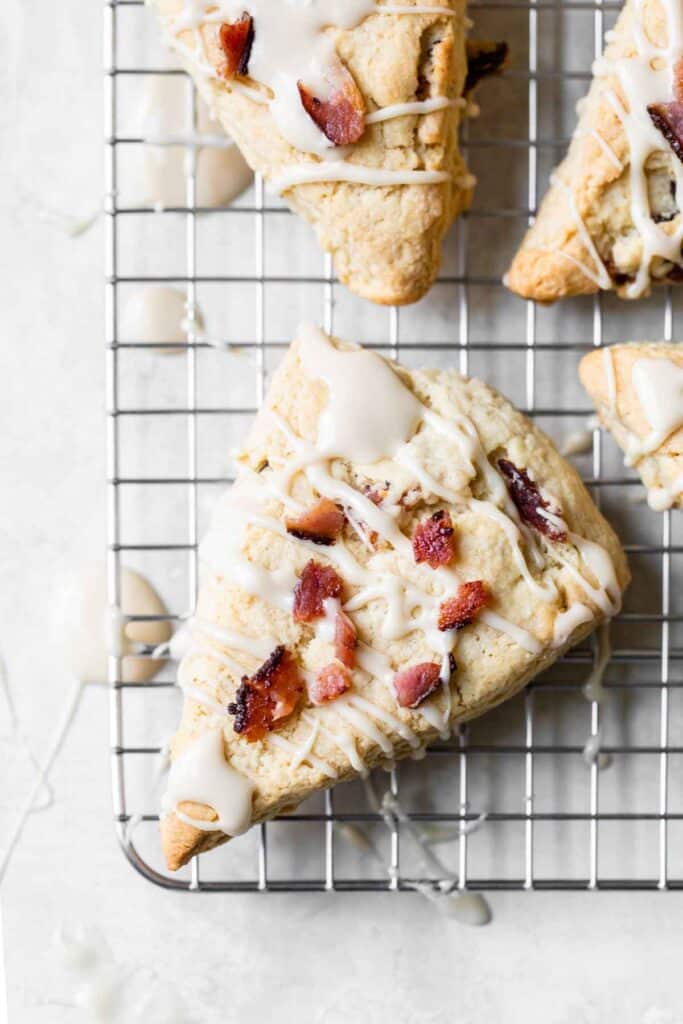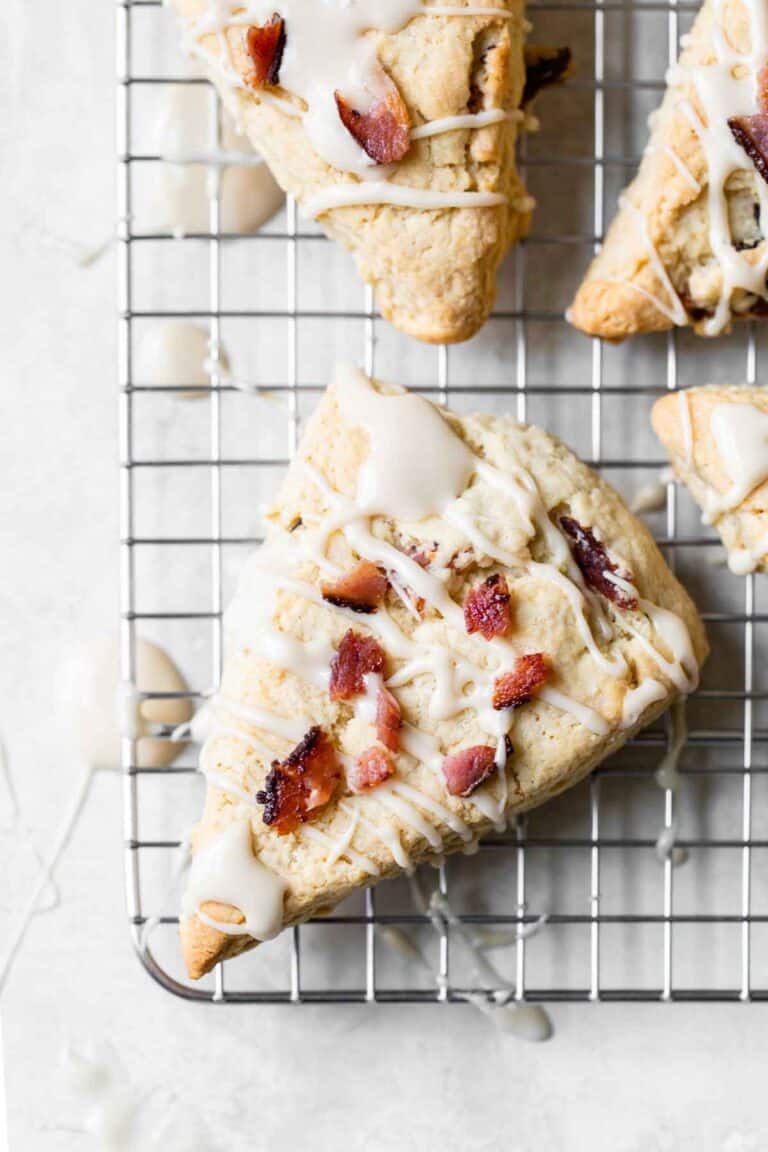 Fans of sweet and savory will love these maple bacon scones. 
Touched with a maple glaze, these pastries will become a favorite of all your guests. The crumbly scones can work for brunch or as a unique dessert.
Cinnamon Scones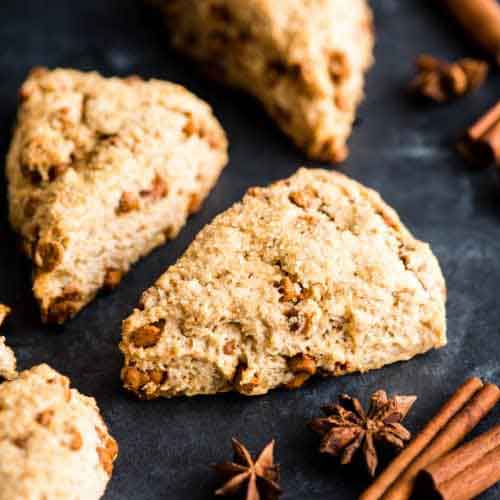 These homemade cinnamon scones have a rich buttery taste and moist texture, perfect for packing along for a sweet snack at your picnic brunch. 
They pair great with coffee and have plenty of cinnamon chips to bring out even more warm spiciness. You'll use almost the same technique as the maple bacon scones but achieve a more festive holiday flavor.
Gingerbread Cake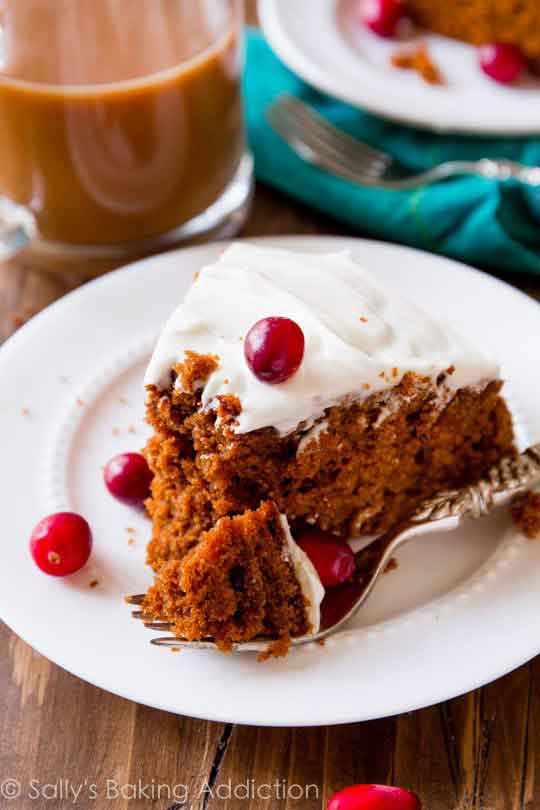 If you're a fan of gingerbread cookies, you'll love this rich, spicy, and moist cake. The cream cheese frosting brings a balanced sweetness to the overall texture and taste.
It's not a hassle to make, and any age will appreciate the flavor. Brown sugar and molasses bring out strong notes, while the icing makes this gingerbread cake tangy and memorable. 
Conclusion
Hopefully, you gained some inspiration from this article and have a better idea of what you want to bring to your next family picnic brunch. Feel free to experiment with multiple recipes that caught your eye or find your own because there is plenty to explore!