If you love picnics but you're feeling overwhelmed by what to bring, we made a picnic checklist to help you out.
Picnics are a wonderful way to enjoy the sunshine, eat delicious food and make beautiful memories with your loved ones.
Organizing a picnic doesn't have to be difficult and stressful.
Picnic planning can actually be very easy if you plan ahead and follow a checklist with all the picnic essentials you need to bring with you.
When you're out in nature you can't go back to bring the bottle opener you left home. When your kitchen is miles away, you need to make sure you packed all the essential items.
We cover everything you need for planning a perfect picnic adventure. This picnic item list can help you organize small outings for two, picnics for small families, for larger crowds and corporate picnic events.
From essentials like picnic baskets and blankets to optional items like seating pillows and portable pizza ovens.
At the end of the list, we help you choose what food to bring on a picnic, we give you ideas for finger foods, main dishes, desserts, and drinks.
Download the PDF Picnic Checklist Essentials
version for easy use at home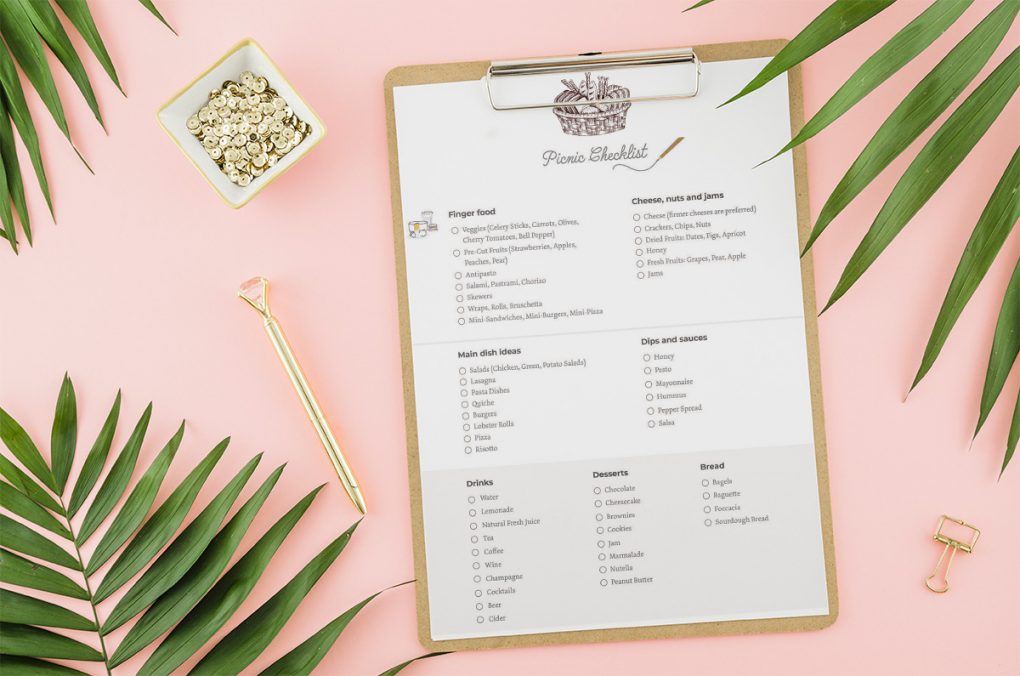 No spam, ever. Your email address will only ever be used for the PicnicTale weekly newsletter.
Picnic Checklist: +47 Essentials
1. Food and drinks
Finger food is a favorite when it comes to eating outdoors. It's easy to grab, easy to eat and delicious.
Prepare the food ahead, cut the veggies, the fruits and make sure you don't leave anything behind. If you take cheese, choose a firm one that cuts easily.
If you take cheese, choose a firm one that cuts easily. Although delicious, stay away from soft cheeses – they are hard to eat and can go gooey in the heat.
FINGER FOODS
Veggies (Celery Sticks, Carrots, Olives, Cherry Tomatoes, Bell Pepper)
Pre-Cut Fruits (Strawberries, Apples, Peaches, Pear)
Antipasto
Salami, Pastrami, Chorizo
Skewers
Wraps, Rolls, Bruschetta
Mini-Sandwiches, Mini-Burgers, Mini-Pizza
CHEESE, NUTS AND JAMS
Cheese (firmer cheeses are preferred)
Crackers, Chips, Nuts
Dried Fruits: Dates, Figs, Apricot
Honey
Fresh Fruits: Grapes, Pear, Apple
Jams
MAIN DISH IDEAS
Salads (Chicken, Green, Potato Salads)
Lasagna
Quiche
Burgers
Lobster Rolls
Pizza
Risotto
Pasta Dishes
Dips and sauces
BREAD
DESSERTS
Chocolate
Cheesecake
Brownies
Cookies
Jam
Marmalade
Nutella
Peanut Butter
DRINKS
Water
Lemonade
Natural Fresh Juice
Tea
Coffee
Wine
Champagne
Cocktails
Beer
Cider
2. Main Picnic Equipment
The equipment you need to take with you depends on the size and the theme of the picnic. For larger crowds or events, you'll probably want to add extra gear like: grills, coolers, camping chairs, picnic tables, portable pizza ovens. For couples or small families, a picnic blanket and a basket is enough to have a wonderful outdoor adventure.
Picnic Blanket with Waterproof Backing
Picnic Basket / Picnic Backpack (insulated preferred)
Grill
Charcoal (if you take the grill)
Folding Chairs
Pillows
Picnic Table
Outdoor Wine Table
Hammock
Picnic Stove
One Option is Enough
3. Coolers and Ice to keep everything cold
Do you like your wine warm and your food spoiled? We didn't think so.
In a super hot day, food can go bad in a matter of hours, especially perishable items like mayonnaise, eggs, meat, yogurt, avocados.
To keep the drinks chilled and the food fresh and safe, you'll want to hold everything in an well-insulated basket or a cooler.
Don't have access to an insulated option? Add refreezable ice packs next to your food and beverages to keep it cold.
It also helps freezing the drinks and the food a day before, so you could serve them chilled once you arrive to your picnic destination.
Insulated Basket / Tote / Backpack / Bag
Cooler
Ice or Reusable Ice Packs
4. Safety Items
It is always smart to take with you a small first aid kit that has all the safety essentials you would need in case of an emergency: band-aids, bandages, pain relief medications, antiseptic wipes etc.
Mini-First Aid Kit
Lantern (with fuel batteries)
5. Cleaning Up & Hygiene Products
There will be trash, dirty dishes, and dirty hands. Assuming you won't have access to running water, take plenty of napkins, wet wipes, and hand sanitizers. It's important to protect the environment and clean up the picnic area before you leave.
Trash & Recycling Bags
Zip-Lock Bags to Put Dirty Dishes
Hand Sanitizer
Paper Towels
Wet Wipes
6. Sun & Bug Protection
Protect yourself from the sun's dangerous effects: sunburns, chapped lips, premature aging, and skin cancer. Bring with you high SPF sunscreen, 100% UV protection sunglasses, and sun hats. To keep the insects away from your picnic, use bug sprays or natural repellent solutions: essential oil homemade spray or essential oil candles.
Sunscreen with high SPF
Sunglasses with UV Protection
Sun Hat
Lip Balm
Bug Spray
Insect Repellent
Essential Oils that Repel Insects
7. Kitchen Items
To properly serve and prep the food, take enough flatware and cutlery for all the attendees.
For a luxurious picnic, use porcelain plates, stainless steel cutlery and real wine glasses.
But if you're like me and don't want to worry about breaking fine china, you'll go with durable hard plastic items: melamine plates, shatterproof glasses.
To avoid disappointments don't forget the corkscrew, even if you don't drink, someone else will.
Cutting with a plastic knife is always a frustrating experience, so for your peace of mind make sure you bring a good knife with a sharp blade, that can easily cut through fruits, veggies, cheese, meat.
Plates
Cups / Mugs / Glasses
Forks, Knives, Spoons
Salt & Pepper Shakers
A Sharp Knife (that can actually cut)
Corkscrew or Bottle Opener (Important!)
Thermos
Food Containers
Cutting Board
Corkscrew
Bottle Stopper
Napkins
Tablecloth
---
OPTIONAL
Portable Coffee / Tea Maker
Vacuum Flask
8. Entertainment
For extra fun, plan ahead some activities with the participants. If you're on a romantic date, bring couple games, books, music.
If you're with friends, family, and kids, don't forget the classic picnic games: frisbee, ball, badminton.
Card Games
Frisbee, Badminton, Kite, Ball
Books
Music (Bluetooth Speaker, Headphones)
Ukulele