If you're looking for ways to make your date memorable, fun, and romantic, here are a few ideas for picnic date games and activities. Escape from monotony and surprise your loved one with an unforgettable romantic picnic.
Whether it's your first date or your wedding anniversary, it's always a good time to spice things up and bring up some romance.
While we've written about dozens of activities and games you can play outdoors – from best picnic games for everyone, in general, to the best picnic games for seniors – in this article, we focus on games to play to picnic dates with your loved ones.
Best Picnic Date Games
Conversation Starters
Perfect for picnics in two, these card games will help you get to know each other better. A wonderful way to spend quality time with your partner, flirt, laugh, and focus on each other.
These types of games come in the form of cards with written provoking questions.
1. Talk, Flirt or Dare: Card Game
If you're looking for a fun way to heat things up, this card game is an exceptional choice ideal for couples.
With a 3-in-1 format, you can choose from three levels of closeness from talking, flirting to daring.
2. Our Moments Couples
Another fantastic card game is this "Our Moments" for Couples.
This conversation starter card game is designed especially for couples and comes with 100 well-thought questions.
Perfect for getting to know your partner and yourself. It's fun, relaxing, and ideal for dates – you'll definitely want to use it again and again. Ideal for an anniversary picnic.
3. Intimacy Deck Card
This game is full of brilliant, fun, and engaging topics aimed to sparkle interesting conversations with your partner.
Classic Games
1. RING TOSS
A traditional choice is the "Ring Toss" game, which is super fun to play with your partner. You will need to outscore your competition by tossing the rope rings into the pegs.
2. CORNHOLE
Whether you're planning a picnic at the beach, in the park or in your own backyard, Cornhole is a fantastic game to play in two.
Entertaining and competitive, this GoSports cornhole set is easy to carry to your destination.
Board and card games
1. Pick Your Poison: What Would You Rather Do?
A good and classic game to laugh and know each other better. We recommend the "Pick Your Poison" board game. It comes with 300 cards and millions of possible combinations.
2. HIVE
An award-winning game with simple rules and that's super fun to play. In order to win, you basically need to surround your opponents' Queen Bee with creatures.
It's perfect to play in two and we like that you don't need a board to play it. You can use a flat surface (like the picnic cheese board) as a game board.
3. What do you meme?
Romantic Activities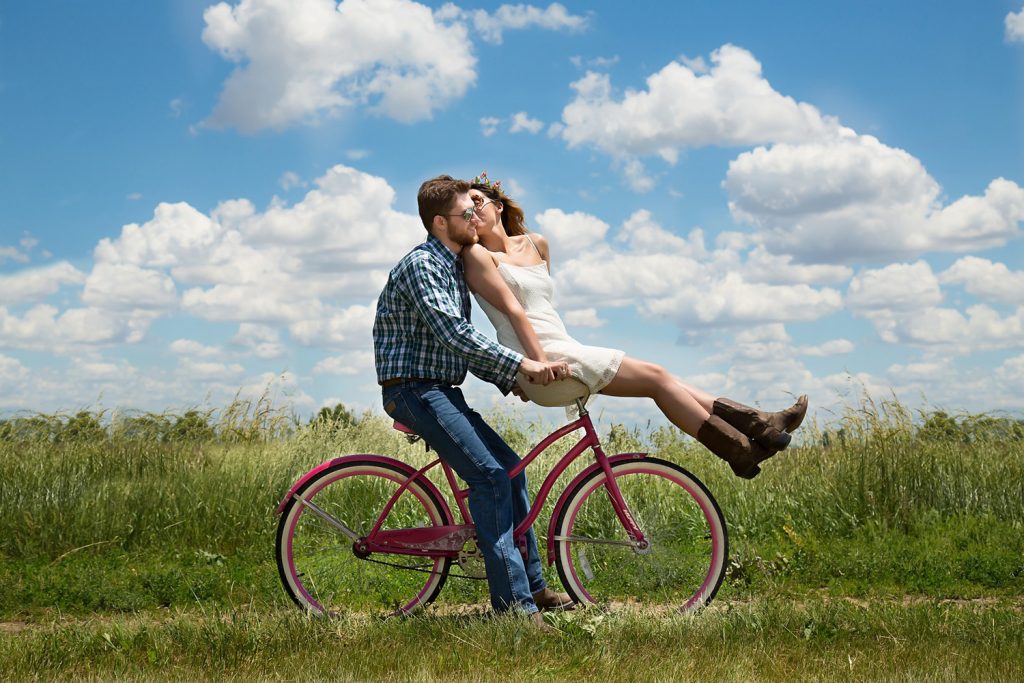 Besides playing games, you can also do together some romantic activities that will impress your date.
Bring a romantic picnic basket
A picnic basket should not miss from any romantic picnic date. Whether you're going to the beach, to a picnic in the park, or in your own backyard – you need a basket (preferably insulated) to pack all your delicious food and keep it cold. The most romantic picnic basket is this heart-shaped one from Picnic Time.
Related: Best Picnic Baskets for Two (Ideal for Romantic Dates)
Boating
Escape the noise and surprise your loved one with a relaxing boating adventure. What could be more romantic than enjoying a boat ride around the lake – with just the two of you?
You can also plan a unique boat picnic that will surely impress your dear one.
Biking
Take a picnic backpack, a blanket and ride your bikes to your picnic spot. Make sure the road isn't too bumpy.
Reading Together
Bring literature with you and read to each other.
Playing Guitar
If you know how to play guitar or ukulele, sing to your partner a special song.
Playing Her / His Favorite Music
Plan ahead and make a custom mix with your date's favorite songs
Bringing a photo album
Photos that mark your childhood memories is a romantic way to get to know each other better, especially if it's your first date.
Making a scrapbook
Make a scrapbook with photos, mementos, and old movie tickets, travel receipts from your lives together.
Whipped Cream, Strawberries, and Chocolate
These three love foods shouldn't miss from a romantic picnic. What's a date without a delicious dessert?
Watching the sunset
Pick a good spot to see the sunset, bring along some candles or outdoor lanterns to make the atmosphere more romantic.
Roasting S'mores
Staying by the fire-pit and roasting s'mores is a terrific way to connect with your partner, while enjoying delicious treats.
Choose a romantic location
The location itself can spark up the romance. Go wine-tasting and have a picnic afterward in a vineyard. Also, picnic spots by the water are super romantic.
Find a secluded location without distractions
If you want to enjoy the sounds of nature and spend private time with your date, make sure to choose a more secluded location.
Drinking Champagne
Don't forget to add a champagne bottle in the insulated basket/backpack. Drinking Champagne is a must if you want to celebrate your love and time together.
Give a Gift
Surprise your date with a well-thought gift you bought ahead, can be anything that he/she likes. It shows that you care and is incredibly romantic.
Watch a Romantic Movie
This is the only time you can take advantage of the technology without ruining the romance. Bring a tablet or a laptop and watch a romantic film together: "The Notebook" is a great choice.
Fly a Kite
Flying a kite together is a fun activity that will bring you closer together.