Summer days are perfect for getting out to explore nature.
Whether your favorite spot is a mountaintop or a sunny beach, a picnic is always a welcome break.
We love a picnic basket for its classic charm but while we are on the go, comfort is top on our list.
This is where the picnic backpack comes in to lend a helping hand.
This hybrid picnic basket/backpack gives us the charm of our grandma's wicker picnic set, while still freeing us up to go unencumbered into the wild!
We reviewed over 100 products, searched for the best picnic backpacks currently on the market, and came up with our 7 favorites.
Our Favorite Splurge-Worthy Backpack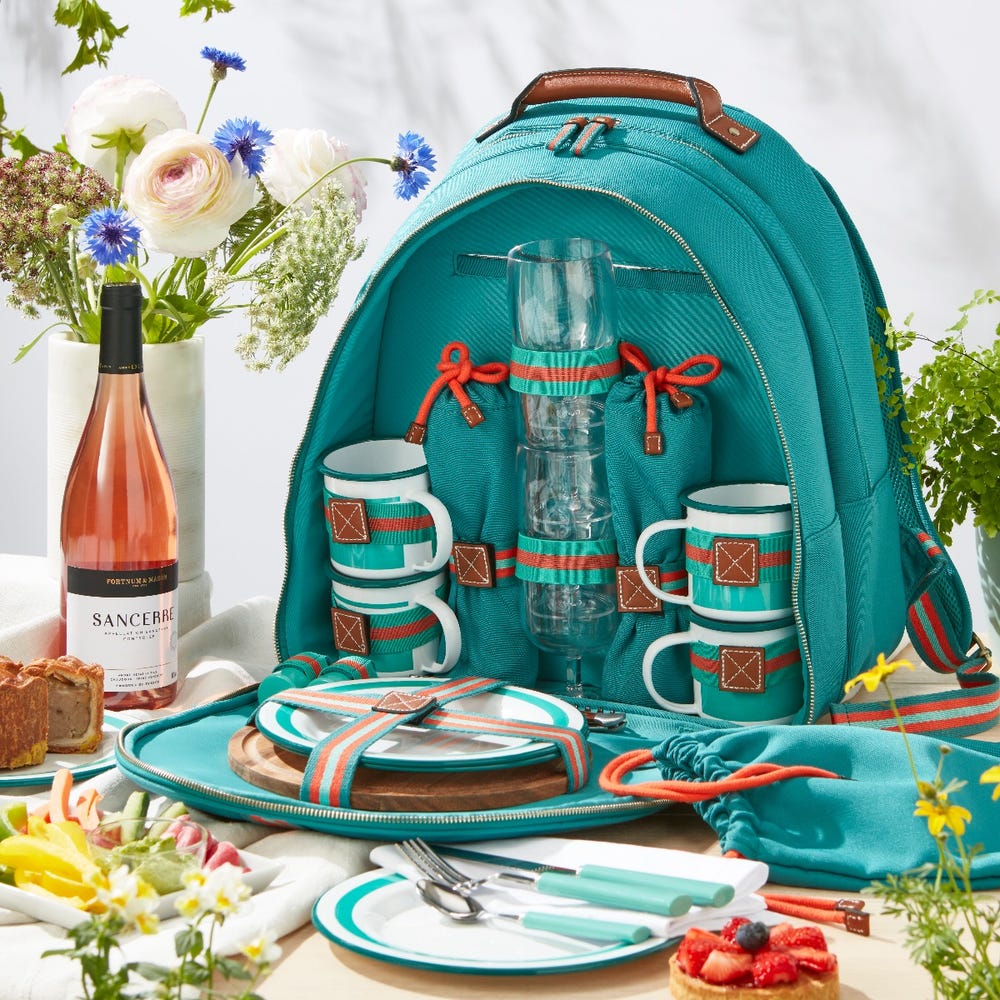 With premium-quality picnicware essentials, the Fortnum and Masons' 4 Person backpack is our favorite choice if you want to have the ultimate picnic experience.
Best Picnic Backpacks
1. Best Overall: Sunflora Picnic Backpack for 4 Person
Weight: 6.4 lbs
Capacity: 4 Person
What we like: Waterproof blanket, dishwasher safe dishes and utensils
What we don't like: Weight of backpack
Sunflora has thought of just about everything you'd want to see in a picnic backpack.
This backpack includes salt and pepper shakers, stainless steel flatware, melamine dishes, a corkscrew, a bamboo cutting board, and a fleece blanket with a waterproof lining.
This is a great set-up with quality items.
The fact that the dishes and silverware are dishwasher safe is an added bonus.
This backpack is well organized with all dishes and utensils in the front of the bag, and a large insulated compartment to keep your food cool. It also contains a waterproof, removable pack for you to add ice or drinks.
This pouch protects you and your backpack from unexpected spills while on the road.
You can picnic with 4 with this well-designed backpack! The only drawback could be the weight, which is heavier than others in this field.
Still, we feel that this bag includes a lot of plates and utensils for that weight. This backpack is our overall favorite for quality items at a mid-range price.
2. Best Luxury Picnic Backpack for 2: Fortnum's Canvas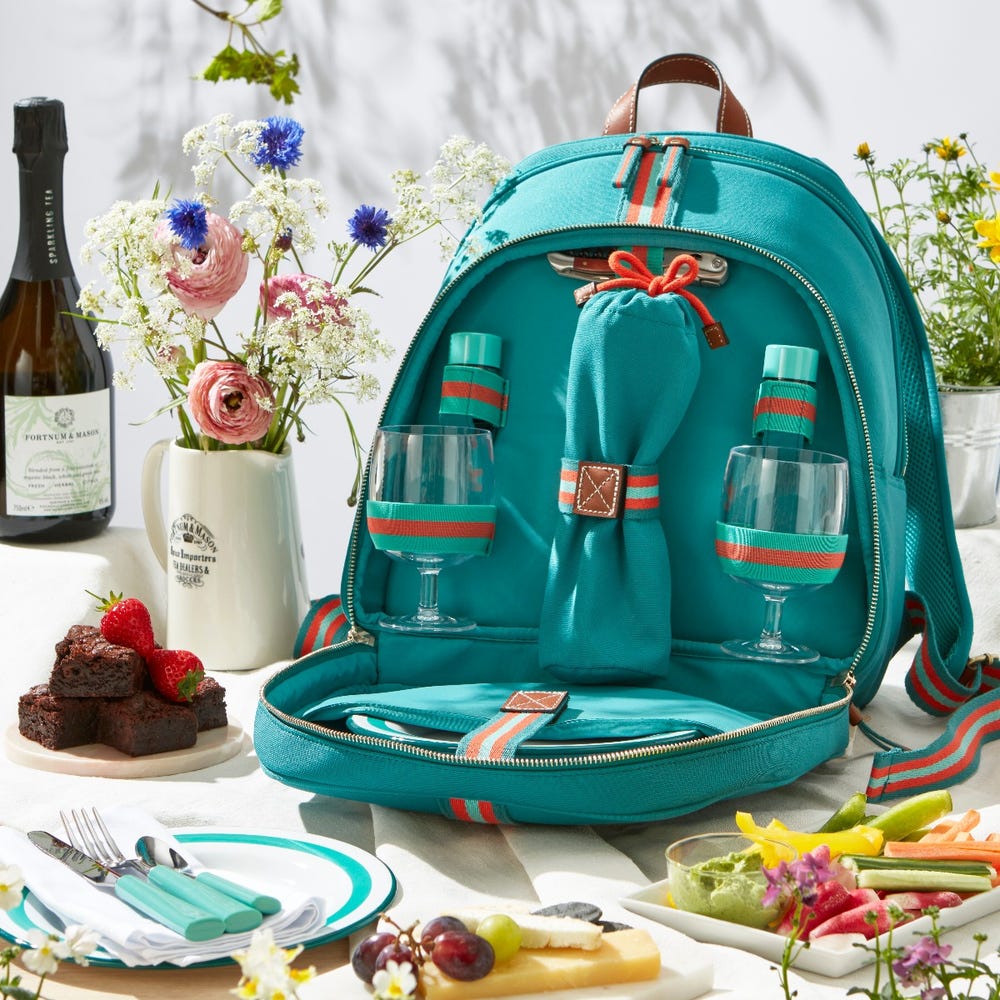 Dimensions: 38cm(H) x 30cm(W) x 16cm(D)
Capacity: 2 Person
What we like: No plastic tableware, fully insulated
What we don't like: The price tag
The Fortnum bag is compact and stylish. You can enjoy a fine-dining experience in nature with these enamel plates and glasses. This set also includes a cutlery set, cotton napkins, a salt and pepper grinder, and a corkscrew for adding wine to the party.
This backpack is also environmentally friendly and is made from recycled materials.
It is fully insulated to keep your food fresh and the straps are adjustable for comfortable carrying. The Fortnum canvas picnic backpack gets points for elegance, design, and comfort. Although this backpack is a more expensive model, we love that they splurge for quality.
3. Best Lightweight: Women's Picnic Lunch Backpack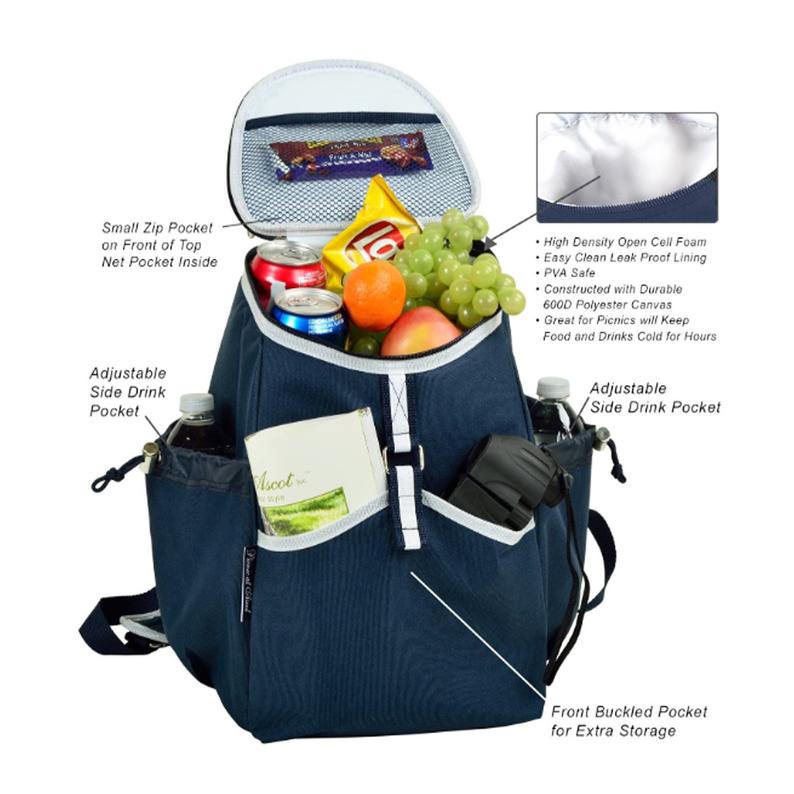 Weight: 1 lb
Capacity: Variable
What we like: Easy access pouches
What we don't like: No tableware is included
This lightweight women's picnic lunch backpack weighs only 1 lb… but the drawback is that no place settings are included.
What we do like about this tote is that it is insulated to keep your food cold (or hot!) and its design allows for easy access.
It has pockets on the sides for drinks, a front pocket that closes with a simple strap, and a large compartment with a zipper for food items.
Moms with kids should love the storage space and all the pockets this tote provides. Drinks, snacks, and wipes are easily are readily available for small ones with this picnic backpack.
4. Best Budget: Imperial Home Picnic Lunch Tote
Weight: 2.44 lbs
Capacity: 2 Person
What we like: Compact tote, good value
What we don't like: Plastic handles on utensils
This tote is both easy on the budget and compact. It has serving sets for 2 people and provides a separate area for food and utensils.
Some customers said that this bag had enough room to pack snacks for four in the insulated area.
Not only does this tote include plates, flatware, and drinkware but also a cheese knife and corkscrew.
Instead of backpack straps, this pack is a crossbody tote and it is very lightweight. For the price, we believe this picnic bag is an excellent value.
5. Best Leakproof: TOURIT Soft Sided Cooler Backpack
Weight: 4.6 lbs
Capacity: 4.2 gallons
What we like: Fully leakproof, insulated
What we don't like: No tableware included
This backpack is completely leakproof, allowing you to put ice directly into it. It can hold up to 36 beverage cans, or enough food for 1 full day which makes it a perfect choice for grilling outdoors or a hiking adventure.
The densely constructed insulation material and its leak-proof liner can keep food hot or cold for up to 3 days! You can pack food in the large insulated area and then tuck napkins or a picnic blanket into the adjustable webbed straps in the front.
On the sides of the backpack are 2 pockets for snacks that you want to keep dry. This backpack even includes a bottle opener. We are impressed by this backpack's capacity and insulation capabilities.
6. Best Wine and Cheese: Insulated Wine And Cheese Cooler Bag For Two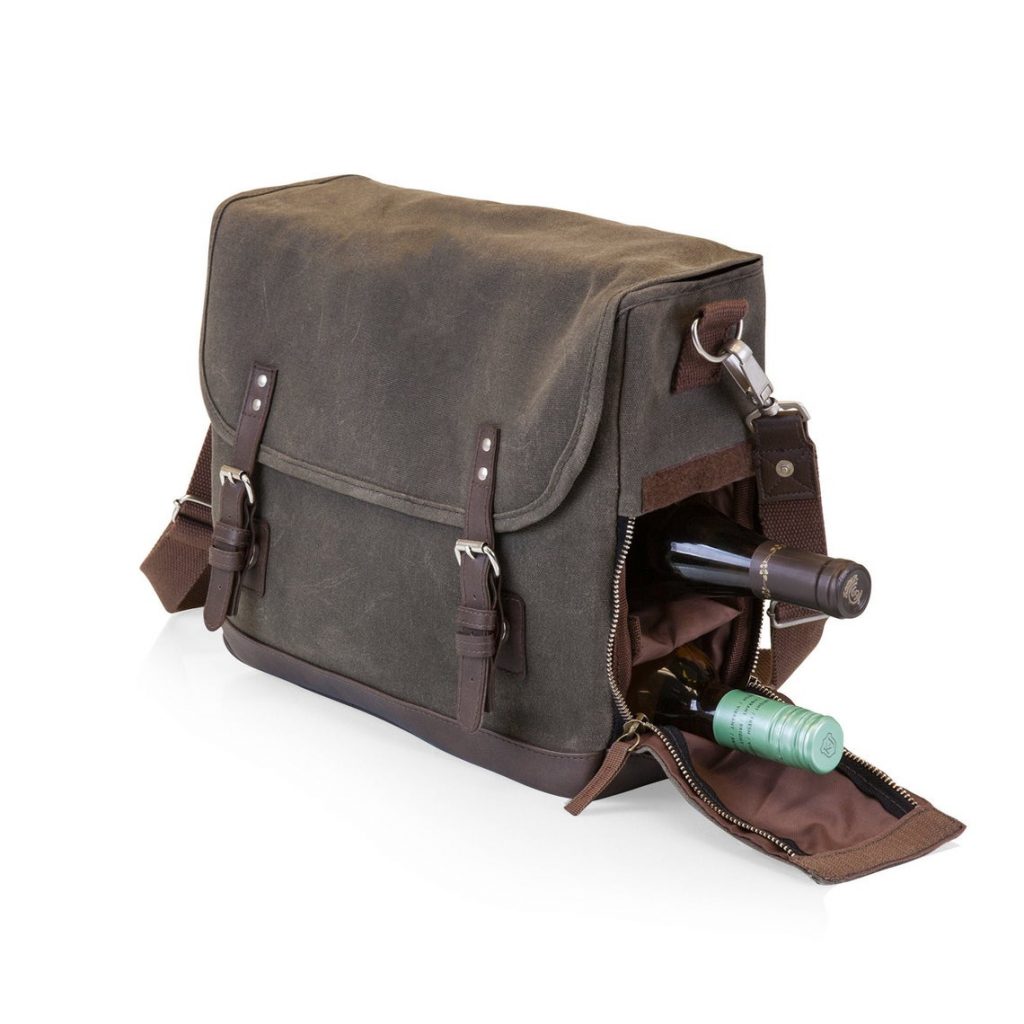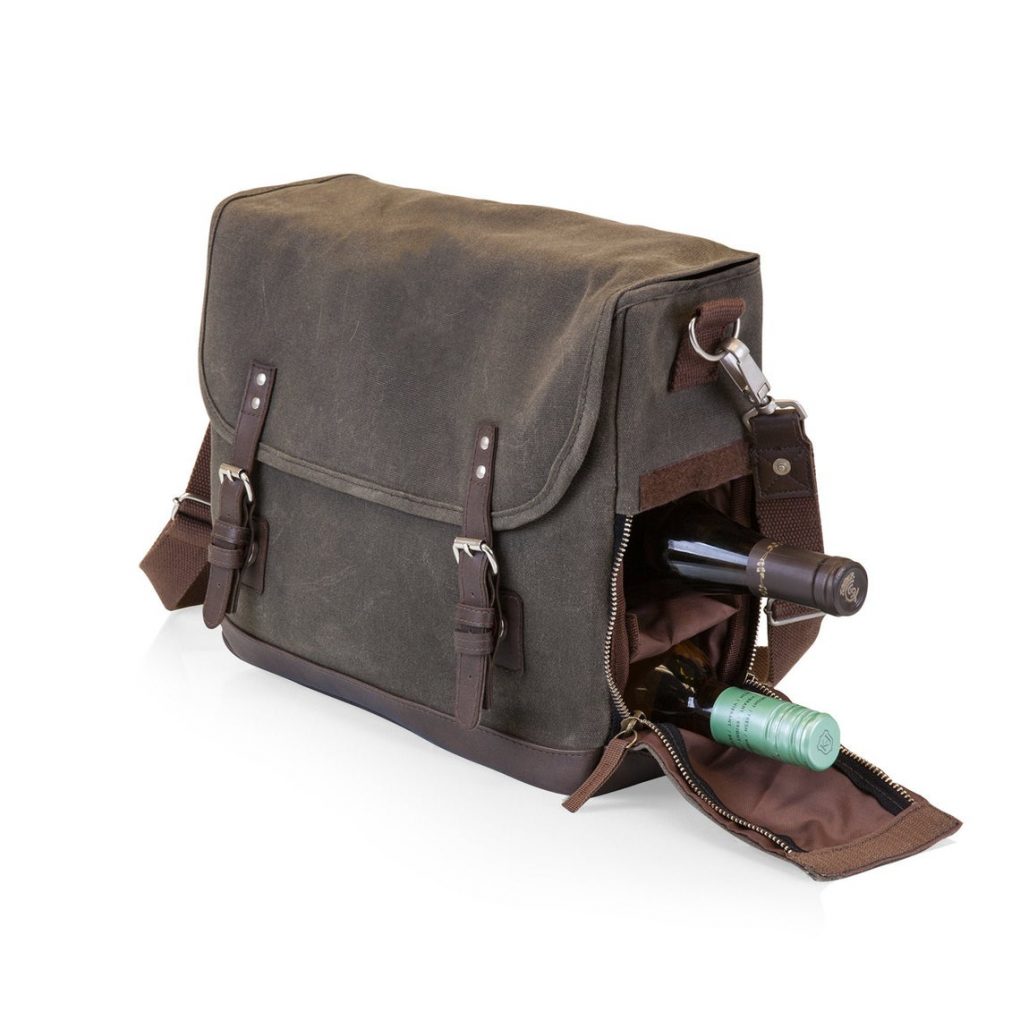 Weight: 4,1 lbs
Capacity: 2 Person
What we like: Cheese tray and wine storage, handmade
What we don't like: No individual plates
For those who love to feast on wine and cheese, this crossbody cooler gives you a great setup! This bag contains a zipped side entry for 2 wine bottles with a removable divider to prevent breakage.
It has a large separate, insulated area with pockets and straps to hold a dual leverage corkscrew, a bottle stopper, and 2 pet stemless wine tumblers.
We love that this set comes with its own acacia folding table to make a romantic set up for two! This table is perfect for setting-up your own small charcuterie board on the go.
7. Best Compact Picnic Plate Set: Argentina Handmade Picnic Set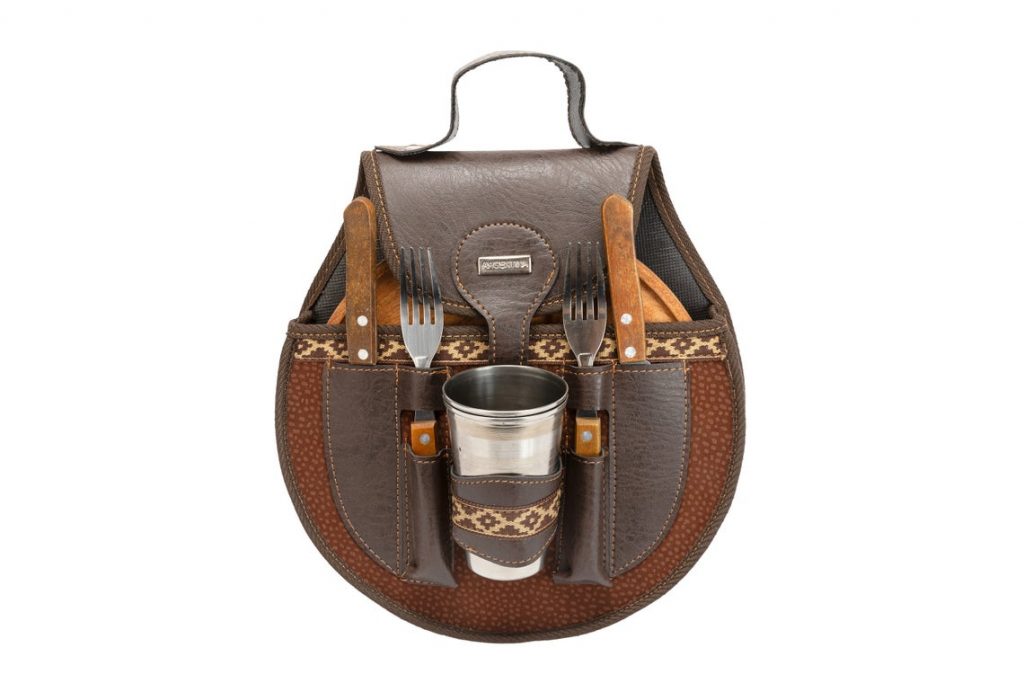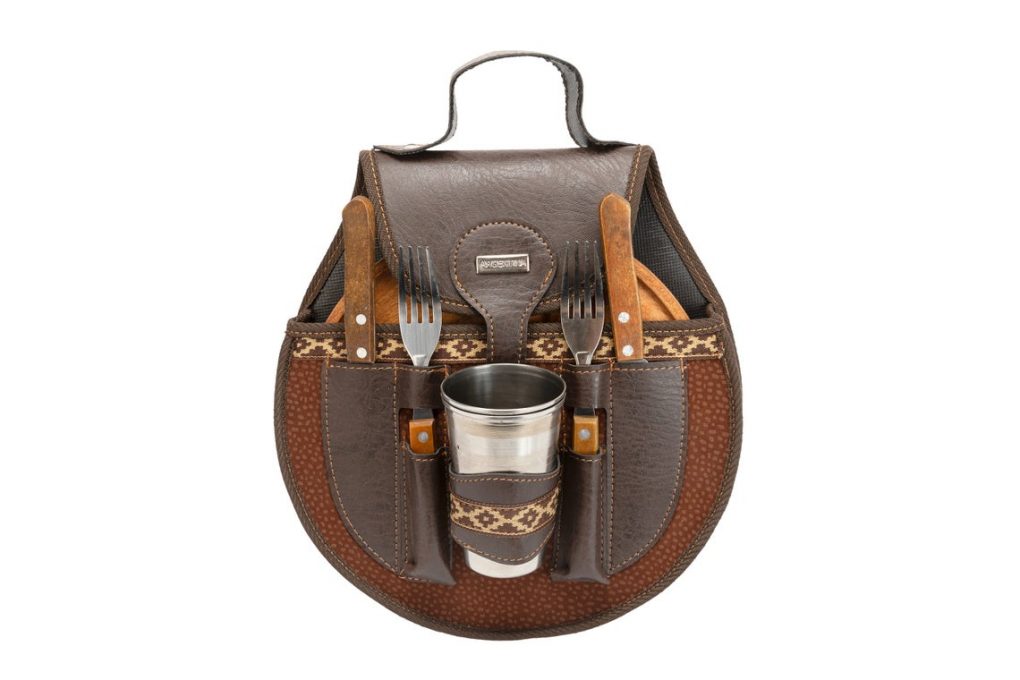 Materials: Wood, Metal, Leather
Capacity: 2 Person
What we like: Quality pieces, compact, travel-friendly pieces
What we don't like: No food storage
This adorable handmade picnic set adds a bit of old-world charm to a picnic for two.
We love that this set avoids plastic by including stainless steel cups and silverware. The plates are wooden and can double as cutting boards.
It also comes with knives that are carried in leather sheaths on the front of the bag.
If you already have a favorite insulated backpack like the Tourit soft-side, or Women's lunch backpack, this dish set could be a great compact tag-along for serving your food. For durability and compactness, this set gets five stars.
What to look for in a picnic backpack
When searching for the best picnic backpack, we tried to find a variety of styles that can suit different needs. Some focus on tableware, while others emphasize keeping picnic food cool.
We searched the picnic market to find backpacks that have some or all of the following qualities:
Portability
A good value
Insulated
Lightweight
Compact
Comfortable
Leak-proof
A picnic backpack can serve your needs and also be more comfortable to carry than the classic picnic basket.
When you are traveling on foot, practicality will win the day. You can still add in a bit of the romantic charm of the wicker basket sets with the more practical backpack design by choosing a picnic backpack.
Final thoughts
Summer days should be spent with those we love most exploring the beauty of nature. We love the efficient design of a picnic backpack, which allows us to set up a light meal wherever the road leads. We've listed some of our favorite designs that can add a spark to your favorite vacation location.
Go explore, have fun, and enjoy a travel-friendly picnic with a picnic backpack at your side!