Not sure what to bring on a picnic date? Whether it's your first date or your anniversary, going on a picnic date is a fabulous way to surprise your loved one. 
Nothing says fun, charm, relaxation, and a touch of old-world romance than taking out your date to a picnic!
Organizing a picnic can be difficult, but if you plan ahead and follow our picnic checklist, then you'll see it's actually pretty easy.
A picnic date is all about the romance and bonding time with your partner.
So you'll have to sprinkle the picnic with some romantic vibes and bring  strawberries, chocolate, champagne, flowers, heart-shaped cookies, and relaxing music. 
We've put together a quick list with all the items you need to pack for a romantic picnic in two.
In a Hurry? Here are our favorite picnic items.
Picnic Baskets or Backpacks
Quick Tips:
For your romantic date, choose an insulated romantic picnic basket for two (link to our review article) or backpack to keep the food/drinks cold.
Don't forget the corkscrew/bottle opener.
Choose a theme (eg. boho style, french picnic)
Make sure the blanket is large enough to fit two persons.
Bring napkins and hand sanitizer
Don't forget trash bags and zip lock bags to put the dirty dishes.
Bring some romantic picnic games (conversation starters, flirt games)
Choose a secluded location in the park, by the lake or on the beach.
The set-up is the "first impression" of how your date night will go! You can make it a laid-back event with a picnic blanket, a great view, and to-go orders, or you can go all out to make it a fairy-tale scene.
Some beautiful additions to any picnic are flowers and lights! You can string up battery operated lights or chinese lanterns and attach them to trees or the inside of a tent or canopy. Grouping flowers around the edge of your space can make your space beautiful and can also be a diversion tactic to keep bees and insects busy at the outskirts instead of your table.
For a relaxing date night, comfort is key! A waterproof picnic blanket for ground cover will keep dew from seeping in. You can use low-sling chairs that are portable and comfy or have floor pillows at a low table. Even summer nights can become chilly, so remembering to bring some throw blankets will be a great touch!
Sometimes the most practical things show how much you know and care about your date! Simple things like what scents he or she likes, their favorite colors, …even bug repellent, sunscreen, and hand wipes can show that you are thinking of the other's tastes and comfort!
Wear something that you will feel comfortable in while sitting on or near the ground. Usually looser clothing will allow you to feel cooler and more relaxed! Maxi-dresses, sun dresses or shorts with a peasant top can be a great choice; shorts and a comfortable top. A hat is always a fun statement and can also be useful in providing shade.
Fun Tip: Choose Your Partner's Dress
Before your picnic date, you can go shopping together at your favorite place to choose each other's perfect picnic outfits! You can base it on the criteria of:
Loose-fitting

Natural Fibers

A color scheme

A theme or style (Hippie, Boho, 1980's, French, Western etc.)

A monetary limit

Or any criteria you like!
Then each pick out the other's outfit and start your picnic off with a bit of shared fun! This can make a great photo op and memory to look back on.
You can bring out your gourmet skills and make a few handmade dishes that will  impress your date. You want to choose foods that are substantial enough to not leave hungry, but are also easy to pack and eat outdoors.
Knowing what foods your date enjoys can be a good starting place for what to bring.  Finger foods, sandwiches, fruits, quiches, or wine and charcuterie boards are some of our favorite picnic choices.  Or you can choose to make a meal together at your picnic site.
Serving a chilled beverage such as a sangria, lemonade, or iced coffee can be a refreshing choice to pair with your meal.
An  insulated picnic basket adds a bit of romance from the start and can help you keep foods fresh, chilled, and out of the temperature danger zone!
RELATED: 25 Delicious Picnic Food Recipes
What to Do At a Picnic Date
So now that you have your set-up, have chosen your outfit and food… What should you do on a picnic date? 
While you may find that you just want to spend time getting to know each other better, it is always a great idea to have something planned to fall back on! 
An activity can break the ice and start new conversations. You may learn something about your partner you didn't know before!
A wine-tasting station can be a unique activity for a romantic picnic for two. A local wine-shop can give you input on which wines would make the best "wine flight."
There are also wine-tasting placemats you can use to write down your thoughts about each wine and compare notes with your date. If you don't already know your date's preferences in wine, you may find out after this picnic!
For ways to start conversations and learn more about your partner you can choose a game such as:
Whether it's your first date or a wedding anniversary you can always learn something new about your partner by asking questions and listening to each other. 
Games can be a fun format to draw closer together and add some spice to your relationship.
RELATED: Best Picnic Date Games in 2021
You can make it a night of the arts by each choosing a favorite poem or short story to read out-loud together. This can be a nice way to unwind and spark natural conversations… and also see your date's taste in literature!
Set up an outdoor theater with a portable projector using a sheet or a tent wall for a relaxing finish to your picnic! You can choose a classic movie that has a picnic theme such as:
To Catch a Thief (1954)

The Sound of Music (1965)

Days and Nights in the Forest (1969)

Picnic at Hanging Rock (1975)

Emma (1996)

Call me by Your Name (LGBTQ+ friendly)
Or, you can choose a new movie or a mutual favorite.
What to Bring to a Picnic Date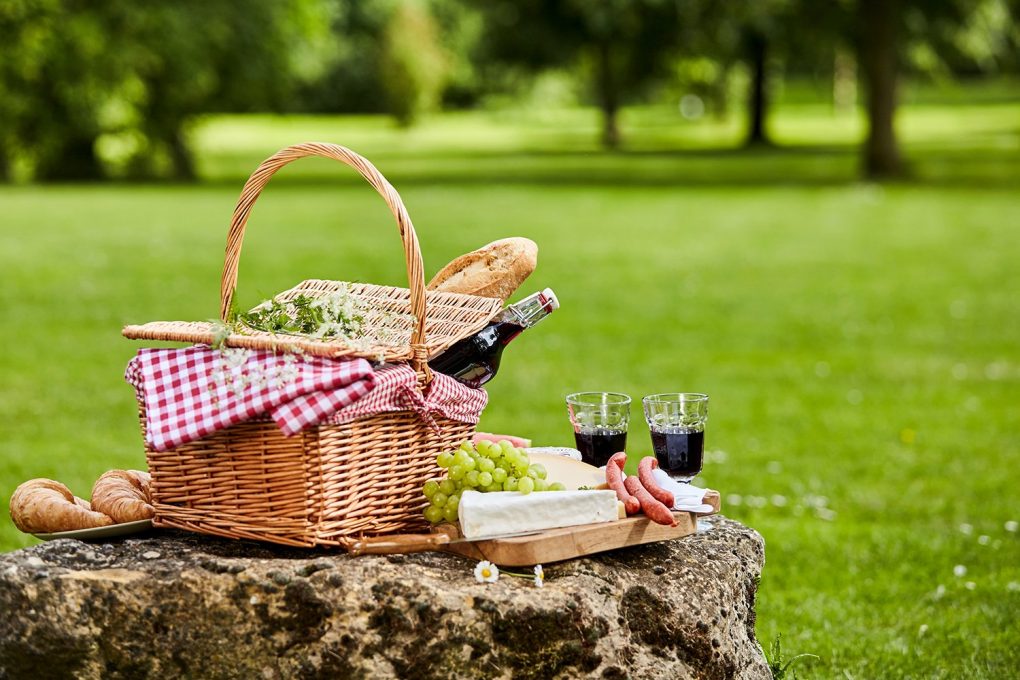 Picnic Basket or Backpack 
Choose an insulated option to keep the food/drinks fresh and chilled.
For easy planning choose one that already comes with service for two: plates, glasses, forks, knives, spoons, chopping boards, napkins.
Reusable Ice Packs
Perfect for keeping your food and beverages cold.
Great to use if you don't have a cooler or an insulated basket. 
Picnic Blanket
Choose one large enough to fit two persons.
Pick a blanket with waterproof backing, in case the ground is wet.
Food Storage Containers
They'll help you organize your food better, keeping it separated.
Choose leak-proof containers.
Tiny First Aid Kit
Always good to be prepared. 
Bug Spray
Ants, bugs and mosquitoes can ruin your romantic date, make sure to grab a bug repellent to keep them away.
Sunscreen
Protect your skin from the harsh sun.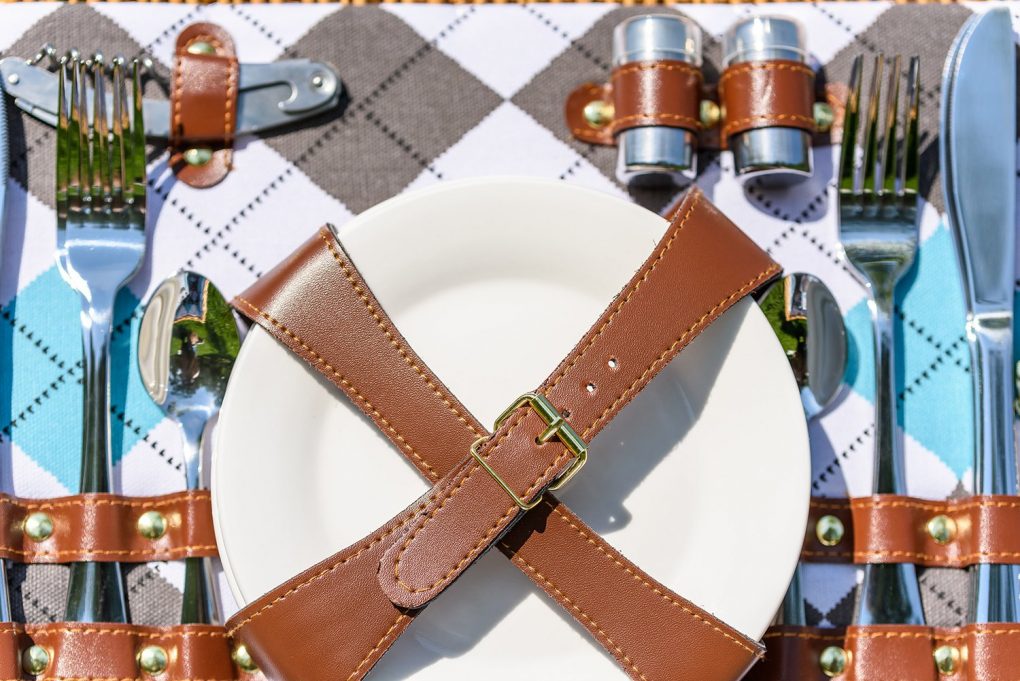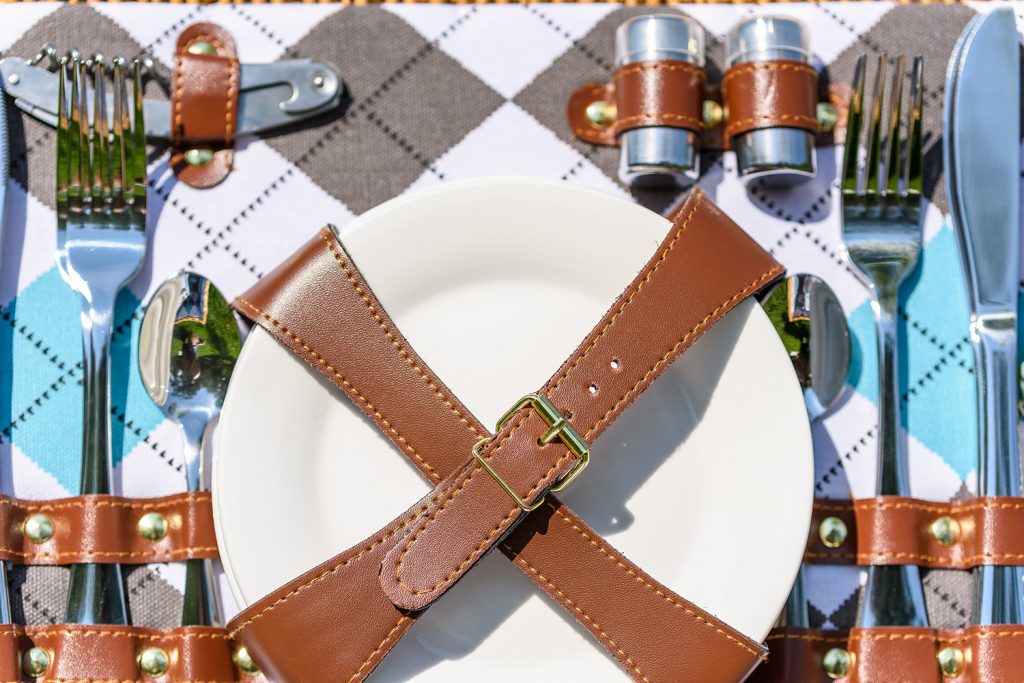 Plates
Bring sturdy plates, that won't break easily. Hard plastic plates are a great choice for a worry-free picnic.
Go fancy with ceramic plates, make sure to secure them well in a picnic basket or backpack.
Glasses
Shatterproof glasses are the greatest option, again, high-quality plastic are great for picnicking outdoors.
Napkins
Don't forget the napkins, you'll need them more than you expect.
Straws
If you want something extra for your cocktails, take some straws to sip your favorite drinks.
Cutlery
Knives, forks and spoons must not be forgotten
Grab a sharp knife to cut the cheese and fruits well.
Cutting Board
You need a flat sturdy surface where you can cut the food.
It also can be used as a fancy serving board.
Corkscrew | Bottle Opener
Avoid disasters by making sure you bring a corkscrew with you to open the wine, beer or champagne.
Salt and Pepper Shakers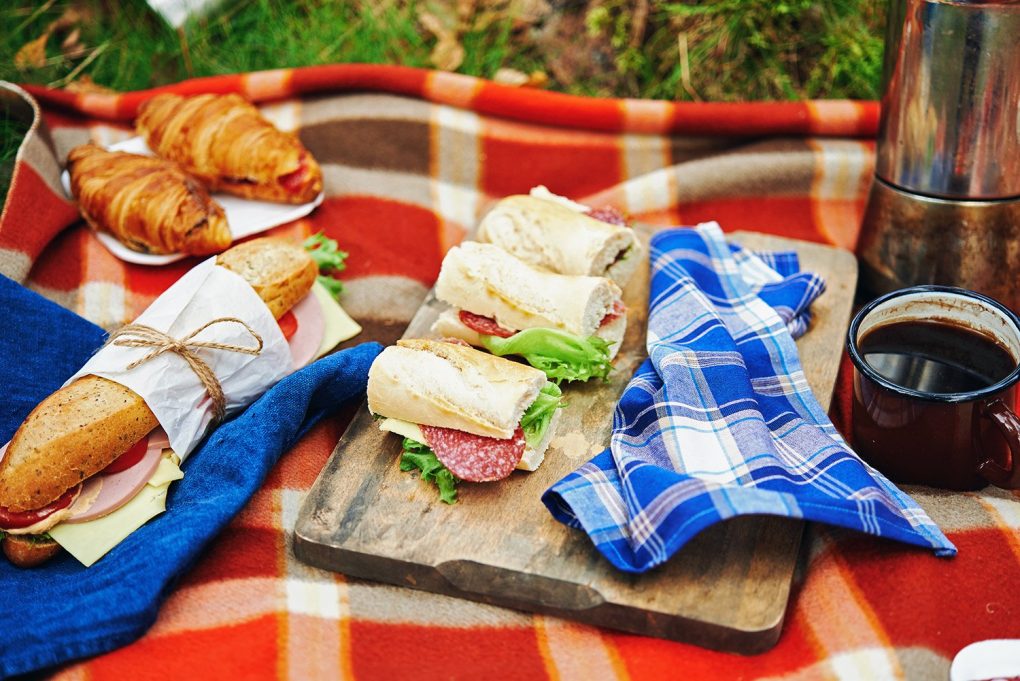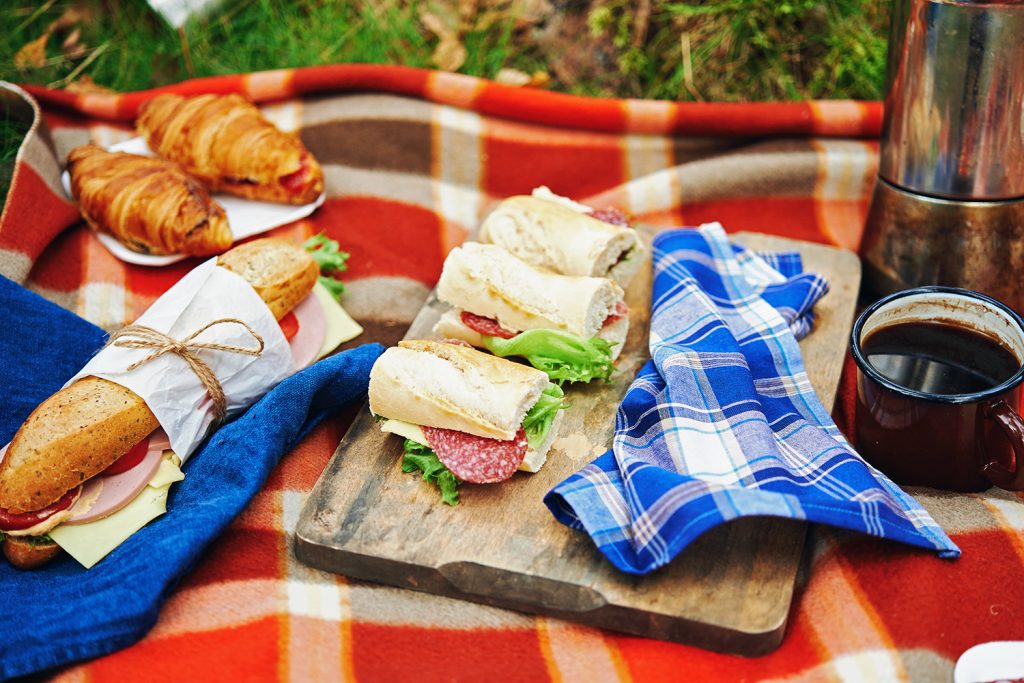 Go with Finger Foods
Finger foods are great for outings and parties.
They're easy to grab and eat.
Antipasto skewers, cherry tomatoes, crackers, olives, mini pizza squares, mini-sandwiches, pre-cut fruit, and veggies.
Veggies 
Mini Bell Pepper, Cucumber, Celery Sticks, Carrots, Olives, Corn
Fruits
Strawberries are a must for extra romance.
Grapes, Blueberries, Pears, Apples, Bananas
Crunchy Snacks
Chips, Crackers, Pretzels, Peanuts
Main Course
Potato, Pasta, Chicken Salads
Salami, Chorizo, Hot Dogs
Wraps, Sandwiches, Rolls
Quiche, Pizza, Burgers
Lasagna, Pies
Cheese
Make sure to choose a firm cheese: Cheddar, Aged Blue Cheese, Swiss Cheese, Feta
Don't go with soft cheeses. They become sticky in a hot day, and might be hard to eat.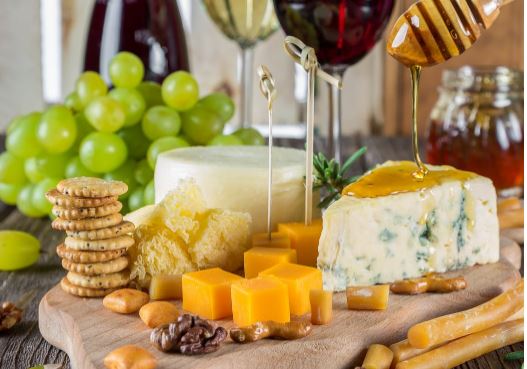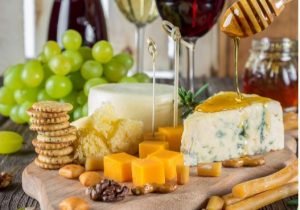 Goes well with cheese:
Nuts: Walnuts, Almonds, Cashew, Pecans, Pistachios
Dried Fruits: Apricots, Dates, Cherries
Seasonal Fruits: Figs, Grapes, Pear, Berries
Jam: Blueberry, Cranberry, Fig, Apples
Dips, Sauces, and Dressings
Mayo goes bad easily in a hot summer. Bring mayonnaise only if you can keep it cold, in an insulated compartment or near ice packs.
Pesto is a great substitute for
mayonnaise.
Honey: goes well with cheese, or just eaten simply on a piece of bread
Hummus
Roasted Pepper Spread
Bread
Baguette, Fresh Bagels, Wholegrain Bread, Buns, Sourdough, Buckwheat Gluten Free Bread
Bread Tip: don't keep it closed in a plastic bag, cause it will go soggy. Use parchment paper instead.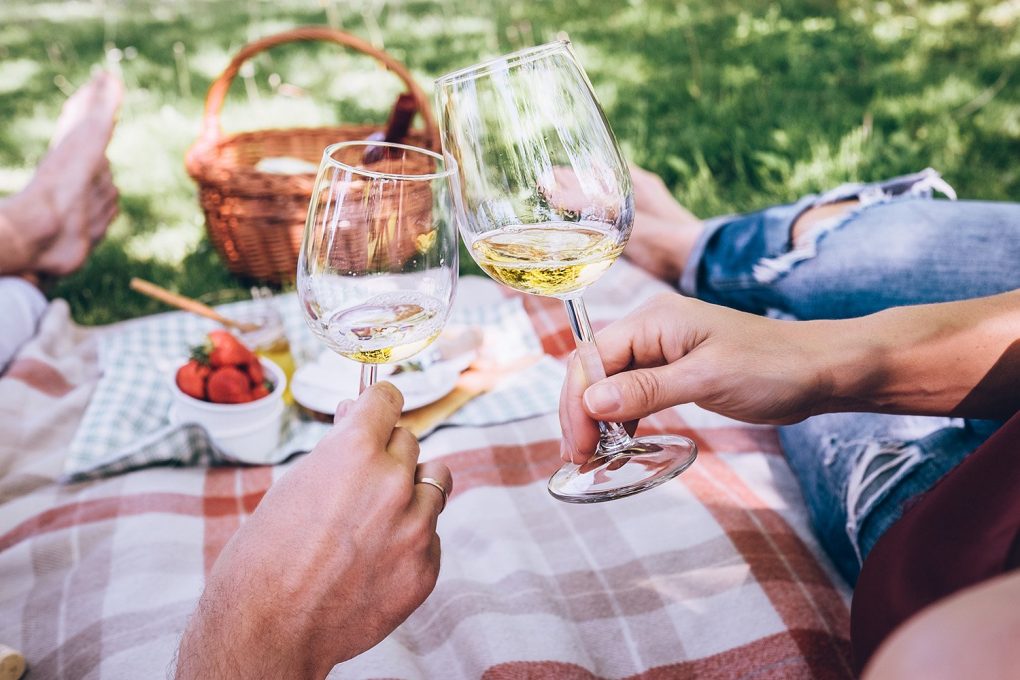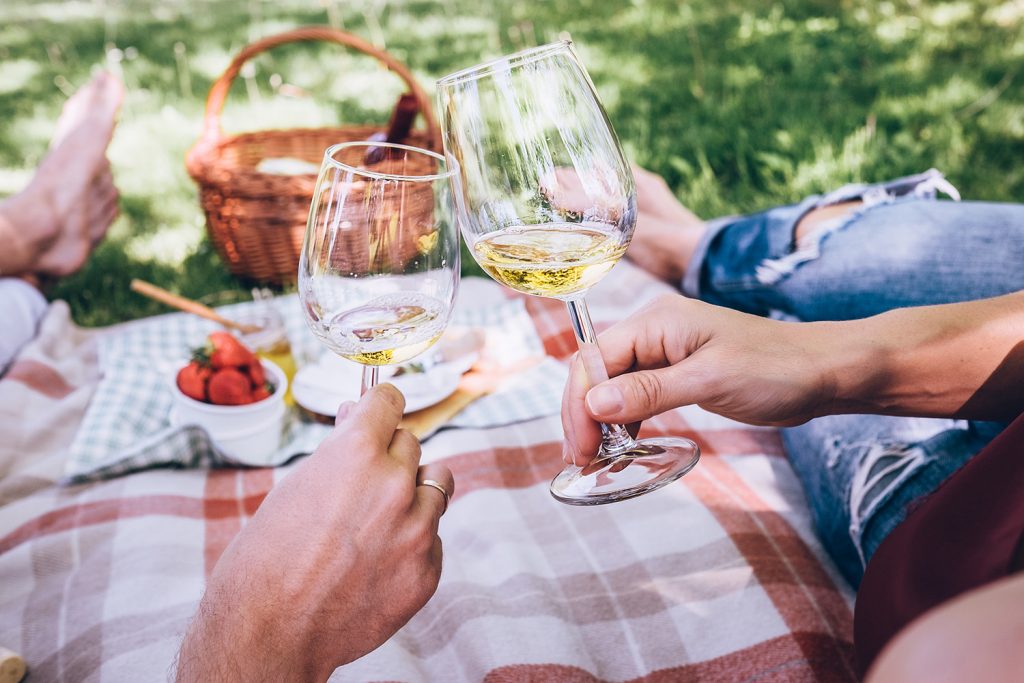 With Alcohol
Wine, Champagne.
Beer
Red Sangria,
Prosecco
Without Alcohol 
Flavored Water
Fresh Fruit Juice, Soda
Tea, Frappes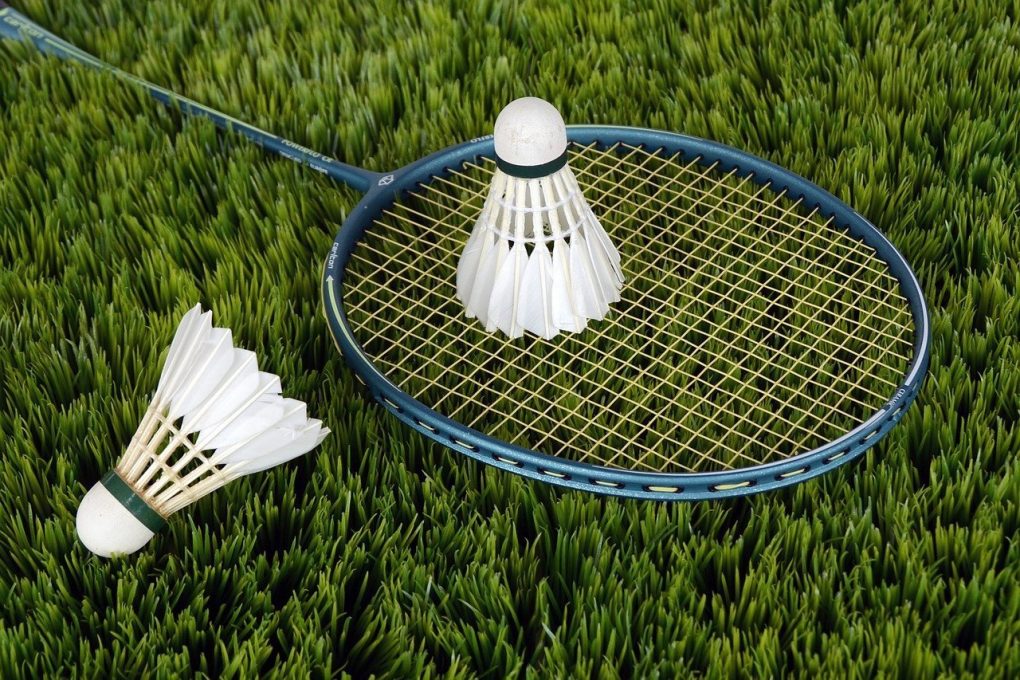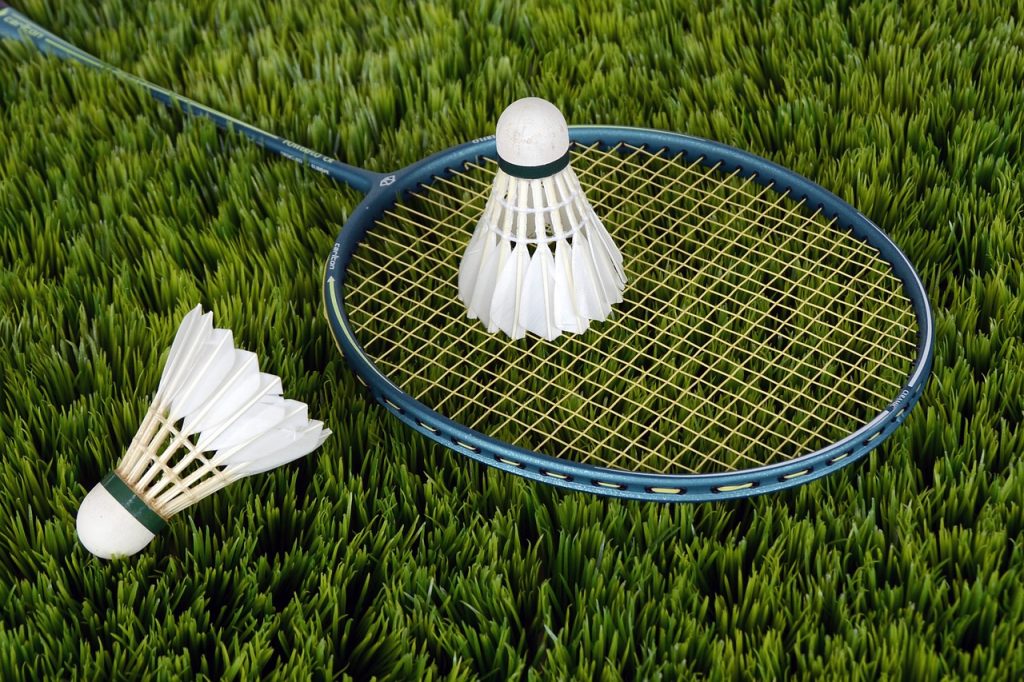 Card Games for Couples
Tabletopics Couples
Pick Your Poison: "What would you rather do?"
Classic Lawn Games
Frisbee, ball, badminton
Bocce Ball
Ring Toss
Cornhole

Books & Music
Bring books to read to each other.
Bring a bluetooth speaker to put some romantic music on.
Play ukulele / guitar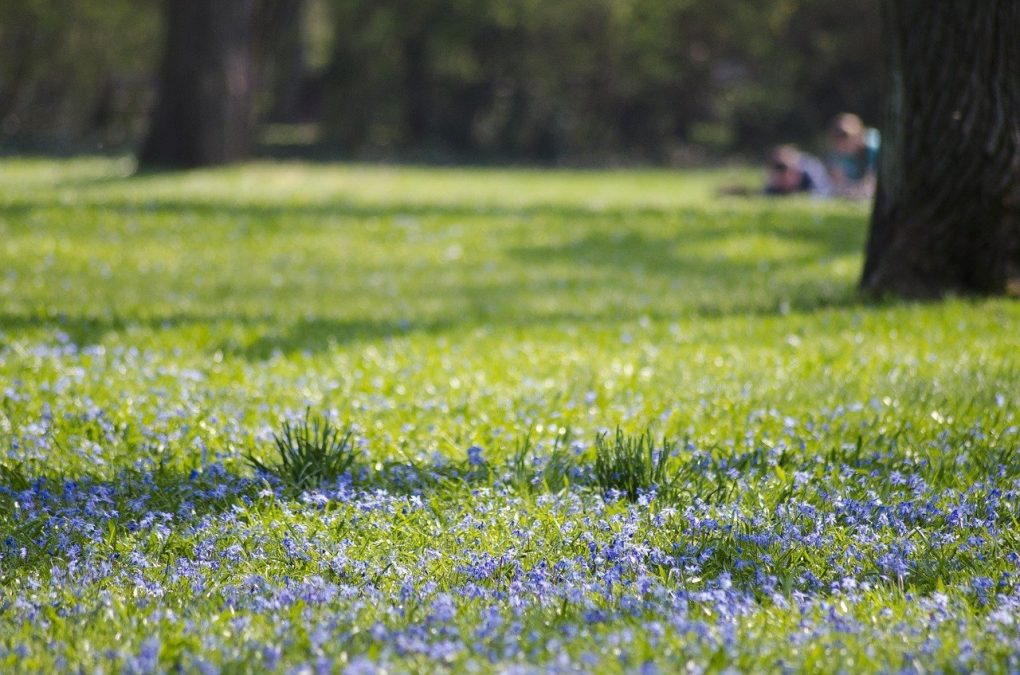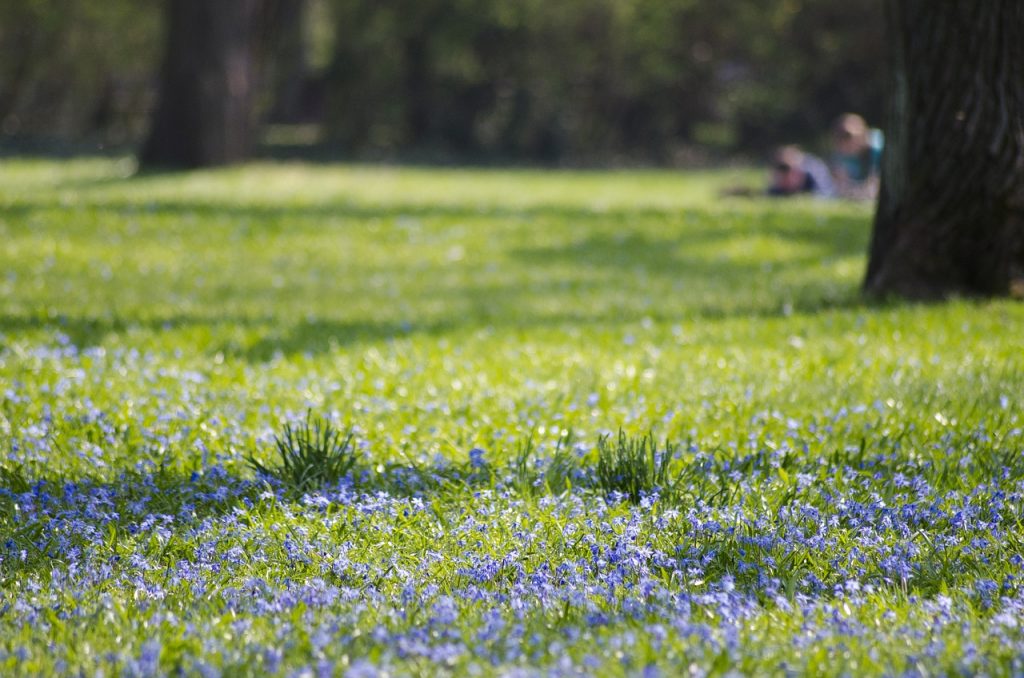 Trash Bags
Get trash bags and make sure you don't leave any waste behind, keep the environment safe.
Zip-Lock Bag for dirty utensils
A secure leak-proof plastic bag will help you store all the dirty plates and cutlery.
Hand Sanitizers
Picnics are a great way to get to know each other better without technology, deadlines, and the stress of the daily grind interfering. Just the simplicity of being out in nature with your date can allow you both to relax and enjoy time with each other.
Whether you choose to make a spontaneous picnic date, or you put a lot of thought into the set-up, the most important thing is to be yourself, relax, and have fun!
Many times the outdoor world can help us let go of the stresses of our everyday lives and allow us to enjoy the present moment with the ones we love most. We hope our ideas add a bit of sparkle to your next picnic date. Stay safe, and have fun!
Happy Picnicking!