Whether you are picnicking at your favourite park view, or are enjoying lunch on your back patio, your table will be a focal point.
These 17 free outdoor table plans vary in level of difficulty and style. You can find a picnic table blueprint that suits your taste (and toolbox!) and get ready to wow your friends with your DIY table skills.
We have selected picnic tables in all shapes and sizes: folding, traditional, small, large, modern, with separate benches, octagonal, hexagonal, round, square, boho, for kids, and many more!
When you are finished, invite your friends over to break in your new table in proper style.
---
1. Free Folding Picnic Table Plan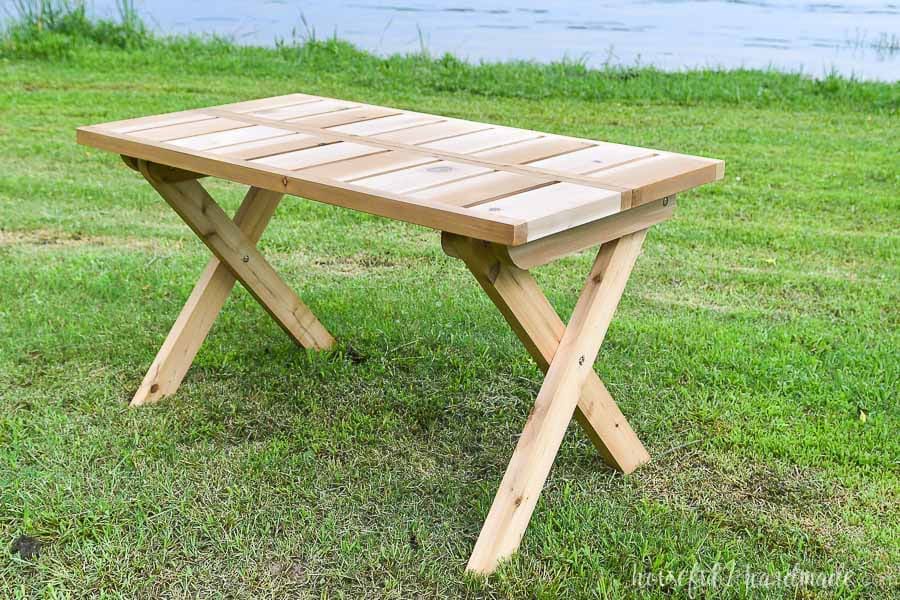 Folding tables are practical for when you want to picnic away from home. However, they are not known for their aesthetic appeal.
Many are even a bit precarious on uneven ground. With this folding table by Kreg Tool, bring a charming (and sturdy!) wood table to your picnic.
Since it packs flat, you still have trunk space for your cooler and picnic basket.
Source: Kreg Tool
---
2. Free Round Picnic Table Plan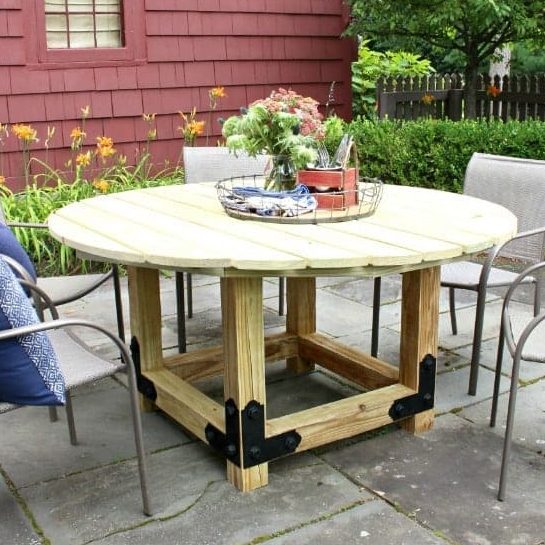 This round outdoor table allows you to pack in as many people as you want! Its solid structure ensures that no heavy wind will blow this table over any time soon.
Jamie suggests using pressure-treated wood to protect your hard work from the elements.
Source: Jaime Costiglio
---
3. Free Picnic Table Plan (Square Shape)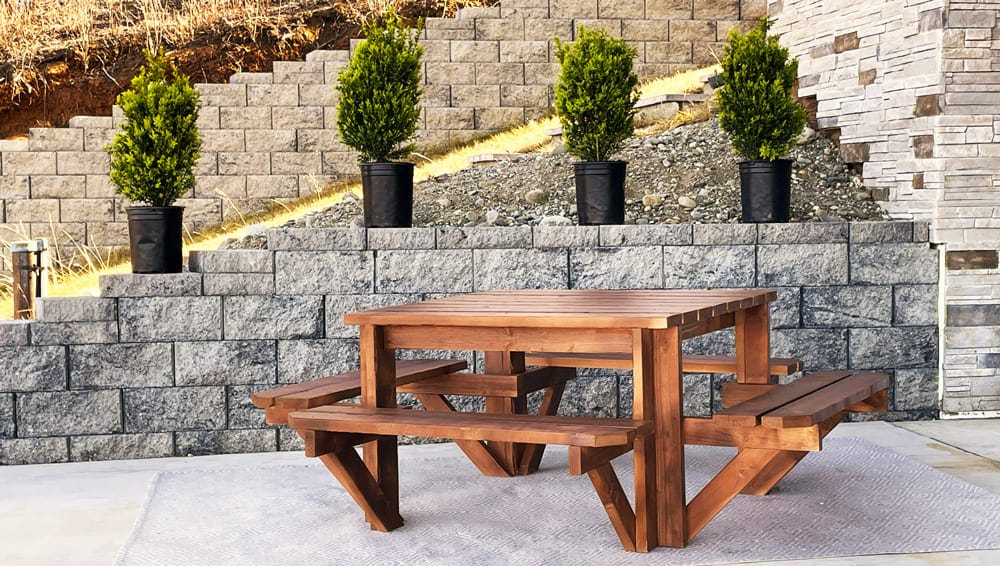 This gorgeous square table is easy and quick to build, and can sit 4-8 adults. The design is modern, but still keeps the old-fashioned look.
Everything you'll need is included in the free pdf plan: tools, cut list, instructions and general shopping list.
Source: Ana White
---
4. Hexagon Outdoor Table with Benches Plan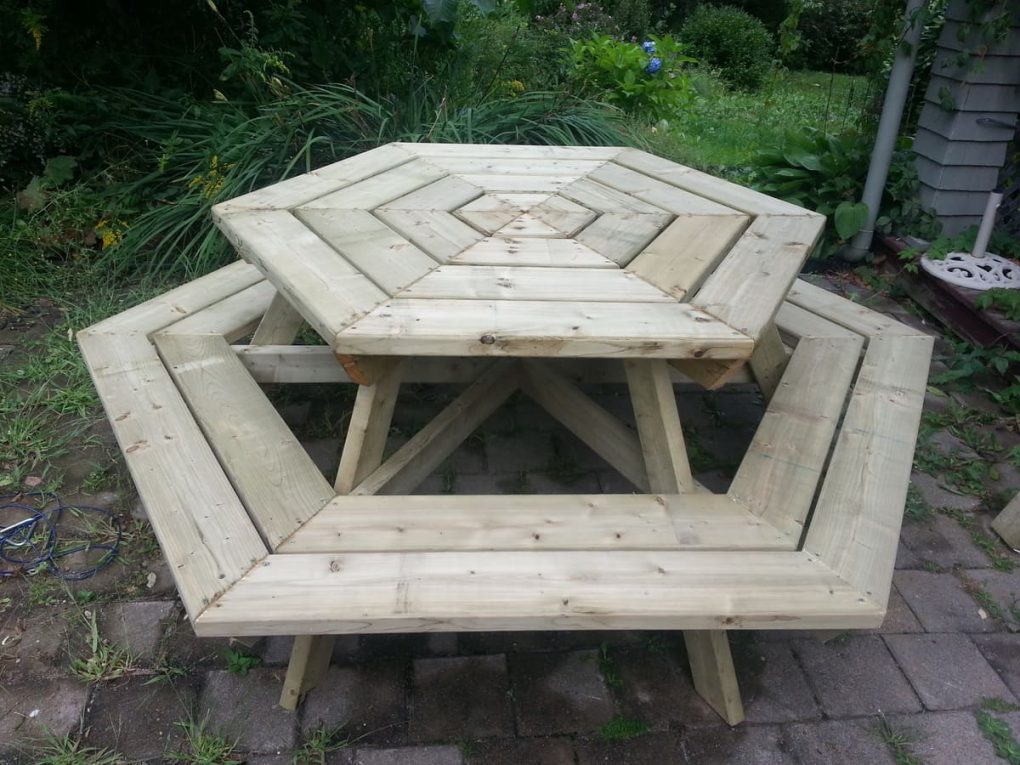 The hexagon shape of this table lets each person have their own corner to claim. Its solid frame also includes a wrap-around bench.
We love that this table pattern not only gives you elbow room but also legroom.
Source: Ana White
---
5. Free Octagon Outdoor Table Plan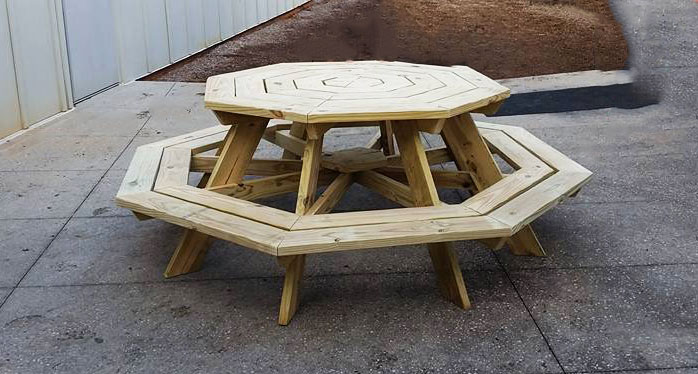 If you like the ease of a built-in bench, but hate climbing in and out of your spot with a plate full of food, this table may be the perfect solution.
This outdoor octagon table pattern includes walk-in benches in its plan. Step into your spot easily without climbing over benches or your friends!
Source: Ana White
---
6. Boho Style Table Plan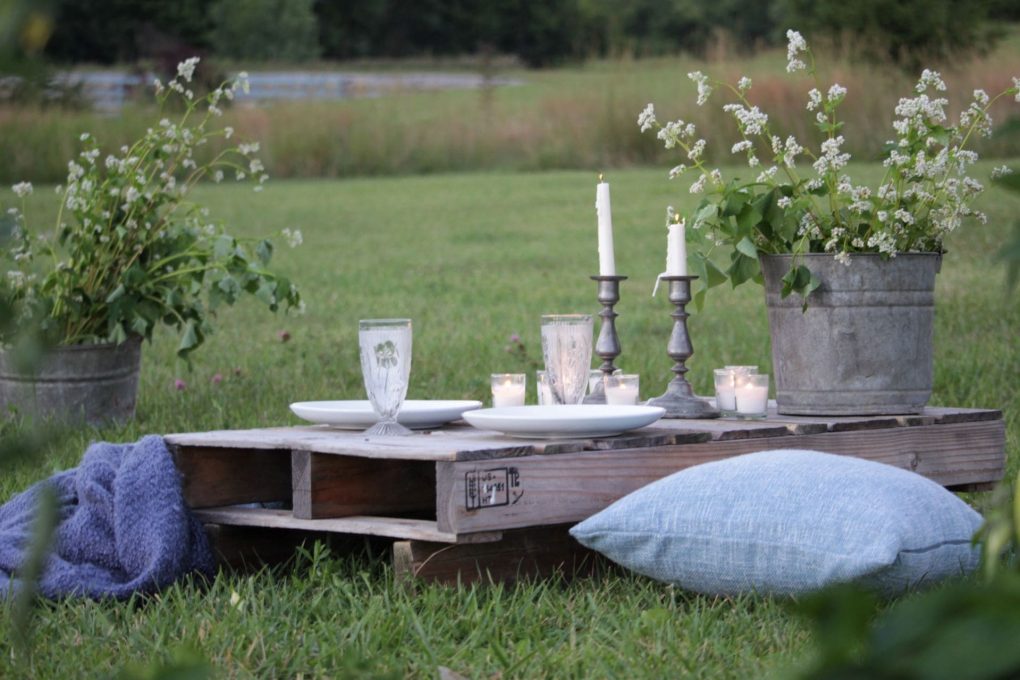 We'd say this Boho table is probably the easiest pattern on our list. With two pallets you can make a charming and budget-friendly picnic table in an afternoon.
This pattern shows you how to fill in the gaps in your pallet to make an effective eating surface. Now you just need to pull in the color, patterns, and pillows for a romantic feast!
Source: Open Doors and Open Hearts
---
7. Picnic Table with Separate Benches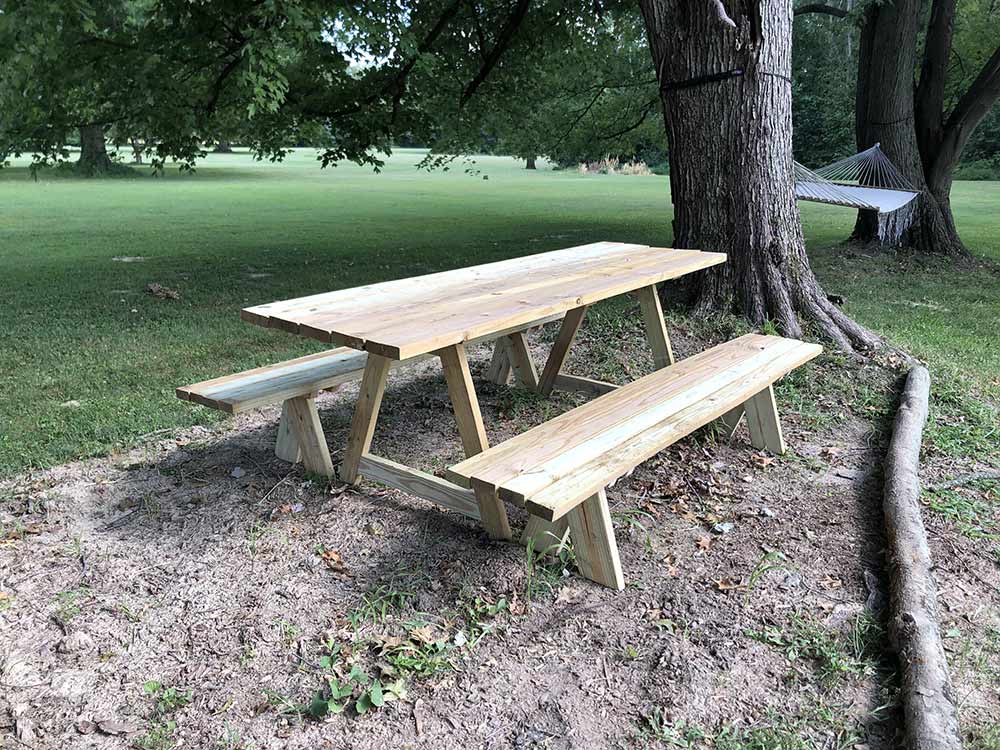 With this pattern, you get a picnic table step-by-step as well as the benches. Since not everyone has the same needs when it comes to leg space, these detached benches easily adjust to your need.
This table can go on your patio or add a playful touch to your dining room.
Source: How-To Specialist
---
8. Free 6-foot Picnic Table Plan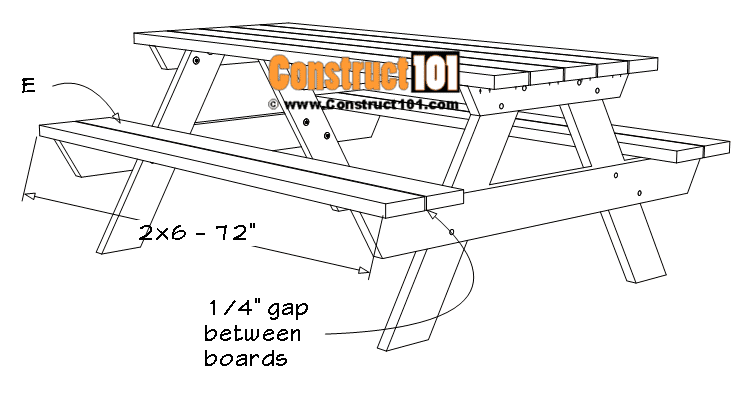 If you are looking for a classic picnic table with benches attached, this is it! This 6-foot picnic table explains the building process thoroughly.
We love that it includes a shopping list and a cutting list and includes detailed drawings so you know just what you need to do next.
The result is a picnic table your family and friends can enjoy! (Also, don't miss the mini-me version of this table for kids age 6 and under.)
Source: Construct 101
---
9. Free 8-foot Beginner Farm Table Plan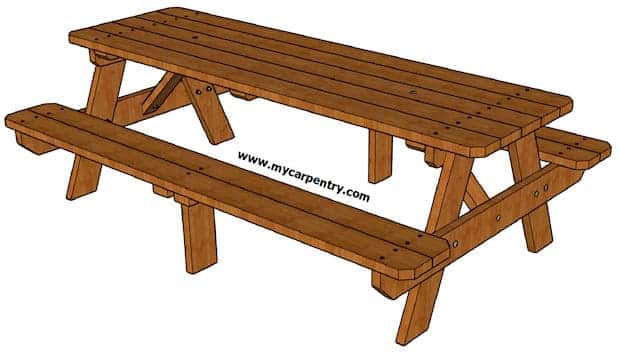 If you like the classic picnic table pattern, but need to squeeze in a few more people, you can try this 8-foot picnic table. This table should sit 8-10 people.
You can put your personal spin on this pattern by choosing your stain or paint colors.
Source: My Carpentry
---
10. Picnic Table with Umbrella Hole Plan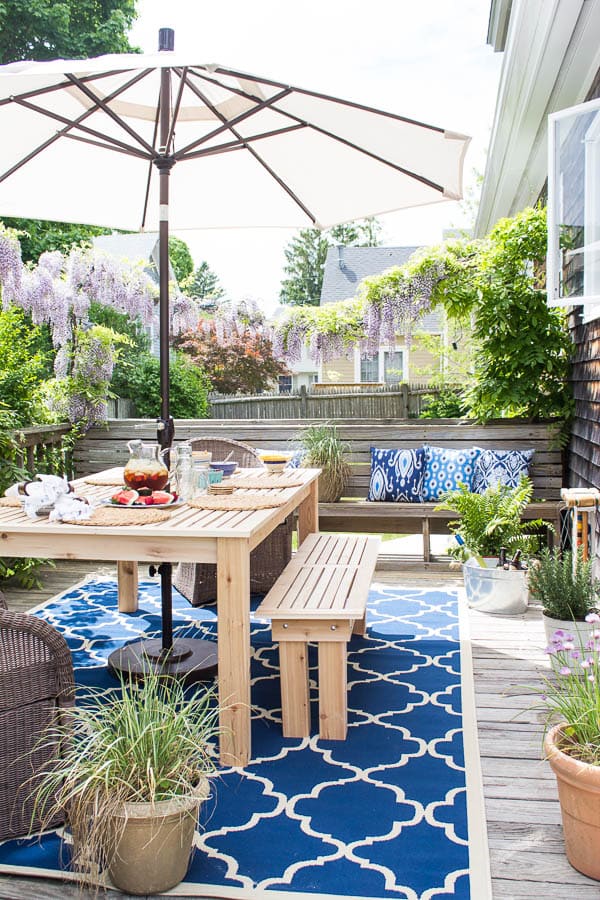 Sunny days are perfect for taking your meal outside, but sometimes the sun can give out more rays than your skin can handle. This table pattern shows how you can make a table with a spot for an umbrella.
Rain or shine, you can eat in comfort under the protection of a large umbrella on your outdoor table.
Source: Finding Silver Pennies
---
11. Free Kids' Picnic Table Plan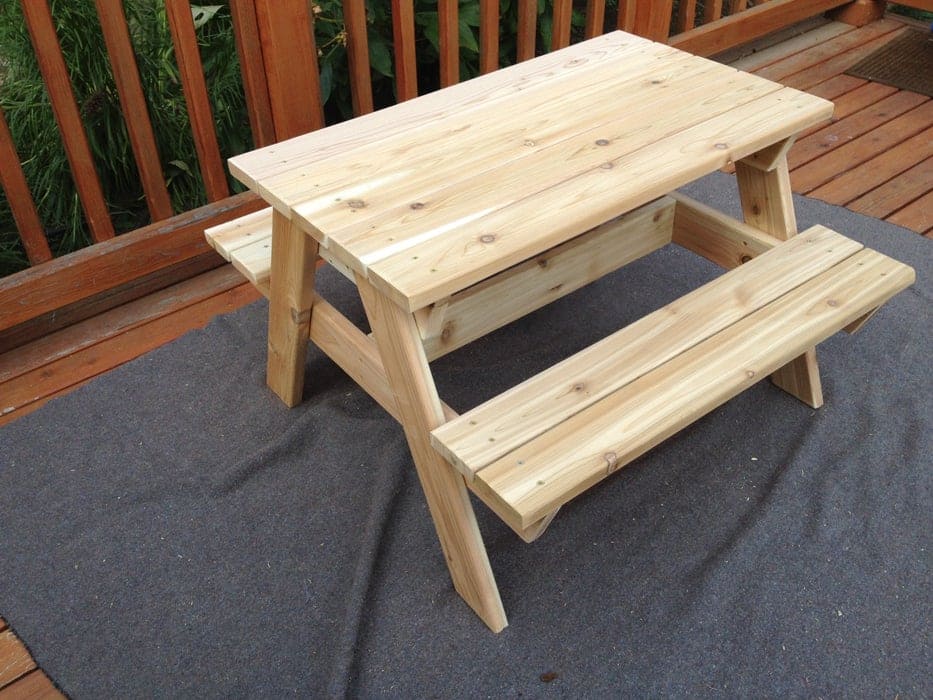 This small-scale table lets your kids experience the joy of a picnic with friends in your backyard.
The pattern gives you step-by-step instructions with photos so you can see exactly how it should look. Don't forget to add the varnish at the end so you can easily wipe up the mustard and juice spills after the party is over!
Source: Instructables
---
12. Pallet Table with Herringbone Design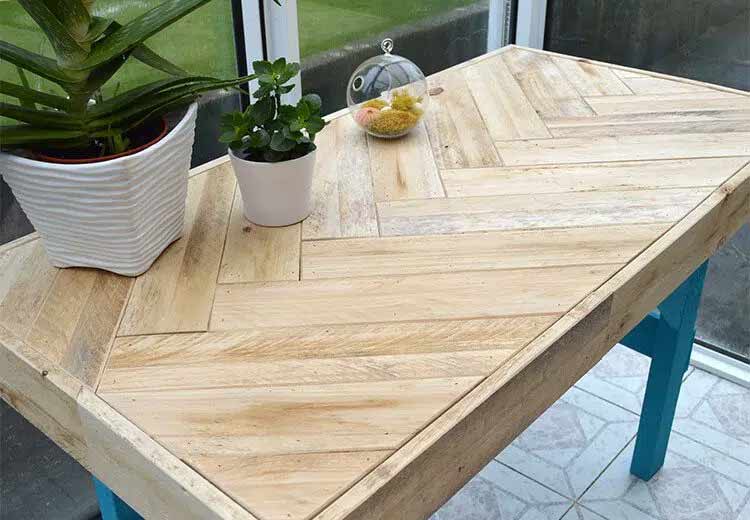 The Herringbone pattern is trending, and we are loving how this design dresses up simple pallet wood.
The clear wood oil finish that Lovely Greens lets you appreciate the natural wood look while also protecting your wood from weather and wear.
Not only are you being good to your wallet by choosing pallet wood for your table, but you are also giving these wood scraps a second chance.
Source: Lovely Greens
---
13. Small Picnic Table Plan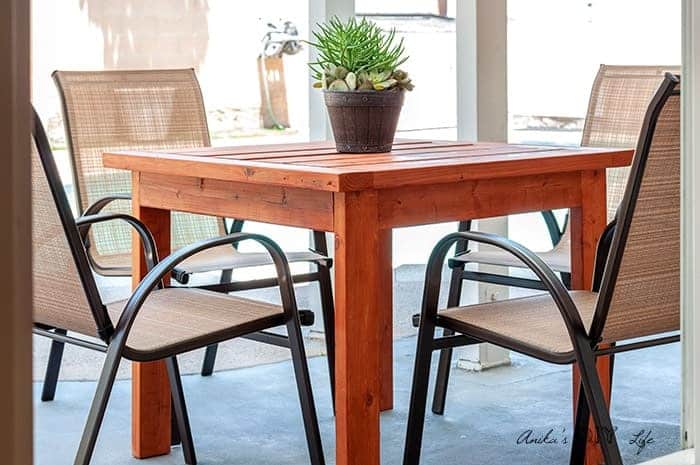 Not every space is right for a rectangular table, so this square outdoor table may fit the bill in smaller spaces. This free pattern helps you to make a sturdy, chunky table with about $20 worth of wood. Now that's a bargain.
Source: Anika's DIY Life
---
14. Free Large Picnic Table Plan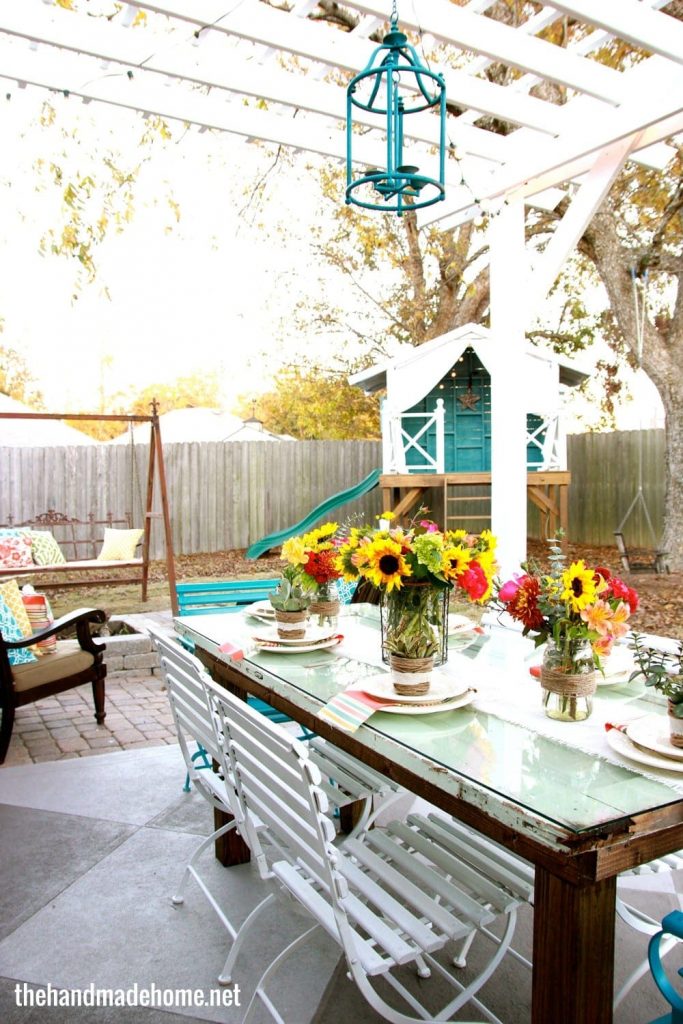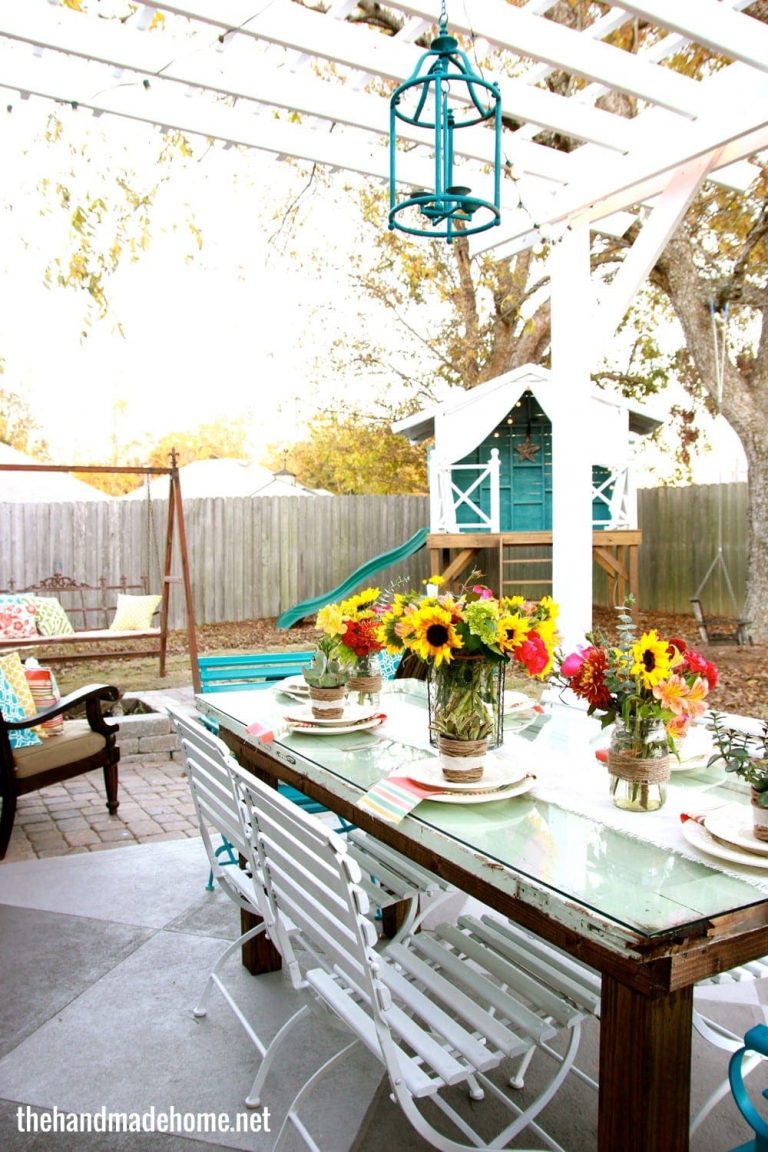 If you have a door that no longer serves its purpose, but is too good to throw out, you can repurpose it by building this table.
The pattern comes with measurements that you can adjust to fit the size of your door. When you are finished, you can enjoy the beauty of your antique door at mealtime, and buy a more practical door for your home.
Source: The Handmade Home
---
15. Picnic Table with Cooler Plan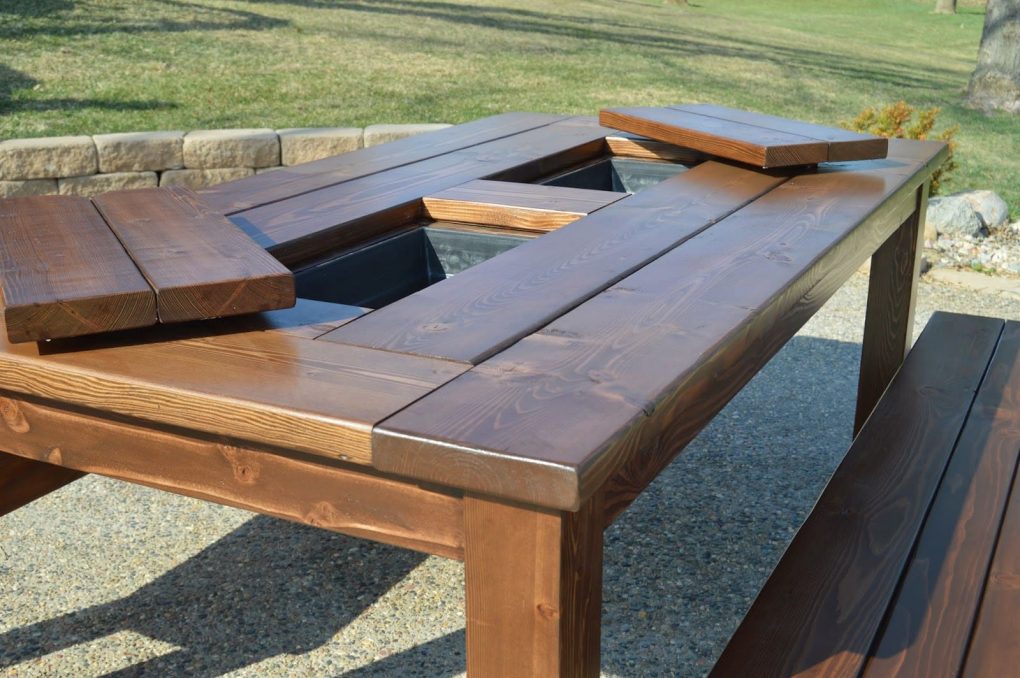 This patio table is large enough to serve plenty of food and sit your guests, but it will also ice down your drinks.
You can make this outdoor table using cedar or Douglas fir wood to make sure it will resist all kinds of weather.
Insert flower planters to keep your drinks iced and you are set for patio parties on hot summer nights.
Source: Remodelaholic
---
16. Traditional Picnic Table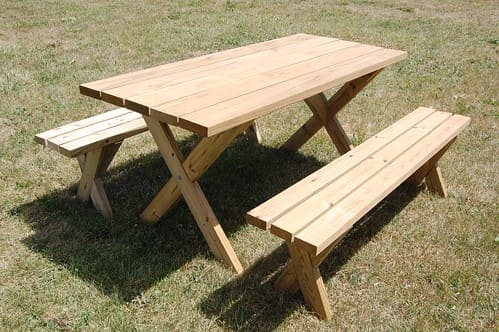 DIY Diva's traditional dinner table has a down-home vintage flair. This is a solid table your family can sit around for years to come.
With detached benches, no exposed screws, this beauty is easy to build and will last you forever.
Source: DIY Diva
---
17. Modern Outdoor Table Plan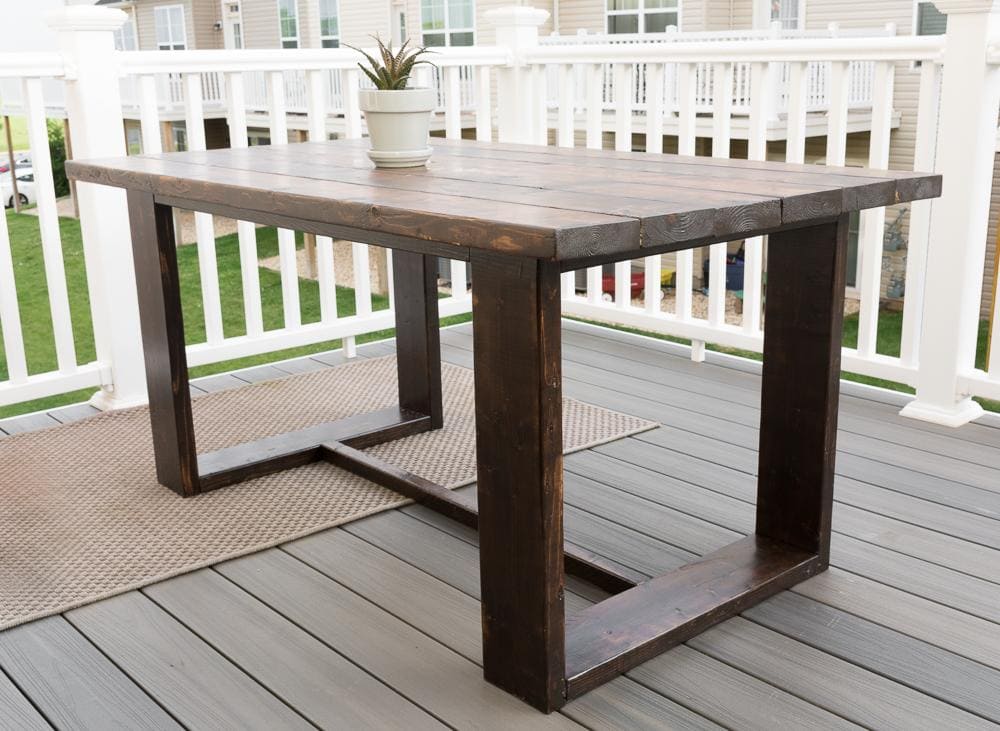 This outdoor table has sleek, modern lines that can dress up your outdoor patio area.
Brittany Goldwyn does a great job of laying out the plan for this table in detail using drawings, photos, and checklists. She suggests using an indoor/outdoor stain for this table so that you can use however you like!
Source: Kreg Tool
---
That's a wrap on our favorite DIY picnic tables.
We hope you find a table that makes every day a picnic. If you build one, don't forget to tag us in your pics!