Whether it's the holiday season, a special celebration, or a movie night, charcuterie boards are always a winning snack option.
The variety of sweet and savory options on a charcuterie board allows guests to pick and choose what they want to snack on.
There's nothing as aesthetically pleasing as a well-designed board.
Charcuterie boards are an art form and require pairing complementary cheeses, meats, vegetables, nuts, and more in a beautiful layout that will be pleasing to the eye as well as the stomach.
But what happens when you've selected the contents of your charcuterie board, made everything look perfect, and then realized that you have to take your board from one location to another?
What's the best way to transport your perfect charcuterie board? Never fear! Read on to discover the best ways to safely transport your work of art.
How Do You Package and Transport a Charcuterie Board?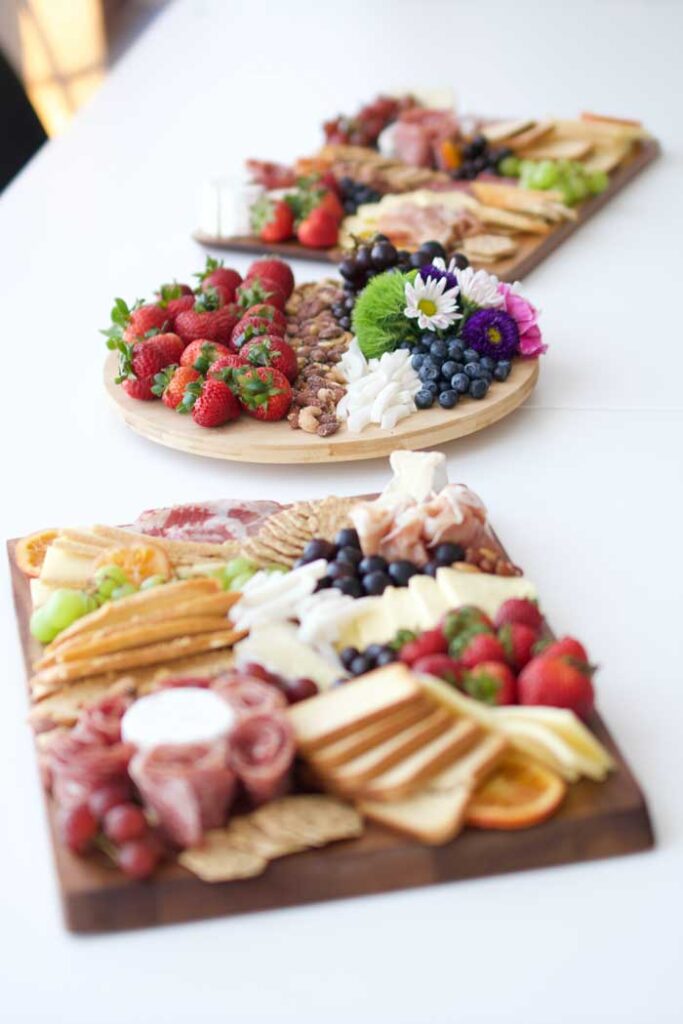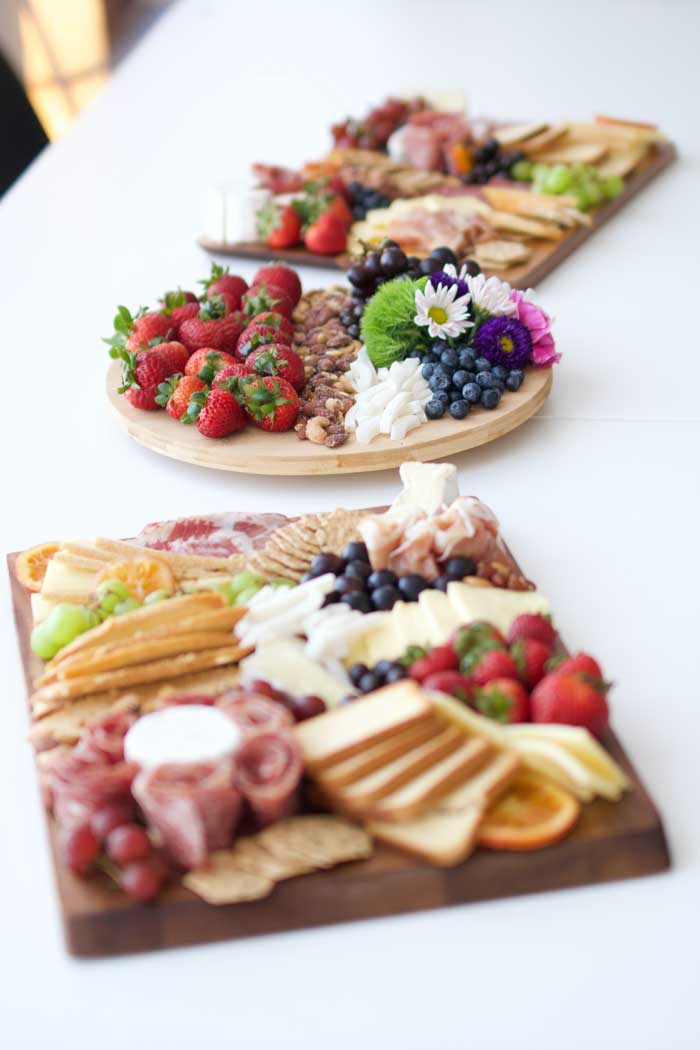 Transporting a pre-arranged charcuterie board is no easy feat.
If you've decided to arrange the board and then travel, it will require careful planning for your board to arrive looking just as gorgeous as it did in your kitchen.
First, secure all lids on any sauces, dips, jams, tapenades, or oils. Not only does this preserve them on your journey, but it also prevents any spills.
The last thing you need is black olive tapenade spilling all over your brie!
If possible, bring along a friend. Instruct them to hold the tray in a straight, flat manner and watch it carefully to ensure nothing moves or becomes displaced.
This will likely be your best option to ensure your charcuterie board arrives intact. Don't let them get tempted on the way over and steal a bite or two!
If you are traveling alone and your journey is long, wrap the charcuterie board in foil or plastic wrap to ensure freshness.
If your trip is considerably longer than normal, place your board in a cooler to maintain temperatures for proper food safety.
Putting your charcuterie board in a cooler may also help it stay balanced during your drive.
Other tips include using kitchen clips to secure the plastic wrap around your board.
Stretch the plastic firmly, but don't pull it so tight that it will tear or squish your ingredients.
Use the kitchen clips to keep your food items in place.
You may also want to wait to add ingredients that are more likely to move during travel. These include lightweight snacks such as nuts, crackers, and olives.
How Do You Travel with a Charcuterie Board?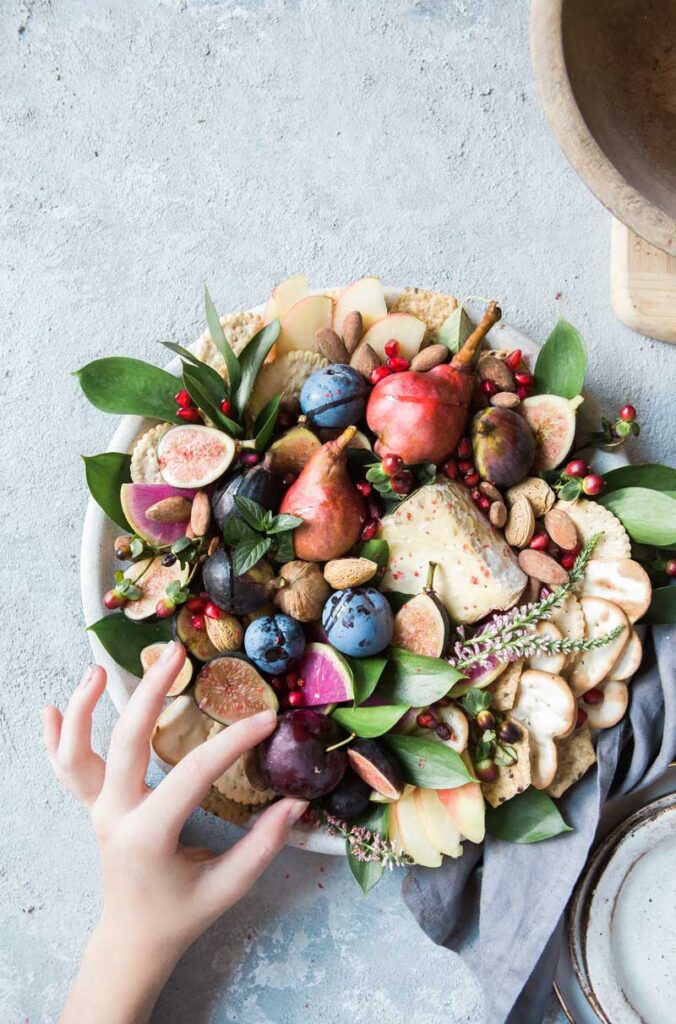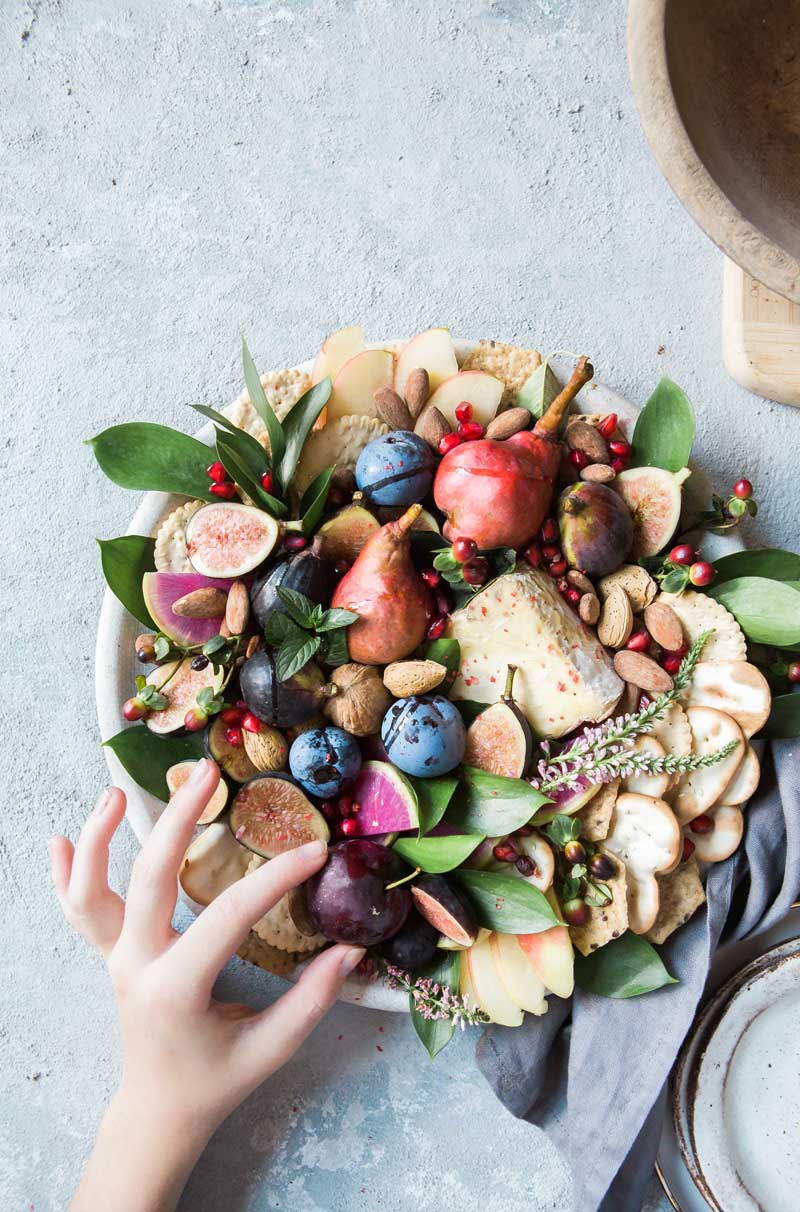 It may be wise to arrive early at your gathering with all of the necessary ingredients and prepare the charcuterie board there.
There are pros and cons to making it beforehand and bringing all your items.
If you don't have someone to travel with you while transporting your charcuterie board, you may want to consider putting it together at the gathering.
However, showing up early is not always an option. You may also not want to put together the board under watchful (hungry!) eyes.
Remember, charcuterie boards are an art form! A true craftsman shouldn't be rushed by spectators or growling stomachs.
Do some measurements beforehand. This will help you select a board that can lay flat somewhere in your vehicle.
You might also have a cooler that can fit a specific board.
Again, it's ideal that you travel with someone so they can hold your wrapped and secured charcuterie board in their lap and keep it safe during the journey.
If you don't have a friend to make the commute with you, make sure that your board is on a flat, stable surface.
Pack newspaper, towels, or other soft materials around your wrapped board to keep it from sliding around.
If possible, keep your board in your line of sight so that you can check in on it every once in a while for peace of mind.
Can You Make a Charcuterie Board Ahead of Time?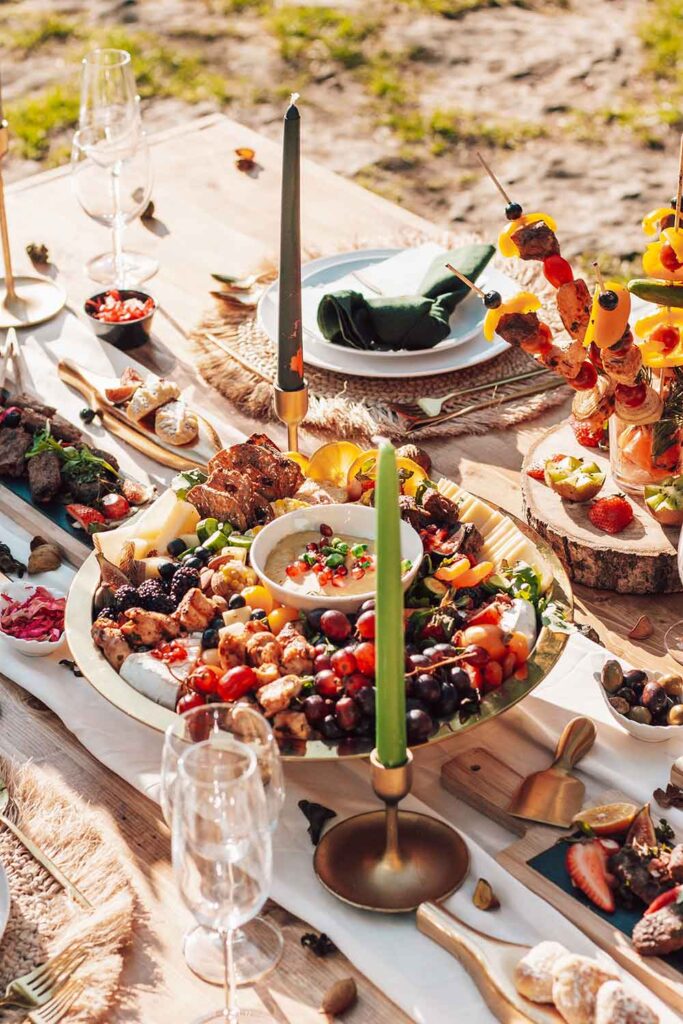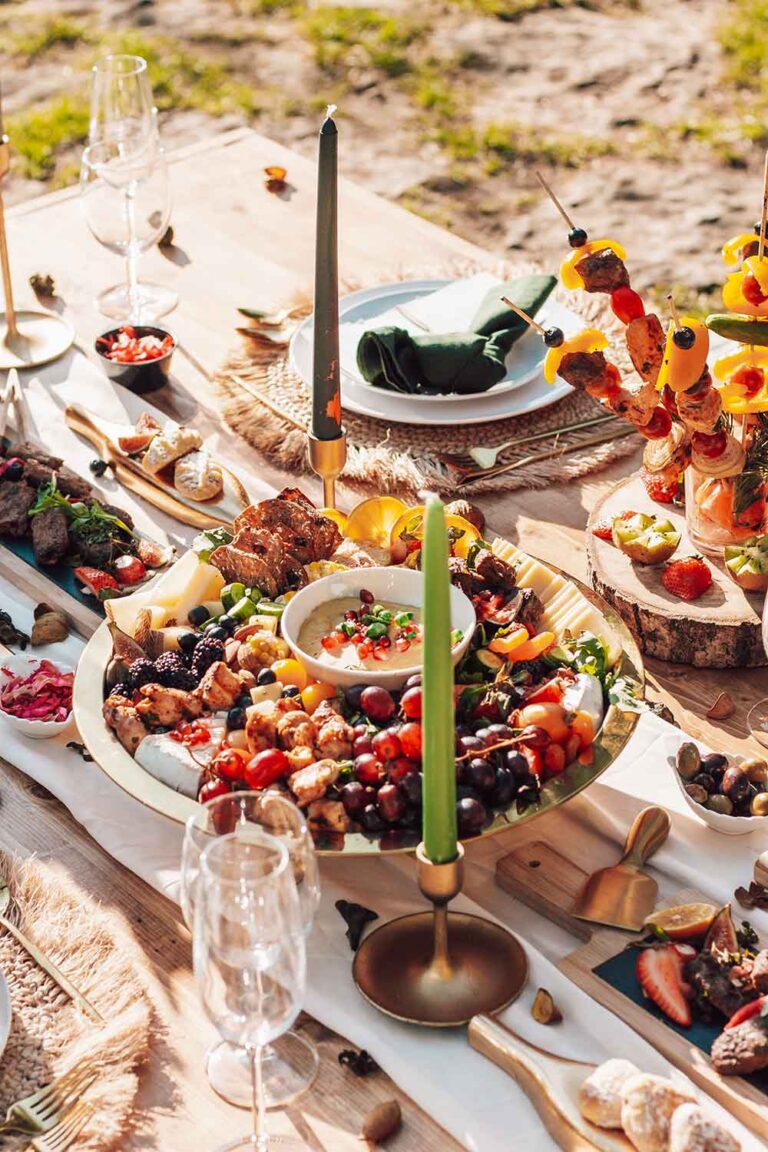 Yes! Many people prefer to do this. It can take longer than you think to design and create your board.
Perhaps you will need more rosemary sprigs than you thought, or decide that you're overdoing it with blackberries.
Making your charcuterie board ahead of time can allow you to create the perfect presentation of flavor for your guests!
It can also be embarrassing to show up at someone else's house with a hodgepodge of jars, cans, bags, and various cuts of meat and cheese. This is not only a lot to travel with, but it's also a lot to store in someone else's fridge.
Preparing a charcuterie board ahead of time will allow you to find the best combinations of foods, both in taste and presentation. Take some time to test the foods yourself to ensure that they'll be pleasing to the palate.
Arrange and rearrange ingredients at your leisure until they're in the perfect order. Remember to keep your hands and workspace clean as you work!
Once your board is complete, there are many products that may aid you in your transportation plan.
There are even a few options of boards that come with lids specifically for traveling. If you don't have the extra cash, however, some packaging materials from your kitchen will likely do the trick.
How Long Can a Charcuterie Board Sit Out?
Charcuterie boards vary so widely with their ingredients that it's hard to give a specific time limit for exposure. Ideally, no charcuterie board should sit out for long.
A vegan charcuterie board may have more leniency than a meat and cheese board since plant-based foods are less likely to grow harmful bacteria. However, it is best never to take chances with food safety.
Ideally, do not let your charcuterie board sit out for more than two hours. If it's a hot day and the board is outside, cut that time down to an hour or an hour and a half to be safe.
While guests may like to casually snack on your board over time, the board needs to be consumed within that time frame or refrigerated.
Charcuterie boards are becoming increasingly popular at outdoor events.
Unfortunately, the charcuterie board you worked so hard on will look just as tasty to pests as it does to your friends! If you have the option, consider keeping your board inside.
A temperature-controlled environment will preserve the freshness of your board and keep unwanted guests away.
While you may have envisioned that your beautiful charcuterie board would be out for the entire duration of your event, safety always comes first. Typically, charcuterie boards include a variety of meats and cheeses.
These are items that should not be left out for long periods. The last thing you want is to make your guests, friends, or family sick!
Travel Charcuterie Board with a Lid
Although charcuterie boards have been around for centuries, they're gaining in popularity among modern partygoers.
It's no wonder that products are beginning to appear on the market to help us solve one of our most significant problems: traveling with a charcuterie board!
If you're not going for fancy aesthetics, here's a great option of a board with a lid, available on Amazon.
This entertaining carrier isn't only durable; it's collapsable! Most importantly, it has a lid to keep your charcuterie board secure and safe.
This may also be a great option if you're bringing a charcuterie board to an outdoor event and don't mind the circular shape.
The quickest way to ruin an appetite is to see a fly crawling on the piece of summer sausage you were eyeing, and a covering will help keep those pests away. 
If you've chosen to prepare your charcuterie board at your event location, this cooler bag may be an excellent option for you. It comes with plenty of space for your sealed containers.
Zippered pouches add an extra layer of security. Since the bag is insulated, you can rest easy knowing your food will be safe to serve to your friends and family.
Conclusion
Don't let the fear of traveling with a charcuterie board stop you from impressing your friends with your food design skills!
Selecting a board that will best suit your transportation needs will pay off in the long run.
Have a trusty travel buddy come along to carefully secure and watch your board throughout travel, and pay them in leftover olives.
If you're still worried about traveling with your charcuterie masterpiece, consider assembling it at the location of your event. Ensure you have plenty of time to adequately prepare and build your board just the way you like it.
Your guests will get to see you in action, and you will be free of transportation worries.
Most importantly, though, always abide by food safety guidelines.
Never leave your charcuterie board out longer than two hours. If you have leftovers, disassemble them and place them in a refrigerator. Your friends and family will thank you!