Picnics are the perfect way to celebrate occasions of all kinds. There's nothing worse than a boring birthday, date in the park, or family reunion.
That's where the authentic Mexican theme comes into play.
While the idea is exciting at first, you may be put off because you don't know how to plan an authentic Mexican picnic. No need to panic.
With some delicious traditional Mexican dishes and creative activities, you'll be well on your way to planning an authentic Mexican picnic.
We've included a handful of Mexican foods, including main entrees, sides, and desserts.
Don't forget the authentic Agua Fresca; all this excellent food needs a proper companion to wash everything down.
Mexican Picnic Food
No Mexican picnic would be complete without some traditional and original recipes to enjoy.
Start with an easy fajita chicken quesadilla, munch on some Elote, a slice of Mango Mostachon cake for dessert, and some Agua de Piña to drink.
Mango Mostachon Cake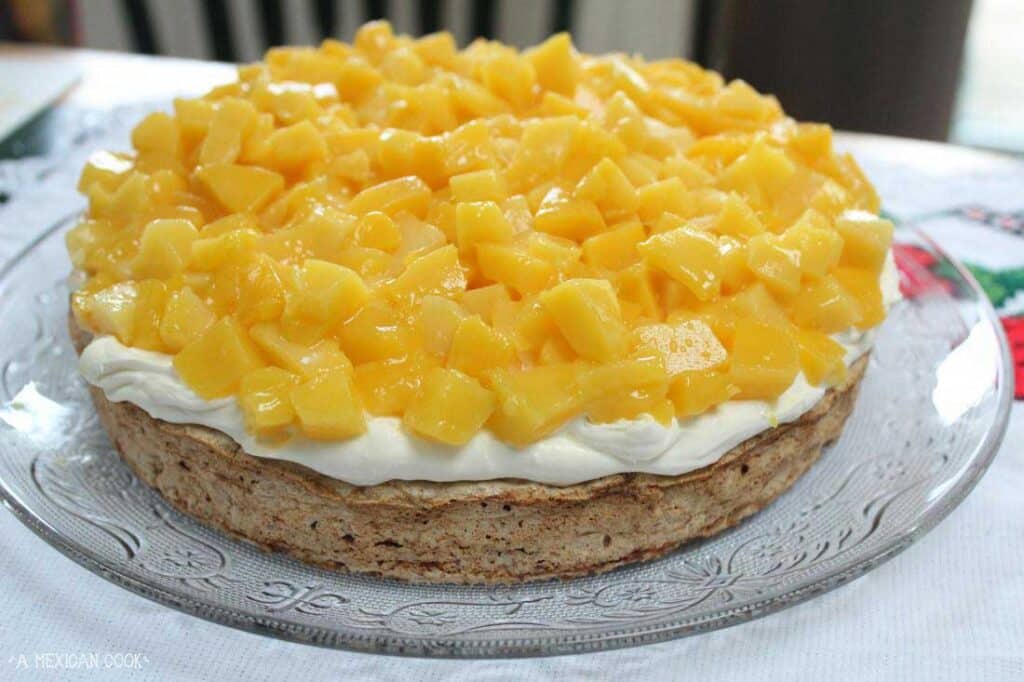 Mostachon means "large mustache." Still, despite the name, the mango Mostachon cake is a delicious way to end a picnic. On the base, the light cake is moist and not overwhelming.
A generous helping of cream cheese topping and fruit completes the colorful dish. What's great about a Mostachon cake is the fruit isn't limited to mango.
While mango is the traditional fruit to use, the summertime cake often has strawberry, blueberry, and even raspberries on top.
The mostachon cake is the perfect dessert to wrap up a Mexican picnic regardless of the fruit choice.
It does take a couple of hours to bake, so it's best if the toppings and fruit are added just before the picnic to avoid the cake getting soggy.
Torta (The Mexican Sandwich)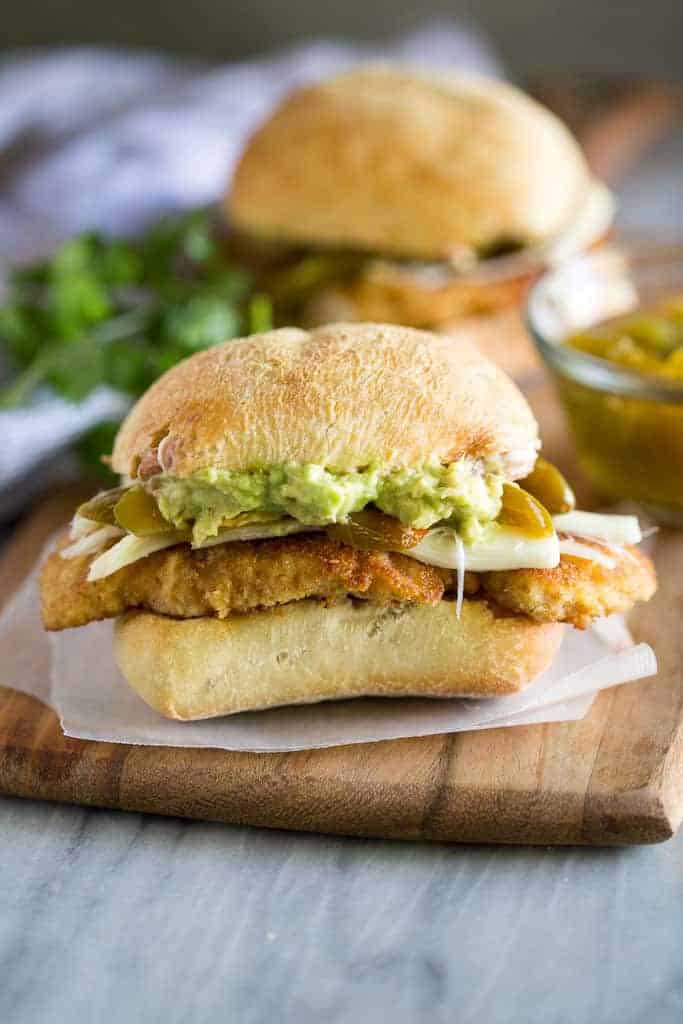 Tortas are Mexican sandwiches, and the type of bread that you use defines them. Typically, tortas come on Bolillos or Teleras rolls.
Each has a distinct flavor and feel. Both are soft rolls, but the Bolillos are torpedo-shaped, whereas the Teleras are round.
They can be either sweet or savory. Mexican tortas are almost as iconic as tacos.
Tortas come filled with any kind of toppings you can imagine. The most popular ingredients include crema, lettuce, avocado, cheese, and beans.
Popular meats include carnitas, carne asada, and pollo asado.
Because tortas are sandwiches, they're the perfect food for an authentic Mexican picnic.
Make them ahead of time and let the flavors meld together.
Agua de Piña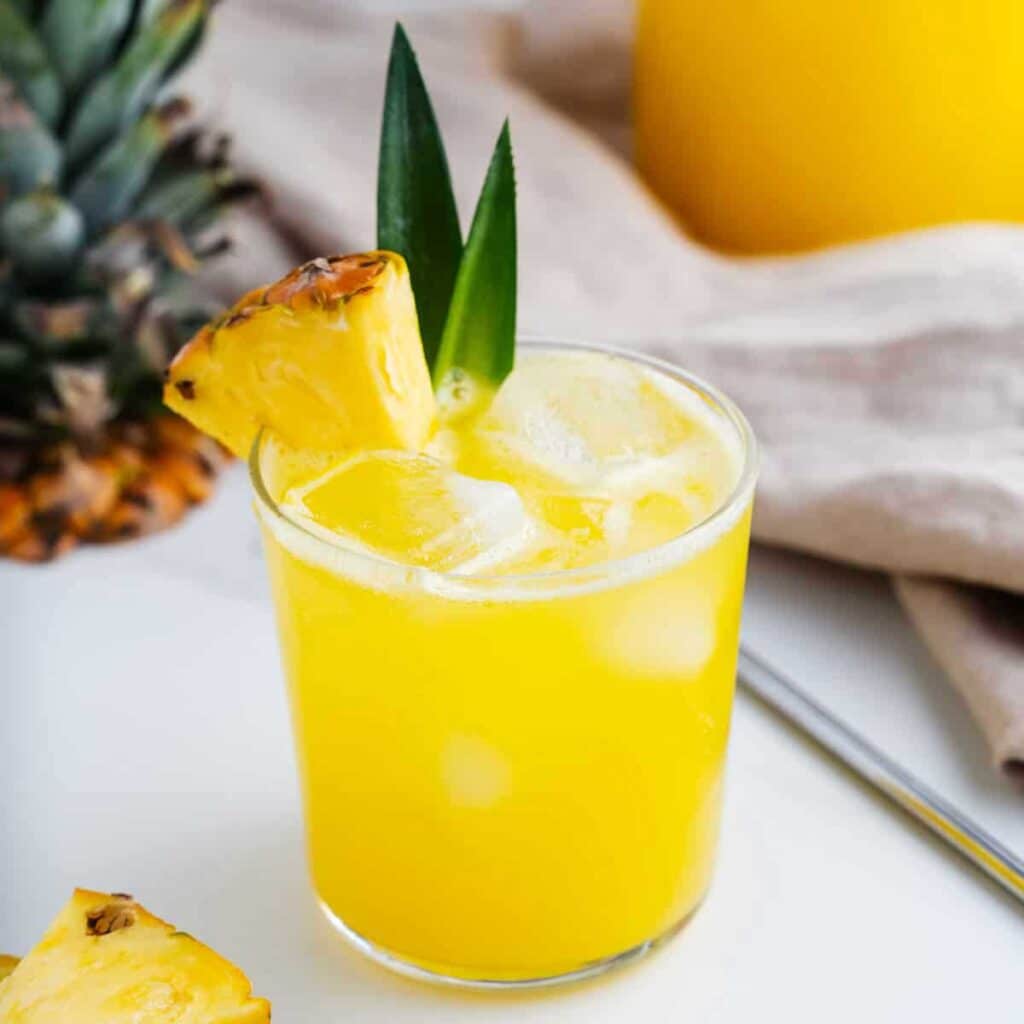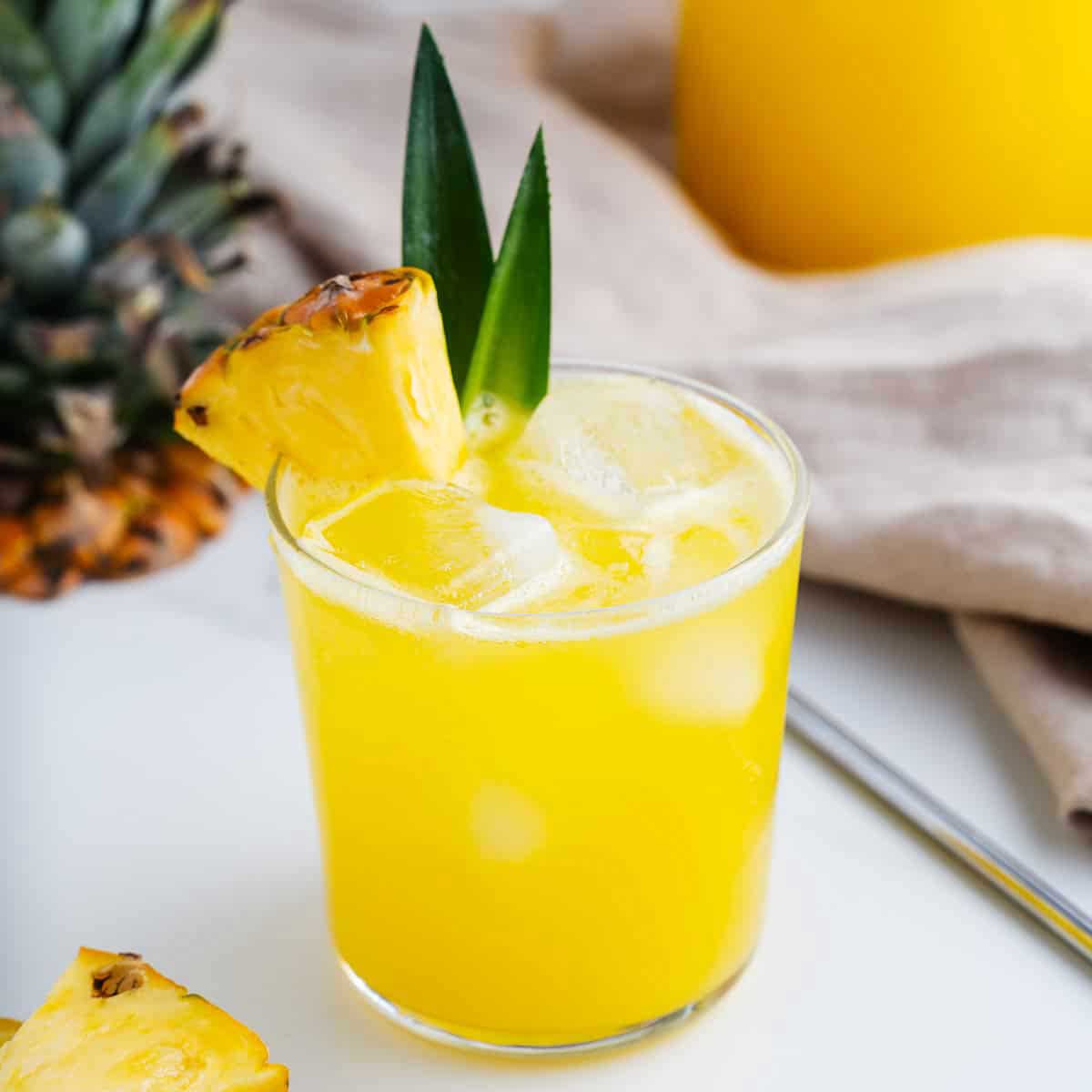 Mexicans appreciate a fresh beverage, and Aguas Frescas are always a great idea. Agua Fresca is famous all across Mexico.
However, the fresh drinks are a bit lost on the soda-thirsty public in the States.
You should try one of the best Agua Frescas. Agua de Piña, or pineapple water, uses the right mixture of water, pineapple, and sugar to create the perfect picnic beverage.
The process is relatively simple.
Start with the freshest, ripest pineapple you can find. Then, chop the fruit into small chunks and blend with a cup of water.
You can then choose to strain the pulp or not, but the final step is to sweeten it to taste.
You can even use the Agua de Piña as a base for Piña Coladas.
Easy Fajita Chicken Quesadillas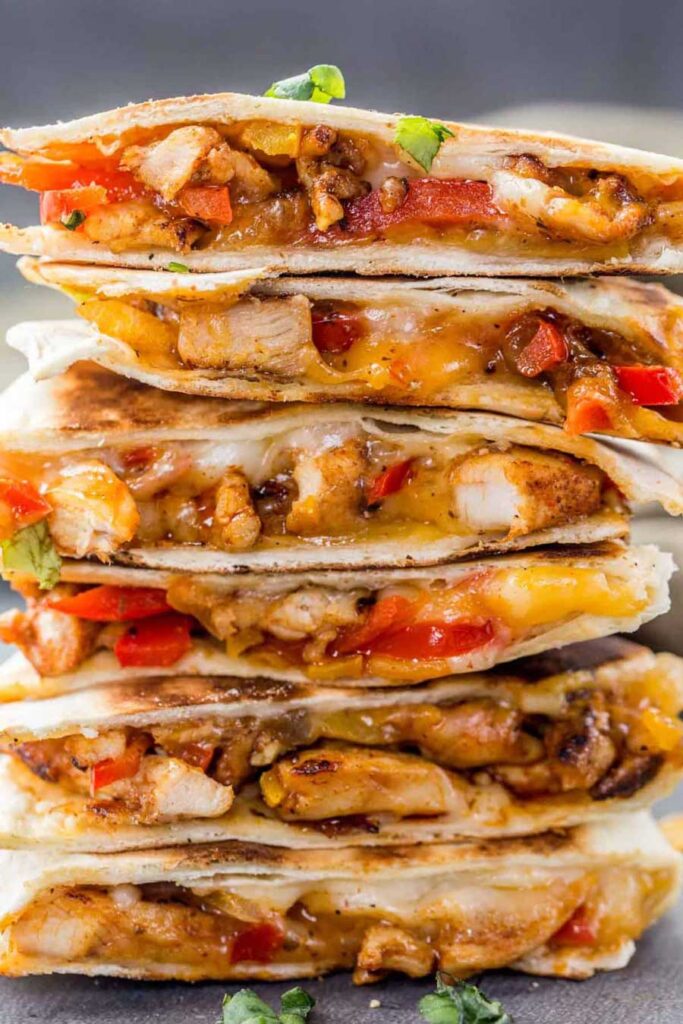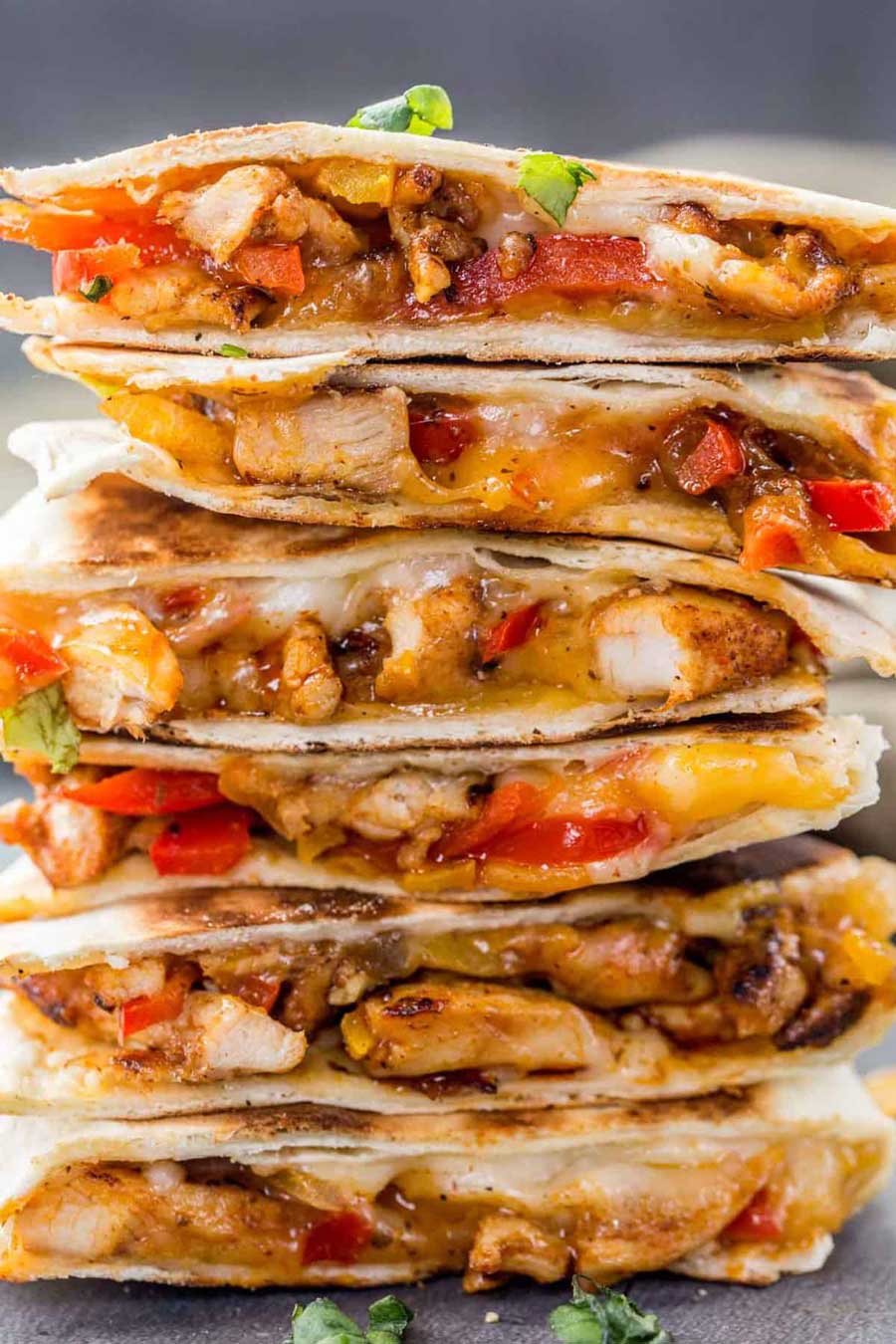 What would a Mexican picnic be without fajita quesadillas? The beauty of a chicken quesadilla is the versatility it brings to the picnic table.
The night before your picnic, you can easily make several quesadillas because they keep well.
Then, warm them up again at the picnic BBQ pit or enjoy them cold with fresh salsa, pico de gallo, or guacamole.
Start by grilling the chicken for a great smokey flavor. Be sure to season with adobo and chipotle seasonings.
Then include sauteed bell peppers and red onions in large flour tortillas filled with a Monterey Jack and cheddar cheese mix.
Finally, cut the grilled chicken into pieces and stuff the quesadillas full of chicken, cheese, and savory vegetables.
Cochinita Pibil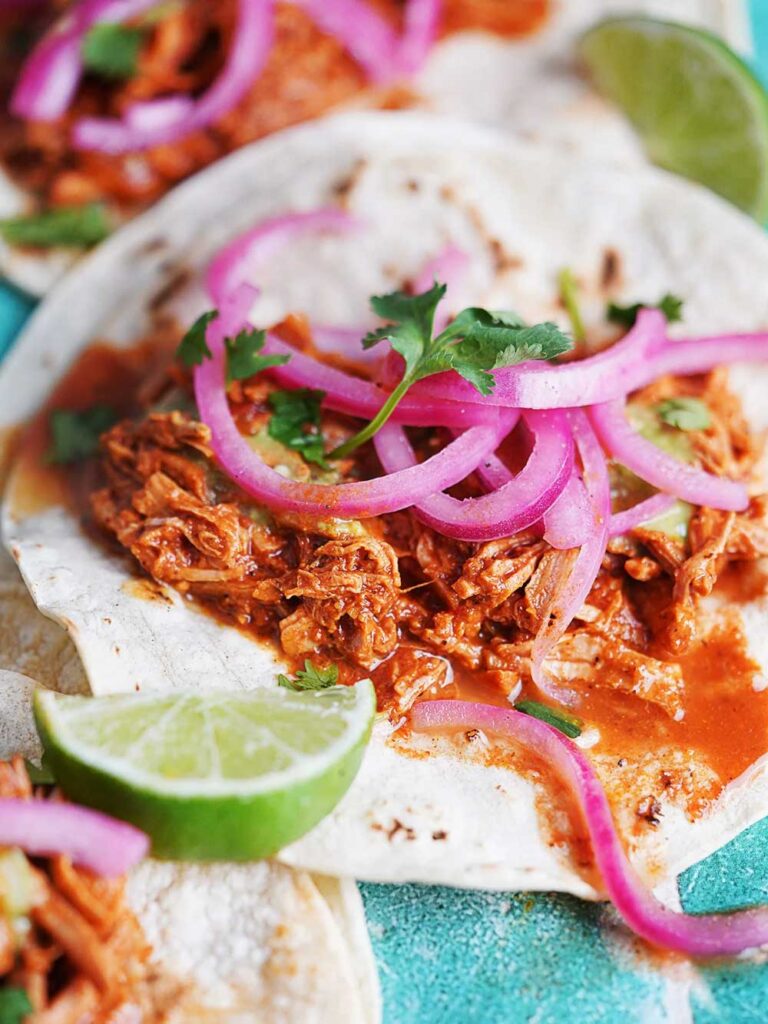 Slow-cooked meat isn't usually a key ingredient when planning an authentic Mexican picnic.
Despite that assumption, Cochinita Pibil is simply to die for and will have your picnic guests begging for more.
This slow-roasted pork shoulder uses citrus juices like orange, lime, or grapefruit and typically comes in a banana leaf.
You can forego the banana leaf in favor of corn or flour tortillas, but don't skip out on the purple onion or habanero to complete the flavor.
After marinating in the juices, this traditional Mayan dish from the Yucatan peninsula looks excellent because the pork becomes red.
If you pick it for your next picnic, your reward for putting in the hard work at home will be eating it in the middle of nature.
Chicken Tinga Tostada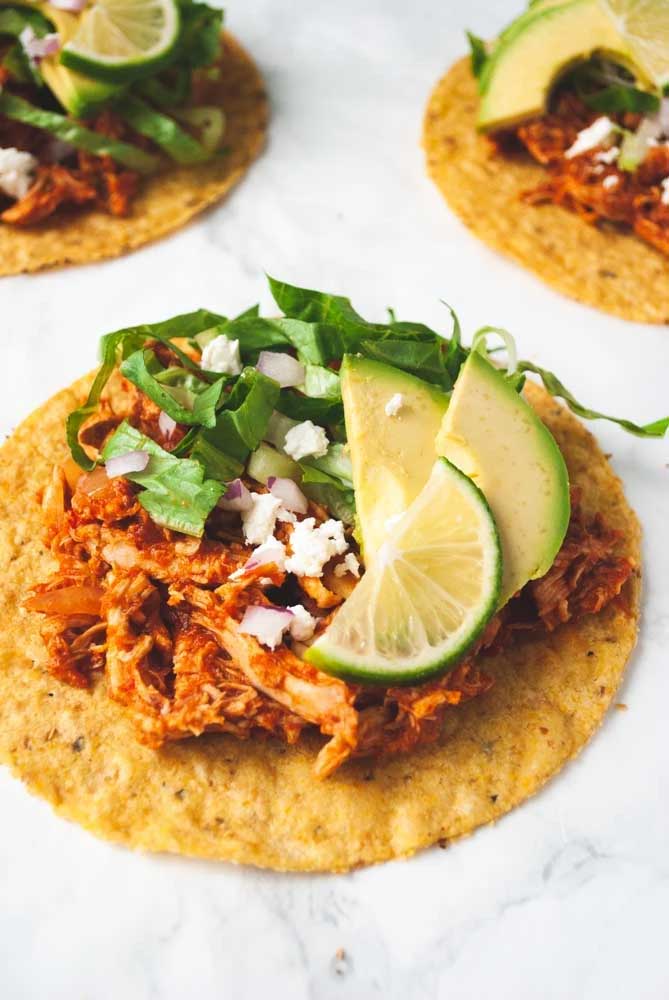 Chicken tinga is simply a shredded chicken in a red chili sauce, but the style that you cook it in is the backbone of Mexican flavor.
The chicken tinga is perfect on a tostada.
A tostada is a toasted or fried tortilla that's flat or bowl-shaped and holds some delicious ingredients.
Most commonly, these ingredients include crema, pico de gallo, and lettuce, but you can also add avocados and lime slices.
If you picked chicken tinga tostada to star as your picnic's main dish, you have several options.
You can pack everything separately and assemble it at your destination. Alternatively, assemble it at home and enjoy having a picnic with minimal use of utensils.
Plus, the chicken tinga tostada flavor is iconic and close to that of a taco, but thanks to the chicken tinga, you'll get more taste with each bite.
Feel free to switch up the chicken for beef tinga, which is a shredded beef in red chili sauce tostada that's equally as good!
Mexican Street Corn (Elote and Esquites)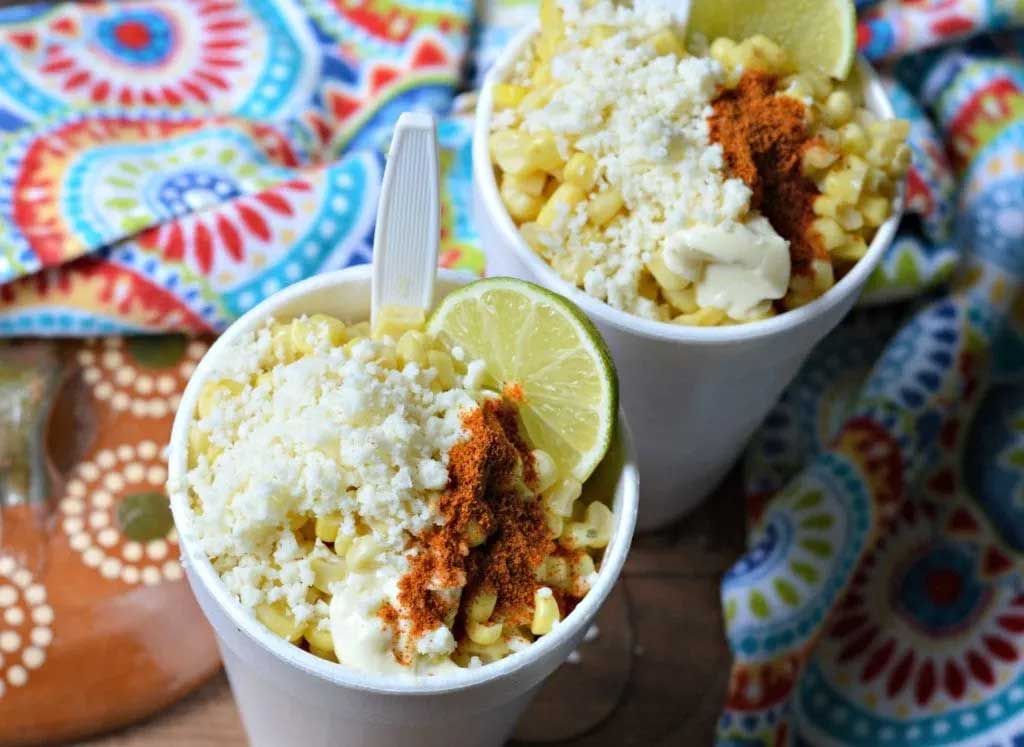 Elote is another classic Mexican street food perfect for your picnic. 
Traditionally, Elote is corn on the cob doused in a generous helping of a mixture containing mayo, chili powder, Cotija cheese, cilantro, and lime.
While it can be messy to eat on the cob, the flavor is worth it! Just make sure you have plenty of napkins on hand.
Those who can't get past the messiness of Elote will love Esquites, the off-the-cob version of Elote.
This type of Mexican street corn calls for kernels roasted ahead of time.
Mix all the ingredients and serve them on the side. If you're a hothead, you can even kick Esquites up a notch with poblano or ancho chilis for extra heat.
Conchas
Conchas are undoubtedly the most iconic Mexican sweet dessert. The seashell-shaped buns are soft brioche-style cakes with a crispy and sweet topping.
Making Conchas is not a simple process. Some recipes require up to seven hours of total bake time. Keep in mind that you won't savor the tasty dessert unless you plan ahead.
While baking fresh Conchas can be challenging, the classic chocolate or vanilla-flavored pastries will please everyone.
You can even opt for a bakery-produced Concha if you're in an area with many Mexican bakeries.
Tres Leches Cake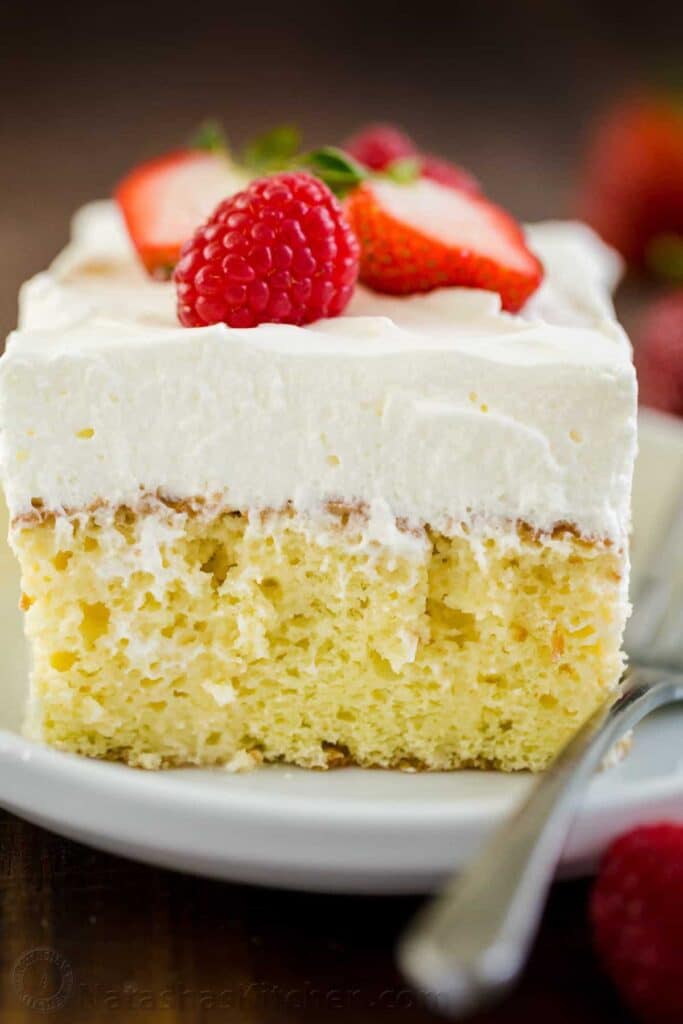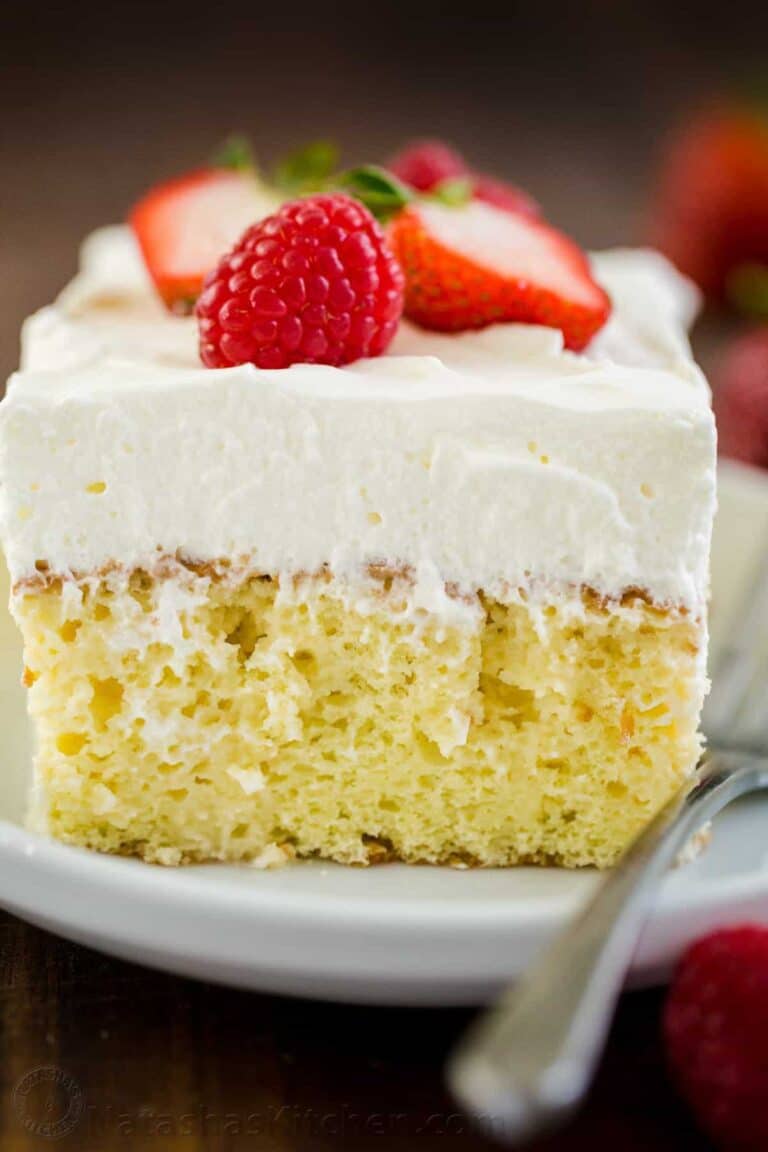 Other than Sopapillas, there is no other dessert as widely known as the Tres Leches Cake. 
The recipe is famous for being an incredibly decadent cake that uses three types of milk—condensed milk, evaporated milk, and heavy cream.
You can also use butter to make a denser cake, but omitting it will give you a light, airy dessert.
The top of a Tres Leches cake is a healthy layer of freshly whipped cream, cinnamon, and fresh strawberries.
Because of the creamy texture, Tres Leches Cakes complement foods like Elote or tame hotter dishes.
Plus, it's a popular dessert with kids and adults alike and can substitute for a birthday cake.
Mango con Chili Y Limon
Mango con Chile Y Limon is the perfect authentic Mexican treat for any picnic.
The combination of citrus lime, spicy chili, a touch of salt, and a fresh, sweet mango really hits the spot during beach picnics.
It's another Mexican street food that translates well into picnic food thanks to the ease of preparation and not using too many ingredients.
To make Mangos con Chili y Limon even easier, you can prep the mangoes and limes ahead of time. 
To make less of a mess, skewer the mango for sticky-free eating. You can also put the chili powder on the side so picnic guests can make it as spicy or sweet as they want.
The Classic Margarita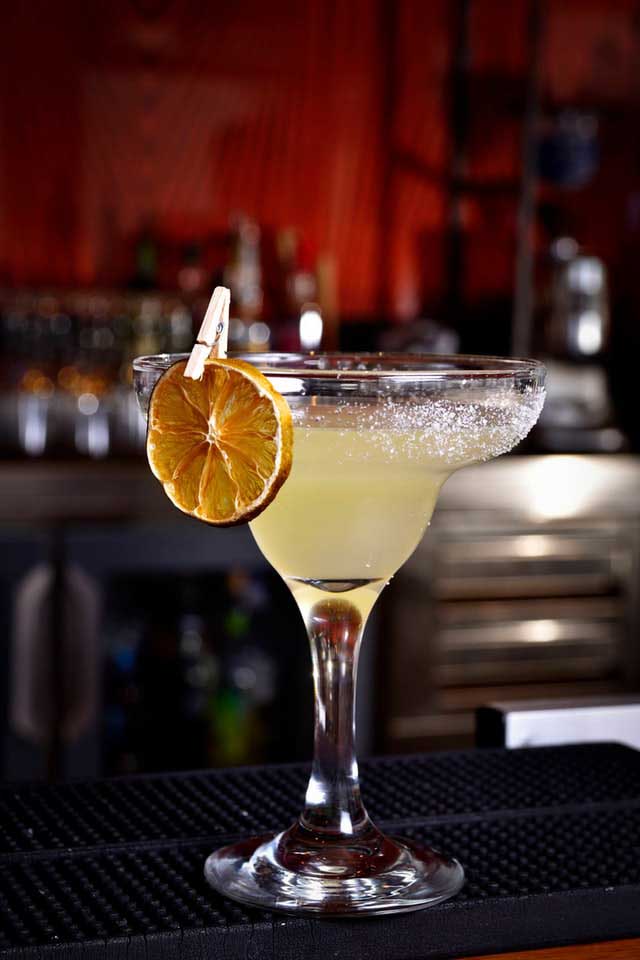 Some cities frown upon open alcohol consumption, so make sure you're following laws, but the classic margarita is, without doubt, the best beverage to enjoy at a picnic.
The combination of sweet, citrus, and salt compliments the tequila. You can spice it up with fruit like mango, strawberry, or even watermelon.
If you're driving, leave the tequila out and enjoy a healthy fruit drink.
Mexican Picnic Ideas
An authentic Mexican picnic wouldn't be complete without some fun activities. Of course, it depends on the occasion, but activities can really bring the Mexican theme together.
Here are a few great ideas for activities you can do at your next picnic.
Make a Piñata
Piñatas are a popular birthday toy but their origins are far more traditional—the first piñatas date to the Aztec or Mayan empires.
The modern tradition is an exciting picnic activity, especially for little kids.
Making a piñata by hand takes a lot of time, but it also invites the most creativity and personalization.
Start with making a paper mache paste and gathering old newspapers or magazines.
First, wet paper strips with the paper mache paste and drape around an object of your desired shape.
Balloons and clay pots work well. Decorate with tissue paper in various colors when the paste dries, and add in the candy and treats.
To set up the piñata game, tie it to a tree branch and blindfold the first player. Allow each player two to three swings after being spun several times.
Once the piñata breaks, all the players rush to collect the treats hidden inside.
Listen to Traditional Mariachi Music
Traditional Mariachi music is emotional. The best way to describe it is as a unique way of singing, a particular combination of instruments, and an unforgettable sound.
Mariachi music has a history that stretches back to the early Mexican colonial times in the 16th century. 
The first instruments were strings, but influence from Spain, enslaved Africans, and native tribes contributed to what we call Mariachi today.
Enjoy strings and horns from famous artists like Vincente Fernåndez, Juan Gabriel, and Pepe Aguilar.
Don't mistake the lively music for only positivity, though, as Mariachi music incorporates traditional rhymes, stories of heartbreak, and powerful feelings of falling in love.
It's the perfect complement to your authentic Mexican picnic, especially since finding music is as easy as searching it on YouTube.
Play La Pirinola
La Pirinola, Toma Todo, or Perinola is part authentic Mexican game, part educational opportunity. It all surrounds a six-sided die, similar to a dreidel. The concept is a simple "give or take" type of game.
While the game is clearly Spanish, its roots stretch further back to Roman times, when a similar game had emerged.
Finding a Toma Todo or La Pirinola is relatively easy. You can find them in Latino markets or make your own.
Various players take turns spinning the top, which lands on a Toma, Pon, or Todos command.
Depending on the outcome, players either put tokens into the "pot" or take tokens. To win, one player must have all the tokens.
La Pirinola is excellent for kids and adults and keeps everyone occupied for hours.
The great thing about La Pirinola is there's no limit to the number of players or tokens so that the games can get really massive.
Be sure to have some Agua de Piña nearby for really long games!
Final Thoughts on How To Plan an Authentic Mexican Picnic
An authentic Mexican picnic is a perfect theme for birthdays, family gatherings, summer barbeques, and romantic dates.
Finding foods and activities that not only have a history in Mexico but are also perfect for picnics doesn't have to be complicated.
Many traditional foods like tortas and Elote are typical delicious street foods that are easy to put together.
Eating isn't the only part of having a picnic. Some authentic Mexican activities make the day feel more like spending time south of the border—minus the travel expenses.
Thanks to some easy-to-pack foods and fun things to do, this is how you plan an authentic Mexican Picnic.