Mother's Day – the day when we celebrate all the moms in our lives and show them how much they mean to us. It's the perfect day to pamper them with thoughtful gifts, beautiful flowers, and create unique memories.
Besides gifts and delicious foods, we believe that throwing them an unforgettable picnic is a wonderful way to take the day to the next level.
Therefore, we've rounded up the best Mother's Day picnic ideas ideal for every type of mother. We'll also recommend the best presents for all the special mothers of your life – mom, grandma, stepmom, or mother-in-law.
With the pandemic going on, we also picked some fantastic virtual gifts that will make them feel special.
Mother's Day Picnic Ideas & Gifts
1. Picnic Baskets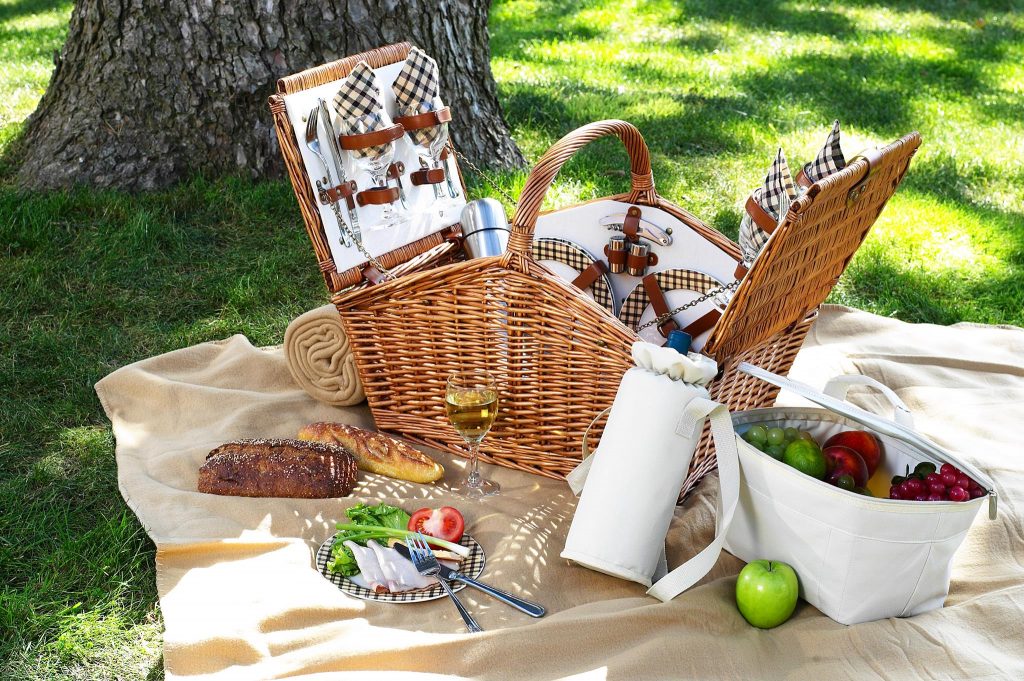 Picnic at Ascot Huntsman | Check on Amazon
The first thing you'll need when going to a picnic is a basket where you can put all your food, drinks, and serve-ware. Plus, it can make a great gift as well.
We love the Huntsman willow basket designed by Picnic at Ascot. It comes with everything you need for a picnic in four: blanket, glasses, salt&pepper shakers 🧂, corkscrew, insulated totes, and more. It's definitely made to impress!
2. Portable Picnic Blanket
Vonshef Outdoor Blanket | Check on Amazon
For any outdoor adventure, you will need a soft, comfortable, and water-resistant blanket to sit on. Preferably one that you can roll up and carry easily. We recommend the Vonshef picnic blanket – it's stylish, cozy, easy to maintain, and large enough to fit 4 people.
3. Cheese Board Set
ChefSofi Cheese & Charcuterie Board | Check on Amazon
Want to make everything even more delicious and fun for the entire family? We got the right idea for you!
And we promise this will turn even a boring day into a day to remember: try all the scrumptious cheeses, nuts, dried fruits, and crackers, and just relax with your belly full of amazing experiences.
We recommend the ChefSofi – made in Germany – acacia wooden cheese board. Spacious, elegant and practical, it comes with 4 cheese knives and 4 bowls which will help you organise your side dishes in a beautiful way.
4. Folding Wine Table
Tirrinia Small Picnic Table | Check on Amazon
This portable and small wine picnic table is a perfect addition and a great surprise for all the moms out there who love their glass of wine. The Tirrinia outdoor folding table comes in 3 sizes to accommodate your needs. Sturdy, compact and foldable, it's the best way to hold a bottle of wine, two glasses and snacks.
5. Fresh Flowers with Vase
Mixed Flowers Bouquet | Check on Amazon
Offering freshly cut flowers is one of the most thoughtful gifts in the world.
Don't worry if you cannot give her the flowers personally, (due to the pandemic, or any other reasons) there are plenty of online flower subscription services out there that can deliver your flowers to your beloved mother in just a few hours.
6. Caserolle Carrier
Rachel Ray Insulated Casserole Carrier | Check on Amazon
Want to give the day a more familiar feeling and eat your childhood food? Why not cook your mom's favourite, or family's top dish and enjoy it at the picnic.
You will just need an insulated carrier to keep your food warm, and you are good to go.
This popular insulated carrier is designed by the famous Rachael Ray and the quality is fantastic. You can easily transport your lasagnas, main dishes or desserts.
It has 3 compartments of different sizes and will keep your food warm or cold for hours.
7. Cupcake Carrier
Cuisinart Cupcake Container | Check on Amazon
Relax and enjoy, calories don't count on special days.
After great food, and some wine, it's time for desserts.
A great idea is to bake some delicious homemade cupcakes and bring them with you. Don't have time for that? No worries, grab some from that cute shop you're always passing by.
The only thing you will need is a way to carry the cupcakes in a safe way: cupcake carriers, will make the transport safe and easy.
8. Chocolate and Crunch Gift Box
Golden State Fruit Store | Check on Amazon
You cannot go wrong with a box full of exquisite handmade chocolates, caramelized pretzels, chocolate-covered cashews, caramelized popcorn, and many more.
Your mother will for sure fall in love with this box from Golden State Fruit.
9. Family Recipe Board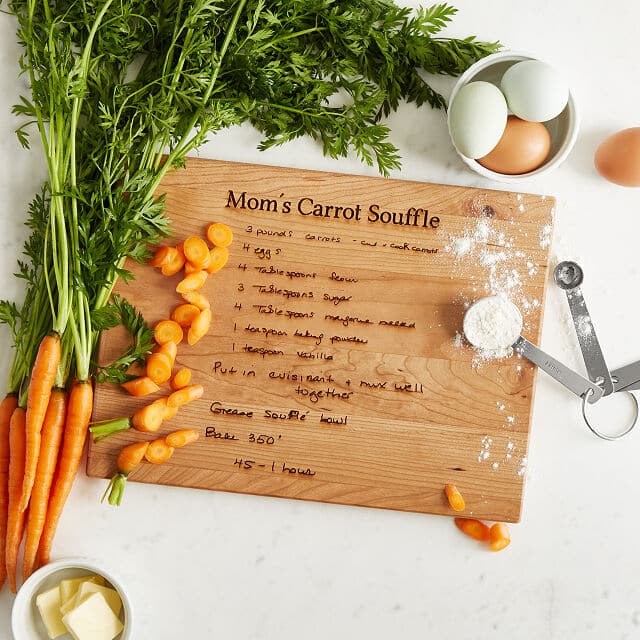 Wooden Board Family Recipe | Check on Uncommongoods.com
Almost every family has a distinguished recipe that always makes everyone feel home and loved.
To show how much you appreciate her, engrave your mom's signature dish on a beautiful wooden board. This will act as a constant reminder of how much you love her.
10. Personalized Family Mugs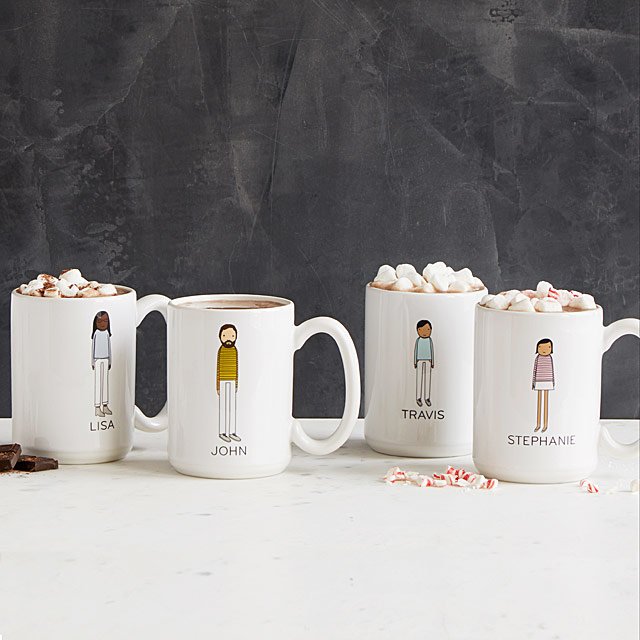 Family Mug Shots | Check on Uncommongoods.com
Surprise your beloved mom with personalized mugs with your family's names and artwork. A thoughtful gift that will make her remember you every time she drinks her coffee.
11. Essential Oil Diffuser
Asakuki Essential Oil Wi-Fi | Check on Amazon
Do you know that feeling when a smell reminds you of a great memory? Different smells helps us remember vivid moments of our lives and the most beautiful memories come alive from just smelling.
If you want to really improve your mom's life quality with something that will relax her, and make her feel like she lives in a land of flowers, then an Essential Oil diffuser will make her the happiest.
They disperse natural oils into the air – orange oil, peppermint, lavender whatever you like — which improves the air quality, reduces stress, and protects from allergens or dust.
12. Handmade Envelope Necklace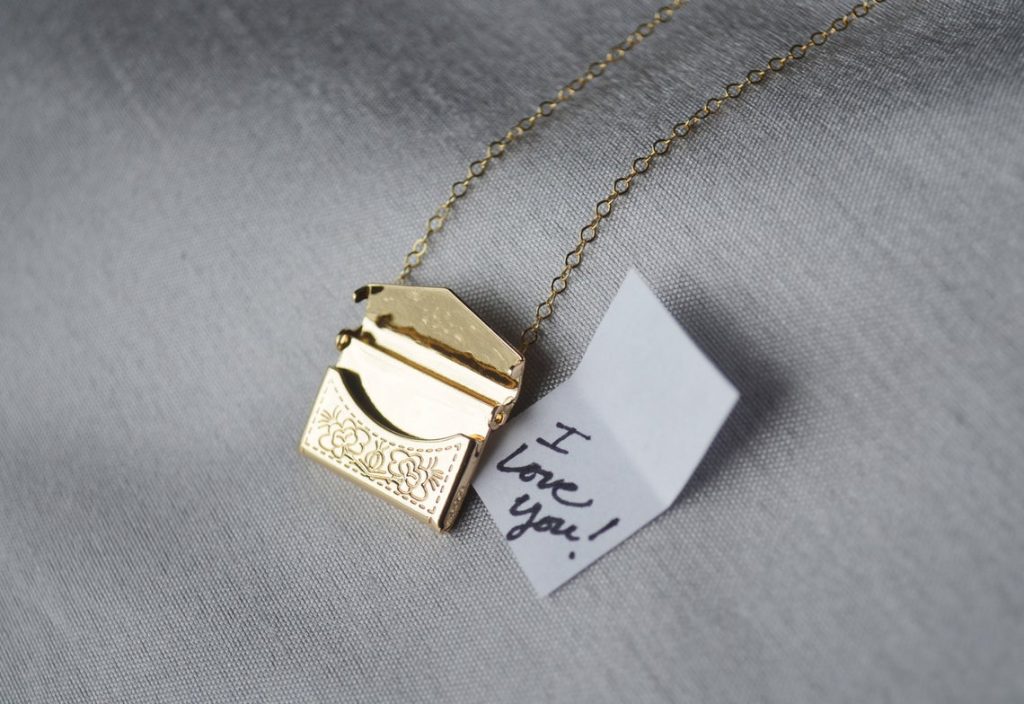 Personalized Golden Platted/Filled Necklace | Check on Etsy
Let your mom know how special she is and give her a piece of personalized jewelry that will keep it close to her heart. This delicate small envelope jewelry can even hold a thoughtful handwritten message.
Any mother wants a love message from their beloved sons and daughters.
13. Shatterproof Champagne Glasses
Unbreakable Champagne Glasses | Check on Amazon
Any celebration needs good drinks and nice-looking glasses .
If you're bringing champagne or wine – alcoholic or not – you might want to also bring some outdoor-friendly glasses. To be safe, leave the expensive ones at home. This way you won't have to worry about them and you'll be able to enjoy Mother's Day to its fullest.
We hope our ideas inspired you to plan an unforgettable Mother's Day that your mom will never forget. Happy Mother's Day!