A birthday marks the day that someone we love entered our world, and this deserves to be celebrated.
When the weather allows, we love taking our celebrations out of doors and into open spaces. This allows us to extend the invitation list and relax in the open air.
Here are some of our favorite birthday picnic ideas to make someone feel special on their big day.
What you'll need for a cute birthday picnic (Quick Buys)
Supply List
Guest list and invitations
Essentials
Seating & Table
For the Decor (must haves)
Tableware
Birthday Picnic Ideas
Set a Theme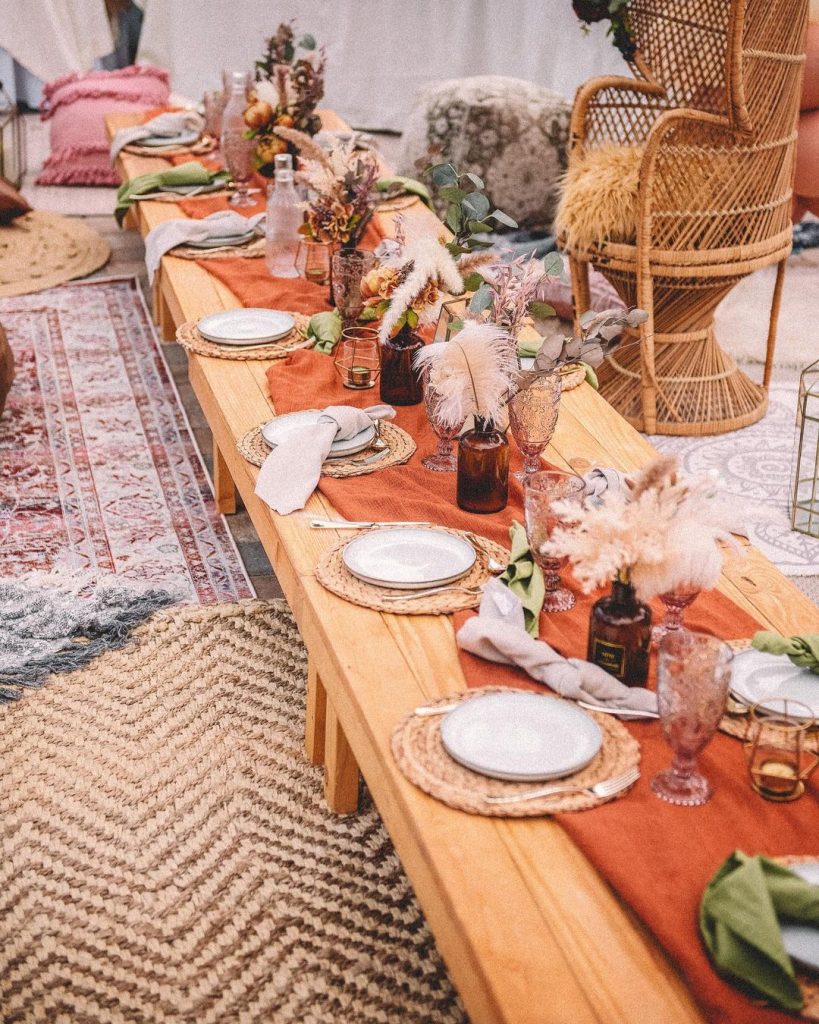 When you are planning a theme for a birthday picnic, you can think about what the birthday child or adult is passionate about and incorporate it into the party!
Once you have a theme, you can choose your place settings, picnic blankets, and even foods, more appropriately.
A cohesive theme can blend all of the party elements into an organized and coordinated affair. You can go for vintage vibes, color themes, country styles, etc.
We've written full (step-by-step) guides on the following themed picnics, check them out:
Choose a Location
For a birthday party picnic, you can choose to set up in a local park pavilion, a shady spot near a lake or on a hillside, or even in your own backyard!
Setting up at the Pavilion
A pavilion can provide be practical for large gatherings as there is usually plenty of table space for a big gathering.
You can make the stark shell of the building more festive by hanging streamers, stringing fairy lights, and using colorful tablecloths to cover the metal picnic tables.
Spreading out at a Natural Location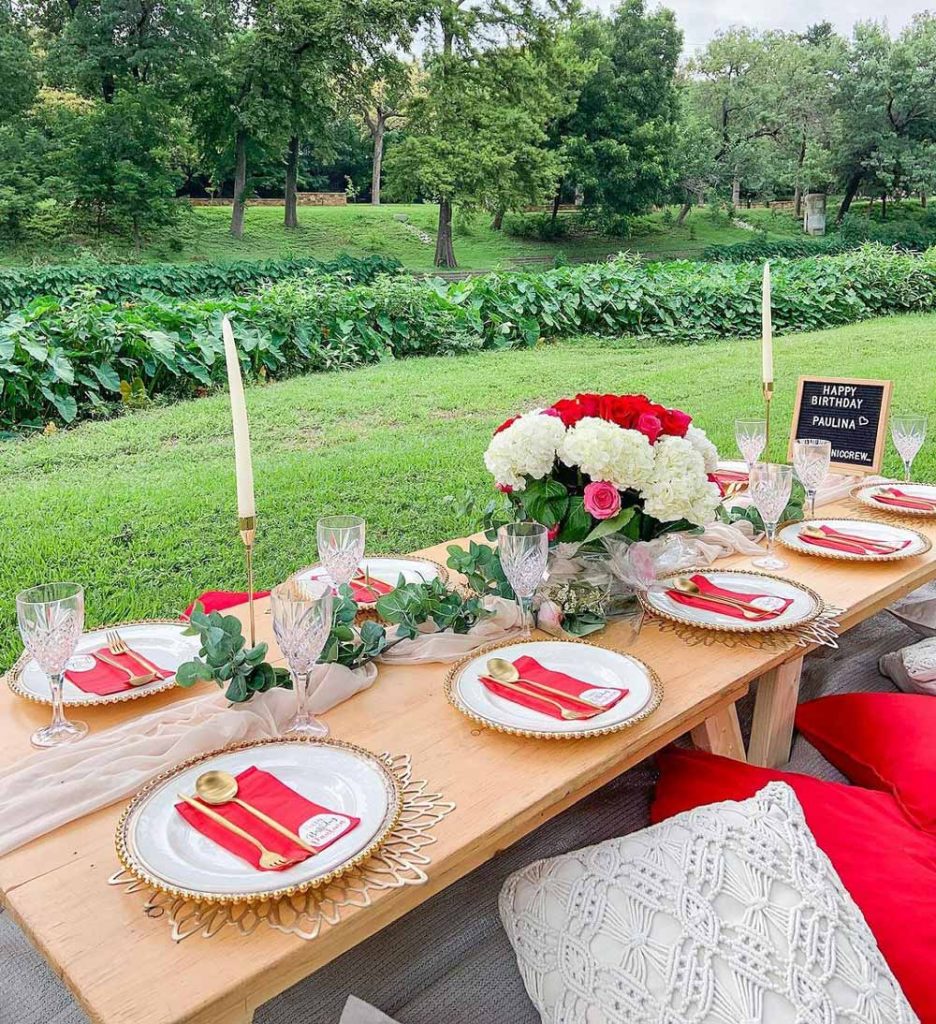 If you are planning a birthday picnic near a lake, in the park, or on a hillside, don't forget to pack a waterproof picnic blanket and sunscreen.
You can also provide a pop-up tent in case the weather goes south at the last minute.
Instead of a traditional cake, which may not travel well, you may decide to bring birthday cupcakes, petit fours, or personal pies.
Keeping the Party Close to Home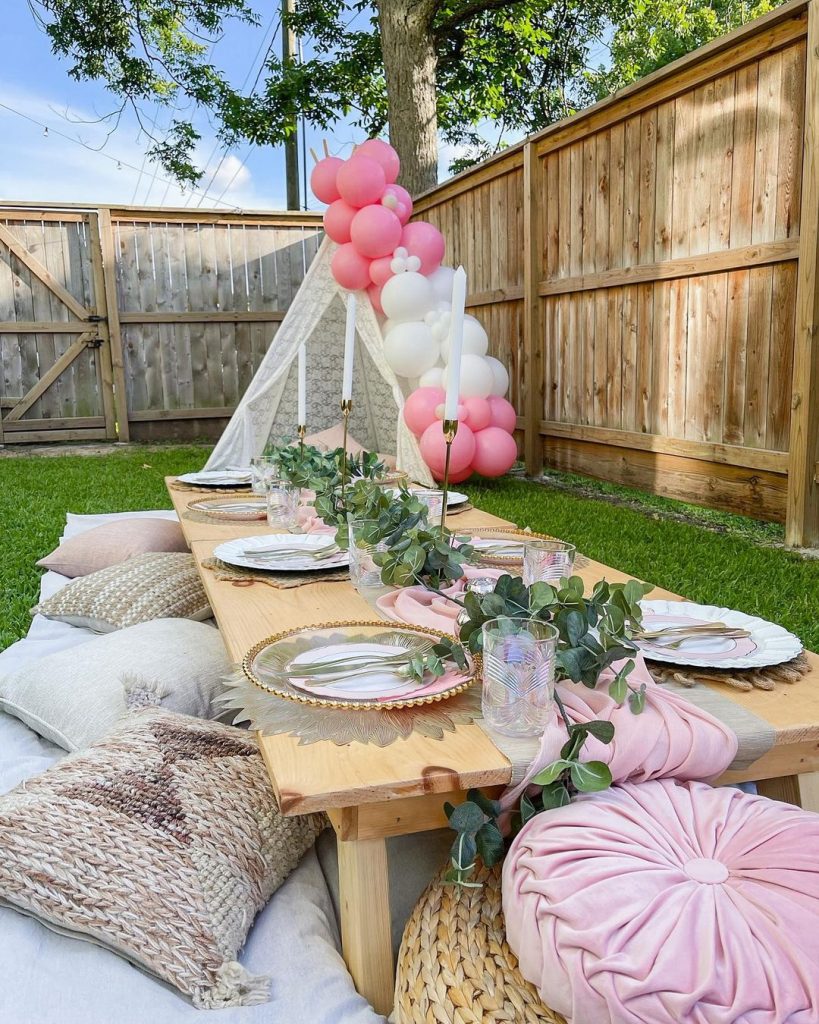 A backyard party can give you easy access to all the utensils and necessities you need, while at the same time providing an open space for more party potential.
You also won't need to worry about fitting all your food into a cooler. Decorating a backyard party can be much simpler as you have access to electrical outlets.
You also can use more (or larger) decorations since you don't have to carry them far from your doorstep.
Decorate the Grounds
Any picnic can be improved by a few simple decorations, but at a birthday picnic, we like to pull out the stops!
Use Picnic Baskets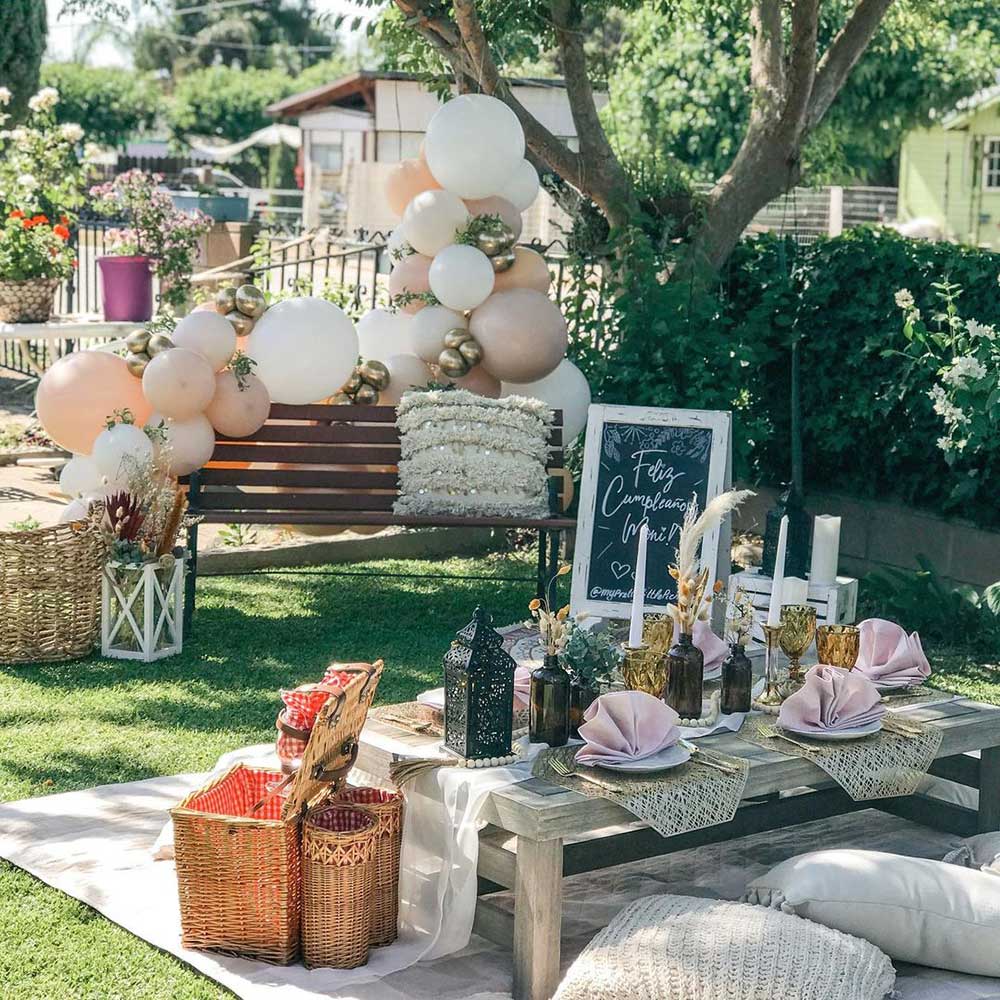 What better way to decorate for a birthday party picnic than with picnic baskets! You can spread picnic blankets and then place a wicker picnic basket in the center of each blanket.
Fill the baskets with snacks, drinks, and/or plates and utensils.
Use a basket with a lid if possible to keep insects out. You can even set place cards at each spot to let guests know which blanket is their "table."
Bring Helium Balloons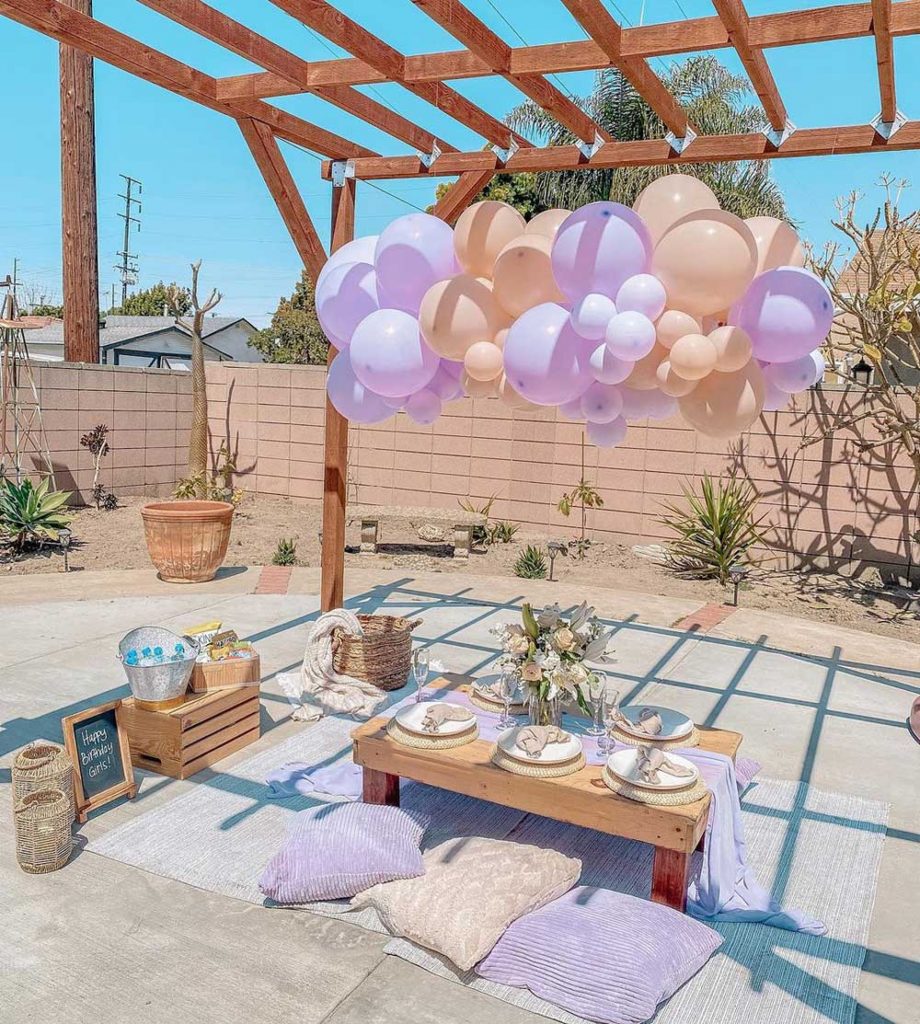 Balloons are a great way to add color and festivity to your party! You can tie helium balloons to the picnic baskets to make fun centerpieces.
If you are afraid of too many balloons flying away, you can also use regular balloons on sticks and place them in vases with ribbon streamers.
Set up a Cute Teepee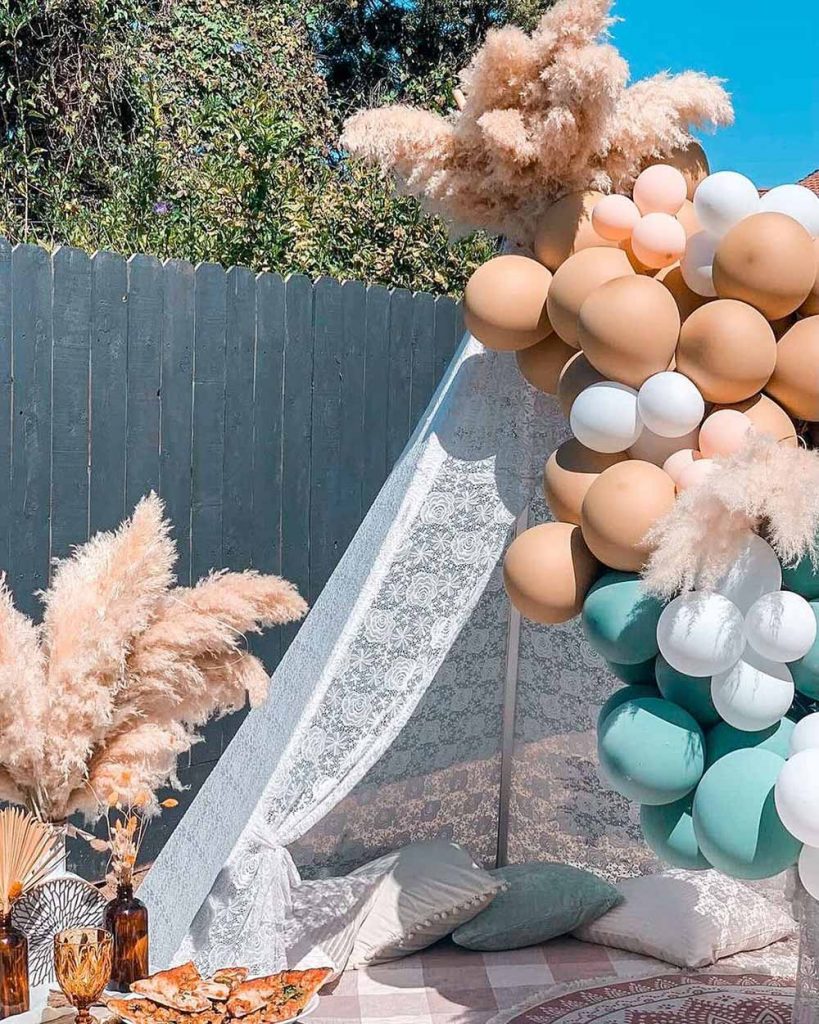 A picnic teepee is the piece of resistance when it comes to stunning picnics. You can also fill a tent or covered patio with helium balloons.
This can be a fun corner for kids to play in, and then when they leave the party, each child can take a balloon home.
Flowers are Always Welcome
Flowers can add life to the party! If you are holding the picnic in the backyard, you can decorate a tree swing with flowers to make a photo-op.
You can also cover a blanket with flower petals, or lay a nose-gay at each person's spot.
Bring a Scrumptious Birthday Cake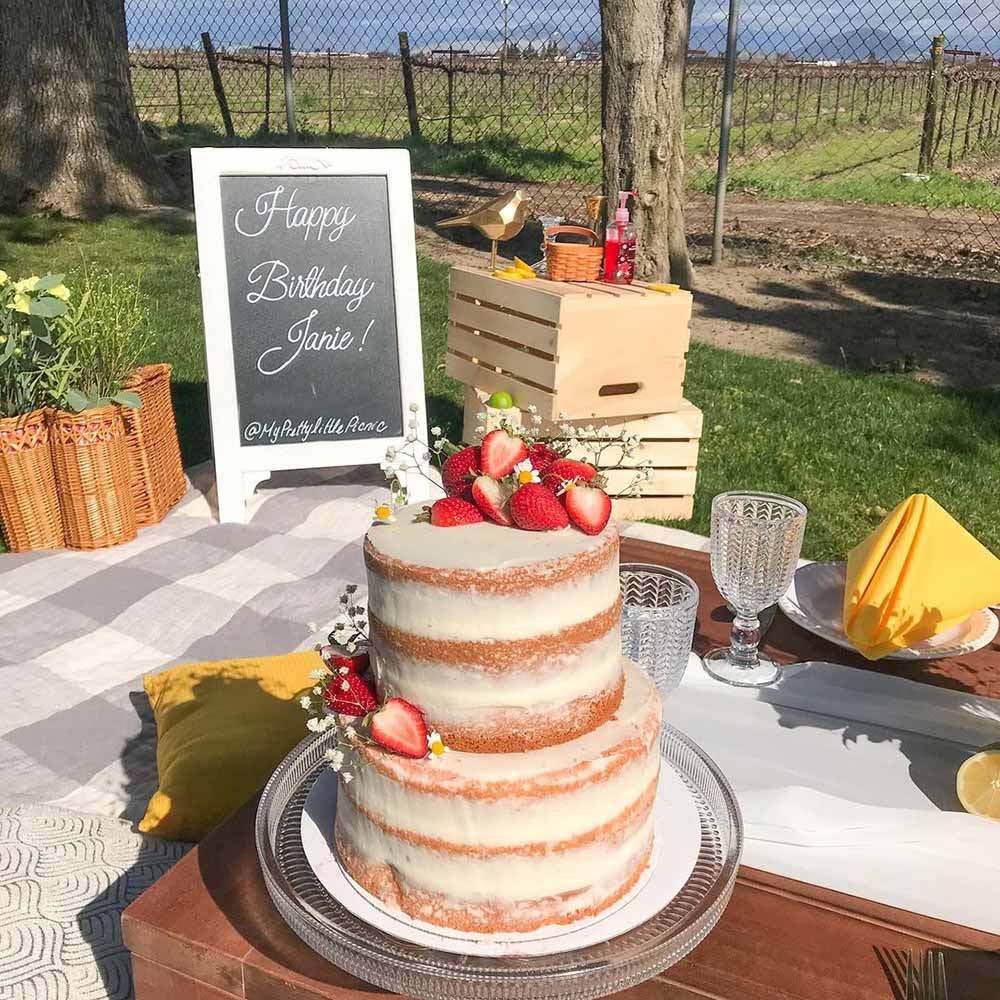 If you want to eat some delicious cake, make sure to keep it cold and transport it safely to your picnic destination by using a cake carrier and a cooler.
If you throw the birthday party in your own backyard, then you're all set – just take it out of the fridge when you're ready for it.
Like our ideas? Share them on Pinterest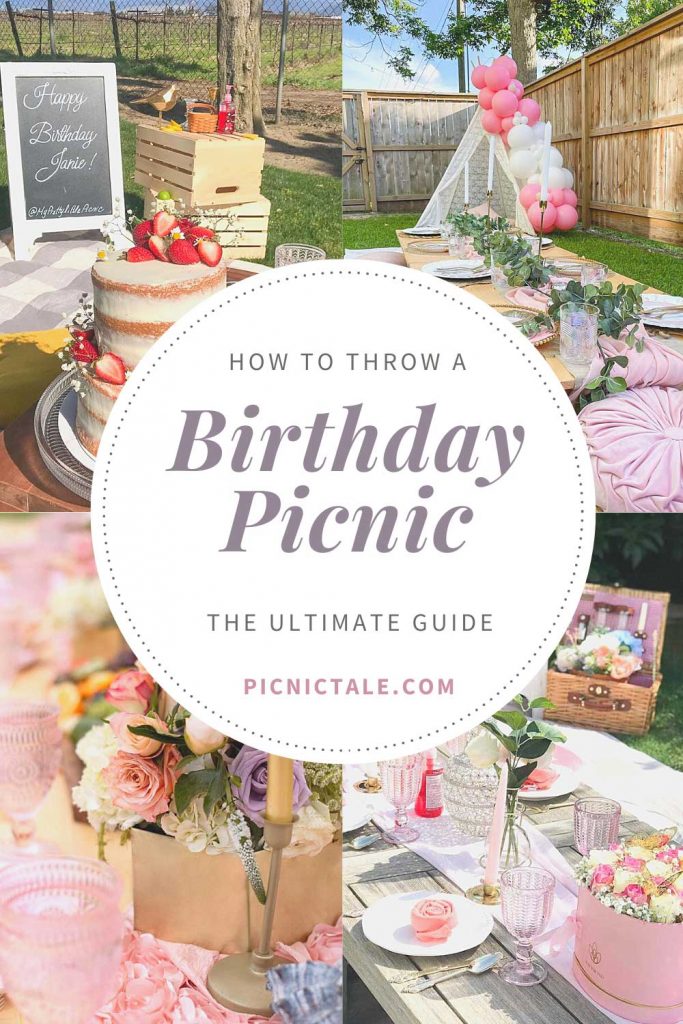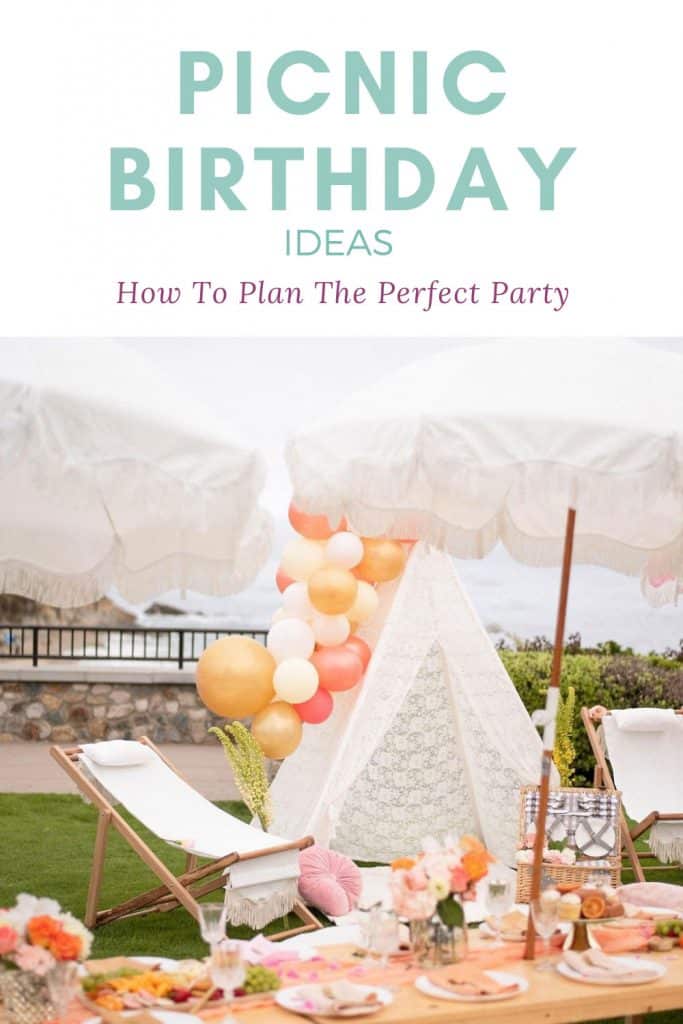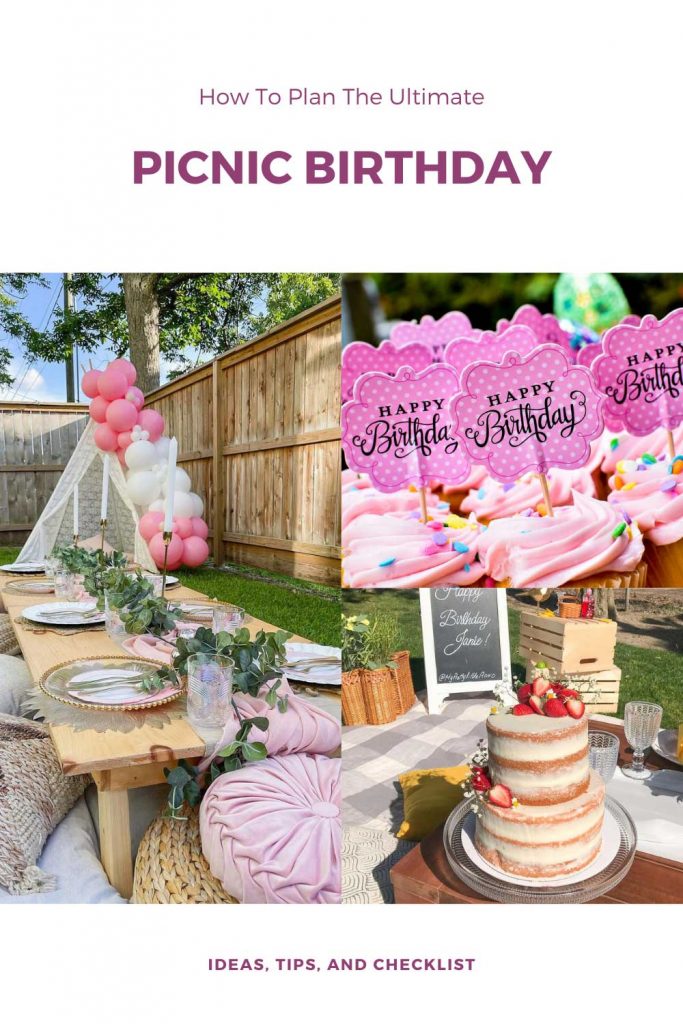 How to organize a birthday picnic party
To organize a birthday party picnic, the most important factor in the equation is the guest of honor and their likes and dislikes.
Based on their personality, you will know if more guests will make a merrier party, or if a small intimate group will be more comfortable.

Do you want the birthday picnic to be a surprise, or does the guest of honor enjoy being part of the planning process?

After you have found your answers, you can find your location, set a date, and start planning the guest list.

You can choose a theme based on a favorite movie, book, character, place, food or drink, or even a color theme. The decorations and cake can be planned around this theme.

Also, it's a good idea to get some mutual friends involved in the planning, decorating, and serving of guests.
This is a way to bring in fresh ideas to the party planning, help the process go smoothly, and also lets the fellowship and fun start early!
Fun and Games
At a picnic party, the sky is the limit for what games you can play. This is one reason we love a party out of doors… you have space to fit more people and to have fun!

For a kid's birthday party, you can set up different stations and the children can rotate through their favorites.

Some ideas for birthday activities for kids are:
A pinata
Sack races
Face painting
Pin the tail on the donkey
Sandbox excavation
Water games
Lawn bowling
Musical chairs
Bean bag toss
For adults, you can create a scavenger hunt, play frisbee tag, or go on a nature walk. You can even make a treasure hunt, which leads the guest of honor to find their gift.
Final thoughts
Birthdays come once a year and are a great excuse to celebrate the life of those we love.
You can choose to make it a simple affair, or go all out with the decorations and games.
For a birthday party picnic, it is most important to see that the birthday person is feeling loved and in their element.
We hope our favorite ideas can be used to make someone's special day even brighter!
Photo Sources: The Beach Picnic Company