After reviewing dozens of baby picnic blankets, we're convinced that the JJ Cole outdoor mat is the best outdoor baby blanket on the market.
Next on the list, we have the Little Unicorn Outdoor Blanket which is a more expensive – but still great – option.
The main features we considered when reviewing outdoor baby blankets were: safety, comfort, portability, durability, weight, and ease of cleaning.
Below you'll find our favorite picks shortly reviewed, compared, and rated, and at the end of the article, we fully reviewed the top features of the JJ Cole blanket.
Update 2022: after seeing a huge gain in popularity, we reviewed and added the Little Unicorn blanket to our list.
Best Outdoor Baby Blankets
The Best Overall: JJ Cole Outdoor Baby Blanket​
The quality is fantastic, it's easy to clean, folds quickly for easy transport, and it's water-resistant. This blanket is not only practical and modern but also super cute, being available in 8 different pretty color patterns.
The JJ Cole blanket is ideal for any outing adventure: for picnics, sporting events, stroller walks in the parks, backyard or beach trips.
Runner-up: Little Unicorn Baby Blanket​
If you love Little Unicorn products, then you probably already heard about their staple outdoor blanket.
Ideal for babies and family outings, this blanket folds up into a convenient carrying case, and has an adjustable top handle. Just throw it over your shoulder and carry it to the park, to the beach or to sporting events.
When you fold it out, the blanket is huge, 5 by 7 feet. The material is 100% wipeable for quick and easy clean-up, perfect for your kiddos.
The only downside is the price. Compared to the JJ Cole blanket, the LU one is more expensive. However, the quality is great, the materials used are super safe, and it's made to last you years.
JJ Cole outdoor Blanket
Top Features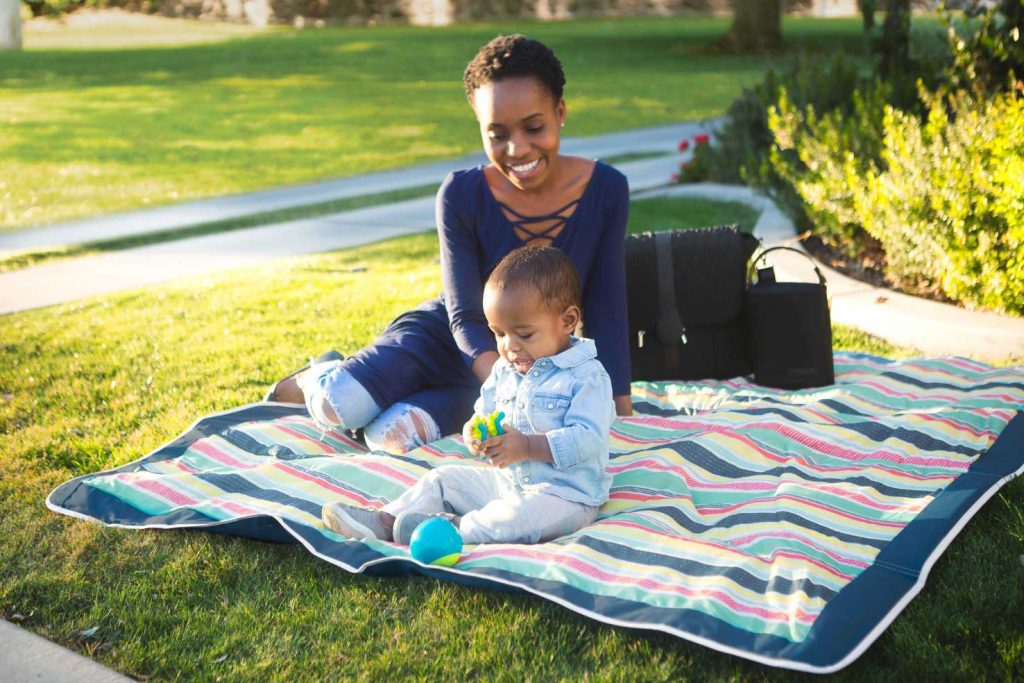 Durable And Safe Fabrics
The exterior fabric is 100% polyurethane, the inside fabric is 100% polyester and the cushioning 100% polyester foam.
This high quality and durable materials, plus the strong stitching, assures you that the blanket will last you a very long time. Many people who purchased it say they've been using it for 5+ years, without any tears or rips.
Water-Resistant To Keep You 100% Dry
The waterproof liner doesn't allow any moisture to seep through the blanket. This water-resistant material will keep you from getting dirty or wet, even when you're sitting on wet grass or damp sand.
Comfortable And Soft
The top fabric is nice, soft, smooth and it kind of feels a bit satiny – excellent for babies to crawl on, roll around or nap on.
At the same time, the backing is thick, tear-proof, durable and protective.
It's an ideal combination of durability and comfort, with this added cushioning between your little one and what lies beneath.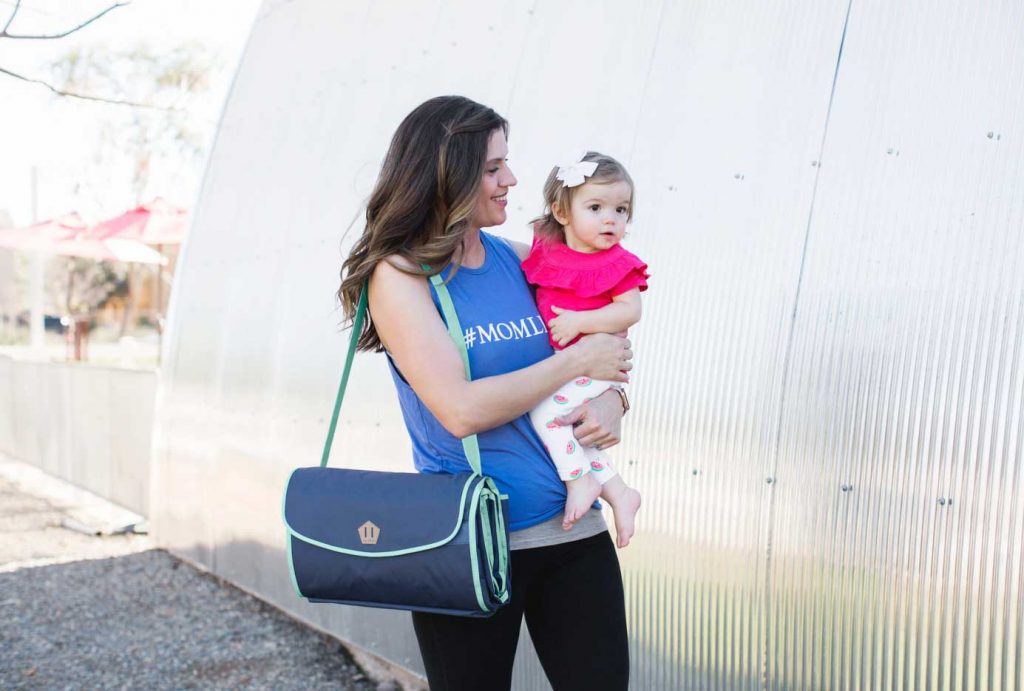 Spill-Proof & Easy To Wipe Off Clean
The upper layer you sit on is water-resistant which makes the blanket easy to wipe clean. This outdoor blanket can handle everything, from mud, wet grass, food and juice spills, crumbs, vomit, urine, and even a leaking diaper.
Folds In A Compact Way For Easy Transport
Smartly designed, the blanket easily folds up into a compact little "tote", closed by a strong velcro closure, which has a detachable strap and a handy exterior pocket.
To save time, it comes with pre-folded creases, so you could fold it in seconds without having to guess how it folds properly.
READ NEXT: 7 Best Kids Picnic Tables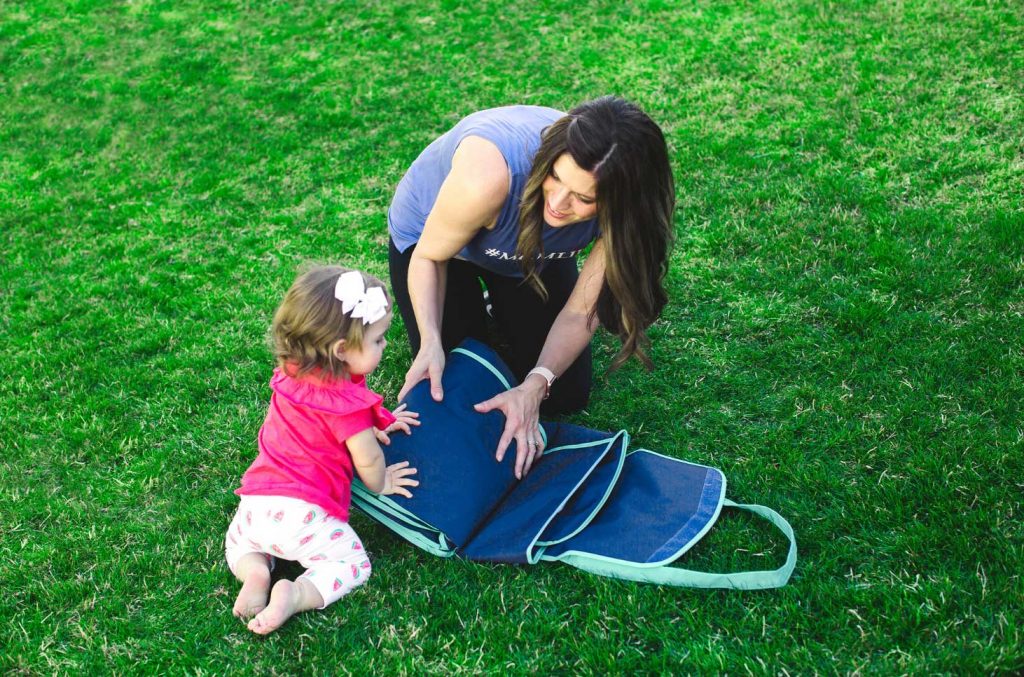 Deep Pocket
The exterior pocket is quite large and can fit items like a bottle of water, keys, sunscreen, several diapers, and cleaning wipes.
Ideal For Beach Days
You can use this on the beach without any problems. The sand is super easy to shake off, and it falls right off.
Available In Size 5'X 5' And 5'X7'
The 5'x5' blanket is large enough to fit a family of four or several friends with little ones. When you fold it out, the first impression is that it's larger than it looks in the pictures.
This blanket comes in a larger size as well.
With 2 feet larger than the original, the 5' x 7' JJ Cole baby blanket mat is spacious enough for 2 adults, 2 kids, and a baby – with plenty of room to spare.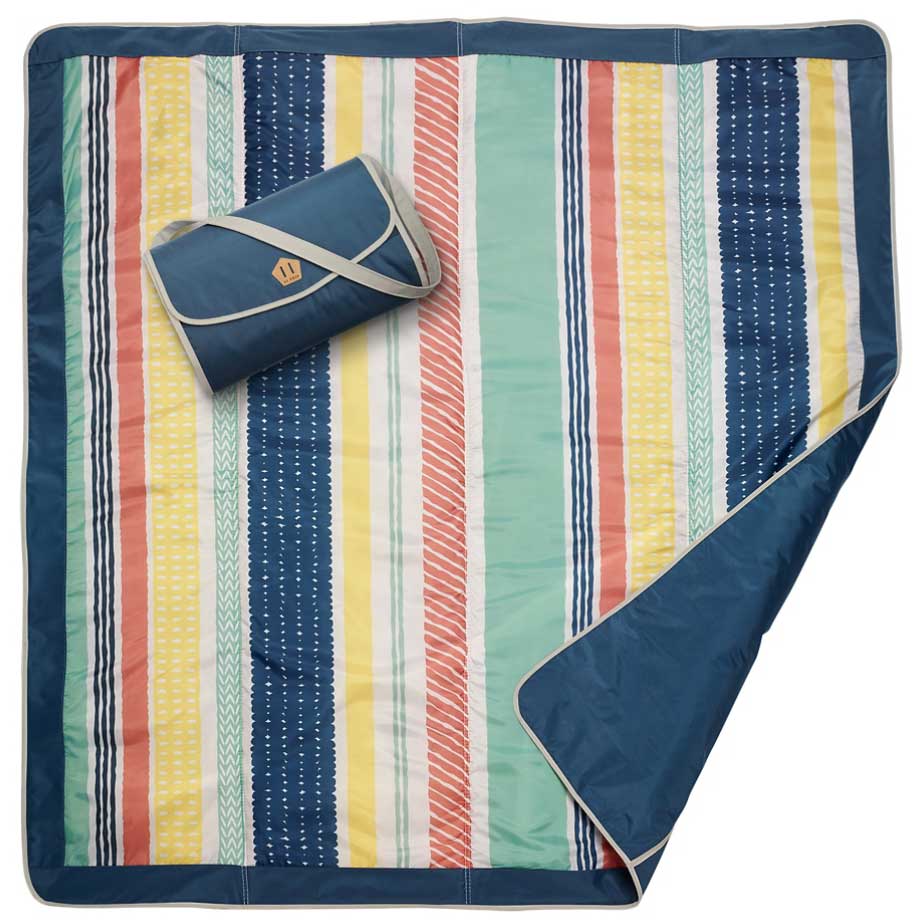 Folds easily
Pre-folded creases, so you could fold it in a few seconds without having to spend time figuring out how to fold it.
Quickly wipes clean
The material is water-resistant and resilient, which wipes clean in seconds. This means that you don't have to worry about juice, milk, tea spills or crumbs.
Lightweight
Another practical feature of this JJ Cole blanket is that it's very lightweight, which makes it super convenient to carry it around.
Is It Machine-Washable?
Yes, people who bought this said they washed it in the machine without any problems. Plus, you won't have to wait long for this blanket to dry. Just hang it to dry, and it will dry off almost instantly and look like brand new.
Drawbacks
Some people complained that because the velcro closure is so strong that it tends to pick up grass, leaves or debris, but it washes off well.
The velcro can snag on delicate clothing like silk, so make sure you keep the Velcro underneath the mat.
Read Next: