Choosing the best picnic basket for two can be overwhelming. There are so many models out there, and if you don't know anything about picnic baskets, it's hard to make a decision. Luckily, we can help you out! 🙂
We've spent this week studying dozens of picnic baskets, and after a thorough research, we finally picked our favorite picnic baskets for 2 people.
In this article we share with you our picks: both traditional and modern choices.
Quick Note: Backpacks and soft coolers may not look as attractive as the classic willow baskets, but one thing is sure: they're practical, easy-to-carry, lightweight, and often better insulated.
PS: If you're interested to see more options, check our latest article on the best picnic baskets available on the market here.
Best Picnic Baskets for Two Reviews | Our Picks
The Canterbury is a deluxe picnic basket, built with great attention to details, and comes with plenty of premium accessories.
If you're looking for a luxurious picnic experience, then you'll definitely appreciate the genuine leather straps, as well as the porcelain plates and the strong willow construction.
Another great feature is that, besides wine service, the set also includes coffee/tea service for two, with a stainless steel thermos and two mugs.
What's inside this 2 person picnic basket:
Insulated Stainless Steel Mugs
Porcelain Plates
Wine Glasses
Stainless Steel Forks, Spoons, Knife
Cheese Knife
Cutting Board
Cotton Napkins
Bottle Stopper
Corkscrew
Salt & Pepper Shakers
2 Food Containers
High Insulated Cooler Bag
High Insulated Wine Duffel
Stainless Steel Vacuum Flask
Fleece Blanket
As you can see, this set comes with a lot more extra things than other baskets: food containers, coffee service, blanket.
Plus the basket is not only attractive, but also practical and well-thought.
We really appreciate the insulated features: cooler bag, wine duffel, vacuum flask. You can keep the food cold/hot all day long.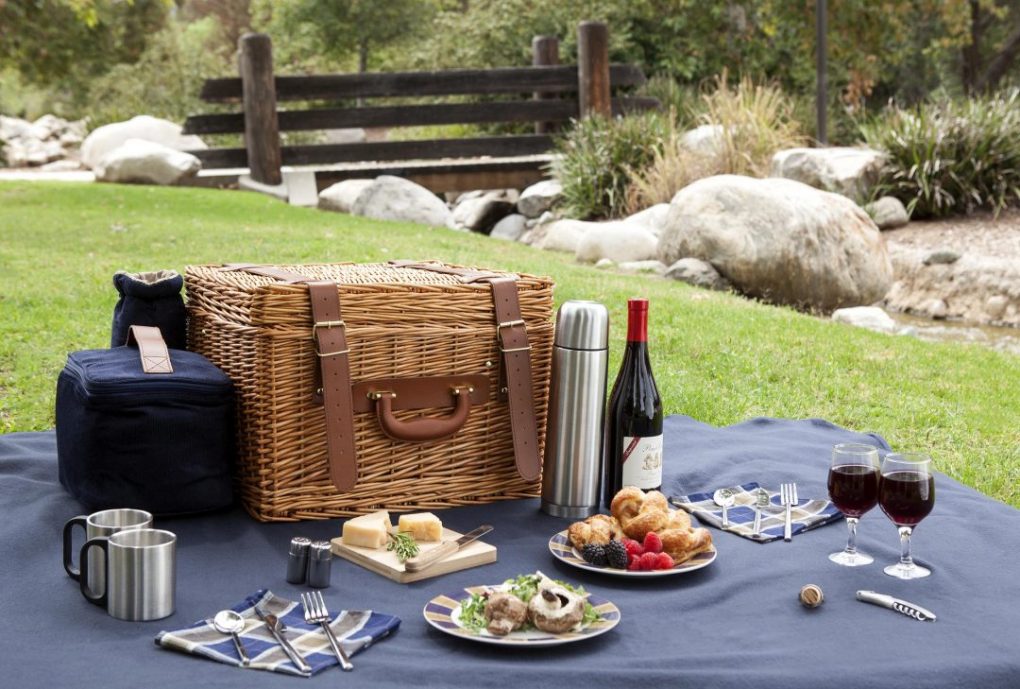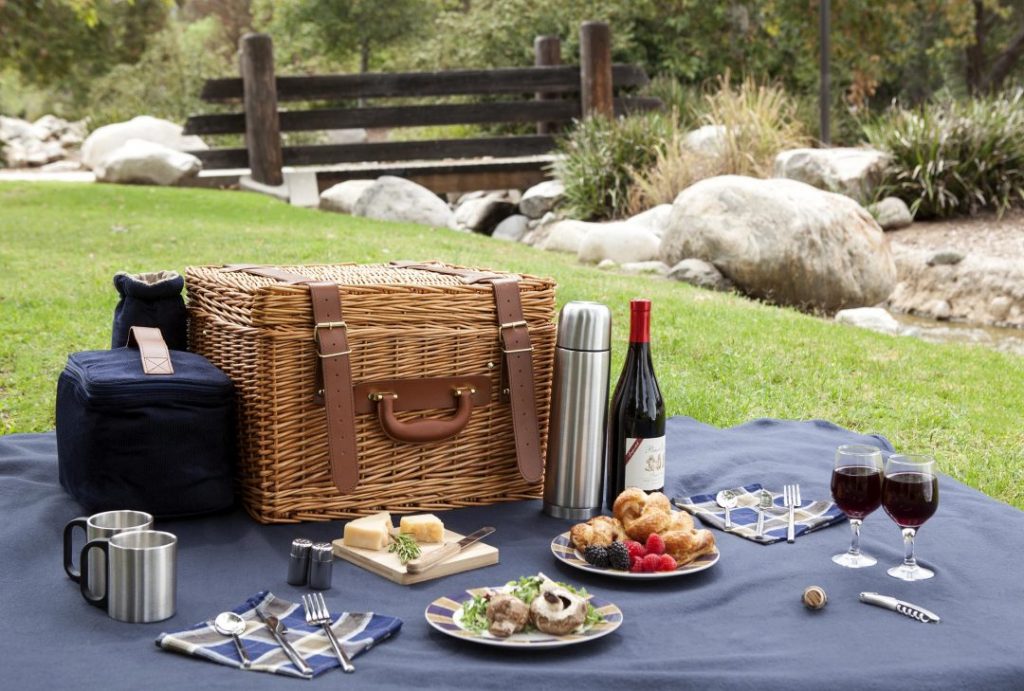 It's also quite spacious, it holds more than enough food, snacks, drinks for two.
It's nice to see that it also gives you the option for hot beverages, which makes the Canterbury a perfect choice even for chilly days.
Finally, it makes a well-thought and wonderful gift for couples, for your loved one and for special occasions like weddings, bridal showers, anniversaries, birthdays, Christmas.
Pros: Excellent premium quality, a large number of accessories including a blanket, coffee service for two, roomy, insulated features.
Cons: Some might find it expensive.
If you're looking for great value for the money, then we recommend this insulated cooler from "Picnic at Ascot".
It comes with pretty much everything you need, plus we like that it is designed to be super practical.
The insulation is well-made to keep the food and beverages cold (or hot) for hours.
It's easy to carry, perfect for picnics for two in parks, at sporting events, at the beach – anywhere.
The basket comes with service for two:
Melamine Plates
Stainless Steel Flatware
Acrylic Wine Glasses
Cheese Knife
Corkscrew
Napkins
There's also a special compartment where you can place a bottle of wine/water/juice.
The basket itself is sturdy and made to last. Overall, in our opinion, this is the best cheap picnic basket for two.
PROS: best budget option, plenty of accessories, good insulation.
CONS: glasses and plates feel a bit cheap
This heart-shaped willow basket is probably the most romantic picnic baskets available on the market.
Perfect for romantic dates, and makes a wonderful gift for couples, weddings, Valentine's Days, and anniversaries.
The design is superb, romantic, and elegant.
But what about practicality? We were happy to see that this Picnic Time "Heart" line is also very functional.
This elegant basket is very spacious, with a sturdy long-lasting willow construction, and comes with deluxe service for two.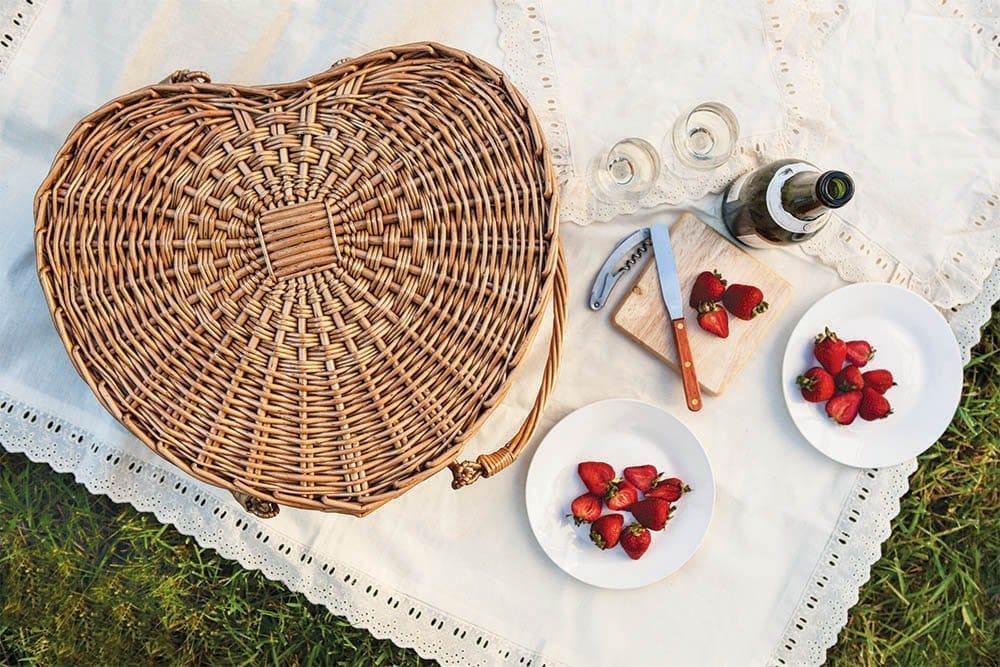 This picnic basket set for 2 comes with superior quality table settings:
High-Quality 

Porcelain 

Plates

Real Hand-Blown Wine Glasses

Stainless Steel Flatware
Salt & Pepper Shakers
Corkscrew
Cheese Knive

100% Cotton Napkins

 & Tablecloth
Hardwood Cutting Board
No plastic or cheap materials were used in this picnic set, a good reason why the price is a bit higher.
We appreciate that the plates are premium porcelain, the glasses are made of real glass, and the fabric is 100% cotton.
A thing we did not like: It is not insulated, you need to take some reusable ice packs to keep the food and drinks chilled and fresh.
PROS: Superior Quality, Elegant, Luxurious Design, Made to last, very spacious, perfect for couples
Cons: Not insulated
For picnicking in a super hot day, a soft cooler is definitely a better option than a regular wicker basket.
To make sure the food will not go bad, and all the contents are kept cold and fresh, we recommend the AO Coolers Canvas soft cooler.
It's also space-efficient, can be easily stored just about anywhere.
The interior is insulated and leakproof, holding ice for 24 hours in 120 degrees Fahrenheit.
It does not come with anything else besides the cooler itself.
You can throw inside ice cubes, without worrying to leak or sweat. The exterior is made from a material resistant to impacts, scratches, making it super durable.
Great for beach picnics, outings in parks, concerts, parties, hikes, boatings, festivals.
Pros: Thick insulation, leakproof, durable, impact-resistant
Cons: Does not come with table service.
The Picadilly basket is ideal for couples and romantic outings. It also makes a great gift for anniversaries and weddings.
It's extremely well constructed, made from willow, and the brand promises us that it's built to last.
Inside you'll find service for two persons with:
Melamine Plates
Acrylic Wine Glasses 

(Shatter-Resistant)

Stainless Steel Forks, Knives and Spoons
Waiter's Corkscrew
We love the dual-lid design, which is not only good looking but also practical. It allows you to access the contents quickly.
The interior is fully lined, traditional looking with the red and white colors, but it is not insulated.
To keep the food and drinks cold, you'll need to throw in some ice packs.
The basket is quite spacious, and can fit food, drinks, and snacks for more than  two people.
Pros: Sturdy, high-quality flatware, roomy, easy to carry.
Cons: not insulated.
If you have to walk or hike to reach your picnic destination, consider investing in a picnic backpack rather than in a basket.
A backpack like this one makes the carrying process easy.
The Vonshef model is a modern choice that's practical, attractive, easy to carry, and also comes with accessories and service for two.
Perfect for hikes, beach outings and outdoor adventures in two.
Inside you'll find all the essentials like:
Plastic Wine glasses

Plates
Forks, Knives, Spoons
Cotton Napkins
Salt and Pepper Shakers
Plastic Chopping Board
Corkscrew
Butter Knife

Extra Large Picnic Blanket
We like the fact that it is insulated, keeping the food chilled/hot for hours. The glasses are plastic, which can feel a bit cheap, but at least they're durable.
A great feature is the smart compartmentation, with pockets and separate spaces, making it easy to access the contents.
Unlike other backpacks, this one comes with waterproof features. The blanket and the backpack have waterproof PEVA backings, keeping them dry all the time.
Pros: practical, spacious, lightweight, easy to carry, blanket included, insulated.
Cons: glasses and plates feel a bit cheap.
The Sussex model from "Picnic at Ascot" comes in a unique barrel(ish) shape design, with premium accessories, including a blanket.
It's great for romantic picnic dates, for outdoor concerts or vineyard picnics.
The rounded shape, along with the sturdy wicker construction and the two lid design gives an old-fashioned, vintage vibe.
We appreciate the premium quality flatware and the overall high-quality details.
Inside you'll find picnicware for two:
Ceramic Plates

Glass Wine Glasses

Stainless Steel Flatware

Insulated Food Cooler

Salt and Pepper Shakers
Cotton Napkins
Corkscrew
Blanket
We like that it's very spacious, it can hold goodies for more than two persons.
The insulated bag is another great feature, meaning that you can pack perishable food without worrying it will go bad.
Pros: Unique vintage design, insulated features, spacious, comes with a blanket, premium flatware
Cons: bit bulky, expensive
If your menu includes only wine and cheese, then you should consider this Corsica Wine Basket.
We like the fact that it can also hold some additional items like crackers, strawberries or grapes.
Perfect for a romantic outing in two, it looks stylish, unique, elegant and it's constructed from willow.
Inside you will find:
Two Divided Compartments

6-inch Cutting Board

Stainless Steel Corkscrew
Cheese Knife
If you're into spontaneous outings, this vintage tote might be your new best friend.
Plus, it makes a well-thought gift for cheese and wine lovers.
PROS:

 attractive, great insulation, makes a wonderful gift
If you're planning to have a picnic with a larger crowd, you might be interested in our recent article on the best picnic baskets for four. Happy Picnicking!