Picnic baskets are time-savers, practical, and at the same time, super attractive. If you're looking for an easy and efficient way to carry your food, drinks, and snacks (while keeping them cold and fresh) – picnic baskets are the way to go!
We've spent hundreds of hours researching to find the best baskets for your next picnic adventure. Below you'll find our favorite picks reviewed and a quick buying guide on what you should look for in a picnic basket.
It's weekend, the weather is warm, the sky is bright, and you've got the tastiest recipe for fresh pasta salad – it's picnic time!
Whether you're planning a romantic outing with your date or reuniting with your family and friends, picnicking is always a good idea.
It all starts with checking the weather, prepping the food and choosing a good location.
You can go picnicking basically anywhere out in nature: in parks, on hikes, at the beach, at concerts, at sporting events, on boatings, on road trips, and even in your own backyard!
When it comes to food prepping, things can get pretty overwhelming.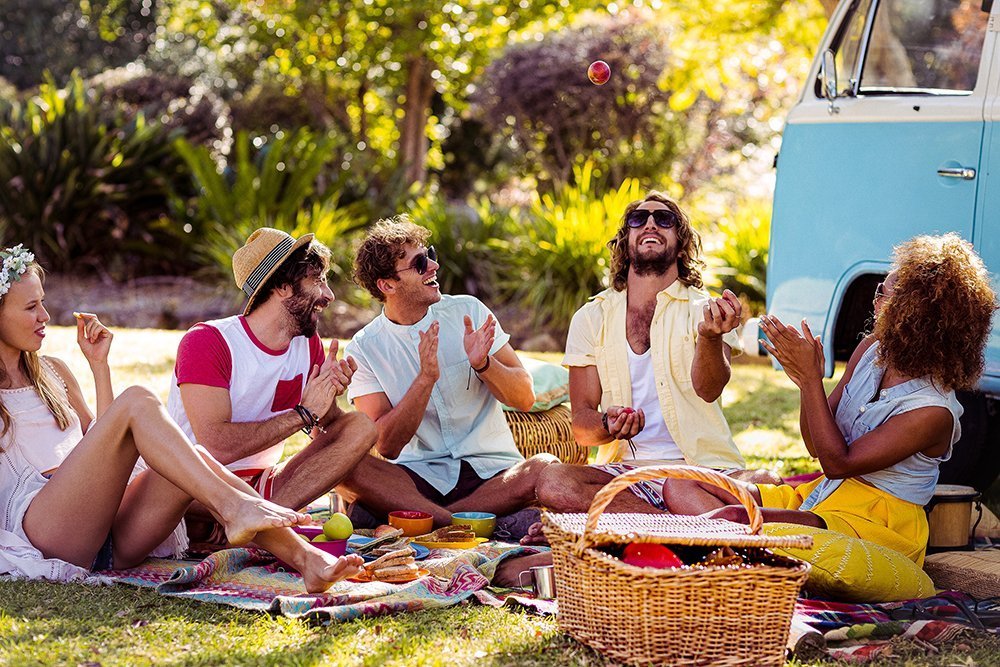 food, drinks, snacks, fruits
plates, glasses, mugs, storage boxes
forks, knives, spoons
ice packs, corkscrew, napkins
bug repellants, trash bags etc.
And keep in mind, when you're out in nature, the kitchen is miles away – you can't go back to retrieve that spoon you've forgotten.
Now, of course, you can toss everything into shopping bags and totes, and risk leaving behind important items or making a mess from a leaking dish.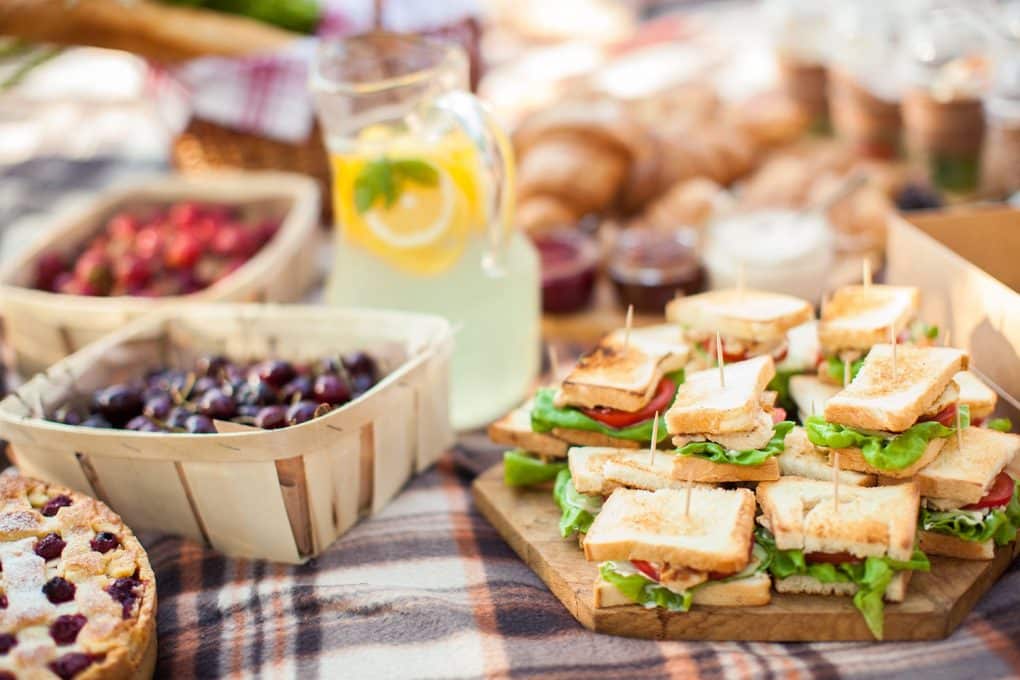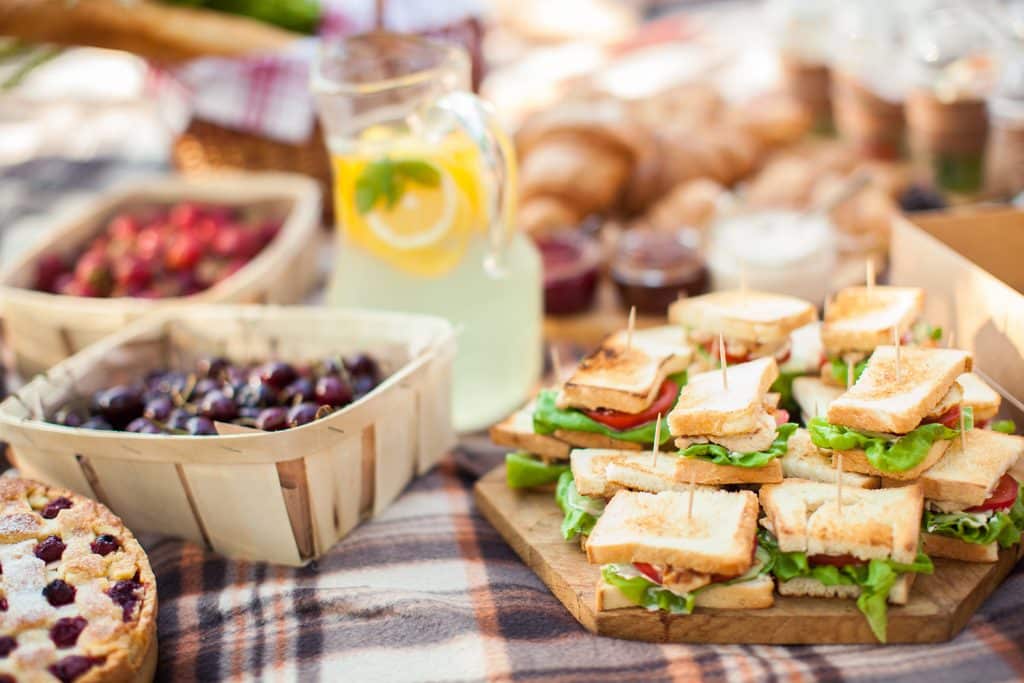 Plus you need to keep the perishables cold, so you don't end up with spoiled food.
Safe to say, if you want to avoid disappointments, you need a good picnic basket and an essentials checklist.
This will add strategic planning, efficient packing, and easy transportation.
Picnic baskets are smartly designed, practical, compact, easy to carry, time savers, often insulated, and at the same time, they're stylish.
Not to mention, they make great gifts for weddings, anniversaries, housewarmings, birthdays, and any other special occasion.
PS: If you're interested to see more options for a romantic picnic in two, read our new article on the best picnic baskets for two here.
IN THIS ARTICLE
I. Reviews
II. Buying Guide
Best Picnic Baskets Reviewed:
Picnic At Ascot Dorset Picnic Basket
If you're looking for an elegant, deluxe and unique traditional wicker basket, which also comes with plenty of accessories (including blanket) – then this "Dorset" picnic set is what you're after.
The natural willow, genuine leather, and the highest-quality components are what makes this basket special.
Comes with premium accessories:
Ceramic 

Plates

Real Glass

 Wine Glasses
Premium Flatware
Corkscrew

2 Insulated Cooler Bags

Hardwood Cutting Board
Cheese Knife
Salt and Pepper Shakers

Blanket
We like that it is well-constructed and designed in the USA. A great feature is that the brand "Picnic at Ascot" offers lifetime warranty for this beautiful piece.
Another fantastic feature, is that the hamper is not only good-looking, but it's also very functional.
You get 2 insulated cooler bags: one for food and one for a bottle of wine/champagne/water. This way you'll be able to pack perishables and keep them fresh all day long.
You'll get plenty of room to pack food, drinks, fruits, snacks for more than 4 persons.
All the flatware and cutlery is made of durable materials, made to last you a long time.
Finally, it makes a thoughtful gift for families, couples, friends or your work-colleagues.
CONS: some might find it expensive
Scuddles Extra Large Picnic Basket
If you're looking for something practical, modern, and attractive, then you should check out this Scuddles basket.
What we like most is that you get so much value for the money: fantastic insulation, good quality accessories, easy to store when not in use (it's foldable), super spacious and sturdy construction.
It was nice to see that the brand also offers a backpack version of this basket, which might be a better choice if you have a long walk to your picnic destination.
The Scuddles basket is designed to serve 4 people, and comes with:
4 Wine Glasses
4 Durable Plates
4 Stainless Steel Knives, Forks, Spoons
4 Washable Cotton Napkins
Salt & Pepper shakers
Cork Screw
Butter Spread Knife
Cutting Board
Whether you want it for yourself or to offer it as a gift, this basket will impress. It's not only practical but also attractive.
Comes with pretty much everything you need, it's heavily insulated (keeps the food cold/hot for 12 hours), it's reasonably priced, and also quite spacious to fit food, drinks, and snacks for 4 persons.
It's smartly designed and made from high-quality materials. The zipper, the straps, the picnicware are all sturdy, making it super durable.
Another advantage of modern picnic baskets like this is that they're super space efficient.
Unlike a traditional wicker picnic basket that takes a lot of storage room, this modern set is collapsible so you could store it easily in small places.
Cons: Does not come with blanket (only the backpack version includes blanket)
Picnic Time Charleston Premium Deluxe
This luxurious traditional picnic basket is simply ravishing, crafted with elegance, built with superior materials ready to deliver deluxe outdoor experiences.
It's an expensive basket but you get what you pay for: things like porcelain plates, genuine leather components, finest cutlery, pinewood serving table.
We love that the brand combines both luxury and practicality. Inside you'll find an insulated cooler bag and a wine duffel, that will keep your food fresh and your wine chilled.
The Charleston is designed to serve 4 serious picnickers and includes:
4 Porcelain Plates
4 Stemless Wine Glasses
4 Stainless Steel Forks, Knives, Spoons
Acacia Wood Cutting Board
Pinewood Serving Tray
Patchwork Quilt
Bottle Stopper
Corkscrew
Cheese Knife
Insulated Cooler Bag
Wine Duffel
Salt & Pepper Shaker
Picnic Time Signature Festival Blanket
Made from sturdy woven willow, it's designed to last you a long time.
The hamper is extremely spacious so you can carry large meals, snacks, and drinks for 4 adults.
It's so large it might be too difficult to carry it by yourself, so make sure you have help and you don't have to walk too much to your picnic destination.
Cons: It's quite large, when filled up may get too heavy
Nature Gear 2020 Upgraded Model
This new model from Nature Gear comes in a classic and beautiful wicker design.
The red-and-white checkered print makes this basket look traditional and sophisticated.
Inside you will find 4 sets of dinnerware that include:
4 high-quality ceramic plates
4 forks, spoons, knives,
4 thick plastic wine glasses
4 napkins
Corkscrew
We really appreciate the good insulation of the main compartment. The insulated covering allows you to pack perishables and keep them fresh. You can bring your favorite mayonnaise-based salads, without worrying they will get spoiled.
Overall it's a well-built basket, made from wicker and rattan, and even if it's cheaper than others, it will last you a long time.
A thing to pay attention to is that it might not have enough room to pack full meals for 4 persons. It can perfectly serve 4 persons if you only pack snacks and wine, not large meals.
Our advice: we think it's best used for 2 persons who eat a lot. 🙂
Cons: Doesn't come with blanket, cheese knife or cutting board. Might be too small for 4 persons
Sunflora Picnic Backpack Set For 4 Person
If you have to walk, hike or bike to your picnic spot, then you should consider investing in a picnic backpack.
This model from Sunflora one is one of our favorites, it's smart–designed, comes with everything you need, it's classy, spacious, premium-quality, lightweight, practical and durable.
It also makes an exceptional gift idea for friends and relatives who love the outdoors.
Many people like to offer this backpack as a present for Christmas, Easter, Birthdays, Weddings, Housewarmings Mother's Day, Father's Day, Anniversaries and many other occasions.
Inside you'll find everything you need for a picnic in four:
4 Premium Stainless Steel Forks, Spoons, Knives (

rust-resistant

)
4 Dinner Plates
4 

TPE Wine Glasses

Practical Waterproof Pouch
4 Cotton Napkins
Bamboo Chopping Board
Cheese/Butter Knife
Salt & Pepper Shakers
Bottle Opener
Insulated Wine Pouch
Waterproof Picnic Blanket
Extra Pockets
We really appreciate the designer's attention to details when crafting this product – in our opinion, this is exactly why Sunflora is way superior to its competitors.
One feature we love is the waterproof pouch you find inside, which might not seem important, but is actually super helpful.
Why is this helpful? Because it keeps the backpack perfectly dry, blocking all the water coming inside from the melted ice or cold drinks.
The pouch is leakproof, and also detachable allowing for easy cleaning.
The cutlery is of superior quality, and the knives are actually quite sharp.
Even though the glasses are plastic, they are TPE molded which makes them stronger and give them crystal transparency similar to real wine glasses.
The backpack is also very spacious and can hold food and drinks for four persons. The inside compartment is fully insulated and keeps your food cold/warm.
The pocket for wine, water or juice is also insulated. You'll also get a blanket with waterproof backing, large enough to fit 4 people.
Things we did not like: the blanket is not machine-washable and some people said the glasses and the plates are not dishwasher safe.
If the brand could improve these aspects, the backpack would be perfect.
CONS: Blanket is not machine washable, you need to wash it manually
Picnic Time Piccadilly For Two
If you're looking for something more special, with a deluxe touch, then you should consider this Piccadilly Picnic Basket for two.
This set is perfect for a romantic picnic date with your loved one and it's also a fantastic gift idea for housewarmings, weddings, engagements, Valentine's Days, anniversaries, or bridal showers.
Comes with service for two persons:
2 Melamine Plates
2 Shatter-Resistant Wine Glasses
2 Stainless Steel Forks, Spoons, Knives
Corkscrew
The basket is well-constructed, sturdy, and the 2-lid design conveniently adds extra space for your food.
The plates are melamine (hard plastic) often used in restaurants. Melamine is known to be lighter and more durable than china.
The glasses are acrylic but very durable. Some people complained about the plastic plates and glasses feeling cheap. But others said they actually prefer durability over looks, cause at a picnic they don't want to worry about the glasses breaking.
In terms of size, it has more than enough room to hold two meals, drinks, and snacks.
Keep in mind that the hamper is not insulated, so if you want to take perishable foods, make sure to get ice packs to keep the food from spoiling.
If you want to see more picnic sets for couples, click here to read our latest article on the best picnic baskets for 2 in 2020.
CONS: Doesn't come with blanket, napkins, salt & paper shaker. Not insulated. Glasses and Plates feel cheap.
Picnic at Ascot Collapsible Large Basket
If you're looking for something modern, practical, roomy, lightweight, super-insulated, durable and space efficient, then you'll love this Picnic at Ascot foldable basket.
Classic traditional wicker baskets are indeed very attractive, but they also take a lot of storage space.
With this modern basket, you don't have to worry about not having enough storage room – it folds flat in seconds and saves you tons of space.
Perfect for storing it in small apartments.
And it also comes with an affordable price tag for such a large capacity.
We were surprised to see that it can hold up to 65 lbs. (30 kg) of food, drinks, picnicware – which is more than enough to feed an entire large family!
The beauty of a well-insulated compartment is that it keeps the drinks cold and food fresh for an entire day.
So you can safely pack your fresh salads, pasta, dips, wraps, sandwiches, mayonnaise, without worrying they'll go bad.
It's also easy to wipe it clean and due to the waterproof lining, it doesn't get dirty easy.
It does not come with anything else than the basket itself – no utensils, no plates, no cutting board, no blankets.
But it does have a front pocket, where you can add some of your own items like small plates, bottle opener, napkins, silverware etc.
Cons: No accessories included, some people might not like the design.
VonShef Picnic Backpack For 4 Person
This picnic backpack is a great choice for spontaneous outings and is super convenient when you have a long walk to reach your picnic spot.
This VonShef picnic backpack set is easy to carry, practical, insulated, comes with accessories, including a waterproof extra large blanket.
The design is not only clever, but also stylish.
We really appreciate the high number of accessories, considering it's such a compact and light backpack:
4 BPA-free robust plates (melamine)
4 Stainless Steel Knives, Forks, Spoons
4 Wine Glasses
Chopping Board
Salt & Pepper Shakers
Cheese Knife
2 Washable Cotton Napkins
Corkscrew
Waterproof Blanket
2 Drink Pouches
The backpack is roomy enough to carry food and drinks for 4 people. Although it is insulated, you should still add some reusable ice packs to keep the meals fresh for a longer time.
Keep in mind that the inside is not leak proof. If you use plain ice, we recommend you to find a "waterproof way" to pack it to avoid a wet mess when the ice melts.
The plates and glasses feel cheap, but they're lightweight and very durable.
Cons: Not leakproof, the blanket might be too small for 4 persons, glasses feel cheap.
Picnic Time Country Picnic Basket
This cute basket might be a great option if you're looking for something simple and classic, easy to take for a quick lunch in the park or at the beach nearby.
In terms of design, it looks traditional, vintage and super stylish – definitely very photogenic, perfect for a photo shoot.
It's also designed to be practical, the dual-lid entry can be used as a flat, sturdy mini table to place your drinks and food.
The inside is covered by a washable beautiful liner, available in three different color combinations: classic red & white, red & black, and navy blue & white.
It is an empty picnic basket, and inside you'll find a surprisingly spacious place to hold your food, snacks, drinks, flatware, and even a blanket.
The hamper is not insulated, so remember to pack non-perishable food or to add some ice packs to keep the food fresh and the drinks chilled.
It's made in California, well-constructed and made to last.
What we did not like: some people received the basket without the lid, having to return the item and ask for a refund.
Freeport Park Picnic Basket On Wheels
No need to carry a heavy loaded basket anymore – you can now roll it to your picnic destination.
This Freeport Picnic Set with Wheels looks traditional, stylish and modern at the same time.
These innovative picnic baskets on wheels offer are perfect for transporting picnic goodies to an outdoor play, vineyard, festival, concert, event, or to a boating adventure.
Comes with two drawers, the bottom drawer is thermally insulated, keeping hot food hot, and cold food/drinks cold.
Inside you will find:
4 Large Porcelain Plates
4 Wine Glasses
4 Sets of Stainless Steel Forks, Knives, Spoons
Insulated Wine Bottle Tote
Bottle Opener
Salt & Pepper Shakers
Large tablecloth
Wooden Chopping Board
Just like a suitcase, the handle is sturdy and retractable, while the big wheels make it possible to roll over grass.
Some people complained about being too small for 4 persons.
CONS: Pricey, might not have enough room for 4 meals.
Vintiquewise Rectangular Basket Small
Picnicking with kids? Then they might love the idea to have their own tiny basket.
This adorable basket is really small, about 10 inches long and 7 inches wide, and can hold some food, some treats, or toys.
It looks traditional, comes with a washable red and white gingham check lining.
To get an idea of how small it is here are some items it can hold:
4 Sandwiches and a water bottle OR
A Gallon of Milk OR
Some Candies & Easter Eggs OR
13 large apples OR
Napkins and Silverware OR
Stuffed Animal like a Toto Dog
It can be used as a small or as an individual picnic basket if you only plan to only eat some light snacks. For adults is not super useful.
But many people buy this basket for kids play, Halloween Costumes (perfect for a "Little Red Riding Hood" character), or for trick or treating.
Wine & Cheese Picnic At Ascot
A perfect picnic doesn't always mean rigorous prepping, cooking and packing tons of food, and inviting a large group of friends or relatives.
Picnicking can also be intimate and chill. This cooler bag is a good choice if you want to enjoy a romantic outing with just wine, cheese, crackers, and some fruits.
Inside you'll find an insulated spacious compartment, where you can put your bottles of wine or champagne, cheese, and other snacks.
It also comes with:
2 Acrylic Wine Glasses
Cheese Board
Cheese Knife
Bottle Stopper
Corkscrew
2 Napkins
Makes a fantastic gift for wine & outdoor lovers.
CONS: Some complained about the glasses looking inexpensive.
BUYING GUIDE: WHAT TO LOOK FOR IN PICNIC BASKETS
1. ACCESSORIES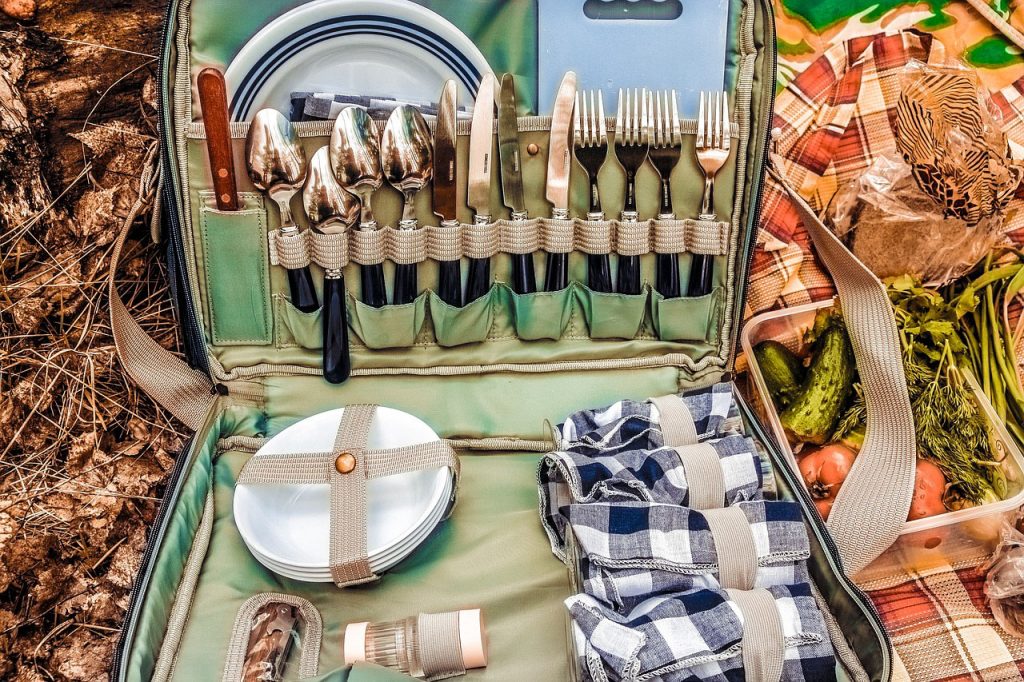 Accessories are a wonderful complement to your picnic baskets. They are the reason why picnic sets are so practical and efficient.
Budget-friendly baskets usually come with some essential table service:
plates, glasses, forks, spoons, and knives
Deluxe models usually include more exciting components such as:
plates, glasses, mugs, forks, spoons, and knives
cutting boards, serving boards
cheese knives
cooler bags
vacuum flasks, food storage boxes
picnic blankets
corkscrews, bottle stoppers, salt and pepper shakers, napkins etc.
2. INSULATION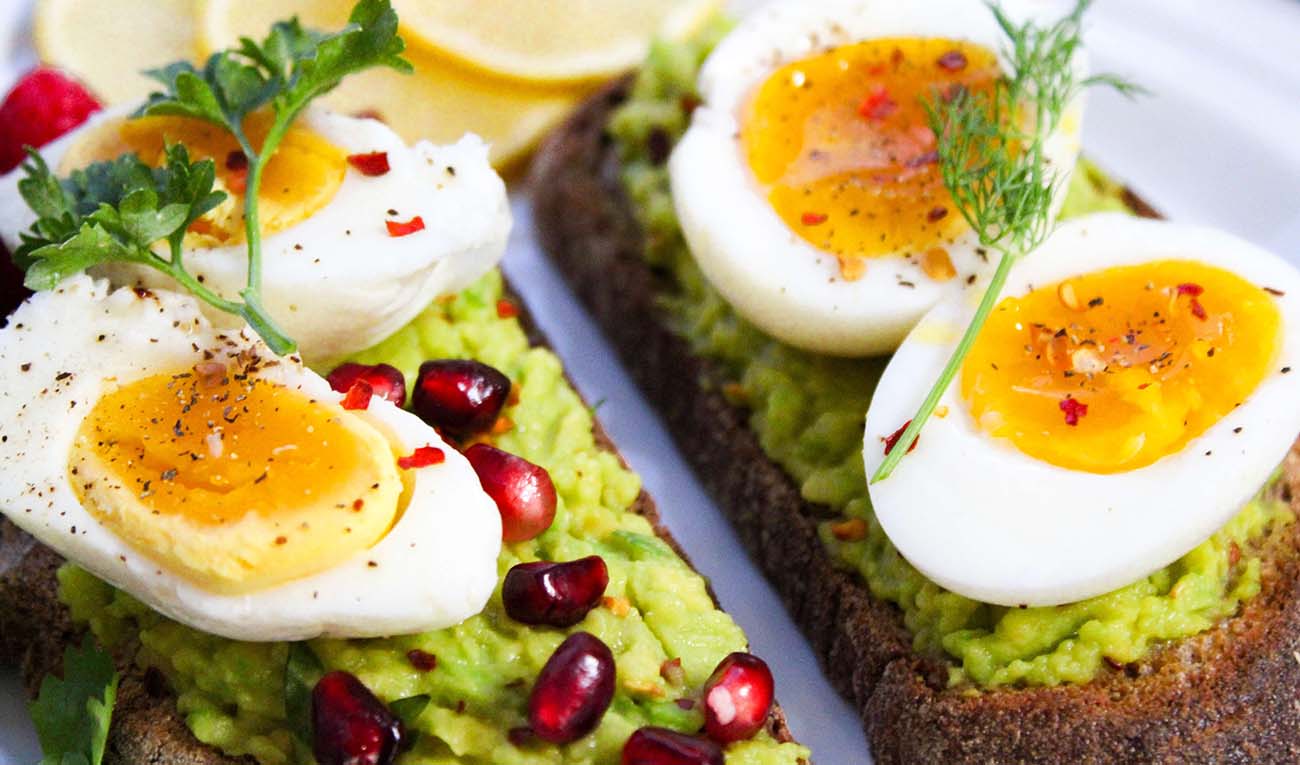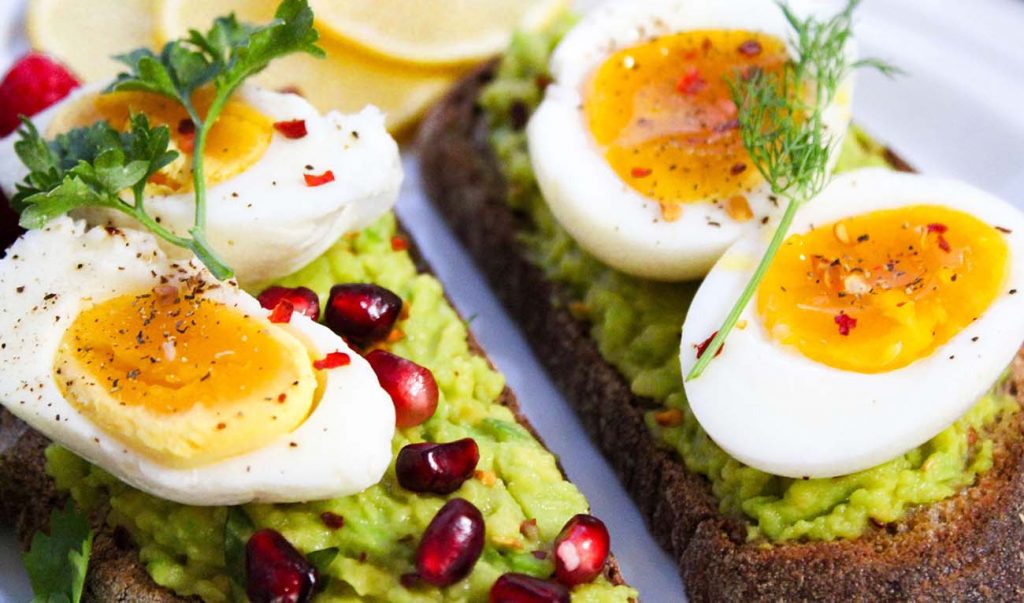 Insulation is what makes a basket practical. In hot weather, perishables spoil easily, so it is a must to keep them fresh and chilled in an insulated compartment.
An insulated basket or backpack will make sure the food, drinks and fruits stay at the correct temperature (cold or hot).
Some hampers come fully-insulated, others provide cooler bags.
Many traditional wicker models are not insulated, and that's a shame. The solution is to pack reusable ice packs (link to Amazon), that will extend cooling and keep the contents cold.
You can also use basic ice cubes – just place them in a zipped waterproof bag to keep the insides dry.
3. SIZE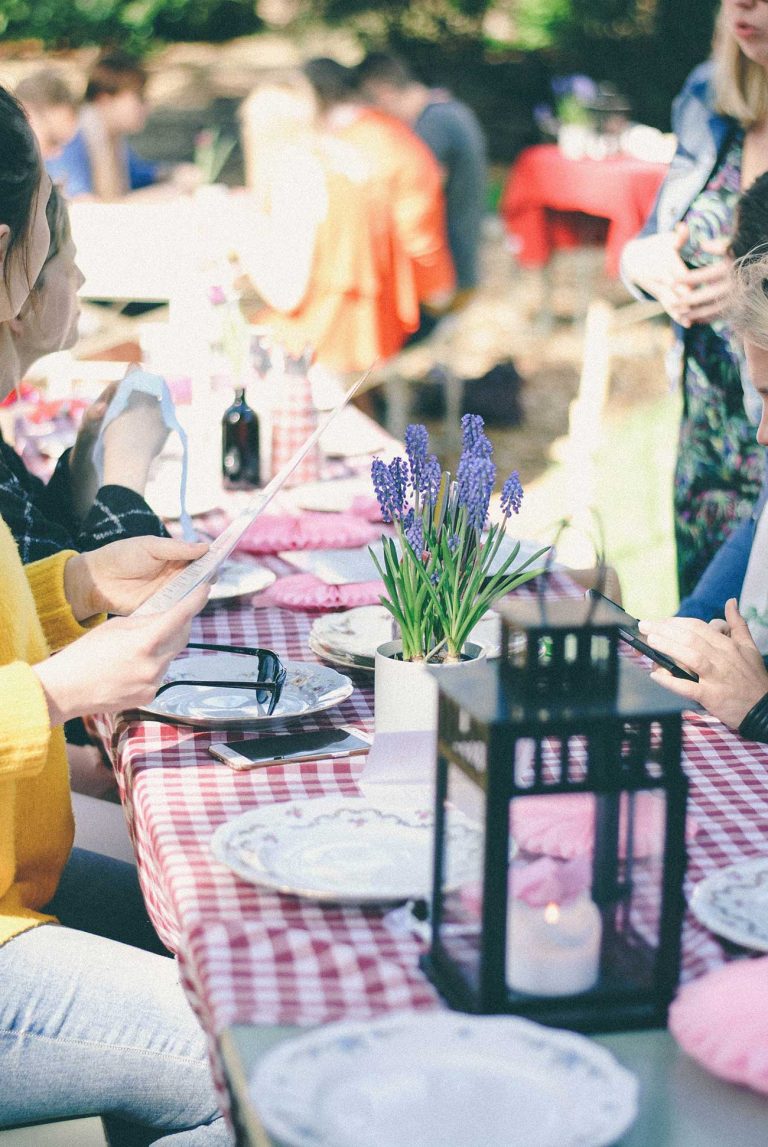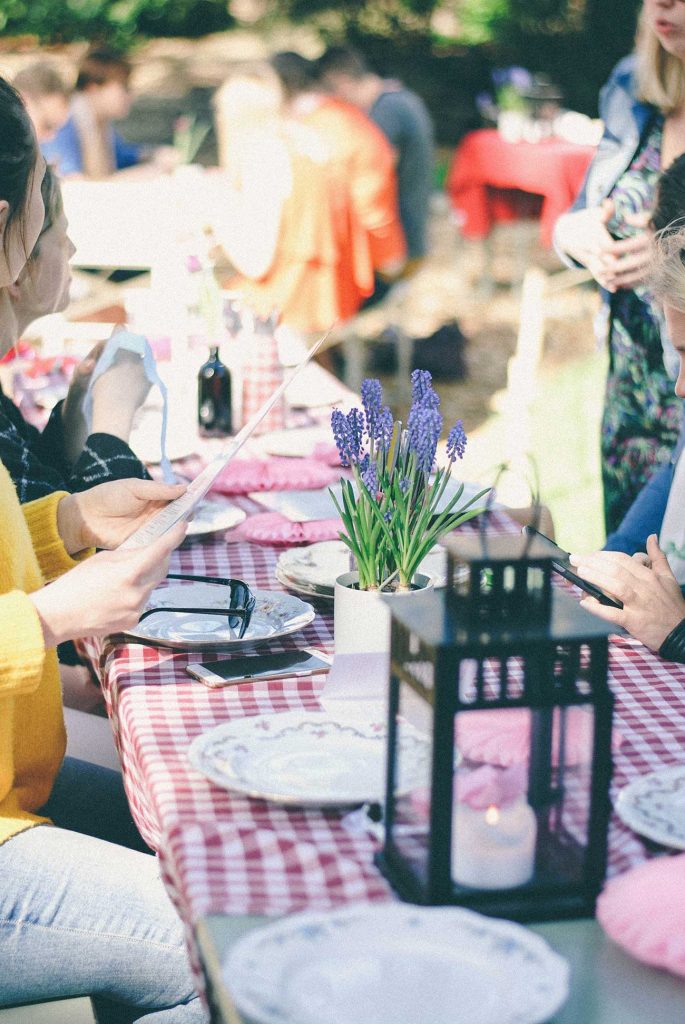 Make sure that the basket is large enough to hold food, drinks, snacks, and fruits for all the picnickers attending the outing.
Before purchasing, read the reviews to see what other people say about the basket's capacity.
Size is also important when it comes to the storage room. Think about if you have enough space in your house to keep the basket when not in use.
A large bulky basket takes a lot of space.
Quick tip: if the basket is beautiful, it can be used as a stylish home decor – put in somewhere in plain sight and make your home look super classy.
If you live in a small apartment, consider investing in a space-efficient, and modern collapsible basket that can be folded flat and stored anywhere.
4. DESIGN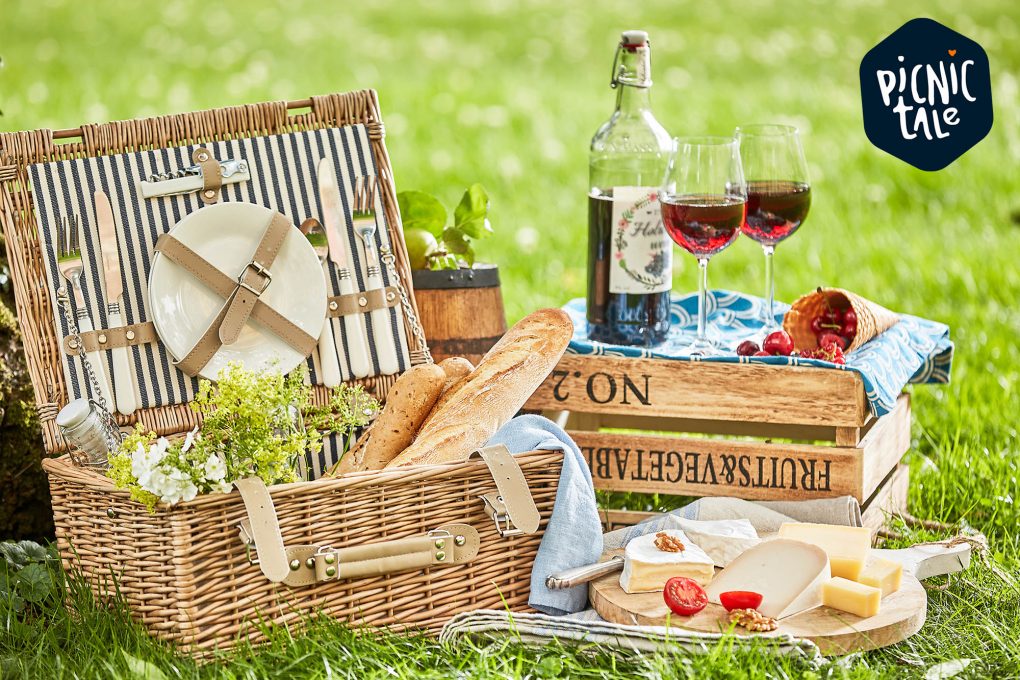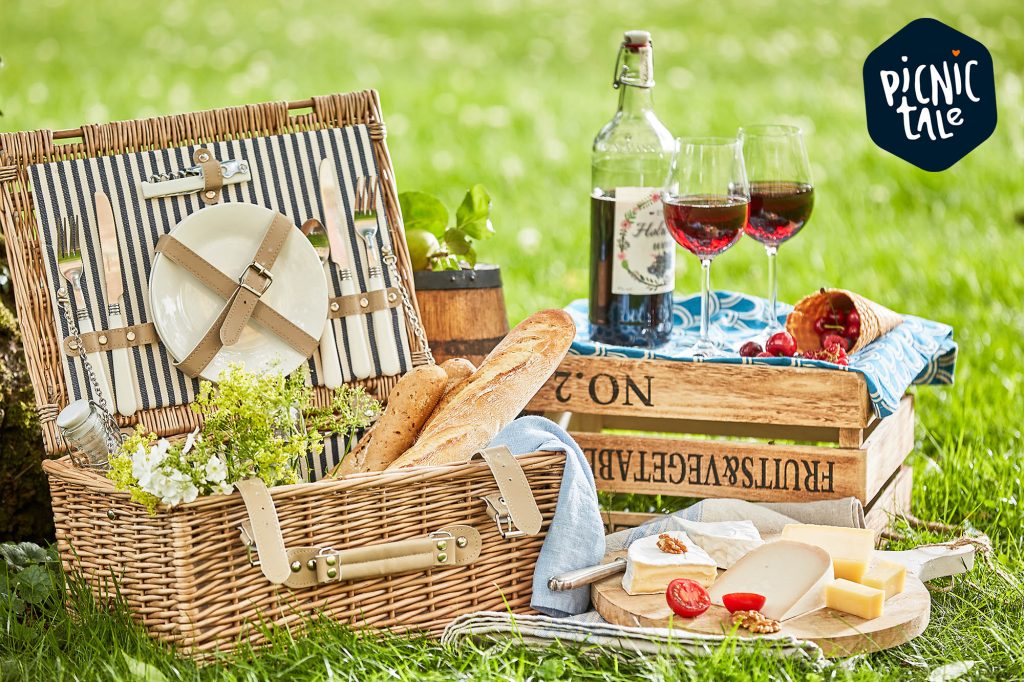 Basket vs. Backpack
If you're not sure if you want a basket or a backpack, you need to think about how do you plan to reach your picnic destination.
If you have to walk, hike or bike to your picnic spot, then we recommend you to consider a backpack design.
If you drive to your picnic destination, you can go with a classic basket that will fit fine in the trunk.
5. PRICE
You can find cheap picnic baskets priced at $30, but you can also find expensive deluxe baskets at +$600. It depends of the quality.
Getting what you paid for is a must. You always should look for the best value for money.
Budget-friendly baskets are usually of a lower quality, not so durable and come with plastic accessories.
Luxurious baskets tend to be made of high-quality materials, are well-constructed and include premium components such as: porcelain plates, bone china mugs, real glass glasses, stainless steel cutlery.