Summer is here, and it's the perfect time for picnics, spending time with your loved ones and friends, enjoying the sunshine, and eating delicious meals out in the beautiful nature.
To have the ultimate picnic experience, you need to make sure you have all the right gear. If you're looking for the most beautiful, vintage, unique, and practical white picnic baskets, you're in the right place.
White picnic baskets are perfect for special occasions like 'Diner en Blanc' events, private parties, anniversaries, weddings, outdoor concerts, picnics in the park, and more.
Not to mention, picnic baskets make wonderful gifts for anyone: couples, families, work colleagues, friends, and relatives.
Here are the most elegant, functional, and attractive white picnic sets available on the market:
White Picnic Baskets | Our Top Picks
Picnic at Ascot Settler Whitewash for 4
Made in USA, this attractive white picnic set is ideal for an elegant picnic in four.
Comes with all the picnic essentials you need conveniently placed inside the basket.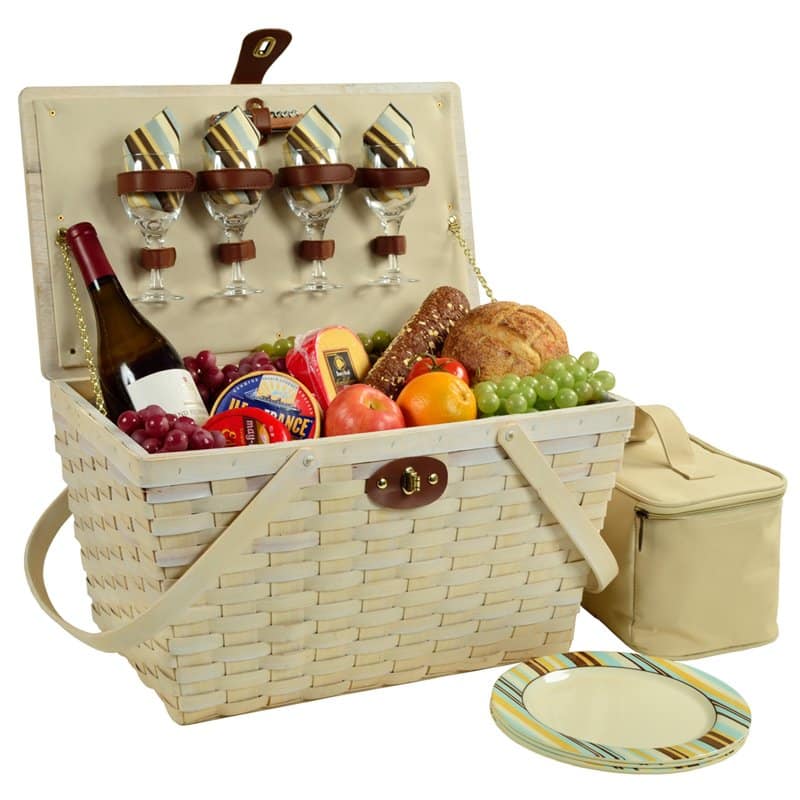 Inside you will find:
4 Melamine Plates
4 Cotton Napkins
4 Real Glass Wine Glasses
Stainless steel flatware
Wine Opener
Food Cooler
The insulated food cooler is very helpful, keeping your food and drinks chilled for hours.
This allows you to pack perishables without any worries they will go bad. Ideal for outdoor concerts, picnics in the park, boat picnics, Diner en Blanc.
What you might not like: some said the silverware are poor quality.
PROMENADE PICNIC BA(G)SKET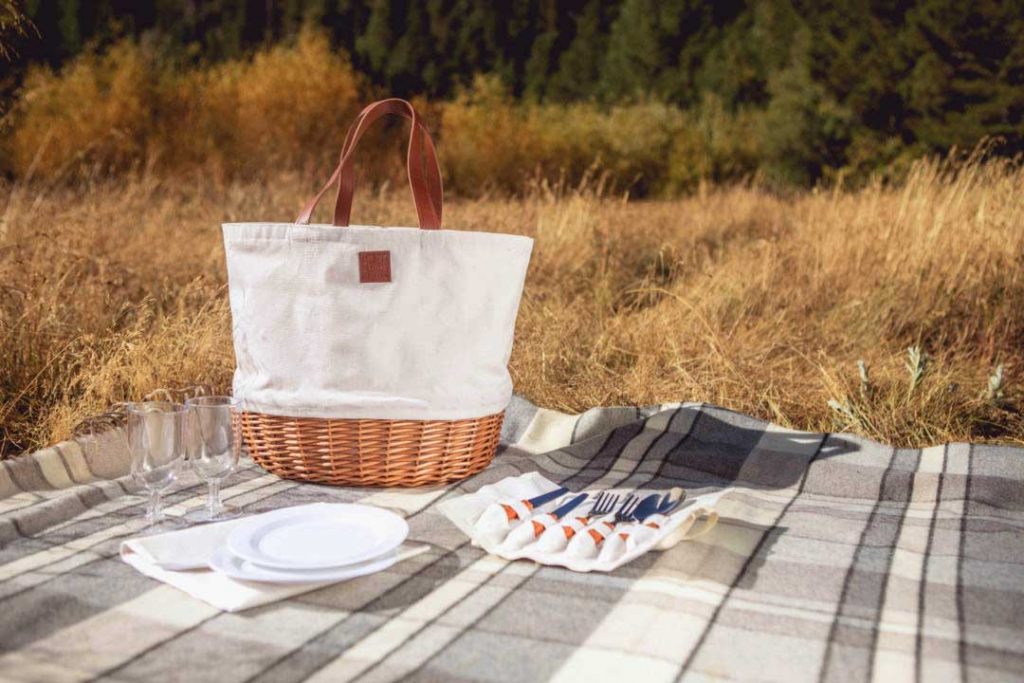 Photo: Picnic Time
If you're looking for something unique, practical, and stylish, this picnic bag/basket is a fantastic choice.
With a woven wicker sturdy base, and a durable canvas body, this piece is spacious, made to last and ideal for a cozy picnic outing in two.
Inside you will find two wine glasses, forks, knives, spoons. A smart and practical feature is that the plates and flatware come with their own pouches.
The collapsible interior makes the bag space-efficient for easy storage.
Makes a thoughtful gift for weddings, birthdays, Mother's Days, bridal showers, newlyweds, anniversaries.
Ideal for picnics, outdoor events, concerts, sporting events.
Zormy White Picnic Basket
This white wine basket is a fantastic choice for spontaneous wine and cheese outings.
Easy to carry, this basket is beautiful, cute, well-made, sturdy, and designed to serve 2 people.
Comes with plenty accessories for two:
2 wine glasses
1 hardwood cutting board
Waiter's corkscrew
Cheese Knife
2 cotton napkins
1 food container
1 tablecloth
Features a sturdy white wicker construction, with white leatherette straps.
Excellent as wedding present, anniversaries, couple gifts and ideal for white themed events.
This adorable basket can hold a bottle of wine, some finger foods (crackers, snacks, nuts) cheese, and fruits (some grapes, pears).