If you're looking for the most romantic picnic baskets, you're in the right place. 
Picnic baskets are perfect for Valentine's Day, Weddings, Anniversaries, and for any other special occasions. They also make wonderful and thoughtful gifts for couples.
Choosing the right picnic basket can be difficult, that's why we've made the research for you and put together a list with the most romantic, practical and beautiful picnic baskets.
Baskets come in all shapes and forms, but for a romantic outing in two we think an elegant wicker design is ideal. 
A picnic basket also needs to be functional. Keeping the wine cold and the food fresh is a must. That's why you need to make sure you're picking an insulated basket.
If the basket is not insulated, it's not an issue if you add ice packs to keep everything cold for the entire date.
Most Romantic Picnic Baskets
Picnic at Ascot Cheshire English-Style
If you're looking for superior quality, functionality and beautiful romantic design, then the "Picnic at Ascot Cheshire" is what you're after. 
We were pleasantly surprised to see that this attractive piece is also super practical and made to last.
Comes with plenty of deluxe details (like genuine leather straps) & practical accessories.
It includes premium table service for two: ceramic plates, glass wine glasses, cotton napkins, high-quality flatware, salt and pepper shakers.
A thing we really love: it's insulated! 🙂
It gives you two insulation options to make sure your meals and drinks are kept chilled and fresh:
Insulated Cooler Bag for Food
Insulated Wine Pouch
Another wonderful thing is that it comes with a fleece blanket large enough for two persons.
Makes a wonderful gift for engagements, bridal showers, birthdays, anniversaries, weddings and any other special occasions.
Canterbury by Picnic Time
This luxurious picnic set comes with everything you need for a romantic, unique and deluxe picnic experience.
Picnic Time "Canterbury" is a deluxe item and makes a wonderful present for couples.
It's practical and beautiful at the same time. 
Unlike other models, this set also includes coffee service for two, which is something unique. 
Makes it perfect if you want to enjoy a warm cup of coffee or tea in a chilly day. 
This makes the set ideal for an early sunrise romantic date.
To be honest, it is more expensive than others.
But you get what you pay for: porcelain plates, premium flatware, food containers (helps with organization), cheese knife, cutting board, bottle stopper, salt & pepper shakers, vacuum flask and mugs.
Another practical and fantastic features are the insulated cooler & pouch, food containers and blanket.
The overall willow construction is sturdy and long lasting, with genuine leather straps.
Barrel Picnic Basket by Picnic Time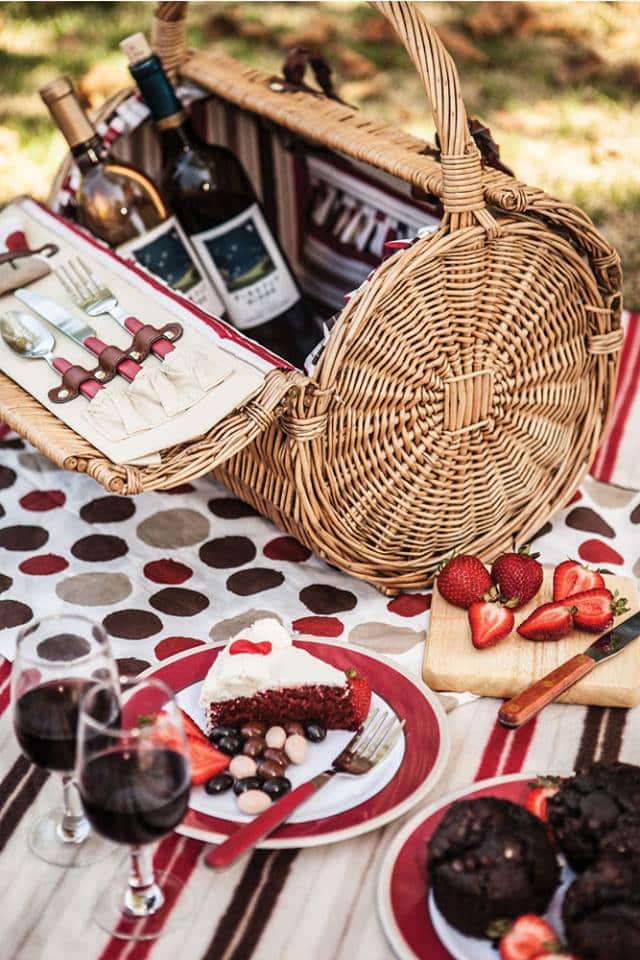 With a unique rounded barrel design, this picnic basket is perfect for a romantic picnic date.
Available in 3 different prints: Moka (the one in the picture), Watermelon and Dahlia collection. 
Designed for two persons, includes service for two:
Porcelain plates
Real Wine Glasses
Stainless Steel Forks, Knives, Spoons
Corkscrew
Salt & Pepper Shakers
100% Cotton Napkins
44-inch Tablecloth
A great thing about this piece is that it comes with "Built to Last" Lifetime Pledge. The two lid design is convenient and helps you access the insides quickly and easily. 


The basket is surprisingly more spacious than it looks. Some people say it can hold meals and drinks for 3-4 persons. 
What we don't like: it appears to be not insulated. We recommend you to add ice packs to keep contents cold.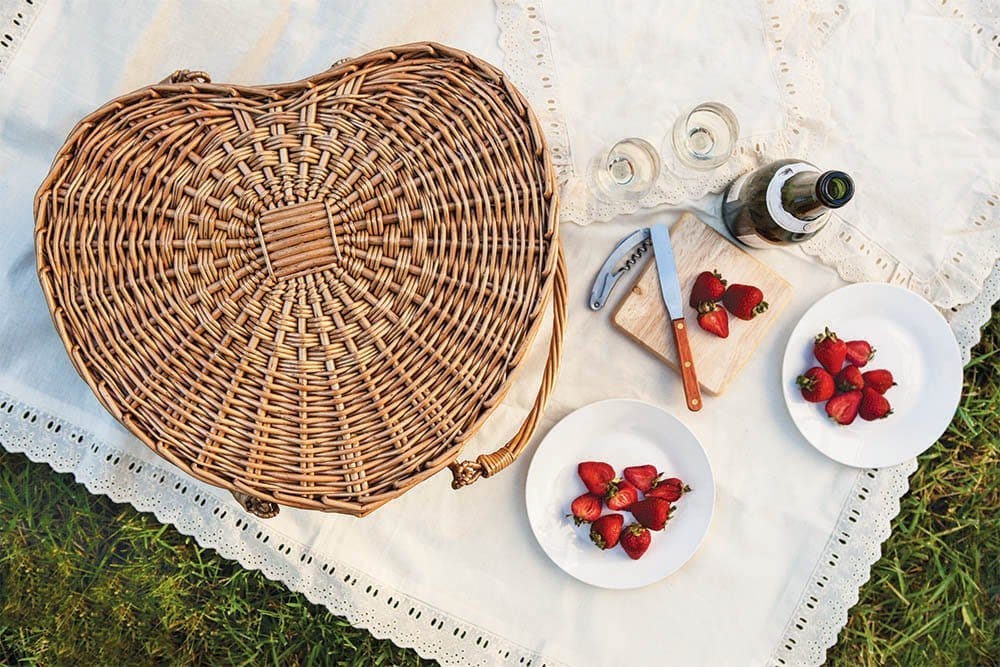 This heart-shaped basket is designed for romance. Whether you plan to use the basket yourself or gift it, this one is made to impress.
People often buy this beautiful piece to offer it to couples as a wedding present.
The set is crafted beautifully, with a rugged wicker willow construction, leatherette straps and vintage elegant white lining.
It's easy to carry with the handles and is quite spacious. Can hold plenty of food, drinks, fruits and snacks for two. 
Everything about this set feels luxurious. The table service is superior and you get real wine glasses, porcelain plates, fancy silverware.
What we didn't like is the fact that is not insulated at all. You need to prechill the food items yourself and add a freezer pack inside to keep things cooled. This will make sure your meals and beverages are kept chilled and fresh for the entire day.