Fall and summer days provide great weather to head out on the water in a boat and test the waves.
Since no one wants to end the fun early, you should plan on taking your lunch with you and making a day of it. 
This is the perfect excuse for turning a simple lunch into a boat picnic!
Whether your boat happens to be a luxury yacht or a simple rowboat, we have some ideas for making a festive picnic on the water.
Boat Picnic ideas
1. Plan Your Picnic Spot
When planning your boating expedition, you can decide if you want to picnic on the water or dock the boat for a picnic at a favorite natural location.  
This will help you decide if you need a picnic table or a tablecloth and what kind of serving ware to pack. You can even use a rowboat as a photo-friendly picnic table.
Of course, this idea works out much better before a sail when the bottom of your boat is clean and dry!
2. Create your Menu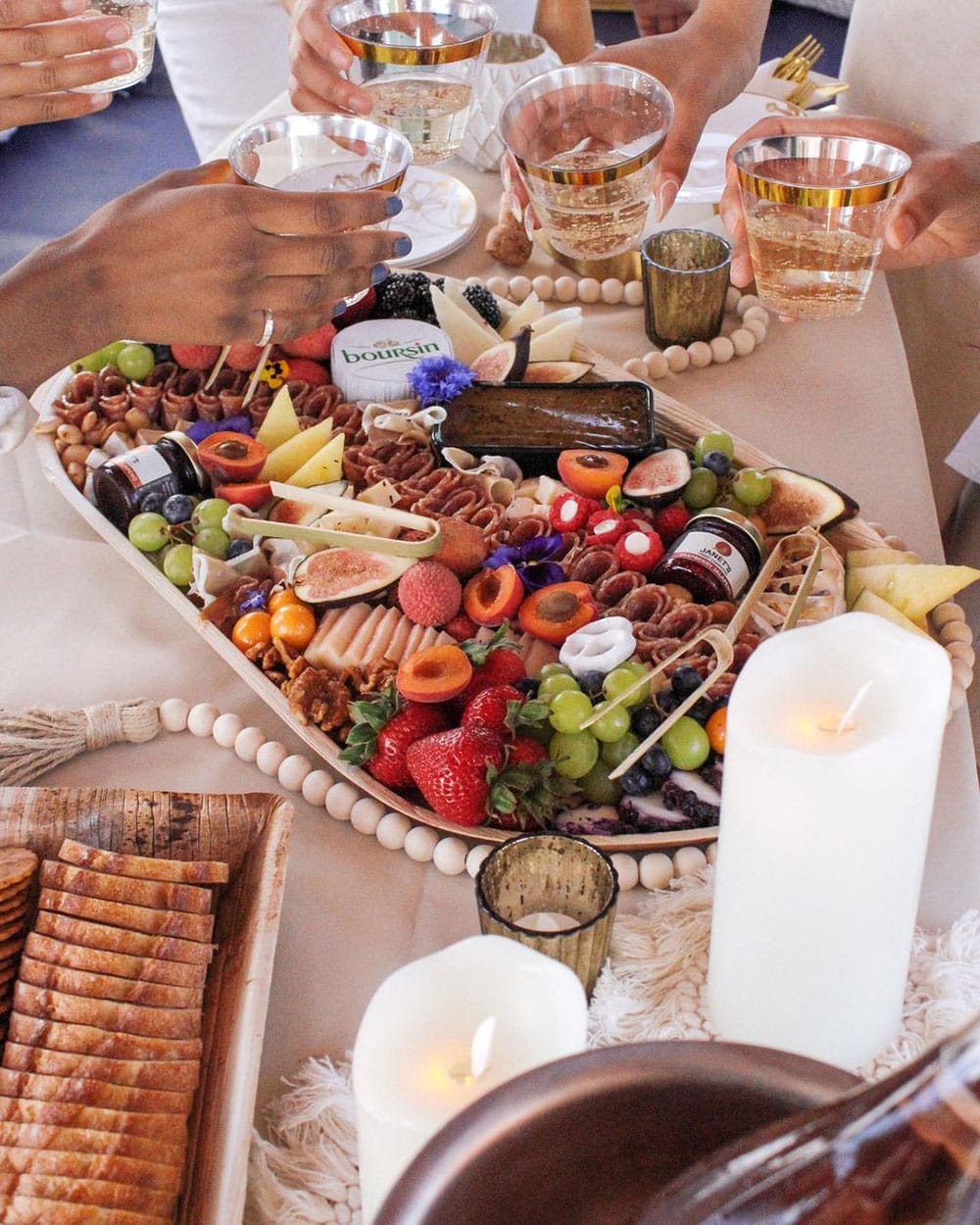 When planning your menu for a boat picnic, you can keep in mind foods that are elegant, travel well, and will be easy on the stomach.
If you tend towards queasiness on the water, foods that are bland or acidic foods can help you calm the stomach.  
Citrus fruits, apples, pickles, crackers, rice, cured meats, cheese, nuts, dried fruits, fresh bread, seafood on ice trays, and toast points can be good choices to include in some way in your dishes.
Bananas are also known to calm the stomach, but these are considered bad luck to carry on a boat. Serving small meals more frequently will be easier to digest than a larger meal.
3. Make the Drink List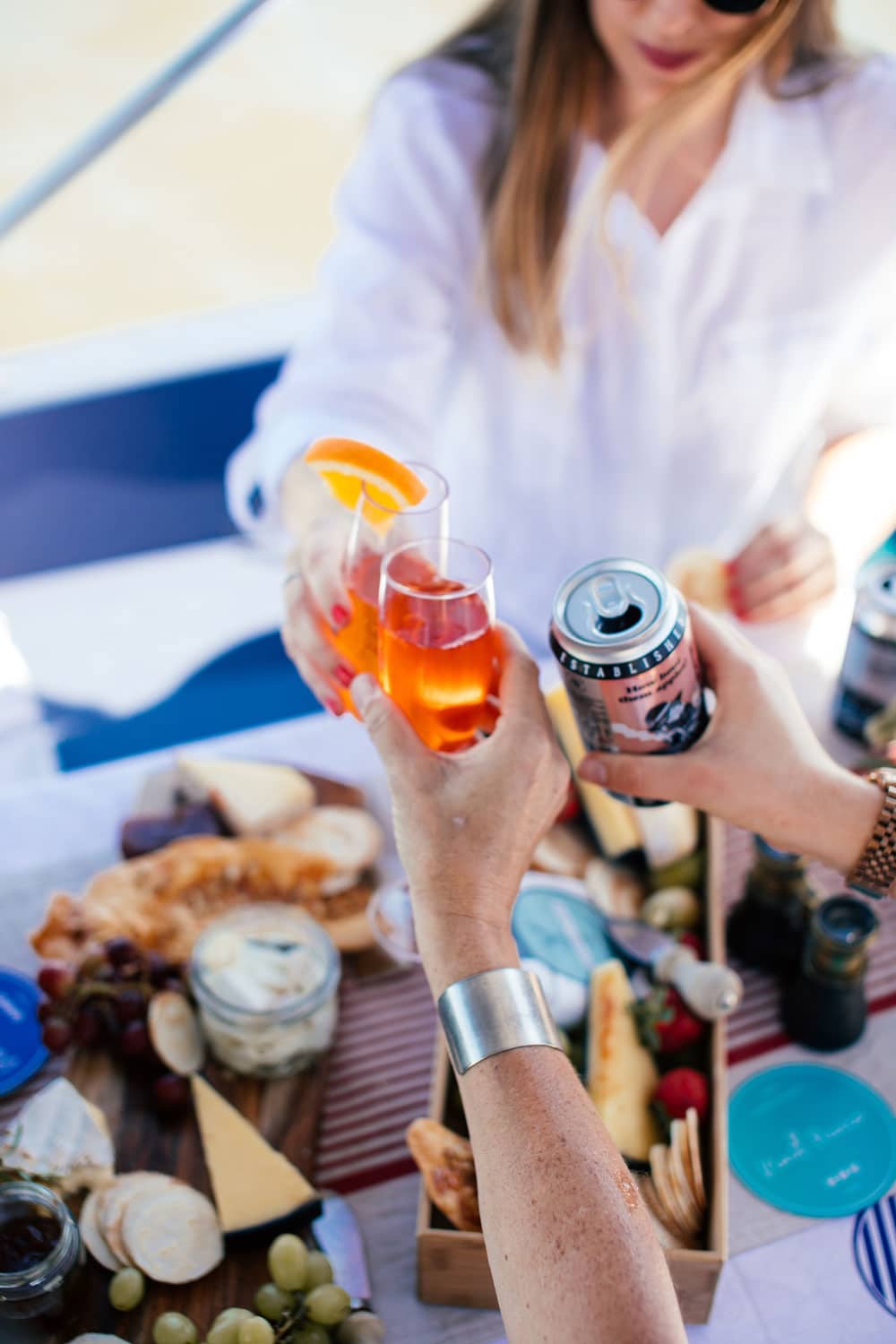 After you have set your menu, you can choose your drink pairings accordingly.
Mimosas can be a delicious addition to a morning sail, while a glass of champagne can add a nice touch to dinner on the water. 
Don't forget to also include non-alcoholic options in your beverage choices, especially for the captain of your boating expedition!
Clear, cold liquids are good thirst-quenching drinks and can also settle the stomach. 
Blackberry sage iced tea is a fresh choice for a crisp fall day. It can also build up your energy supply with a touch of caffeine. 
Lemonade can quench your thirst and may be a lifesaver for guests that begin to feel queasy.
4. Prep the Food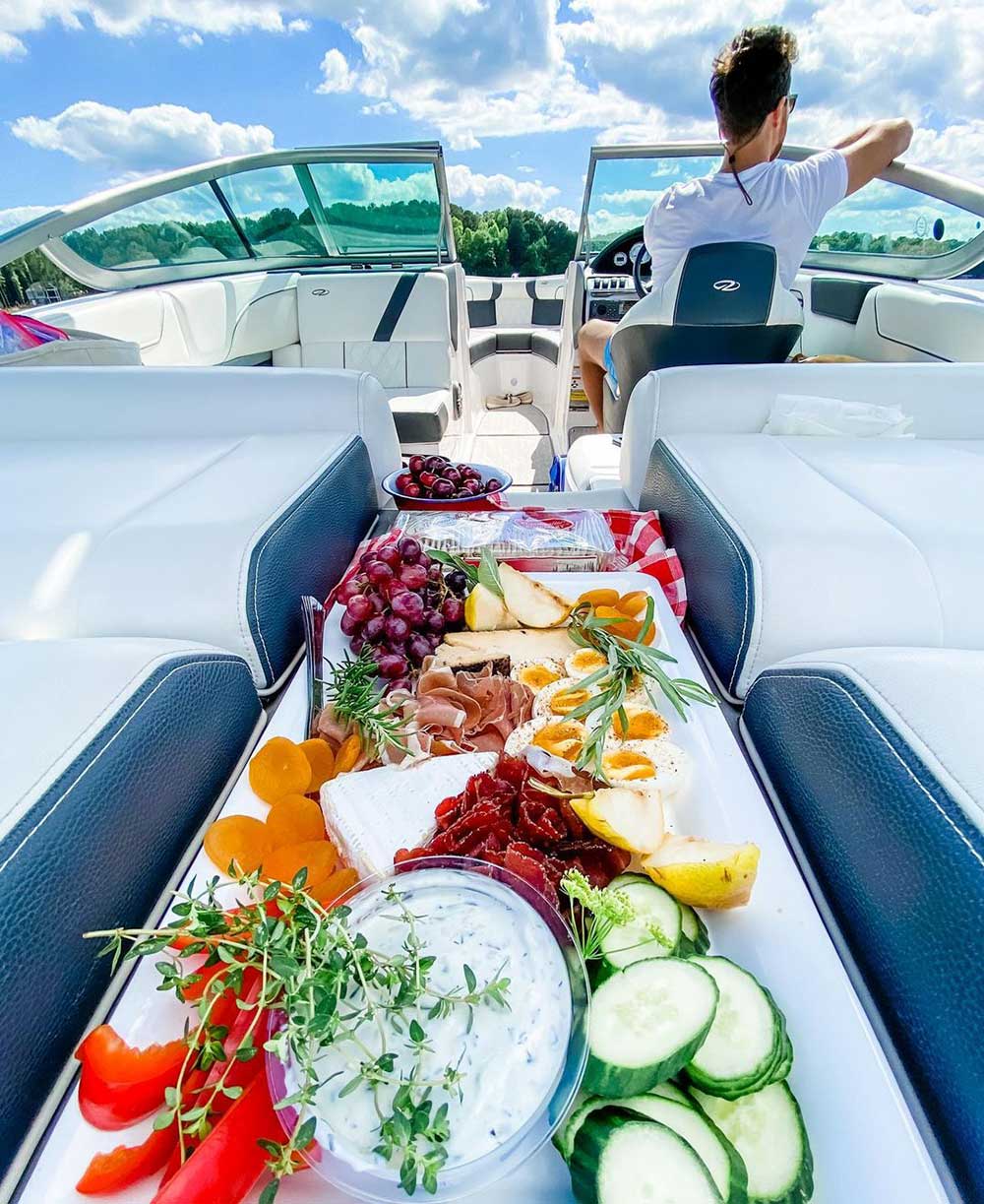 Before you head out on the water, make sure you have prepped your dishes as much as possible.  
This allows you to bring fewer supplies and spend more of your time on the boat with your guests! So slice any veggies that can be sliced, and assemble as much as you can beforehand. 
If you are bringing wraps or finger sandwiches, you may want to wait to spread until just before serving to keep your sandwiches from becoming soggy. 
When your food has been prepped, you can begin to pack your cooler. 
Packing frozen water bottles in with your food can help keep your cooler cold, and will ensure that your guests have a cold drink option all day!
5. Decorate the Picnic Spot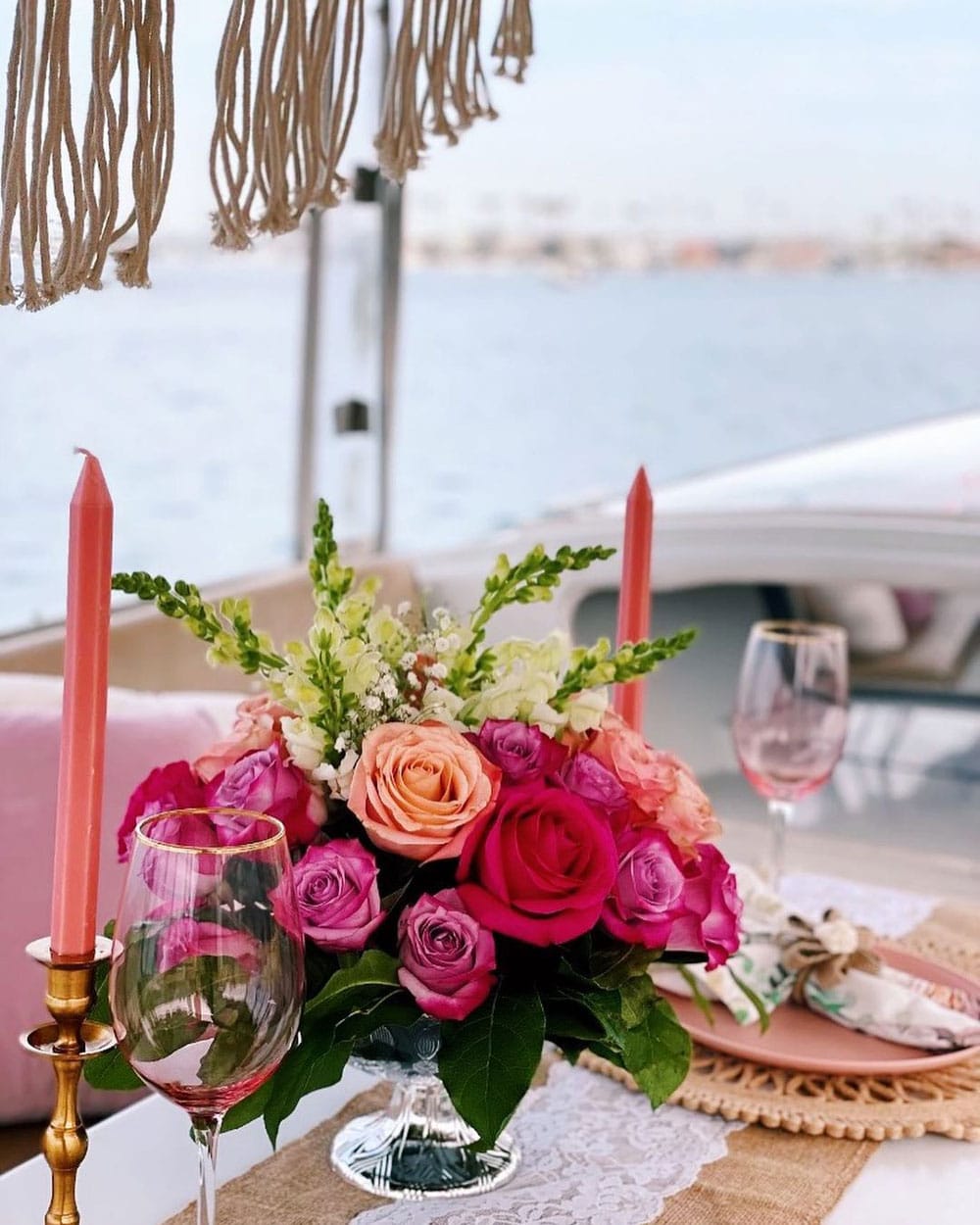 If you are planning a picnic on board, you can choose decorations to match the theme of the season or of the boating experience… or just decorate using what makes you happy.  
Navy blue and white are classic boating colors and can make a table look fresh.  
This embroidered table cloth is heavy-weight for a nice drape on the table and can be machine-washed after use. 
When your table is set, place a fresh arrangement of roses on the table to add a nice accent of color and fragrance. 
If you are boating to a favorite spot in nature, make sure to bring along a waterproof/sand-proof blanket to keep yourself and guests comfortable. 
You may consider setting up a picnic canopy or umbrellas if the area is usually sunny. 
Also, whether you are picnicking on the boat or on land, be sure to pack sunscreen to protect your skin from the sun's rays!
6.Picnic Baskets and Coolers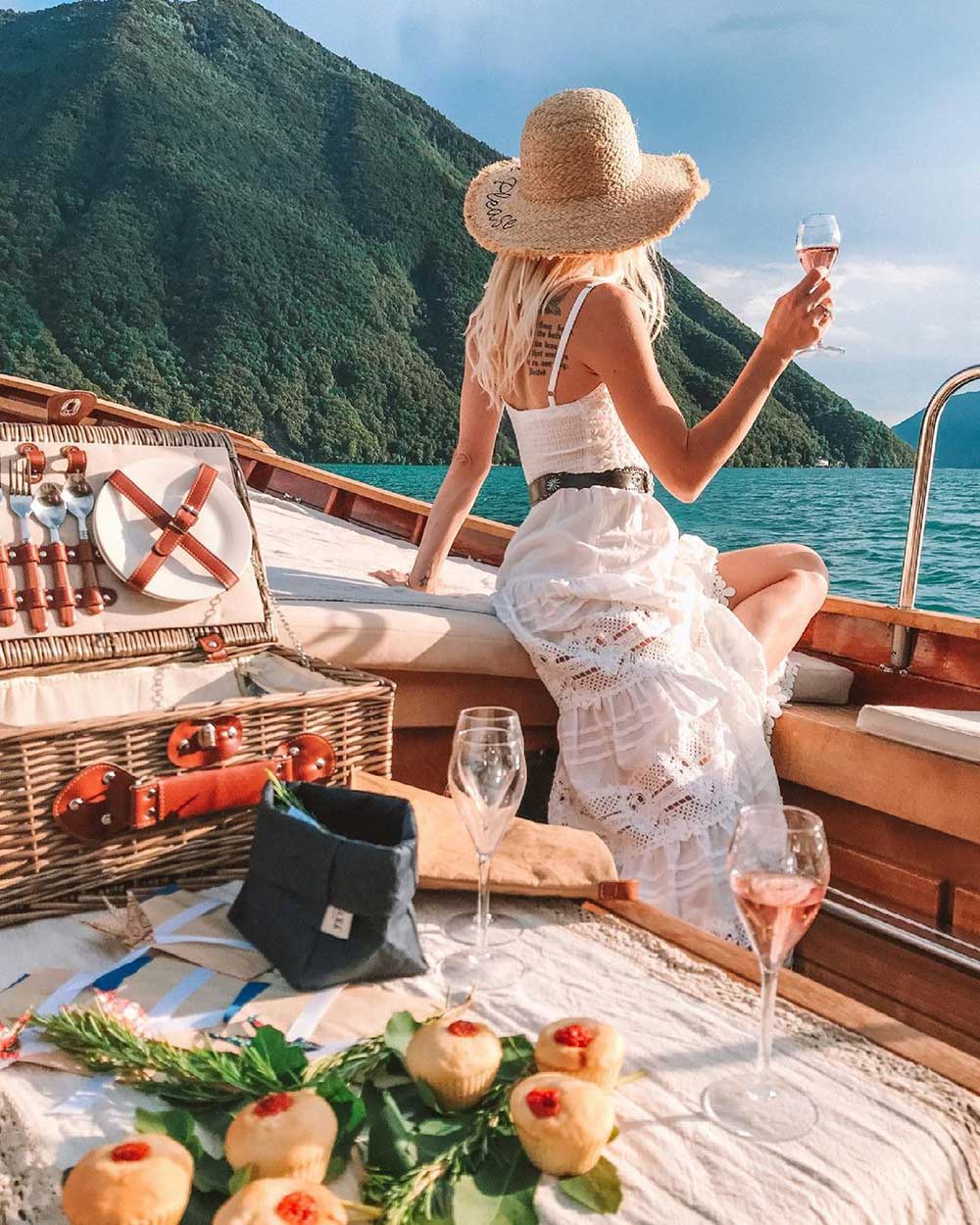 You can opt to serve out of a picnic basket for a whimsical feel, or plate dishes individually for each guest.
This luxury picnic basket by Fortnum and Mason includes bone china mugs and plates, and wine glasses to serve up to 4 people.  
For an elegant day on the water, this set would be a first-class choice! 
If you are boating on a small-scale boat, you can save room by covering your cooler with a tablecloth and using it as a table.  
Just be sure to pick a cooler with a flat, sturdy surface to hold your plates!
The Yeti Tundra is a hard shell cooler with wheels to make it a portable picnic option. Its flat surface is perfect to double as a compact table.
7. Serving the Food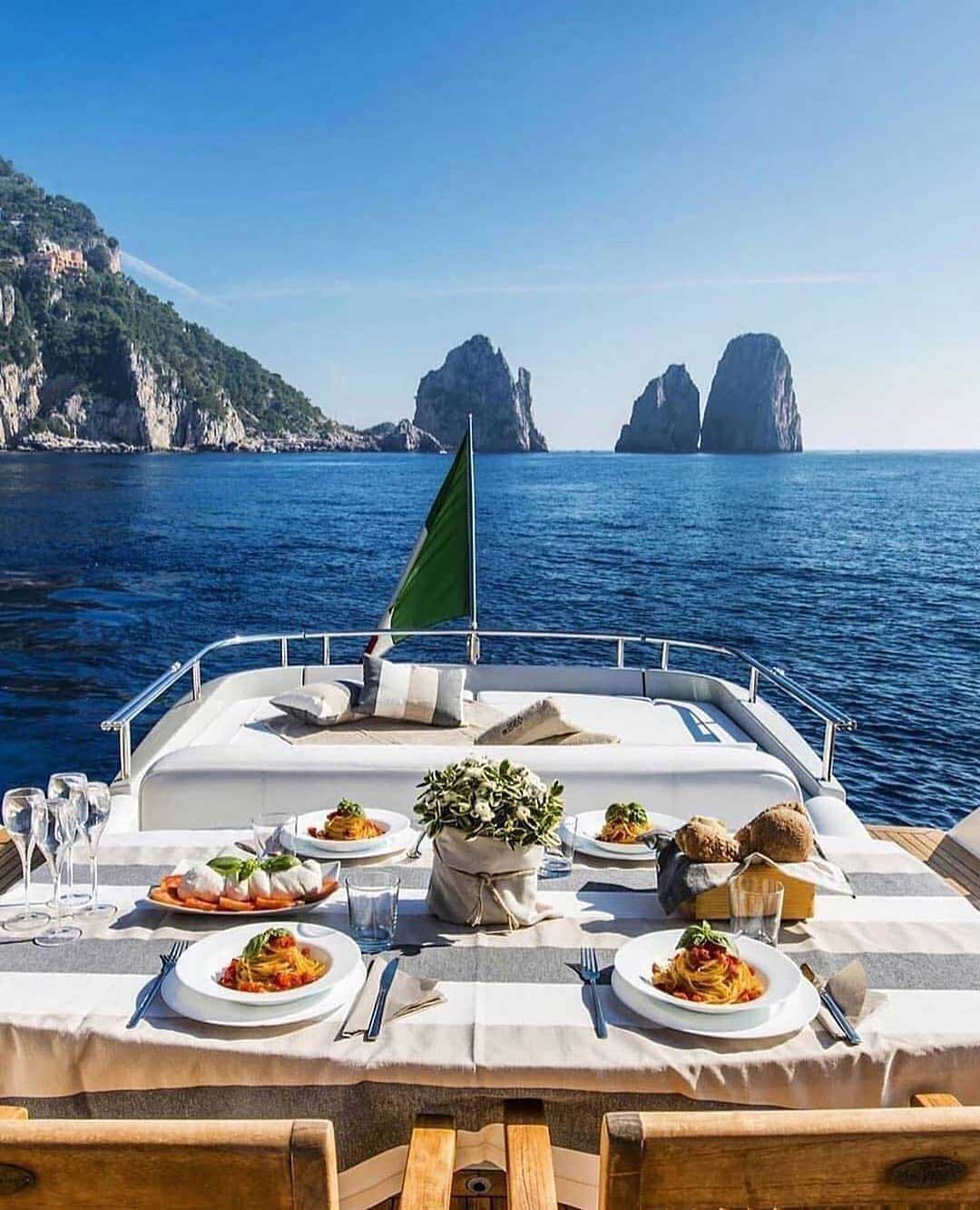 For a boating expedition, you may want to use unbreakable dishes for peace of mind while eating on choppy waves.  
Melamine dishes are a great choice to give you the look of ceramic dishes while remaining relatively indestructible.
These blue and white dishes can add a nice accent to the table and can be washed in the dishwasher after use.  
You can also use wooden cutting boards as serving platters for appetizers.
This cheese board has built-in utensils that are uniquely arranged to look like a wheel of a classic ship.
Finger food ideas for boating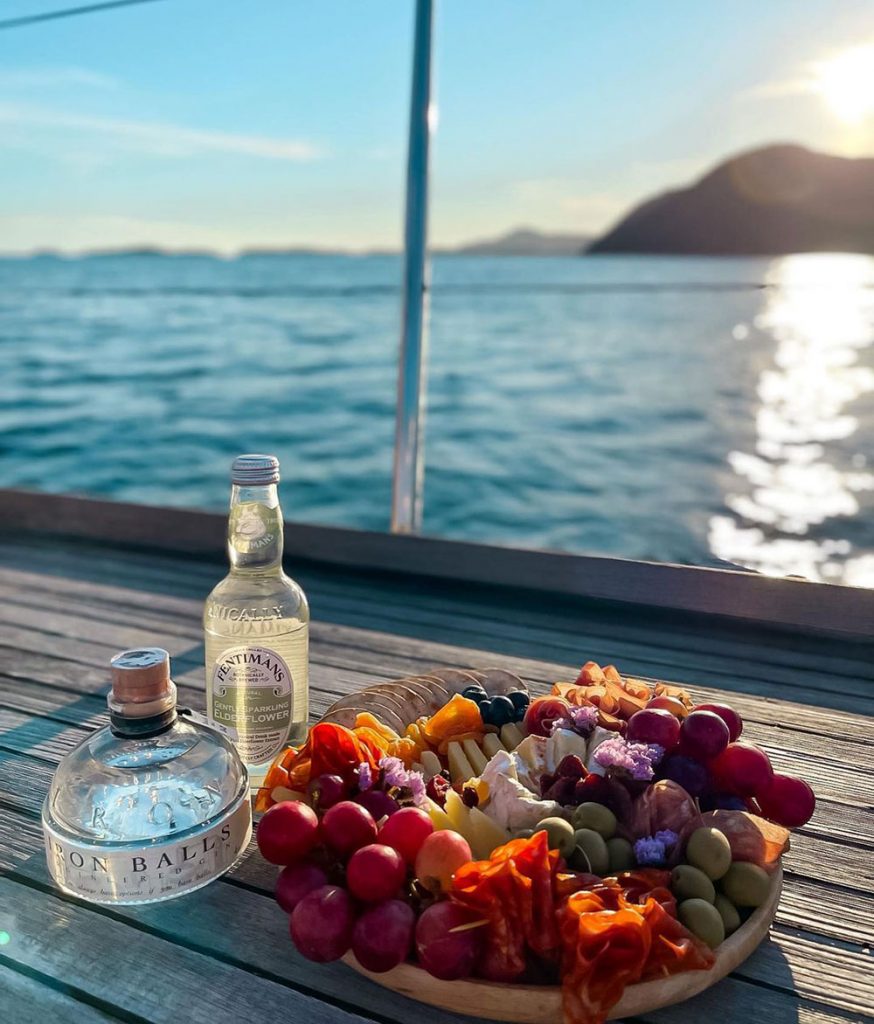 Finger foods make for a simple snacking option throughout the day while on a boat.
You can keep cheese boards set up and ready in a fridge or cooler and pull them out as desired. 
Other finger food ideas that are relatively simple to buy or prepare are: 
Turkey wrap rounds
Vegetable skewers and dip
Sushi rolls
Cranberry orange muffins
Salmon-cucumber dip on toast points
Mini-taco boats
Macaroons
Chips and guacamole
Mini quiches
Roasted artichokes with garlic butter
Watercress sandwiches
Final Thoughts
A day spent on the water can give you a sense of freedom and fulfillment.
By packing a picnic with you, you can maximize your time on a boat and add an element of whimsical fun to the experience. 
We hope our ideas are useful for a fall day spent boating and bonding with loved ones!