If you're looking for efficient ways to stop your tablecloth from slipping or sliding off the table, you're in the right place. We're here to help you out and give you the best solutions.
Wooden tables are usually very slippery and keeping your tablecloth in place can get tricky, especially if you have cats that love to pull that tablecloth off.
For your indoor kitchen table, you can use the following simple and affordable tricks and fixes that will make sure your tablecloth stays put.
For your outdoor table, whether we're talking about patio, camping, or picnic tables, you should use some specially designed tools like clamps or clips.
Post last updated in January 2023
How to keep your tablecloth from sliding
1. Place a rubber roll shelf liner underneath the cloth (most efficient)
Placing a rubber shelf liner underneath your tablecloth is one of the most efficient ways to keep your cloth from sliding off the table.
We recommend the Gorilla Grip liner that provides a strong grip without using any sticky and annoying adhesive. But any other similar product would work just fine.
The Gorilla liner is easy to trim to cut away any excess and fit your table perfectly. A rubber liner like this with open-weave construction allows air to flow in and out leaving your furniture clean and protected.
2. Use heavy centerpieces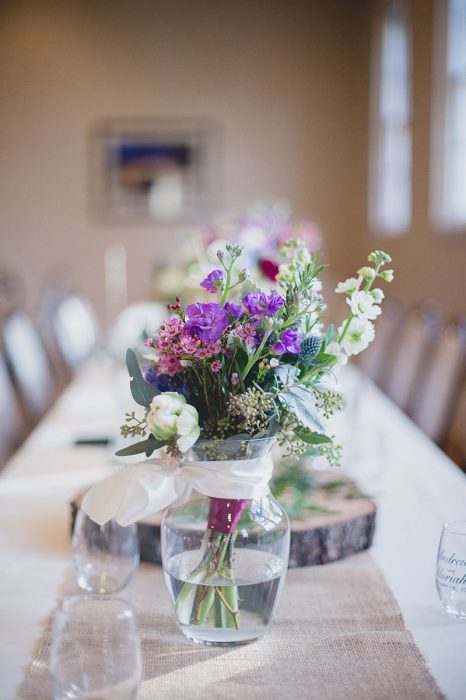 A traditional solution that will help you secure your table cover on the table is to use heavy decorative items. Placing on the table some heavy and beautiful centerpieces, glass bud vases, large vases, bowls, stones is an efficient and cheap remedy.
These pieces should be heavy and of course, they should complement the rest of your home decor.
3. Cushioned Table Pad with Flannel Backing
Another popular solution is to use a flannel-backed table pad.
However, we don't find it as effective as using a simple rubber liner.
A table pad is indeed a fantastic choice if you're looking to add protection to your dining table against scratches, heat or spills. We recommend the "YourTableCloth" pad which is also water-resistant and can be quickly trimmed to fit your table.
It does provide some amount of slip-resistance, but we think you should use it only for tables with less traffic.
4. Choose a heavy table cloth
If you're planning ahead and looking to buy new table linen for your kitchen dining table, you should look for a heavy option.
This Armstrong cloth is beautifully designed, with premium quality, attractive embroidered accents and extra-durable materials.
Made from a rugged yet soft mix of fabrics: 80% Polyester, 20% Linen, this cloth is made to last and hangs beautifully without slipping.
It is available in multiple sizes and is perfect for special Thanksgiving dinners and for everyday use as well.
5. Clip on tablecloth weights for outdoor patio tables
Another practical solution is to use tablecloth weights (link to our article) that will help the cloth stay in place even if you're using it outside.
Not only do they do the job great, but they're also cute, tiny, and easy to clip on.
Before buying them, make sure to check their weight and sizes. The heaviest we could find were weights made from cast iron – bird-shaped white table cover weights (link to Amazon), and people seem to love them.
6. Use special clips and clamps (best for outdoor use)
For outdoor patio tables or picnic tables, you should use tablecloth clips (link to our article).
They are strong, reliable, and efficient even in high winds and will firmly keep your table cover from sliding, slipping off, or blowing away even in the worst weather conditions.
Thie method does wonders with outdoor tablecloths (link to our article).