Mini Burritos are the perfect picnic finger food! They are easy to make, delicious to eat, and can be customized to suit any taste. Whether you're looking for a classic burrito with all the fixings, or something a little more creative, mini burritos are the perfect way to spice up your next picnic. With just a few simple ingredients, you can create a variety of mini burritos that will be sure to please everyone. Plus, they're easy to transport and can be enjoyed on the go.
So, if you're looking for a delicious picnic recipe, look no further than mini burritos!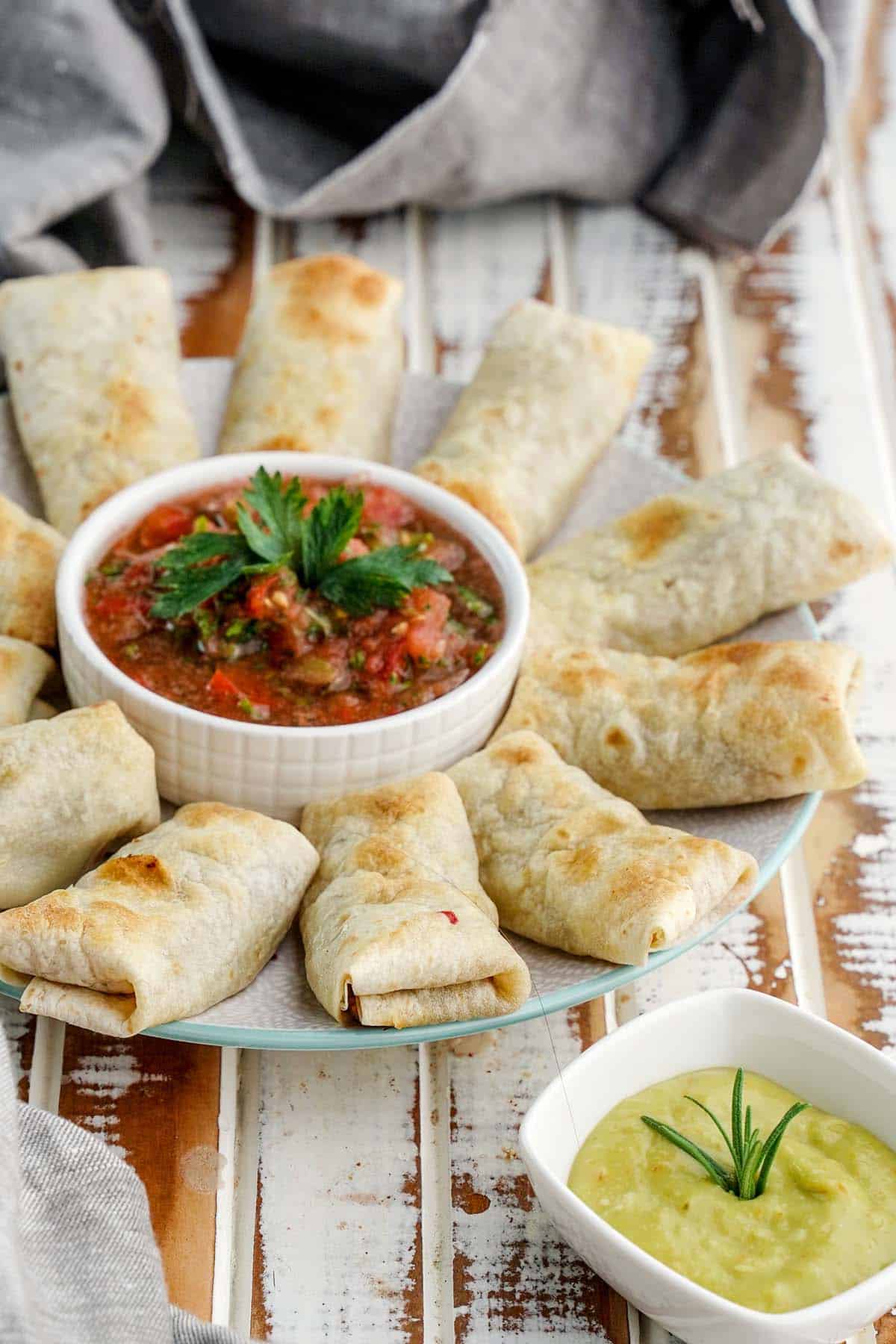 Mini Burritos
Mini burritos are also great for parties and gatherings. Serve them as an appetizer or as a main course. They are easy to make in large batches and can be customized to suit any taste.
A burrito, meaning 'little donkey' in Spanish, is a dish in Mexican and Tex-Mex cuisine comprising a flour tortilla wrapped or folded around a filling. Traditional fillings often include a combination of ingredients like meat, rice, beans, and salsa, among others.
The burrito's history traces back to Guanajuato, Mexico, in the 19th century. However, it gained significant popularity in the United States in the mid-20th century, particularly in the California region. The adaptation of this dish in the U.S led to the creation of many diverse versions such as breakfast burritos, wet burritos, and the mini burritos we know and love today.
Over time, burritos have evolved to suit a variety of tastes and dietary preferences, making them an enduring favorite in the world of portable foods.
So don't be afraid to add your own mini burrito to this long and storied history of this delicious dish!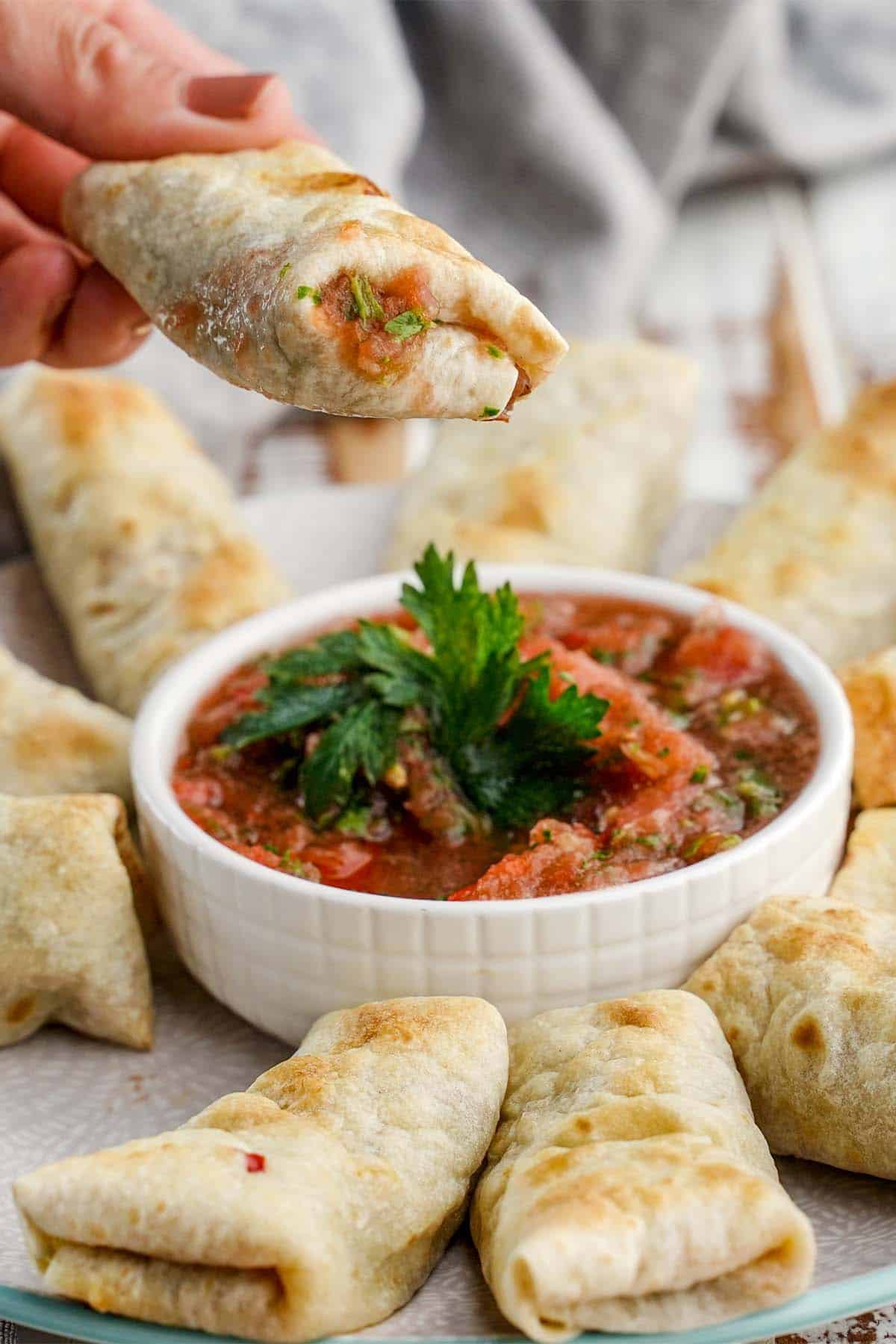 Ingredients to Make Mini Burritos
Mini burritos are the perfect picnic finger food. They're easy to make, delicious, and can be customized to suit any taste. To make mini burritos, you'll need a few simple ingredients:
1 pound ground beef
2 tbsp oil
1/2 small onion
15 oz refried beans
3.5 oz (1/2 cup) salsa
6 oz (1 1/2 cups) shredded cheddar cheese
2 tbsp taco seasoning
3 tbsp water
8 flour tortillas for burritos
2 tbsp melted butter for basting (optional)
For dipping:
sour cream (optional)
guacamole (optional)
salsa (optional)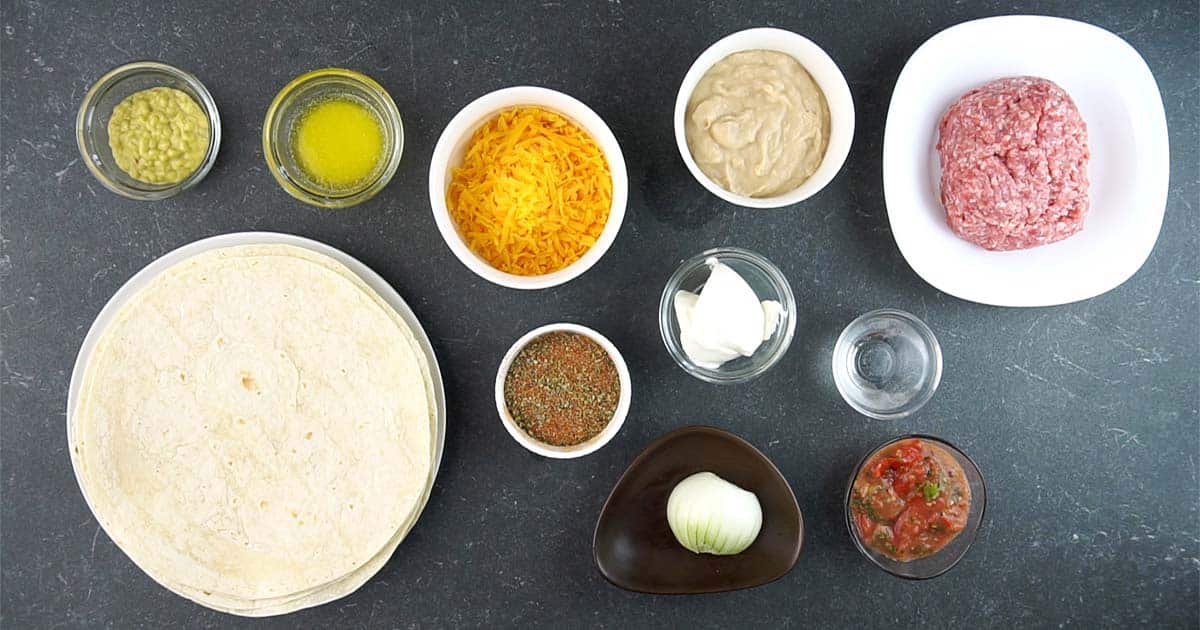 How to Make Mini Burritos
On the cutting board with a sharp knife, chop the onion.
In a large skillet with hot oil, cook the onion until tender. Add the ground beef and cook until light browned.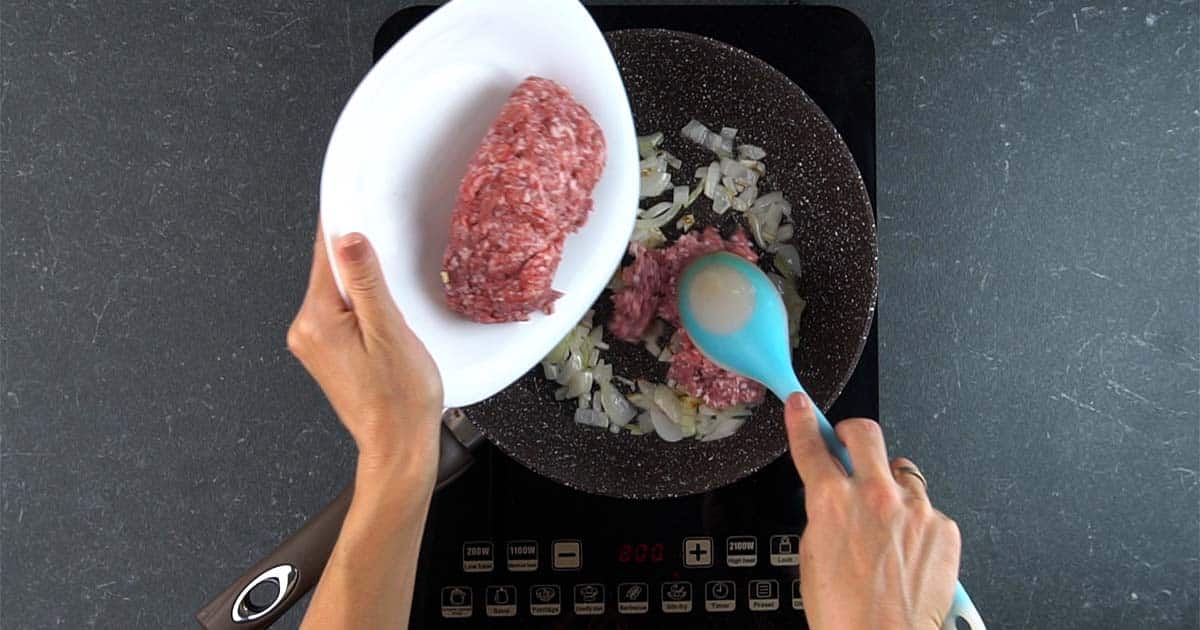 Add the taco seasoning and the water, stirring occasionally. When it's cooked, remove from heat and stir in the refried beans, salsa, and shredded cheddar cheese. Stir well to combine all ingredients.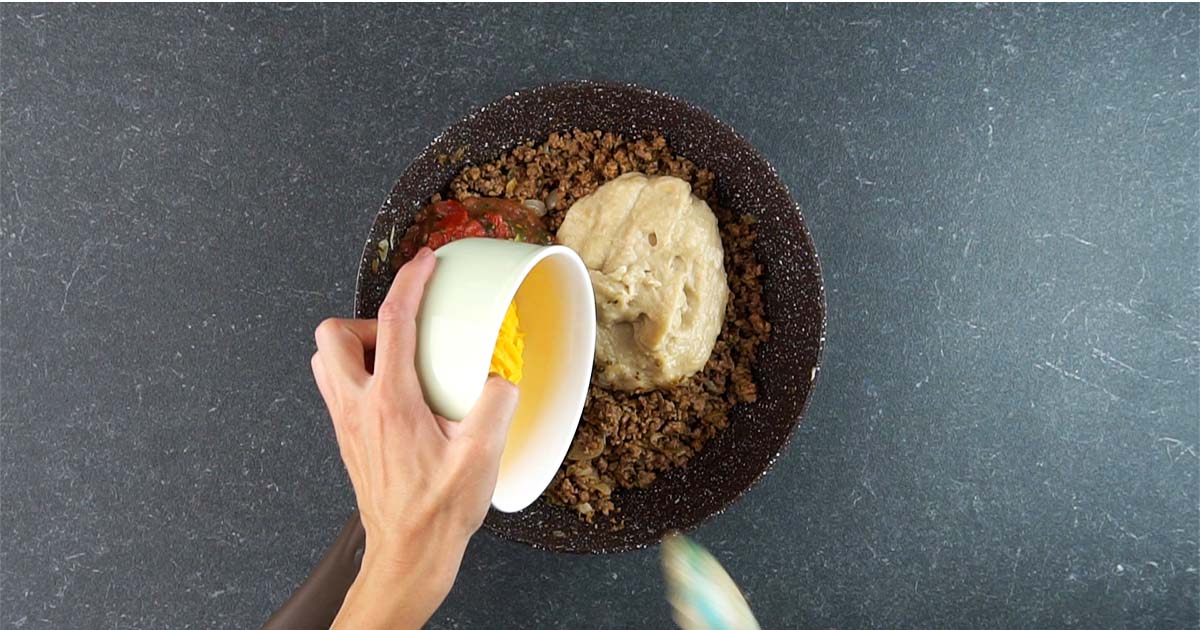 Take one piece of tortilla and place it on your cutting board. Cut the tortilla in the middle horizontally and vertically, getting 4 same sized pieces from 1 tortilla. Using a spoon, add from the meat mixture in the middle of every piece. Overlap the two corners on the bottom over the filling and roll it to create a mini burrito. Repeat the procedure for all the tortilla slices.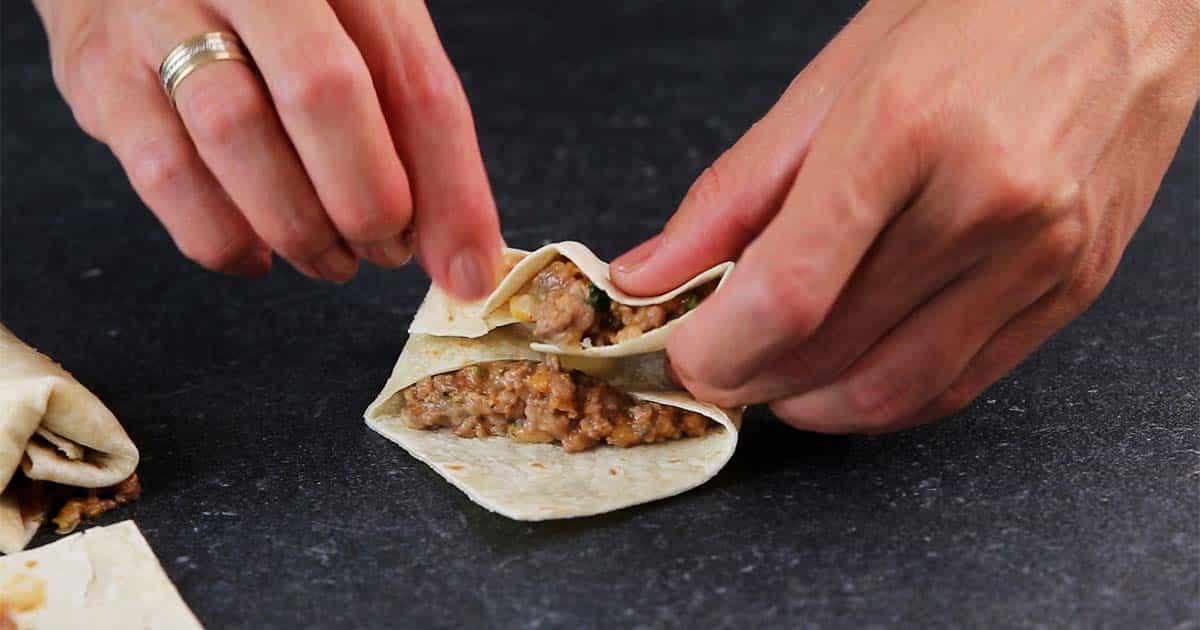 Place the burritos on the prepared baking sheet with parchment paper. Brush the burritos with melted butter.
Bake in the preheated oven to 350°F (175°C) for about 10-15 minutes or until burritos are warm.
Serve with sour cream, guacamole and salsa for dipping.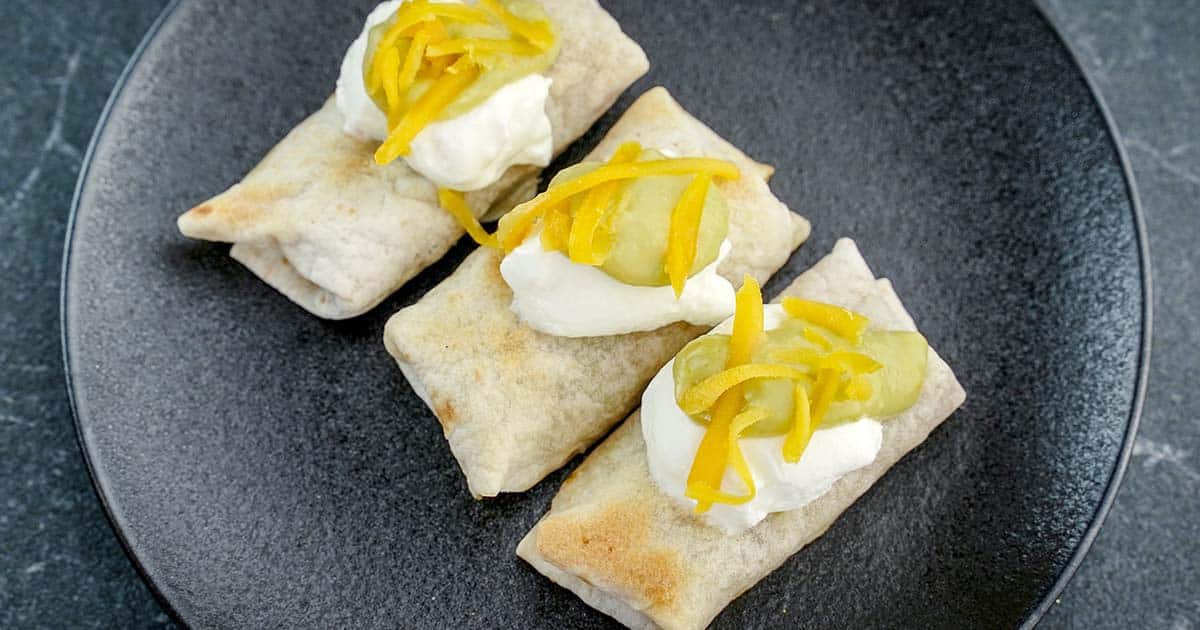 Customizing Fillings and Toppings for Mini Burritos
When it comes to fillings and toppings for mini burritos, the possibilities are virtually endless. You can stick with classic options or experiment with unexpected ingredients to create your own unique flavor combinations. Here are some tips for customizing your mini burritos:
Consider Different Types of Proteins: Instead of just sticking to ground beef or turkey, consider other proteins such as shredded chicken, pulled pork, grilled shrimp, or even tofu for a vegetarian option.
Experiment with Grains: While rice is a traditional choice, don't be afraid to experiment with other grains like quinoa, couscous, or even farro.
Play with Textures: Adding crunchy vegetables such as bell peppers, cucumbers, or jicama can provide a nice contrast to the soft fillings in the burrito.
Add Some Heat: If you like your food spicy, consider adding diced jalapenos, chipotle peppers in adobo sauce, or a splash of your favorite hot sauce.
Think Beyond Salsa: While salsa is a classic topping, consider other sauces like guacamole, sour cream, pico de gallo, or even a homemade cilantro-lime dressing.
Don't Forget the Cheese: Try mixing it up with different types of cheese such as sharp cheddar, pepper jack, or queso fresco.
The best part of making your own mini burritos is that you can personalize them to suit your own taste preferences. So, don't be afraid to get creative and have fun with it!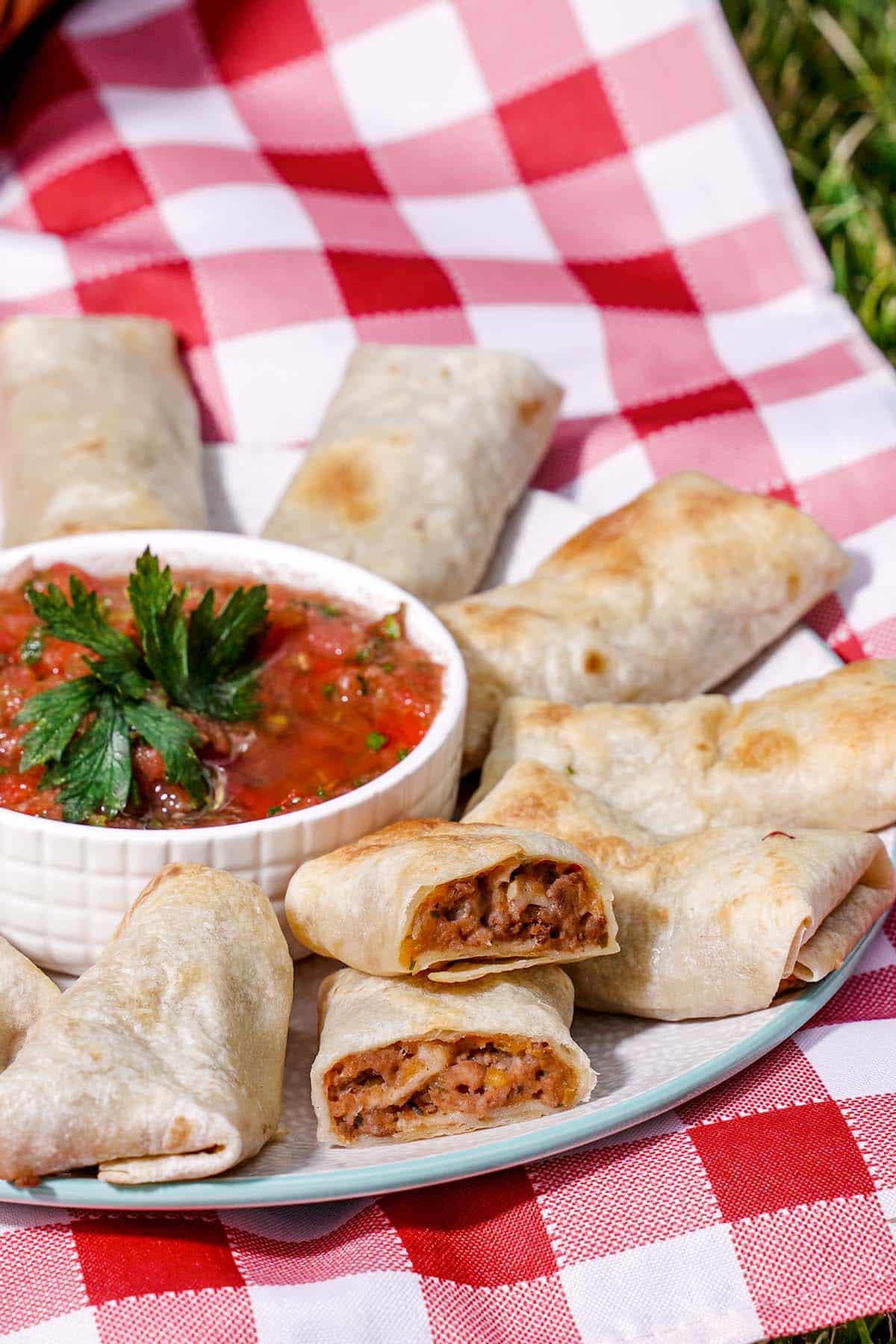 How to Serve Mini Burritos at Your Picnic
Presentation is key when it comes to serving mini burritos at a party or picnic. Here are a few ideas to make your mini burritos look as great as they taste:
Use a Colorful Platter: A vibrant, colorful platter can make your mini burritos look even more appealing. Consider using a patterned or brightly colored dish to accentuate the colors of your burritos.
Garnish with Fresh Ingredients: A sprinkle of fresh chopped cilantro, green onions, or a wedge of lime on the side can add a pop of color and a fresh note of flavor to your mini burritos.
Dips on the Side: Instead of adding sauces directly on the burritos, try serving them on the side. You can use small bowls for individual sauces like salsa, guacamole, and sour cream. This allows your guests to customize their own burritos according to their palate.
Neat Arrangement: Arrange the mini burritos neatly on the serving tray. You could line them up or arrange them in a circular pattern.
Decorate the Serving Space: Consider decorating your serving table with tablecloths, napkins, or centerpieces that match the theme of your gathering. This enhances the overall aesthetic and makes the food even more enticing.
Add Labels: If you've made different types of mini burritos, it's a good idea to add small labels. This lets your guests know what they're choosing, especially beneficial for those with dietary restrictions.
Remember, the goal of good presentation is to entice people to try your food. With these ideas, your mini burritos are sure to be an appealing and delicious hit at your next gathering.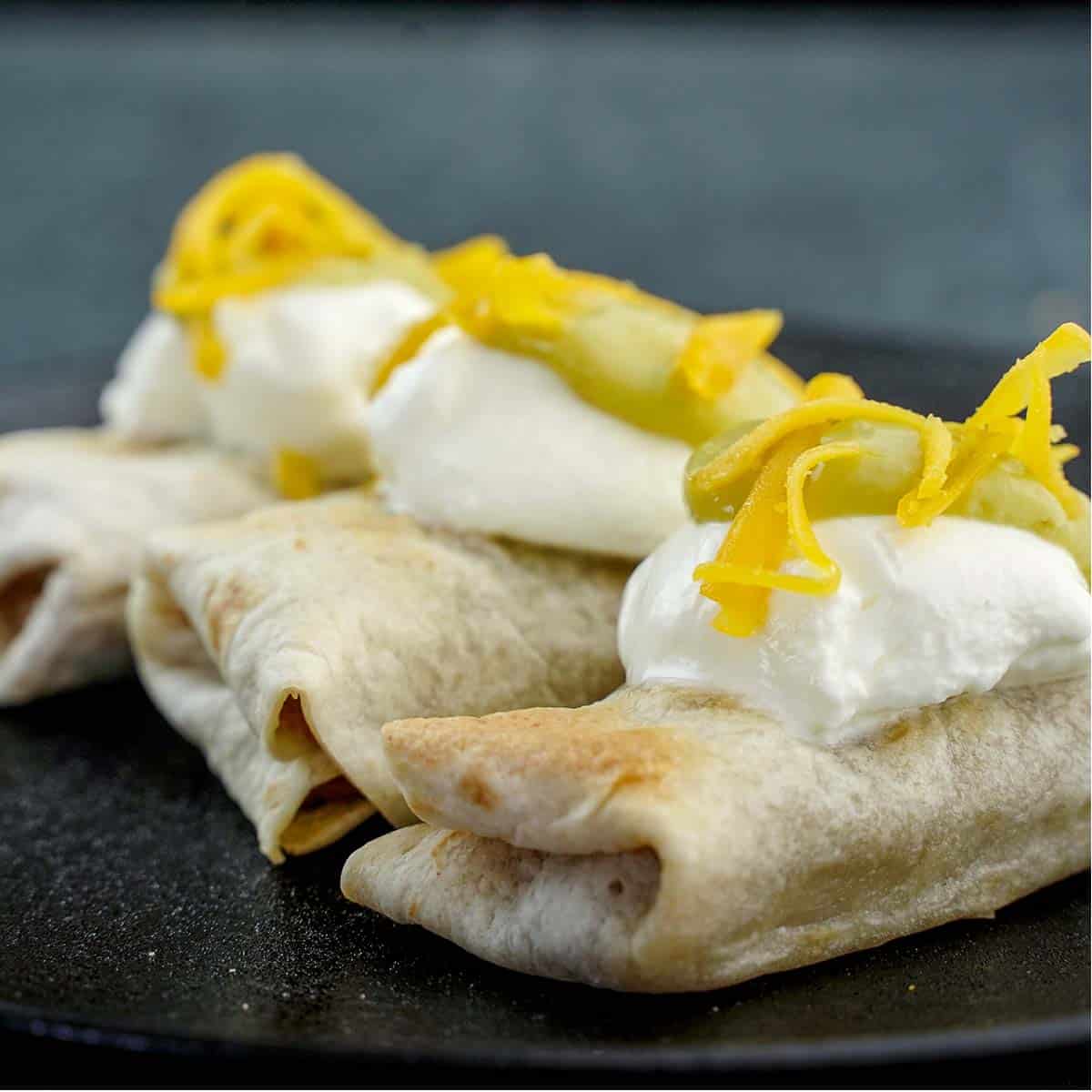 Frequently Asked Questions About Mini Burritos
What are mini burritos?
Mini burritos are a delicious and easy-to-make finger food that is perfect for picnics and other outdoor gatherings. They are bite-sized versions of traditional burritos, made with a variety of fillings and wrapped in a soft tortilla.
What are some tips for making the perfect mini burrito?
To make the perfect mini burrito, make sure to use soft tortillas that are easy to roll up. Also, be sure to use enough filling so that the burrito stays together when you roll it up. Finally, don't forget to add any additional toppings you would like to add after the burritos are cooked.
What are some serving suggestions for mini burritos?
Mini burritos are perfect for picnics and outdoor gatherings. Serve them with a variety of dips and sauces, such as guacamole, sour cream, and salsa. They also make a great appetizer or snack.
Are there any variations on the mini burrito recipe?
Yes! You can get creative with your mini burrito fillings and toppings. Try adding cooked chicken, black beans, or diced vegetables to the filling. You can also top your mini burritos with shredded cheese, diced tomatoes, or jalapenos.
How long do mini burritos last?
Mini burritos are best served fresh, but you can certainly save them for up to 3 days in the fridge. Or you can freeze them for up to 3 months in an airtight container.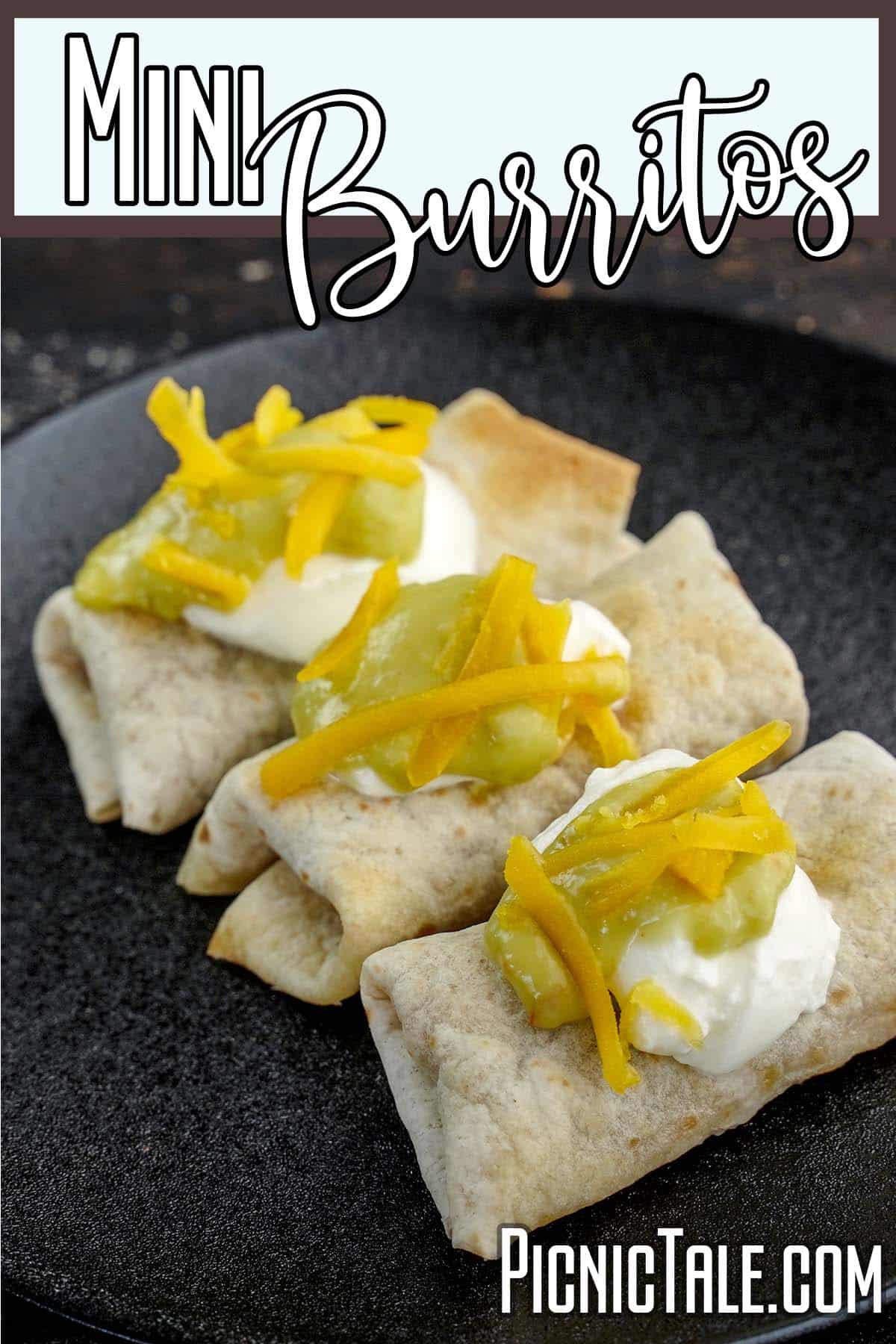 More Fun Picnic Ideas You'll Love
Planning a picnic can be so much fun! To help you get your little outdoor excursion pulled together, we've got some more fun picnic ideas we think you'll love: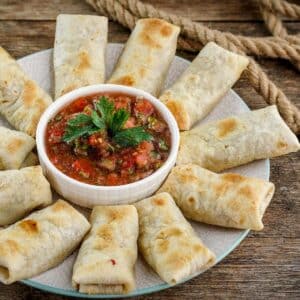 Mini Burritos
Get creative with your picnic food with this mini burrito recipe with step-by-step instructions, tips and serving suggestions.
Ingredients
1

pound

ground beef

2

tbsp

oil

1/2

small onion

15

oz

refried beans

3.5

oz

1/2 cup salsa

6

oz

1 1/2 cups shredded cheddar cheese

2

tbsp

taco seasoning

3

tbsp

water

8

flour tortillas for burritos

2

tbsp

melted butter for basting

optional
For dipping:
sour cream

optional

guacamole

optional

salsa

optional
Instructions
On the cutting board with a sharp knife, chop the onion.

In a large skillet with hot oil, cook the onion until tender. Add the ground beef and cook until light browned.

2 tbsp oil,

1 pound ground beef

Add the taco seasoning and the water, stirring occasionally. When it's cooked, remove from heat and stir in the refried beans, salsa, and shredded cheddar cheese. Stir well to combine all ingredients.

15 oz refried beans,

3.5 oz 1/2 cup salsa,

6 oz 1 1/2 cups shredded cheddar cheese,

2 tbsp taco seasoning,

3 tbsp water

Take one piece of tortilla and place it on your cutting board. Cut the tortilla in the middle horizontally and vertically, getting 4 same sized pieces from 1 tortilla. Using a spoon, add from the meat mixture in the middle of every piece. Overlap the two corners on the bottom over the filling and roll it to create a mini burrito. Repeat the procedure for all the tortilla slices.

8 flour tortillas for burritos

Place the burritos on the prepared baking sheet with parchment paper. Brush the burritos with melted butter.

2 tbsp melted butter for basting

Bake in the preheated oven to 350°F (175°C) for about 10-15 minutes or until burritos are warm.

Serve with sour cream, guacamole and salsa for dipping.

sour cream,

guacamole,

salsa
Nutrition
Serving:
1
g
Calories:
422
kcal
Carbohydrates:
23
g
Protein:
20
g
Fat:
27
g
Saturated Fat:
11
g
Polyunsaturated Fat:
2
g
Monounsaturated Fat:
10
g
Trans Fat:
1
g
Cholesterol:
69
mg
Sodium:
858
mg
Potassium:
250
mg
Fiber:
4
g
Sugar:
3
g
Vitamin A:
463
IU
Vitamin C:
1
mg
Calcium:
228
mg
Iron:
3
mg