Thanks to Italy's expansive gardens and public piazzas, it's not uncommon to see families spending entire leisurely afternoons camped out on blankets, enjoying one another's company as they snack on homemade delicacies.
If you want a new way to experience this distinctive Mediterranean cuisine, Italian picnic foods are a fresh and flavorful escape from the standard fried chicken and potato salad most of us are familiar with.
An authentic Italian picnic should include a full spread of pasta salads, antipasto, salami and capicola, fresh fruits, crusty bread, wine, and sparkling water.
Whether you're planning on taking your picnic to a gorgeous local lookout or right to your own backyard, we've got the tips and tricks you need for creating a molto bene Italian picnic that will tempt any foodie who prefers al fresco dining. 
Italian Picnic Food
If you're more familiar with an American picnic, planning out an authentic Italian picnic menu can be a challenge.
But don't despair!
While the ingredients and courses might look different, the basic rules of thumb stay the same.
You'll want a menu that travels well and won't need to be heated unless you plan on grilling at your picnic.
They should also be light, fresh, and flavorful, perfect for snacking on while you lounge in the sunshine.
Don't worry about finding enough picnic menu items – Italian picnic foods are as varied as they are delicious. You have plenty of options!
Italian Picnic Salads
Whether a side or the main dish, salads are a healthy and delicious choice that captures the flavors of Italy.
If you need a little inspiration, think fresh vegetables and herbs, olive oil, balsamic vinegar, pasta, and savory cheeses.
Then, mix and match your favorite ingredients to create a refreshingly different take on traditional tossed salad.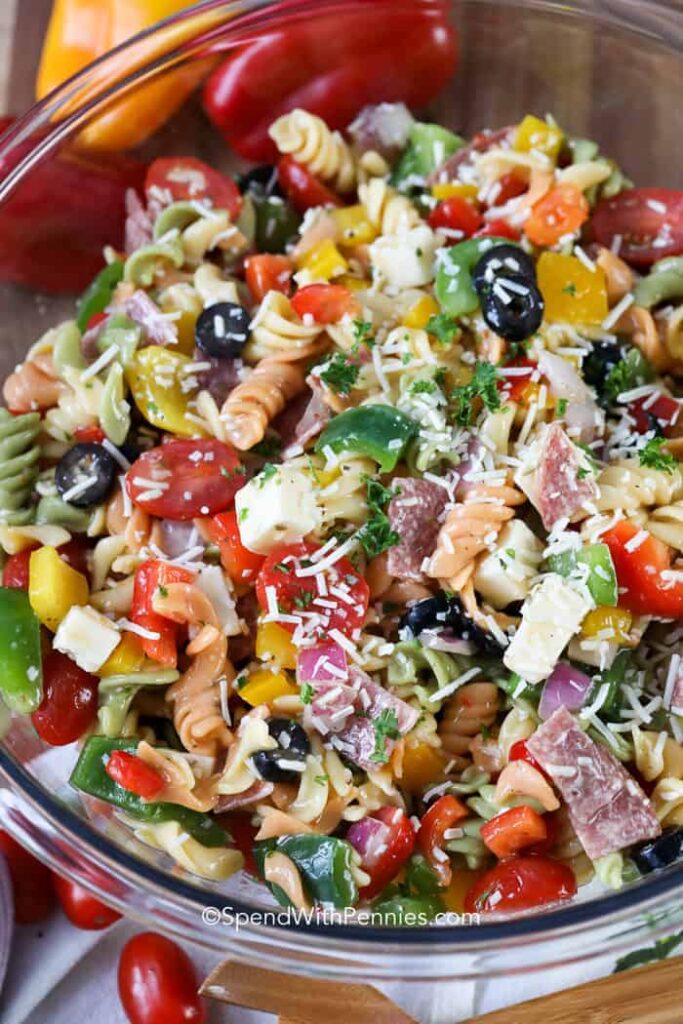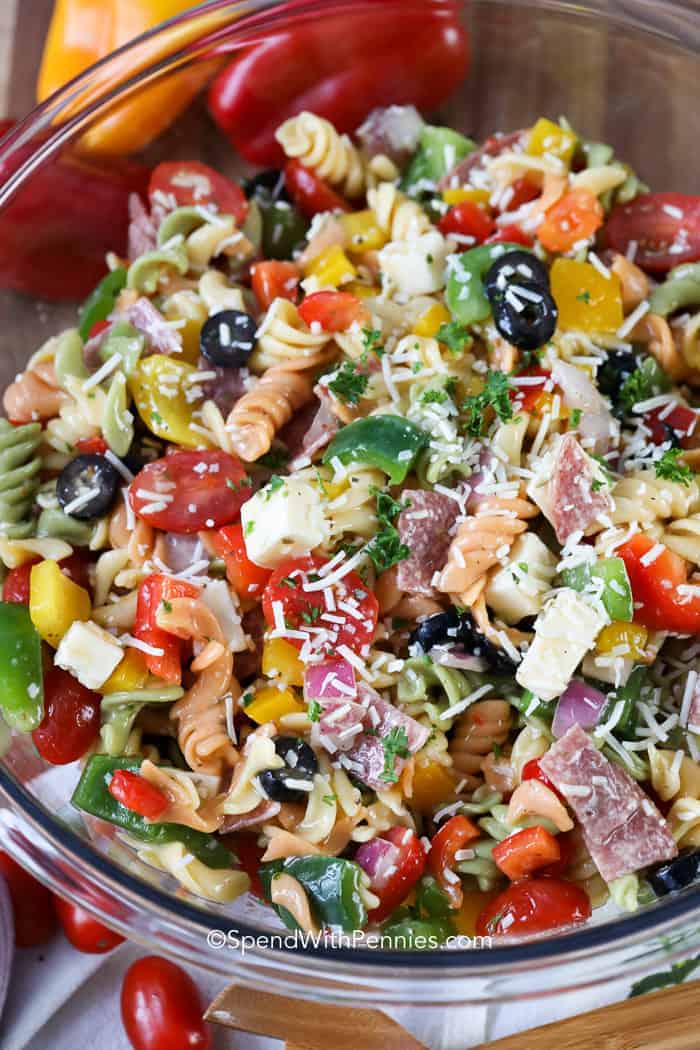 Salami, thin spaghetti, artichoke hearts, garlic, Parmesan cheese, and plenty of fresh veggies come together in perfect harmony in this decadent pasta picnic salad.
It's best served cold, so make this salad ahead of time to give it time to chill and transport it in a cooler.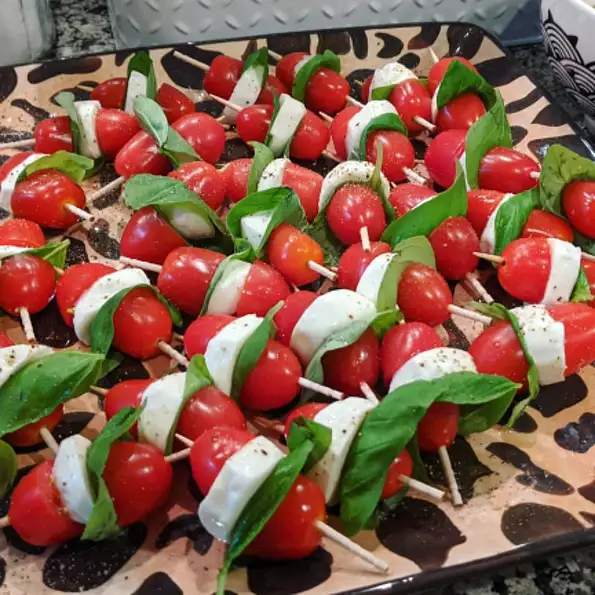 This fresh take on the iconic Caprese salad is a picnic-perfect option, as it skips the plate in favor of a portable skewer.
Simply layer together grape or cherry tomatoes, fresh basil from your supermarket or garden, and mozzarella cheese for a perfect bite.
Don't forget to bring along the balsamic dipping sauce for a touch of sweet acidity.
Best of all, no forks are required!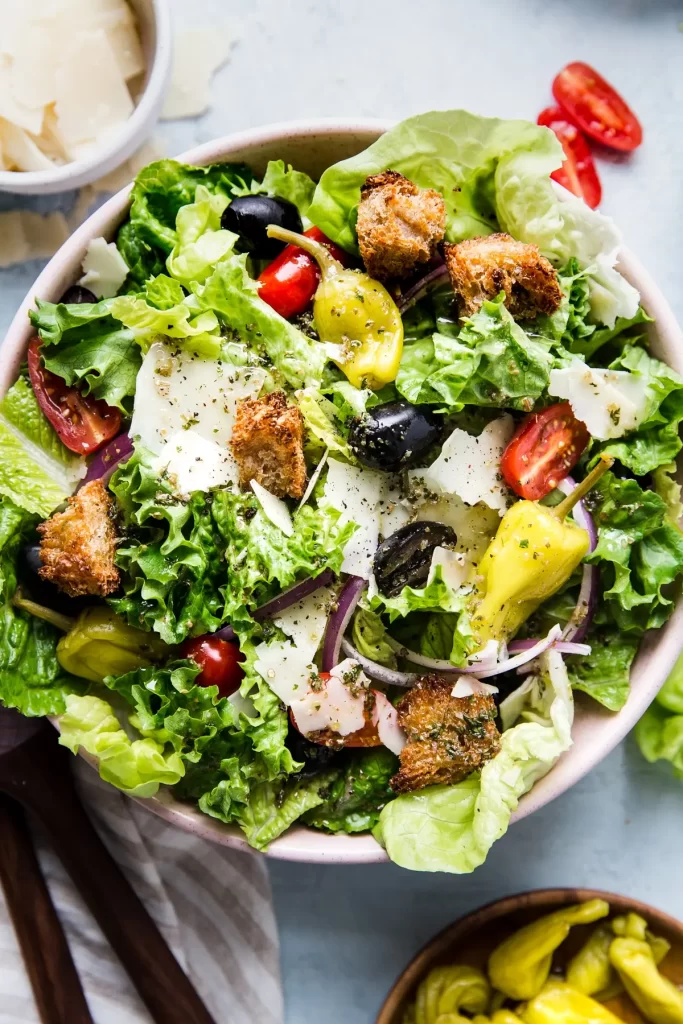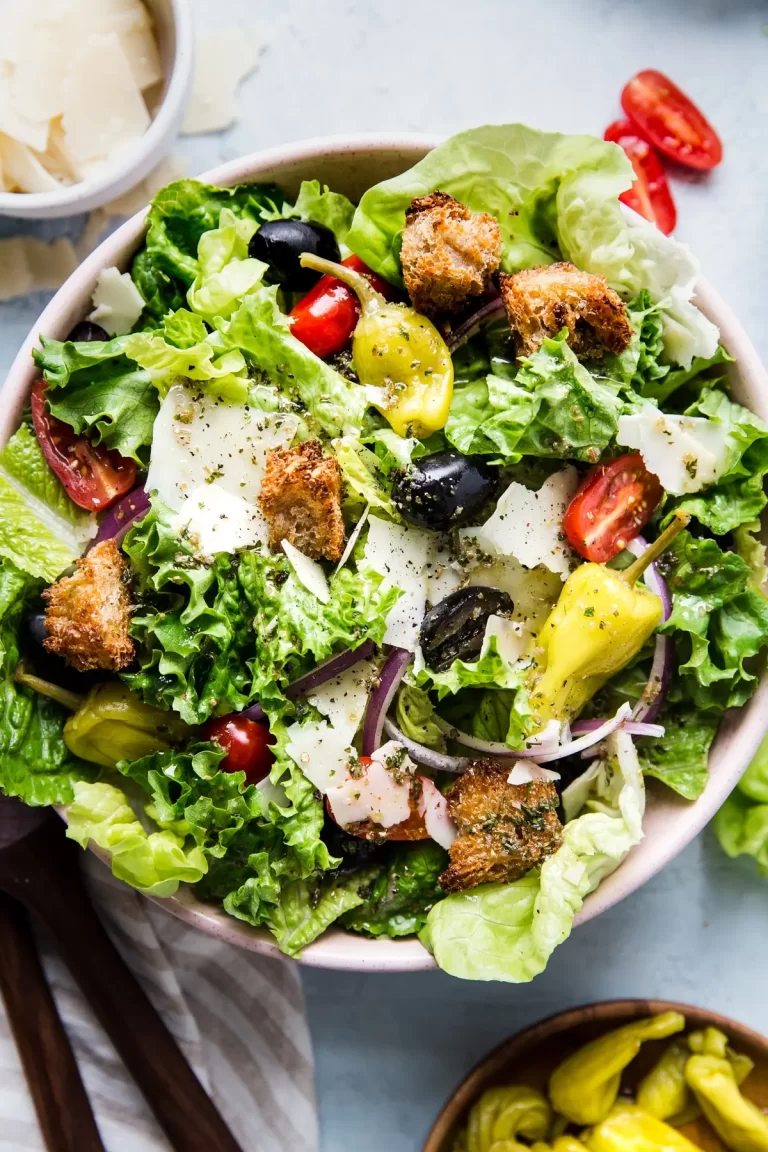 If you prefer a crisp vegetable salad over pasta salad, this option is fast and still packs a punch of potent Mediterranean flavor.
Romaine and iceberg lettuce, black olives, pepperoncini peppers, and red onion combine in a colorful salad inspired by your favorite Italian restaurant chain.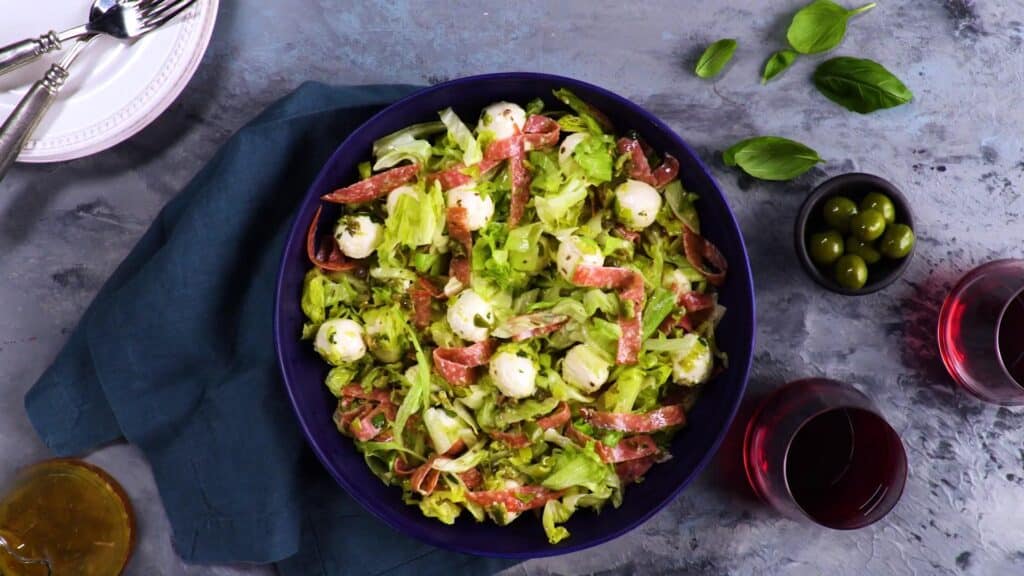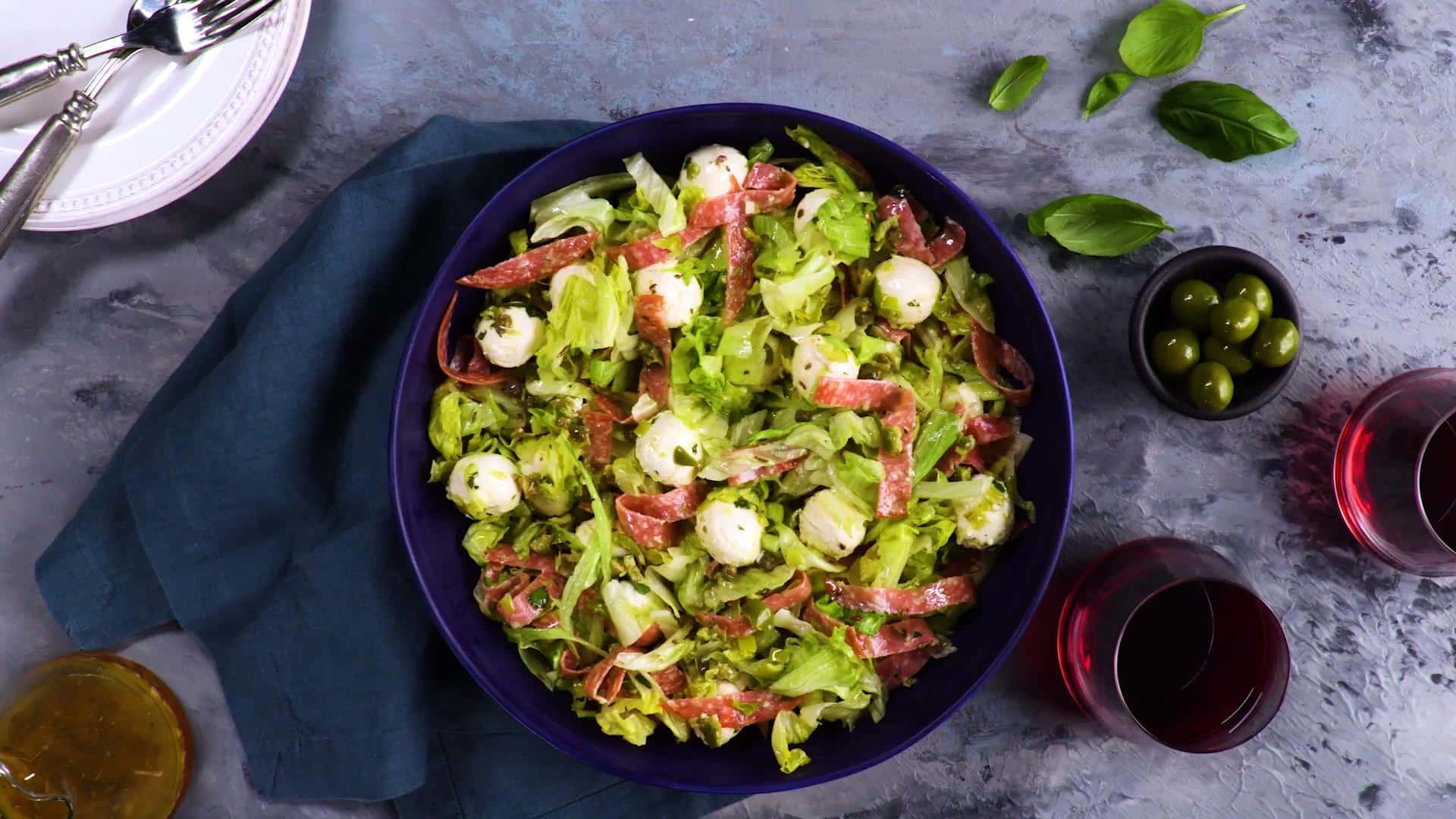 Food & Wine features this recipe, inspired by the Italian charcuterie appetizer, and gives it a fresh twist by adding a green olive tapenade.
Salami, basil, mozzarella, and oregano bring the classic Italian flavors, while a dash of red wine vinegar adds a refreshing tartness.
Serve it as an appetizer or as the main dish of your Italian picnic.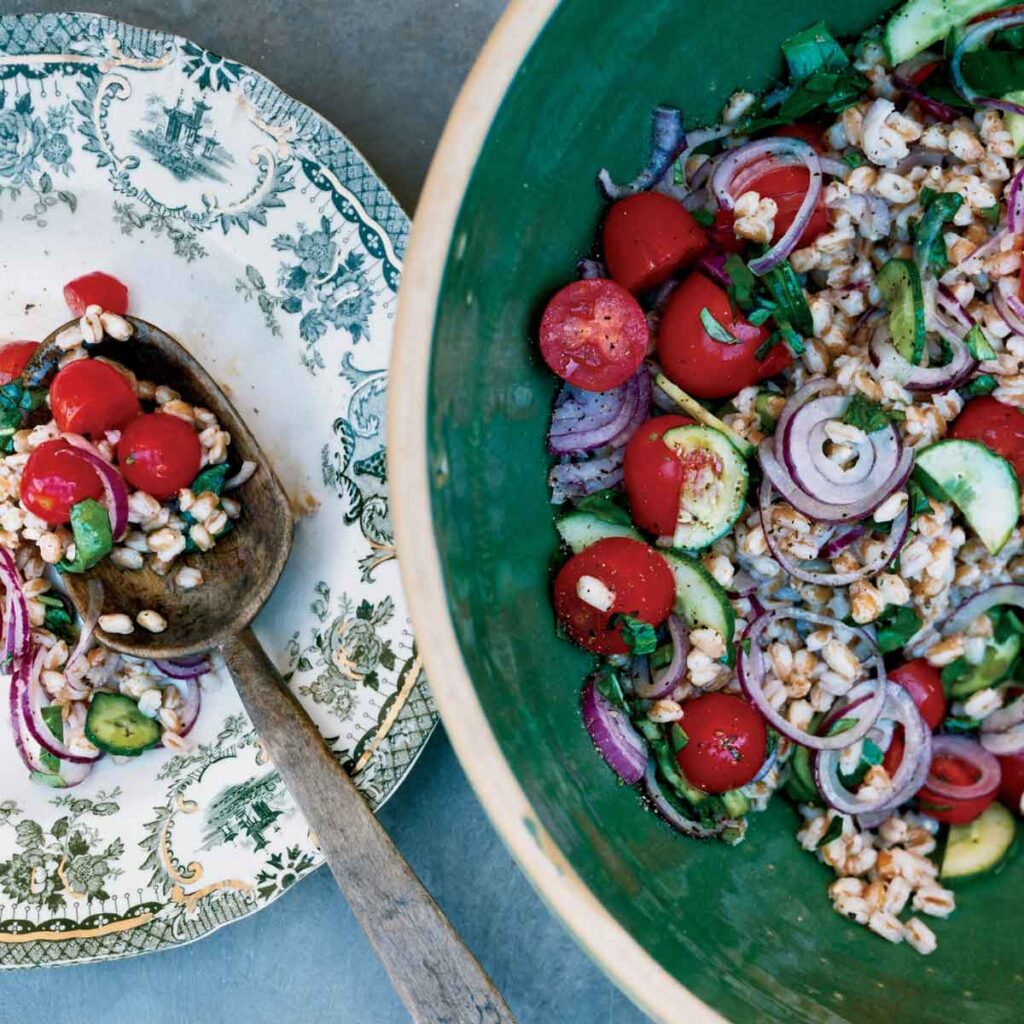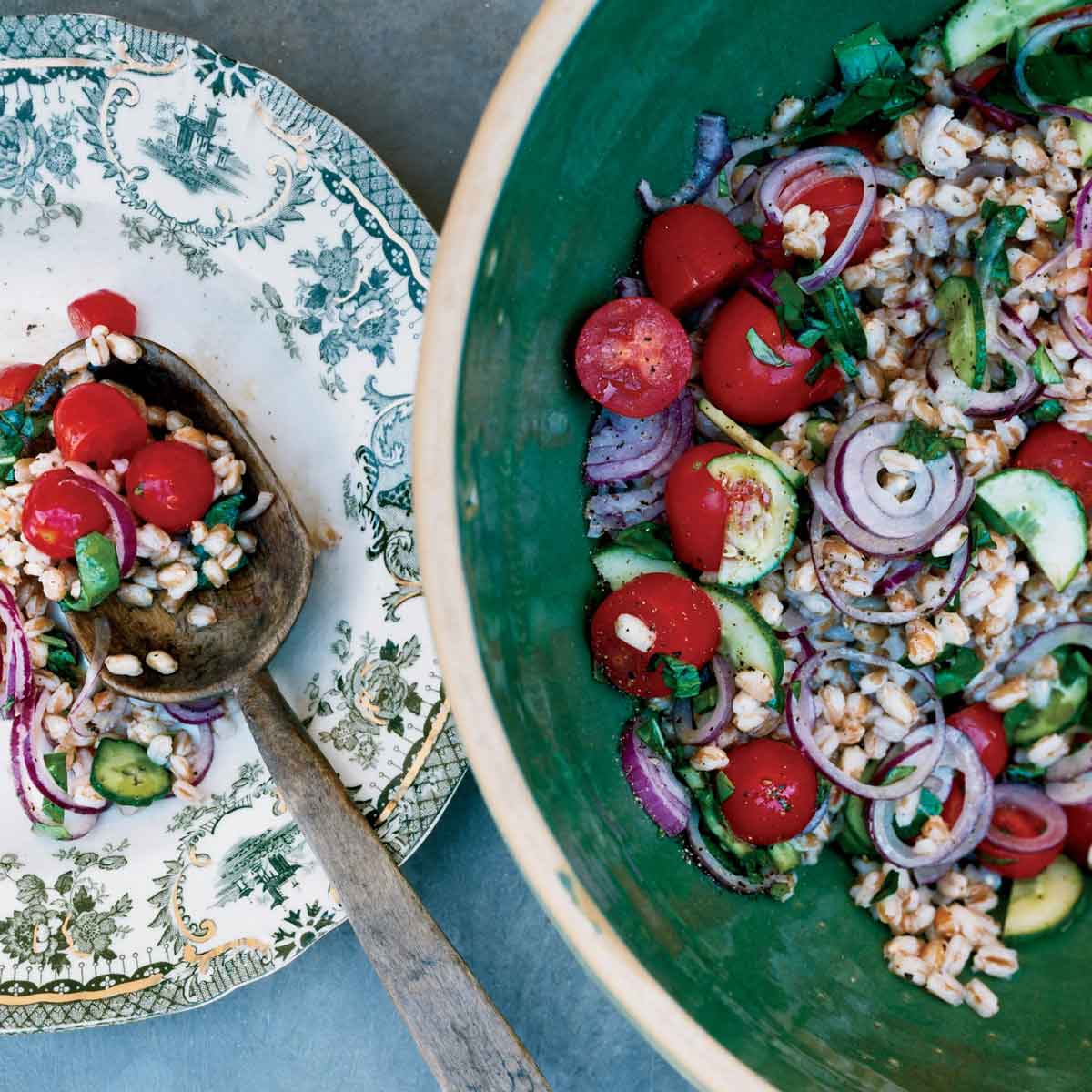 A delicious and filling side salad, this picnic recipe features farro, an Italian grain with a hearty, nutty flavor.
The cucumbers, basil, and grape tomatoes bring a much-needed lightness if you're worried that the farro might be too heavy for a hot summer day.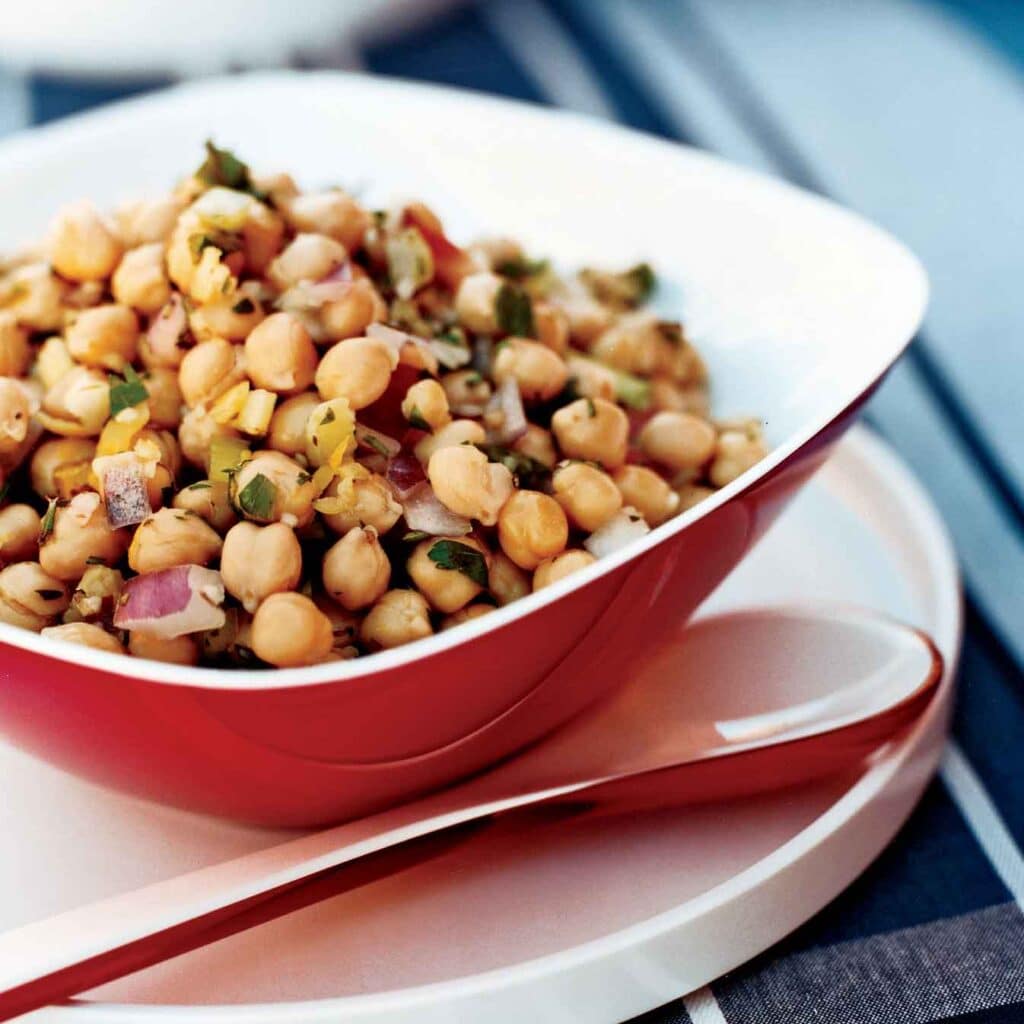 Perfect for vegans, this salad can be a main dish or a side, complementing other Italian picnic fares.
Chickpeas come together with lemon juice, Italian flat-leaf parsley, and rosemary to infuse chickpeas with a garden-fresh flavor that will transport you to Venice's Sant'Elena Gardens with every bite.
Italian Picnic Sandwiches
Sandwiches are top-rated Italian picnic fare, bringing together assortments of preserved meats, rich cheeses, and unique condiments.
If you're eager to take a break from the standard turkey and cheddar, take your taste buds on an adventure with these decadent Italian-inspired sandwiches.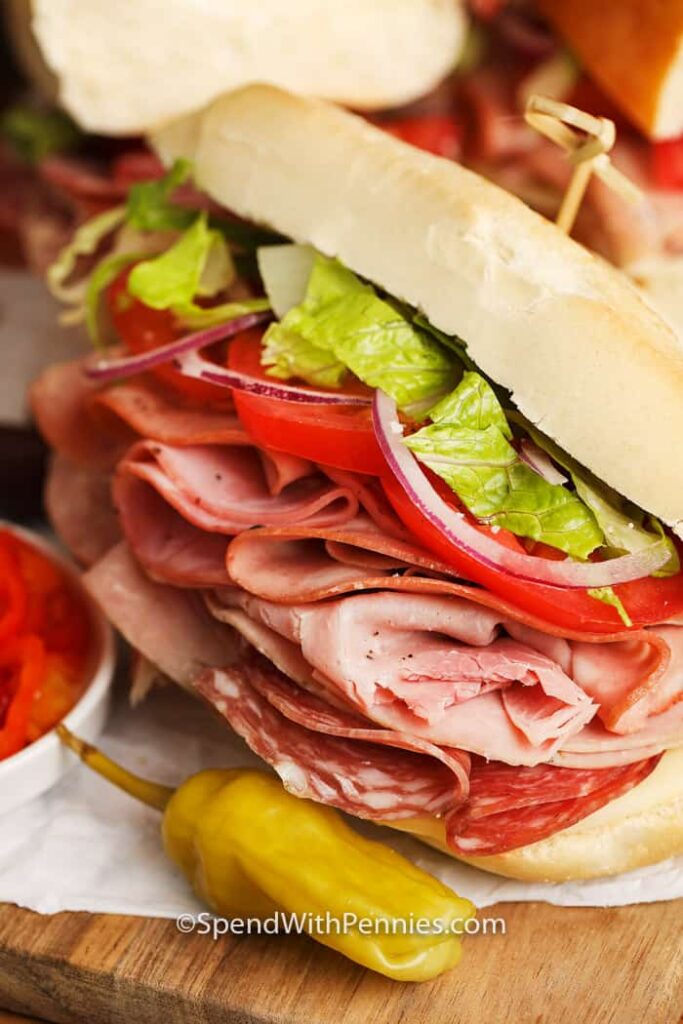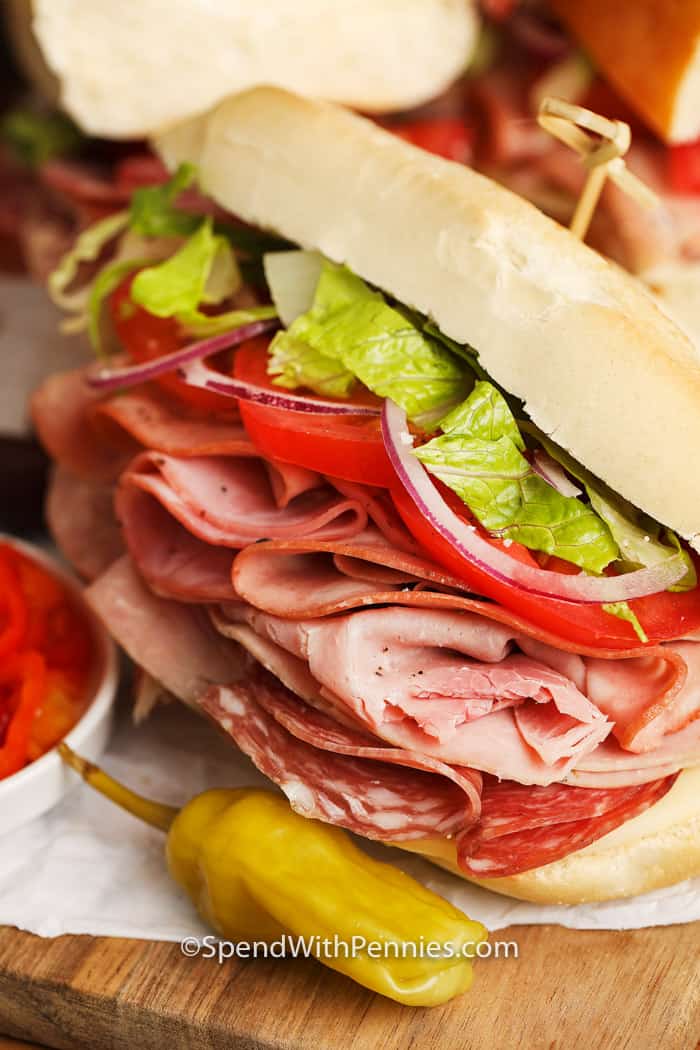 Serve up this delicious Italian sub sandwich stuffed with ham, salami, mortadella, capicola, provolone cheese, and other Italian delicacies.
Drizzle with Italian dressing and add peppers for extra zip.
This Italian take on roll-up sandwiches features tortillas stuffed with salami, ham, tomatoes, pepperoni, provolone, and more, offering a big flavor in a bite-sized package.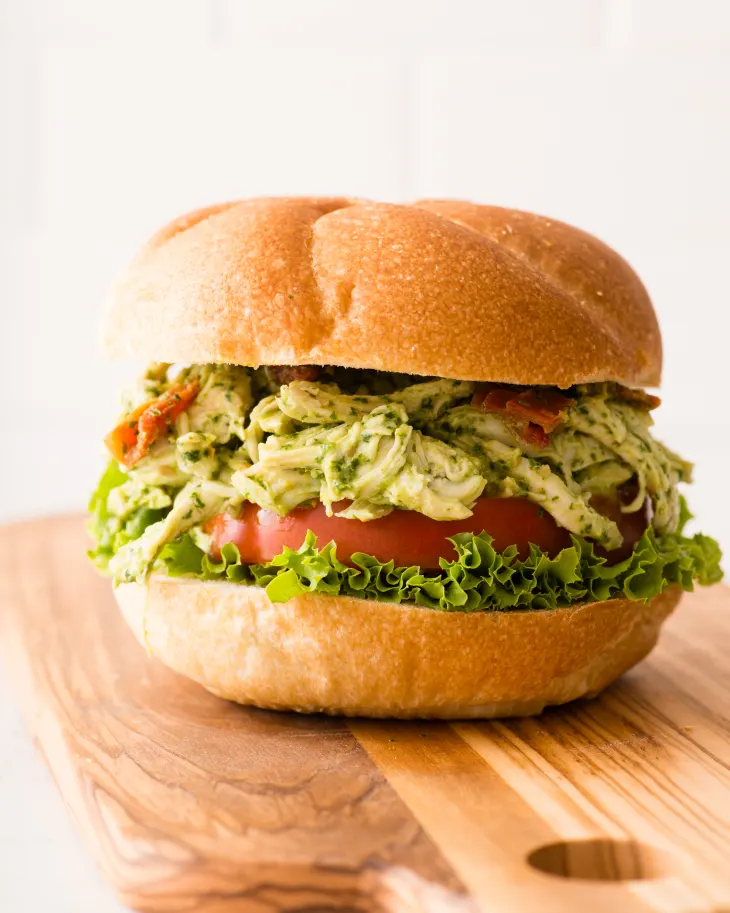 The simple chicken salad sandwich gets an Italian upgrade with earthy basil pesto.
Make this ahead of time so it will be cold when you're ready to make sandwiches, then spread it on Italian bread and add leaf lettuce and a slice of fresh tomato.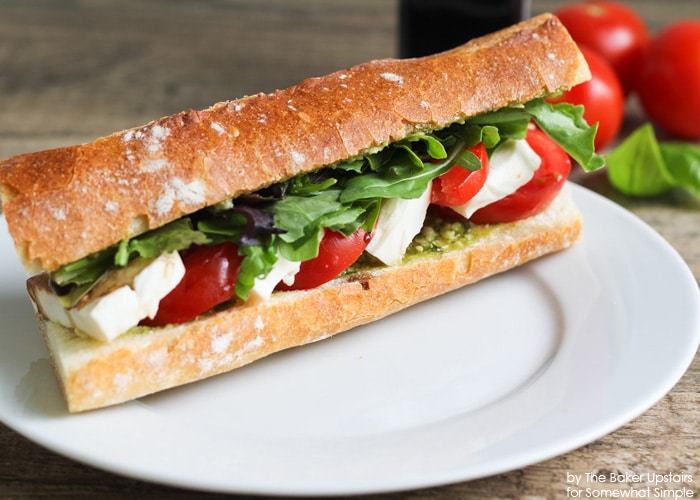 All the flavors you love in a Caprese salad show up in this vegetarian-friendly sandwich, perfect for an Italian picnic.
Somewhat Simple's recipe includes basil and tomato that could be farmers' market finds and mozzarella cheese, spring mix lettuce, pesto, olive oil, and baguettes.
Italian Appetizers
An authentic Italian picnic includes finger foods perfect for a bite in between rounds of bocce and Briscola.
When serving these appetizers, be sure to offer refreshments in the form of your favorite wine, bellinis, or maybe a blood orange San Pelligrino.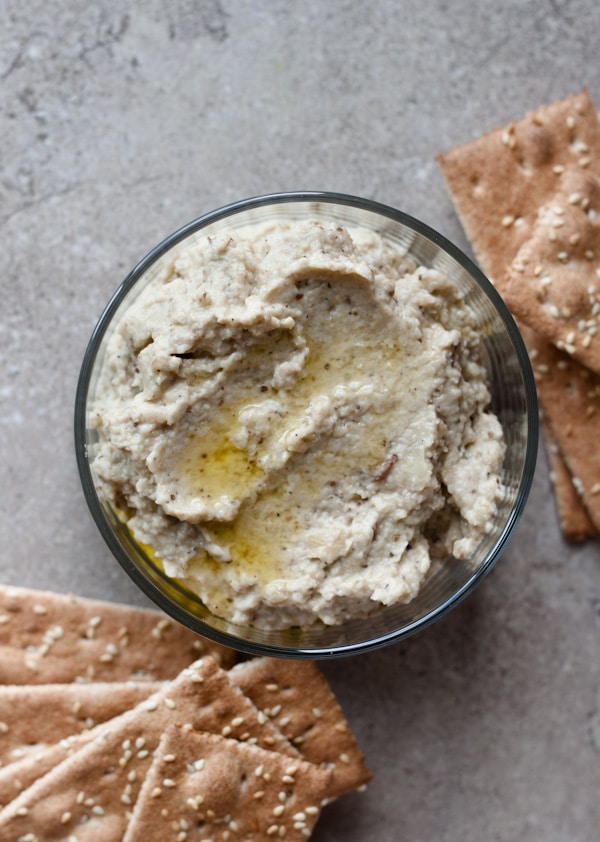 Take advantage of in-season produce with a roasted eggplant spread that pairs delightfully with a glass of Sangiovese wine.
Garlic and black pepper give this eggplant dish extra flavor and a touch of spice ideal for spreading across generous slices of crusty bread or dipping pita chips.
These Italian Tortellini skewers combine salami, cheese, olives, and cheese tortellini, which are must-haves for an authentic Italian antipasto.
Not only will these skewers wow picnickers with appearance and taste, but they can be made ahead and are easy to eat sans utensils.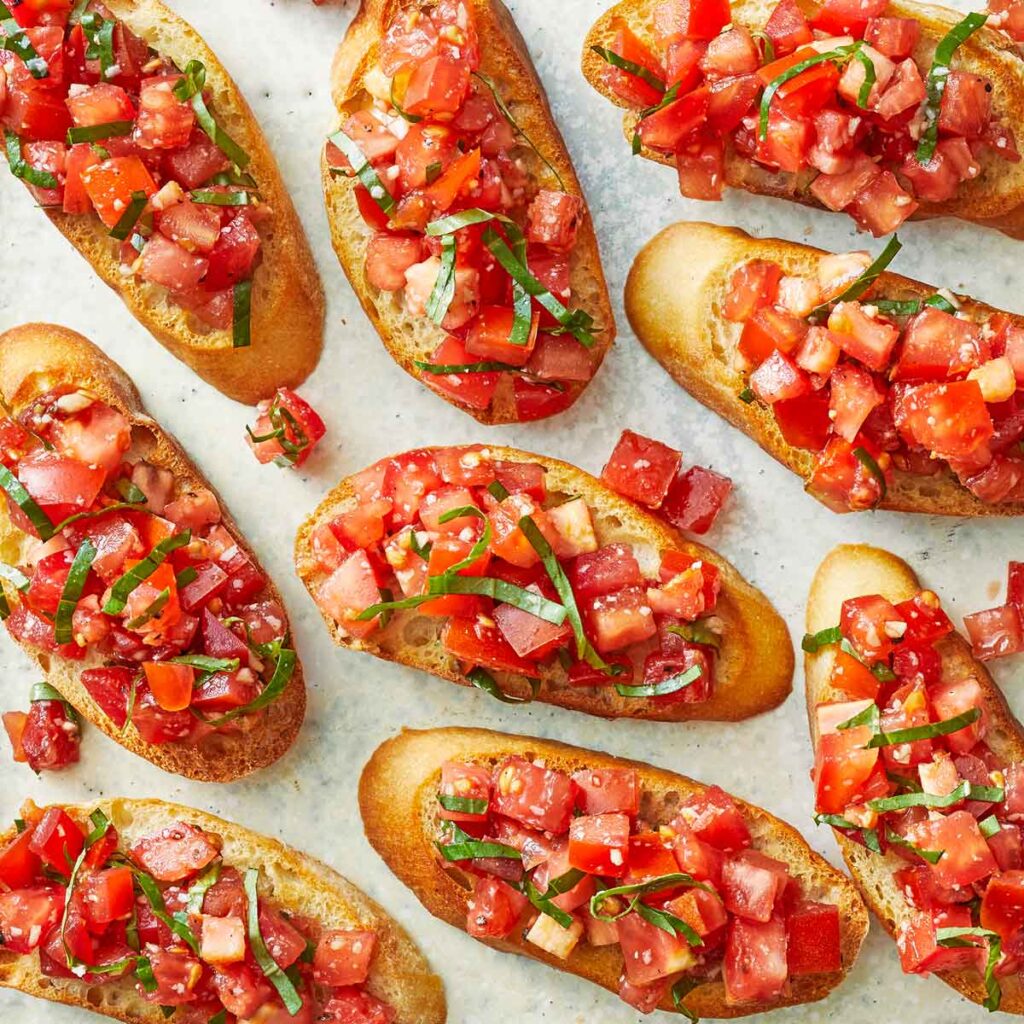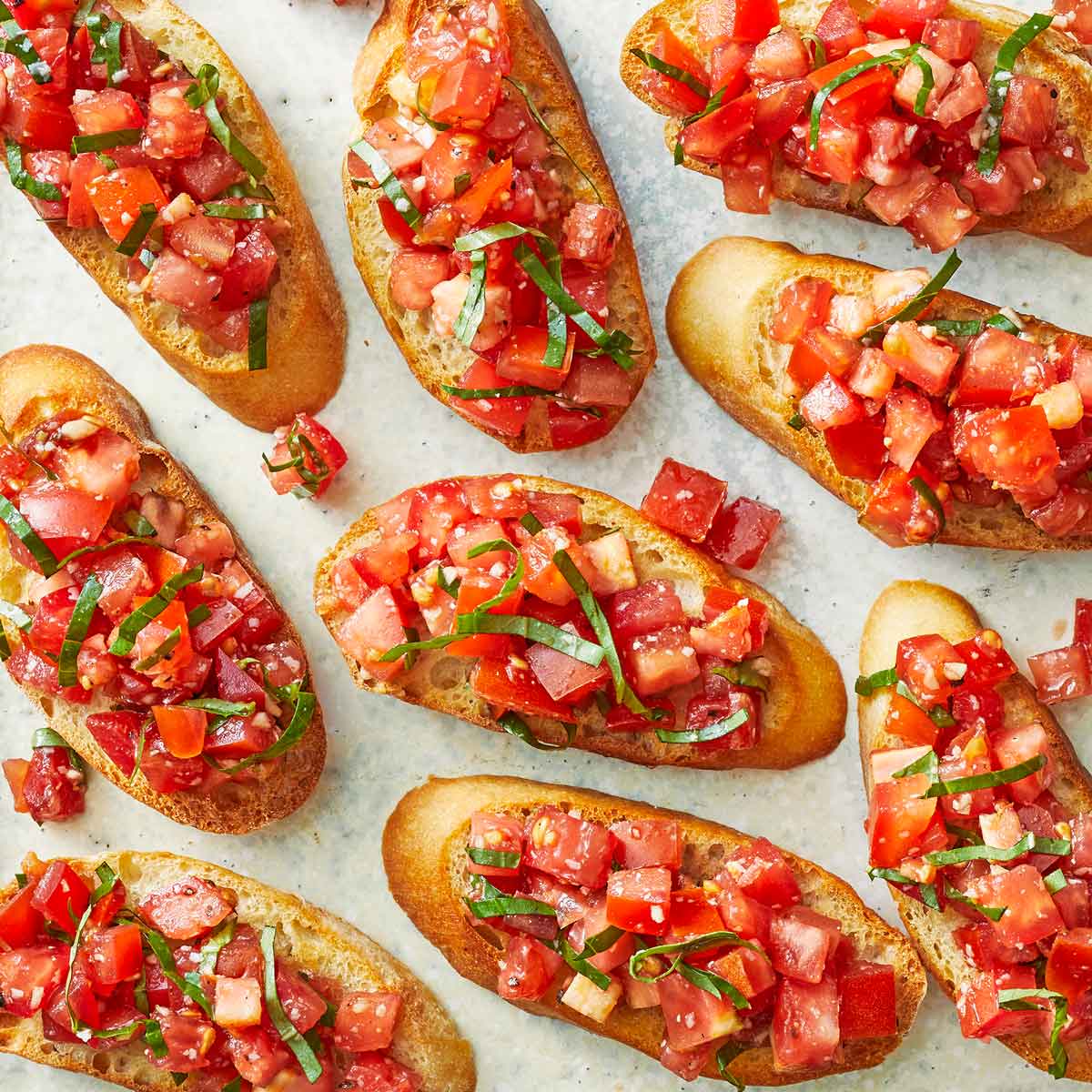 A simple but flavorful idea is bringing Bruschetta topping along on your authentic Italian picnic.
Toast baguettes ahead of time so they are ready to be topped with fresh tomatoes seasoned with garlic, salt, pepper, basil, and Parmesan cheese.
Italian Picnic Tablecloths
Because al fresco dining is so prevalent in Italy, setting up a dedicated dining table in the garden is common.
A well-loved, generational tablecloth often adorns the table as a stalwart catch-all for drips of olive oil and red wine.
An Italian picnic tablecloth will bring a touch of class and sophistication, adding to the overall Mediterranean ambiance.
Italian-inspired prints, the familiar red and white checkerboard fabric, or, for easy clean-up, disposable tablecloths can add to your picnicking experience.  
Italian Picnic Essentials
Along with the flavorful foods, there are a few Italian picnic essentials that will enhance your experience:
Italian Wine
Wine is a must-have for Italian meals, so be sure to tuck in some glasses and a bottle of pinot grigio or chianti to share amongst your loved ones.
Italian wine is an art, so it's worth learning the different varieties and their natural food pairings. 
We recommend an Italian sparkling wine for an evening picnic by the shore or a crisp white wine for a warm day. If you're picnicking in the fall, choose a bold red.
Bread
Italian bread choices pair wonderfully with salads and Italian cheeses.
Add grissini, a crunchy Italian breadstick, to your picnic basket, or include flavorful focaccia.
Condiments
From feta-stuffed olives to garlic aioli, Italian condiments will give your authentic Italian picnic more flavor.
Add a jar of pesto, olive tapenade, or sweet red peppers to dress up your dishes.
Italian Beer
If you'd rather enjoy a beer at your Italian picnic, try Peroni and Nastro Azzurro. These two Italian brewery brands are available in local liquor across the United States. 
Cool, crisp, and refreshing, Italian beer is especially good with an overstuffed Italian sub sandwich.
Soft Drinks from Italy
Offer the little ones and non-drinkers an authentic Mediterranean experience by adding some Italian soft drink choices to the cooler. 
San Pellegrino Aranciata, a traditional orange soda, is popular in Italy and America. Tassoni is another excellent choice.
Italian Picnic Hampers
Of course, you'll need something to hold your Italian picnic feast and all the essentials, from napkins and utensils to plates and wine glasses.
Here are a few options for Italian picnic hampers on Amazon:
If you want a romantic picnic basket, this is it.
Two wine glasses, two porcelain plates, two place settings of stainless-steel utensils, and more are included in this wicker hamper perfect for an authentic Italian picnic.
A larger picnic basket set that packs up into an insulated cooler bag, this set has everything needed for an authentic Italian picnic. All you'll need to add are the foods and beverages.  
Italian Picnic Ideas
Throwing an authentic Italian picnic is a delicious idea for the menu possibilities alone.
Still, it also makes a lovely setting to celebrate special occasions or add some excitement to a family outing.
Date Night
What could be more romantic than an Italian picnic for two under the stars?
Pack up and set out for a park gazebo or cozy garden grove and enjoy each other's company while sharing homemade Italian food.
Studying Italy
Are your children studying the nation of Italy in school or trying their hand at learning the language? Motivate their studies by packing a family picnic full of Italian favorites.
Enjoying a Spring Day
As winter leaves and spring blossoms burst into bloom, pack an Italian picnic, and head outdoors.
Toast la primavera – spring in Italian – and enjoy a beautiful day outdoors at your favorite park or public garden.
Strolling by the Shore
Your Italian picnic is perfect for enjoying a waterfront vista, so be sure to bring along a few beach towels and Italian finger foods before hitting the shore.
If you want to avoid sand in your hamper, splurge on a seaside hotel room with a balcony and let the crashing waves serve as the backdrop to your meal.
Fireside Indoor Picnicking
So, what if it's raining or wintry out?
Enjoy your Italian picnic feast by the fire.
Having an indoor picnic with all your Italian favorites will liven up a cold, gray day with the tastes of sunny Italy. 
Upscale Camping
If you're going on a camping trip in the mountains, take Italian wines, salads, sandwiches, and other picnic fares.
It will give your camping trip an instant upgrade and be far more memorable than hotdogs and beans.
Fun and Games
When planning your authentic Italian picnic, don't forget to pack a set of Bocce balls.
This traditional Italian game is similar to croquet, is easy to learn, and something all ages will enjoy.
A rousing Bocce ball game will make your Italian picnic memorable and help you justify all those delicious calories.
Conclusion
The Italian lifestyle often centers on enjoying the outdoors and sharing the pleasure of a delicious meal with others.
We hope this list of tips and tricks for creating an authentic Italian picnic inspires Break away from tradition this summer and embrace the flavors and culture of Italy.