Whether you are planning a date night, or just wanting to spend time with family or friends, a night picnic can be a great way to make the most of a summer night.
This can be a time to leave electronics behind, spread a blanket under the stars, and start making memories together.
So what do you need to plan the ultimate night picnic?
We will share our 11 best ideas for making a picnic fun (and safe!) after dark.
Night Picnic Ideas
1. Set Up Your Lights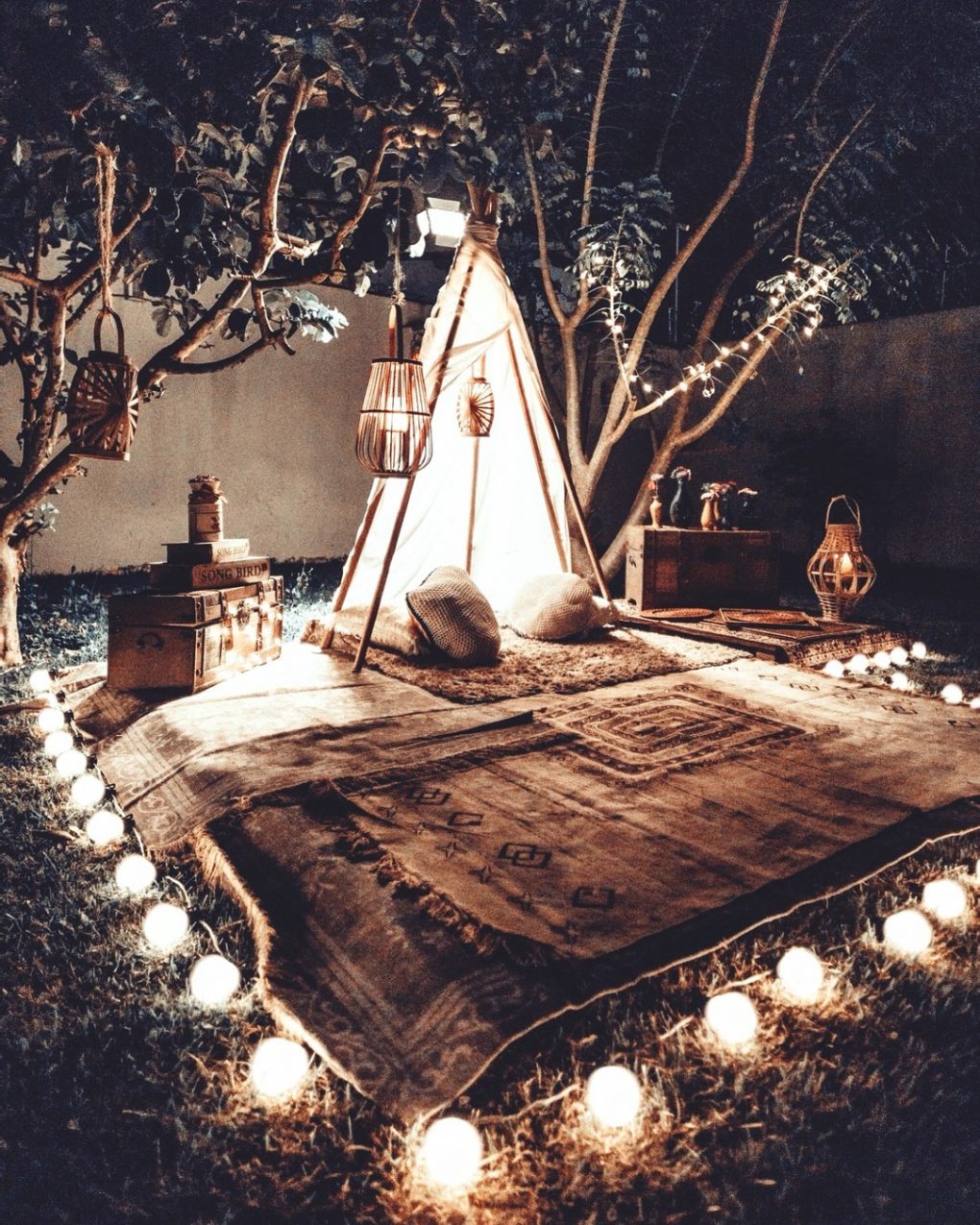 Setting up your lights is one of the most important elements.
Lights enable you to see your food and your friends and also deter unwanted guests. Although wild animals like to stay away from lights, bugs are attracted to them!
To avoid your party being overrun by overenthusiastic bugs, you can use yellow lights.
While these don't actively deter flying insects, they also won't attract a fan group as white lights will.
Another option is to place lights strategically at the outside perimeter of your area. This can keep bugs occupied up and away from you and your food area.
2. Use a Waterproof Blanket
While the idea of night dew falling can sound romantic, it won't be romantic to spend a night on a wet blanket.

When packing a picnic blanket for a night picnic, use a blanket with a waterproof backing.
This blanket has a classic picnic look to it and it also has layers of protection to stay comfortable and dry.

Setting up a table and canopy chairs to stay off the wet grass is also a viable option.

This folding chair makes a great picnic companion as it is equipped with a cooler bag, a pocket for snacks, and a drink holder. It also packs up small to carry easily to where you want to go!
3. Consider a Tent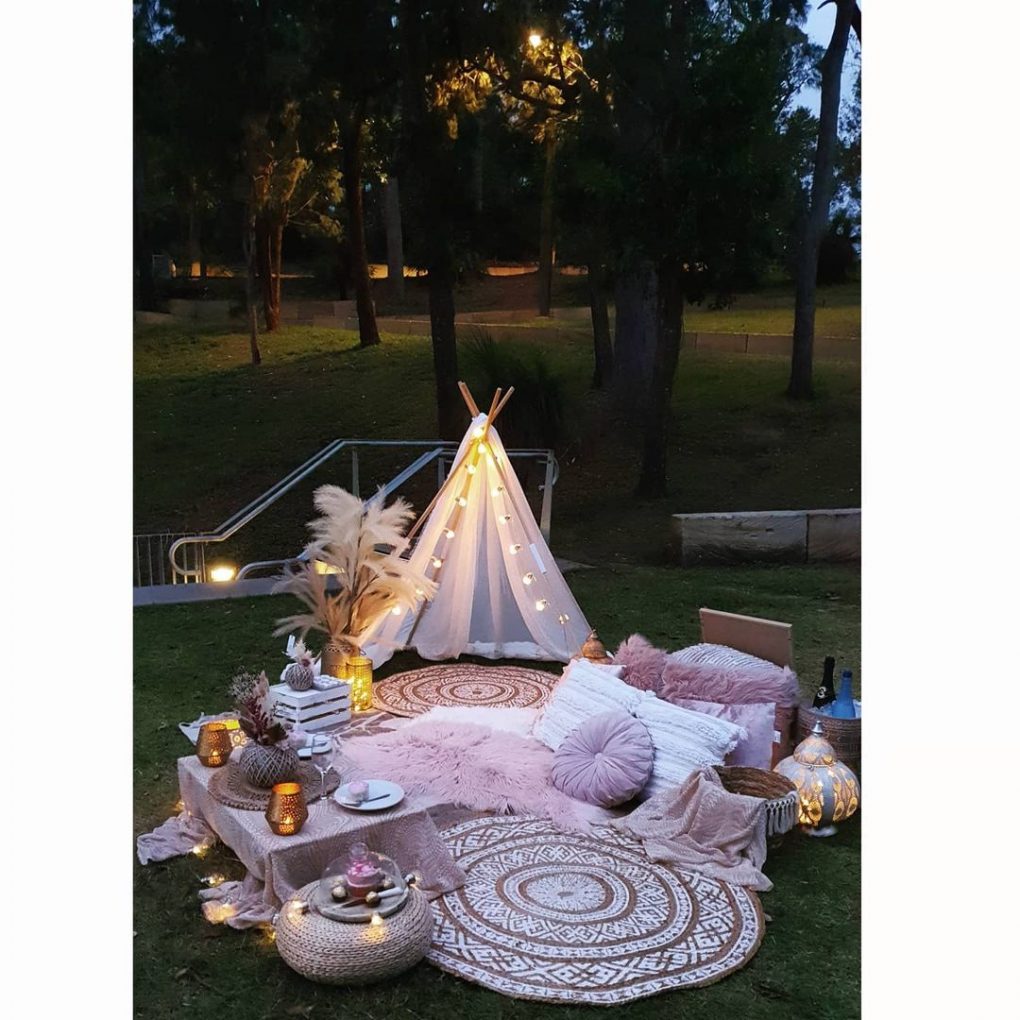 For extra cuteness, use an elegant white tent, then hang battery-powered fairy lights for a romantic touch.
If you don't care so much about the aesthetics, you can go with a practical picnic tent. where you can hold your nighttime picnic party.
This way you'll stay dry and keep bugs out of your party. Zip the tent shut and open the mesh windows for fresh air.
To keep food from spilling on your tent floor, you can use breakfast trays as tables.
You can also go them to serve food buffet-style, or each person can have their own lap tray for comfortable eating.
Picnicking in a tent can be a cozy option for a date night or 2-4 friends and zipping the door shut will let the bugs know that you are having a private party.
4. Setting the Table
Glow-in-the-dark-place-settings can be a way to add an element of fun to your night picnic.
You will also be able to keep track of where you left your plate and drink much easier. These place settings come in 4 vibrant colors and serve up to 32 people.
For 4 people or less, each person can eat and drink from their own color.
For larger groups, you can set a sharpie next to the cups so everyone can keep track of whose drink is whose.
When you are done eating, you can dispose of these dishes for hassle-free clean-up.
5. Use a Cooler Light
To make it easier to see in the dark what food or drink you want to pull out from the cooler, you can use a cooler light.
This light is waterproof and rechargeable. It does not have to be mounted so you can simply place it in the cooler and go. It can last up to 48 hours submerged in a cooler.
This can be a useful tool that will help your find what you need even at night.
6. Stay Warm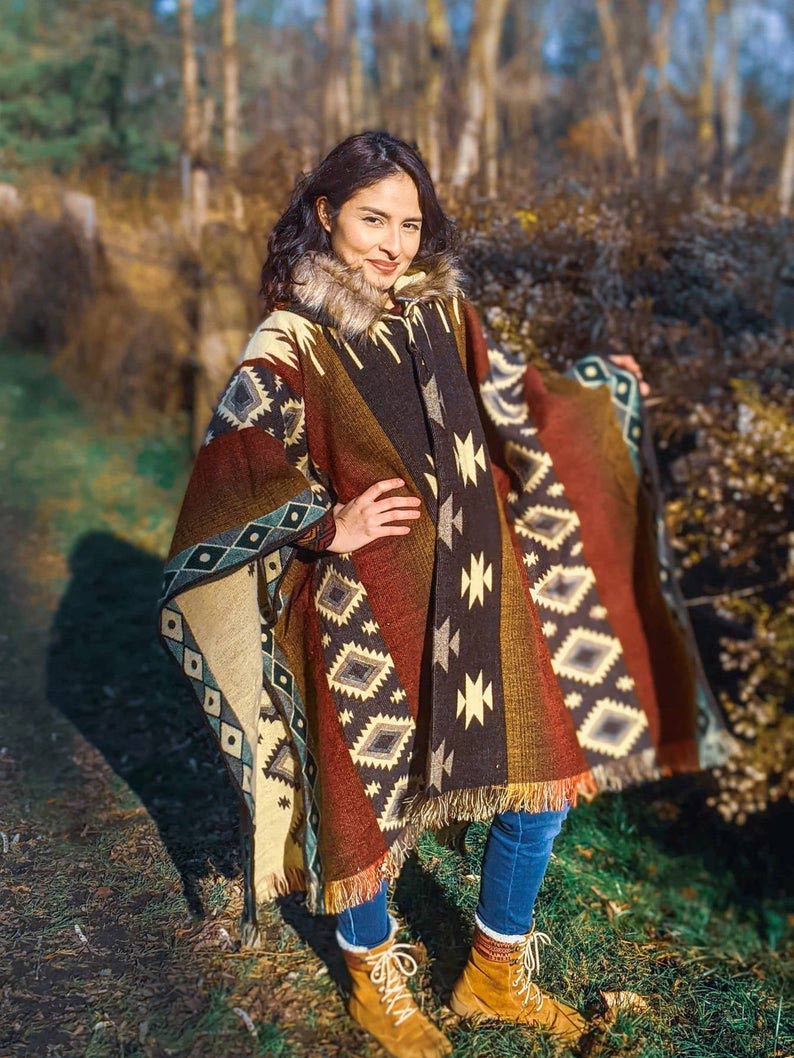 Even summer nights can cool off after dark!
A poncho can make a nice wearable blanket to help you stay warm (but not too warm!) A poncho or large shawl isn't as confining as a jacket and allows you to relax comfortably at night.
It can be easy to throw on when things get chilly and it will save you from searching for throw blankets in the dark.
7. Decorate with Scented Candles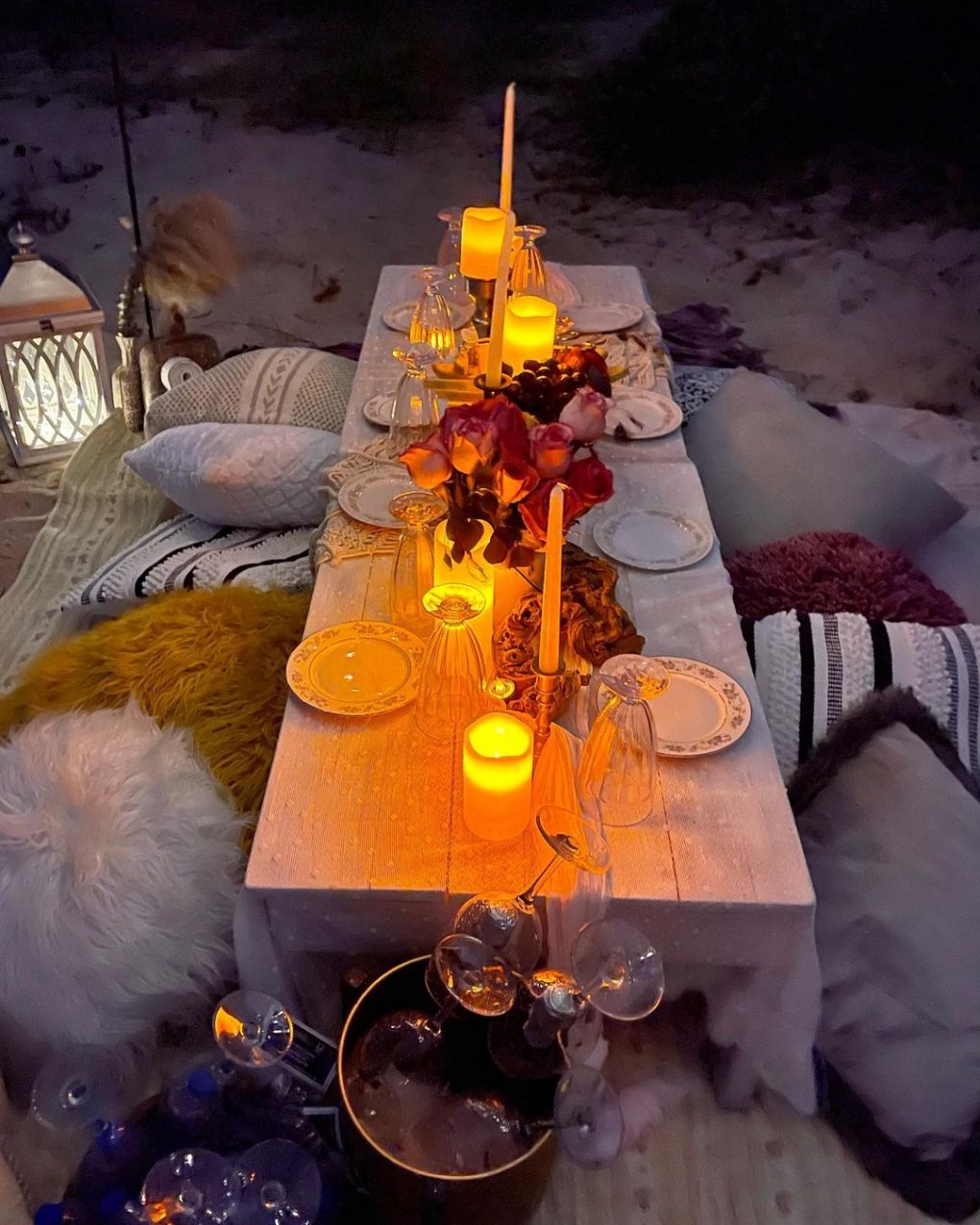 For decor, you can keep it low-key and enjoy the beauty of nature at night!
Candles or glow sticks can make a nice addition to a table. They add a warm glow and can also serve a practical purpose.
Choose candles that repel insects such as citronella, citrus, eucalyptus, and lavender.
These scents can add a nice ambiance to the night and can also help to keep the insects at bay!
8. Fun with Glowsticks
For children, glowsticks can be a fun addition to your night picnic.
You can make it a party game by using glowsticks to create different forms such as glasses, ball caps, or you can see who can make the best stick man costume!
This provides a unique activity for kids and it can also let the adults keep tabs on where the kids are playing in the dark.
9. Make a Playlist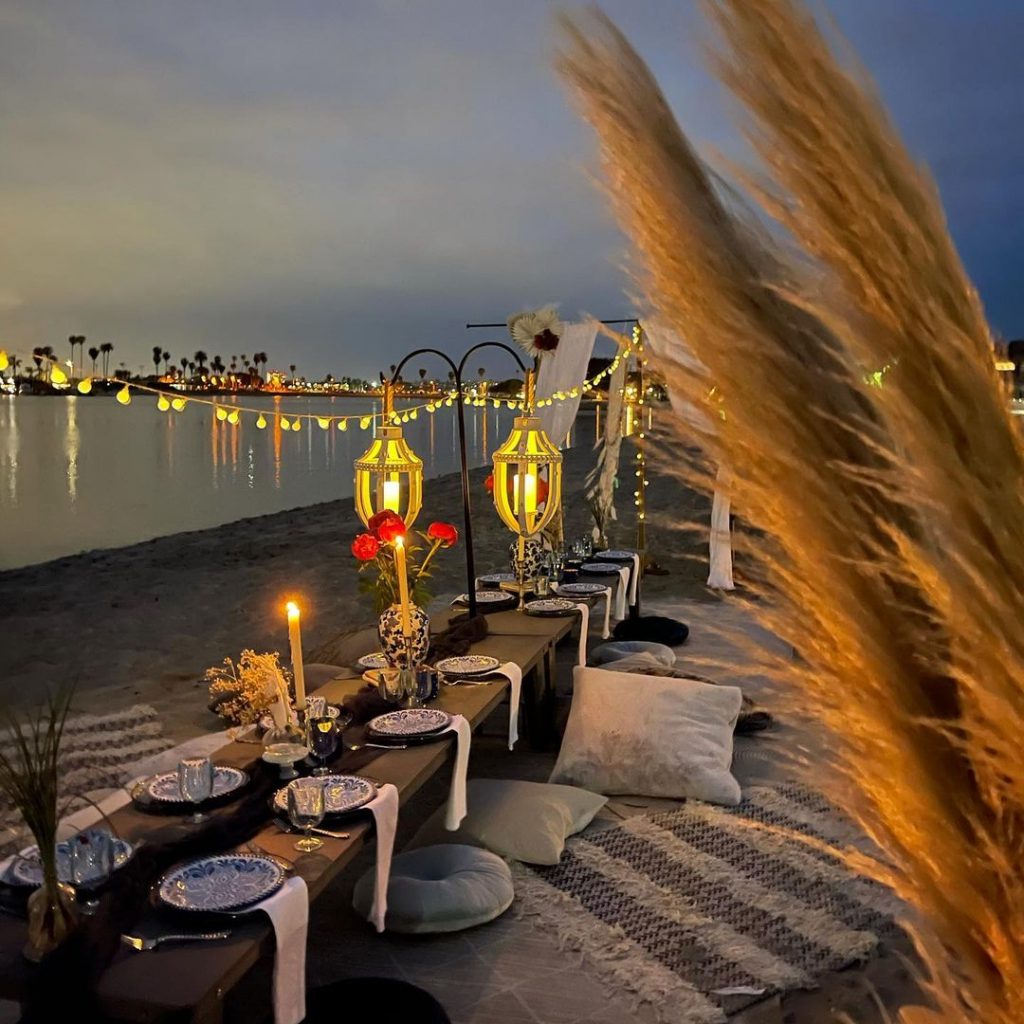 You can dress up the atmosphere by listening to some of your favorite tunes in the night air.
This portable speaker is water-resistant, which makes it a great outdoor companion.
It can play music for up to 14 hours, so it can take your nighttime picnic into the morning. Adding background music can be a great way to relax and set the mood for your picnic.
10. Light a fire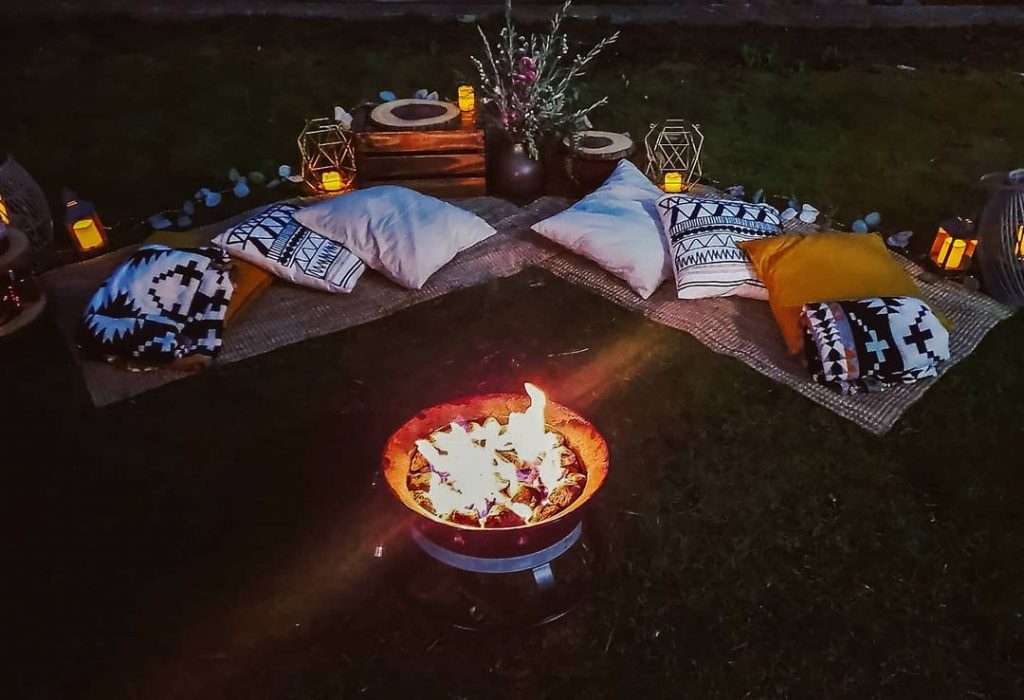 A small bonfire can draw a crowd together!
Set up the fire before dark so it is ready to provide some light and warmth when the sun goes down.
You can bring hot dogs, marshmallows, chocolate squares, and graham crackers for fire-roasting fun.
Make Turkish Coffee in a True Nomad Fashion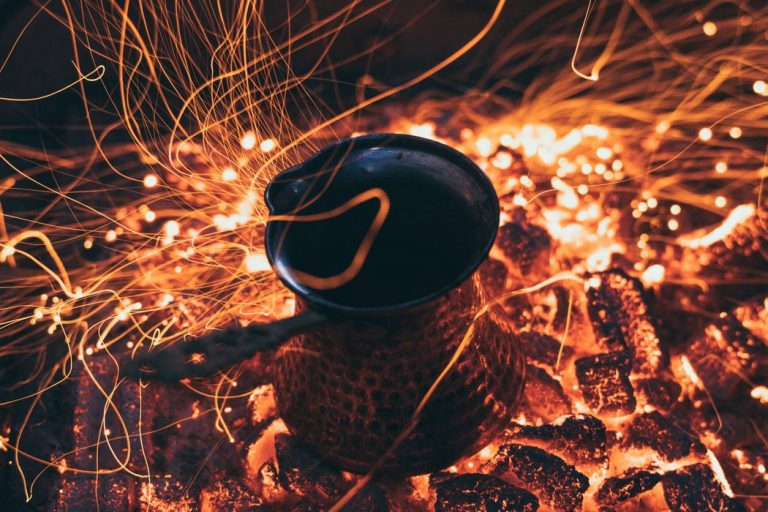 Turkish coffee is not very complicated to set up but you have to watch it closely to pull it off at just the right time.
Simply place your coffee grounds and water in a Turkish pot and rest it in hot ashes.
Using tongs, pile more ash around the base of the pot and keep an eye on your coffee.
This is a slow brew method that can take up to 20 minutes. But the end result is a delicious cup of coffee with yummy foam on top.
11. Fun and Games
Even adults can enjoy simple party games!
For a friend-fun-night, you can show off your artsy side by rock painting with glow-in-the-dark paint.
This is an art that comes from nature and that you can safely leave in nature.
Not only will it be a fun activity for you and your friends, but you can leave them behind to brighten someone else's day!
Some other fun games to try are glow-in-the-dark beach ball volleyball or light-up bocce ball.
Final Thoughts
When the days are too hot to comfortably eat outside, you can discover the unique beauty of nature after dark by planning a night
picnic. Simply choosing to stay out late with friends, family, or date can add an element of fun and excitement to your usual picnic.
We hope our ideas will inspire you to start a new summer tradition with your loved ones!