Some days the weather outside in winter may be frightful, but not every day. The winter season is full of its own unique beauty: crisp air, bright sunshine, and snowflakes. 
 
A cozy winter picnic allows you to relax and take in the scenery.
 
Maybe you love it when Jack Frost nips at your nose or maybe you prefer to stay bundled up with hot chocolate at your side. 
 
Whatever your preference, we have winter picnic ideas that will help you get out in nature and still stay cozy and warm in the cold weather.
Our Favourite Winter Picnic Ideas
1. Use an Insulated Picnic Blanket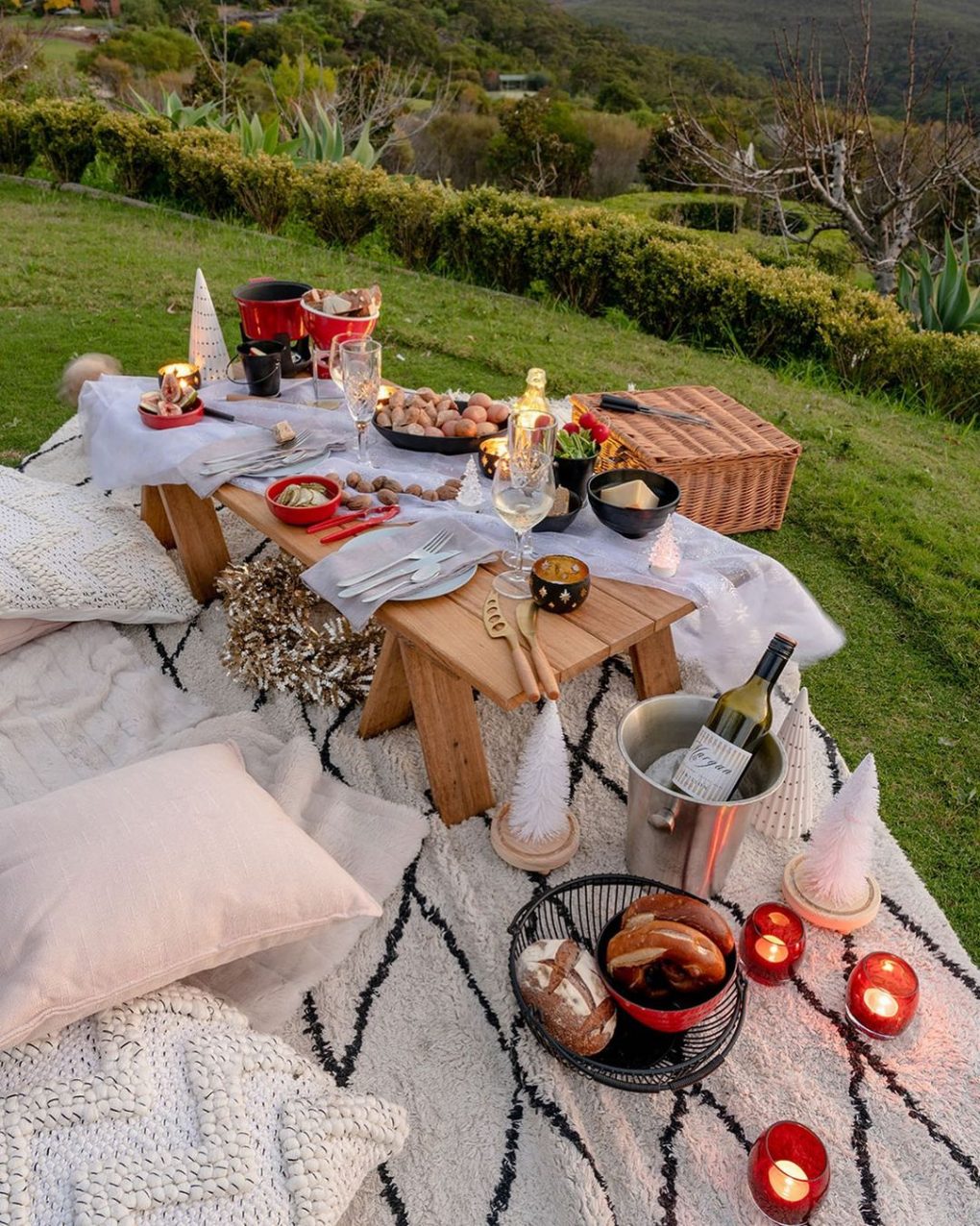 Pack a picnic water-resistant outdoor blanket (link to our article) with an insulated lining to keep you warm on frozen ground or snow. We like this waterproof winter picnic blanket from Amazon with its sherpa lining and beautiful design.
2. Dress in Layers
Make sure to dress in warm layers. You can always take a layer off if your setting is warmer than you had planned, but if you don't bring enough layers, you may be stuck with a chilly afternoon!
3. Offer a Warm Retreat
Set up a tent as a warm retreat. You can choose a larger tent and hold the picnic inside it or bring a small portable tent to take a break from the cold.
4. Make it Cozy
For a picnic inside a tent, create a cozy atmosphere by using floor pillows as seats, laying down a faux fur floor covering, and hanging festive battery-powered lights.
5. Keep Soup Warm in a Camp Crock
Soup is comfort food on a cold day but can be difficult to keep warm. This camp crock eliminates your worries by keeping 3 quarts of soup hot for up to 12 hours.
6. Serve warm soups with Wide Mouth Thermoses
For a small picnic with a date or a friend, it may be easier to pack individual soup portions in wide-mouth thermoses. This can eliminate the need for serving ware and make eating and clean-up hassle-free.
7. Pack Hot Drink Packets and an Airpot
Cider and hot chocolate are always cozy drink choices for cold weather.
To make set-up and clean-up easiest, fill a portable air pot with hot water and pack cider and hot chocolate packets. 
With only one pot each person can choose their favorite winter drink. Add cinnamon sticks, peppermint straws, or marshmallows to each cup!
8. Hang Birdseed Ornaments
If you enjoy bird watching, decorate the trees near your picnic spot with birdseed ornaments. 
You can either DIY them or choose pre-made ornaments in festive shapes.
These heart-shaped ornaments are designed with pressed birdseed and raffia ties. Your feathered friends will enjoy a picnic, as well!
9. Decorate Gingerbread Men
For something sweet, you can serve ginger snaps, oatmeal raisin, or gingerbread cookies.
For added fun, set up a gingerbread man decorating station with nuts, raisins, m&ms, and peppermint pieces.
Pick a judge to decide who wins, or take to social media to see who gets the most votes!
10. Roast Marshmallows Over a Fire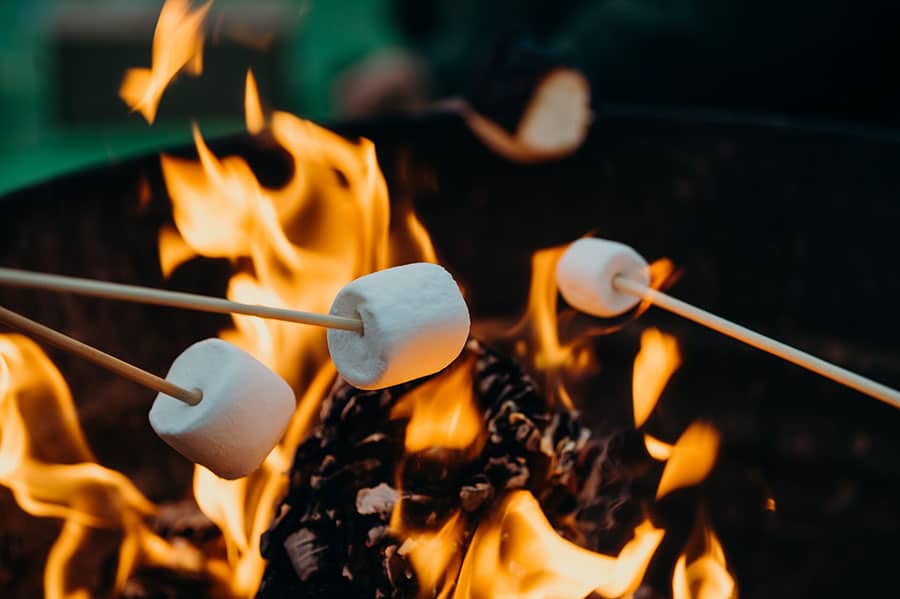 If a campfire is allowed at your picnic spot, you can roast marshmallows and make smores. Longer roasting sticks will allow you to stay a comfortable distance from the fire.
These sticks extend to 32 inches for campfire use but shorten to 12 inches for easy packing.
11. Make the Perfect Fondue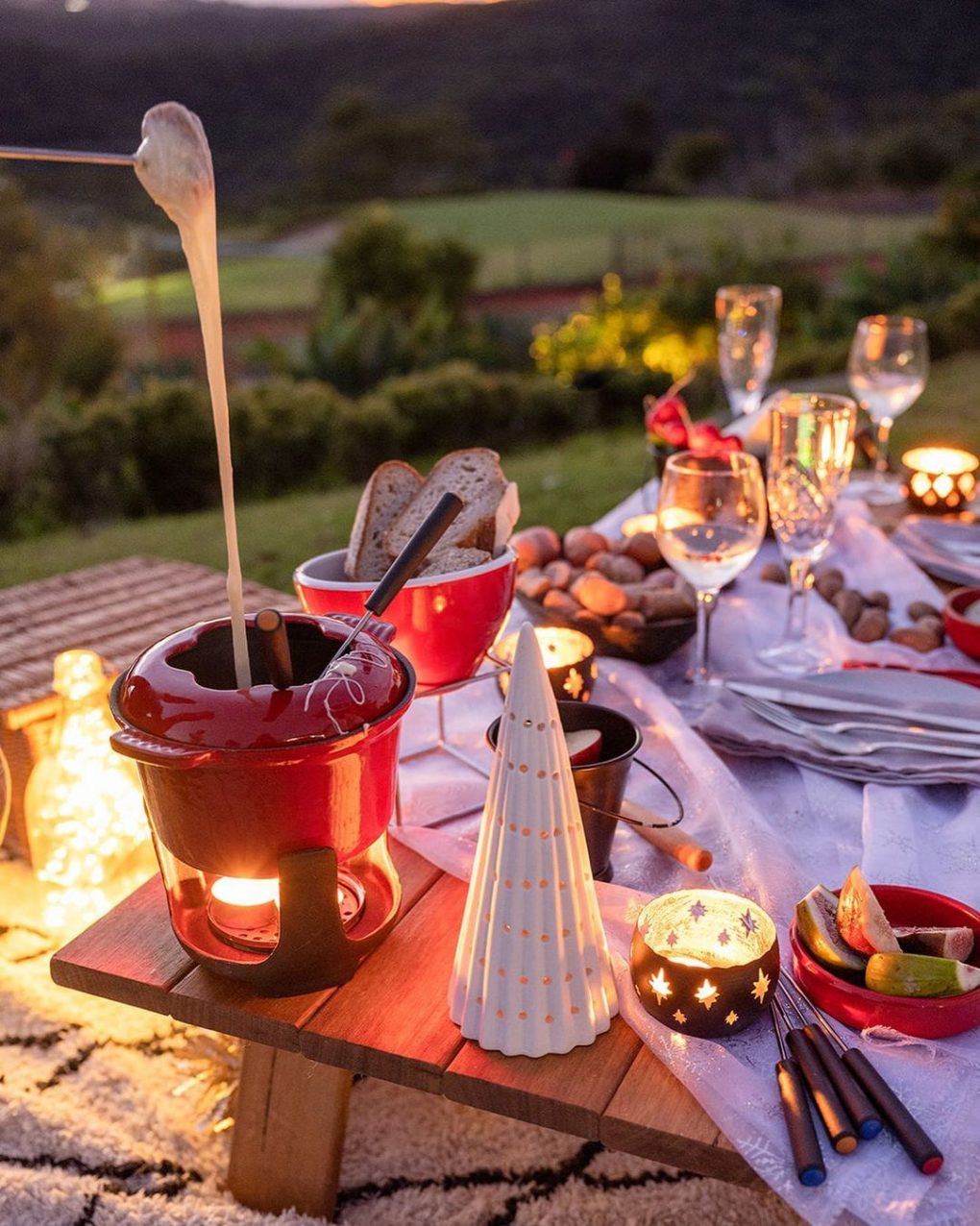 For a rustic touch, use cast iron fondue pots to melt Swiss cheese or even chocolate. This fondue set is our favourite, and portable to take it anywhere with you. 
For recipes, you can also try out this unique campfire fondue recipe.
12. Bring Blankets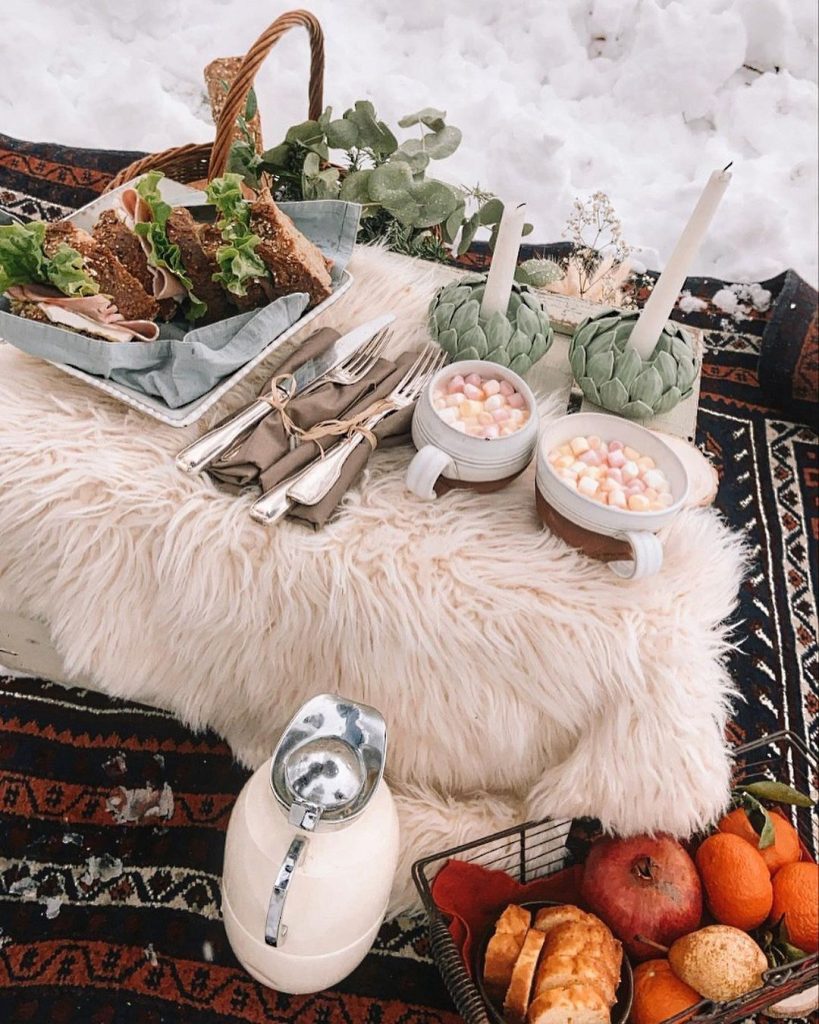 Bring warm throw blankets for guests and to have them around you. 
These blankets are double-layered and machine washable. They also have a fur look that blends well with nature in winter.
13. Use Wooden Plates

Use wooden plates instead of plasticware for a rustic touch. These are an unbreakable, reusable option and also add to the charm of a winter table.
14. Keep Food Hot
Hot food is preferable for a winter picnic to keep you feeling cozy and warm while out of doors.
For the hottest food, line a Yeti with newspapers or paper grocery bags.
Place hot packs on top and then your food. 
Cover your food with more hot packs and before you close the lid, you can tuck in a tablecloth or picnic blanket to seal in the warmth.
Read Next: How to Keep Food Warm Outside
15. Build a Snowman
If there will be snow at or near your picnic spot, you can bring snowman building kits to keep the kids occupied.
Use items that are natural or are edible for birds and wildlife. 
You can decorate a snowman using cranberries, carrots, apples, leaves, sticks, nuts, or anything else that doesn't create waste if left behind.
16. Create a Scavenger Hunt
You can create a winter photo scavenger hunt for friends to track down in your picnic area.
Create a list of items, and each person can use their smartphone to capture images to report back.
Not only is this a fun excuse to explore nature, but you will also have lasting photo memories to look back on.
17. Serve Hearty Foods
Choose hearty foods to add to your menu. You can incorporate squash, pumpkin, bread, and winter fruits into the meal.
18. Pack a Light
Sunsets come earlier in the winter months, so be sure to pack a light to keep you safe and help you find your way back to the main path.
Choose from solar-powered lanterns, or battery-powered lights to add a glow to your table, and bring a flashlight for finding your path.
19. Use a Charcuterie Board as a Platter
A charcuterie board makes a nice platter to serve food. This oversized cheese and cracker board even comes with utensils that can be stored within the board.
This way you don't have to worry about losing your cheese knives and other utensils while traveling.
20. Set Up a Table
For larger gatherings. you can set up this sturdy bamboo table for 4-6 people. We love this model because it folds up compactly for travel, yet is still able to support 175 lbs of food.
21. Bring a Comfy Chair
When you are drinking hot chocolate, a comfy chair with canopy adds to the cozy experience.
These chairs have a nice look for a classy picnic and can keep you up away from the frozen ground. Add a soft blanket and you have a perfect comfy corner!
Final thoughts
Each season has its own peculiar beauty and you and your friends can relish the beauty of nature at a winter picnic.
We've let you in on some fresh tips to make your picnic the most comfortable and enjoyable for you and your friends.
We would love to see pictures of your winter wonderland picnic scene!
Photo Credits: Two Hearts and Co