Unlike traditional blankets, waterproof picnic blankets are designed to keep you dry and comfortable even if the ground/grass is wet or damp.
A proper outdoor blanket should be comfortable, durable, easy to clean and versatile. The top fabric should be soft and comfy, and the backing material should be waterproof and sturdy.
In the past, we've written about the best picnic blankets on the market, the best beach blankets – but today we will focus on the waterproof  blankets that are uniquely designed to keep you and your family dry. Here are our favorite picks.
Update 2021:
We've added 3 more blankets: the YETI Lowlands Blanket (our new favorite), the Wekapo blanket for the beach, and the L.L. Bean blanket ideal for all-year-round use.
Best Waterproof Picnic Blankets
The Winner: YETI Lowlands Blanket
For all the serious picnickers out there, this is the ultimate waterproof outdoor blanket. 
Heavy-duty, superior comfort, compact, pet friendly, and easy to maintain – this blanket is perfect for any outing adventure. 
It can handle any stains, including oil, curry stains, dirty muddy paws – just throw it in the washing machine and it's like new.
What is also great is that it can handle any type of weather, from hot scorching temperatures to below-freezing temps.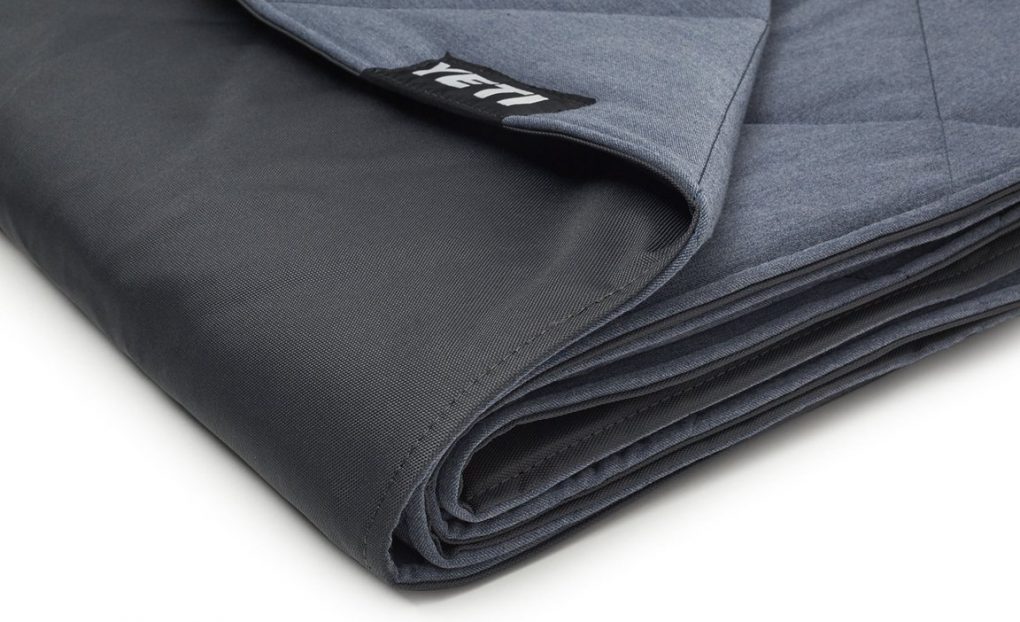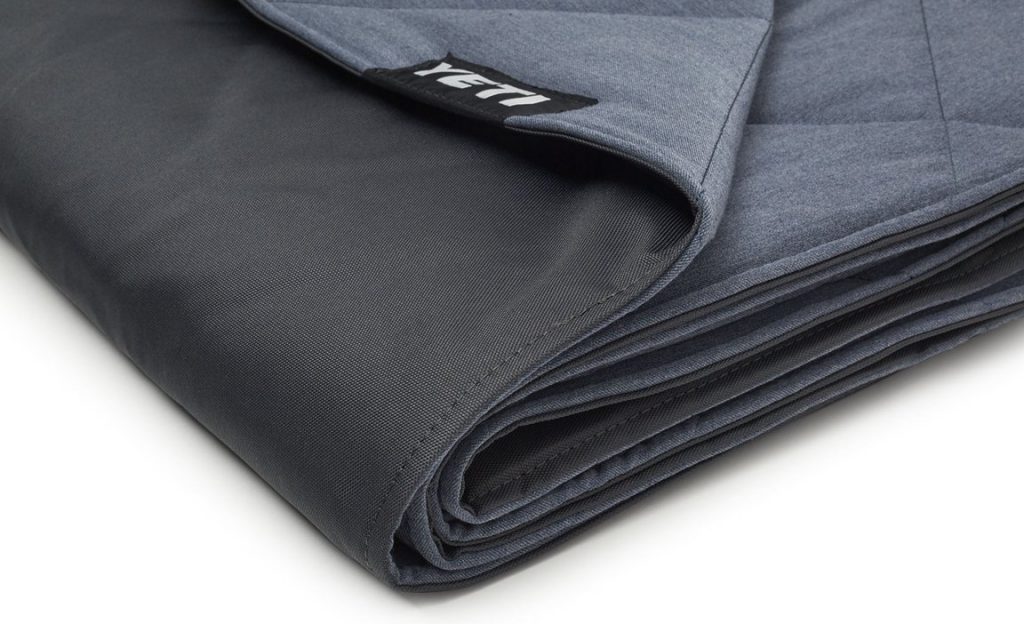 People use it everywhere: at the beach, on the boat, at the lake, at concerts, and football games, while camping, tailgating, hiking, or picnicking in the park.
The blanket is also perfect for pets. Dog hair just shakes off and wet muddy paws are not a problem at all. When you're getting back home, you can use it to cover the back seat for dogs. 


Also great, Runner-up: Scuddles Picnic Blanket
With an attractive and practical design, Scuddles blanket is a perfect choice when it comes to picnics in the park, at the beach, outdoor concerts, festivals or dinners in your backyard.
The blanket looks very fashionable with a beautiful stripe design that gives it a premium look. It folds into a compact carry bag with handle, making it easy to transport to your picnic spot. 
The top fabric is soft and comfy, while the backing is waterproof and sturdy. It does a great job blocking heat and water from the ground. So even you're placing it on wet grass, the blanket will keep you safe and dry.
You can take it to the beach without any worries. The Scuddles blanket is also sandproof – sand doesn't stick to it. Just simply shake it off and this will make sure you won't be bringing any sand back home with you.
It's lightweight and large enough to fit two adults and two small kids, measuring 60"x79".
Best All-Weather: L.L. Bean Blanket
The L.L. Bean waterproof outdoor blanket exceeded our expectations. It's an excellent choice perfect for all year long. 
Great for windy, cold, rainy days, as well as for hot sunny days. 
The fleece on the top is soft and comfortable, and the nylon backing keeps the moisture from the ground away. 
The blanket is machine washable, easy to maintain, and easy to transport. It rolls up easily, doesn't take too much space, and when it's folded out is large to fit 4 people. 
You can even wrap yourself in it, to keep you warm on chilly evening days.
Best Bang for the Buck: MIUCOLOR Extra Large
This beautiful MIU COLOR blanket is waterproof on both the top and the bottom. The brand combines an attractive design with functionality.
Very popular on Amazon, this blanket has 3 thick layers, making the blanket comfortable, durable and waterproof.
The three layers are:
top layer: polyester fabric
middle layer: soft sponge
bottom layer: PVC waterproof and heat resistant
The surface on the top is soft, and feels nice to the skin. The water-repellent material doesn't absorb liquids, making it super easy to wipe it clean. 
The middle layer adds cushioning and thickens the blanket for added comfort. 
You can lay the blanket on wet ground without any worries. The waterproof backing doesn't allow water or moisture to seep through. This keeps you and your loved ones completely dry. 
It's large at 80" x 60" inches, can fit 4 persons. It folds into itself into a small and compact sized handbag, easy to carry with a handle.
Perfect to take anywhere, ideal for backpacking, travelling, picnics, sporting events and any other outdoor occasions.
What we also love is that it comes at an affordable price tag.
Cutest Design: Yodo Water Resistant Picnic Blanket
Ideal for picnics in two or three, the Yodo blanket is large, portable, comfortable and waterproof.
It measures 59 x 53 inches, which is perfect to accommodate 2 or 3 adults. The top material is comfy, feels nice and soft. The backing is cushioned and waterproof.
This adds extra comfort and protection. The waterproof material keeps you from getting wet from the damp ground.
What we also like is that it's very easy to clean. The backing material, made of sturdy pliable plastic, can be wiped clean easily.
The top rug doesn't absorb liquids and can be cleaned with tissues. It's compact and easy to fold, and it will take you less than 30 seconds to fold it back.
Perfect for picnics, beach days, park outings, camping trips, sporting events or music festivals.
Best for Cold Weather: Oceas Outdoor Blanket
We love this blanket, mostly because it's ideal for any weather. Perfect for windy days, chilly autumns, rainy days, cold winter times, but also for summer days.
Unlike other brands, the Oceas outdoor blanket is 100% waterproof AND 100% weatherproof. Designed with superior materials to give you premium comfort, durability, and top insulation to keep you warm.
It doesn't allow any water to seep through. This product is made to keep you dry, warm and comfortable. The backing material is uniquely designed with a double waterproof coating to make sure it blocks water or moisture from the wet ground. 
We were pleasantly surprised to see that they offer 30-day Money Back Guarantee, adding extra credibility and trust to the brand.
It's also very large, measuring 79" x 58", great for 3 adults. 
The top fabric is plush fleece, with insulation and cushioning for superior comfort. The waterproof backing is made with polyurethane, a strong, reliable and flexible material – built to last.
Comes in a portable water-resistant carry bag with handle. Performs great in windy, rainy and sand conditions. People love to use this on fall nights by the campfire, at night picnics, soccer/softball games.
Best Extra Large: Zomake Extra Large Waterproof Blanket
A spacious blanket, measuring 80 inches by 80 inches, fits 4 people comfortably. This makes it one of the largest blankets on this list.
With a soft fleece surface and waterproof backing.
Stylish, soft and comfortable, this spacious blanket is suitable for outdoor picnicking, traveling around or any other outdoor occasions. 
It wipes clean easily, so you don't have to worry about breadcrumbs or spills. If you spill juice, wine or any other liquids, just use tissues to wipe the liquid off.
Easy to fold back, when you're ready to leave just flip it over, give it a shake, and fold it along the creases.
The ZOMAKE picnic mat is also very comfortable. It's built with 3 main layers. The backing is waterproof made from aluminum (environmentally friendly). In the middle, there's a foam cushion layer which adds extra protection and thickens the blanket. And lastly, the top layer is fleece, which is extra comfortable and soft. 
Perfect for tailgates, picnic, beach, camping, and outdoor yoga.
Best for Beach: Wekapo Sand-Free Blanket
If you're looking for the best waterproof blanket for the beach, we highly recommend the Wekapo blanket. People who bought it are extremely satisfied with it even after years of using it.
The sand does not stick to it, it simply rolls right off. The corner pockets can be filled with sand so the blanket stays put even in windy conditions.
The blanket is huge in size, can fit 4 persons with ease. It's lightweight, easy to carry and although it is so thin – this thing is extremely durable.
Very easy to clean, everything just washes off and wipes off in seconds. 
Best for Kids: JJ Cole All-Purpose Baby Blanket
If you're picnicking with babies, you need a safe, comfortable, easy-to-clean and compact picnic blanket – this blanket is perfect for your little ones.
The JJ Cole waterproof picnic blanket is smartly designed for small kids. Designed with durable and safe fabrics, it's made to last you years. 
Super comfortable comes with added cushioning and 3 layers made of premium materials. 
This baby blanket is 100% water-resistant. It repels liquids and it's very easy to wipe off clean. The cute blanket is available in various beautiful colors and folds into a small and portable tote for easy transport.  
The "bag" closes with a velcro strap and comes with a handle. You also have room to place your keys, phone, wipes in the exterior pocket.
Unlike other blankets, this one is machine washable and dries off quickly. Ideal for family picnics, stroller walks, park outings.
Best compact: BEARZ Outdoor Beach Blanket
Fits into a very small carrying case, it's lightweight under 0.5 lbs, portable, waterproof, sand-proof and perfect for 2 persons – the BEARZ blanket is a versatile choice ideal for any outdoor occasion. 
Can be used as a rain tarp or as a blanket for picnics, hikes, camping trips. 
Comes with corner pockets which are designed to be filled with sand or rocks to keep it on the ground in windy times. 
It's a stylish blanket, which comes in 6 different colors.