When the sun begins to come out after winter, we begin to feel the freedom of spring and start shedding our stuffy winter clothes. We are ready to go "boho" and barefoot in the sun!
We want to dress how we want and head out to the beach or have picnics on our lawn.
We can bring this spirit of freedom and adventure to our picnic by adding a boho flare.
Before sharing our favorite boho picnic ideas, let's go a bit into the bohemian history. 
So what exactly is boho?
Boho Origins
The French are widely credited with the origins of the word "Bohemian."
This term was first used to describe the nomadic Romani people from an area then known as Bohemia.
The Romani, or gypsy, people rejected the mainstream culture and chose to live outside the boundaries of societal norms.
The term Bohemian was quickly applied to artists that wore old-fashioned, mix-matched clothing and defied trends.
Boho Fashion Trends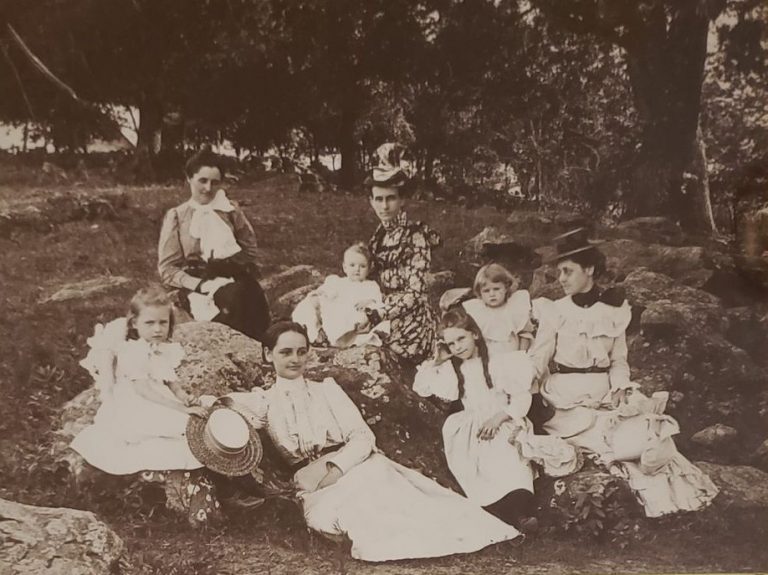 As far back as the 1850's, fashion trends began to incorporate elements of the Boho style, which included natural fibers, floral prints, paisleys, and a more flowing, loose dress.
The 1960's and 1970's added leather, fringes, embroideries, bright colors, and ethnic elements to the look.
What is a Boho Picnic?
Today, Oxford Languages defines Boho simply as "socially unconventional in a way regarded as characteristic of creative artists".
So, when we apply these ideas to a picnic, we're looking for color, comfort, creativity… and of course something yummy to eat!
Here are our best ideas for throwing a Boho picnic.
The Boho Picnic Set-Up (Essentials)
When you are preparing for a boho picnic, you are the artist, so you can relax and have fun with the design! The boho style allows you to overlap different patterns and colors.
The idea is to break boundaries and purposely mix-match.
1. Boho Picnic Blankets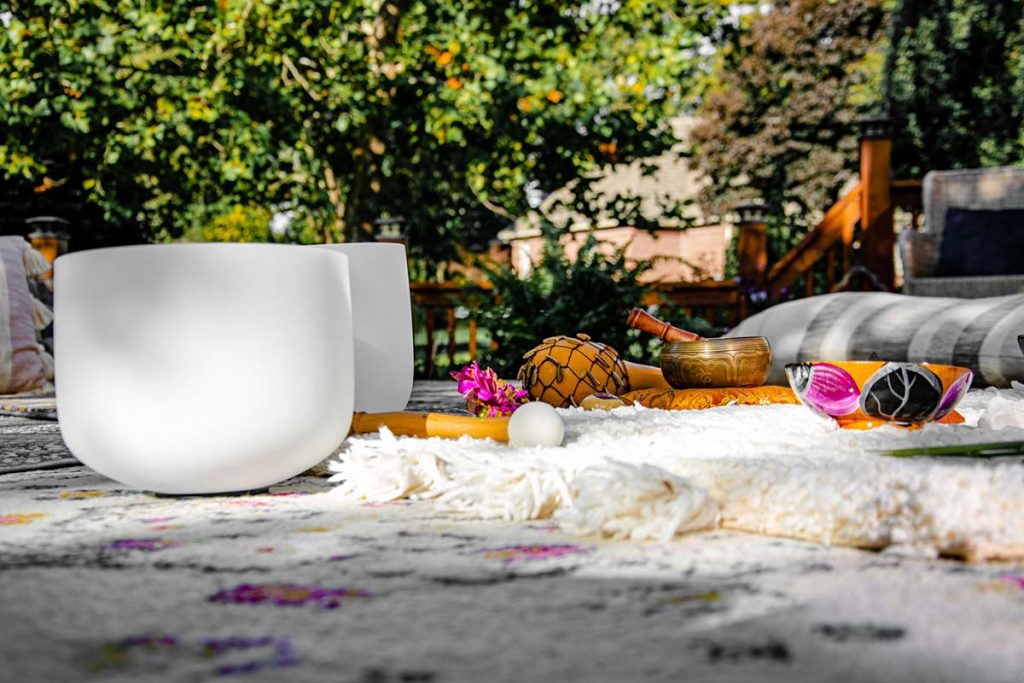 As a kid, we always used an old, thick quilt made by grandmothers or great-grandmothers. They were sturdy, and thick and protected from rough ground or moisture from the grass.
We would happily machine-wash them afterwards. It was definitely a boho touch, but these days, I would cringe a bit to use one of those quilts as they are now irreplaceable.
For your boho ground cover you can either use quilts or mats that you already have at home, or if you don't want to get them dirty, you can use a brightly patterned, waterproof picnic blanket. to make sure that ground moisture doesn't seep through. You can find other blanket options in our 10 best waterproof blankets article.
2. Low Picnic Tables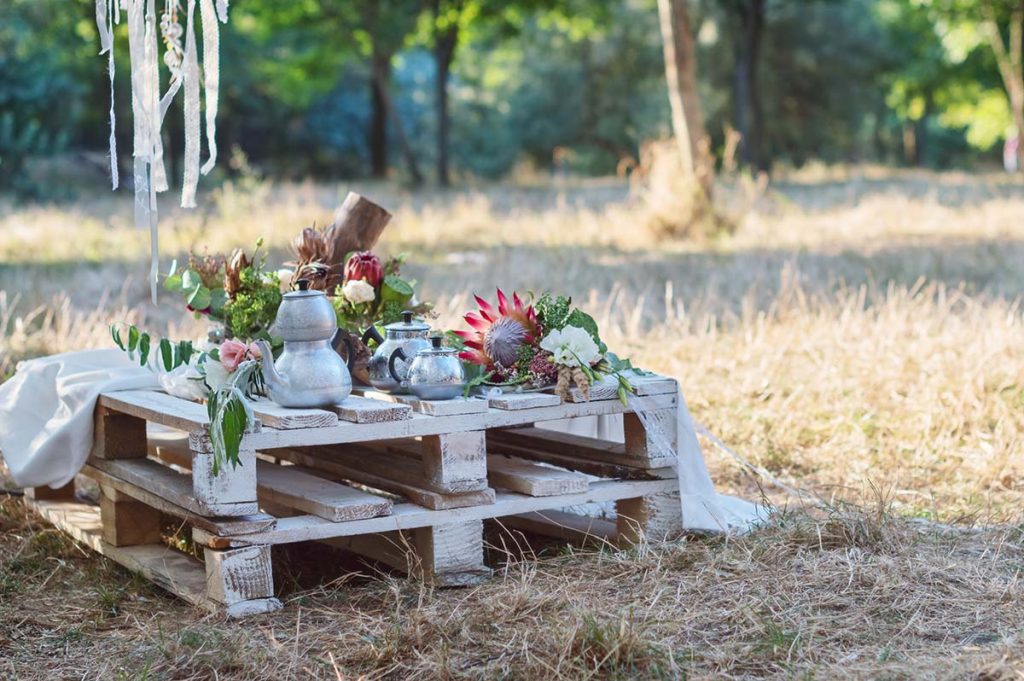 We think of low picnic tables when we think of a boho picnic. 
These can be rather easy to DIY if you have easy access to pallets. Stack 2 pallets and secure them together, then cover partially with a boho table cloth.
To keep items and drinks from becoming unbalanced on the cracks, you can cover the top with plywood, or use wooden serving platters and sturdy placemats to provide support.
If pallets are harder to come by, you also can use a low portable table or even a coffee table from your home.
3. Boho Picnic Baskets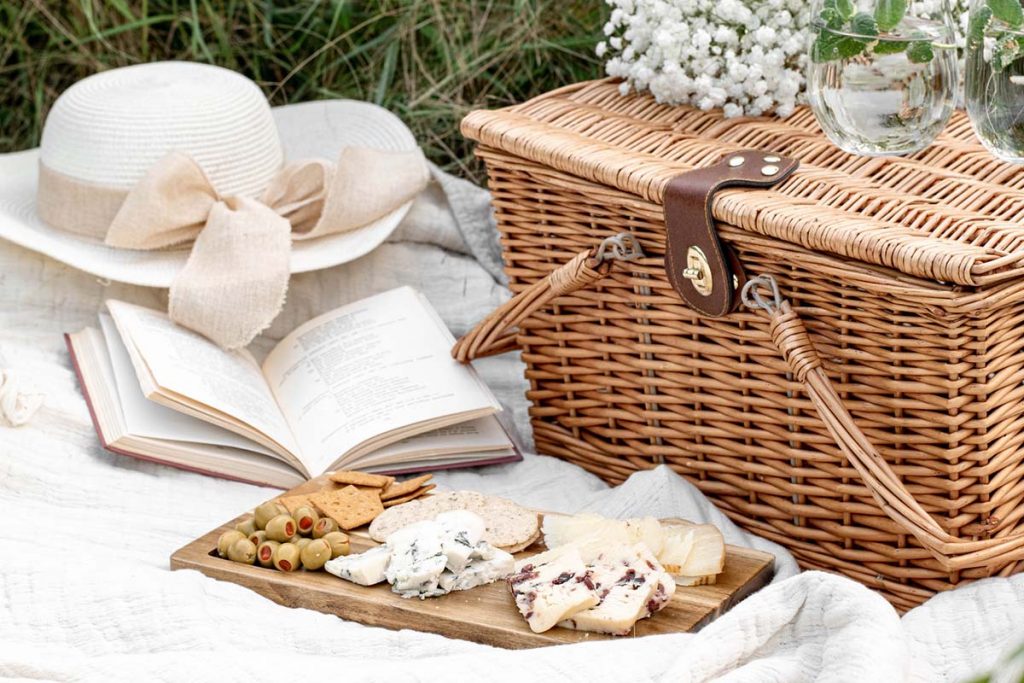 Don't forget to bring a wicker picnic basket that will give a vintage-style look and at the same time, help you pack, transport and organize food better. They're not only beautiful, but they're also very practical. 
Some are insulated to make sure your food and drinks stay cold during transport. You can also choose a set that comes with plates, glasses, cheese board and cutlery included.
RELATED: 9 Best Wicker Picnic Baskets (for any budget)
4. Boho Umbrellas
This outdoor umbrella with a fringe from Amara is a great way to make a boho statement. If you are going to need it to also provide shade, make sure you are placing it strategically to cast the most shade at the time guests will arrive.
You can also use a decorative canopy or an open tent as a retreat, instead. Stringing lights from the inside will add a touch of romance and charm.
5. Boho Seating Cushions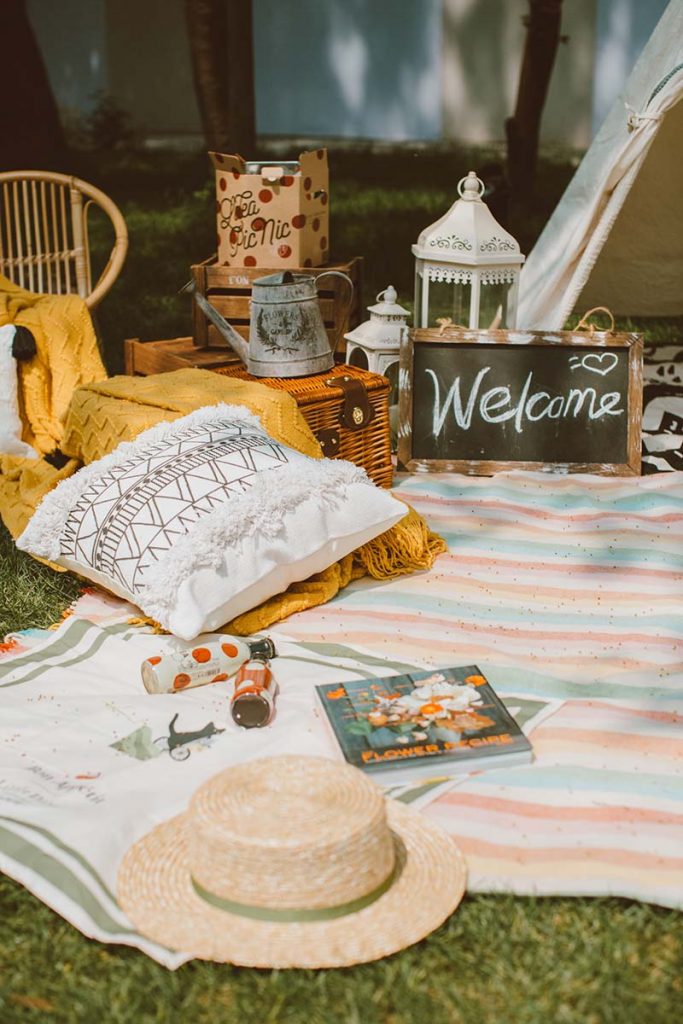 Outdoor cushion covers or floor pillows can be a great way to add pops of color and comfortable seating. You can also use poufs if you have them, bean bag chairs, or old pillows from your house.
6. Throw Blankets
If it is going to be a chilly night, you can also have blankets on hand. You can either buy inexpensive throw blankets for guests to wrap up in, or use a quilt from your house!
Food Planning
1. Boho Picnic Food Ideas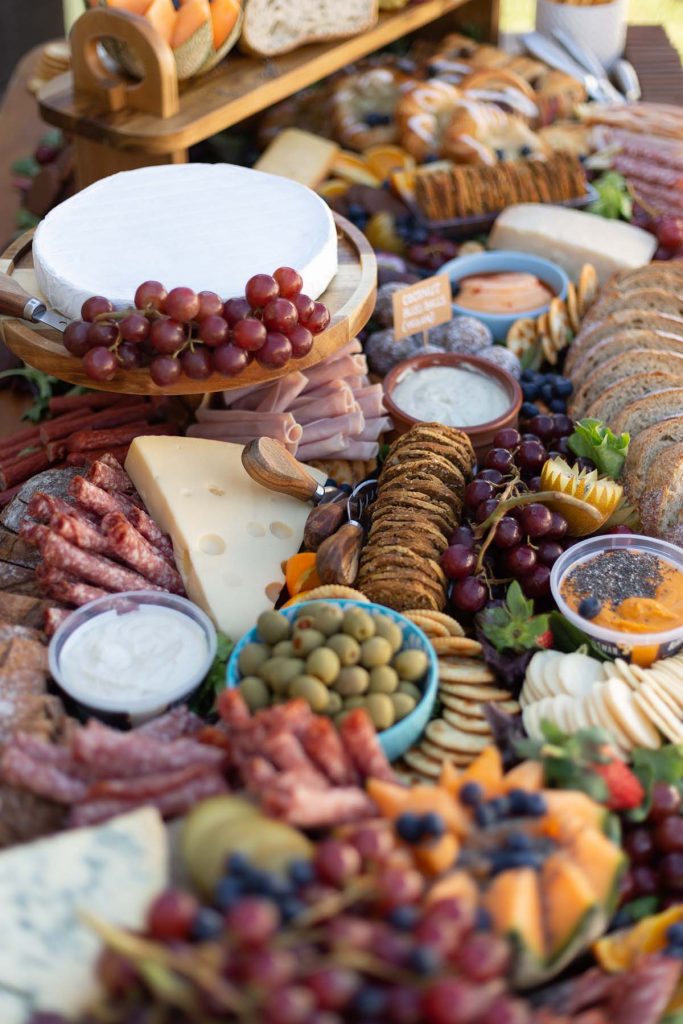 Since the boho culture is nomadic, food can be based around wine and charcuterie boards with a few substantial appetizers mixed in so no one leaves hungry.
We love this charcuterie board for picnics since all the utensils are neatly packed inside and ready for use. 
Some ideas for foods are:
Cheese
Olives
Crackers
Pestos
Grapes
Dried fruits and nuts
Berries
Cured meats
Hummus
Baguettes
Flat bread
Dolmas
You can also make fruit, vegetable, or olive / meat / cheese kebabs for a nice look and easy eating.
2. Dishes
This can be a great time to pull out the china from incomplete sets and give them new boho life!
Although, if you are traveling to your picnic spot, or setting up on the beach, disposable may be the best way to go. We found these palm leaf disposable plates that are eco-friendly and quite charming, we think.
Aesthetics: Making It Pretty
For a boho decor, you can use candles to decorate the table or to mark the corners of your space.
Not only do they add a nice glow, but you can choose candles that also provide natural bug repellent. Bug repellent scents like citronella, cinnamon and mint stimulate the brain to be alert and energetic. 
If you are wanting more earthy, relaxing scents, eucalyptus, mint, sage, and also are scents that help you keep bugs away.
Boho Tents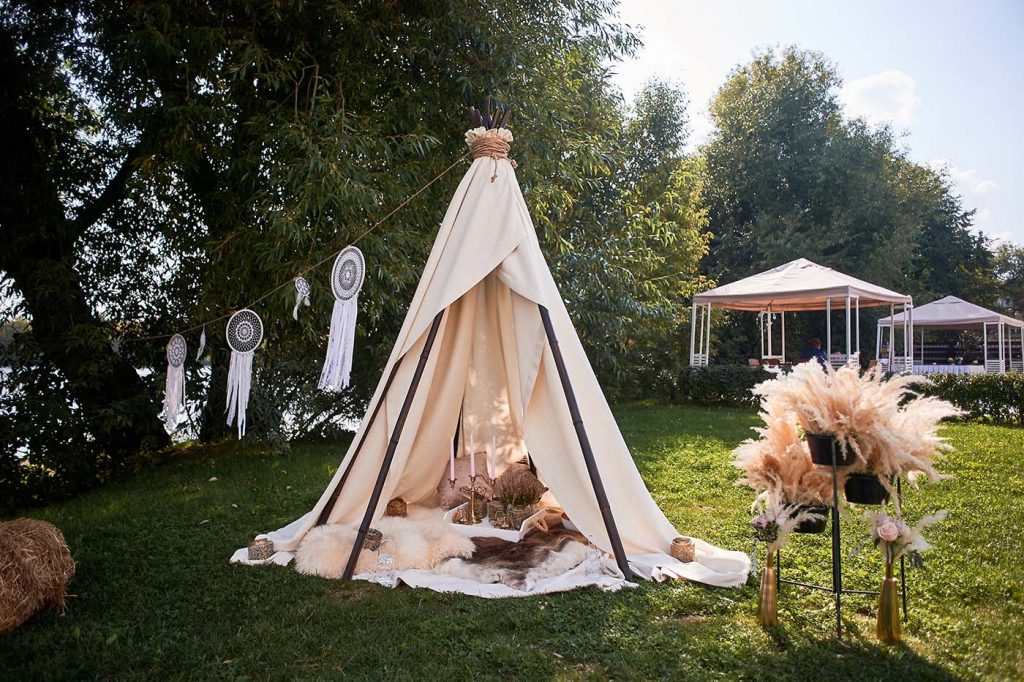 If you are going all-in on the boho theme, this adult-sized lace tent at a corner of the blanket can add a nice touch to the decor. It makes for a great photo op, as well.
Flowers
Flowers always add life to a party! You can make a nosegay for each guest and place it at their spot at the table, or put small bouquets in vases of various heights at a corner or in the middle of the table.
What to Wear to Impress
You can ask guests to play the part at the Boho picnic in the invitations.
Add a style-guide of items that can be combined to create the look. For women, dresses like these give a perfect modern bohemian look.
Such as:
Paisleys
Flower prints
Flowy sleeves
Faux fur
Patterns
Colors
Leather-look
Crocheted hemp
Lace
And a nice hat, or bandana to finish it off!
Whatever you decide to wear, the important thing is to relax and to be who you truly are without trying to fit into a "normal."
Final thoughts
These are our ideas to give you a starting point for adding a boho theme to your picnic.
Remember that you are the "unconventional artist" and you do you! Gather the girls or a group of friends together and have a time of relaxation and freedom out in the sunshine. Be safe and have fun!