Whether you are a new member or an old faithful with your name all but written on the back of your pew, a church picnic can be a great way to socialize and get to know fellow members of your church.
Food, fellowship, and fun bring people together and give a sense of unity and connection to the congregation.
We've picked some of our favorite ideas to make your church picnic a success.
Quick Picks
How to plan a perfect church picnic
When you are in the planning phase of a picnic you need to cover all the logistics of taking the congregation outside for a day of fun and fellowship.
Will you use blankets or tables?
Will it be a catered event or potluck?
What will the church provide, and what can members contribute?
We've got some ideas for how you can make your set-up work for your gathering.
1. The Seating Situation
Blankets or Tables? Or Both?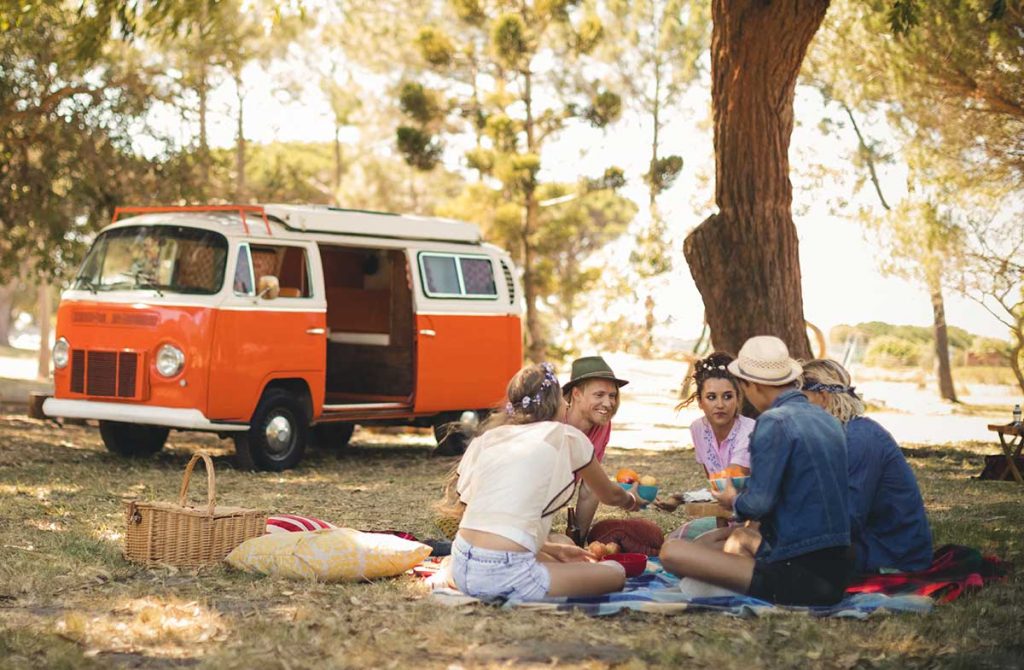 For a younger crowd, it could be fun to set up picnic blankets to cover the green.
When spaces are less defined, people may feel freer to "mix it up" and sit with new people.
You can have members lend blankets for the organizers to set up strategically beforehand, or just put a note in the invitation to bring your own chair and blanket.
You can use 20-foot waterproof parachutes that can double as an eating area and for children's games, later. 
If you have several elderly members in your church, bringing out folding picnic tables with chairs will make the meal accessible to all.
Read Next: Best Folding Outdoor Tables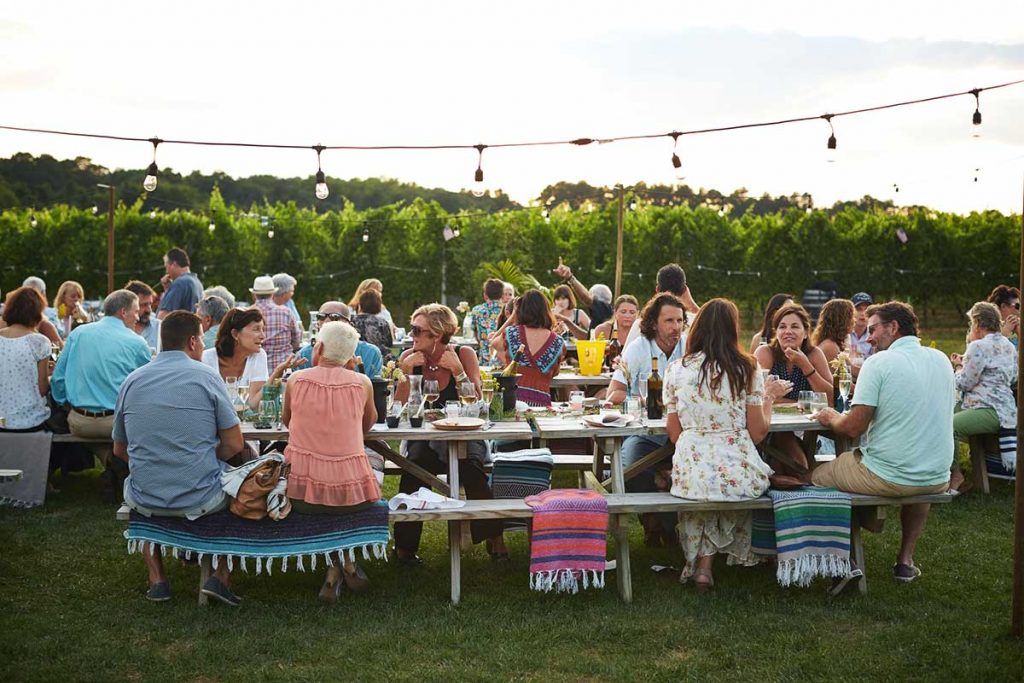 If you decide on tables, you can cover them with butcher block paper, and set jars of crayons down the length of them. This can add some color to your tables, keep the kids entertained, and add in an element of fun.
A great ice-breaker could be a party game in which each person draws a circle around their plate, and inside draws a scene from the Bible or on a specific theme.
Judges can make the rounds and give prizes to the best drawing, easiest to guess, best effort, etc.
2. The Essentials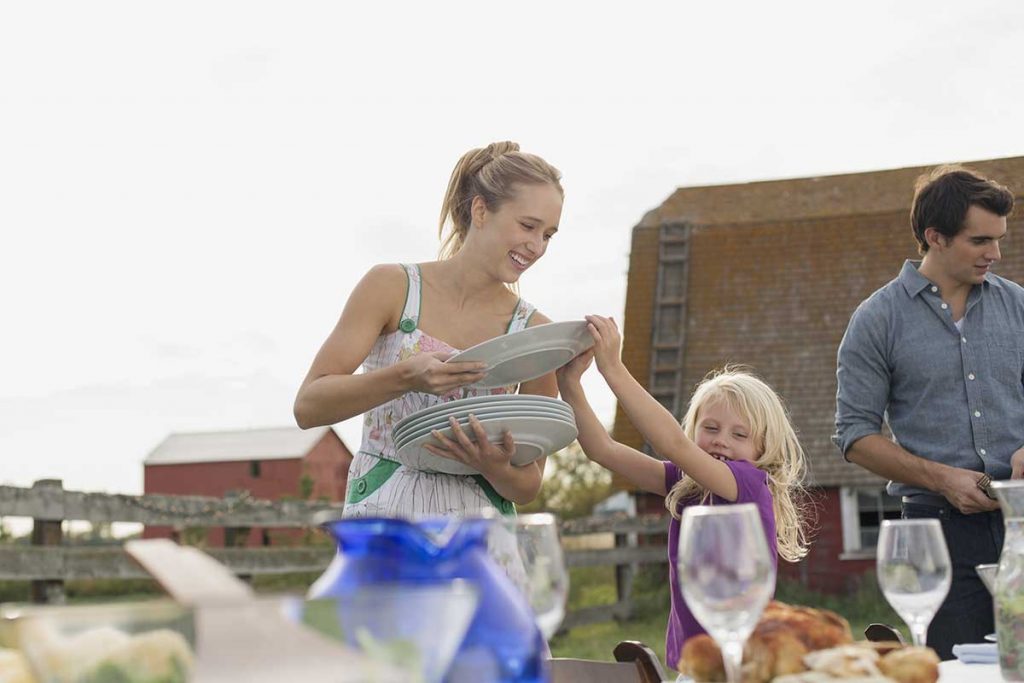 Getting down to the bare necessities:
How do we want to "stage" the event?
Will you want to use disposable options, or glasses and proper silverware?
We want it to look beautiful, yet still be functional.
Glasses
Unless you have shatterproof glasses at your church, it may be a good idea to use nice plastic cups like these that we found. These still have an upscale look but you won't have to worry about them breaking when you take them outside.
If you use plastic, you can leave a few permanent markers to let each person write their name, so no one drinks out of their neighbor's cup by mistake.
Cutlery
For cutlery, real silverware is nice and many churches already have their own sets. If you don't want to worry about dishwashing, though, you can use a stronger plastic set that won't break in the casserole.
Plates
If you are using disposable plates, I usually prefer sturdy paper plates over plastic, since paper absorbs rather than resisting liquid. When you have several different items like a potluck, paper can keep your gravy from running into your jello salad.
Baskets and Trays
For silverware, napkins, and bread or rolls, baskets or trays can be a great way to add to the decor and corral these items.
Baskets like these would be a good size for silverware, or your church may already have something similar on hand. Baskets are versatile, non-breakable, and also lets everyone feel like they are at a proper picnic.
Cleaning products
Having wet-wipes for spills and clean hands will be something to put on the "don't forget" list. Especially if you take the picnic away from the church grounds and there isn't running water, wet-wipes can be a lifesaver. Sometimes dry napkins just won't get every job done.
You can have hand sanitizer and gloves handy for those that may be serving food. Bug repellent can also be a nice feature to have at the ready for those who forgot theirs at home.
3. The Food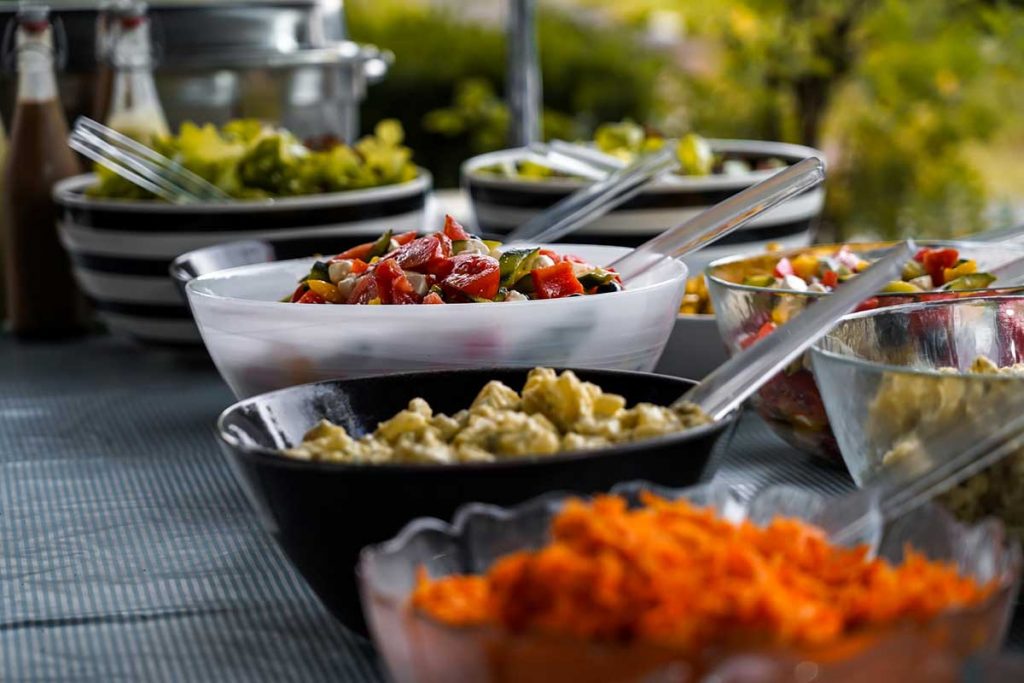 When you are preparing for the picnic, the organizing team should decide what the church will provide and what members can bring.
Depending on the budget, the church can either decide to cater the event, or can have members bring their own food. Or, you can do a hybrid of the two ideas and have the church provide the meat or main dish, and members bring sides.
If it will be a potluck (or covered dish), remind everyone to bring a dish that is enough to feed their family plus one. This will ensure that everyone will have plenty to eat.
Read Next: Picnic Food Ideas (Delicious & Easy to Make)
The Alphabet Strategy
Another way to organize the food is to divide the meal into meat, sides, salad, drinks, dessert.
Families with last names from A-D can bring a meat or main dish, E-J can bring sides, and on through the alphabet.
This plan works well when you plan to have quarterly church meals so families can rotate through what they are responsible to bring. Also, when it is a larger congregation, and when not everyone has the last name Smith.
You can place invites in the bulletin for a personal touch or send e-vites to the members in the congregation explaining how the event will be organized and what to bring.
4. Fun and Games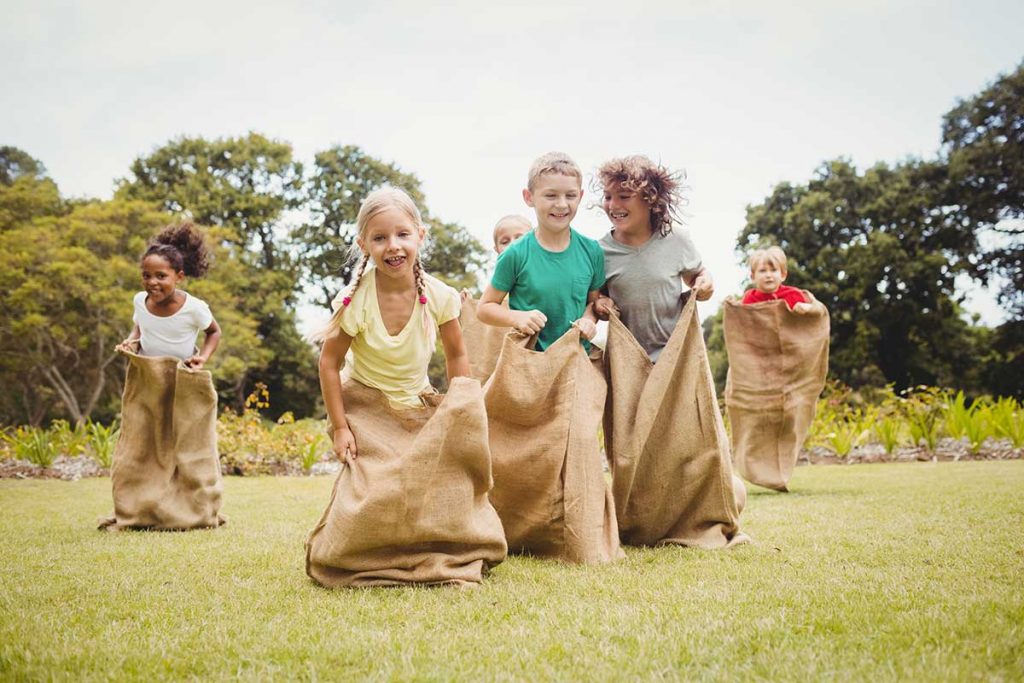 After everyone has eaten their fill, you can play games. If the budget allows, you can rent or buy a bounce house, make balloon animals, or have pony rides for the kids.
Also, having a photo booth can be a way for groups to have fun with props, and have great memories to look back on.
If you are wanting to keep your picnic more simple and laid back, these picnic games are almost always a hit:
Beach ball-volleyball
Face painting
Musical chairs
Bocce ball
Relay races (You could use a basket and make the race picnic-themed)
These games are group friendly and you can set them up in stations. Your youth pastors may also have some great ideas for games that work well for your group. They could also make great game station leaders!
READ NEXT: 21 Classic Picnic Games for All Ages
Final Thoughts
Getting your church out in the sunshine together in a laidback fellowship environment is a great way to help people break out of their shell.
This can help build healthy relationships within your church and provide time for new connections.
We hope these ideas help you and your church to have the best picnic yet!
Be safe and have fun!