During the pandemic, many celebrities and lay people alike have decided to ditch the indoor restaurants, choosing instead to have luxury picnics in the fresh outside air.
We've caught celebrities such as the Bibers, Pink, Ramona Singer, Nikki Reed and others showing off their personal picnics on their Instagram accounts.
Some chose to style it up, while others chose a simple setup against nature's beauty. Celebrities have started reviving the idea of eating out-of-doors, and "Posh Picnics" have become the new trend.
Because even when indoor spaces are off-limits, the outside world is always open!
Here are some of our ideas to inspire your posh picnic event.
Quick Supplies List
How to Plan a Luxury Picnic
1. Choose Your Location
When planning your luxury picnic, you want to choose a location that is special to you or has an excellent view. You are the artist of this event, and you can design your backdrop by picking the perfect site in nature.
Also, choosing to hold your get-together at a time that will coincide with sunrise, sunset, or a meteor shower, can add a special element of wonder and romance.
2. Send Invitations
Invite your friends to the picnic and ask for an RSVP so you know who will be able to come, and how to set your table.
Since our generation gets easily caught up in the daily grind, it is also okay to follow up with a friendly phone call or text. You can hand deliver invitations with a small nosegay.
This is a sweet old-world gesture, and also will help your friends remember the day and time.
3. Choosing Your Menu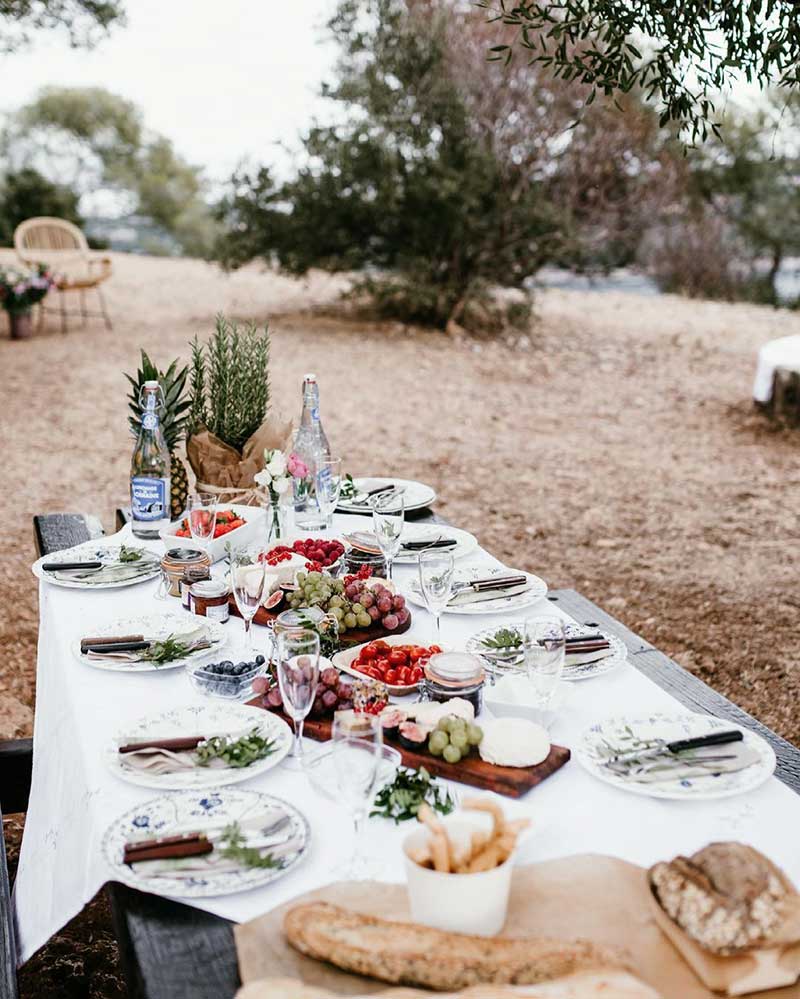 Food is a central part of a picnic and lets you put your signature touch on the event.
You can get creative in the kitchen and cook up your personal specialties.
If you are looking for inspiration you can check out our list of picnic foods to try.
Choose a Posh Food Hamper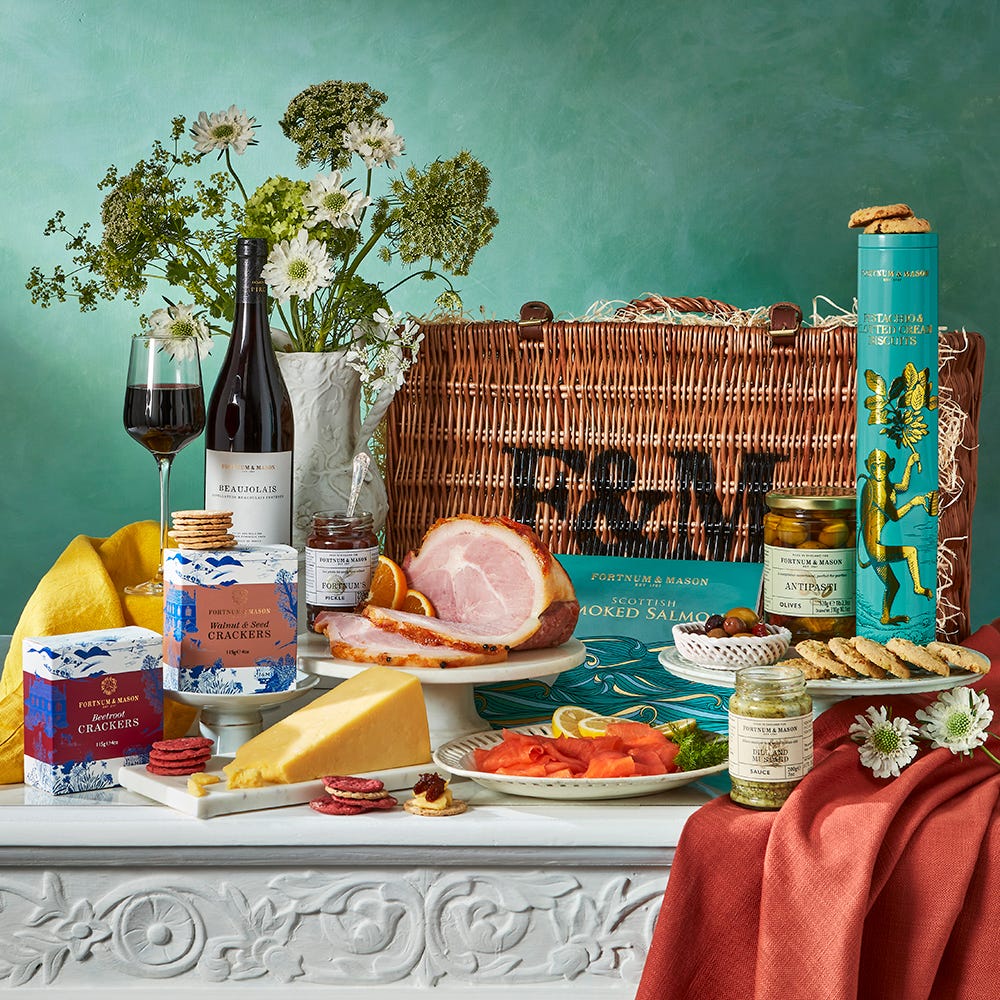 If you love to set the scene but don't feel the urge to cook, we recommend Fortnum and Mason's Foodhall Hamper.
This wicker hamper comes with mini spiced orange ham, smoked salmon, specialty crackers, cave-aged cheddar, Pistachio & clotted cream biscuits with sauces, pickles, and a bottle of Beaujolais.
For a non-alcoholic option for designated drivers, you can also choose to purchase a bottle of Fortnum's Rosé Sparkling Tea or make sparkling lemonade to serve.
Don't forget to pack ice or gel packs around your food to keep it out of the temperature danger zone.
4. Stage It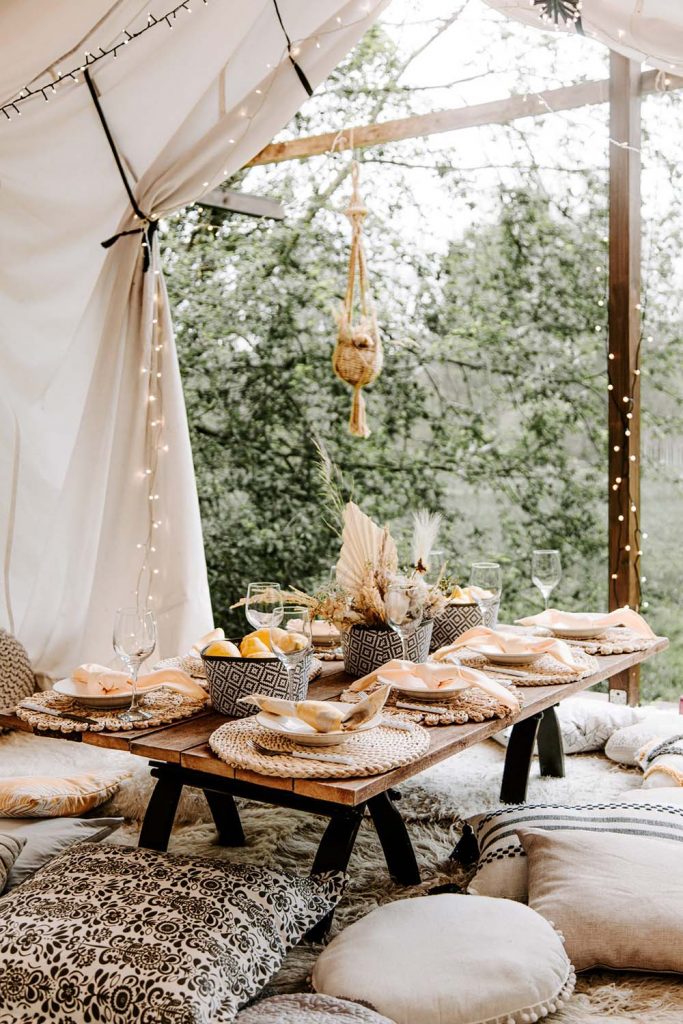 While decorators stage home interiors, you get the chance to stage the great outdoors! You can choose to use seasonal colors that will go well with your natural background, or choose the color palette that pleases you the most.
You can also pick a theme: great themes would be luxury bohemian picnics or French style picnics.
Some ways to add splashes of color are to pick colorful poufs, table runners, pillows, Placemats, and reusable Linen Napkins.
You can layer these bright elements with more subdued wood tones for a pleasing contrast. These Geometric Wooden Plates are a good size for a meal plus dessert and the shape adds an interesting design element.
You can use a Portable Boho Picnic Table for sitting on the ground, or this Roll-up Wooden Picnic Table that is a better height if you are using pillows or poufs.
5. Add Flowers, Candles, Placemats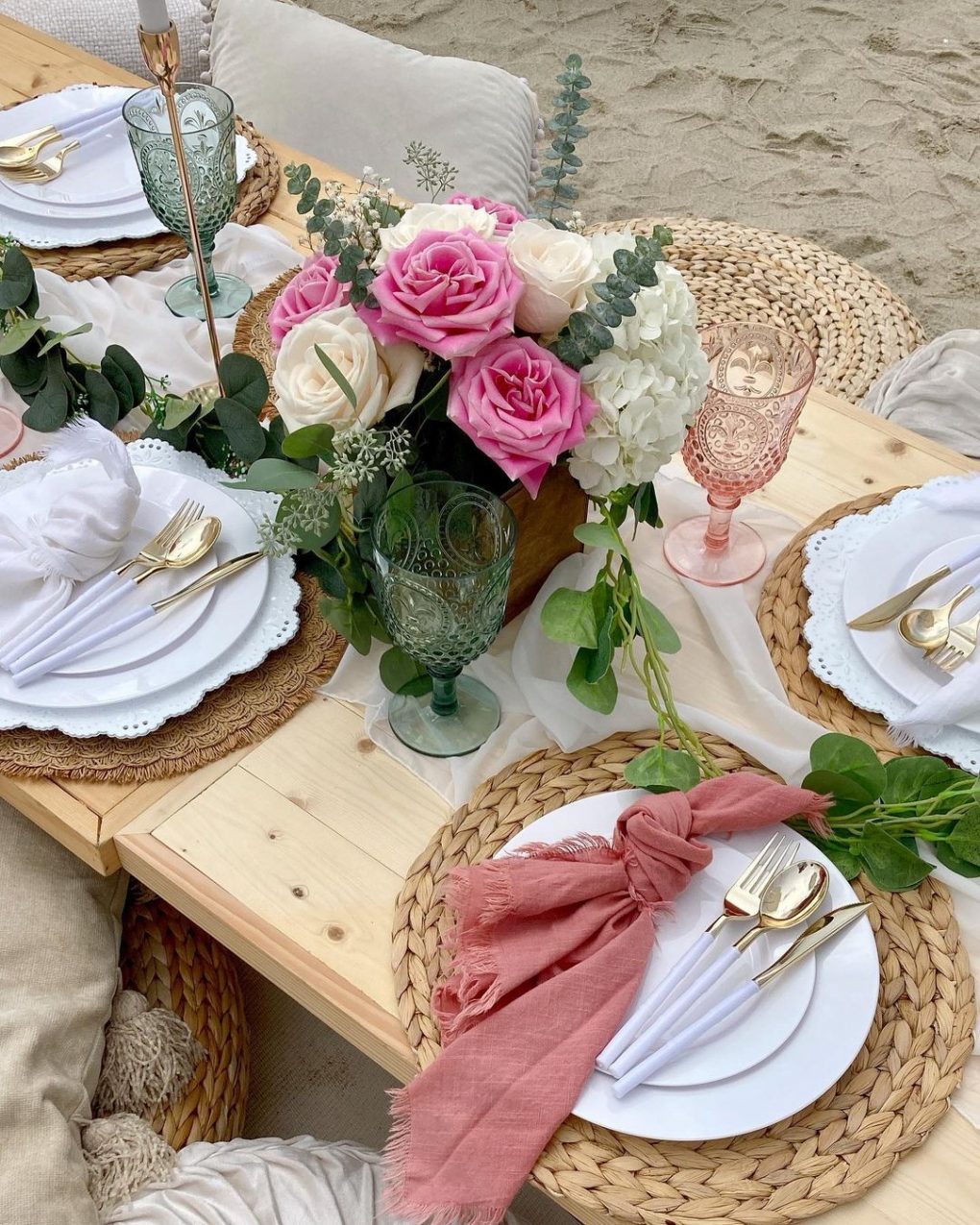 Lights, flowers, wicker placemats and gold plated flatware are a way to add a touch of simple elegance to your table. You can choose to use waterproof globe bulb string lights if you have access to an electric outlet, or taper candles will always add a romantic touch!
Fresh flowers will make a beautiful natural table runner. You can choose flowers that are in season or choose sola wood flower bouquets that won't wilt on hot days.
Also adding an accent piece at one end of the table can add a wow factor to your setup and a great place for taking Instagram-friendly pictures with your friends!
6. Personalize Each Place Setting
For a little something extra, you can leave a small takeaway gift at each place setting. This may be a mini bouquet of flowers that guests can take home with them, or a personalized wine glass, a box of chocolate truffles, or a homemade treat.
Especially if you are celebrating an important occasion such as a birthday, bridal shower, or engagement party, this can be a sweet finish to the night.
7. Call in the Experts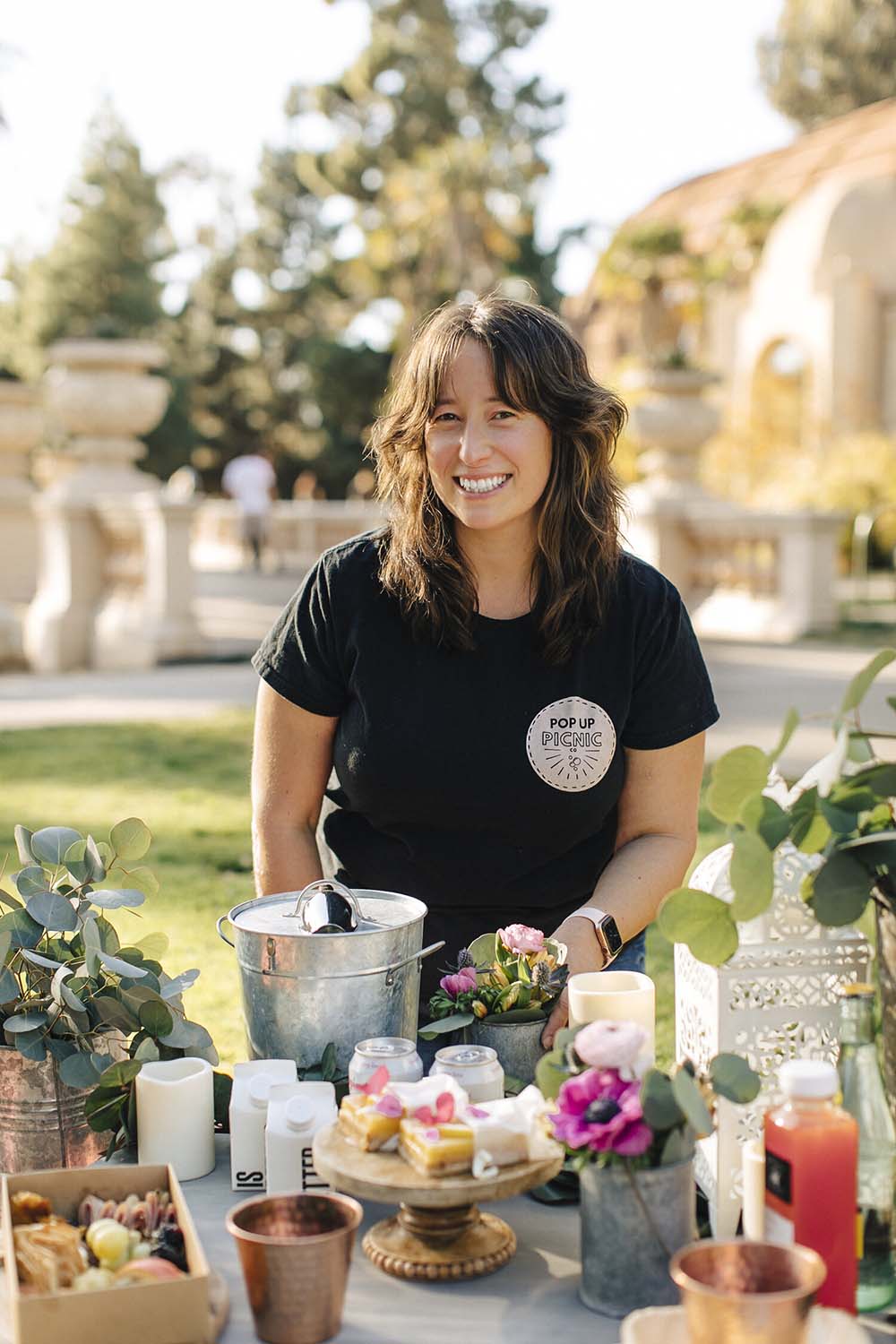 If you love the idea of a posh picnic, but don't feel the need to do it yourself, you can always call in the experts. You can check into picnic planners in your state / city such as Pop Up Picnic Co, Pretty Picnics, or Picnic N' Chill which have built businesses specifically to create posh picnics and help customers make their outdoor dreams come true.
Some companies are famous on Tik Tok and some have even been featured on Good Morning America, CNBC.
Wrapping up
Luxury picnics allow you to enjoy the outdoors in posh and style. If you are going to plan a picnic, why not make it a bit extravagant and pull out all the stops?