If you're wondering how to start a luxury picnic business and what it takes to get started, you're in the right place.
The whole picnic industry has boomed in the past year, with the pandemic going on people discovered the beauty of picnics.
But starting and managing a pop-up picnic service business can get overwhelming, this is why it's crucial to plan ahead, get organized and create a thorough business plan.
Course: How To Start and Run a Successful Picnic Business
COURSE | 70 lessons | from $250 to $59 (limited offer)
A complete framework for starting, running, and growing a successful picnic business -> from a side-gig business into a full-time 6-figures business.
We've put dozens of hours of research into this article, talked with picnic planners all over the USA, and put together a complete step-by-step guide on what it takes to become a picnicpreneur.
We'll cover everything from setting up an LLC, purchasing inventory, pricing your services, marketing, permits, licenses, and more.
Let's get into it.
How to Start a Luxury Picnic Business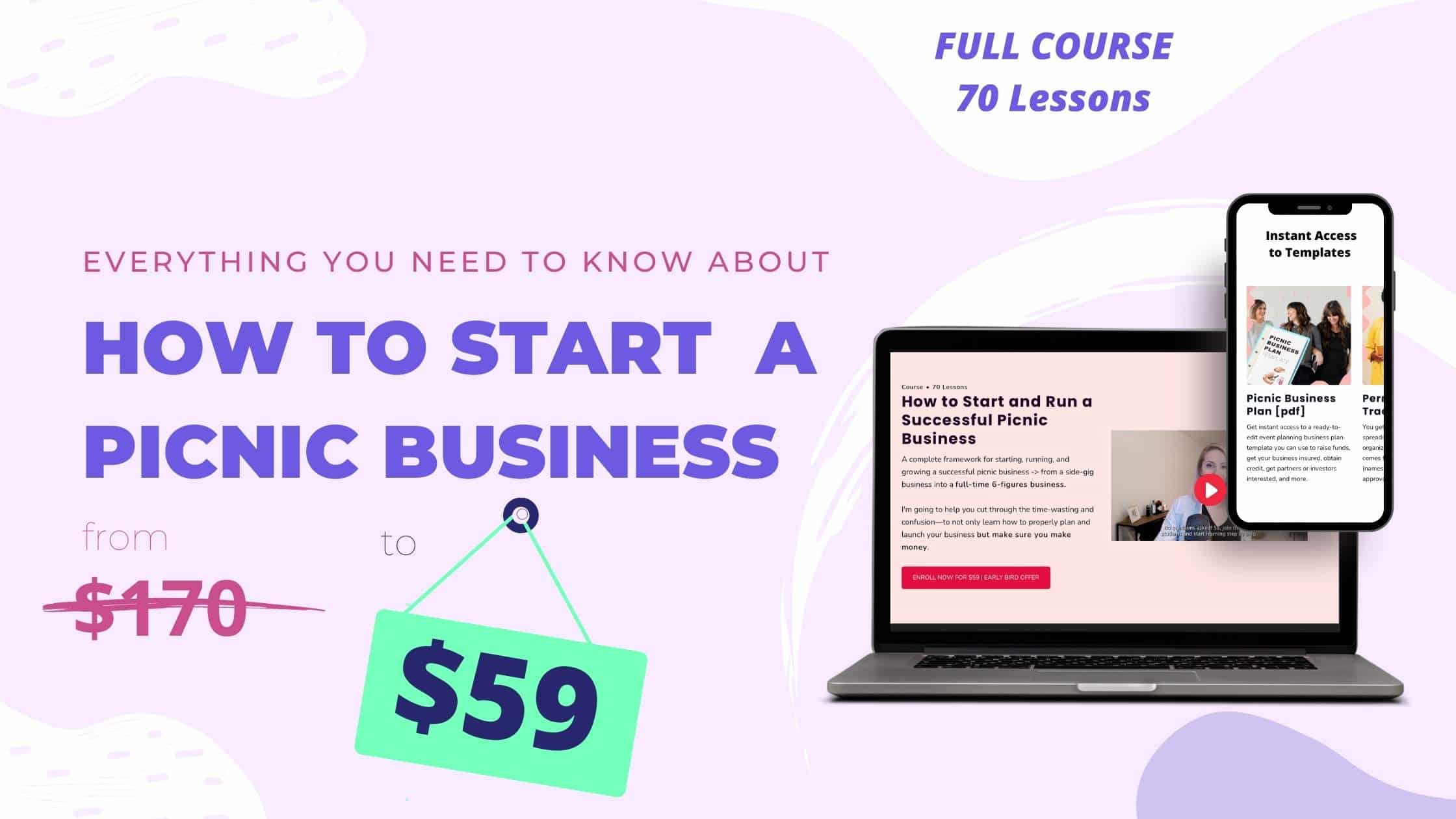 1. Pick a Business Name
The first thing you need to do is to pick a name for your business. Keep it short, simple, and easy to remember.
We suggest choosing a self-explanatory name and including the word "picnic/s" (popular picnic companies: Posh Picnics LA, Pop Up Picnic Co, Luxury Picnics FL).
Check the availability with the Secretary of State
You should also check if the name isn't already owned by anyone else because IF it is you'll not be able to register it under your LLC.
You can check the business name availability online on the official websites of the Secretary of State.
For California, for example, this is the website where you can perform a business search.
Last but not least, before you stick with it, google it.
Check all social media accounts, domain names and ensure everything is available.
2. Register your business as LLC
Next, you need to decide what type of business entity you want your business to operate as.
You'll have multiple options to choose from each with different protections:
limited liability partnership
limited liability company
general partnerships
etc.
Your choice also depends on whether you want to have a business partner or not.
You'll want to register your business with the name you've chosen in the state you plan to operate in.
Many picnic planners have LLCs (limited liability companies).
There are also some costs involved.
To get an idea of the costs, take a look at this helpful map designed by Truic: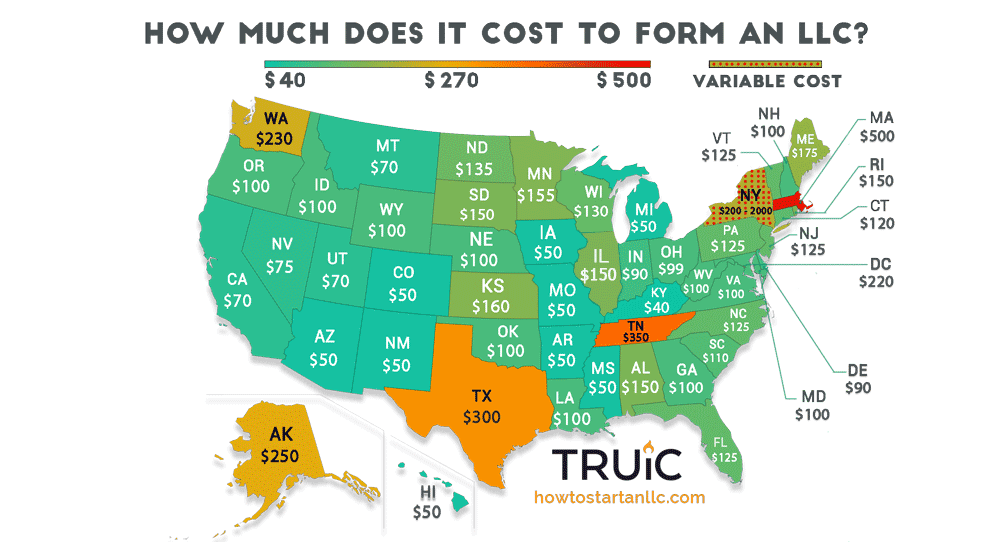 To form an LLC you'll need to pay a fee, that ranges from state to state, between $40 to $500.
You are also legally obliged to have a registered agent for your LLC.
We highly recommend these two companies that will set your LLC for you:
1. Northwest Registered Agents will help you form your LLC fast and easy – they take care of everything and they're one of the cheapest on the market. We love their customer support and how easy they make everything for you, no matter where you live. This makes them one of the most trustworthy services available today.
Forming an LLC is easier than ever with Northwest. Sign up online in just a few minutes.
2. IncFile is another popular choice among entrepreneurs. They have thousands of positive reviews and offer attractive packages. Unlike their competitors, they form your business for $0. What you'll have to pay is the State Fee.
Incfile also runs promos from time to time, where they offer their Registered Agents service for free – sometimes even for a year. Last but not least, they are very experienced and have formed over 500,000 businesses.
3. File for your EIN
Next, you need to apply for an EIN.
An EIN – employer identification number – is like a social security number, but for your business. It is crucial to get one as fast you can, so you could enjoy all the benefits it comes with.
You can apply for an EIN online here on the IRS website.
Once you have it you can open a business bank account, hire and pay employees, apply for a credit card, and much more.
4. Open a business bank account
Once you obtained your EIN, you can go to the bank and open a bank account for your business. This is a very exciting step, every dollar you make will go there and you can watch your profits grow day today.
5. Secure your website URL
We recommend securing your website domain as soon as possible, even before building on your website.
Assuming the domain is available, you can buy it in a few seconds from sites like Namecheap.
Make sure to choose a .com domain, to show some professionalism.
Also, secure social media accounts
Also, create your social media accounts with your business' name. So later when you're ready to start publishing content and start your marketing campaigns, you'll have everything set up.
Pro Tip: Don't forget to open a Tik-Tok account, it's very popular among younger audiences and a great way to promote yourself.
6. Research the Market
Before purchasing your inventory and brainstorming what you can offer, you'll need to analyze the market, take a look at what your competition does.
How to do it? Start with googling:

		picnic planner + "the state you operate in"			
				
Now check the results and open in new tabs every result you see on the first page of Google.
Check your competition's websites, and write down anything relevant that pops into your eyes.
Look for their strategy, prices, packages, locations, their website menu, add-ons they offer, their good/bad reviews, how they promote themselves if they have a youtube channel, etc.
See what you need to do to reach their level, and think of what you could do better or different. Write everything down.
Is your competition active on social media? If so, where? Tik Tok? Facebook? Instagram? Everything is important.
7. Set Your Packages and Services
Next, you'll have to think about what packages and services you'll want to offer.
In the beginning, it's important to start small with 1 or 2 themes, and then as you grow you can add more services and buy more inventory.
Pick a style:
boho picnic
classic picnic
pink
french picnic
Pick an event type:
Family & Friends Picnics
get-togethers
family reunions
sisters brunches
Romantic Picnics
romantic dates
anniversaries
birthdays
proposals
Special Events Picnics
engagements
bridal showers
baby showers
bachelorette parties
Work-Related Picnics
corporate party
fundraising events
promotion party
8. Price Your Services
You'll need to price yourself accordingly, not too little and not too much. First set a flat rate charge that covers your basic package, and then charge extra for special add-ons.
What to take into consideration:
1. Your target audience
Check the competition and analyze your target market. Are they locals? Are they tourists? Business owners? Younger audience?
Research the market and stick to your pricing. Make sure the minimum amount you charge remains stuck, then you can negotiate for add-ons or extra requests.
2. How much time you'll involve
Always think about how much time it takes you to get to the destination, to prepare, sanitize, set up, decorate, and clean afterward.
3. Location
It's also important to consider the location, picnics can be set up at the beach, in the parks, by the lakes, indoors at your clients' location, in your client's backyard.
9. Include Add-on Services
Besides your base rate, you can make extra money by including add-ons like:
fresh florals
balloons
peacock chair
party boxes
kids
umbrella
Customized letter board
Movie Screen
games
teepee tent
handheld bubbles
painting for two
Bluetooth speaker
Food (needs extra license or vendor collaboration)
10. Purchase Inventory
When buying picnic essentials, think about "reusability" as much as you can.
For example, you can reuse the same pillows over and over again for different themes (boho, pink, classic, vintage, etc) if you purchase interchangeable pillow covers of various colors.
Start small and at the beginning only buy the essentials:
picnic table (build your own, buy a foldable one)
pallets (great for boho pinics, but take much room)
pillows
pillow covers
dinnerware (wash some dishes, keeps costs low while growing)
napkins (disposable and reusable)
candles and candleholders
placemats
rugs
tarps and tarp hooks
sheets
11. Build your Website, Logo, Business Cards
Your website will be one of the most important business assets. Having a well-designed website will help you attract new customers, increase your business's credibility, and basically make you more money.
If you don't have the budget to hire a professional developer, you can use Wix. With Wix, you can build your site yourself very easily. They provide you with pre-made templates and beautiful designs that are easily customizable.
Next, you'll need a logo that fits well with your brand & audience, that's easily recognizable by your clients.
A professional logo can cost between $1000 – $5000.
In the beginning, you may want to keep your budget tight, and you can order a custom-made logo from Etsy that can range up to $500.
But as your business grows, you may want to consider hiring a professional designer who can build an entire brand identity package for your business.
12. Consider Transportation
Depending on how large the event you plan it will be, you'll need to transport your items safely to your destination.
For that, you'll need a car (maybe with a trailer), or a small SUV.
Then, when you arrived at the location, a wagon like this one (link to Amazon) will save you time and back pain.
You can just put everything in it and drag it to the beach, to the park, carrying everything with ease.
13. Consider Renting a Storage Unit
Think about where you'll be storing everything for your picnic business. Do you have a garage or storage?
If you live in an apartment with not much storage space, you'll need to choose more space-efficient items like foldable tables, folding baskets.
14. Organize your business
When you have your own business it's easy to lose track of things, so you need a way to keep everything organized "physically" and "digitally".
Declutter your workspace
Set a routine and declutter your workspace, your office, your storage unit. This will increase productivity, reduce errors and save you time.
Keep track of client correspondence
Always take notes and document the emails/calls between you and the clients.
15. Use a Client Management Software: Honeybook (50% OFF)
In the beginning, of course, you can use Excel or Google Sheets to keep track of your clients, proposal, and leads.
Based on our research, most picnic planners use Honeybook.
It's a great CMS, where you can keep track of everything in one place from the moment someone asks for a quote on a form from your website, till you get the final payment.
PicnicTale is able to offer the biggest discount on the market. This offer applies to all three of our pricing options: starter, monthly, and yearly.
💰 Get HoneyBook for 50% off for one year with our referral link below.
Honeybook will help you take care of:
invoicing
client communication and track follow-ups
email automation
sending text messages
scheduling custom workflows
scheduling social media posts
handling payments
Please let us know in the comments (pros and cons) what is your experience with the software, we'd love to know.
Read our guide: How to Use HoneyBook for your Business (Tutorial)
16. Partner up with Vendors
If you want to offer food/beverages as Add-ons to your services, the easiest option is to partner up with food vendors.
Vendors already have all the licenses/permits to serve food, so once you sign with them you'll be able to immediately offer delicious food packages to your picnic service.
16. Consider Getting a Cottage Food License
If you don't want to use vendors and want to serve some food yourself, you can do that but there are additional steps you need to take.
Some picnic planners recommend obtaining a cottage food license, that allows you to bake, prepare and sell food items that are considered low risk from a food safety standpoint.
You'll need to file out a form on the cottage food website for your state to get a cottage food license.
After you get it, there are a set of rules you need to respect: you need to make sure you serve only what is considered "cottage food", you need to label everything in a certain way, etc.
Cottage food examples:
Bread, biscuits, pastries (without cream, meat fillings), cookies
Honey
Jams, jellies
Dried fruits
Popcorn, candy
etc.
18. Get Permits and Insurance
A permit is an official document that authorizes you to do a specific thing, in your case organize picnic events.
Theoretically, you'll be needing one for every single picnic you host. Everything depends on the state you're in and on the park/beach/location where you want to host the picnic.
It's important to make some research to find relevant information about what laws for picnic permits exist in your state.
Start with a Google search:

				parks and recreation + "your state" + contact
				
Basically, you need to get in touch with the park and recreation director, explain your situation, and ask directly on the phone or via emails what exactly do they need from you to let you host events on their property.
You may also be required to submit a "Certificate of Liability Insurance" naming the park/location as additional insured in the amount of $1 – $2 million.
Seems like a hassle, but it's worth it.
You'll get to secure your spot, your area stays clear from landscapers, you'll be constantly informed about the parking situation, etc.
Cost per permit: $35 per hour (no matter how many people attend)
General liability insurance: ranges from $350 – $500 annually
We'll write a full guide on picnic permits, so stay tuned.
Being an entrepreneur is an exciting venture, but of course, it can also be challenging.
Best of luck in your journey and remember to look for ways to keep yourself positive, disciplined, and in the "solution-seeking" mode.
We hope our guide helped you in your exciting new journey as a picnicpreneur.