The French are touted for their beautiful countrysides, fresh produce, and tasty cuisine. This combination gives us the perfect start for throwing a French picnic!
What is a French Picnic?
In English, we borrowed our word "picnic" from the French word "pique-nique", so it is only fitting to incorporate some French ideas into our planning the next time we pack our basket with food and head outdoors.
While the exact meaning of the word is unclear, most scholars believe it to be a combination of the words "to peck" and "little nothings".
This sounds like an elegant way to say "snack foods," to me!
The Original French Picnic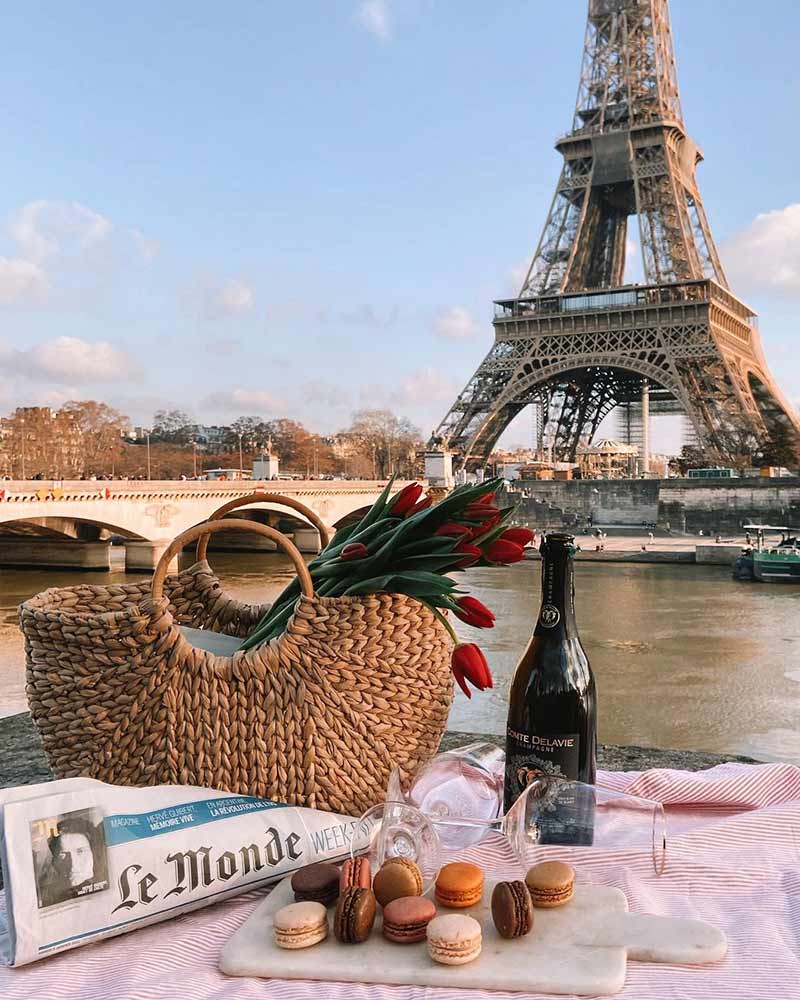 Originally a French "pique-nique" was an indoor aristocratic affair very similar to a pot-luck.
Each guest was expected to bring wine or food. Guests would spend the afternoon in witty banter and possibly dancing.

While picnics have evolved, the idea of gathering friends for light foods and witty conversation has been preserved.
But, today's picnic has been taken out of stuffy parlors and aired out in the outdoors.
Our modern picnic probably much more closely resembles a group of French countrymen letting loose on a lunch break.
Our ancestors borrowed a French word, and we are going to borrow other great ideas from the French to throw a French picnic like a pro!
Our biggest inspiration was Elena from ElenasMoments, a wonderful picnic planner who organizes breathtaking picnics in Nice, France.
What should you bring to a french picnic?
At a French picnic, the emphasis revolves less around practicality and more around the French spirit of joie de vivre. If you ever wanted to throw your cap over the windmill, this could be your chance.
We want to revel in the beauty of the quiet countryside and enjoy witty banter with our friends. So what exactly do you need for a Parisian picnic?
1. A French Picnic Basket
A classic wicker picnic basket is a French picnic essential.
I love a picnic basket, but usually, my practical side wins the day and the cooler comes along instead of the basket. But for this occasion, take the basket.
With this basket, you don't have to choose between practicality and beauty.
It has a vintage French feel and includes an insulated liner to keep your food at the proper temperatures. It also comes with a set of plates and flatware for two.
2. The Decor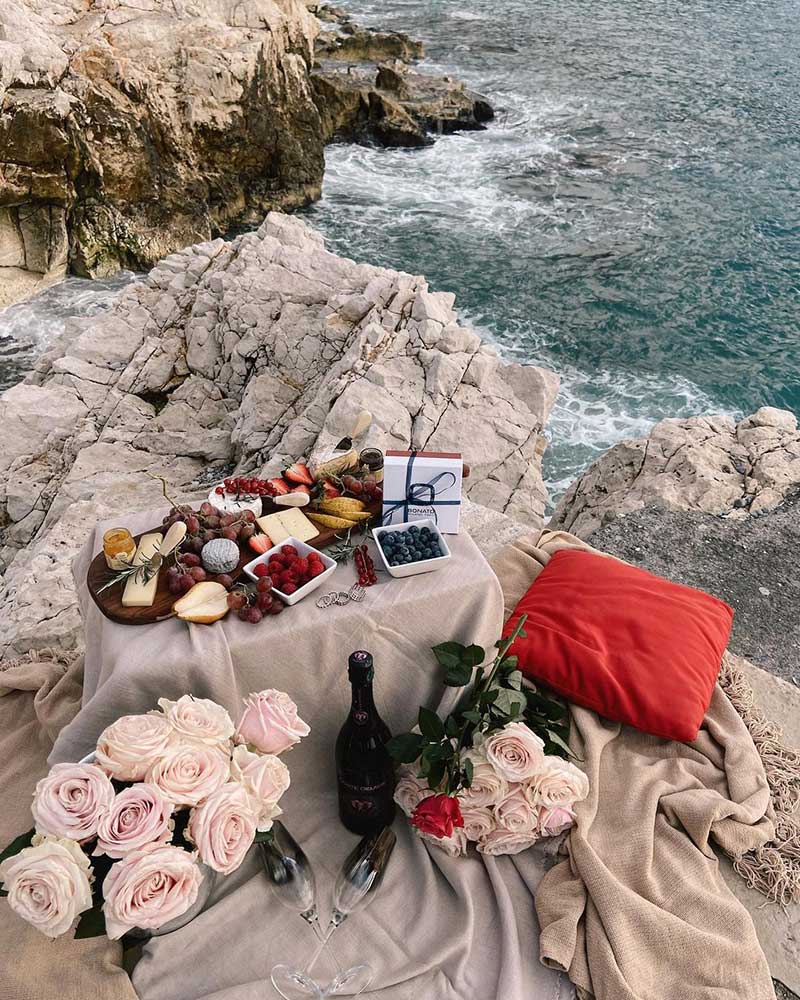 At a French picnic, you want to keep a natural look as much as possible. To set up your decor, you can choose items that are:
Wooden
Linen
Cotton
Blue and/or white
Floral
If allowed at your picnic spot, candles can make a beautiful addition to your setup.
You can choose unscented candles so as not to interfere with your food smells, or use citronella candles to repel bugs.
3. A Picnic Table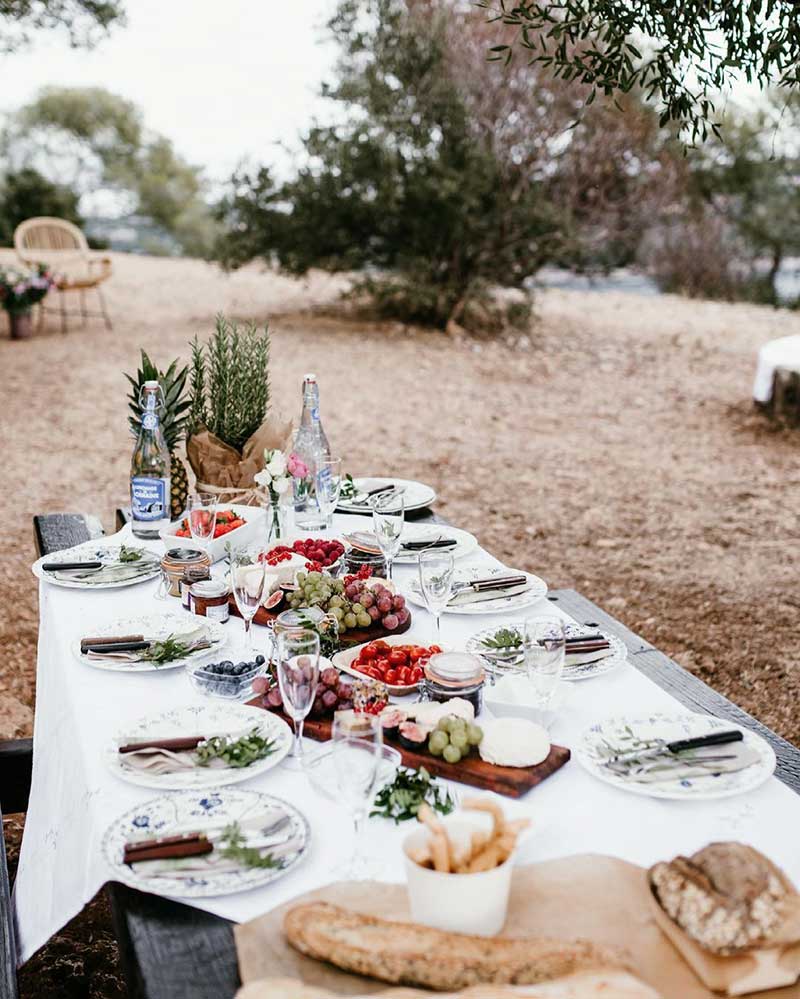 When it comes to the best picnic table for a French picnic, we love this sturdy, solid wood table. It is handmade and has an Old World look.
It sets up to serve 2-4 people and when the party is over, it folds up to make its own carrying case.
Carrying this up a hill to your favorite location will have you feeling like you are in the heart of France!
Related: Best Portable Picnic Tables in 2023
4. French Style Dishes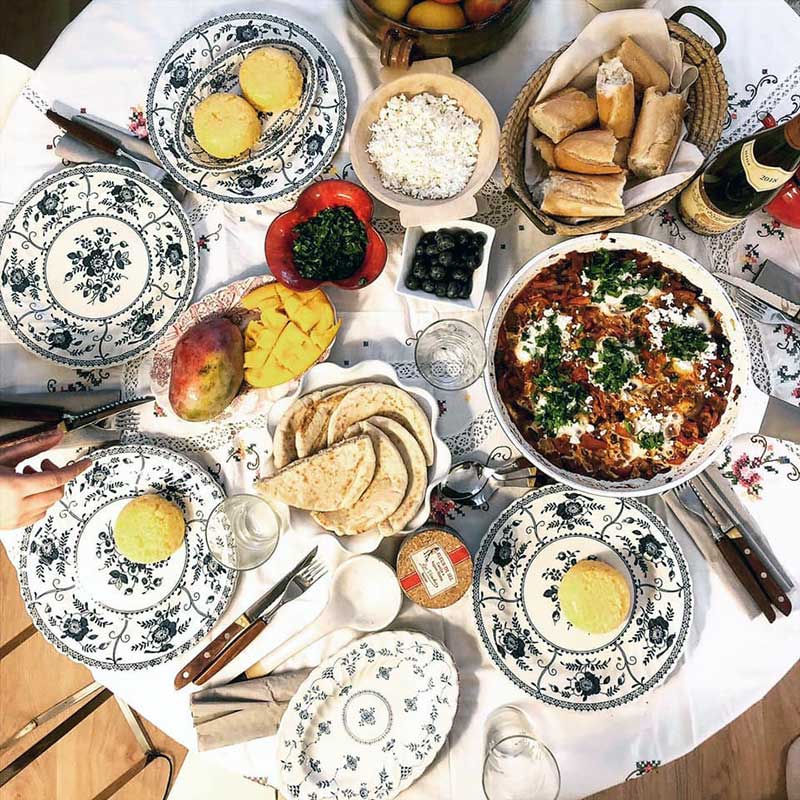 For your dishware, you can choose unbreakable wooden, plastic, or enamelware.
If you're going for a luxurious experience, you can choose high-quality real porcelain dinnerware.
These melamine dishes can give you a classic French porcelain look without having to worry about breakage. You can even wash them in the dishwasher for easy cleanup.
5. The French Food Group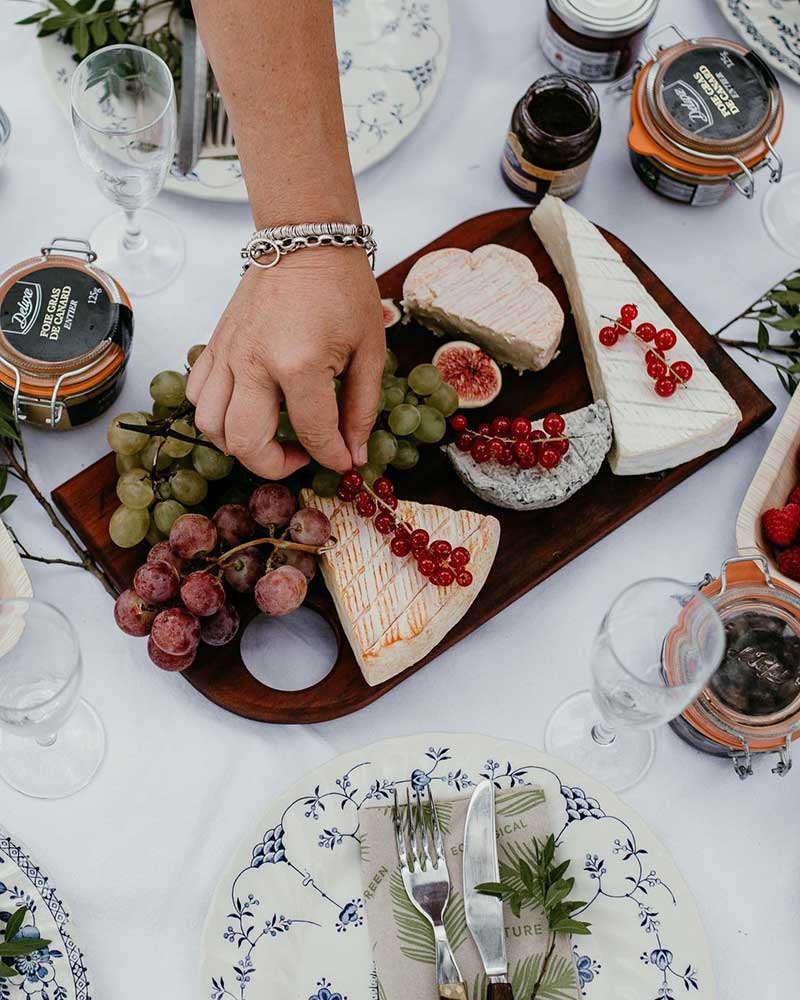 When we think of France we think of cheese, bread, chocolate, wine, and olive oil. This can be a good base when planning your menu for a French picnic!
Also, adding fresh fruits and vegetables such as berries, apricots, grapes, asparagus, tomatoes, and artichokes, or whatever is in season can add a nice touch to your table.
6. A Cozy Picnic Blanket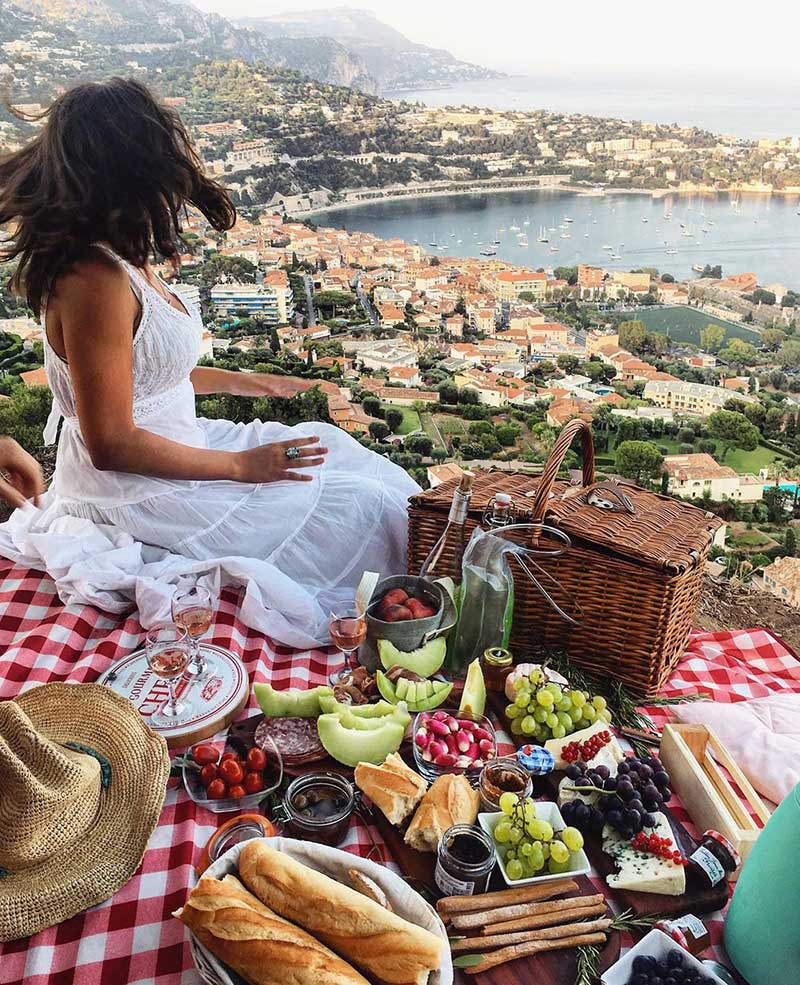 A picnic blanket with leather-look carrying straps and a checked or neutral pattern could make a great French picnic blanket.
If you don't already have a picnic blanket, you can find some blankets that not only can match a French theme, but are also waterproof here.
7. Your Dress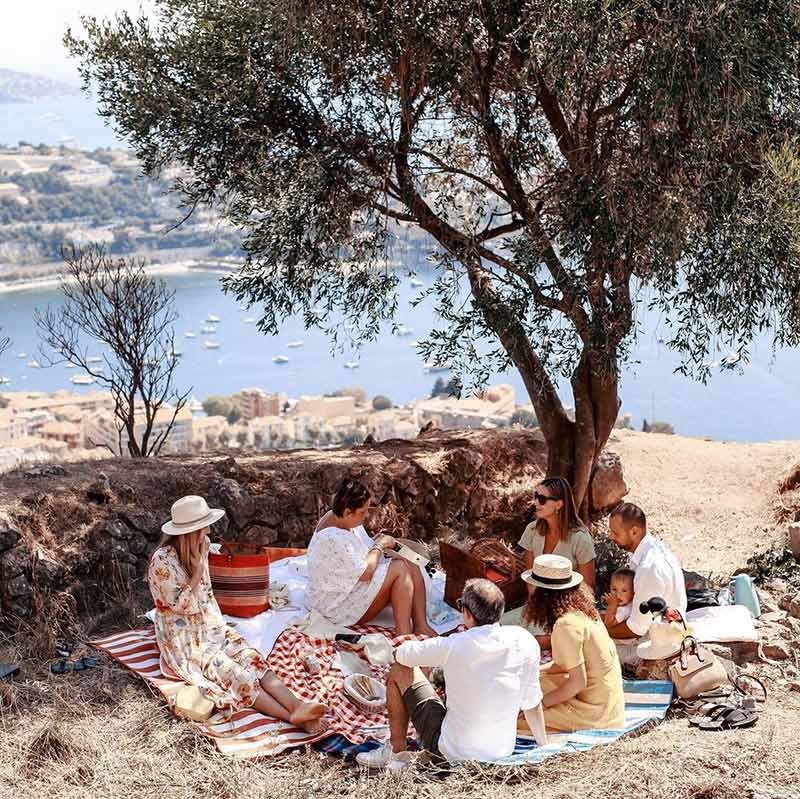 Choose an outfit that is comfortable and loose-fitting.
Rompers, sun-dresses, linen overalls, loose-fitting button-up shirts can all be good choices to be comfortable and match the theme. Also, don't forget a straw hat or a French beret.
8. The Coffee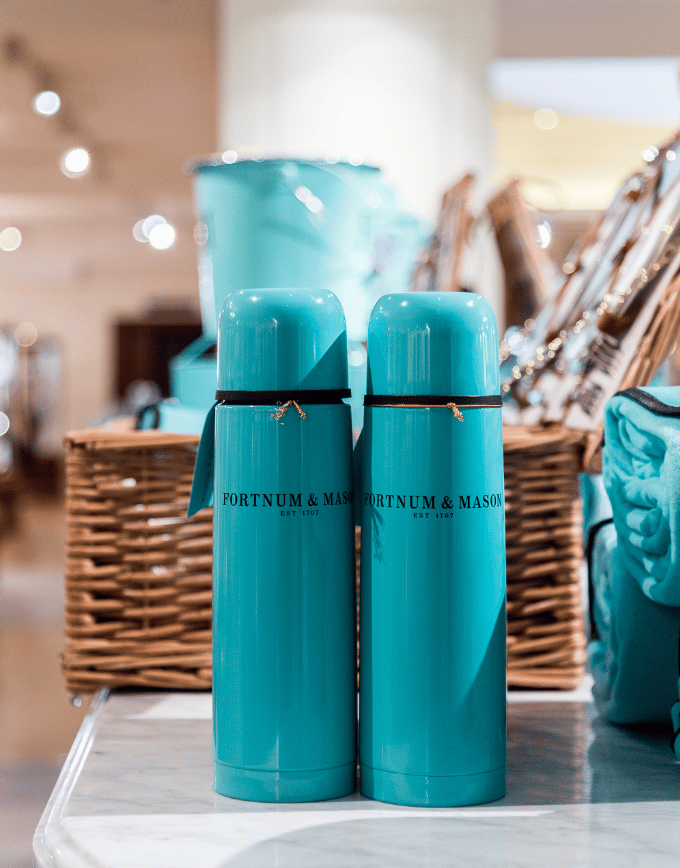 The French are serious about their coffee, so don't forget to include this in your plan.
If you plan to use regular drip coffee, you can run a pot before you leave the house and use a coffee thermos to keep it warm.
We love this beautiful insulated flask for hot / cold drinks from Fortnum & Mason.
Or, if you want to go the full 9 yards (or in this case, 9 bars) you can bring an airport of hot water and an espresso hand pump to achieve an espresso in true-French style. The only drawback I see to this pump is that it can only make one cup of espresso at a time.
9. Bouquets of Flowers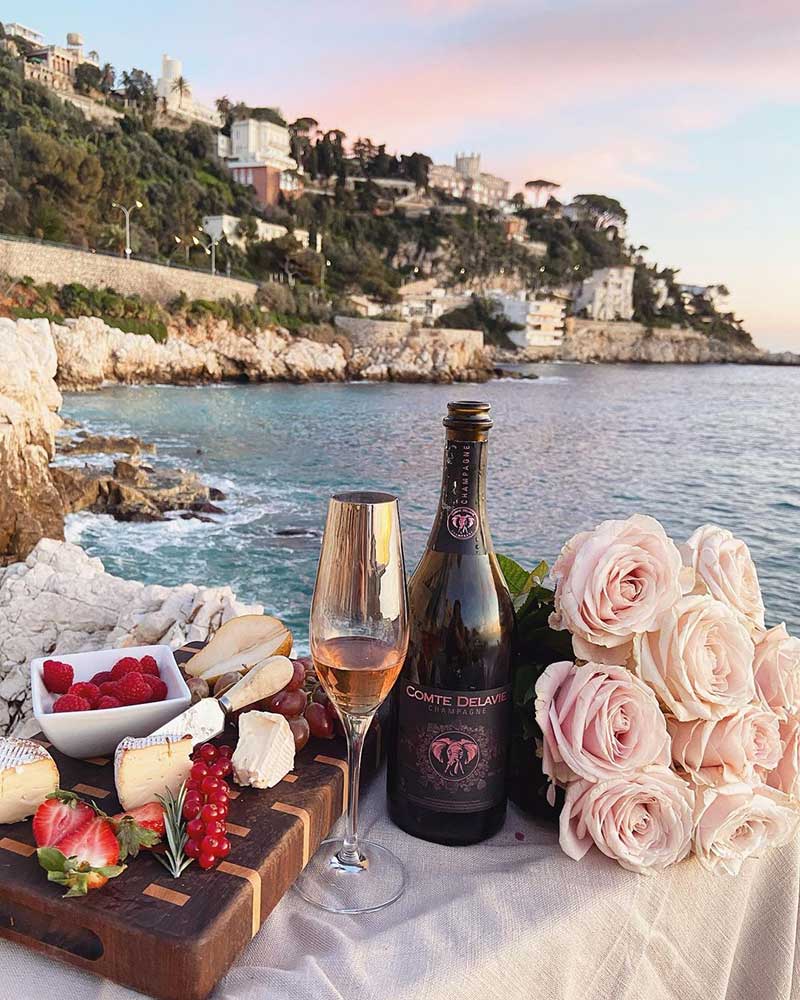 Line your picnic table with small nosegays, roses or bunches of lavender.
Not only does lavender make you feel like you are on the rolling hills of France, but it is also a natural bug repellent.
The oils from the plant keep away flies, moths, mosquitos, and more.
10. Your French Wine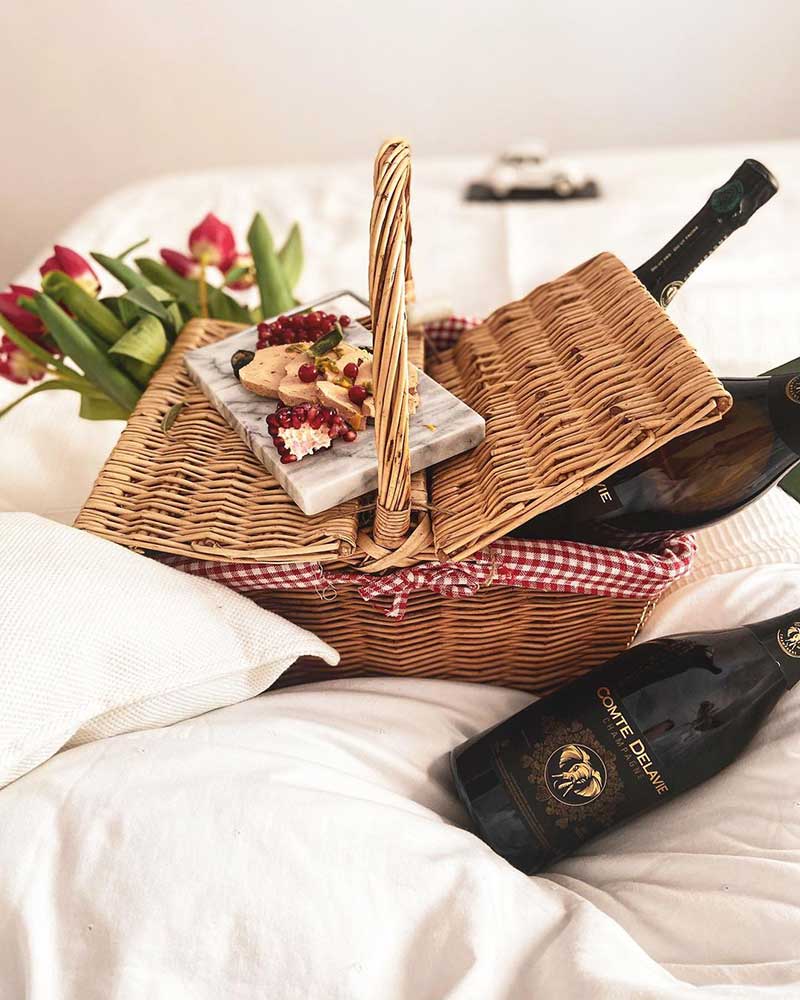 A French picnic wouldn't be complete without a refreshing drink to match your menu. You can serve a rose wine or magnolia as an aperitif, or if you want to go a non-alcoholic route, you can serve lemonade or fruit-infused water.
Vinglace's insulated wine glass can be a great choice for drinking wine, lemonade, or coffee.
It will keep your drink at the right temperature while its glass lining will preserve a clean taste untainted by plastic or metal overtones. Related: 11 Best Unbreakable Outdoor Wine Glasses
11. Fresh Produce from Farmer's Market
Fresh produce can make all the difference when reproducing a French picnic.
At a farmer's market, you can find fruits and vegetables that have been grown organically and have a richer flavor than what you may find at a supermarket. You can also help to support small farming!
French Picnic Foods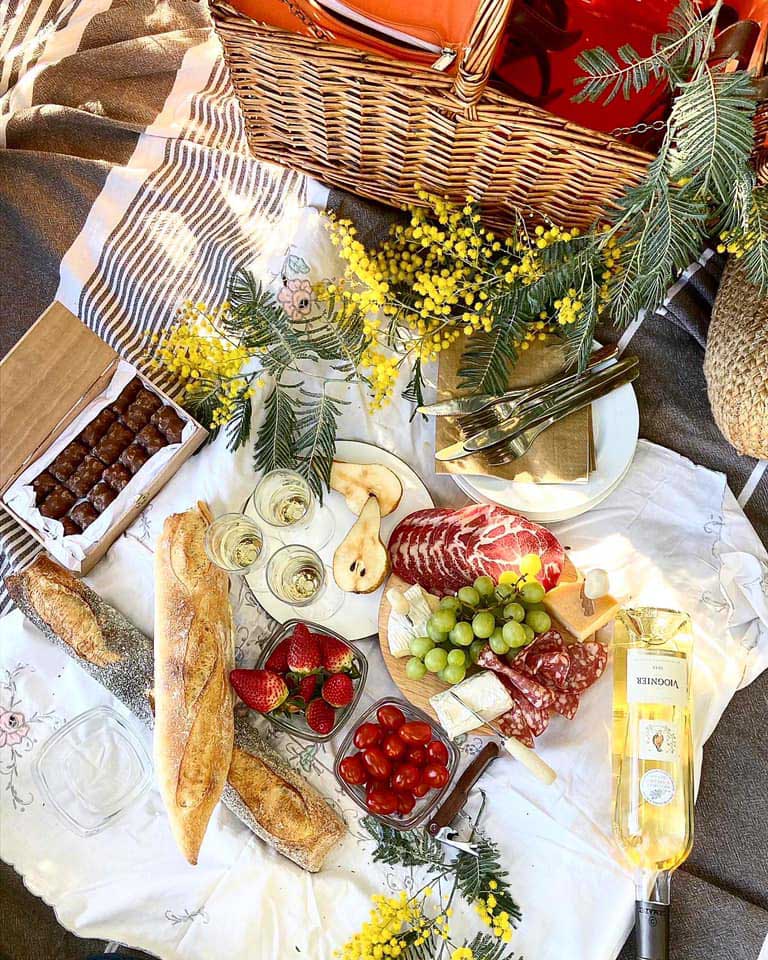 Some foods you can add to the menu to give your meal a French flair are:
Cured meats
Cheeses
Quiche
Croissants
Frittata
Chicken Salad croissant sandwiches
Spinach parmesan balls
French Lentil Salad
Artichoke, Kale, and Ricotta Pie
Classic French Madeleines
Macarons
Chocolate
Fresh Fruits
Fresh bread
Final Thoughts
Picnicking in French fashion can help you let go of the cares of your daily grind and spend some time relaxing and enjoying nature. We hope you find some ideas that spark your imagination for recreating a French picnic in a travel-friendly location. Au revoir!