Some days the weather is not outdoor-friendly, whether because of rain, snow, or maybe it's just too hot.
This doesn't mean you have to sacrifice your picnic day… just rearrange your plans and make it an indoor picnic from the comfort of your home! Here are some of our ideas to make your indoor picnic more than just a backup plan.
We got some inspiration from some of favorite picnic event planners: My Pretty Little Picnic, Emily Nicole Events, Fox and Sage.
What you need to buy for an indoor picnic
Our Favorite Indoor Picnic Ideas
1. A Room With a View
Choose your preferred picnic location in your house. If you are making it a picnic, avoid the usual kitchen or dining table and get creative. This may be the living room floor, a loft bed, a covered porch, or a sunroom. Think about comfort and a view when making your choice.
Does your living room have a floor-to-ceiling window?
Is one bedroom more thickly carpeted than another? Then, scoot the furniture out of the way to make room for your picnic blanket. You may even choose to make a fort and hold your picnic inside!
2. Light Up the Room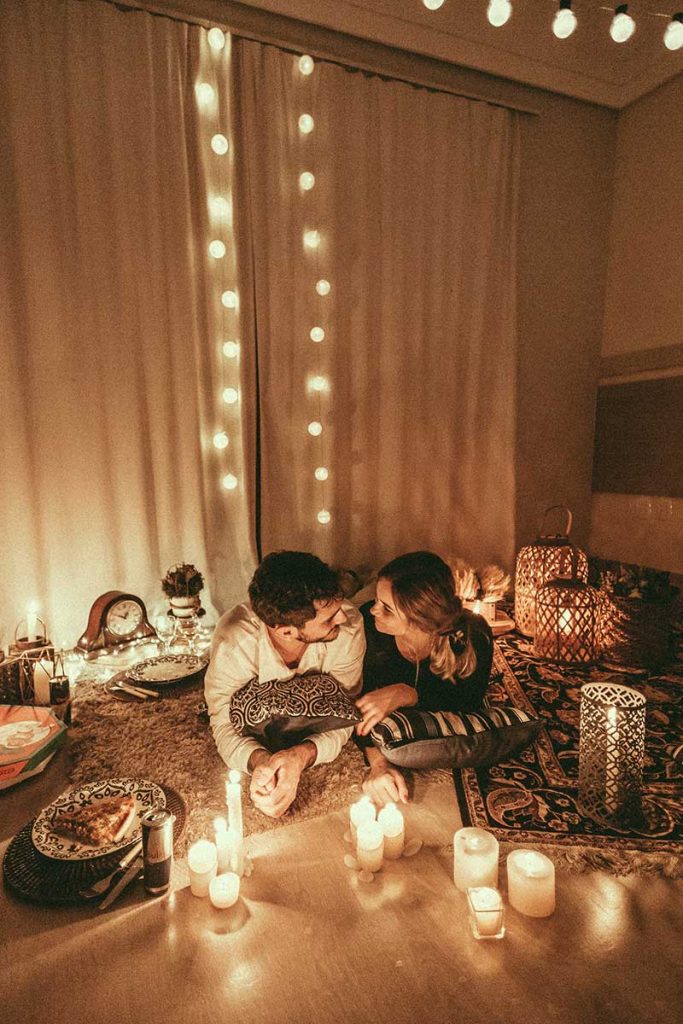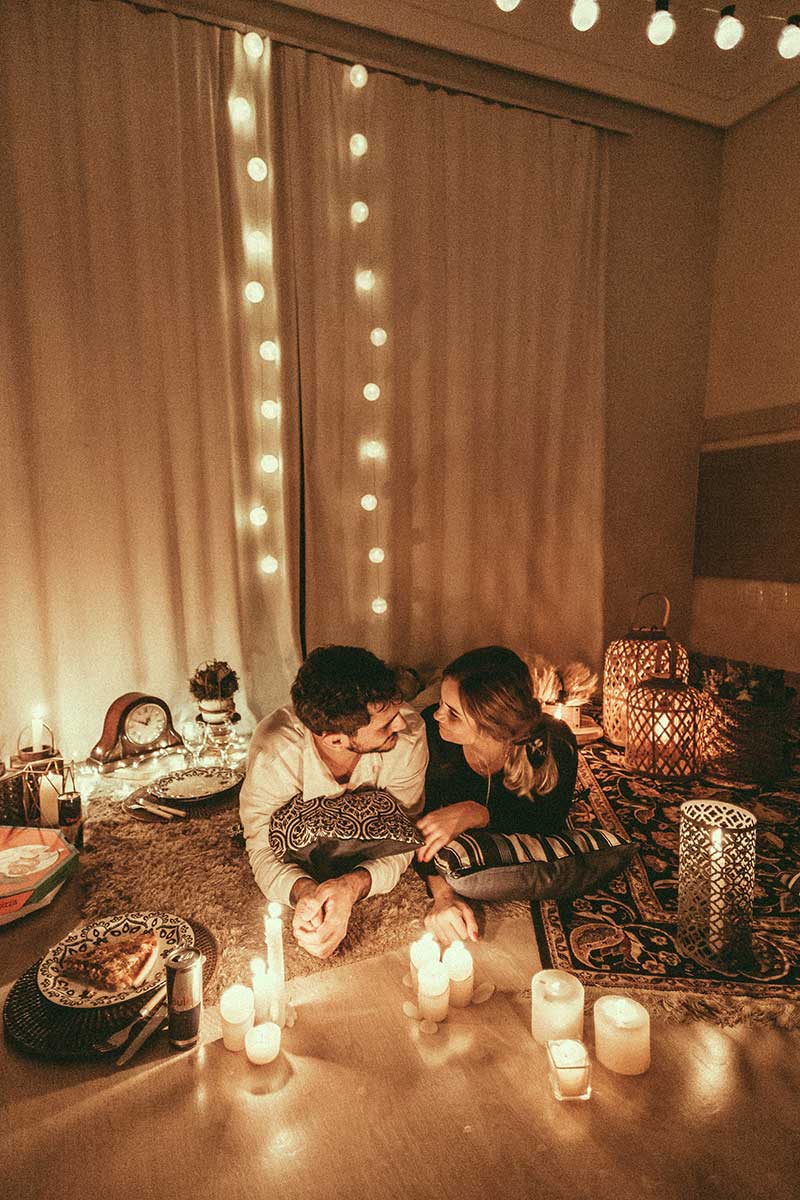 You can go with the Chinese lantern look, Christmas lights, oil lamps, candlesticks, or simply turn the overheads off and turn on the lamps in the room. Since you have plenty of access to electrical outlets, you have unlimited choices.
Hanging lights in your area can add to the romance and make you feel like you are at a proper picnic.
3. Stage the Scene
Think about how you can incorporate the 5 senses while you decorate for your picnic. You can bring in a bit of nature to make the indoors look more outdoorsy.
Cut some flowers from your garden, corral your indoor plants to an edge of your picnic blanket, or, to keep it simple, use floral patterns for a picnic blanket, tablecloths, and napkins. Using small candles that smell like pine trees, eucalyptus plants, or floral scents can remind you of your favorite outdoor spot.
If the temperature is appropriate, you can leave a screen door or window open, to let in the sounds of rain or birds and give you a full sensory experience while you picnic indoors.
4. Make it a Cook-off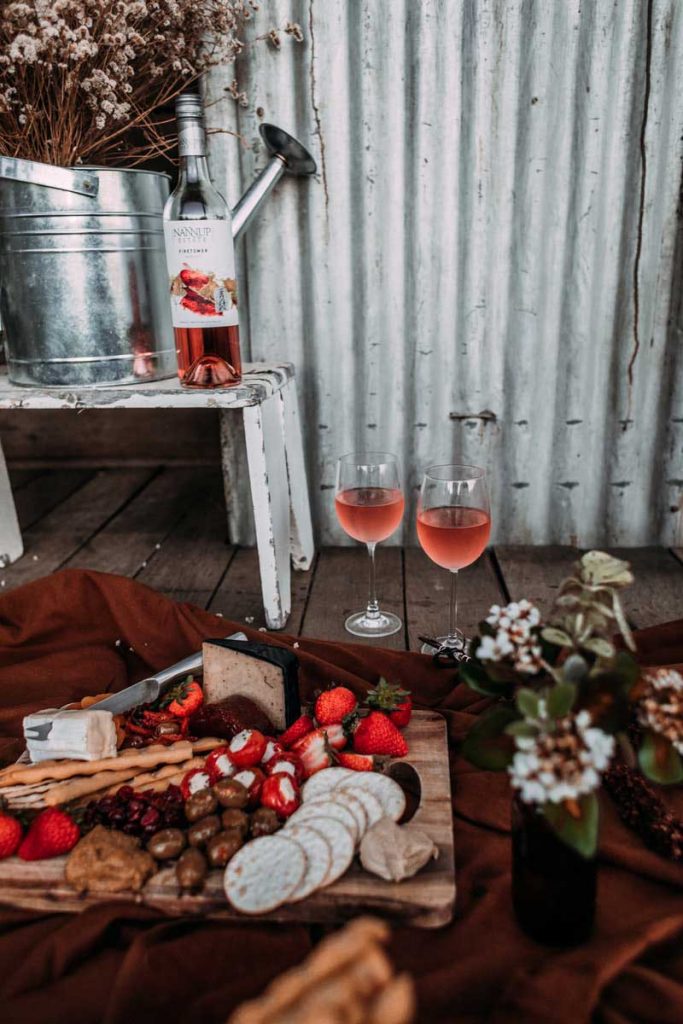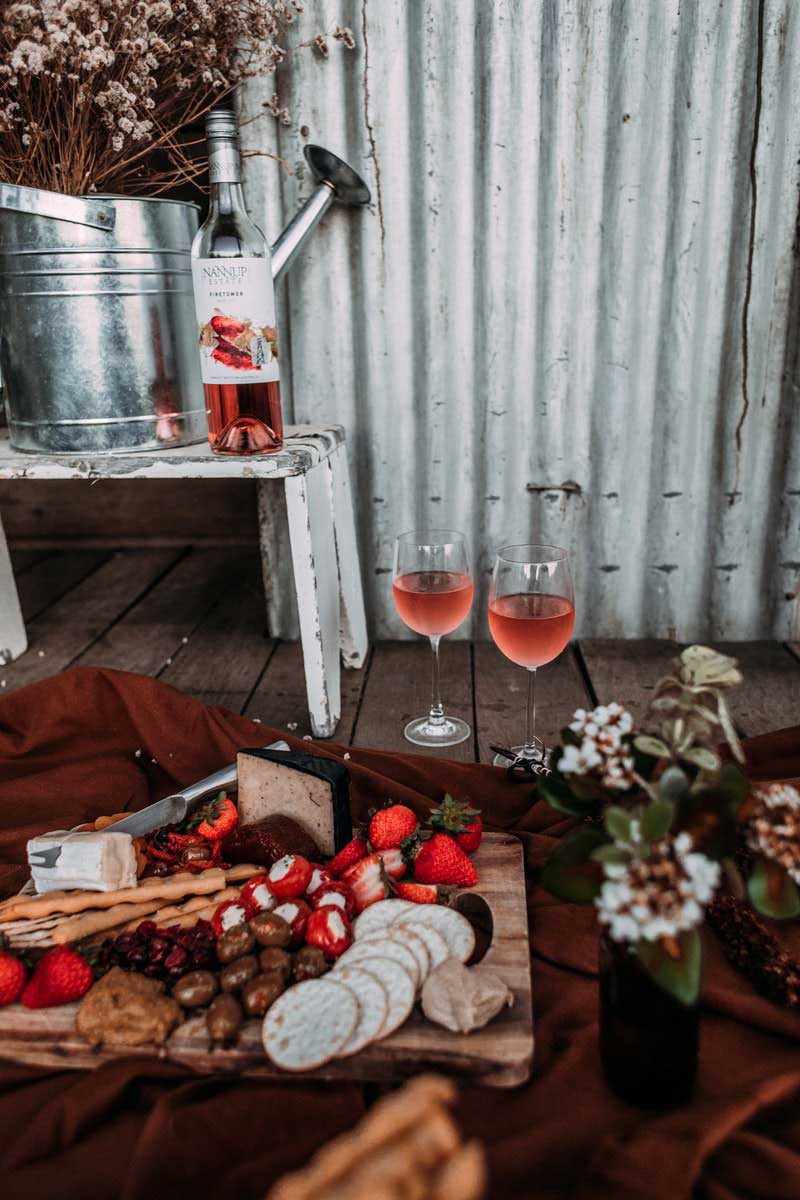 Bring in a bit of competition with your date, roommates, or kids by making it a cook-off picnic.
Since you have access to a full kitchen, there is no need to limit your skillset! Each person can make their specialty dish, bring it to the blanket, and then everyone can try out an array of "best" dishes. Or, if you don't have the right ingredients for everyone's dish, you can make a list of the food items you do have.
Everyone has to think of a creative way to make an individual dish using all of those ingredients in some way. This can be a way to laugh and have fun in the kitchen. You can give awards based on the most creative, tastiest, best looking, etc.
5. Choose a Theme (Boho / French / English)
The willing suspension of disbelief allows us to read a book or watch a film and "believe" the story being told, even when we know it is fiction. You can apply this to an indoor picnic, and use your imagination to set up your picnic as you would choose to if money were no object and the weather was always perfect.
You can host a picnic in Paris, in Hawaii, or on your grandmother's farm. Dress up, set the menu, and add props to match the scene appropriately. This can be a fun play date for kids, and even adults can dust off their creative imagination to create their own ultimate picnic.
Related: How to plan a boho picnic in 2023
6. Dress Up
Dress up in your favorite picnic attire. The nice thing about an indoor picnic is that you control the thermostat.
You can make it a romantic summer's night, or a cozy winter's day. Pick your favorite season (and outfit!) and dress accordingly.
7. Light a Fire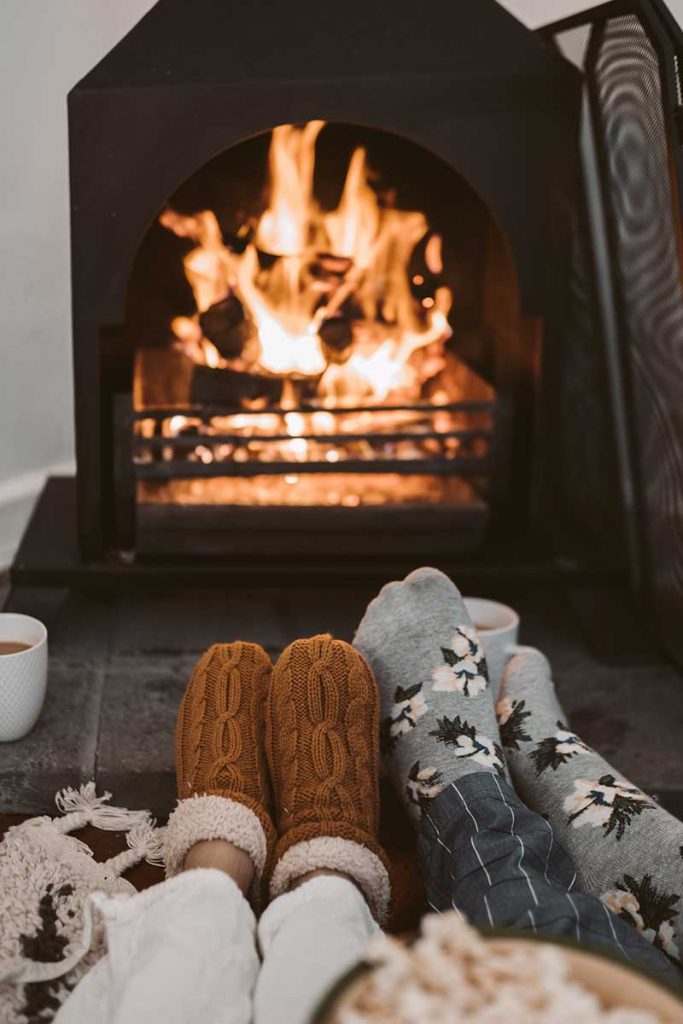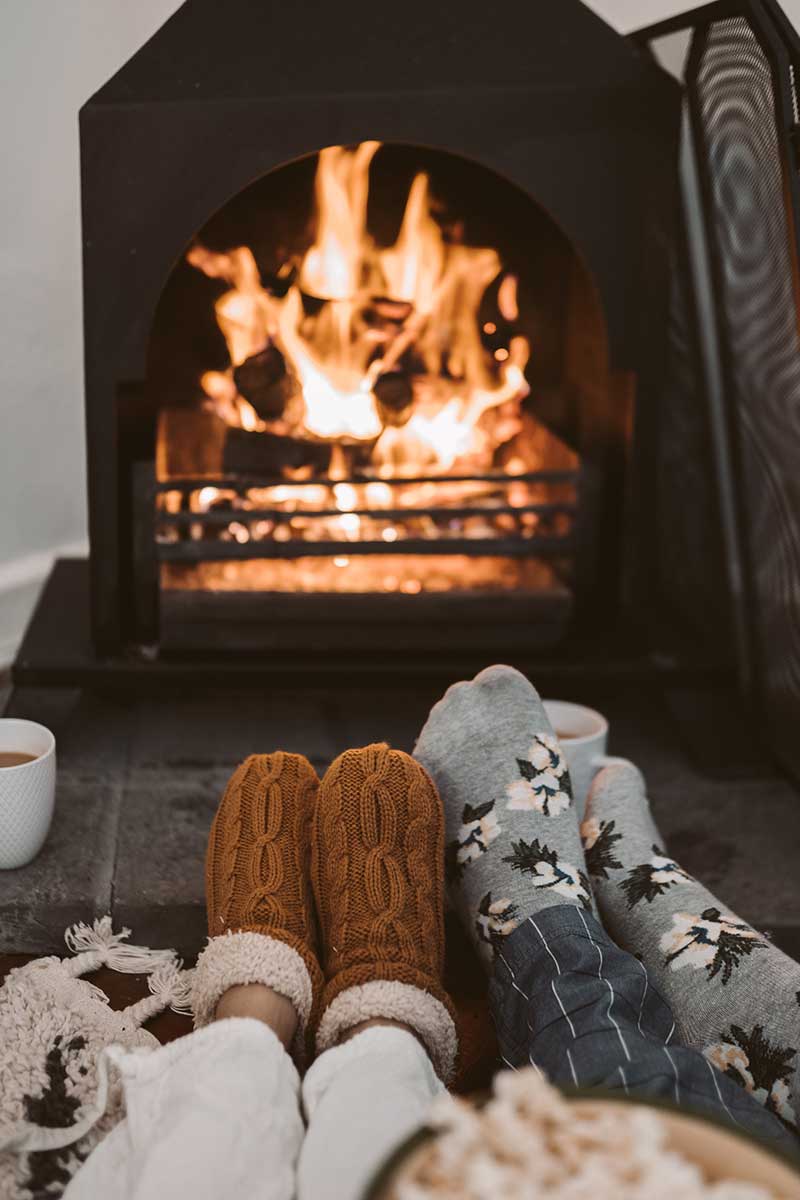 Lighting a fire in the fireplace can add a cozy element to an indoor picnic.
Especially if you have rainy or snowy weather outside your door, a fire can offer warmth and refuge from the cold. You can even roast marshmallows over the flames and make smores.
8. Play Games
To liven up the atmosphere, you can pick out some favorite games or try a new game together.
Try to choose games that allow for as much conversation as possible and can bring out some competitive fun. You can even make it a talent night with karaoke sing-offs, music, or art wars.
9. Watch a Movie
If you want it to be a picnic and a movie, you can choose a movie that is a favorite, a classic, or match it with weather that canceled your outdoor plans.
To make movie watching more of an experience, you can project it onto the wall or a white sheet. This can let you feel like you have your own indoor theater.
10. Shakespeare in the Living Room
Some people picnic at Shakespeare in the Park. This idea can be recreated at home by out-loud readings from a book or play.
Each person can take a part and create a live show with only the food for an audience! Shakespeare's sonnets are also sweet (and short!) and add an artistic touch to a night of wine and culture.
11. Camp Out
When the food has been eaten and the plates have been put away, you can end your picnic with a campout.
Kids can enjoy rolling out their sleeping bags on the living room floor and telling stories until late at night, while the fire burns down. This could be a nice finish to a picnic at home.
Final thoughts
An indoor picnic can be a fun way to use your imagination creatively and expand the horizons of your 4 walls.
We hope these ideas will be useful in making a new plan the next time your outdoor picnic party gets rained out. We would love to hear about which ideas you would include in your ultimate indoor picnic!