Ready to go on your next outdoor adventure but still haven't found the right picnic basket for 4? We can help you out.! 🙂
There are dozens of models out there, and it can get overwhelming to choose a proper basket that will fit food, drinks, and snacks for four hungry persons.
After weeks of researching and comparing hundreds of picnic baskets, we finally picked our favorite picks.
A good four-person picnic basket is insulated, durable, easy to carry, spacious and comes with accessories (flatware, utensils, blanket, glasses, cutting board etc.).
PS: If you're interested to see more options, including baskets for two, for couples, for families, for wine and cheese, check our latest article on the best picnic baskets available now on the market.
Best Picnic Baskets for 4 | Reviews:
If you want the ultimate deluxe picnic experience, you might want to invest in the elegant, luxurious and unique "Dorset" basket from Picnic at Ascot.
We love its design and the superior quality of the materials and accesories. It is crafted beautifully from natural full reed willow with genuine leather components found in straps, handle, buckles.
Inside you'll find plenty of luxurious and highest-quality accessories:
Ceramic 

Plates

Real Glass

 Wine Glasses
Superior Stainless Steel Flatware
Matching Cotton Napkins
Salt & Pepper Shakers

Hardwood Cutting Board

Cheese Knife
Corkscrew

Insulated Cooler Bag

 for Food

Insulated Tote for Wine

Large Fleece Blanket
The piece is built and designed in the United States and we like that the brand offers a lifetime warranty.
People who bought this were surprised by how spacious it is, it can fit food and drinks for a large 4 person family.
Another great feature is the insulated coolers for food and drinks, making sure everything is kept chilled and fresh.
You can safely pack delicious mayonnaise-based salads, eggs, meat and dairy without worrying they'll go bad in the heat.
Makes a wonderful and thoughtful gift for weddings, anniversaries, birthdays, corporate events, Mother's day and other occasions.
If you're looking for a luxurious traditional wicker basket that comes with everything you need for a picnic in four, then you shouldn't miss this "Charleston" model from Picnic Time.
The exterior suitcase style looks elegant and the superior-quality details stand out: genuine leather straps, rustic buckles, and perfect woven willow construction.
Inside you will find a set of 32 premium components like:
Porcelain Plates
Stemless Wine Glasses
Stainless Steel Utensils
Cooler Bag
Insulated Wine Duffel
Glass Basket
Corkscrew and Bottle Stopper
Acacia Cheese Board
Pinewood Slat Table
Salt and Pepper Shakers
High-Quality Blanket (Made in USA)
The Charleston is crafted beautifully and the brand guarantees to last you a Lifetime. It is well-constructed, spacious, insulated and every component is high-end.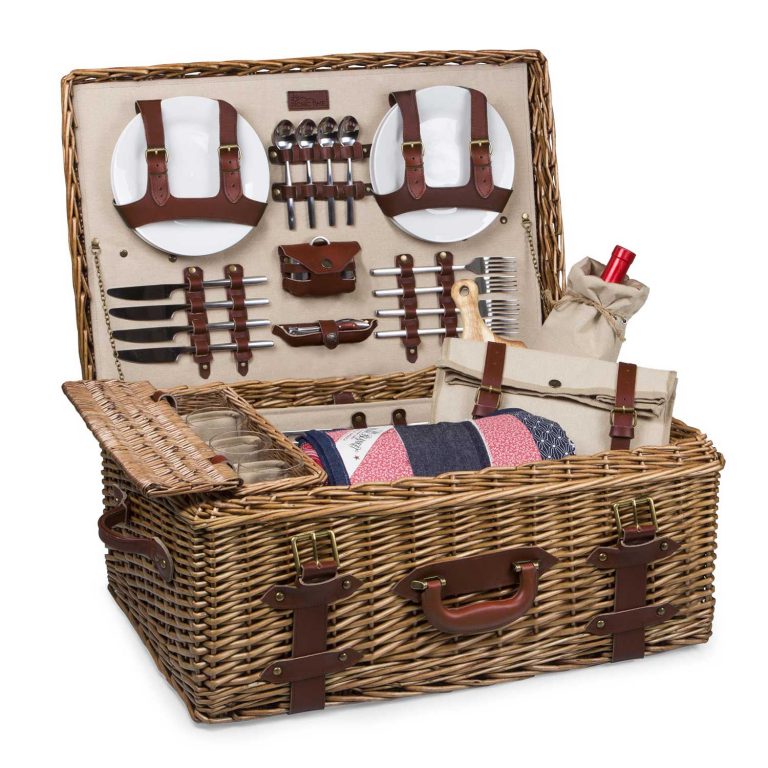 A great feature is the extra pinewood slat table which offers a flat surface for cutting or serving food.
Perfect for making luxurious outdoor memories with your loved ones. Being an expensive and high-quality item, the basket also makes a wonderful gift ready to impress everyone.
Perfect to gift it on Christmas, birthdays, anniversaries, weddings and other special occasions.
You don't need to spend a bunch to have a wonderful picnic. If you're looking for an attractive, practical, spacious and budget-friendly picnic basket, then this Nature Gear basket is exactly what you're after.
Comes in a traditional wicker design, with a classic checkered red-white lining.
Great value for the money, it is not only beautiful but also practical. The interior is fully-insulated so you can keep the food and beverages at the right temperature.
For the price it comes with plenty of accessories:
Ceramic Plates

Plastic Wine Glasses
Forks, Spoons, Knives
Corkscrew
Matching Napkins
It's quite roomy, able to fit enough food and drinks for 4 people.
The utensils and glasses feel a bit cheap due to the plastic details. Some people complained about that it does not come with blanket, cheese board, cheese knife.
Fortnum & Mason Picnic Basket
Elegance, extravagance, expensive, luxurious and superior quality – these are words that describe best what's like to live a "Fortnum & Mason" picnic experience.
This posh hamper is one of the most expensive on the market and it is ideal for unique outdoor events.
All the components are premium, the basket is beautifully crafted from the highest-quality materials and includes real leather handle and straps.
Inside you'll find everything you'll need for a deluxe picnic:
Bone China Mugs

Bone Chine Plates

Crystal Wine Glasses

Stainless Steel Cutlery
Food Storage Boxes

Insulated Bags

Insulated Vacuum Flask
Salt & Pepper Mills
Waiter's Style Corkscrew
Tablecloth
Napkins
If you're like me and don't know what "bone china" means, prepare to be impressed: it's white porcelain containing, as the name suggests, bone ash (cow bone in general).
The higher the bone content, the higher the quality. This adds translucency, a smooth look and a warmer color to the porcelain.
The wine glasses are crystal, ready to be filled with pink champagne or fine wine.
Another great feature is the added food storage boxes to fit the food, snacks and fresh fruits. The insulated bags will keep the perishables fresh and chilled for a long time.
You can add your favorite tea or coffee in the insulated vacuum flask. Consuming hot beverages on a picnic is an excellent cozy idea for picnicking in colder days.
Perfect for picnics by the lake, on mountain hikes, holiday cabin activities, outdoor posh parties and more.
Definitely made to impress, all the Fortnum & Mason hampers make a fantastic gift for everyone.
If you are not a fan of carrying large and heavy wicker baskets, then you'll be pleased to know that picnic baskets on wheels do exist.
This modern cooler rolls over grass and makes the transportation of all your picnic goodies easy and safe.
We like that it is designed to be modern, practical and easy-to-cary. It is also good looking and comes with service for four persons.
Looks like a suitcase with big wheels and the adjustable handle can also be removed.
Inside you will find:
Melamine Plates
Acrylic Glasses
Forks, Knives, Spoons
Bottle Opener
Cheese Knife
A great feature is the insulated smart spaces, that separates the wine section from the food section.
The inside is very spacious, can hold 2 bottles of wine and food, snacks, fruits for 4 persons.
Another practical feature is the leak-proof design, that allows you to add ice inside the cooler to extend cooling without worrying for leaks.
Simple, practical, well-insulated and folds flat for easy storage – this Large Family Collapsible cooler is an ideal choice for spontanous outdoor picnics.
Most wicker baskets and large, bulky and require lots of storage room.
This one is space-efficient, can be fold flat and when not in use, can be stored pretty much anywhere with ease. Perfect for small apartments.
The great thing is that at the same time is very spacious and can carry up to 65 lbs of food, drinks, snacks, fruits. That's more than enough to feed a large family of 4 hungry people.
It's a well-built basket with a solid and stable support, made in the USA.
Perfect for a day at the pool, at the beach, at concerts or anywhere else you can find a good spot to have a picnic.
It does not come with service, the cooler is everything you get.
You will see that it has a small front pocket that is deep enough to fit some utensils, napkins, sunscreen.
This Scuddles model is a modern and very popular picnic basket, that comes with everything you need for a picnic in four.
We can understand why it is so popular: it offers great value for the money, it's durable, insulated, lightweight and comes with plenty of accessories.
Scuddles is well-known in producing picnic products including blankets and backpacks.
Comes with:
Durable Plates
Stainless Steel Cutlery
Durable Plastic Wine Glasses
Napkins
Salt and Pepper Shakers
Bottle Opener
It is a well-constructed with high quality stitching and fabric to make sure it last for years.
The insulation keeps everything cold or hot for hours, you can also add some reusable ice packs to extend the cooling.
Versatile design, gender-neutral and great for outings in park, on the beach, on hikes, boatings and more.
If reaching to your picnic spot require a good amount of walking, hiking or biking, you need a picnic backpack.
Easy to carry, stylish, lightweight, spacious, practical, insulated, with blanket and accessories – the Sunflora backpack doesn't dissapoint.
It is spacious and insulated to fit goodies for 4 persons, while keeping the foodcold (or hot) for hours.
We were surprised by the amount of added accessories it comes with:
Plates
Plastic Wine Glasses
Stainless Steel Flatware
Napkins
Bamboo Chopping Board
Cheese Knife
Waterproof Ice Pouch
Metal Salt and Pepper Shaker
Detachable Insulated Wine Cooler Bag
Fleece Blanket
The waterproof pouch is super helpful, you can add your extra ice and drinks there without getting the material wet.
Even if the glasses are plastic, they don't feel cheap because of the durable TPE feature that adds durability and nice transparency making them look like real wine glasses.
Makes a perfect gift for housewarmings, birthdays, anniversarries, bridal showers.