If you're wondering how to what to bring to a picnic, you're in the right place.
Many believe the word picnic was originally coined by the French by combining the words "piquer" (to pick) with the word "nique" ( thing of little importance; trifle).
Whether this is the actual etymology of our modern word "picnic," or if it was simply a coincidence of similar sounding words is unknown.
What we do know is that sometimes the simple or trifling things help bring into focus the most important things… and also make the best memories! We love the simple pleasure a good picnic brings.
Here are our best ideas for planning a picnic that you and your family, friends, or a date will enjoy. You can spin these ideas to make your picnic your own, and start making memories with your loved ones!
Best Sellers
The planning part
To enjoy your picnic to the fullest, you will want to remember the practical side along with the pretties!
Location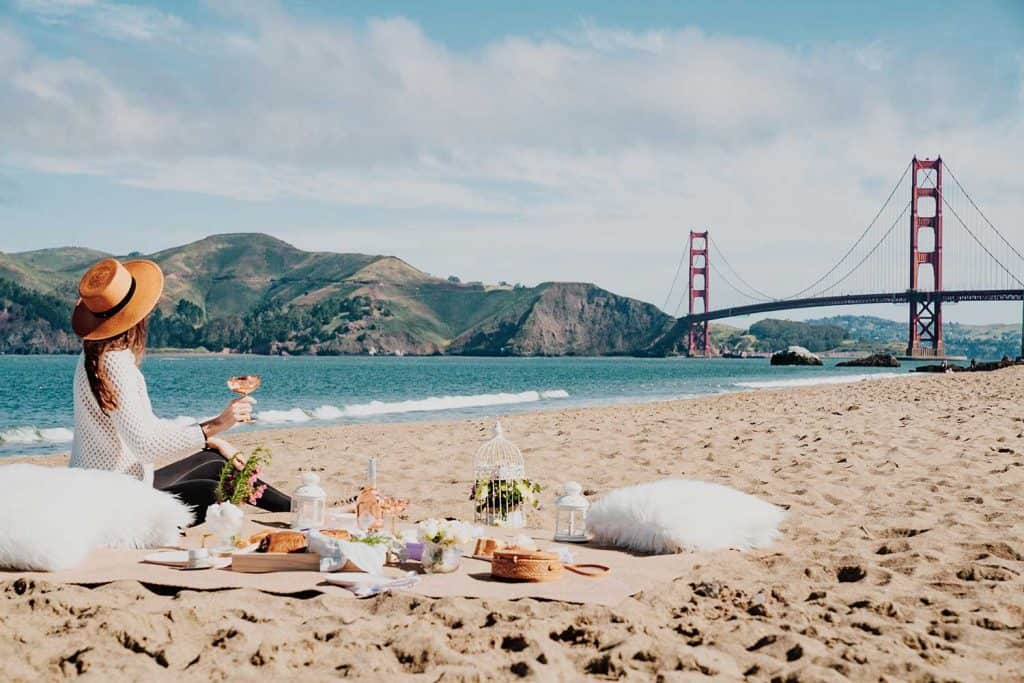 Where you choose your location and what time you plan your picnic can be huge factors in how much you will enjoy your time!
Will it be at the beach, by the lake, at the park or in your own backyard?
For important events (birthdays, bachelorette parties, baby showers, anniversaries etc.) it may be a good idea to visit the location in advance (if it is close by) and see what time is best for shade, where the gnats like to hang out, and if the ground tends to be more dry or moist.
Guests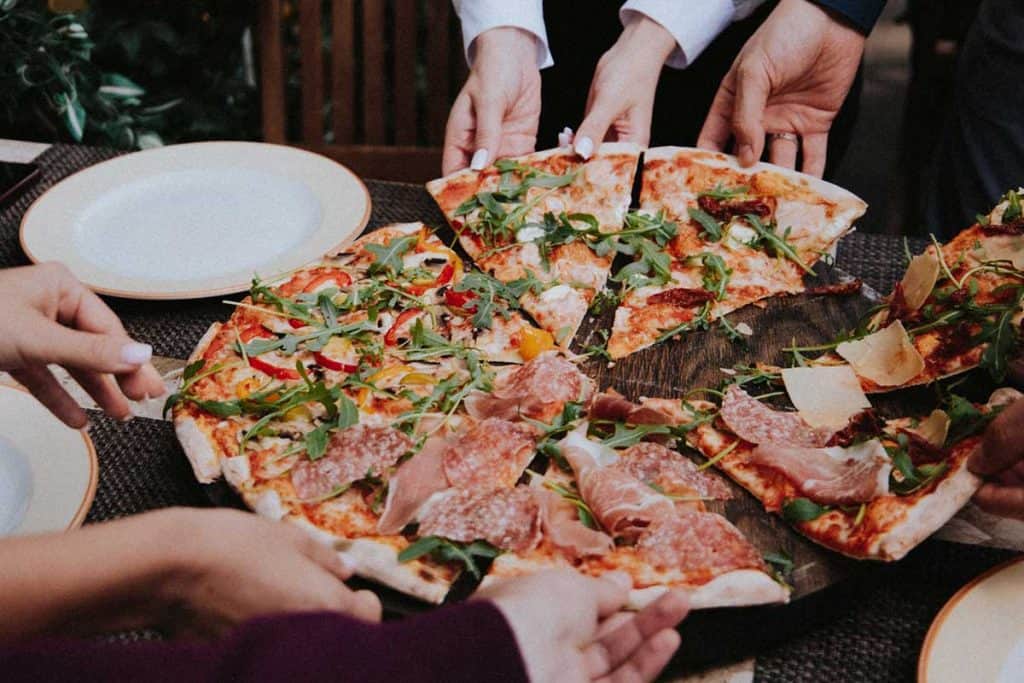 Think about how many guests you want to invite so you could know exactly how much food to pack and how many blankets, tables, utensils, and supplies to bring.
Whether you're going with your friends, family or with your loved one, it's important to plan carefully how much food you may eat.
What to Bring to a picnic
A Picnic Basket, Tote, Backpack or Cooler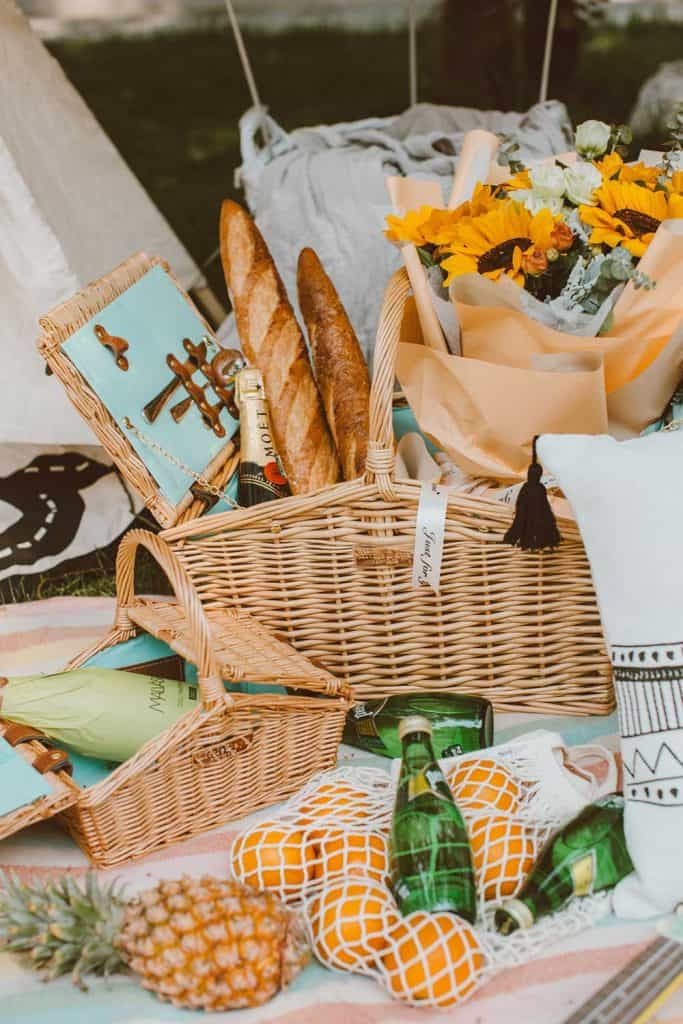 If your picnic destination is close by and you're bringing non-perishable food, using a classic hamper to transport your food might be a great idea.
If you plan to go more far away and the food you bring is perishable, you may want to consider an insulated option to keep your food cold.
Food enters the time-temperature danger zone after being kept between 40 degrees and 140 degrees Fahrenheit for more than 2 hours. So after you plan your menu, you will better know what size cooler to bring. If you have only a few foods that require refrigeration, an insulated picnic basket or backpack can be a great choice!
RELATED: 7 Best Insulated Picnic Baskets
A Comfortable Picnic Blanket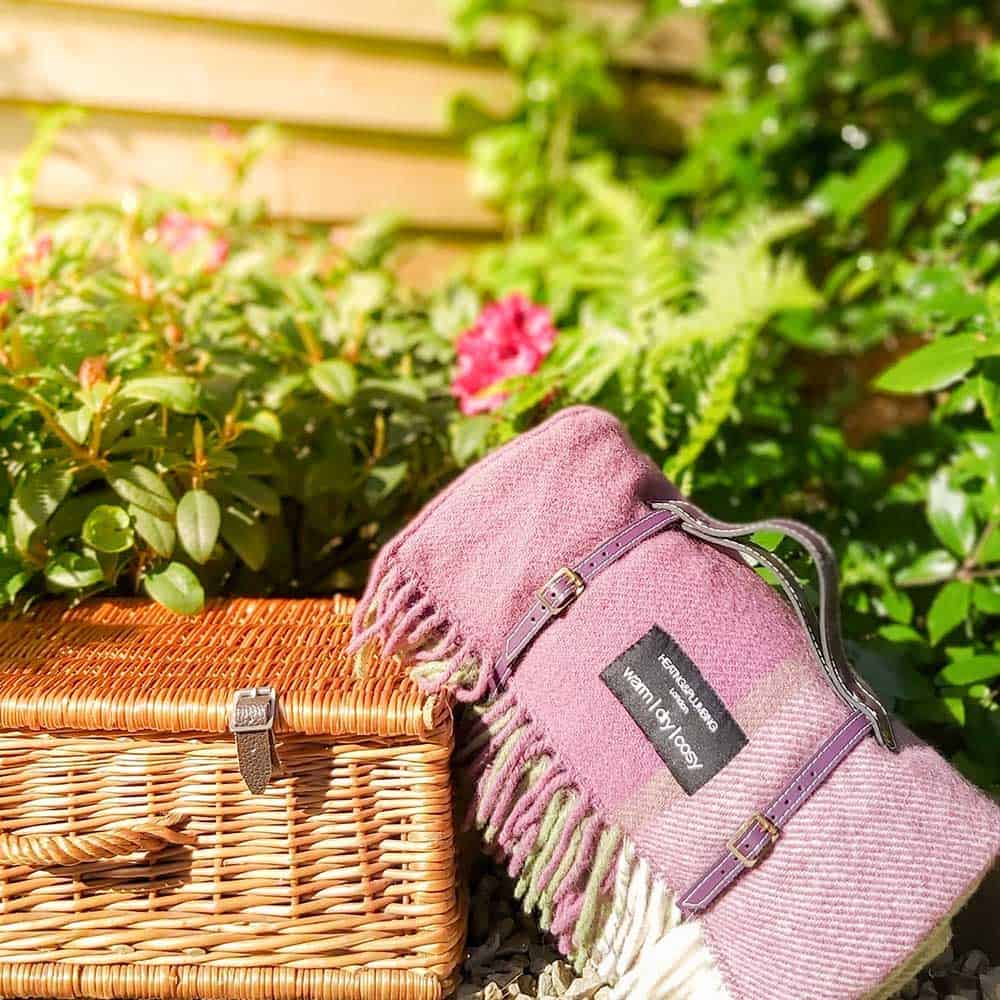 Pick a waterproof picnic blanket that will protect you from the wet ground, bring comfortable folding chairs or outdoor floor pillows to make your guests feel extra comfortable. Choose a sturdy and comfortable blanket which cleans up easily and is easy to carry.
RELATED: 12 Best Portable Picnic Blankets
Plates, Glasses, Cutlery, and Napkins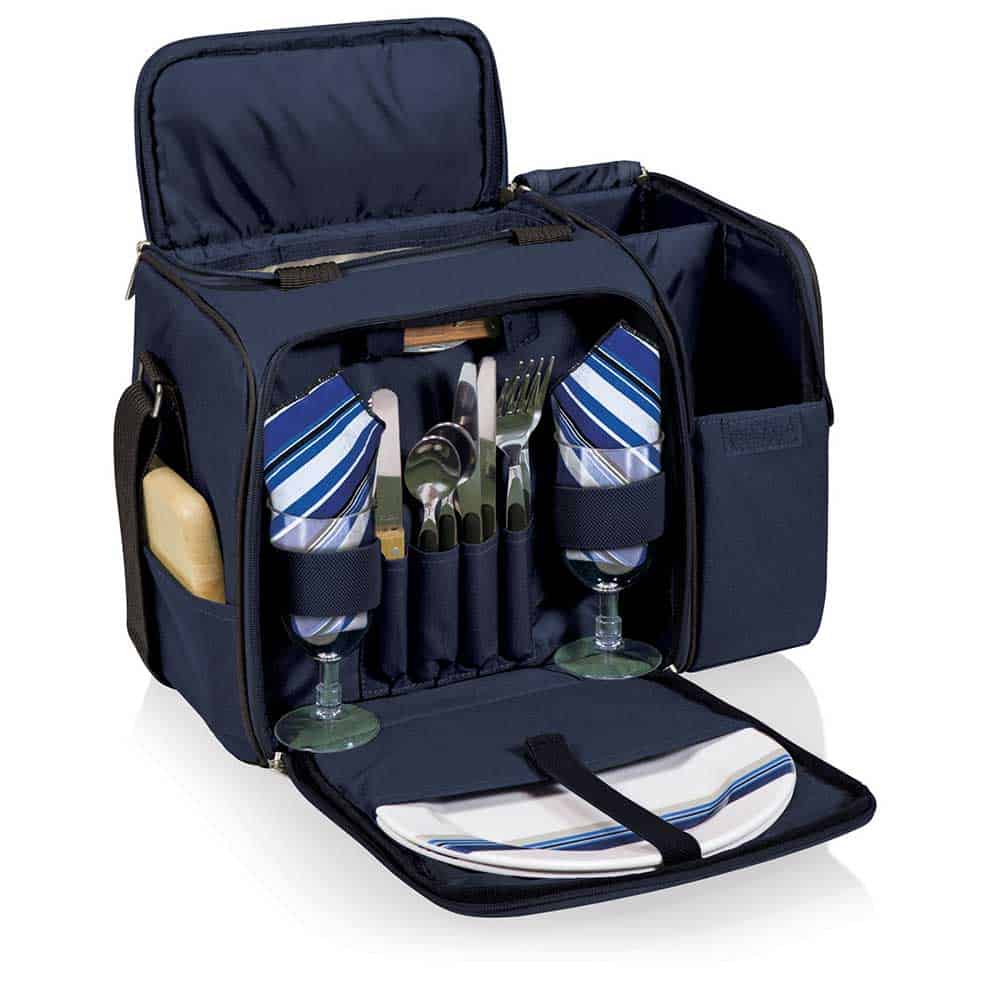 Don't forget to bring disposable plates, shatterproof glasses, utensils and napkins. You can buy a set, use what you have at home. You can also opt in for a picnic basket set that includes service for two, four or six persons.
Portable Picnic Tables (for larger groups)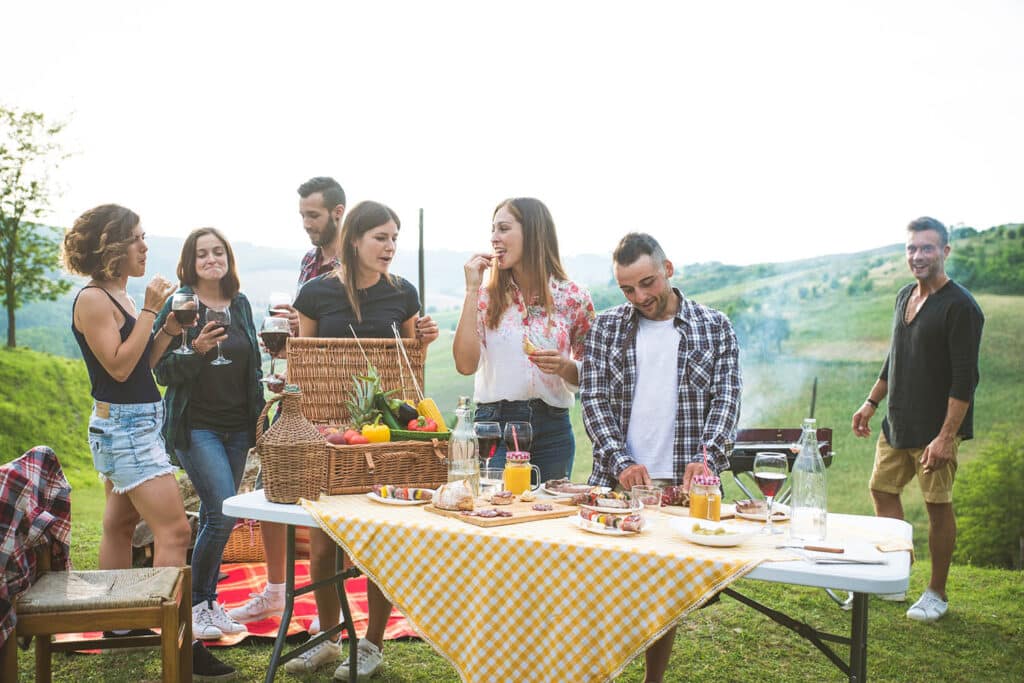 To help keep your plates and cups from tipping on uneven ground, a picnic table can be a life-saver! Many parks have tables already set up for you that you can use.
You can make these more beautiful by the addition of tablecloths, seat cushions, and flowers. There are also many portable options to choose from that you can set up at a picnic spot with a view!
RELATED: 9 Best Folding Picnic Tables
Umbrellas and Canopies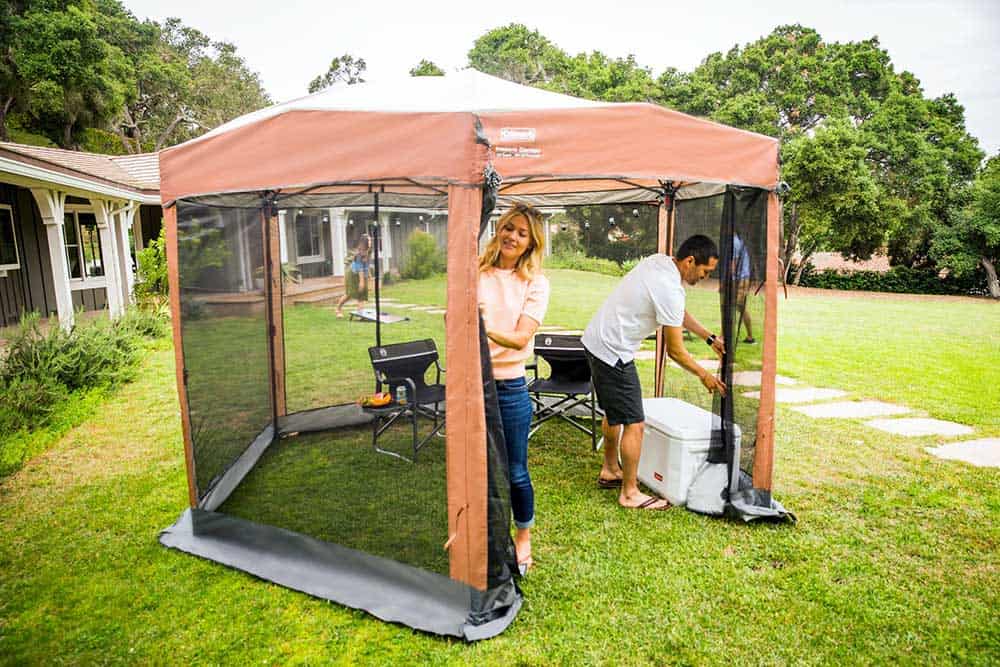 Especially if your picnic will take place in the afternoon, an umbrella or canopy can make your meal much more comfortable and protect you from the harsh sun.
An umbrella can be a good idea if you are planning a picnic for two… and if you know the ground is soft enough to be able to stick it in the ground!
For larger groups, a canopy will provide the most shade.
You can add lights, Chinese lanterns, or garlands around the edges of your umbrella or canopy for a festive touch!
RELATED: 8 Best Picnic Tents and Canopies
A Wagon to Carry Your Supplies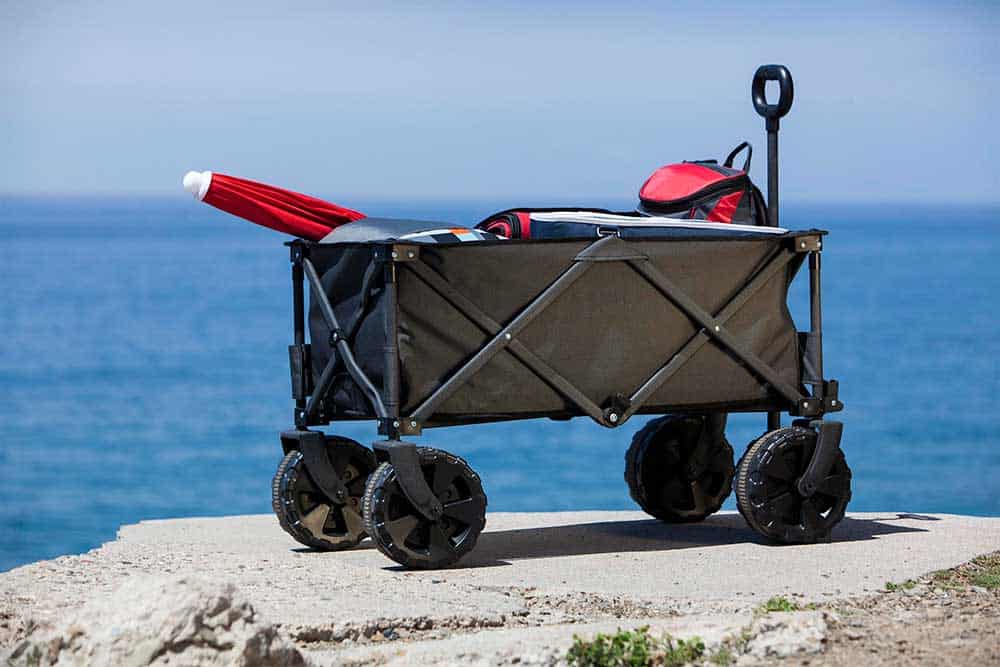 If you are planning to bring several supplies such as blankets, coolers, tables, or an umbrella or canopy, a wagon can be a great idea to tow your supplies and save your back!
This double-decker wagon from MacSports can be a way to get all your goods to your favorite picnic spot! It also folds up to fit easily in your trunk.
Sunscreen, Bug Repellents, Trash Bags
Don't forget important things like sunscreen, bug repellent, wet wipes. These simple items will help you enjoy your picnic to the fullest!
Bring baggies to save your left-overs, and trash bags to leave nature as beautiful as you found it!
Cute Decorations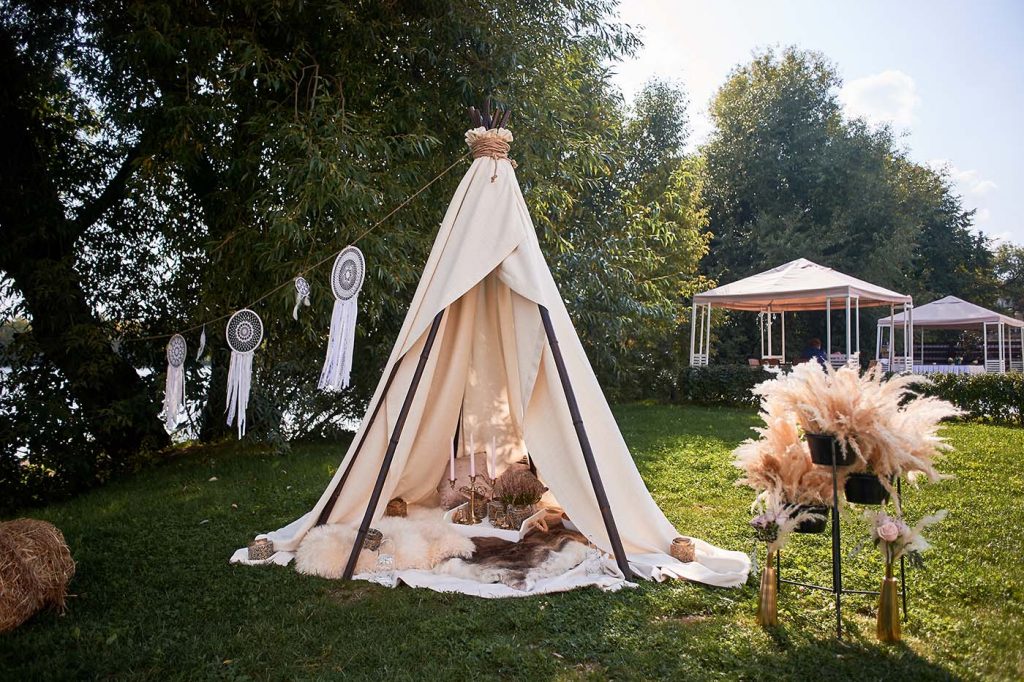 When setting up your picnic, you can choose decorative ideas that are also functional. For a boho picnic, you can add bohemian decorations: boho tents, pillows, flowers, frayed umbrellas etc.
Picking your blanket, chairs or pillows, and umbrella with a theme or color scheme in mind can make for a beautiful scene!
You can bring china dishes to dress things up, or disposable plates and tableware for easy clean-up.
What to Wear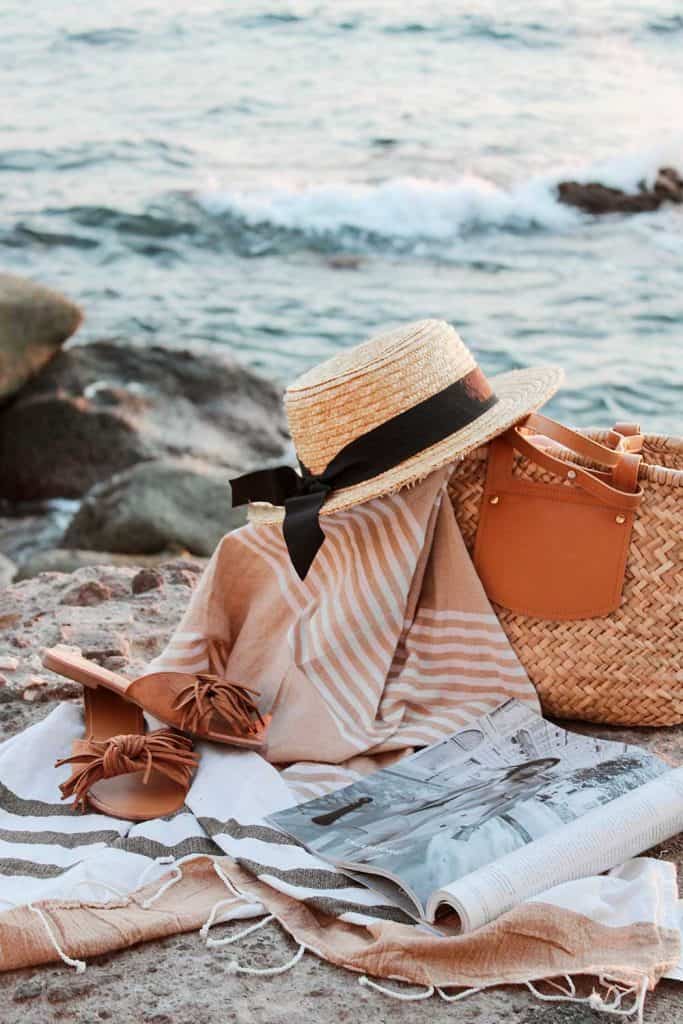 When dressing for a picnic, something simple and comfortable is usually best! For women, a maxi dress, sun dress, or jumpsuit can be easy, relaxed wear. Or for a more casual vibe, shorts with a flowy top. For guys, shorts and a comfortable top can be a good choice.
Natural fibers like cotton, linen, or rayon will help you stay cooler (and sweat less!) than synthetic fabrics.
Also keep in mind that bright colors like white, yellow, orange, are attractive to gnats and bugs, whereas blues and greens are not strong attractors.
Wide brimmed hats can add to the picnic feel and provide some shade from the sun!
The Menu
All About the Food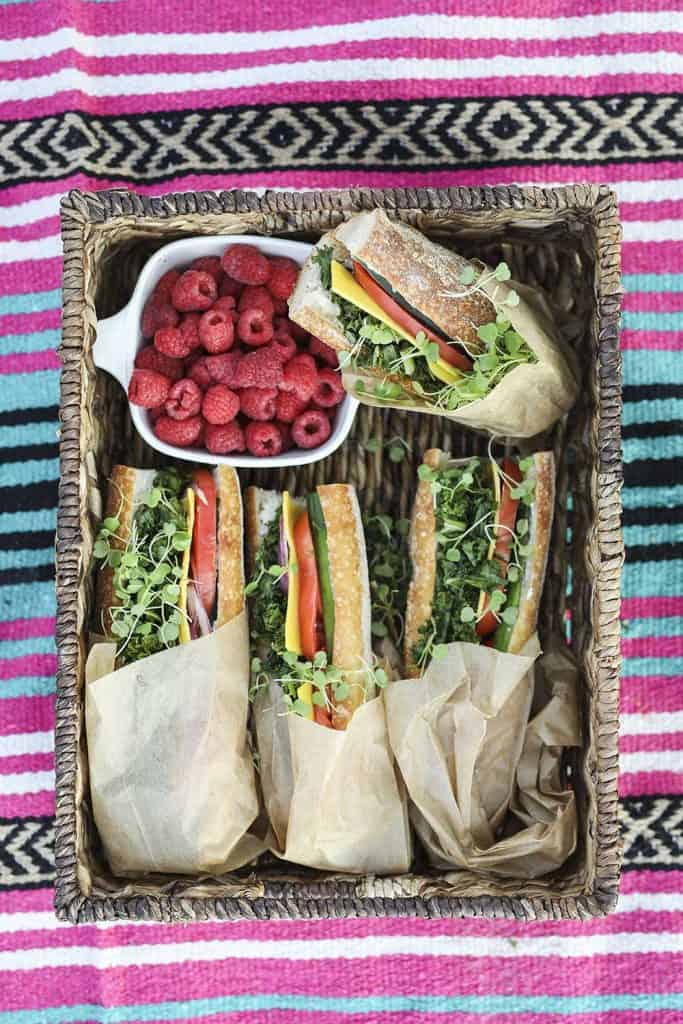 When preparing your menu, you can choose to bring foods that are easy to eat outdoors and are tasty when eaten chilled.
Sandwiches or soft tacos are always a great choice, because they are easy to pack and the bread (or tortilla) lets you eat without utensils while keeping your hands clean.
Cold foods like salads, dips, rice bowls, and even some soup recipes are yummy eaten chilled.
Also, including foods that won't require refrigeration on your menu will save on cooler space and make your plans more flexible! Some desserts and sides that won't need to be kept cool are brownies, muffins, fruits, veggies, biscuits, and granola bars.
For more food ideas and recipes you can check out our article 25 Delicious Picnic Food Ideas.
Games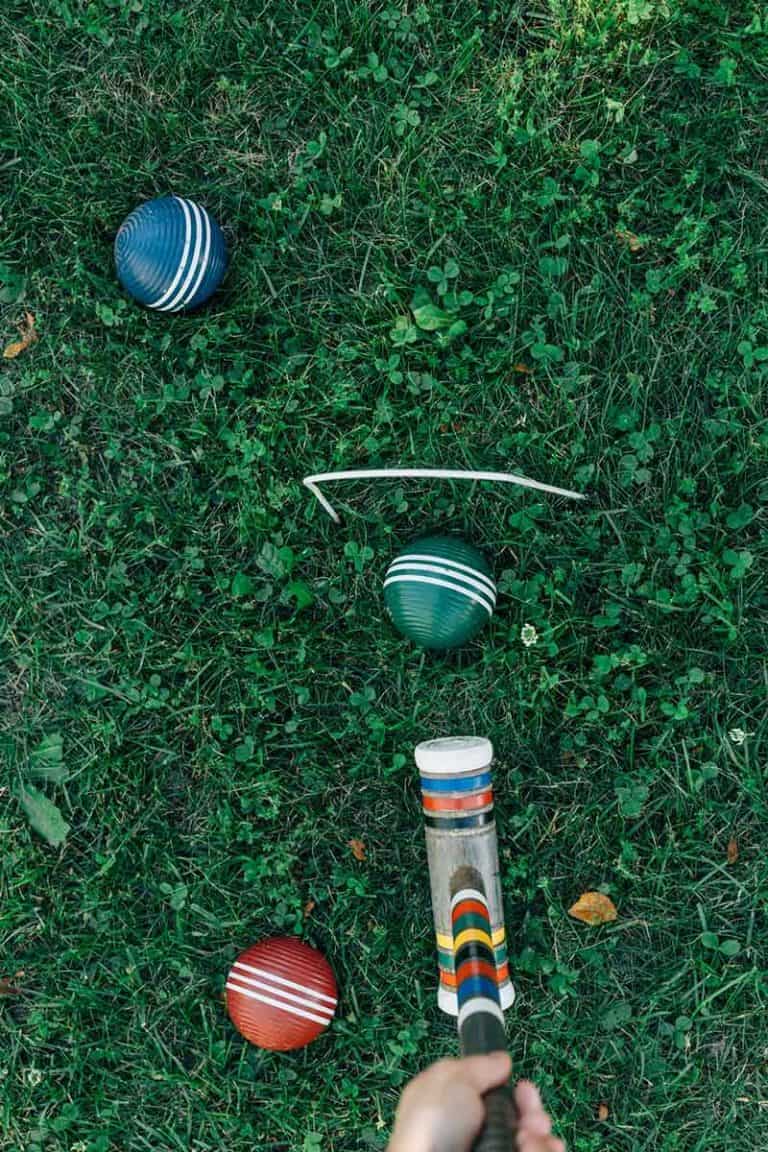 If you are looking for fun things to do at a picnic, you can incorporate activities such as roasting hotdogs or marshmallows, boating, or hiking.
You can also bring along fun outdoor games to play. Bocce ball is an outdoor timeless classic. It is also compact and portable. Other games to enjoy at a picnic are:
Volleyball
Scavenger hunts
Relay Races
Another fun idea would be an art contest where each person is required to paint something within sight.
You can choose a judge or let social media decide who wins! This can be a fun activity and you can also have a memory of your afternoon to look back on later.
RELATED: 21 Picnic Games: Fun for Everyone
Wrap Up
These are our ideas to get your creative juices flowing and plan your perfect picnic! Picnics are a great way to enjoy simple pleasures and spend some time focusing on those you love. So go relax, have fun, and make some memories to last a lifetime!